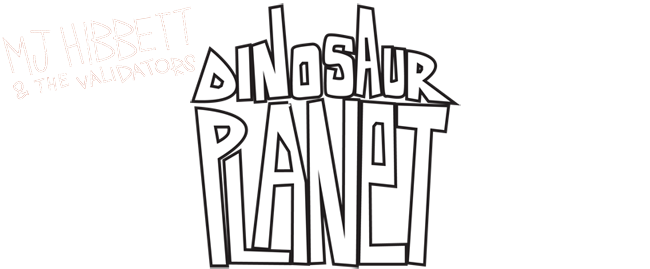 A Little Bit Of Help
A Little Bit by MJ Hibbett & The Validators
When MJ Hibbett & The Validators needed a video for their new free download single 'A Little Bit' (released today) they asked their fans to give them a little bit of help.
The song is about people coming together to do little bits of research, which - when added together - make huge changes to the way we live. The band decided to take this philosophy on board for the video, and sent out a call to their mailing list. People from all over the world took a line each of the song and interpreted it however they liked.
'Everyone really went to town with costumes and ideas,' says lead singer MJ Hibbett. 'We could never have come up with so much variety or imagination if we'd done the video ourselves, and it just goes to show how much can be achieved when lots of people all contribute a little bit.'
The single is taken from MJ Hibbett & The Validators' new album 'Dinosaur Planet', in which an invasion of Earth by Space Dinosaurs is thwarted by good, evidence-based, academic research. It's a science fiction rock opera concept album, which has been called 'an indie War Of The Worlds' by CMU Daily, 'Jeff Wayne's new competition' by SFX and 'the greatest story (about space-faring dinosaurs) ever told (in a rock opera)' by Comics Alliance. 'You have to admire their nerve', said David Hepworth in Word Magazine.
Both the free download single and video can be found at the official Dinosaur Planet website,
http://www.dinosaurplanet.co.uk
.
'Dinosaur Planet' is the new album from
MJ Hibbett & The Validators
, available to buy through all
online stores
,
download sites
or
direct from the band
.Getting it direct from us is cheaper, and we have exclusive t-shirts as well!
If you'd like to do hear the album in advance you can download or stream it from
our bandcamp page
, and you can read
the reviews
too.