Blog
Martin Fry In A Caravan Park
You find me today back at work after a DELIGHTFUL week in Majorca (which I shall tell you about in GRATE detail another time), sorting through various emails and also gearing up for the Still Valid promotional campaign, which began this morning as I posted the first few promo CDs out. There's a TONNE more that will be heading for the postbox over the next couple of weeks as very slowly this THING what we have been toiling over for three or four years gently reveals itself to the universe.

It's all very exciting, but also SCARY: what if we go to all this effort and nobody actually cares? Whilst on holiday we read The Times most day (it was the Least Awful UK Newspaper available) and one day I read a really interesting interview with Martin Fry out of ABC. In it he talks about the way that his fame DIPPED, as he stopped doing proper gigs and found himself singing along to backing tapes at holiday camps, then gradually worked his way back to doing new material at the Albert Hall via a string of nostalgia tours. It was REALLY interesting (as pointed out by The Words In My Article, this is not surprising as it turned out to have been written by All Round Marvellous Mr Mark Ellen) as this version of The ROCK Life Cycle is fairly new. In olden times bands would usually burn out after a few years then die poor, or sometimes get drug addled and reappear as if from nowhere decades later. Martin Fry and others like him seem to have done it differently, never giving up on performing, managing to work through the lean years while they wait for their core audience to grow up, marry, have kids, and then find themselves 20 to 30 years later once again looking for gigs to go to.

Apart from, as I say, being a fascinating read in and of itself it also made me wonder about my own, somewhat less auspicious career in ROCK. I've noticed over the past few years that gig offers have MASSIVELY declined - largely,I think, because I've stopped ASKING, but once you stop asking other people stop asking YOU - and there hasn't exactly been a MAD RUSH of people intrigued at the very IDEA of the new album. What if we're at the point now where, on our own scale, we go from Mega Domes to Caravan Parks? This is slightly worrying as playing Caravan parks would be something of a step UP for us - what would the equivalent be? Busking? Shouting out of the window?

This is probably all NERVES that come as part and parcel of the EXCITEMENT of finally having physical copies of the album - hopefully in a couple of months we will be sharing cocktails with David Bowie on Top Of The Pops (note to self: it's been a while, maybe check yr pop cultural references are up to date) then heading off for a Peel Session. Whatever happens, I can't WAIT for people to actual HEAR what we've done. I listened to it for the first time in over a week on the way into work this morning, and it sounds BLOODY GRATE!

posted 23/5/2016 by MJ Hibbett
(click here for permanent link)
(0) comments


Album Waiting Day
Wednesday found me doing something I haven't done for AGES - waiting for my ALBUM to arrive.

A few years ago, when I seemed to be releasing a CD every few months, this was something NORMAL and USUAL but it's YEARS since we last put an album out so I had to search my BRANE for some idea as to what the experience would be like. A quick skip along memory lane suggested it would be AWFUL, but then again when I waited in for the Hey Hey 16K DVD last month it seemed to go all right, so maybe it would be fine?

As it happened the only thing that went wrong was ME. The first SEVEN HOURS of waiting passed fairly calmly - I had a tracking number, it said "Out For Delivery" on the UPS site, the delivery window was wide open, all was well. It was only when we neared 5pm that PANIC started to set in - what if it had been delivered to the Management Office of our flats, when parcels sometimes go and they don't TELL you? What if it was being delayed until tomorrow, when I wouldn't be in to sign for it? What if they'd already been but our INTERCOM was broken AGANE? PANIC! I emailed the LOVELY people at Key who suggested ringing UPS themselves and, after getting VERY ANNOYED with a ROBOT, I spoke to someone who a) sounded American b) told me it was still on the way. PHEW!

And then, a few minutes later, as if by MAGIC, there was a ring on my buzzer and a UPS chap heading up in the lift. Within seconds I had taken possession of two boxes, containing 500 copies of THIS: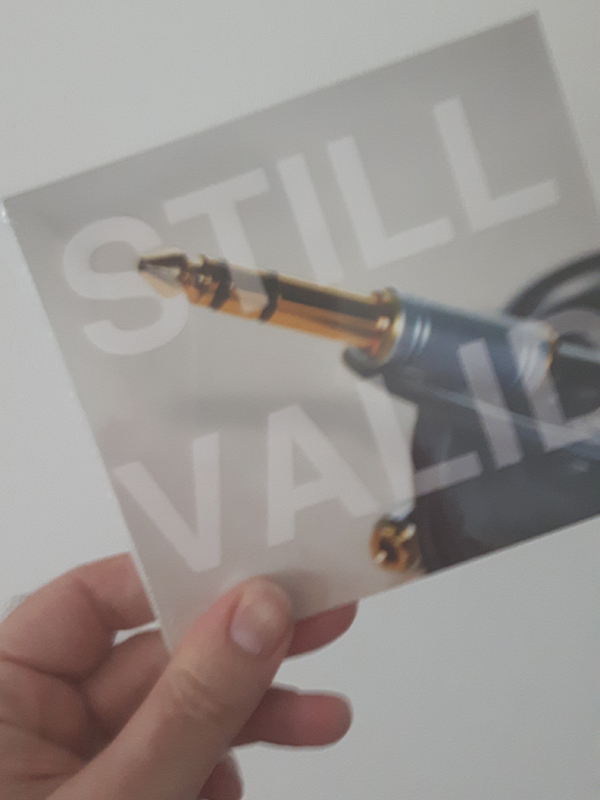 Looks GRATE doesn't it? And guess what? It SOUNDS bloody AMAZING too - during the long years of making and mixing to it I've listened almost entirely on headphones, so hearing it on an Actual CD on an Actual CD Player was one of the very few times I've heard it in THE AIR. As realisation dawned that a) the CDs worked b) they sounded WONDERFUL, it became the most enjoyable listen to it EVER!

As you can probably tell I am QUITE EXCITED now - it won't actually be OUT until the start of July, but I'll be posting review copies out in a week or so and they'll probably be available at GIGS too. I can't wait for people to hear it, it's BLOODY GRATE!!

posted 12/5/2016 by MJ Hibbett
(click here for permanent link)
(0) comments


Super Sunday
I had a LOVELY day on Sunday, made up of two DELIGHTFUL halves.

In the morning The Sun In My Sky and I, and also approx 95% of all people living in East Village, decided it would be a good idea to go out for a walk in the sunshine. SPOILERS: it WAS! It felt like being in The Mediterranean or something, we were warmed right through. We saw GOSLINGS being fluffy, a whole new BIT of the Olympic Park (they've opened some new Retail Units near the canal ), and roughly 10,000,000,000 small children enjoying the fountains. We ALSO went and used our monthly free tea and coffee vouchers in John Lewis - guys, if you think a My Waitrose Card and free newspapers is a good as it gets, get yourself a John Lewis Card too and LIVE the Partners Dream with FREE CAKE!

The second half of the day involved me ZOOMING into central London and arriving outside The King & Queen at 3:55pm to find Mr G Osborn and various other lovely people waiting to be let in, for LO! it was the day of our DVD launch! Hoorah! I'd been worried about ANYBODY turning up and, if they did, whether they'd HEED our warning about it starting at 4:15pm, so seeing such a sizeable group there EARLY was a GRATE relief.

When the doors opened we stormed inside to set up the tables and for me to be asked The Question That Everybody Asks Me At This Time Of Year i.e. "Are you playing Indietracks?" I get asked this SO OFTEN (5 times this week alone!) that I'm thinking of getting a t-shirt made that says "I don't think so, I haven't heard" - it would save time! This conversation did however CEMENT my desire to go on the Saturday, from what I've heard it's going to be an AMAZING day for Bands I Know And/Or Like!

Steve arrived, we got our beers, and at 4:15pm precisely Gav took to the stage and was ACE. He bookended his set with Songs I Know and did some BRAND NEW stuff in the middle. My favourite was a song called "I Don't Know Enough About That", about not being sufficiently informed about Important Matters to comment. I nodded STRONGLY.

And then it was time for me and Steve to do the FINAL - no, honestly last, pretty much definitely this time, accept for the West End run - performance of Hey Hey 16K. We hadn't performed it for three months so I'd suggested a REHEARSAL but Steve had said no, suggesting that we didn't really NEED one and anyway it would be more fun to muck around as the audience would feature a lot of CHUMS. He was CORRECT, as it was a LOT of fun, although with surprisingly little mistakes. I mean, SOME mistakes, obviously, but not that many!

With that done we all went downstairs for some lovely sunny PINTS in my favourite pub before hometime. Doing gigs at 4pm is BRILLIANT, you get to have a lovely leisurely time in the pub and STILL get home in time for tea - it was SUPER!

posted 9/5/2016 by MJ Hibbett
(click here for permanent link)
(0) comments


Legends Of Spring Time
An amazing site greeted me as I stepped out of Goodge Street last night - sunshine! Actual proper Spring weather for the first time this whole flipping year, it felt like winter had FINALLY buggered off and GOOD TIMES were heading our way!

This feeeling of delight was probably partly to do with the fact that I was on my way to The King & Queen for Totally Acoustic. When I arrived I found TWO more aspects of summer waiting for me. Firstly, there was plenty of space inside the pub - usually it is RAMMED on a Thursday, but this time everyone was outside whooping it up, which made for a much more pleasant environment within. Secondly, terrifyingly, they were serving COCKTAILS! Happily they were doing it in a very King & Queen way i.e. instead of doing them one by one so it would take HOURS for anybody to get served they had made one massive BARREL of Mojito to dip into as required. Very sensible!

I got the tables set up and then very soon my regulars and the ACTS arrived, also quite a lot of audience. In fact so MANY people came (some from AFAR) that at one point there was a QUEUE forming outside to get in!

Everyone got sat down and we kicked off with ME, doing 20 Things To Do Before You're 30, The Girl Who... and, as my tribute to Victoria Wood, The Ballad Of Freda And Barry. It all seemed to go all right - I'd mentioned before starting that there are a LOT of words in 'Freda And Barry', so everyone seemed prepared for me getting some of them wrong!

After that I introduced Patron Saint Of Totally Acoustic Mr Pete Green, although he had to wait to start for a couple of minutes while everyone passed chairs over their heads to get more people sat down, orchestrated by Mr S Hewitt and Mr K Top Of The Pops. Once he was able to get going he was a one-man VARIETY SHOW, doing acapella songs, ukelele numbers, POEMS, and even a couple of wistful indie HITS! He was great, also RELAXING - he knows what he's doing, does Pete, and he played the room EXPERTLY!

Next up were The Popguns, who I must confess I had little prior knowledge of but who impressed THE SOCKS off of me. They were ace - lovely songs BRILLIANTLY done. Actually Being Able To Sing is a bit of a rarity at gigs I go to, so to hear such ACE songs sung so well was a bit of a treat. I enjoyed it so much I bought a CD - no higher recommendation!

And then we finished with The Catenary Wires who I HAVE seen before and, as ever, thought were GRATE. Perhaps it was an ERROR to introduce them with the story of how we used to sing "Shallow" at my friend Mr S Wilkinson approx 300 years ago because it was on a mixtape his GURLFRIEND had given him (it was next to "Enter Sandman", I seem to recall) but they didn't seem to mind and went on to be FAB throughout.

It was, it must be said, one HECK of a night which resulted in a MIGHTY whip round for the acts. We've had a right good run of shows just lately, with all the INDIE LEGENDS we've had on. It looks like the NEXT show might feature ME doing a full set though, so maybe that run is about to end!

posted 6/5/2016 by MJ Hibbett
(click here for permanent link)
(0) comments


Bank Holiday Superheroes
For some reason I spent much of Bank Holiday Monday cursed with LETHARGY. I can't think how that can have happened - I had been FULL of beans the night before while drinking BEER in The Brixton Windmill. How is it possible for things to change so quickly?

THUS it seemed like a good idea to go and sit in a large room with several hundred other people and watch superheroes punching lumps out of each other VERY LOUDLY and so that is what I did, heading to my local MULTIPLEX to go and see "Captain America: Civil War." Here is my review: "It was jolly good and had JOKES in it and SPIDER-MAN!!" I liked it a great deal, not least for its best ever Stan Lee cameo, and also because it had SPIDER-MAN in it, being SPIDER-MAN. SPIDER-MAN!

Later that evening I put the telly on to see how the Spurs VS Chelsea match was going - for the benefit of people in the FUTURE (people of the present having had no choice BUT to know EVERYTHING about it), this was the game which COULD have decided the Football Premiership for this season. If Spurs DIDN'T win then Leicester City would be CHAMPIONS and everyone would jump up and down and get excited and possibly be a bit soppy about how much they love Leicester, love Claudio Ranieri and also think maybe it shows that you CAN beat the people with all the money every now again. Or something.

Anyway, by half-time it was 2-0 to Spurs and it seemed that everyone would have to wait ANOTHER week until it was all decided so we turned over and watched some Sunday Evening Family Drama ("The Durrells", which does exactly what you'd want a Sunday Evening Family Drama to do, whether it's a Sunday or not). When it had finished we put the news back on and WOT?!? WOT was HAPPENING?? It seemed that Chelsea had scored twice, the game had been drawn, and LEICESTER CITY were CHAMPIONS!!!

I couldn't believe it - all season the nation had been waiting for the FAIRYTALE to have a GAME OF THRONES ending. Surely THE MAN would crush the plucky midlands team of rejects and Nice Guys? Surely THE TORIES would somehow explode Leicester and stomp on that lovely city's hopes and dreams? Surely the Evil Cabal who own football would say "No no, you've had your fun, but it's time for the Oligarchs to win again now". And yet here we were - thanks to CHELSEA of all horrible teams!

The only downside to the whole thing is that I am now CONVINCED that a) England will win the Euros and b) every player in the squad will turn out to be a rough diamond given a second chance who secretly invests in windfarms, is vegetarian, and enjoys feminist science-fiction. I've a feeling something could go wrong with that prediction, but I'm not quite sure what so for now let me just say HOORAY for Leicester - team AND city!

posted 5/5/2016 by MJ Hibbett
(click here for permanent link)
(0) comments


Bluebells And Brixton
I do love a Bank Holiday, it's LIKE a normal holiday except it doesn't come out of your Annual Leave Allowance, so you can just tit around without feeling bad about it, and LOADS of other people are off, so you have company while you do so!

Myself and The Dates In My Diary made the most of it this May Day weekend, starting with a day out in glamorous LEYTONSTONE! We went for a stroll in scenic Wanstead Park, where we USED to go a-strolling often when we lived round there but which I haven't been to for a couple of years. It was lovely to be back, especially when the bluebells were out. I don't think I've ever seen quite so many being quite so VIVID - we must have turned up JUST at Peak Bluebell! We then went for a PINT in the Red Lion (which is ACE!), SOURCED some Products in the big Tesco (including VEGAN SALAD CREAM, answer to many prayers!) and then went home and saw this year's first batch of DUCKLINGS in our local pond. I think it may actually be SPRING!

On Sunday we went to The Holborn Whippet to say happy birthday to Mrs M Hewitt and then I zoomed off to distant Brixton where I was due to play at The Walpurgis Nacht Festival, organised by Mr G Gargan. Lazarus Clamp were also playing, which meant Mr T "The Tiger" McClure was there, a fact we celebrated with Chips And Curry Sauce, as is traditional!

As it neared SHOWTIME the FACT of my forthcoming appearance began to weigh heavy upon me, and I realised that I was in a room full of people who'd come to see LOUD ROCK of an UNORTHODOX style, which is not exactly what I do, especially when playing solo. I was also very aware that, with the best will in the world, the Brixton Windmill is NOT the easiest place to play - the sound on stage is BRILL but the pub seems designed to encourage SHOUTED CONVERSATIONS at all times and to remove any SIGHTLINES. "This might be hard work" I thought, as i went on stage and did THIS:



As it turns out, it WAS hard work but work hard is what I did - as you can see from this FOOTAGE:





It was all fine though, and I was followed by Lazarus Clamp who were BRILLIANT - in recent years they have seemed to get better every time I see them, and they were ACE to start with!

There was then a delightful time for CHAT and more bands and, by about 9pm I was thinking it was probably time to go, at which point I bumped into Mr A Farmer AKA Doc from Bearos who said "No, stay and see Otoboke Beaver, they are worth seeing!" So I did, and he was right - they were AMAZING! It was like a cross between RIOT GRRL and POST ROCK, with very very fast very very loud very very ANGULAR structures and entirely EXCITING noises at 1,000,000 miles an hour. The whole room stood AGOG - nobody seemed to know what was going on, but everybody was enjoying it!

My faith in ROCK once more renewed I headed off into the Brixton night, heading EAST for a whole extra day of FUN, to be discussed NEXT time!

posted 4/5/2016 by MJ Hibbett
(click here for permanent link)
(0) comments


Come And Be In A Video!
As part of the preparations for our NEW ALBUM I have been aquainting myself with the Modern Media Landscape where Things,it seems, have very much Changed. Where once you had to send an album and press release to newspapers/magazines three months before release and then do loads of gigs, now it appears that you have to "stream" lots of "content" to "blogs" and "premiere" "exclusives" before your album "drops".

Yes daddio, I AM available for consultancy purposes - send me a FAX.

As long-term chums will know we are not AVERSE to a bit of futuristic media interaction - some would say we were PIONEERS of the viral video, I couldn't possibly comment - and so we have been laying PLANS for STUFF to do. One of these SCHEMES is to do some VIDEOS and the first off these is going to be for 20 Things To Do Before You're 30... and we'd like your help to make it, please.

We'd like to make a CROWD SOURCED video, with each LINE in the verses represented by a very short clip. You can see examples of this in the video for our song A Little Bit, where people took a line, interpeted it however they thought best, sent it in and the I edited it together. We'd like to do the same again, so if that sounds APPEALING to you, all you need to do is read the words, choose a line, then go to this spreadsheet and put your email address next to the line you'd like to do* - if your first choice is gone you can put yourself down as "understudy" or just choose another.

Once that's sorted out all that remains is to FILM your clip (about 2 to 4 seconds should work, though I can edit it at my end if needs be), send it to me at mjhibbett2 gmail com then sit back and wait for the ACCLAIM! Closing date is Sunday 5 June and there's further details here - I hope it sounds like fun, I reckon it's going to be GRATE!


* I know a couple of people had trouble accessing the spreadsheet at first - I've UPDATED the settings now, so if it didn't work for you before please try again!

posted 3/5/2016 by MJ Hibbett
(click here for permanent link)
(1) comments


Dealing With The Professionals
This week I've been working hard on PROGRESSING the new album towards its official release, and have been DELIGHTED to find myself working with Actual Professionals.

The CD manufacture is being done by Key Production, who have been LOVELY. Emails have been zinging backwards and forwards as they've explained things, checked things, and then checked things again. In the past I've shopped around for the cheapest deal and ended up struggling to work with some RIGHT cowboys - the last time this happened was when Dinosaur Planet went through TWO (2!) disastrous attempts to get made before I finally went crawling to the aforesaid Key Production who sorted it all out for me, so this time I went STRAIGHT to them and have been SO very happy with how it's all gone.

I've had a similar experience with the digital version, which is being done by Emubands. I got myself a bit confused while uploading the tracks, realising halfway through that I'd used OLD versions rather than the final ones, but they very quickly and happily sorted that all out for me. They were similarly PATIENT when I sent them the wrong ISRC codes (which identify tracks) - it's literally YEARS since I did any of this stuff, so I am not quite at the top of my game!

It's all been surprisingly pleasant I must say - I may not clearly remember HOW I did all this for other albums, but i DO remember it being a TRIAL OF NERVES every time! Spurred on by how pleasant it had all been I went on to register everything for PPL (the people who pay radio royalties for the RECORDING, as opposed to PRS who pay for songwriting) which was also less AGONISING than I remember!

Once all this is done the next big job will be the publicity campaign. I've already got a list of Things To Do and spent a large portion of Wednesday working out how to get it all done, so I now have a very detailed schedule with lots of ACTIONS pretty much every day for the next two months, leading up to release day on July 4th. After that nothing much is scheduled to occur - hopefully something will though!

posted 29/4/2016 by MJ Hibbett
(click here for permanent link)
(0) comments


ELO
A couple of days ago The Characters In My Message and I both got an unusual text from our chum Mr M Sutton. "Are either of you available tomorrow evening?" it said. "I've got a free ticket to see ELO."

As it turned out one of us WAS available, and so it was that on Tuesday night I met Mark at the front of the O2 arena, ready for some Electronic Light ROCK. I do like the O2 - myself and The Seats In My Arena have been there SEVERAL times as a) it's REALLY easy to get to from our house b) it has very comfy seats and a good view wherever you are and c) you can book tickets near an AISLE for easy access to BEER and TOILETS. Gig going in middle-age, it's PEASY when you know how!

Before we went into the actual auditorium we stood in the corridor/walkway outside having a beer and a natter. "Is that The Feeling playing?" asked Mark. I thought it was just the pre-show music being played, but we went to have a look and it turned out it WAS The Feeling, doing the support slot! You could tell they had done this sort of thing before - the singer kept saying "You're about to see ELO!" and got a huge round of applause every time. CUNNING!

Usually we book tickets to one side, but Mark had got his RIGHT in the centre, looking toward the stage. We were almost DEAD centre so when Actual ELO started it felt like all the SCREENS and LAZERS had been set up specifically for us. It looked pretty AMAZING - there was a huge circular screen which had SPACE stuff on it and with all the lights and things swooshing around it was MESMERISING!

The actual music was pretty good too - I'm not OVERLY familiar with ELO, but even I know a GIGANTIC HIT when i hear it, and "Livin' Thing" is definitely one of those! He seemed to do quite a lot of songs from his new album, but to be honest I couldn't tell the difference between those and the old ones, and after a while it did all start to sound a bit samey. It's a very distinctive sound he's got, has Mr J Lynne, but it does take over the SONGS after a while. Still, it was all very lovely and, with the light show whizzing away, very relaxing!

The GIGANTIC HITS came back after a while, with an ENORMOUS version of "Don't Bring Me Down", which was GRATE. "Two more songs after this," said Mark. "Sweet Talking Woman" one of them. "Then Mr Blue Sky?" I suggested, just as the band kicked off "Sweet Talking Woman" followed by "Mr Blue Sky". The band went off stage and I struggled to think what they'd do for an encore - it was their odd, long, LOUD version of "Roll Over Beethoven"! Of course it was!

We got out easily and speedily - we were amongst the youngest of a very seventies, very HAPPY audience! It was a lovely evening - if anyone else has free tickets for a ROCK LEGEND within half an hour of my house do let me know!

posted 28/4/2016 by MJ Hibbett
(click here for permanent link)
(0) comments


We're On The Way!
Yesterday we zoomed past a massive milestone on the way to releasing our new album: I sent the MASTERS off to be MANUFACTURED!

This has been a big old job - it's taken YEARS (years!) of writing, recording, mixing, mastering, re-mixing and re-mastering to get the audio parts done, and it's taken MONTHS of back and forth and TWEAKING to get the artwork for the cover done. The biggest job over the past couple of weeks has been sorting out the COLLAGE that forms the inside cover - there's a LOT of pictures in there, and a lot of checking needed doing!

This all culminated in a nervous weekend during which I LOOKED at the artwork about 1,000 times, got the Validators to agree it, and had final checks with The Team In My Internal Comms Team before burning it to CD, putting it all in an envelope with the order form, and taking it down to the post office. There is now a GRATE sense of relief around, a sense that will come crashing down in about a fortnight when we begin the process of waiting for the CDs to actually ARRIVE, so I intend to enjoy it while I can!

There's a TONNE more to do - I've still got to finish logging it with iTunes etc, get various promo items ordered, write a press release, send it out to reviewers, make some videos and all the other bits of ADMIN that you need to do in the futuristic world of being your own record company - but this is one HECK of a step forward. We're very much hoping to get it ready for release on July 4th - I can guarantee that I'll be keeping you informed along the way!

posted 26/4/2016 by MJ Hibbett
(click here for permanent link)
(0) comments


Viewable On Demand
I've been going ON and ON about the SHOWCASE what we did at City University, so it seems only fair that I give people the opportunity to SEE what I was talking about. THUS here is a PLAYLIST containing VIDEOS of all the pieces we put on:





I think it's all come out pretty well, though it did take AGES to put together. We had hoped to record it on TWO cameras, my fancy one at the back of the room on a tripod and a futuristic bluetooth device connected to Ms E Morgan's phone near the stage. Unfortunately somebody STOOD in front of Emma's device for half the show, and their PHONE interfered with it throughout so we couldn't use the audio - oh, the future, what new and exciting trials you bring us!

Still, it did make editing a bit more straightforward, and hopefully you can still hear the words OK. Looking at my pieces though, especially the monologue, I am reminded of what I said last week about trying to rip of Victoria Wood!

posted 25/4/2016 by MJ Hibbett
(click here for permanent link)
(0) comments


I Heard It In Soho
I was buying my comics in Gosh last night when Steve took a phone call behind the till. It was Nat downstairs, ringing to tell him that Prince had died. Steve told me, I checked twitter, and we both expressed our amazement. What on earth is going on?

I left the shop and walked through Soho, and for the next five minutes all you could hear was people getting phone calls, saying "What!?" and then explaining what had happened to the people they were with. Everywhere you looked, everyone was checking twitter to see if it was true.

t will surprise approximately nobody to learn that Prince doesn't figure QUITE as highly as Victoria Wood in my Pantheon Of ROCK Heroes, but still, crikey! If this is a band IN HEAVEN being put together with him on guitar, her on keyboards, Lemmy on bass and David Bowie on vocals then I can only hope that someone is keeping an eye on Ringo.

I am imagining that band right now. They sound AMAZING!

posted 22/4/2016 by MJ Hibbett
(click here for permanent link)
(0) comments


Don't Starve A Girl Of A Palaver
When one is an International Rock Star like what I am one spends a lot of time doing interviews. All right these are pretty much always IMAGINARY interviews in your head on the way to work, but still, one of the main questions asked is "What Are Your Influences?"

This is an excellent question to answer because it means you can acknowledge your debt AND show off a bit about how super eclectic you are e.g. in my case I usually say "Billy Bragg, John Otway and Half Man Half Biscuit, obviously, but also The Mahavishnu Orchestra and the traditional sounds of the nose flautists of Bolivia, do you know them at all?"

I have been saying this sort of things for years, but it was only yesterday that I realised that it is pretty much a FIB. Not the nose flautists - their experiments in alienation and reappraisal are seminal - but the rest of it misses out someone who, I now realise, I have based most of my songwriting on. That person is, of course, Victoria Wood.

There's been a lot of celebrity deaths this year, and some of them have effected me a lot - when David Bowie died there was suddenly this Bowie-free world that felt WRONG, for instance - but nothing has brought me as close to tears as finding out about Victoria Wood. I went to look at some videos of her, like I guess half the population of the UK, and was stunned by a) how brilliant it was and b) how I had pretty much ignored her for decades. Like most people my age, when I was growing up the whole family would sit and watch her on the telly at weekends. My Mum would LARF a LOT and maybe because of that I thought the shows were a bit naff (sorry Mum) and so never watched later stuff like Dinnerladies. I realise now that all those shows seeped into my BRANE to such an extent that I have, basically, been trying to rip her off for DECADES. This goes for THE WRITING (I've just been watching a video of my MONOLOGUE that was performed at our showcase last week and you can HEAR me straining for Victoria Wood-ness) but especially for my effors in ROCK. Pretty much everything I've written, it turns out, has been a half-arsed effort to rip her off!

For instance, everyone was tweeting about The Ballad Of Barry And Freda yesterday because, well, it's FANTASTIC, especially when you read the lyrics on their own. Every LINE is funny - not just the punchlines, but ALL of it. There's some incredible bits in there -"I'm on fire with desire, I could handle half the tenors in a male voice choir" for instance, or the the astoundingly brilliant couple of lines "Don't starve a girl of a palaver / Dangle from the wardrobe in your Balaclava." I love the way the first line has an INCREDIBLE internal rhyme which most people would consider the crowning achievement of their writing career but which turns out to just be the set-up for the second half, which as well as being hilarious AND rhyming AND having an avalanche of words that fit perfectly, it's also full of sympathy and enjoyment for the sort of life that ART traditionally sneers at or ignores. I love the bit where the bloke pleads "I must refuse to get undressed. I feel silly, it's too chilly". He's not being mocked, you can feel his TERROR yet it doesn't make you enjoy the woman's enthusiasm any the less. It's beautifully balanced and funny and tender and well observed and just bloody GRATE from start to finish.

And that, of course, is exactly what I've always been striving for - what we all should be striving for really, and the fact that we'll likely never get anywhere near what she achieved doesn't really matter. I'm only sad I never realised this properly while she was still about, but I will do my best from now on to put her first whenever that question comes up in an interview, even if it's only me asking!


posted 21/4/2016 by MJ Hibbett
(click here for permanent link)
(1) comments


Minutes Of The Meeting
Saturday found me in distant DERBY for a VERY important band meeting with The Validators a.k.a. CURRY NIGHT!

For LO! The album is pretty much finished and thus tradition demanded that the five of us get together to a) toast its completion b) discuss what we're doing next c) tit around d) eat curry. We managed to do ALL these things very successfully.

After checking into the swanky new Premier Inn I went to meet The Family Machine in The Silk Mill, a very pleasant pub nearby, before Mrs Machine dropped myself and Frankie off at The Rowditch, traditional site for the FIRST half of these meetings. We happily trotted to the door only to find it SHUT. PANIC! Then, realisation that it was 6:58pm so probably just not open yet. PHEW! We skipped across the road to the offie to purchase our beers for later (our next destination was BYOB) and faced the traditional dilemma of How Many Beers To Buy. "Two each will probably be enough", we agreed... and then bought a four pack each. Well, you wouldn't want to run out, would you?

We emerged to see Mr T 'The Tiger' McClure and The Pattisons heading into a now opened Rowditch, which worked out RATHER nicely as it meant that Emma was getting the drinks in when we got to the bar! There then followed HUGS and LARKS and CHAT and also, squeezed in between, a Proper Meeting. Here is what we discussed:

Gigs And Festivals - We agreed on accommodation for Festival 8 (some in tents, some in a van, SENSIBLE people booking a hotel), decided to try for a launch gig in London and another in Leicester, and that ALL Validators would be making the trip to appear at HIBBETTFEST this year. We also agreed to officially GIVE UP on ever hearing from Another Festival, allowing everyone to get on with booking holidays/trips to weddings/tickets to go anyway!


Merchandise - We settled on a design for BADGES and made some changes to a T-SHIRT. They look NICE!


Promotional Activity - I presented my PRESS PLAN, a lengthy document of who and when I'll be contacting, and we discussed the modern need for VIDEOS and TRACKS and basically anything we can give to BLOGS. Several good ideas were suggested and we agreed to THINK ON for the future. So modern!


Signing Off - everyone was now happy with the actual ALBUM and so that was unanimously signed off. The artwork, however, still had a little bit of work to do - there's a collage on the inside cover, and there were still a few people to check with to make sure they didn't mind appearing in it. Once THAT'S done (hopefully later this week) I can send it all off to be MADE!


That done we closed the meeting and adjourned to Balti International, traditional site for the SECOND hald of these meetings (we even got Our Usual Table!) for more LARKS and also delicious curry. I have no idea what we talked about, but I know it was a LOT of fun. Also, two cans each would have been enough.

We left full DELIGHT, also CURRY, ready to face whatever came next as a TEAM. Throughout the evening we'd been taking SELFIES (to maybe use for Promotional Purposes... also for FUN) and this one provides documentary evidence of quite how much fun we'd had:


We said our farewells and Frankie and I staggered down the road to a micropub where two blokes who had clearly never heard 'Streets Of London' were singing 'Streets Of London' so that the whole pub (NB it was tiny, so this mean about 15 people) had to sing the choruses AT them to make them do it right. It was a lovely end to a lovely evening - let the ROCK commence!

posted 18/4/2016 by MJ Hibbett
(click here for permanent link)
(0) comments


City Showcase
I was back at my ALMA MATER City University last night, for the Lost City Writers Showcase. This was an event that featured actors doing rehearsed readings of a bunch of scripts by myself and my colleagues Ms E Morgan and Ms N Racklin. SPOILERS: it was GRATE!

It felt a bit weird for it to be actually HAPPENING tho, as it's been in the works for about a YEAR, from talking about it with chums to several meetings and emails with Ms C Feltz of the Alumni Office, to getting the director and actors, doing promotions, arranging rehearsals and finally the actual evening itself. On the plus side this meant that by the time the event itself rolled around it felt like a BONUS for the work everyone had done, rather than anything to particularly worry about!

Well, I say that, but there WAS a fair bit of worrying, from people actually turning up (they did!) to whether the scripts would work (they did too!). As with previous Lost City Writers stuff we've done we got a proper director in, who arranged the actors and did the rehearsal, which meant that I saw my three bits all anew. I'm used to learning the lines and working it all out MYSELF (with Steve) over the course of about six months, so it was like MAGIC to see it appear before my very eyes like that.

My three pieces were Marjorie Meets Gareth, Gareth Meets Marjorie , Architecture & Mortality and The Invention Of Sex, all of which had been performed by other people in other places, so it was AMAZING to see them again done by different people in very different ways. My main concern, to be honest, was just whether they would get LARFS, and much to my relief they DID - my favourite being halfway through Marjorie Meets Gareth, Gareth Meets Marjorie when you could HEAR the audience all go "Oh THAT'S what's happening" all at the same time!

Everyone's pieces went down really well, in fact, and we even got some free BOOZE at half-time (and also at the end, when we HELPFULLY tried to save the Alumni Office the bother off taking undrunk bottles away). Afterwards there was PUB and CHAT and much happiness all around. It was like SHOWBUSINESS!

I've also got VIDEO of all the pieces, so hopefully I'll be able to get them online soon to share the experience. It was a LOT of fun - would do again!

posted 15/4/2016 by MJ Hibbett
(click here for permanent link)
(0) comments


The Tracklisting
All across the land (well, The MIDlands anyway) Validators have been listening to their new album, and as of this morning we have confirmation from all concerned that it is DONE, completed, and ready to ROCK!

Final confirmation will come during Saturday's band meeting, but as it's looking like pretty much a done deal I thought I would take the opportunity to share the TRACKLISTING with you, thus:


20 Things To Do Before You're 30
Can We Be Friends?
That Guy
In The North Stand
Burn It Down And Start Again
(You Make Me Feel) Soft Rock
Hills And Hollows
The 1980s How It Was
I Want To Find Out How It Ends
We Did It Anyway

Note those titles well, for LO! they will surely be burned in FLAMING LETTERS across the SKY of ROCK in a few months time! Or, at least, hopefully mentioned on a couple of blogs. I can assure you that it does all sound GRATE though - all The Validators think so, and they wouldn't fib about a thing like that would they?

posted 13/4/2016 by MJ Hibbett
(click here for permanent link)
(0) comments


Brand Management
It was a KRAZY day yesterday for managing MY BRAND, as pretty much EVERYTHING was going off at once.

First and foremost was the release of Hey Hey 16K on DVD which I spent quite a lot of time talking about, organising things for, and THINKING about - I need to find some places to send it to for REVIEW and I fear I have pretty much NO idea!

I also spent some time finishing off this month's Totally Acoustic Podcast which is a RIGHT cracker featuring Aidy from The British IBM, Michael L Clamp and Ruth from PO! - it's very much available to download and I suggest you do so immediately!

Meanwhile, across town, rehearsals were underway for the Lost City Writers Showcase which a) features three PIECES by me b) is happening on Thursday night and c) has tickets very much still available, if you'd like to come.

I was unable to attend said rehearsals due mostly to WORK, but then in the early evening I was also prevented from going due to a prior, DELIGHTFUL, arrangement to meet Mr T Eveleigh and record some items for his many and various podcasts. We went and had a bit of a sit in front of the Arcelor Mittal Orbit (AKA The Red Squiggle) and spent a MARVELOUS half an hour yakking away, culminating in me recording a couple of SOLO songs for later use while planes flew noisily overhead and passing cycles casually veered out of their route to have a look at what was going on.

As well as just being FUN this also counted as the first stage in the rapidly approaching PROMOTIONAL CAMPAIGN for the new Validators album, 'Still Valid'. On Saturday we have a BAND CURRY booked when, all being well, the MASTERS and COVER will be SIGNED OFF and I can send them off to be MADE. In preparation for this I have been allocating a small amount of time each day for PLANNING and PREP - I'm currently STILL trawling through music blogs, looking for likely candidates who might mention it. The main thing I have learnt from this process is that everyone is talking about a band called The Goon Sax. I really ought to have a listen to them at some point.

As you can imagine, with SHOWS, Totally Acoustic, solo performances AND The Validators all swirling around my head, I was quite relieved that The Dredge/Hibbett Conunundrum videos had all been released last week! So many BRANDS - this must be how The Beckhams feel ALL the time!

posted 12/4/2016 by MJ Hibbett
(click here for permanent link)
(1) comments


Hey Hey DVD
It gives me ENORMOUS pleasure to say that the DVD of Hey Hey 16K is finally available to BUY from those lovely people at Go Faster Stripe and it is ACE!

I know it's ACE because I watched it myself last night whilst doing the ironing, and although it did make me SHRINK from the screen a few times when I noticed bits that I did WRONG I can confirm that it is a complete and accurate rendering of the live show experience, except that we don't come and talk to you at the end in sweaty shirts. Although that, of course, can be arranged.

It's a right proper recording with lovely packaging and an AMAZING title sequence, which you can witness in full for yourself HERE:





It's also my first experience of someone ELSE (i.e. not me) releasing something (apart from on a compilation) for YEARS and so I am, of course, feeling a bit guilty about Mr C Evans of Go Faster Stripe PAYING for it and thus would be grateful if as many people as possible could give him some CA$H. On the other hand I'm quite excited about the FACT that releasing a DVD means I've had to update The Database Of ROCK (which runs this whole site) in order to set up a new category in the discography!

It's all VERY exciting really - at last, after all these years, you can see one of our shows PROPERLY without having to actually go in person. The dream, FULFILLED!

posted 11/4/2016 by MJ Hibbett
(click here for permanent link)
(1) comments


The Next Email Is To Morrissey And Marr
We've had some pretty brilliant nights at Totally Acoustic over the years, and CRIKEY last night was amongst the MOST brilliant!

It kicked off in a fairly normal way with ME doing a bunch of songs. I'd actually had a PRACTICE this time, to make sure I actually COULD still sing (where "sing" is relative to my usual ability), what with being a bit un-gigged lately. I did Clubbing In The Week, In The North Stand and, to celebrate the fact that the Hey Hey 16k DVDs had arrived (more - LOTS more - news on that next week!), Mr S Hewitt joined me for a rendition of We Did It Anyway. It seemed to go all right!

After that was Aidy from The British IBM, who was ace. Halfway through his set I suddenly thought "Hang on, have I ever actually SEEN The British IBM?" I don't think I have, something which I ought to rectify!

Next it was Michael from Lazarus Clamp, who I have been meaning to ask for YEARS but somehow never have. It's very odd - every time I make a list of "People To Ask To Play Totally Acoustic" he's been on it, but I never got around to actually ASKING until this time, and I'm SO glad I did because he was excellent. To be honest, as so often happens with Totally Acoustic, I was almost as pleased to see him for a chat beforehand as I was to see him play i.e. Very Pleased!

And then we finished off with Ruth from PO! Ruth from PO!!! When I went to see the film "The Avengers" at the pictures I remember sitting there thinking "Yes, it WOULD be good if there was a film with Iron Man AND Captain America AND Thor in it" and had to keep reminding myself that there was and I was watching it. That's what this gig was like - "Wow," I thought, "Wouldn't it be AMAZING if I could get Ruth from Po! to come to London and play my gig and do a PILE of my favourite songs? Oh, hang on..." I basically sat and grinned like a pillock throughout, as she was AMAZING! She did 'Sunday Never Comes Around'! And 'Look For The Holes!' And 'Appleseed Alley' And ... well, you get the idea. The only downside of the whole set was that I had to struggle NOT to sing along with everything and spoil it - turns out I still remember ALL the words!

Afterwards there were the usual hugs, the usual dishing out of CA$H, the usual BEERS, and also an UNUSUAL secret encore as I came back upstairs to find Ruth playing 'Haunt You'. It was FANTASTIC - though it's going to be a hard job editing down the podcast!

posted 8/4/2016 by MJ Hibbett
(click here for permanent link)
(1) comments


Lyrical Revisionism
A week on Saturday (April 16) will be a big day in ROCK HISTORY, for LO! The Validators are convening in Derby for a BIG MEETING (and, mostly, a curry) at which we hope to finally SIGN OFF the music and artwork for our new album 'Still Valid'. We're currently listening to the re-tweaked MASTER of the album and final amendments are being made to the cover so, all being well, by the time we have accepted complimentary spirits at the end of our meals it will all be DONE.

And that, of course, is when The Real Work begins, not only with steering the album through the MANUFACTURING process but also with PUBLICITY! I've been PLOUGHING through old databases for the past couple of weeks looking for press contacts as well as badgering CHUMS for new people to send the album to, as my lists are so out of date, and am starting plans to REVAMP the webpages so they're COHERENTLY BRANDED. I'm also going to take the opportunity to FINALLY change things around so it's not IMPOSSIBLE to use read on a phone - I can't say I'm looking forward to this particular job, but one must move with the times!

One aspect of the revamp I HAVE been enjoying is going through the LYRICS for all the new songs to make sure that they're a) present b) correct. This has been an INTERESTING experience as every single song has had to be CORRECTED - when I write a song I tend to get all excited and put the lyrics up IMMEDIATELY (partly so that I can look them up when I inevitably forget them!) but it then usually takes AGES for us to get round to RECORDING them so, by the time they are IMMORTALISED in plastic, the words have invariably EVOLVED through PERFORMANCE. Sometimes it's only a couple of small things but on this album there have been some BIG differences. The whole chorus to Can We Be Friends has altered, for instance, while Burn It Down And Start Again has a whole new MIDDLE!

It's been rather good fun to go through them all again, not least because it means I have an excuse to LISTEN to the album several times over. It's sounding DEAD good - a lot simpler than our last couple of albums, with more HITS than ever before and also quite LOUD. At the moment we're looking at early July for the Official Release but, as usual, I'll be making it available a bit earlier for Newsletter subscribers.

You can sign up for the newsletter if you don't want to miss out, but I'm sure I shall be mentioning again between now and then!

posted 7/4/2016 by MJ Hibbett
(click here for permanent link)
(0) comments


The Yellow And The Grey
I haven't had much to say about THE WRITING on here for a little while, mostly because not an awful lot has been going on. I mean, I've been THINKING things and WRITING stuff, but not with a huge amount of consequence. I have a big TABLE listing every script I submit, with columns for who it went to, what the deadline was and when I think I'll hear back. If I get a positive result (e.g.placing in a competition) I shade that row in YELLOW, if they email to say NO I shade it GREY and strikethrough the details, and if I never hear back from then (but find out it was a "no" by myself) I turn it grey but don't do a strikethrough, just so I know they were RUDE. It usually an a) QUITE efficient b) pleasantly fernickety system but for the last few months it has been an ever growing wall of GREYNESS.

This all got a bit DEPRESSING so a couple of weeks ago I ARCHIVED all the old stuff leaving a fresh table full of UNSHADED rows of POSSIBILITY. I know it sounds a bit daft but this was a HUGE relief - I know everybody always says The Writing is all about rejection, but CRIKEY I never realised quite how much of it there is!

HOWEVER. Once I had archived all the DREARINESS something rather odd started to happen i.e. YELLOW started to reappear on my chart! Captain Wonderful, as mentioned the other week, got performed in Bedford! A script that I wrote for The Impact (a collaborative film by Create50) got SHORTLISTED! A script I wrote for Twisted Showcase ALSO got shortlised , 6 Billion To One got accepted into The Movie Park Action Film Festival and then on Friday I found out that a version of My Boss Was In An Indie Band Once, heavily re-written since being in The Sitcom Trials, has been shortlisted for a possible reading in That London!

Now, i realise that all of these shortlistings may not come to anything, but it's STILL a lot more fun than just a bunch of rejections! There's also the small matter of the SHOWCASE I'm doing next week at City University. It's an evening featuring THREE short pieces by ME as well as slightly longer pieces by my fellow alumni Ms N Racklin and Ms E Morgan. We had a bit of a wobble last week as the amount of tickets sold (NOT MANY) meant we might have to CANCEL, but I think we're safe now... though if anybody cares to help us to safety by buying a ticket that woud be DELIGHTFUL!

It's all jolly good fun although, OF COURSE, I do realise that I will soon have to put it all on hold. The album's due out this summer, I will probably be too busy CAVORTING around THE BRIT AWARDS to do any writing once that's unleashed, right kids?

posted 6/4/2016 by MJ Hibbett
(click here for permanent link)
(0) comments


Batman VS Superman VS Deadpool
Over the long Easter Weekend (VERY long in my case as we got an EXTRA extra day to go with the two USUAL extra days University employees always get at Easter - for leap year maybe? - meaning I had a WEEK off work!) I went to see TWO superhero movies. My reactions to each were SOMEWHAT DIFFERENT.

The first movie was "Deadpool", which I saw in the Odeon on Tottenham Court Road i.e. the place where I have historically seen nearly ALL the superhero movies. I don't really have any knowledge or affection for the character Deadpool as he was invented in the 1990s when I wasn't reading comics at all - I stopped then because of a lack of CA$H at the time, but I'd like to imagine that subconciously I knew that the 1990s were going to be a decade of comics being mostly RUBBISH. I'd heard some good things about the film though and liked the idea of someone doing something a bit different with THE GENRE, so thought I'd give it a go.

I am SO glad I did because it was BRILLIANT! I knew people had SAID it was rude, sweary, violent and silly but I wasn't quite prepared for HOW rude, sweary, violent and silly it was going to be. CRUMBS! Some sections made me embarrassed even though I was there on my OWN, while other bits made me properly LARF OUT LOUD. I loved the fact that it committed UTTERLY to the character and carried on being the way it was throughout, with even the obligatory ROMANCE being a) in keeping b) actually quite moving. I spent the next day thinking about it because it was so ACE!

This also happened the day after the OTHER superhero film I went to see, but for entirely opposite reasons. For LO! it was "Batman VS Superman" which was not only TERRIBLE but ANNOYING. I should have known - I hated "Man Of Steel", thought the Christopher Nolan Batman films were BORING and had read many reviews - but then I'd seen SOME people on twitter saying it wasn't THAT bad so, once again, thought I'd give it a go.

I'm KIND OF glad I did because it should save me the trouble of bothering with the rest of the DC Universe, but CRIKEY I did not expect it to be QUITE as STUPID as it was. Whole chunks of it made NO SENSE WHATSOEVER e.g. hopefully not a spoiler but instead of Superman saying "Hey Batman! Lex Luther has let's team up for entirely sensible reasons" he says "No time to talk" and then spends AGES having a POINTLESS FITE. Superman! More time telling Batman WHY you should team-up and less time hitting each other in the face for no reason! ARGH! And then the REASON that particular fight ends... NYARGH! It is SO IDIOTIC it makes me want to fly around punching things through buildings EVEN THOUGH I have said out loud that THAT IS A BAD THING.

Many of the annoyances were the same as with "Man Of Steel", like the way the whole film goes "HOORAH for the Military Industrial State!" or that NOBODY says anything funny EVER (there is a SINGLE mild joke in the ENTIRE FILM and that is in the TRAILER anyway) and instead prefer to speak in hugely ponderous STUPID statements that make no sense. IT IS AWFUL!

Having said that, I do think Ben Affleck makes a good Batman and Gal Gadot as Wonder Woman is MEGA BRILL (even though she seems to spend most of her time EITHER being mysterious OR looking at trailers on YouTube). That, however, doesn't make up for how RUDDY THICK Superman is throughout - it's like Zack Snyder read "Dark Knight Returns" and said "Yes, THIS is the way Superman SHOULD behave, i see no problem with it whatsoever."

ALSO they detonate an ATOM BOMB above A CITY and that is apparently fine. Sod off, "Batman VS Superman", you are RUBBISH!

"Deadpool" is dead good though, go and see that instead!

posted 5/4/2016 by MJ Hibbett
(click here for permanent link)
(0) comments


Monday To Friday
It feels like AGES since Mr John Dredge and I completed the first series of The Dredge/Hibbett Conunundrum but we have not been IDLE in the time since, for LO! we have been busy writing, filming, re-filming and now UNLEASHING a whole new WEB SERIES called 'Monday To Friday', the first episode of which is out TODAY, HERE:



The next one will be out on Wednesday with the final episode on Friday (Monday to Friday - clever!), and you can keep up with the SCHEDULE by a) following me and/or John on twitter or b) LIKING our Facebook page where all of them will be appearing.

However you SOURCE the series I hope you enjoy it - it's taken a while to get sorted but I think it's pretty good!

posted 4/4/2016 by MJ Hibbett
(click here for permanent link)
(0) comments


A Day Of Cultural Culture: We Saw Some ART
Bank Holiday Monday found The Curator Of My Exhibits and I heading into London's fashionable London area of London to get ourselves some CULTURE. An Itineray had been prepared the night before by the aforesaid Date On My Ticket the night before while I had been watching the (Cor! Actually Quite Good!) FOOTBALL against Germany, and we were RARING to go.

Our first stop was Somerset House to see "Out There: Our Post-War Public Art". It took us a little while to find it as the SIGNAGE inside Somerset House is APPALLING. The signs that WERE there were either wrong or unclear (e.g. one sign pointing to two different doors) but mostly they were missing. It RILED me up no end - I nearly SAID something, that's how riled I was!

The exhibition itself was DEAD GOOD. It told a fascinating story that caused a RANGE of emotions - DELIGHT at the good intentions of the movement to install art in public after the war, SADNESS at the way it has been neglected/uncatalogued/often stolen, and ANGER at the way working class people were sometimes lumbered with bloody awful lumps of metal and/or concrete in the middle of their neighbourhood. Don't get me wrong, lots of the public art was BRILLIANT, but a lot of it also seemed to be an expression of ANGST, DESPAIR and ISOLATION which, to be honest, is not something you want looming over your home. As The Statue On My Plinth said, you don't tend to see that sort of public art in POSH neighbourhoods.

It was, as i say, a RANGE of emotions and THORTS, which I guess is what you WANT from an exhibition! We also LEARNT stuff (I never realised EVERY tube station has a Labyrinth tile all of its own), talked to a GRATE Old Lady (I think this may be what we DO on outings now) and thoroughly enjoyed a wall covered in Visitor Comments. It was GOOD!

We had planned to see THREE exhibitions at Somerset House but ended up seeing FOUR because the signage was so terrible that we ended up on another one by accident. This was an "imaginary" museum which was supposed to tell a story about two lives but, like most times when Fine Artists try to tell a story, it looked very nice but had no NARRATIVE. Art Criticism!

We ambled round the corner and found the exhibition we'd been looking for, "Venturing Beyond: Graffiti and the Everyday Utopias of the Street". It had one of those descriptions at the start in HUGE letters that (once more in the words of The Colon In My Art Exhibition's Title) you could read all the way through and still not have a clue what it was about. It reminded me of a GAG on Stewart Lee's show the week before, where he said something was a joke because it had the RHYTHM of a joke. This had the RHYTHM of an Art Gallery description and so WAS one, all strings of long words saying art "does a thing, does another thing, and then does ANOTHER slightly opposed thing which challenges, a synonym for challenges and the viewer and makes them reappraise, reasses and another word beginning with 're' whatever it is they were on about in the first place". As with email scammers, if Artists ever learn to speak Clear English we shall all be in trouble!

The last thing we EVENTUALLY saw (after a signage-free wander round a WING) at Somerset House was "Stables and Lucraft: Ulmus Londinium" (colons!) which was an installation about ELM TREES and had trees, beetles, chairs and various wooden things. It was one small area that looked FAB and didn't have a lengthy description. I liked it!

That done we strolled over to The National Gallery for even MORE culture. Well, a cup of tea first but THEN we went to see "Visions of Paradise: Botticini's Palmieri Altarpiece" which was AMAZING. They've taken ONE piece of art, the alterpiece of the title, and then shown it with other relevant things e.g. another altarpiece, a bust of the chap who commissioned it, some historical STUFF from the era - you get the general idea. It was TOTALLY ACE. There's a picture on Wikipedia where you can see that it is RAMMED with all sorts of characters looking in many cases DISTINCTLY non-serene and annoyed with each other. Even better was Fra Angelico Christ Glorified in the Court of Heaven which looked AMAZING, with almost PHOTOGRAPHIC portraits of saints and wotnot, all mixed together and GOLDEN. We liked it!

While we were there we WHIZZED through and did the traditional National Gallery Exit Strategy i.e. Let's Find A Famous Picture On The Way, accordingly ZOOMING past Venus In The Toilet (sic) and a couple of Turners. We then attempted to go to see EVEN MORE Art, but the two private galleries we wanted to look in were both closed so instead we went to Oxford Circus and closed our viewing schedule with a good look at Barbara Hepworth's Winged Figure on the side of John Lewis, as featured in the Public Art exhibition earlier. It was dead good!

We celebrated the end of our day of Cultural Culture with a pile of delicious grub at Tibits and also some BEER. We had, by this point, EARNT it!

posted 1/4/2016 by MJ Hibbett
(click here for permanent link)
(0) comments


Down To Margate
I've lived in East London for just over 13 years but have never been down to Margate on a bank holiday... until now! For LO! on Good Friday myself and The Obtuse Reference In My Rhyming Slang got the High Speed Spanish (Spanish Main, Train) down to the aforesaid Margate in order to sample its DELIGHTS.

And the DELIGHTS were many, much to my surprise as I thought it would be more like other seaside towns in the area that I have been to also i.e. Not Salubrious. Maybe it was because it was such a LOVELY day but I thought Margate was NICE - there were big golden beaches, happy faces, lots of little cafes and a general VIBE that made it feel like we were all on the front cover of a Beano Summer Special.

Frankly it wasn't at ALL like the Thanet that you hear about on the telly, although whilst sitting in a CAFE having some rather exciting SUN RIPENED VINE TOMATOES on ARTISANAL TOAST (it is very much East London on sea!) we did see three big fat racists stomp by wearing England flags carrying some HORRIBLE placards. It made me Quite Annoyed, so I looked at them. STERNLY.

After that though it was all delightful all the way. After a quick visit to the Turner Contemporary (best bit: big windows) we set off on The Turner And Dickens Walk from Margate to Broadstairs, which turned out to be EXACTLY the sort of walk I like i.e. well documented on a MAP, reasonably well sign-posted, and not too long! We strolled across farmland (farm news: fields full of cabbages REALLY smell of cabbages), through The Longest Churchyard In Britain, past a restored windmill, and were just thinking "Wouldn't it be nice if we could find a pub?" when we stumbled across The Four Candles, apparently the smallest brewpub in Britain. I don't know if that's true or not but I DO know that it is one of the NICEST. Ooh it were lovely, we had a couple of DELICIOUS halves and sat outside in the GLORIOUS sunshine (as forecast by Tomasz Schafernaker on the telly and used by The Degrees In My Temperature to select the day of our trip). It was like SUMMER!

Eventually we had to tear ourselves away and stagger into Broadstairs Actual, which was noticeably POSHER than Margate with actual proper seaside-y bits that reminded me of Whitby and/or Cornwall. We had a mini-picnic on the front, watching an old chap stood on a band-stand singing to a backing track for a SIZEABLE crowd, and then wandered off along the cliff tops, where we ended up chatting to a MARVELLOUS lady who VERY proudly told us she was 83, walked this route every day, had worked at Hammersmith Hospital, had had two husbands and MUCH MUCH MORE, including slightly fuller than I would have liked details about losing her second husband. She was a) talkative b) GRATE!

We ended our trip with a look round the harbour before heading back to the High Speed Gene Kelly Singing In The, which took us back to the old East End, where we agreed that our Bank Holiday outing had been a SUCCESS. It was a GRATE start to a very long weekend!

posted 31/3/2016 by MJ Hibbett
(click here for permanent link)
(0) comments