MJ HIBBETT & THE VALIDATORS
blog
gigs
facts
music
shop
links
buy new album
Blog
The English Earth
At the weekend, between leaving work and starting my PhD, the Events Of My Life and I went to TWO (2) cultural things and they were both a) differently ENGLISH and b) similarly ACE.
The first was on Saturday night, when we went to see Chris T-T do his album launch at Housman's bookshop. It was in a Radical Bookshop with an inaccessible toilet and no BOOZE, with people sat on the floor not really minding because they were getting 90 minutes of Chris serenading them with his MIGHTY SONGS. It was all so polite and simultaneously ANGRY, folkie but psychedelic, ROCKING but thoughtful - very him and very English in a way that people rarely shout about. Also VERY enjoyable - I usually start to FIDGET after 20 minutes of a gig, but this one FLEW by!
Next day we went to The Harvest Stomp, which is basically a harvest festival in The Olympic Park. There was a Women's Institute Cake Stall, a bar, JAM making, dogs, kids, country dancing, vegetable competitions and everything you'd expect from a village fete, but with a crazy WHIRL of people of all shapes, sizes, colours and ages mixed up together and, basically, mucking about, getting it wrong, and having fun. I sat on a bale of hay drinking a pint of (BLOODY DELICIOUS) Locally Sourced CRAFT ALE watching a VERY East London set of people being guided through Country Dancing in GLORIOUS sunshine and found myself incredibly MOVED by the whole thing. I did Country Dancing at infant school (a MILLION years ago) and have seen "displays" of it elsewhere, but here it was exactly what it should be - a right laugh, with a few people doing it "right" and everyone else mucking in, dancing with babies, jumping over dogs, bumping into each other and generally being DAFT. It was beautiful!
I felt Actually A Bit Patriotic, not a common (or BECOMING) sensation for a true born Englishman like myself to feel. "When did I last feel like this?" I thought... then looked into the distance where the SQUIGGLE and Olympic Stadium smiled back at me. Ah - that was when!
posted 29/9/2016 by MJ Hibbett
(click here for permanent link)
(0) comments
Beginnings and Endings
It's a right funny time for me at the moment, as I undergo BIG CHANGE in a couple of areas.
The first BIG CHANGE is in my job - I'm moving from Imperial to UCL, starting there in a couple of weeks, with a fortnight of Other Stuff in between. I finished officially on Friday, but I had my leaving do on Thursday after everyone was over at South Kensington campus for a Conference Day. This included a presentation what I had been working on for the past several months, some DATA VISUALISATIONS of Anti-Microbial Resistance data which looked, I don't mind telling you, Quite Impressive.
After it was all done we went over to a nearby bar where some DRINKING ensued. All was well until TEQUILA was purchased. I had a go at it, with the salt and lemon and all that, and didn't see what all the fuss was about... until about half an hour later when I found myself suddenly walking backwards and then falling flat on my arse! I like to think that it is this Professional Attitude that I will be remembered for!
It was a lovely do anyway, and featured quite a lot of me talking about the OTHER big change: the start of my PhD! This began on Monday, with a morning of enrolling at University Of The Arts London, and is continuing all week with LECTURES and SEMINARS and all that sort of thing. It's all a bit strange - it's not THAT long since I finished my last chunk of postgraduate studies so I'd been rather BLASE about it until a few days ago when I suddenly realised that a) it was HAPPENING and b) it would involve WORK. EEK!
On Monday I got enrolled, learnt some Practical Aspects of study, and met the other chaps (they're all chaps, obviously) doing Comics Stuff. We had a chat which involved us all mentioning names of creators and agreeing freely on terminology and it was GRATE! In my working life I'm often called on to have discussions about EITHER computer stuff OR research issues and I can just about get by, but with THIS stuff I thought "Hang on, not only do I understand ALL of this, I have OPINIONS too!" It was AMAZING!
Yesterday was a giddy whirl of people saying "THIS IS A LOT OF WORK" which got a bit overwhelming, and I'm there for the whole rest of the week having much of the same. To be honest it is starting to HURT MY BRANE but, as I keep reminding myself, this is going to be five or so years of thinking, writing and TALKING about COMICS - it's going to be GRATE!
posted 28/9/2016 by MJ Hibbett
(click here for permanent link)
(2) comments
Burn It Down For Free
Party Conference season is upon us once more and to celebrate we are offering a FREE DOWNLOAD of
Burn It Down And Start Again
via those fine folk at
Is This Music?
which you can get RIGHT NOW,
RIGHT HERE
.
When I wrote that song the lyric "Every party all the same" was VERY CURRENT, though there is probably an argument that that is not QUITE the case anymore, not on the surface at least. The rest of the track, however, I believe to be still correct, and I do sometimes think that a comprehensive burning down and restarting is the only achievable way of getting politics right again.
Crumbs, that all got a bit REAL a bit quickly didn't it? Come back tomorrow for some slightly LIGHTER musings!
posted 27/9/2016 by MJ Hibbett
(click here for permanent link)
(0) comments
Modern Mixtapes
It may surprise many people to know that I am not a total EXPERT on Modern Media Management. "But Mark," you surely explain, "Your mastery of Myspace modification is beyond reproach, and your use of FLASH tags is the talk of Geocities!"
This may be true but even I can benefit from WISE COUNSEL sometimes, and lately this has been coming from International Rock Manager and all round GURU Mr G Gargan who has been EXTREMELY handy with THORTS. It was George who told me about getting online ZINES to "premiere" videos, it was George who told me that you need to put them on Facebook as well as Twitter, and it was George who informed me that these days SPOTIFY PLAYLISTS are where it is very much AT.
Apparently that's how LOADS of people hear new music these days, so I went and had a read up about it and found that in order to get OUR stuff on Big Playlists I/we need to be "verified", and in order to do THAT I/we need to get followers and also DO some Playlists. THUS, always willing to try new things (I even have an "App" on my "mobile" telephone!) I decided to give it a go.
COR! It is LOTS of fun - it's like doing a MIXTAPE but a) you don't have to spend all weekend rewinding cassettes to the right place and b) you can inflict it on LOADS of people, rather than just one. The first of these Modern Mixtapes what I made is available for you to have a listen, if you like,
right HERE
. I have made it a SOFT ROCK playlist in order to maximise cross-media fertilisation capacity (hem hem) with
the video for '(You Make Me Feel) Soft Rock'
what came out yesterday, but being as INDIE as I am I needed to get some HELP i.e. I asked The Licks In My Solo to suggest some songs as she KNOWS this sort of thing a heckload more than me - you can probably spot which were her suggestions and which were mine by where they sit on the spectrum from HARD ROCK (her) to EASY LISTENING (me)!
I had so much fun that I'm planning to do MORE of these, with one next week to mark a) Party Conference Season b) the release of
Burn It Down And Start Again
as a free download. All I need to do NOW is find out how to upload the COLLAGE I made for the cover by cutting out pictures from Select Magazine!
posted 21/9/2016 by MJ Hibbett
(click here for permanent link)
(0) comments
Take On Me Via MS Paint
Yesterday that fine periodical
Impose Magazine
PREMIERED the new video of our song
(you make me feel) Soft Rock
from off of
Still Valid
, which means that TODAY I can show it to you right HERE:
As you can probably guess from looking at it, it took me BLOODY AGES to make. It was actually quite RESTFUL, doing a doodle or two every night, and then getting almost MINDFUL with the colouring in, but I was quite relieved when it was all done! We're saying on The Social Media that it's
Take On Me
by A-Ha COLLIDING with
Roobarb & Custard
on MS PAINT, and I think that's fair enough!
Hope you enjoy it and, as ever, any help getting it out to people who DON'T already read the blog or follow me on twitter would be EXTREMELY appreciated!
posted 20/9/2016 by MJ Hibbett
(click here for permanent link)
(0) comments
This Isn't Culture, It's A Laugh
This weekend just gone has featured a whole HEAP of varied and various CULTURED events what I/we have done. It kicked off after work on Friday when I went to see "Eight Days A Week" AKA The Beatles Touring Film. There's been LOADS of publicity about it so I was very surprised to see that it was only showing for ONE day in most places, with only ONE cinema in central London showing it any other time. Turns out the reason for this was that the Thursday night showing was a LIVE SCREENING, so I guess they expected most people to go THEN. As it turned out the showing that I went to was SOLD OUT, so I suppose I wasn't the only person who EITHER was busy on Thursday OR wanted to see it WITHOUT a tedious hour of "famous people arriving" beforehand.
Anyway it was BLOODY GRATE from start to finish, with several things that I hadn't seen before and AMAZING sound. Cor! The live gigs especially were REALLY exciting, and when we had the half hour Shea Stadium gig at the end it was difficult not a) applaud b) SCREAM. Also it was just nice to SEE them again - The Beatles feel like a bunch of PALS who we're lucky enough to see every so often (my big theory about why The Beatles are the BEST: they never set themselves apart from anybody else in an effort to be cool, so when they found The Secret To Existence or A New Sound they SHARED it with everybody else, rather than trying to be COOL and MYSTERIOUS), so it was lovely to spend an extended period of time in their company.
Saturday was Open House Day, which is when lots of normally CLOSED buildings open their doors so that the rest of us can have a good old nosey... I mean, so those of us interested in Architecture And That can be further our educational interests. This year The Drafts Of My Design and I went to have a look at
Here East
. It WAS the media centre for The Olympics in 2012, but now it is... well, sort of the same, but with Loughborough University chucked in and various ideas about mixing Big Companies Needing Creativity with Creative People Needing Support. We started off watching a slighty Tossy corporate video about it, where people used a LOT of Five Dollar words to say "We are a bit poncey and don't really know what we're up to" so I was a BIT cynical, but then we went on the tour and I was completely WON OVER by it all.
It's an AMAZING also HUGE place - our guides, Roger The Senior Architect and Jake The Young Wunderkind Architect were ACE were full of FACTS and also had that thing where they were happy to TELL us stuff without being CONDESCENDING. They told us how the whole DESIGN of the building was done to disguise how MASSIVE it was by using similar ideas to DAZZLE SHIPS and cor blimey but it worked. You wouldn't notice how VAST the building was (apparently bigger than Canary Wharf lain on its size) unless you went inside like what we did and saw the ENORRRRRMOUS great hangar-sized spaces lurking INSIDE the other vast office spaces. I took some pictures but they came out as HUGE DARK NOTHINGNESSES, which is a) accurate but b) not particularly illuminating.
Anyway it was BRILL and we celebrated by going to Mason & Taylor's on the other side of the building for BEER, BEER and CHIPS. Hoorah!
Then on SUNDAY we went to look at a Paralympics Fun Day and a RAVE, two separate events on the South side of the Olympic Park. The Fun Day was just some GAMES to play, but the RAVE was a HUGE thing consisting of loads of big tops hidden behind a VAST wall that was A COLOSSAL BLOODY RACKET. Bloody heck, you could hear it from MILES away and what you could hear was AWFUL. I was never a fan AT ALL of The Rave Music when it was current, and I must say that time has not improved its CHARMS. It sounded like a very very drunk GIT shouting into a dustbin while fifteen early ringtones go off at the same time. PLUS BASS. We looked at it from afar, then went home. Who knows, maybe in another 30 years Ron Howard will summon experts to do a RAVE retrospective, with Giles Martin remixing it all to sound better. He will have one HECK of a job on his hands!
posted 19/9/2016 by MJ Hibbett
(click here for permanent link)
(1) comments
Chekov's Parrot
Last night I was back at my ALMA MATER City University - or rather, City University OF LONDON as it is now - for a meeting with chums about THE WRITING. A bunch of us are doing another group show (like "The Sexy Seven" and "London Calling" from last year), this time on the theme of refugees.
We've been working away at it for a couple of months now, though to be honest most of MY work has only been in the past week. The idea is that their are SIX short plays about refugees from throughout history, which i then tie together in some sort of story that links them all together. The six main characters are also all in a BOAT together onstage, telling their stories - if you care to be HIGH FALUTIN' about it it's sort of like 'The Canterbury Tales' and sort of like Caryl Churchill's 'Top Girls'. But, you know, with a BOAT in it.
I volunteered to do the in between bits because it sounded like GRATE fun - partly because of the CHALLENGE of trying to make a coherent story from six VERY different characters, but also because I thought that that meant everyone else would do all the research and I could concentrate on putting some GAGS in between them. ALAS it didn't quite work out like that, as I spend a large part of my weekend looking up correct terms for sea safety equipment and trying to work out if Idi Amin had ever been to Nigeria (I may be the only person EVER to be disappointed to find that he probably didn't).
It all seemed to work out in the end, and last night we had an EXCELLENT evening reading out the different plays and links and then TALKING about it. The lovely thing about these get togethers is that we've known each other for quite a while now and feel safe to CRITIQUE and BE critiqued about what we've written, which means that we end up getting to the GOOD STUFF by the end. On the down side it does mean that sometimes people get a bit over-excited and say things like "But this is Chekov's fcuking Parrot!" in public (hem hem) but I guess you have to take the rough with the smooth.
The PLAN is to put the finished play on for a couple of nights in November, on the 11th and 12th, in fact, at
Oxford House in Bethnal Green
. Before we do THAT though we still have to agree on a TITLE - the working title has been "Six Refugees and a Parrot" but some people (hem hem again) have been arguing to change it. Once that is resolved and we have got TICKETS available do not FEAR - I shall DEFINITELY be letting you know!
posted 15/9/2016 by MJ Hibbett
(click here for permanent link)
(0) comments
What To Do?
As mentioned yesterday, apart from work stuff and TELLY there has not been an awful lot going on lately, which WORRIES me when we have an
excellent new album
very much OUT and AVAILABLE. I mean, yes, we DID do the SUMMER OF ROCK and have had a couple of VIDEOS out, but surely that should mean we're still selling copies and further INCIDENTS are occurring rather than, as is the current case, it all drying up bit?
I guess part of the problem is that I am out of the LOOP on all things ROCK these days. Time was when I READ the papers/magazines/websites so KNEW what was going on and went OUT to GIGS a lot more, but over recent years I haven't done any of the above as much. Also I seem to have SEVERELY cut down on DOING gigs - for most of the past decade I've done
50-70
gigs a year, this year I'll have done 28, and if you EXCLUDE
Hey Hey 16K
and
Totally Acoustuic
I will have done just 14. That's not many at all is it?
I mean, it's not like I WANT to be going out all the time doing gigs and being constantly HUNGOVER like what I was ten years ago, I think I would be DEADED if I tried, but I would like to do SOMETHING to get more people to listen to the album - especially to get NEW listeners, as sales so far have mostly been to the DELIGHTFUL people who've brought previous stuff. There are some plans afoot - there's at LEAST three more videos to come (which Mr G Gargan of Damnably records has VERY kindly been trying to get some BLOGS interested in) and Steve and I are planning some SHOWS based on the album songs - but I'm at a bit of a loss to think what else we can do. The Names On My Mailling List and I had a chat about it the other night, and had to face the problem that neither of us know what goes ON at the moment!
THUS if anyone has any IDEAS I would be EXTREMELY glad to hear of them in the comments below. Everyone who reads this blog is clearly HEP and UP TO THE MINUTE with the current GROOVE, I'm sure you'll find the answers!
posted 14/9/2016 by MJ Hibbett
(click here for permanent link)
(1) comments
Oh Wow Have We Got Netflix?
Sorry it's been a bit quiet again on the old blog lately, this has been due to THREE things: 1) not much happening 2) being a bit busy as I'm changing jobs soon 3) NETFLIX.
Point ONE shall be dealt with another time. For Point TWO - In a couple of weeks I'm doing my PhD Induction Week (nobody as yet has said "Hang on, surely you can't REALLY become a doctor of MARVEL COMICS?"), then going on holiday, and then I start a NEW job back in BLOOMSBURY working for UCL. I'm very much looking forward to having The King & Queen as my work pub... I MEAN finding new challenges in health research yes.
It is, however, Point THREE I wish to discuss in depth, for surely doing a PhD and starting a new job are all well and good but NEITHER is as LIFE CHANGING as getting NETFLIX?!? It came about a couple of weeks ago when The Seasons Of My Boxset and I found ourselves facing the Olympics/Paralympics GAP with no SHOWS ongoing. We decided to give Netflix a go and OH MY WORD but it is AMAZING! So far we have mostly been gorging on "Community" (three episodes a night on average) and, in my case "Jessica Jones" (whole thing in approx 5 days and COR but it was ACE). We've flicked through bits and bobs of other stuff, and I'm currently trudging dutifully through "Star Trek: The Next Generation" (I started with Season 3 but I think I maybe should have gone straight to 4 as it is SHALL WE SAY not QUITE as good as I remember) but there is still a WORLD of telly out there.
It's ACE but also a bit PRESSURED. There's SO much that I keep thinking I should be watching MORE of it. I mean, we've GOT to watch "House Of Cards" haven't we? And how can I call myself a TELLY FAN when there's a whole series of "Firefly" i haven't re-watched yet? Or "Breaking Bad"? Or... you get the idea.
The main worry is that I feel GUILTY that we're PAYING for something we're not using. I mean, we're still on our free month but after that it's SEVEN POUNDS a month! That's nearly 25 pence A DAY! Part of me KNOWS that seven quid is barely TWO PINTS in that London, but another part of me thinks "But this is WASTEFUL!" You can thus imagine my INNER TURMOIL about the prospect of getting Amazon Prime too - when I get my NUS card it'll be FREE for six months then £3.50 a month after that, but still I think "There isn't TIME to watch all the telly you will LEGALLY HAVE TO WATCH!"
It's probably a remnant of spending my twenties with approx ZERO ca$h and doing things like ensuring the boiler was ONLY switched on when I DEFINITELY needed a bath (I STILL get excited about having hot water ALL the time!) or moving EVERYTHING into the front room so I only had to have one radiator going. Nowadays I am of course King Of Swank and own THREE pairs of jeans even though i only wear ONE at a time, so I am sure I will get used to it, but in the meantime I have three and a half seasons of Earnest Space Meetings to watch!
posted 13/9/2016 by MJ Hibbett
(click here for permanent link)
(0) comments
A Trip To West Ham
Myself and The Players On My Pitch went to see West Ham on Saturday. Ever since the Olympic... sorry, "London" Stadium re-opened we've been talking about getting tickets to see a game, just so we could see what it's like in the aforesaid stadium, so when "Community Tickets" were offered (part of the ongoing campaign by West Ham to get its new neighbours to like them!) we SNAPPED them up.
I was a bit worried on the way there about getting in and it all being All Right. I, of course, am a hard-nosed TOUGH GUY but I did not like the idea of The Illustrations On My Antique Bookmark being exposed to ROUGHNESS and uncouth behaviour as it is not what she is used to hem hem. Also, to be honest, I was worried about the PROCESS of getting in - would there be big police checks? A hierachy of entrance? Something else common at Premiership grounds that I was unaware of?
As it turned out everything was, of course, FINE. We got swallowed up in the big crowd stomping through the park towards the ground and everyone was happy, getting audibly more excited the closer we got, and once inside it was the standard THRONGING to our seats. We were sat up in the second tier, which was actually really nice - very close to where we sat when we went to the Olympics, in fact. It LOOKED just like other big grounds I'd been in, and the gap between crowd and pitch that people had talked about so much wasn't really noticeable. It felt, as The Managers In My Area pointed out, really COSY. You could see everyone else around the whole ground, so it felt very friendly.
The game itself was EXTREMELY enjoyable. For most of the first half West Ham were really good - in the nicest possible way, and with full respect to Posh, it was not the sort of thing I was used to. HOWEVER, towards the end of the second half this changed, as Watford scored Against The Run Of Play and then, just before the break, scored AGANE as a result of a RIDICULOUS cock-up by defenders. I began to almost feel at home!
Shortly after that the half ended and the teams left, with some West Ham fans BOOING. I have to say I was a bit surprised by that - yes, the end had been rubbish, but GOODNESS ME the rest of the half had been good, and this was only the SECOND home game of the season. I don't think you should NEVER boo your team, but crikey, it's a bit early in the season to be doing THAT, especially when you've spent the preceding 45 minutes singing about how much you LOVE them.
The crowd, by the way, were a) mostly perfectly delightful b) STANDARD in many ways but c) surprisingly diverse. When I go to see Posh it's NOTICEABLE how overwhelmingly white everyone is, but where I was sitting there was a proper East London MIX of people, including lots of women and kids too. Also the HUMOUR was GOOD - when West Ham moved to The Olympics I was worried there would be TROUBLE, but actually it's been FINE, and it seemed to be that way inside the stadium too. We DID see a bit of a kerfuffle at one point when some fans were arguing with each other, but it was nothing more than that, so I was VERY surprised later in the evening to see it reported as "unsavoury scenes" and "rioting".
There were also the usual NUTTERS - Guy Who Thinks He's Leading The Singing was sat behind us for a while, Inexplicably Furious Man was in front of us too, but they left during the break, I guess to go behind the goals to join in with the mass Shouting behind the goalposts.
Unfortunately for home fans there was to be SIGNIFICANTLY LESS singing and shouting in the second half, as Watford amazingly scored two more times and a GREAT QUIET fell around the ground. The turnaround was quite astonishing, as the team that had been RAMPANT earlier on basically CAPITULATED. We watched the small, yellow, group of Watford fans leaping around for JOY over on the far side, but felt that it would have been impolite to join in. It would have been nice to SEE the extra goals, but the BIG SCREENS rather pointedly didn't show them, which I thought was a bit rude. They were disappointing all round actually, those big screens. I'd expected them to show close-ups and replays, but they spent most of their time showing A LOT of adverts!
Watford had a FIFTH goal disallowed as offside, which seemed to be a signal for everyone to LEAVE - I think several people thought it WAS 5-2 so got up in DISGUST, then couldn't really go back to their seat when it wasn't. Over the last ten minutes huge SWATHES of the ground cleared, it was REMARKABLE. I haven't seen that happen to that extent at Posh, but then i guess you need SWATHES of the ground to be FULL in the first place!
It always seems a bit OFF to me to leave early, especially, as I say, when you've spent most of the afternoon shouting about how you love the club through thick and thin, but then I've never had a season ticket and so have never a) known I'll be back in a few days b) felt the need to protest particularly. Reading the reports later on there does seem to be quite a bit of unhappiness amongst fans about their new home, especially RE: seating allocations, which I can well understand. If you've sat in the same seat your whole life, with the same group of people around you, it's going to be UPSETTING to say the least to have everything changed. I mean, yes, the club HAS been basically GIVEN a mega-stadium, but that's not necessarily to the benefit of the actual supporters.
Anyway, we DID stay to the end and thus found that getting out was PEASY! Everything about the day HAD been nice and easy, in fact, and despite the above apparent discontent we'd had a LOVELY time. I hope the club and the supporters do manage to get themselves sorted out quickly, if they do they'll have a GRATE ground to enjoy, even if the actual football is not always of the same standard!
Big screem - adverts, no Watford goals.
posted 12/9/2016 by MJ Hibbett
(click here for permanent link)
(2) comments
Totally Acoustic End Of Series
Thursday afternoon found me rocking up once more at The King & Queen for the FINAL
Totally Acoustic
of the current season. Even before I got into the pub I found the first of the evening's acts, Mr O Tromans, and we went inside for a right old CHAT about things various, notably Doing This Kind Of Thing At Our Kind Of Age. I don't see Owen nearly often enough, so it was a DELIGHT to have the chance for a bit of a natter, and he even helped set the tables out!
Downstairs we found Mr J Kell, Mr K Top Of The Pops and then a whole STREAM of other people. When Mr J Brodie arrived our roster of ACTS was fulfilled so I rounded everybody up and headed upstairs, closely followed by a TONNE of other people.
For LO! The room was PACKED! We were once again missing Mr S Hewitt but his absence was a) noted by someone ASKING where he was when I said "Any questions?" and b) filled by about a MILLION people, all squashed up together. We've had pretty good audiences for this run of shows, but this final one was by FAR the busiest!
I kicked off with a couple of songs -
20 Things To Do Before You're 30
and
I Come From The Fens
(after attempting and FAILING to play
The Perfect Love Song
) - before bringing Owen on for a MARVELLOUS set full of INTERESTING subject matter. His songs all (in murky retrospect) seemed to be about the life stories of minor 19th Century European Royals. I'm pretty sure that's NOT what they were all about, I think my BRANE has gone "This was a bunch of topics not generally covered in indie or indeed any other kind of music, let's FILE them under that so it doesn't make me feel quite so LIMITED in my own subject matter." Anyway, it was ACE!
We then had our usual five minute break which turned into nearly half an hour as there was a MAD SCRUM at the bar. It was already unusually busy downstairs, so when the ENTIRE ROOM from upstairs descended even the legendarily CAPABLE staff of The King & Queen took a while to catch up. I have never seen the like!
James Brodie was next and he did of set of what SEEMED to be to be at least partly improvised songs. I mean, they MUST have been partly made up because one of them was about getting the train there that afternoon and another had ME in it, but the whole set felt quite RAW and FREEWHEELING, also quite LOUD and FUNNY. It was unlike anything else we've had at Totally Acoustic before, and I hope the PODCAST manages to cover it adequately!
Finally, after a more USUAL length break, which had the ever wonderful explosion of ROCK that is Keith Top Of The Pops & His Minor UK Indie Celebrity All-Star Backing Band. As ever i got the name wrong while introducing them, which lead to the whole GROUP saying it in unison and sounding like the start of the BEST Saturday Morning Kids TV Show EVER! They then played a set featuring only ONE guitar but a whole HEAP of other acoustical instruments, which meant that a) the Day In The Life bit in "Two Of The Beatles Are Dead" was INCREDIBLE and b) it really did get awfully close to JAZZ (except good) at several points.
It was, in fact, ACE and a PERFECT way to draw this series to a close, as you can hear for yourself on
the podcast
which is up RIGHT NOW. The NEXT series will be beginning in December, but between now and then there'll be TWO (2) extra special podcasts featuring unused tracks from ALL the acts featured in the past year. It's going to be a right royal TREAT, I guarantee it!
posted 5/9/2016 by MJ Hibbett
(click here for permanent link)
(0) comments
Block
Last weekend The Art In My Gallery and I went to see some MODERN DANCE, because we are well sophisticated like that and also because it was only round the corner from our flat so not to do so would have felt RUDE.
The Performance was called
BLOCK
, by
NoFitState
and
Motionhouse
dance companies and it was QUITE a thing. It started off with a huge pile of massive grey blocks piled up into a sort of CAVE arrangement which the dancers clambered over, bent over backwards looking like insects. They then proceeded to spend about 40 minutes LEAPING about, throwing each other across huge spaces and clambering into teetering piles of blocks in a mixture of DRAMA SCHOOL and CIRCUS SKILLS.
It was actually DEAD impressive as they flew around all over the place, and also SCARY when they clambered onto not very stable piles of blocks, especially at the end when they built a giant JENGA tower about 20 feet high and were all jumping around/into/off it. At one point the sky grew dark and cloudy, which was very atmospheric but a bit worrying when a WIND whipped up and started shaking the blocks!
I wasn't sure what was going on - I THORT it was something about mankind developing, also society and cities - but I must say I rather LIKED it. It was, as I say, impressive but also quite ENGROSSING, and it certainly drew a great CROWD to that corner of the Olympic Park. I always get a bit uncomfortable when you see DANCERS doing "acting" (in much the same way as OPERA SINGERS do) but that was more than made up for by all the jumping and FLYING. I'm not sure we were supposed to burst into applause for individual feats of athleticisim, but some of it was SO amazing we couldn't really help it!
I wouldn't say it made me want to go and see MORE Modern Dance, but it was certainly fun to watch. Having said that, if you see me THROWING Steve through the air in our next show, with him doing double back flips as he flies, then you'll know where the idea came from!
posted 2/9/2016 by MJ Hibbett
(click here for permanent link)
(0) comments
Towersey Festival
Saturday afternoon saw me heading off for THE CHILTERNS, where I was due to play at
The Towersey Festival
. I was VERY MUCH looking forward to it, partly because I like gigs, partly because I LOVE playing festivals, but mostly because I was going to be doing a BIG SHOW with Mr G Osborn and Ms Grace Petrie!
I had to get there first though, and this took a bit of doing. The festival website had said that there were two stations equidistant from Towersey - Princes Risborough and Haddenham & Thame Parkway. I decided to go to Princes Risborough as, I reasoned, it's a TOWN and so more likely to have a taxi rank. When i got there, however, I found a taxi rank, a taxi portakabin, a very helpful taxi company bloke, but no taxis! "You should have gone to Haddenham & Thame" he said, "It's much closer and they have a rank!"
I duly bought a ticket, had a quick look at the local area (no normal shops but lots of ODD ones including a Soft Water Shop and a Garden Railway Specialist), took a five minute train journey, and found NO rank or taxis at Haddenham & Thame BUT a portakabin. The chap within locked up his office and drove me to The Travelodge - phew!
I was a bit ALARMED when the check-in lady said "We lock the doors at 10pm" but then when she saw my face said "Don't worry, there's no curfew - just ring the bell." I got unpacked and headed out to the festival site, but got about 3 feet before it LOBBED it down with rain, so DIVED into the adjacent Little Chef for some CHIPS. It was thus a FAT SATURATED Hibbett who waddled along the road to the festival site once the rain had stoped. It only took 15 minutes to get there, but then took another half hour of walking around the perimeter to find the Artists Entrance - I guess I might have been the only ARTIST walking there, so it wasn't really designed for pedestrian access!
Once in I dropped my gear off at the stage, put on a clean shirt (all the walking and CHIPS had got me a bit sweaty) then went to look for Gav and Grace. "Where can they be?" I thought. "Ah yes, here they are at THE BAR."
It was lovely to see them, also Mr J Hare who was there on Keyboard duties with Gav. What followed was a LOVELY afternoon and early evening during which there was BEER, chat, Shop Talk and GOSSIP. It was BRILLIANT to see them all and also to be able to wander round such a GRATE festival. Apparently it's been going 52 years so has had plenty of time to get things RIGHT - there were AMPLE bars, LOADS of food shops (including a TONNE of veggie places) and even plenty of places to sit down. Even the weather was perfect, though I suppose they couldn't really claim credit for that. It was an ACE place to be, full of happy people having a nice time, often across several generations.
After having such a lovely time it almost seemed like a shame to do our show. We were in The Big Club, one of those MASSIVE two-peaked big top style tents full of SEATS, the number of which I tried not to think about as I was quite SCARED enough already. We'd talked vaguely of what we were going to do at various points during the day, and had agreed that instead of our usual One Set After The Other arrangement this time we'd try ALL sitting on stage at the same time and doing one song at a time each. If I was just WATCHING I'd've thought "That sounds fine" but the idea of DOING it - and having to KEEP playing in between two people as BRILL as Gav and Grace - filled me with terror. Our slot was for 90 minutes, what if I needed the LOO?!?
We did a soundcheck, I went for a Nervous Wee, and then we trooped on again for SHOWTIME. We'd arranged three chairs on the stage with John off to the side with his keyboard, which meant that we were all there throughout watching each other and, actually, this made it EVEN MORE fun. Whenever I play with Gav and Grace I sit and LARF at their CHAT and enjoy their songs anyway, so it was absolutely no hassle to do this on stage - whenever I see a "songwriters circle" arrangement I always wonder how the people NOT singing manage to hold their Serious Songwriter Faces for the whole time, but I think we all ended up just GRINNING throughout.
There was a really big audience, who seemed to enjoy themselves too. Here they are, as seen from my seat, while Grace was ROCKING the tent: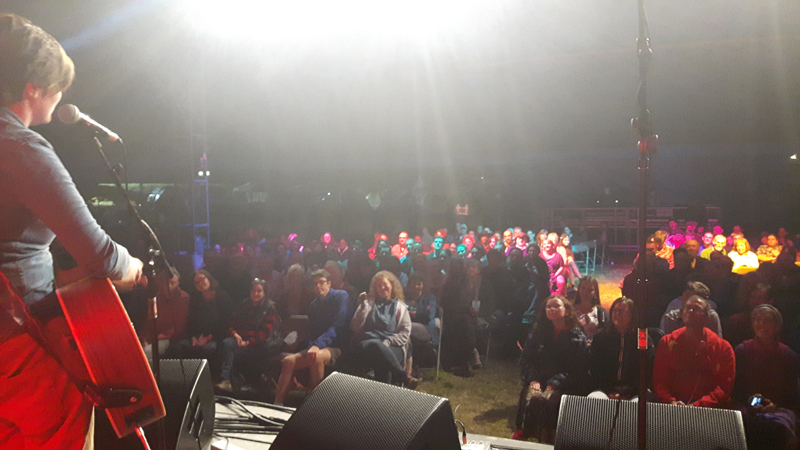 I must admit my MAIN fear was of being a LULL between these TITANS, but my stuff seemed to hold up all right. I even managed to nip off for a WEE at one point, and then had time to get a PINT on the way back. You don't get that at normal gigs! Here's what I did:
Originally we'd planned to do SEVEN songs each, but the CHAT rather took over, hence six. We'd also agreed to go Gav, Me, Grace throughout with Grace's last song as the FINALE, so I was a bit surprised when I sat down after
It Only Works Because You're here
to see the others putting down their AXES and getting ready to head off. They had - SENSIBLY - agreed to make that the last one and NIP OFF, which meant we got to STRIDE back on and do Grace's "Inspector Morse" as the BIG FINISH, which was AMAZING apart from the fact that "someone" (hem hem) did most of the choruses wrong. Sorry!
We stormed off in TRIUMPH, before hurrying back out again to see if anyone wanted to buy some CDs. Some people did, including some old CHUMS I'd not seen for YEARS! I managed to deal with my customers at high speed, so ended up trying to channel other people towards payment - as ever when the ARTISTE does the MERCH you get some people who want to have a CHAT, and I always worry that other, more shy, people towards the back of the queue end up giving up. I think I managed to SERVICE everyone though!
When all was done and dusted we packed up and prepared to go our separate ways, though not before Gav asked a kindly security guard to take a picture of us, THUS: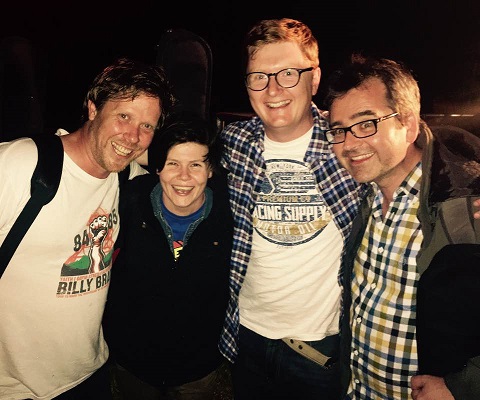 Those are some happy faces! We said our farewells, agreeing that we should DEFINITELY do some more gigs together this way, and set off into the night. I had a long walk down a dark lane (I'd brought my torch!) and got back to find the Travelodge LOCKED... though not very firmly, as the door opened with a slight nudge. I congratulated myself on getting back without bothering anybody and decided to have a shower... wherein I pulled the EMERGENCY ALARM by mistake (I was in a disabled room) and ended up with a lady having to come into my room to switch it off while I tried to look business-like while DRUNK beneath a small towel at 2am.
It was the perfect ROCK way to end what had been a fantastic day - can I come back and do it again next year please?
posted 30/8/2016 by MJ Hibbett
(click here for permanent link)
(0) comments
The Beer Festival
I was in Peterborough last night - fittingly, after a day when (according to Mr P Myland)
our new video
was "going Viral in Peterborough" - to experience its greatest cultural event i.e. The Peterborough Beer Festival!
I used to go to the Beer Festi EVERY year but haven't been as regularly in recent times, largely due to the fact that I tend to be up at The Edinburgh Fringe at this time of year or, if not, at home RECOVERING from same. I was thus DELIGHTED to be able to go and meet Mr P Myland, also Mr O Myland, off the BUS at Peterborough Bus Station and then stroll off in the general direction of the embankment. On the way we bought a cagoule for Oliver (and discovered that Young People In Shops have no idea what a cagoule is, but do if you say "Pacamac"), popped into Charters (aka "The Boat Place"), said hello to Mrs C Myland, handed over the aforesaid Oliver, and then continued on our way. It was an efficient use of time and energy, not least because I got to try a pint of Shiny Bitter in Charters, as brewed by young Mr J Machine, Son Of Frankie. It was nice!
The festival site was much as it has always been i.e. three HUGE tents linked together with a bar all the way around the inner perimeter and LOADS of beers. We got pint glasses but Mileage suggested that this time we drink HALVES. I was unsure but he pointed out that you get MORE this way as bartenders were often "generous" with the measures. He was not wrong, we got LOADS of FREE BEER! ALSO it means that if you have something you don't like - e.g. that smells like old socks full of lavender - you don't have to drink a whole pint of it!
We were soon joined by THE PARENTS and the four of us spend a very jolly evening wandering around, spotting people (excitingly, we saw Cynical Hippy Who Used To Work In The Comic Shop, who now looks like GANDALF), discussing beer and general YACKING. It was ace - what kind of fool would schedule a trip to an ARTS festival and miss out on all THIS?
By 10pm it was time for me to head home, and I was reminded once again how TERRIFYING it can be when you're a LITTLE bit tiddly and have to navigate a two hour journey featuring walking and trains. It is A BIT terrifying! Still, it was TOTALLY worth it, and hopefully it won't be another year until I'm back again!
posted 26/8/2016 by MJ Hibbett
(click here for permanent link)
(0) comments
The 1980s How It Was
Today I am a) proud b) DELIGHTED to share with you the brand new video for our song
The 1980s How It Was
, which you can see right HERE:
All of the pictures were taken by
Chris Porsz
, who very kindly allowed us to use them, during the 1980s - all except for the last one, which is part of Chris's "Reunions" project, restaging some of his old pictures with the same people.ALL of his work is worth having a look at, as it's GORGEOUS!
I was VERY pleased to be able to use Chris's pictures as the song was initially INSPIRED by seeing a book of his photographs, which captured growing up in the 1980s EXACTLY how I remembered it. The song was then used to express this very THORT in
Hey Hey 16K
, and I liked it so much that we ended up recording it for
Still Valid
.
As ever, any mentions, tweets, links or just LOOKS would be very appreciated - hope you enjoy it!
posted 24/8/2016 by MJ Hibbett
(click here for permanent link)
(0) comments
The Annual Art And Architecture Adventure
As I'm sure is clear by now, The Artworks In My Curation and I are WELL sophisticated and are out and about ALL the time looking at art and that and definitely NOT at home watching telly. The idea!
Take this weekend, for example, when we went out for a WHOLE heap of culture. We kicked off with a trip to a new pop up cafe what has opened, a little place that calls itself Pret A Manger. Yes all right, but it was the VEGGIE Pret A Manger what has opened in Soho - it felt rude NOT to give it a go, as it's their experiment in trying new veggie/vegan recipes, and I must say the experiment is a SUCCESS as we ate TONNES!
That done we staggered down the road to the National Portrait Gallery to see the
BP Portrait Award
. We've been to see this exhibition pretty much every year for AGES, so are qualified to say this wasn't a vintage one. It was OK and there were a couple of good things (I liked the portrait of the Dunkirk Glider Pilot), but nothing was particularly OUTSTANDING. There seems to be even more of that thing where you can't tell if it's a photo or not, which is quite impressive at first but after a while you think "Why not just take a photo?" The HIGHPOINT tho was bumping into Mr D Hill, late of Airport Gurl, who I'd not seen for YONKS.
That done we headed off to distant West London to have a look at
The Serpentine Pavilion
. We go and see THIS every year too so are qualified to say that THIS one was pretty much the best pavilion EVER. It was AMAZING! It's a WALL of boxes which have been moved outwards to form a sort of curvy church of AIR and BOXES and - well, go and have a look at
the architect's website
or even better go and see the actual thing if you can, it was like something from a SCI-FI film, but also something that WORKED. A lot of previous pavilions have felt FLIMSY or UNCOMFORTABLE but this was a lovely place to BE inside and to look out from the outside. It's hard to put into words how AWESOME it was, kind of like a modern cathedral, or an ice cave, or space-age flats, or LEGO. Have a look!
Duly impressed we had a quick walk roun the
Alex Katz exhibition
in the a gallery actual (DEAD good) and the "summer houses" linked to the Pavilion (OK) then wandered through the park. "There's a parrot!" said The Birds In My Spotters' Guide. "There's another one," I said, and suddenly we were SURROUNDED by them. The trees were FULL of bright green parrots which were flying around and LANDING on people all about us, I have never seen the LIKE!
Finally we went and tried ANOTHER new restaurant - Mildreds' new veggie restaurant in Kings Cross, it was LOVELY - before heading home, FULLY cultured up. I think we can safely watch at least THREE full seasons of US sitcoms... I mean, Important Documentaries, before we need to get charged up again!
posted 22/8/2016 by MJ Hibbett
(click here for permanent link)
(0) comments
Poetry On The Underground
I travel to work on the tube most days and it's not the MOST calming of experiences, but it's made even WORSE when I see one of those bloody awful "poem" posters that are meant to promote Travel Etiquette. They're made by Travel Better London and you can
see a selection of them here
.
The pictures are perfectly nice and I'm fine with the sentiment, what I object to is the fact that the "poems" DON'T EVEN BLOODY SCAN. This is fine for AVANT GARDE poetry but for these ones it is clear that they are meant to, they just DON'T, and it drives me up the WALL. Even THINKING about them makes me angry. Take this one:
We're all eager to reach our destinations
In crowded platforms and busy trains
Remember to stop at the next station
When feeling dizzy, sick or in pain
Some water, a break or maybe a bandage
Please don't suffer inside the carriage

ARGH! Stop! It's so VERY SLIGHTLY wrong that it hurts MY BRANE! Did nobody try SAYING them out LOUD before putting them on posters? Did they all go "Poetry is a spontaneous outporing of powerful emotion therefore we can't do a second draft"? And bandage/carriage? WHAT THE?!?
You can see LOADS more at
their tumblr page
but be warned, they are ALL SUBTLY WRONG and will make your MIND EXPLODE with RAGE.
There is, however, ANOTHER set of adverts which use RHYME in a perfectly DELIGHTFUL way. I speak, of course, of the Just Eat adverts which mildly alter the lyrics of popular songs to suggest being excited about having a takeaway e.g. "Man, I feel Like a wonton", "Oh, I wanna dansak somebody" or "Sashimi rollin', they hatin'". What i like about these is that they are SIMPLE and they WORK and, actually, are MILDLY AMUSING. There doesn't even need to be a bit at the bottom to tell you what song they're copying, as they have been done in such a way that you can HEAR them in your head, FITTING the lyrics.
I know none of this is VITAL or IMPORTANT but it is something I feel strongly about!
posted 18/8/2016 by MJ Hibbett
(click here for permanent link)
(0) comments
Heavy Horses
The Stalls At My Fete and I had a LOVELY weekend just gone, down in Cornwall with PARENTS. This featured MANY delightful aspects, including pub, fancy barbecue, olympics, paddling in the sea, pub, and a family CURRY outing, but perhaps the highest of the high points was a trip to the
Tregony Heavy Horse Show
.
This was NOT, as one might expect, Red Rum, SeaBiscuit and Black Beauty sitting round watching The Monkee's "Head" at 2am saying "WHOA what if we're all a dream and our DREAMS are reality?" It was instead a PROPER slice of Traditional British Life, a big FIELD full of entire WORLDS to which most of us never gain access. There was a whole DOG show, CRAFT stalls, vintage sports cars, Viking re-enacters and all sorts of social worlds that clearly meant a LOT to their practitioners but which had never really entered into our consciences at all. A good example was the Viking guys who were all dressed up in specifically different eras of Viking clothing and who spoke very knowledgably about ALL of it. The best bit was when my Dad said "They never wore the curly horns did they?" and they ALL said "FALLACY!" as one.
The main attraction though were the heavy horses, GINORMOUS animals that I am more used to seeing in porcelain on top of an elderly relative's fireplace in approx 1982. They were GORGEOUS great things who a) looked placid and calm but b) I would NOT want to get on the wrong side of. There was also a display of SHETLAND ponies, and one particular pair of horses that The Horses In My Stable took a great liking to - a great big Shire horse and a tiny Shetland called Harry, who apparently travelled together because the big one got scared if he had to go alone, but was fine if his tiny friend was with him.
It was AMAZING, like finding four smaller Indietracks (which, after all, features train restoration AND indiepop) welded together in one place!
The low point of the weekend, by the way, was our journey home being delayed by FOUR HOURS. Still, we did see a Steam Train at Bodmin Parkway, and there's always Delay Repay!
posted 17/8/2016 by MJ Hibbett
(click here for permanent link)
(0) comments
Beneath The Surface, Frantic Action
I don't seem to have blogged here much this week, for which many apologies - nobody has actually COMPLAINED but I'm sure you were all just being polite!
The reason for this lack of communication is that, after the EXPLOITS of The Summer Of ROCK things have quietened down a bit, at least on the surface. Much like a SWAN who is late for a meeting with its Supervisor, however, underneath this image there has been ACTION.
For LO! the next stage of the
Still Valid
Promotional Campaign is going to be a whole HEAP of videos, THREE (3) of which are in progress as we speak. As mentioned elsewhere, I FILMED the basics for
We Did It Anyway
while I was in Leicester, but have instead been concentrating on
(You Make Me Feel) Soft Rock
as a) it is a bigger job b) I was rather enjoying it. The PLAN is to do it as a live action/animation HYBRID, with me doing a SORT OF Roobarb And Custard animation, basically in MSPAINT. What I've done so far looks GRATE, but it's taking ages!!
With that in mind I have brought forward the THIRD planned video, for
The 1980s How It Was
. This song was partly inspired by Chris Porsz's book
New England
, which features AMAZING photographs of Peterborough in the 1980s that look EXACTLY how I remember it. I got in touch with Chris a few weeks ago and he very kindly agreed to let us USE some of his pictures to make a video with. I've thus spent the past few nights trying to choose which photographs fit best with which lines in the song. It's a LOVELY thing to do, even if it's sometimes hard to pick just one, and a LOT quicker than trying to draw animation, so hopefully that'll be out quite soon!
There are vague plans for OTHER videos - Tim is very keen on us doing one for
Burn It Down And Start Again
, for instance - but I'm ALWAYS open to some of the more OLD FASHIONED avenues of promotion like GIGS and AIRPLAY, so as ever, if anyone has any IDEAS or OFFERS in that direction, they would be very much appreciated. We're really proud of this here album, we want to FOIST it onto as many new people as we can!
posted 12/8/2016 by MJ Hibbett
(click here for permanent link)
(0) comments
Summer Of Rock Finale
It was Pride weekend in Leeds this weekend, so when I rolled up I found it full of scantily clad people ALREADY DRUNK, being LOUD in the streets in search of good times and BOOZE and SHOUTING. There were also people getting ready for Pride! LEEDZ!
I checked into the hotel with some time to spare, so flicked through the channels. "There's nothing ever on when I do this," I thought, but then was AMAZED to find that "The Birth Of The Beatles" was on! I haven't seen this for YEARS - it's a TERRIBLE/BRILLIANT telling of The Early Beatles, where EVERYTHING anybody says is A Famous Quote OR A Future Song Title. It is ACE/DREADFUL - SO much so that I made Mr FA Machine watch a few minutes of it when I went to collect him. He was delighted!
Frankie, Mr T 'The Tiger' McClure and I were all staying in the same hotel, so we went together down the road to our venue for the evening's gig,
The Wharf Chambers
, which was ACE. It is a COLLECTIVE so had The Big Notice Board of EVENTS, VEGAN grub on the bar, LOADS of excellent beers and an all-round LOVELY atmosphere. It basically reminded me of The Mag in Leicester!
Downstairs we found The Family Pattison and Mr S Gibb, who was promoting for the evening. We got ourselves soundchecked, had a beer and a chat (some of us hadn't seen each other for TWO weeks!!) then wandered off into Leeds Actual to pay a visit to Zam Zams. We'd last visited this establishment seven years ago, while touring 'Regardez, Ecoutez et Repetez' and had enjoyed it so much that we took a picture, THUS: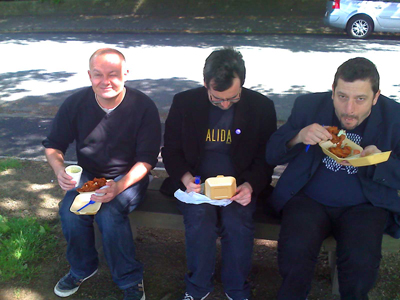 The return did NOT disappoint, as you can see BELOW:
After a lovely curry tea and some DISCUSSION (possible London gig! this year's Christmas song!) it was a very FULL Validators that returned to the venue to the other acts, including an EXCELLENT Housemartins covers band. Cor, The Housemartins were good weren't they? Their set was FULL of HITS!
Shortly after 10pm we were ready to get onstage, but Stu asked that we wait a bit. "People like to have a chat between acts, and they're all outside", he said. This reminded me of an OLD TRICK that we used to do when I was in VOON and we played at The Charlotte. We noticed that people would NOT come into the gig room UNTIL they heard music playing, so rather than have everybody miss our first song we would begin with some JAZZ IMPOVISATION, so there was a NOISE to bring everybody in. THUS The Validators set looked like THIS:
It worked! "This is amazing", I thought during the first song. "We are SO IN SYNC we can improvise a whole song!" I mentioned this later and Tom said "Yes, it's almost as if they're generic", which SURELY can't be right can it? I prefer my version!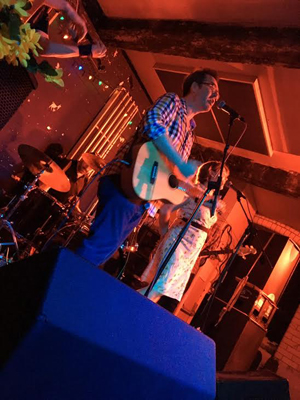 The set was THOROUGHLY enjoyable, for us at least - the sound was GRATE, we knew what we were doing (even when some people forgot the word to verse two of
Do The Indie Kid
and went the long way round to get to the chorus, everybody else managed to follow) and after WEEKS of (almost) CONSTANT touring it feels very natural to be YACKING onstage between ourselves and the audience. It was ACE!
It was also very HOT, so a clean shirt was needed before I could enjoy the rest of the evening. The Pattisons left shortly after the show, but the rest of us STAYED UP until WELL past 1am! ROCK AND ROLL!
The only sadness of the day was that this was the END of our SUMMER OF ROCK. The next Validators gig isn't until NOVEMBER now (we're
supporting The Wave Pictures
in Nottingham) which is MUCH too far away! It's been a LOVELY few weeks of saying "See you next weekend!" to The Validators, I don't really want it to end!
posted 8/8/2016 by MJ Hibbett
(click here for permanent link)
(1) comments
Totally Acoustic SE08E11
Last night was
Totally Acoustic
night, incredibly the ELEVENTH in the current series. That's a LOT of nights in The King & Queen, which can never be a bad thing!
I arrived to find Mr B Botting and most of his band already arrived, so after a quick chat I took them upstairs so they could have a bit of a practice. I went back to the pub where I discovered Mr J Jervis, that delightful man, and we chatted SO HARD that I almost forgot the time, so showtime itself was nearly upon us before i remembered my responsibilities and was able to greet Mr D Leach and Mr B Dolan (aka Non Canon) and gather everybody upstairs for what would turn out to be an a) busy b) GRATE night.
Not that it was without its SADNESS of course, for Mr S Hewitt was NOT in his usual seat - he is GADDING about in Edinburgh even as we speak - so he was MISSED, especially during the "Ooh" in the Totally Acoustic theme tune. I struggled on manfully, did
20 Things To Do Before You're 30
and
(You Make Me Feel) Soft Rock
, then introduced David Leach onto the stage. Oh he's VERY good is David, taking the audience firmly yet kindly in the palm of his hand and not letting them go throughout. One of the many things I love about Totally Acoustic is when the audience is all mixed up, so they see people they normally wouldn't, especially when they end up being as ROYALLY won over as they were in this case.
After a short break we returned for Non Canon which, it turns out, is pretty much an acoustical version of his more usual Oxygen Thief moniker. He was ENTHRALLING but what I enjoyed most was his OBSCURE references. "That last song," he said, "was called 'Splinter Of The Minds Eye', which is of course - " He turned to me, and I found myself saying "The Star Wars novel sequel written by Alan Dean Foster." Bearing in mind I often can't remember what DAY it is, I was very impressed by this!
And then our final act was Bill with his backing band, which was something of a minor uk indie celebrity all-star group. I wonder where I've heard that before? Bill was MARVELLOUS and the band were GRATE - we don't often have GUITAR SOLOES at Totally Acoustic, but this was more than made up for during their set! It was a lovely sound, with eight people twanging along together, I could have listened to them all night!
With that done we hugged our goodbyes, doled out the whip round, and then The Cash In My Glass and I headed out into the night. We've got ONE more show left for this run, on the first of September, then we'll be having a two month break before the next series starts. The way I feel today, I think a rest will be needed!
posted 5/8/2016 by MJ Hibbett
(click here for permanent link)
(0) comments
Fortuna Pop Finale
On Saturday afternoon in the Merch Tent at Indietracks I got chatting to Mr S Price of Fortuna Pop. "How's it going?" I asked. He looked surprised. "Haven't you heard? Fortuna Pop is ending - it's in the programme!"
I WAS surprised - why on earth would he think somebody would have actually read the programme at this stage? The only pages anyone reads on-site are the band times, the rest of it is for, SHALL WE SAY, the next morning when you have some "quiet time" to deal with the events of the night before. Or when you have a poo.
We had a brief chat about this news and I CONGRATULATED him on his 20 years in ROCK, as he has Done Really Well. All right, he may have BROKEN several rules along the way (e.g. making records people BUY by bands people LIKE - this is not The Indie Way!) but he's brought a lot of joy to a lot of people, done well by some pretty GRATE bands and HELPED a lot of us along the way too. The Fortuna Pop mailing list has been passed around from band to band and label to label so much along the years that it is probably not far off assuming SENTIENCE, and he's always been ready with ADVICE on how to do stuff. He has basiccaly been one of the tent poles that has held up the great big indiepop tent for the past couple of decades.
I was surprised AGANE though about people's reaction to this news, in that they all seem to be SAD about it. It's not SAD - when a mighty WARRIOR lays down his arms and retires from the battlefield it is a source of HAPPINESS, surely? He's CONCLUDING, not being stopped, and he's doing it at his time of choosing, on his terms, rather than being FORCED to do so by life/money events. Retiring, rather than Retreating, is something very few people in this KRAZY BUSINESS ever get to do!
So I say to one and all, congratulate, don't commiserate, and if you need to find a way to pay TRIBUTE to Sean and his work over the years, how about BUYING a TONNE of his stuff next time you see him? And not the acclaimed, popular stuff either - get some of the other records, lots of it is GOOD and I bet he's got LOADS of it left!
posted 3/8/2016 by MJ Hibbett
(click here for permanent link)
(0) comments
Indietracks
Saturday lunchtime found a VERY excited me, Mr S Hewitt, Ms C Birkby and Mr T 'The Tiger' McClure ZOOMING towards Ripley on our way to INDIETRACKS. INDIETRACKS!
As soon as we got to the car park we started bumping into people we knew, and this continued for THE WHOLE DAY. It was BRILL! Christina had not been before, so we explained to her that everything took AGES to do because, wherever you went, you would meet approx 300,000 people on the way and have to stop and chat to them. This proved very much to be the case!
There were also BANDS playing, not least Mr FA Machine playing on the train in FULL BAND mode, which was RATHER excellent. We also saw The Numberz (I'm used to bands LOOKING like they're 10, so seeing a band who WERE about 10 was quite a relief) and The Just Joans (ACE) in the Merch Tent, and I spent half an hour GRINNING like a LOON at Po! in the Tram Shed, who were AMAZING. I also, I can now reveal, did a whole gig of my own in The Merch Tent, which went like this:
I was REALLY nervous beforehand and had been panicking about a) what I was going to play and b) whether anyone would turn up. Last time I played the Merch Tent was one of my favourite gigs EVER, I was scared that this one would be EMPTY. As it happened, it totally wasn't and we had a RIGHT good sing song, as you can see BELOW:
It was GRATE - thanks to Mr J Jervis for allowing me to play, and to Frankie for lending me a guitar. ALSO thanks to everyone who bought a copy of the album, that was VERY much appreciated!
With that done we partook of FOOD and GRUB and also witnessed the CAN CRUSHING. This is when they use a traction engine to flatten a load of cans. It happens every couple of hours and GOODNESS ME but the 9pm flattening was QUITE the raucous affair. There was a HUGE crowd who ROARED as the traction engine ploughed forward, it was a) exciting b) a bit alarming!
It was a lovely day out, as it always is at Indietracks - though a day is ENOUGH for me, I would have DIED if I'd gone back, so "tired" was I on Sunday! It's a slightly different festival now to how it was nine years ago - there's a LOT more children, and also the People I Don't Know almost outnumber the People I Do - but it's still the beautiful event it always was. Thanks to the organisers for organising, and seeee you next year!
posted 1/8/2016 by MJ Hibbett
(click here for permanent link)
(0) comments
Chatting To A Colleague About Linux
For the past three days I have been on a COURSE. I haven't been on a course for AGES but it turns out that they are EXACTLY the same. Guy Who Thinks It's A One To One is still there (and still giving ANECDOTES about how he knows a different way to do all this which is better but he's here anyway and has forgotten how to switch a monitor on), Awkward Chats during breaks are DE RIGEUR and you will Finish A Bit Early On The Last Day.
I'd actually forgotten this last aspect, and was reminded of it before I set off by The Chapters In My Manual. "The course leader will ask 'shall we just have a half hour lunch break, then go home?' on the last day," she predicted, so when he said EXACTLY THAT at the start of day 3 I was AFEARED. Have I been courting a SOOTHSAYER all this time?
The course itself was an introduction to LINUX. Linux! In my current job I have been thrown into a great big pool of LINUX without a boat, rubber wings or indeed TRUNKS so had engaged myself on this course to try and get some sort of clue what was going on. As it turns out, I sort of knew some of it already, I just hadn't USED any of this knowledge for 25 years. Computers have changed a LOT over the past quarter of a century but, it appears, Linux has NOT. "Oooh", say Linux fans, "You can do anything on Linux!" Yes, you can, but it takes about a million years and 300 key strokes to do THE SIMPLEST OF TASKS and if you get anything wrong THE COMPUTER EXPLODES. I think the big difference between Linux and other operating systems is that Linux is for people who want to do things TO computers, the rest are for people who want to do things WITH computers!
Still, it was actually quite interesting also a RELIEF to have got my head round it a bit more. The only disadvantage to 3 days of solid LINUX THORTS is that now I find myself THINKING in Linux. "I'll just grep the pasta and pipe it to the plate," I thought, later that evening. WHAT HAVE I BECOME?!?!?
posted 28/7/2016 by MJ Hibbett
(click here for permanent link)
(1) comments
Mostly Friendly
Last night I headed to distant BRENTFORD with Mr P Myland to witness a friendly between Brentford and Posh. We were there entirely for reasons of SPORT, definitely, and certainly not because of any pubs that may or may not be theoretically on any corners.
The games might have been a friendly but the trip did not start off that way. Before meeting Mileage at Waterloo I queued to get some cash out of a machine. There were two machines, both busy, so I formed a single queue for both. Another chap came and stood behind me. All was civilised. Then an AMERICAN stormed over. "Which machine you queueing for?" he shouted. "Both", we said, and explained to this colonial how it worked. This felt like it was going to be CHARMING except that he then got VERY ANGRY about the whole process. "That ain't how it works!" he shouted. We explained that it was in a DELIGHTFUL way. "We are explaining queueing to an American!" we both thought. "Here, this is our culture in microcosm, enjoy it!" but he wasn't having ANY of it, and however WHIMSICAL we were he replied with RAGE. I finished my transaction and left, only to see that the OBVIOUS LOONIE had decided not to get cash out at all but to follow my fellow Brit up an escalator, telling him to "get lost" using FOUL LANGUAGE.
It was all a bit discombobulating to be honest, but luckily for me COMBOBULATION was very much on the cards. I met Mileage, we got a TRAIN BEER each, and had a very enjoyable train ride discussing Amazon TV shows, time travel conspiracy theories, and Marvel comics in modern culture. "I'm 46!" we both told each other, and several other people, over the course of the evening but really any listener would have guessed that for themselves.
In Brentford we were clearly a bit lost about which way to go to the football stadium - almost as if something had clouded our memory of previous visits - so a very nice (German I think) lady gave us directions and, when she saw we'd gone the wrong way, walked us pretty much up to the ground! Things were now all FRIENDLY again, although we were SHOCKED to discover that The Legend Of Brentford ("There is a pub on every corner!") is now not true: one of them is SHUT.
This didn't matter too much as the two NICE pubs were still going, so we went to one of them, met some CHUMS, then avoided the middle, less pleasant, pub, to go to The Griffin, where more pals arrived. I must say I had an entirely LOVELY time. We stood around drinking beer and talking a load of old bollocks/expressing important viewpoints on the modern world (delete as applicable) and it came as something of a shock to be wrenched out of this reverie by calls to attend kick-off. SOME of our party decided they would finish their pints and so miss the first ten minutes ("We're not rushing, we're 46") which does mean that they missed the only goal of the game, but hey - it WAS only a friendly, and it was only a fiver to get in!
Apparently Posh were also simultaneously playing ANOTHER game that night in Lincoln (officially a reserves match, but a bit weird to be playing at the same time) so attendance here was barely into double figures, and it got down towards ZERO before full-time as certain people (hem hem) sloped off for another pint well before the end, and then were joined by everybody else within ten minutes. We'd shown our support, it didn't mean we had to watch it all!
And thus it was a rather RELAXED Hibbett who wandered back to the train station and home. The general consensus was that it looks like being an "all right" season for Posh, probably mid-table once again, but I must say that if all MY visits are like this one it's going to be DELIGHTFUL!
posted 27/7/2016 by MJ Hibbett
(click here for permanent link)
(0) comments
---