Blog
The Validators Return
I headed off to York last Thursday for some ROCK ACTION. The plan was to meet Mrs C Gibb, go and do a Radio Thing, check-in to my hotel, then return to collect Mr F A Machine from the station before doing a Validators gig. Unfortunately the Radio Thing didn't happen, so instead I ended up sitting yakking in the pub with Claire for about 3 hours, before Frankie turned up and we had MORE BEER. I thus arrived at The Ibis a bit PIDDLY, very much aware of the main problem with afternoon drinking: you are drunk in the afternoon.

We unloaded and headed into town, where we found Mr T and Mrs E Pattison with Mr S Gibb outside the venue. We went in to discover A Very Very Very Grumpy Soundman, who seemed appalled that a soundcheck due to start at 7pm had not yet commenced at 7.01pm. He was also digusted by the fact we didn't know when the amps were arriving... despite the fact that he'd watch them being delivered by one of the other bands, shortly before we arrived. Still, we did a quick soundcheck then went to LOUNGE AROUND in the backstage area, where i GLUGGED a couple of pints of Diet Coke in an attempt to mitigate some of the previously mentioned effects of afternoon drinking.

Mr T "The Tiger" McClure had been delayed due to TRAFFIC, but he turned up a few minutes later and we went off for CHIPPY CHIPS. It was during this adventure that I had my usual thought of "why oh why can't we just get together for an adventure together then NOT have to do a gig at the end of it?" I'm beginning to think that this may actually be a manifestation of my NERVES for throughout the evening I kept thinking "I don't want to DO a gig." There were many many familiar faces there, from far and wide - not least Ms E Pemberton who was celebrating her 50th gig seeing us/me! - and it was all DELIGHTFUL but for some reason I wasn't happy about going on and doing a gig.


I had a WHALE of a time, not least because the sound was GRATE - he may have been grumpy, but he knew what he was doing. I knew the sound was good because I could see people LARFING at some of the words, especially during 20 Things To Do Before You're 30 when each line seemed to DELIGHT someone, or in (You Make Me Feel) Soft Rock when I saw Mr N Golding's face LIGHT UP at the mention of the 257 bus. It was ACE - and especially so because we did a TONNE of new stuff, all of which went down really well. Usually at this stage in the New Stuff Cycle I finish the gig DREADING ever doing any new songs again, but this time i LOVED it and want to do MORE. HOORAH!

Gig done we LURKED AROUND for a bit, waiting for Tim and Emma to come back with their car so they could load it up with stuff, notably the NEW CYMBAL CASE Tim had debuted that evening. He'd disposed of the old one in a skip in Manchester, and had taken a picture of the event. It felt rather sad - that cymbals case has been in The Validators as long as there's BEEN The Validators. It felt - CHORTLE - a bit - ROFLCOPTER - "cymbal-ic"! ARF!

I told that joke on the stage and nobody laughed - maybe the sound WASN'T as good as i thought? It's the only explanation.

With the Pattisons dispatched and The Tiger similarly heading off to family, the remainder of us went for a couple of PINTS in a nearby pub before myself, Frankie, and Mr A Hale, staggered back to the Ibis Bar where we enjoyed some CHIPS and some JACK DANIELS before eventually retiring at just after 2am. 2am! We were BACK on the ROAD!!

posted 22/4/2014 by MJ Hibbett
(click here for permanent link)
(0) comments


Back To The Old House
I had a delightful morning in The Olympic Park yesterday, indulging in my new routine of EXPLORING. The high point was discovering a series of gravelly pathways near the Velodrome, which i wandered around. The only other humans I saw were two people in a "golf buggy" who zipped by ... then zipped BACK to tell me off for walking on a Mountain Bike track. "There's no signs saying that's what it is", I pointed out. They appeared ASTONISHED to discover that I'd managed to find my way onto it... by walking there on a path. They told me off, then zoomed away. I _think_ i won that one!

Anyway, that afternoon I set off to St Pancras and then to LEICESTER, where I had an appointment with ROCK, for LO! The Validators had a practice scheduled ready for our gig in YORK on Thursday. I got to Leicester with plenty of time to spare, so strolled across town and onto Frog Island. This is an area of Leicester that I always remember as being a bit desolate, but CRIKEY it feels now like pretty much the whole PLACE has been knocked down, or more often left HALF demolished. Of the four pubs that used to be there only ONE is still open, and goodness knows how as there's nobody actually LIVING nearby. I went in for a cheeky half before practice and found that it was EXACTLY like EVERY pub in Leicester used to be when I first move there a quarter century ago. On closer investigation it looked like that's because it hadn't been refurbished AT ALL since then!

One business still open was Stayfree, where we were practicing, and a Jolly Good Practice was had there. Here is PHOTOGRAPHIC EVIDENCE of the fact, as taken by Mrs E Pattison: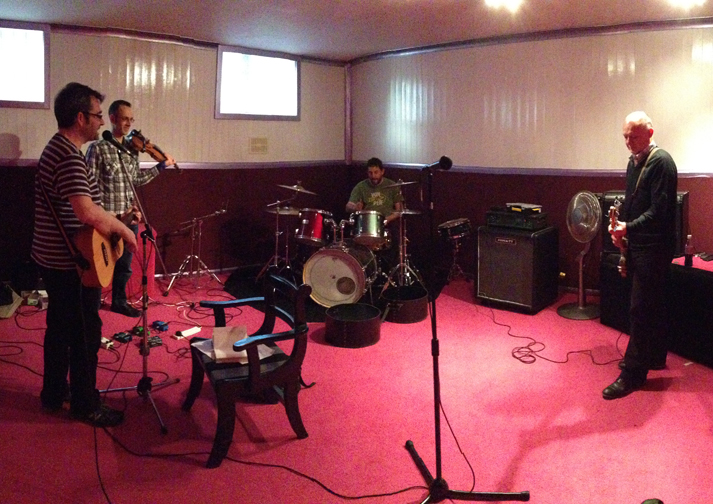 The five of us kicked off with a few "old favourites" just to get going, then RIPPED through all of the new songs. They're sounding DEAD GOOD, almost as if we've LEARNT them or something. I got quite excited about them - if we can just get round to working up a few MORE then we'll have enough for that "Classic Half Hour Album" we've been meaning to reocrd ever since we first started. We'll probably end up spending three years recording an hour long PROG EPIC with fifteen orchestras on it, as usual, but it's good to have a dream!

Afterwards Mr FA Machine headed home and the rest of us nipped into town for a post-practice pint. Tim suggested we go to the newly re-opened Princess Charlotte, which was an excellent idea, also WEIRD. The insides have been re-arranged into a strange combination of how it was when VOON used to play there, and how it was after they KNOCKED THROUGH and ruined it completely. The wall between the back room and the front "bars" had been re-instated, as had the side wall, so it was like the old two front bars had become one, with the flooring tiles clearing showing where the old bar had been. This was easy enough to cope with, but what was DEEPLY ODD was being able to go back into the beer garden and see that the old stage was still there, as was the little ledge that used to go up to the toilets, and clear areas where the loos (STILL STINKING) and the dressing room had been. I stood on the old stage and looked up into the night sky. It was KRAZY!

Back inside I spoke to the young man behind the bar. "I never came here when it was open before" he said (he probably wasn't even BORN when it had its original layout!), "But I feel like I know it, because so many people have told me about it." At this I felt a bit bad, as I too had been doing Old Man Reminiscences which, in retrospect, were probably not THAT interesting ("yes, there used to be a door there"). I thus returned to our table with a beer, which led to the MOST BIZARRE part of the evening: I had a NICE PINT OF BEER! In The Charlotte!

Stranger yet, I woke up next morning NOT feeling hideously ill - this has NEVER EVER happened after a drink in The Charlotte before! I guess it just shows that, sometimes, change can be good!

posted 15/4/2014 by MJ Hibbett
(click here for permanent link)
(0) comments


Otway!
On Friday night myself and The Days In My Weekend continued our daring new plan of Going Out On Fridays by... going out! We'd got tickets to go and see John Otway, so after some nice TEA at Tibits we headed over to The Borderline, bumping into Carl from Foxfest on the way. I hardly ever bump into people I know in town, it was lovely!

"Doors" had been 7pm so we assumed the first act, Attila The Stockbroker, would be on around 8pm, but when we arrived just before then we saw Mr Murray Torkildsen, long-term guitarist with Otway. "Aha! So you're not on yet then" said The Words Of My Wisdom. "Twenty minutes", said Murray, "Attila's nearly finished!"

We thus dashed in to catch the very end of Attila The Stockbroker's set - astonishingly this was the first time I'd ever seen him, and he was ACE! The room was PACKED so we stood near the doors, but once he'd finished I moved to get to the other side of the room. This was a BAD IDEA and The Steps On My Stairwell pointed out we were better off where we were. LIFE LESSONS. We went back.

With us safely situated I went to get BEERS at a bar full of middle-aged men waving tenners. Why do middle-aged men who wave tenners DO that? Do they believe it makes bar staff think "Aha! Those people intend to PAY for their beers, I shall serve them before the people who are not displaying evidence of their liquidity!" It really winds me up, but happily the bar staff were EXCELLENT and did serving in The Correct Order. I turned to go back with my beer to find that one of the middle-aged men who'd been waving a tenner was ALSO one of those people who don't go out much and therefore think that standing in front of a CROWDED BAR is a perfectly acceptable thing to do, and get very angry if anyone tries to get past them. I had to ACTUALLY PUSH him to get out, it was stupid!

Happily any lingering feelings of GRUMP were instantly dispelled when Otway and The Big Band took to the stage. My word but they were FANTASTIC - it's always a joy to watch them having so much FUN together, even though most of the Actual Jokes have been the same for the past twenty years. My favourite thing about big band gigs is a) all the titting about but b) when they do one of the Quiet Songs they all play it proper properly, and it is GORGEOUS. I think that ALL bands - ALL bands - should be forced by law to go and see Otway gigs whenever they are nearby, so that they can learn HOW to be in a band and how to do gigs. INDEED I bumped into a second person, Dom Formerly Of Kookie Monster, as we'd entered, who was doing EXACTLY that - one of his current band had never seen Otway, so they were rectifying the situation. SENSIBLE.

It was a lovely lovely gig which we left, as we always do with Otway gigs, GRINNING hugely. OTWAY!

posted 14/4/2014 by MJ Hibbett
(click here for permanent link)
(0) comments


Indietracks: The Return
Today I'm very very happy, and also hugely relieved, to be able to announce that we're going to be back at Indietracks this year.

I especially say "relieved" because we were asked several weeks ago and have since been BURSTING to tell everybody about it. In Leicester the other week I spent most of the day trying to think of ways to bring it up in conversation and then "accidentally" mention it, and many MANY times I have thought "I know! I'll say something WRY on Twitter!" and JUST managed to stop myself doing so.

But last night Team Indietracks announced a new raft of bands (you can see EVERYONE so far confirmed over on their website) and I was finally able to SHOW OFF about it. It means a HUGE amount to be back again - I played, one way or another, every one of the first five years, so when I DIDN'T in 2012 and 2013... well, let's just say I was Very Sad Indeed about it, in a manner which is UNUSUAL for me. I am not un-used to not getting gigs, so tend to be FINE with it, but Indietracks has always been special. Apart from anything else it's the one place where we get to do the kind of gigs I also HOPED I'd end up doing i.e. with an actual crowd who know the words, but it's also a lovely warm atmosphere of friendliness. I love staggering about all day bumping into (literally) people, and I'm very much looking forward to doing that again.

It was also BLOODY LOVELY to get a whole batch of congratulatory emails, tweets and wotnots from people glad to see us back again - that meant EVERYTHING, so thanks VERY much everyone who was pleased we were returning. We have already spent A MONTH bickering about what the setlist's going to be like, and I imagine that that is an argument that will still be going on after we've done the gig itself - we want to make it worth the wait. We've even got some PRACTICES booked!

I can't promise we will know the songs, nor can I promise that we won't be falling over drunk, nor that "REMARKS" will not be made from the stage that, in the cold light of day, will appear inappropriate. All I can really promise is that we will be OBVIOUSLY DELIGHTED to be there, and will try and share the feeling around. July cannot ROCK UP soon enough!

posted 11/4/2014 by MJ Hibbett
(click here for permanent link)
(2) comments


Patriotism Day
Yesterday I got myself out and about, getting myself to TWO seperate cultural events based on sometimes difficult relationships with collective pride.

Or to put it another way, I went to see "Captain America 2" and then THE FOOTBALL. I was really looking forward to seeing "Captain America 2" as I'd really enjoyed the first one, and read reviews about how the sequel was Doing Something Different. Unfortunately it seems that that Something Different was Being Slightly Dull. I mean, there was lots of action and explosions, and it was INTERESTING that they were trying to talk about Wikileaks etc etc while simultaneously managing to get Armin Zola into a massive blockbuster, but to be honest I found myself looking at my watch at regular intervals, wandering how much longer it'd be going on for. I think it was probably the lack of JOKES that did it for me. Still, it was nice that they did at least THINK about the idea of a massively powerful military (in exactly the way that the Superman film didn't), and it WAS dead exciting to watch the trailers beforehand and realise there are THREE more Marvel films coming this summer. Guardians Of The Galaxy certainly looks like it WILL have some gags!

Not long after returning from the pictures I headed off to Peterborough to meet the esteemed Mr CM Smith to go to the FOOTBALL. I'd read an interview with Mr D MacAnthony, OWNER of Posh where he'd said he was upset because hardly anybody had turned up for the first home game after the Wembley game. I felt BAD, so rang Chris to see if he fancied going, and he DID. He then rang back to say we could get in for a FIVER if we took our Wembley tickets! Hoorah!

I arrived at half past six to find Peterborough SHUT. It was WEIRD - i know I live in That London where things are open all the time, and indeed next door to a Shopping Centre, but it was still WEIRD to find everything comprehensively CLOSED - you couldn't even WALK through Queensgate (Peterborough's big shopping centre) at that time of day. Luckily Charters, aka "The Boat Place", was open, so we had a pint of delicious local Oakham Ales JHB before heading over to the game.

And it was QUITE GOOD. I mean, I generally enjoy going ANYWAY. As I've said before, London Road is pretty much the only place that is still there/accessible from my childhood, and the SMELL of the muddy pitch is strangely reassuring, although they HAVE knocked down one end of the ground in order to rebuild it. The game had LONGEURS when it returned to the kind of running and kicking that I remember from MANY DECADES of Posh, but there were also spots of Actual Football and EXCITEMENT, and most of all a whole lot of TRYING all the time, something which i LIKE a LOT.

For some reason my main memory of the evening is Gillingham bringing on Adebayo Akinfenwa who was GIGANTIC. Apparently he is "the strongest footballer ever" and he is ENORMOUS. Every time the ball went near him the whole crowd GIGGLED NERVOUSLY, like he was a cross between a CGI GIANT and a Big Boy who had decided to join in with a game being played by THE CUBS. Mr P Myland has since pointed out that Gillingham's LURID PINK away kit also made him look like Mr Greedy!

We won 2-0 in the end, which was FAIR and hopefully adds to Posh's chances of getting to the play-offs. I walked back to the station through a Peterborough city centre that was not only CLOSED but also SWITCHED OFF. I know it was only a Tuesday night, but it still felt weird to find NOWHERE open and most of the lights off! Still, it was a DELIGHTFUL evening out topping a rather fun day. I hope I get to do this quite a LOT now I am a Gentleman Of Leisure!

posted 9/4/2014 by MJ Hibbett
(click here for permanent link)
(0) comments


Are You MJ Hibbett?
On Friday night I was heading up to The Lexington to meet The Crowd At My Show, as we were going to see The June Brides. As I neared the venue a man leaned out of his front door and say. "Are you MJ Hibbett?"

It was STRANGE - if it had occurred IN the gig, full of indie types, I would have been pleasantly surprised, but not ASTONISHED, but to have it occur in the street was a) odd b) ACE. He WAS an indie-type and indeed was himself heading over later for The Primitives, but still: it's the sort of thing that happens to me in the open air only approx 0.5 times a year.

The gig itself was GRATE - The June Brides were on TOP form, with GRATE sound and some EXCELLENT new material. AND they did "I Own It", which is my FAVOURITE.

Next day the aforesaid Beer In My Pint Glass were in our local pub, Tap East, enjoying a refreshing BEER after a lovely afternoon wandering around the latest newly opened bits of The Olympic Park, also SHOPPING. A young man came over and said "Are you MJ Hibbett?" He'd seen us a few times in LEEDS - as he said it I remembered speaking to him, us both a little piddly. I said "Aha! We met at that pub that was full of under-age drinkers." "Carpe Diem!" he said, correctly.

Being recognised outside of indie venues TWICE in the same YEAR is way above my average, but twice in the same weekend? KRAZY! I spent all day on Sunday indoors, doing Computer Stuff and Chores, including a stint on Facebook, where I involved myself in a discussion about whether the zebra crossing on the Abbey Road Crossing Cam is the same one as on the album cover. "It is", I said. A short time later somebody else replied to ask, "Hang on - are you MJ Hibbett?"

THREE times in ONE weekend?!? That's more than the entire rest of the decade so far! I've no idea what caused this to happen, but obviously i LIKE IT!

posted 7/4/2014 by MJ Hibbett
(click here for permanent link)
(2) comments


All Quiet
You may have noticed - nay, been LOST because of - a lack of regular updates here of late. This is largely because not a HUGE amount is going on at present, except for a HUGE change to my Working Life. For LO! There has been one!

As regular readers/anyone who has bumped into me lately will know, my contract was supposed to be finishing around now, but what with one thing and another I've got a bit longer to stay here and DO stuff. I thought I'd be finishing either around Easter or early May, with some time off to take before then, but I recently agreed with The Boss to finish earlier, but then come back in every so often between now and July. This was a bit of a relief as it means I get to FINISH the Project I'm working on, rather than NOT doing so, but it did mean that I suddenly found myself NOT working for a couple of days this week i.e. not "working from home" but "not working" AT home!

It was a bit weird. I felt GUILTY watching TELLY, and had to remind myself i was free to do what the heck i LIKED, but still largely sat around the house, in case i needed to DO anything. Next week I'm in for one day, in theory, so I'm going to try and get OUT of this mindset on the other days by - maybe - going for a STROLL at some point and, if I'm feeling brave enough, going to the PICTURES! KRAZY! I've also got a TONNE of Writing Projects (hem hem) to get on with, not least finishing off my final submission for SKOOL, so I guess there'll have to be SOME sitting at home going on, but still: STRANGE TIMES AHEAD!

posted 4/4/2014 by MJ Hibbett
(click here for permanent link)
(0) comments


A Football Weekend
I had an EXTENSIVE weekend this weekend just gone, one from which I am only just starting to recover.

It all began on Saturday afternoon when I met with my old pals Mr R Hare and Mr M Guest for a PUB STROLL. Every year we discuss getting us (and if possible Mr P Myland) together for a JOLLY, but had so far only managed it once when we went to the Peaks a few years ago. This year Robin suggested that we get together to go and see Peterborough United play in the final of the PRESTIGIOUS Johnstone's Paint Trophy, and though Mileage couldn't make it (his excuse: he was taking his son to the game. Pah!) the rest of us DID gather in A Very Cheap Euston Hotel on Saturday, ready to ROCK.

The hotel looked like it had been built in the 1930s and been left pretty much untouched since - which isn't to say it was PERIOD or VINTAGE, it was just a bit old and knackered. We had a single room each (with just room for a single bed and sink) with shared toilets, but it was at least CLEAN, and also CHEAP!

We set off for a pub stroll, stopping first at The Lamb and then popping into The Charles Dickens Museum for a LOOK. It was Quite Good (I should be saving this GOLDUST for Tripadvisor really shouldn't i?). Things soon went AWRY however when we found THREE pubs, all in a row, were SHUT. It would be FOUR, if you counted the pub we accidentally wandered into the back of which was clearly set up for a nearby wedding party!

Still, we eventually found our bearings, had an EXTREMELY spicy curry, and retired to our tiny bedrooms fairly confident that we would sleep WELL. We DID, until approx 8am when the cleaners came and knocked on the doors! It felt like we were in a GENTEEL PRISON or something, so much so that I was ASTOUNDED when I saw a young couple walking down a corridor - surely that's not allowed?

We had Perfectly Pleasant HOTEL BREAKFASTS, then went to St Pancras so a) Guesty could have a go on the piano b) we could have a Reasonable Cup Of Coffee, then STRODE next door to see the AMAZING Treasures Of The British Library exhibition. It was, and always is, GRATE!

After a while I was called away to meet my PARENTS - my Esteemed Step-Father had got tickets for him, me and my little brother, so I said my farewells to the other two (as it was unlikely we'd find each other at Wembley, it is BIG!) and I went to collect them. We sent my Mum off to The Olympic Village, where The Score Of My Game took her on a tour of the environs, then it was HO! For WEMBLEY!

I was surprised to find that getting to Wembley was PEASY - it's almost as if the transport system has done this before! We had some fancy seats up near the Royal Box, so could look over and try and spot Sir Alex Ferguson, but mostly we watched the GAME! As I'm sure everyone is aware from the extensive media coverage of this PRESTIGIOUS game, it was the final of The Johnstone's Paint Trophy between Peterborough United and Chesterfield. I was a bit confused to start with, as Chesterfield were playing in pretty much EXACTLY (from a distance) kit as Posh. I spent a good five minutes thinking "Britt Assombalonga has lost a LOT of weight. And height. And changed colour" before my baby brother corrected me, just in time for Posh to SCORE. Phew!

It wasn't the best game i've ever seen, and it certainly wasn't the THRILL RIDE that we had in 1992 when King Ken Charlery won for us, but it was PRETTY DARN GOOD. We were winning at half time, then let a goal in (before I came back!), then went down to ten men, and then scored a penalty, and then there was quite a lot of jumping up and down and shouting and a lot of Peterborough Faces looking even more confused that they usually do. We'd actually WON something! Not a play-off, but an actual TROPHY!!

It was all VERY EXCITING, especially when they came up for the trophy and Darragh MacAnthony (owner) and Darren Ferguson (Manager) had a BIG HUG. We staggered out and staggered back to the tube (which again was dead easy to do) for a family do back at St Pancras. By this point I was EXHAUSTED (for some reason I was feeling "tired", even tho I had had the aforementioned good night's sleep hem hem) and also DAZED. I couldn't quite believe it and, to be honest, it only really struck home when I watched the local paper's video about the day. It happened!

Hopefully we'll be able to go BACK later in the year for the play-offs - if it happens I'll try not to go on an all day drinking tour the day before this time!

posted 1/4/2014 by MJ Hibbett
(click here for permanent link)
(0) comments


Podcasts Ahoy!
It feels like AGES since I last did a Totally Acoustic Podcast (in fact it was about a YEAR ago, which is pretty much the accurate definition of "AGES"), and so putting a new one together taxed my MIGHT BRANE to its very limits, as I tried to remember the format, when to COMPRESS, when to LIMIT, and what on earth I'm meant to say at the end. Happily I got there eventually, and the fruits of my labours can be found right now over on the Totally Acoustic Podcast Page.

It's a cracking half hour of ROCK featuring Mr Alexander Hale, Mr Pete Green, Mr David Leach and ME. It was lovely to be back doing this kind of thing again, and as ever I was amazed by how GOOD it sounds, just recording on my little four-track. I will definitely definitely be doing a new series later this year!

In the meantime I have ANOTHER podcast for your consideration - it's this week's Newsjack which features an ACTUAL SKETCH written by myself and Mr John Dredge. We are both RATHER EXCITED about the fact that we've finally managed to get a sketch in the show - it's the Cold War Press Conference one, which the writing team on the show have given a bit of a polish to. It came out quite well!

We're already planning NEXT week's sketches, and we'll be trying to get some one-liners in too. Luckily for me I have a whole afternoon in the PUB tomorrow to think of new GAGS - more news on how all that goes on Monday!

posted 28/3/2014 by MJ Hibbett
(click here for permanent link)
(0) comments


Leicesterval
I was back in Leicester on Sunday for the Sweeping The Nation All-Day-and-a-half-er, also known as LEICESTERVAL. This is an annual gig run by Simon from the Sweeping The Nation blog, the main part of which had happened on Saturday with a pretty GRATE line-up (Model Village, Superman Revenge Squad, Martha, Spook School, etc etc etc) the day before. I was there for the "comedown" on Sunday, an approved Totally Acoustic franchise in the basement of Cafe Bruxelles.

I walked through the market on the way, and smiled fondly at the doughnut stand which I remember seeing the very first time I came to Leicester. "Why, that must be nearly 16 years ago!" i MARVELLED... for about ten seconds before realising that, no, it was TWENTY SIX years ago!

Holy great gallons of moly! Can it really be over a quarter of a century since I first set foot in that fair city? I REELED from the knowledge, and staggered towards Cafe Bruxelles, where I found SImon and Various Chums ready to ROCK.

The gig felt like a Totally Acoustic ALL-STARS, though I only later realised that TWO of the four participants had never actually PLAYED a London Totally Acoustic. Mr Pete Green has, of course, played MANY of them, but Mr Alex Hale and Mr David Leach had NEVER done so. I am intending to get the gigs going again this summer, once my SCHOOLWORK is done, and when that happens I fully intend to rectify this situation!

A lovely afternoon of SETS was had by all, as was quite a bit of Belgian Beer which served to WARM and simultaenously CONFUSE, so that I made a couple of ERRORS when I took to the stage and did my bit, THUS:

I made most of the errors in the OLD stuff, especially during Payday Is The Best Day - somebody had requested it, but hadn't actually come in to LISTEN to it, and it was while pondering this that I got distracted from the WORDS. The new stuff seemed to work, and I was especially pleased to do Can We Be Friends? with Pattisons in the audience, for the purpose of proposing it for future GIGS.

The weirdest part was during Leicester's Trying To Tell Me Something, which I'd decided to do because even MORE Leicester pubs have been knocked down/converted since I last played it (i.e. the final removal of the stage at The Charlotte and the total demolition of Leicester Poly Arena). It was only when I got to the last verse that I realised that it's actually about the need to move on from the same old places and SCENES, and that this could be construed to have CONNOTATIONS regarding some of the people I used to know in Leicester. Happily none of them were there to hear it, but I could see the same thought striking Tim as we got there!

Afterwards there was all too little time for the BEST bit of Totally Acoustics i.e. sitting around YAKKING once the gig bit's out of the way, as I had to stride back across town for my train home. I said my farewells to a clearly SURPRISED Simon (the whole weekend had gone really well, I believe he was expecting disasters!) and set off, determined as never before to make Totally Acoustic return to the capital!

posted 25/3/2014 by MJ Hibbett
(click here for permanent link)
(0) comments


Tragic Heroes
I was back in Hackney on Friday night at The Attic (which seems to be becoming one of The Places I Play At these days) for Tragic Heroes, the latest night from the delightful people at Stand Up Tragedy. It's a nice place, and they even do NICE GRUB so that The Acts On My Bill and I were able to sit and have our TEA while things got going.

This was the most mixed array of performers that I've ever seen at one of these sort of night - usually when an event advertises itself as cabaret-style it means some stand-up comedians and a couple of singers, but this time there were also poets, drag acts, spoken word and ARTISTS. It was similar to Science Show-Off in this respect really, all it needed was a magician!

I was on near the start, and I did this:


I tried my best to make it THEMED, and had spent ages trying to think of a song from Total Hero Team that would fit before realising that the best candidate was the song we'd taken out. It actually worked pretty well, I think - certainly better than it ever did in the show! It was also nice to be able to relax a bit and CHAT between songs, which had been DENIED me during the run of the show. There's a whole lot of other gigs coming up where I'll have that opportunity, I think I make take it up a LOT!

posted 24/3/2014 by MJ Hibbett
(click here for permanent link)
(0) comments


Another Science Show-Off
Last night I was back in Kings Cross, and also back (at a different venue) at Science Show-Off, this time to see Mr Chris T-T, along with many many other acts.

It was an excellent evening, and (even) more varied than these sort of nights usually are, mixing up comedians, musicians, lecturers (including Jon Ronson! Off the telly!) and even a MAGICIAN. I do like a Magician - it's one of those acts that you don't see very often, probably because it takes so much EFFORT. Any old twit can get up and be a comedian, it takes ZERO work (ZERO), and while you do need to spend a bit of time learning how to play an instrument to do music, you can then pretty much get away with doing songs with only few chords (hem hem) again and again. MAGIC, however, takes PRACTICE and LEARNING so it's no surprise most people go the easier route, but COR when you see somebody doing it it is GRATE!

Apart from the other acts I also very much enjoyed seeing Chris and TALKING SHOP. He's going through very interesting part of his ROCK CAREER at the moment, with his EXCELLENT new album doing Rather Well yet throwing up issues about What To Do Next, and we had a GOOD old chat about it, as well as various other ROCK issues. It's the sort of thing I don't get much chance to talk about as a) there's not many of us over-30 (hem hem agane) TROUBADORS still bobbling around doing a mix of solo and band gigs and also b) it is INTOLERABLY DULL to anyone who isn't doing it.

Also fun was seeing Chris suddenly get THE PANIC when he realised he was playing a Themed Gig - it was fun because it is something that has happened to me SO MANY times that it was nice to know it happens to other people too. As the gig started Mr Steve Cross, compere, explained how it was a themed evening, and as people CLEAVED to the theme I could HEAR Chris's BRANE crunching into gear. "OH NO" said his mighty MIND, "what songs do I have that could remotely be relevant to this?"

When it came to the actual gig he did a MARVELLOUS job, telling stories, remarking upon the circumstances, then seguing elegantly from JOKES to some quite sad songs. I'd spent hours trying to think of a way that "Seven Hearts" could apply to the theme of paranormal activity and/or science, to no avail, so was overjoyed at the end when he did it anyway. That's pretty much my favourite song of his, it was ACE!

posted 19/3/2014 by MJ Hibbett
(click here for permanent link)
(0) comments


Holiday At Home
This weekend was GORGEOUS round our way - the SUN actually came out and it was LOVELY, so on Sunday The Flats In My Block and i went out for a STROLL.

We live (as i have PROBABLY MENTIONED) in The Olympic Park and when we moved in nearly all of it was closed off, but over the past few months they've gradually opened little bits up. We thus went for a nosey at the building opposite which a) is where they tried to sell us a part-ownership flat about four months ago and b) has only this week opened up for people to move into. Happily we got to PEER up at the (ONLY) flat they would let us buy, and agreed that it looked DEAD MISERABLE, not half as nice as they one we ended up renting. Enlivened by having our decisions RATIFIED we wandered along the road and were ASTOUNDED to find that HUGE LUMPS of the REST of the former Olympic Village have ALSO been opened up!

We're very near to Queen Elizabeth Park, but previously have had about a 25 minute walk all the way round to the other side to get in. On Sunday we discovered that they've opened up the road that goes directly there, lopping off 20 minutes and allow us to have a good old GAWK at the entire other half of the village that we've not seen before. This is the half that features in pretty much all the promotional material, with winding pathways, waterways and general SCENERY, so it was all JOLLY exciting. It turned out that this had all been opened up ready for the opening of the VELODROME, which we then went and had a walk around, PEERING through the windows at that hallowed track that we all spent so many hours GAZING at back in 2012.

It was all a bit overwhelming to be honest - so far we've been drip-fed side-streets and the occasional pavement of new locality, now suddenly not only did we have whole AVENUES and AREAS, but they were like something out of AN DREAM. I mean, I know I live close to the Velodrome, but to actually BE there, looking into it, did my head in!

With all the sunshine and happy people and SCENERY (we walked by the Lee too, it was FAB) it all felt a bit surreal, like we were on holiday... so, like when we're on holiday, we walked home via a supermarket, bought some beer, and came home and had it with our LUNCH. It was bloody brilliant - and at Easter there's a load MORE opening up. I can't wait!

posted 18/3/2014 by MJ Hibbett
(click here for permanent link)
(0) comments


A Professional Writer
I've been doing my screenwriting course for about 18 months now, and last Thursday it started to pay off financially, for LO! I sold a piece of writing!

After session after session about the three act structure, the importance of character and conflict, and learning how to write within various formats, it all came to an incredible climax with the following JOKE, that I wrote and which appeared on Thursday night's episode of Newsjack on BBC 4Extra:

Later on it's the hilarious game show where teams of celebrities try to identify small Eastern European countries. Join us, for They Think It's Moldova.

I'm sure all of my tutors, lecturers and guest speakers will sleep well in the knowledge that all their effort has finally paid off! Actually I have to say I was, and am, REALLY EXCITED about it. Every Friday my friend Mr J Dredge and I have been meeting for lunch in order to FORCE each other to try and write sketches and one-liners for radio shows, and this was my first SUCCESS. I am now officially back to the stage I got to aged 21 when I sold a sketch to the Arnold Brown Radio Show - this time I shall do my best not to get distracted by BEER and BANDS and forget all about it again!

It's been a bit of a RADIO WEEK actually. On Wednesday I was at school for a talk by Paul Bassett-Davies, who gave an overview about writing for radio, mostly saying "It's a really good way to get stuff HEARD and also SOLD", and going on at some length about how important it is to get stuff sent to Newsjack. Then on Friday John and I were both at Dave Cohen and James Cary's "Writing Comedy For Radio" day, where they said pretty much the same thing.

They also said a LOT of other stuff, the main Take Home Message for ME being that sketches use the three act structure just like everything else. When Mr Cohen said this it was SO BLINDINGLY OBVIOUS that I cursed myself for a fool for not realising before. He also pointed out that topical sketches (there was a lot about Newsjack!) generally take a current theme, mix it with a FORMAT, and say "What if..?" John and I got ENERGISED by all this and came up for TWO ideas for sketches, which we've since written up and sent off, using exactly that PLAN. They're dead good, i reckon - we'll see if Newsjack think so later in the week I guess.

It's all GRATE fun - as stated earlier, I did have a small attempt at this sort of thing in my youth, having read TONNES of books about Monty Python and co, all of which said "You start off submitting sketches, then go to the Edinburgh Fringe, then get your own radio, and then THE WORLD IS YOURS!" It was a huge part of my DREAM FUTURE back then, but in all the excitement of the next two decades I rather forgot about it.

It seems a bit odd that the ideaa of radio as a starting point has only just sunk back in too. Every time I've been to a BBC event they ALWAYS talk about how important it is to submit sketches to shows like this, but I guess the fact that it's never been mentioned as part of the COURSE means I've only just come back round to the idea. It's a GOOD idea - I'm going to try and do some MORE of it!

posted 17/3/2014 by MJ Hibbett
(click here for permanent link)
(0) comments


Cabaret!
I was in London's Glittering Kings Cross last night for a return spot at Tricity Vogue's Ukulele Cabaret. On the way I was thinking "This was a LOVELY gig last time", so was surprised when I arrived and found the pub was full of screaming tossers, SHOUTING at each other in a room full of Drunk Businessmen. "Yes", my BRANE said, "this is what it was like last time."

I was confused - how could I remember it as BOTH being lovely AND horrible? Then I realised I had made exactly the same mistake as before, and arrived FAR too early. I went somewhere else for a coffee then hung around for a bit, and LO! by 8pm the vast majority of awful people had staggered off home and been replaced by LOVELY people. Next time I do this, please somebody remind me to get there at eight o'clock instead!

I have spoken at some length about the difference between INDIE and COMEDY gigs, but this was another different type of gig again i.e. it was CABARET, which seems to feature the positive aspects of BOTH. The atmosphere is very similar to an indie gig, in that it's a crowd made up of friendly and variously odd types of people who know each other but welcome others, the line between audience members and performers is extremely blurred, and the emphasis is on DRINK and general lairiness. It's also like a comedy gig in that there IS comedy and the emphasis is on LARFS and interaction, rather than introspection and Respectful Listening.

THUS it is the sort of gig I really really like, especially as nobody seems to mind if you've just rolled in in your everyday clothes, rather than getting GLAMMED up. This was handy, as there were a LOT of people glammed up, especially the first act on, Topsie Redfern. She was in FULL Drag, looking AMAZING, and went on to do a very funny, happy, inclusive set of BIG songs and tunes with a LOT of audience participation. I must admit I did think "How on earth am I going to follow THIS?!" but quickly realised there was no realistic way I could, so concentrated on enjoying the show before going on and doing MY bit.

A week or so ago Tricity had emailed to warn me it was going to be a Fashion-themed gig, but that I wasn't to worry... I'm sure I don't know WHAT she meant! She is an excellent host, and very cleverly prepared the audience for the complete change in VISUAL TEMPO from Topsie to me but, as I said when I went on, she didn't need to as I was THE MOST FASHIONABLE person in the room. Apparently NORMCORE is the current big thing, and if looking like a middle-aged man on his day off is COOL, then you may consider me THE HEIGHT OF CHIC. "Lap it up, squares", I seem to recall saying, before launching into THIS:

I Did A Gig In New York went down pretty well, and I'd decided to do Chips And Cheese, Pint Of Wine next because it was about the LAST time I'd been fashionable, back in the early 90s when GRUNGE came in and suddenly looking like a smelly student was on the front of VOGUE. It went OK, but it was a bit too SEDATE and I lost the audience a bit, HENCE dropping my original idea of playing The Merchant Ivory Punks (which is also about fashion) and doing the OLD FAITHFUL set closer instead. Wise choice!

I lurked around for a bit afterwards and had a chat with some VERY pleasant people, thoroughly enjoyed the other acts, and generally thought "Cabaret and Cabaret people are DELIGHTFUL!" I hope I get asked to do it again, but next time I'll get there a bit later!

posted 12/3/2014 by MJ Hibbett
(click here for permanent link)
(0) comments


The Olympic Pool
This weekend I went swimming in the Olympic Pool. Not _A_ Olympic Pool, mind you, but THE Olympic Pool, the one that was in The Actual Olympics. It was RATHER exciting!

The Aquatics Centre is one of the BIG and NOTICEABLE buildings left over from 2012, along with the Arena, Velodrome, Copper Box and The Squiggle, but it opened up to the public about a week ago with the quietest of SQUEAKS. I only live 10 minutes away and I didn't know about it for a few days, INDEED it is only because I am interested/NOSY that I realised it was there.

It's a FANTASTIC building from the outside, though inside it carries on the tradition of pretty much everything to do with the post-Olympics Olympic Park i.e. it's very nice, run very enthusiastically, but Not Quite Right. We've had this in our flat with the windows that don't quite make sense, or the thermostat placed opposite the tumble dryer (so the heating system usuallly thinks it's much warmer than it actually is, and switches off our towel warmers!), and it manifested in the pool with things like the fact you have to print off a piece of paper as your ticket and scan it under a barcode scanner which isn't big enough to fit a piece of A4 paper, or that the shower cubicles are operated by sensors, so you can't get dried because they keep switching on again!

That said it was LOVELY once you go in, also VAST. There were HUNDREDS of people in the pool, but it's got TEN lanes of swimming and is 50 metres long, so there was PLENTY of space. It was an amazing place to swim too, just looking around and remembering it from The Actual Olympics or just looking up out of the window and seeing The Squiggle peering in, appearing to GRIN at you.

It was also Not Hugely Expensive, so I have made GRAND PLANS to go there on a regular basis, especially come mid-May when my job finishes and I become a Gentleman Of Leisure. I can't wait!

posted 10/3/2014 by MJ Hibbett
(click here for permanent link)
(1) comments


Science Show-Off
I had a long stroll through London Town last night, from Bloomsbury to Clerkenwell. It was about half an hour's walk through constant CITY, and it made me think yet again how WEIRD it is that London is SO BIG. In pretty much all other UK cities you could cross the city centre pretty easily in half an hour, but in That London you can set off from the middle and walk for MILES without getting to any gaps. Half an hour's walk through constant multi-storey buildings RAMMED with people DOING stuff is a LOT of population, and it's something you don't tend to think about too much when you live here.

What I'm saying is that London is Quite Big and features a lot of people. HOLD THE FRONT PAGE!

Anyway, I was in Clerkenwell to attend Geek Showoff at The Slaughtered Lamb. This is an event run and hosted by Mr Steve Cross, of Bright Club, Museums Showoff, Science Showoff etc etc and tonight it was to feature Mr Steve Hewitt talking about BEER. I was in no way upset that STEVE was the first of us to get a solo gig after Total Hero Team had finished: this did not impinge on my thinking AT ALL!

It was a lovely evening all round - Steve was, of course, THE BEST, but there was a tonne of interesting other stuff too, not least some OPERA SINGING and talks on Moomins and PROGRAMMING. Nearly everyone seemed to use the COmputer Projector too, apart from Steve who was KEEPING IT REAL! To my surprise/DELIGHT it also featured a TONNE of People I Know, from previous events or just from ROCK, with yet more familiar faces in attendance in the audience too. If mild-mannered geeky people over 30 DID such things it would have been a SCENE GATHERING!

I also took the opportunity to explain Project G to a couple of people AND finally told Steve about... the OTHER idea. For reasons that will become obvious in time, and rather fortuitously, it should be labelled Project H. He seemed DELIGHTED about it, and I am hoping to use this delight to make him come to TAP DANCING lessons with me. Imagine! A show featuring me and Steve TAP DANCING - surely THAT says "West End HIT" all over it?

posted 5/3/2014 by MJ Hibbett
(click here for permanent link)
(0) comments


To Out-Beyoncé Beyoncé
Today is the "official" release date for the Total Hero Team multi-media cross-platform concept album/movie/t-shirt and badges EXTRAVAGANZA!

"Release day" used to be a big deal, 300,000 years ago when I first started on The Road Of ROCK, but now all it really means is that it's the made-up date on a press release that you give to media-types as a day that you'd really like them to mention it somewhere, please. Even that idea's become less meaningful in recent times, now that record companies release stuff and THEN tell the media about it, so all it really means is that it's the day you send out your press release, on the email.

So, today is "email a bunch of websites about the album day"! Let's PARTY! I must admit I quite enjoy writing press releases - The Facts In My Notes To Editor is a PROFESSIONAL in the field of Communications and over the years she has gently TUTORED me in the arts of such things. Years ago we would spend HOURS discussing how to make my garbled mess of apologies and showing off into something vaguely sensible, these days it tends to be twenty minutes discussing a couple of sentences. It's another Transferable Skill GLEANED from ROCK to go alongside Knowing What CMYK Means and Rapid Packing Of Cars!

Obviously, and UNDOUBTEDLY, you'll be seeing the press release cut and pasted into ALL the SHOWBIZ COLUMNS over the next few days, but in the unlikely event that that DOESN'T happen, here's what I've just sent out:

MJ Hibbett out-Beyoncés Beyoncé



Beyoncé may have amazed the world when she released an album with a video for each individual track, but MJ Hibbett (and his friend Steve Hewitt) have gone one better. Today they release an album with a single continuous video, not just for the songs, but for the bits in between as well.

The album is 'Total Hero Team', a 50 minute long rock opera/concept album featuring 14 new songs and a whole lot of superhero action. It's based on the pair's recent fringe show, which toured around the Edinburgh, Camden and Buxton Fringe Festivals, the Leicester Comedy Festival, and many many pubs.

Unlike Beyoncé, MJ and Steve did not have thousands of lackeys to write, record and film this extravaganza. They recorded the whole thing by themselves in a rehearsal room, edited it on a laptop, and used photographs taken by MJ's girlfriend in their flat. "People made a right old fuss about Beyoncé doing all those videos," says MJ, "but she had loads of people helping her. It must have been peasy!"

The video, split into six parts, is available on YouTube or on their website, www.totalheroteam.co.uk . You can also buy the full-length album from the same place on a pay-what-you-like basis, as well as t-shirts and badges.

That's got to work, right? Next stop: BELLOWING at the Prime Minister on The Andrew Marr Show!

posted 3/3/2014 by MJ Hibbett
(click here for permanent link)
(0) comments


Total Hero Team - The Album! Movie! T-Shirt! Badge!
After literally MONTHS of going boggly eyed staring at a computer screen mixing the audio and then the video, I am IMMENSELY happy, not to say RELIEVED to announce that the Total Hero Team ALBUM is out today, as is the accompanying MOVIE, T-SHIRT and BADGES.

It is what is known as CROSS-PLATFORM SYNERGY.

The ALBUM is a spliced together version of the podcasts which we've been putting out for the past six weeks, with the start and end titles removed to, hopefully, make it a singular listening experience. You can get it from our bandcamp page on a pay-what-you-like basis i.e. you can get it for free if you like, or you can give us some CA$H!

The MOVIE (hem hem) is a brand new specially created full-length VIDEO adaptation of the album using a series of photographs to create a FUMETTI/Photo Story version of the story. It was huge fun to TIT ABOUT in my living room doing the pictures, but it took AGES to stitch all together into a film, so I REALLY hope people have a look at it - you can find it over on YouTube, or indeed just her:





Then there's the accompanying T-SHIRTS, featuring Mr John Allison's rather wonderful full-cast poster, which we're making available through Music Glue. They're done Print-On-Demand, so if you buy one please do take a picture and send it in, I'd love to see how they come out in real life!




And then finally there's badges. There's only a few of these left over, so if you didn't get a chance to get one after the live shows now you can!

Obviously tea towels, lunch boxes and wallpaper are all in the pipeline, but I think that's about enough for now. As I say, it's been a lot of work to get this all sorted out but I'm very happy with the results, and hope you enjoy them!

posted 28/2/2014 by MJ Hibbett
(click here for permanent link)
(1) comments


Validators Reunited
I headed back to Leicester after work on Tuesday, a town I'd not been to for... ooh, just over 48 hours, for the first Validators' band practice of the year.

I met Mr FA Machine at Leicester station and we popped over the road to The Hind for a pint. It's one of those pubs that hasn't changed at ALL since I first went in over 20 years ago, and is one of those pubs where it might be nice if it did a little bit. There were five pumps on the bar, all of them off, but we had a LAGER BEER/Guiness anyway and a Delightful Catch-Up, before Mr T Pattison rolled up to pick us up, his car full of the agonising aroma of Just Finished Chips, and we headed across town.

We were booked into a NEW (to us) rehearsal studio, which was also a very OLD (to us) rehearsal studio - Stayfree! We used to do ALL our practices, and indeed recordings, at Stayfree when we first started out, before we relocated both to Derby. While we were away it upped sticks and moved across Leicester to Frog Island where it now occupies a HUGE space at Lock 42 and, though a bit damp and cold (it IS right next to the canal) was otherwise Surprisingly Nice.

It's also about 500 yards round the corner from Mr T "The Tiger" McClure's house, tho he still drove round as he had an AMP with him, also a rather nice ukulele which he had HAND BUILT and brought to show off to us. It was NICE!

Emma wasn't attending, as she had HOMEWORK to do, but we were otherwise quorate so got set up and commenced to ROCK. We warmed up/set levels with The Lesson Of The Smiths then got to work on one of our new songs, Burn It Down And Start Again, which sounded GRATE. I don't think it's THE HIT of the new stuff, and is the most straightforward one so far, but it isn't half fun to play!

Next we did one that SURELY - SURELY! - is a HIT: (You Make Me Feel) Soft Rock. GOSH-A-MIGHTY it's got so many HOOKS in it, it's fab! Tim had come in with a New Idea of how it should sound (as we'd BICKERED about it at previous rehearsals) which I approved of fully because it made it sound pretty much how I'd wanted it to in the first place - don't tell him I said so though, it'll spoil it. He reckons there'll be handclaps, which I can go along with, also SYNDRUMS which I can ALSO go along with, mostly because if Tim starts playing an electronic drum kit I will finally have the chance to turn his volume DOWN!

We put some MORE new bits in this time, including a CLASSIC PATTISON FILL (it's the one that goes "BANG BANG!" just before the start of the next bit, you'd know it if you heard it) and reminded each other that it would look better if we DIDN'T stand there GRINNING LIKE IDIOTS at The Good Bits, as we should make like we do Good Bits all the time. This plan lasted right up until we got to the KEY CHANGE at the end. Come on! We've only been playing together 15 years, managing a key change it AMAZING!!

After that we did 20 Things To Do Before You're 30 which has slightly less BITS in it than (You Make Me Feel) Soft Rock but is ANOTHER definite HIT, i reckon. It was a joy to play, although I was a little upset when Tim pointed out a possible problem and said "The thing is, you're approaching 50." "NO," i pointed out, correctly, "YOU'RE approaching 50." The cheek!

That concluded the new songs we'd previously worked on (well, apart from Can We Be Friends? for which I was meant to be writing a new chorus, but had forgot), so we had a go at We Did It Anyway. The early issue with THIS one was that the way I was playing it made it sound VERY VERY MUCH like 20 Things To Do Before You're 30 - I mean, it's a different song with different chords, but the RHYTHM was similar. We paused for thought, then Frankie suggested we try it a bit "Mariachi", "like Dance The Night Away", he said. Unsure which song he meant we asked him to sing the first line then ALL joined in. AHA!

We started playing and, over the next twenty minutes, got a FABULOUS GROOVE going. We SWUNG! Tom got a MAGIC RIFF working and the whole thing WORKED. Humorously there was one bit when we all NEARLY STOPPED then forced ourselves to carry on - I had to halt the song and say "We're going to have to do a stop there aren't we?" LOTS of our songs have STOPS in them so we do try NOT to do them too often but in this case, as Tim said, "It's like GRAVITY, pulling you in!" We had a GORGEOUS stop in the middle of the first double verse, and Tim asked if we could do ANOTHER double verse somewhere, as it sounded so good. "If people like it they can listen to it again" I pointed out, CORRECTLY again.

We then discussed the ending, and Frankie suggested repeating the last line and slowing it down, which he said would make it like (i think) Rodgers and Hammerstein. We tried MANY ways to do this, eventually settling on THREE repeats with a double length last verse. The temptation to do a CLASSIC BLUES ENDING was almost overwhelming, but we managed to... not resist at all, but I'm sure we'll be able to get over it by the time it's recorded.

With five minutes left we had a dash through The Peterborough All Saints Wide Game Team (group B), the version from MY TRIBUTE ALBUM which a) was good fun and b) has a RIGHT old fashioned ending. HOORAH!

We packed up, very happy with our work, and headed towards the station, stopping off for a pint in... The Hind again. As I say, it's an OK pub but I'm not sure I'd like it to become our official Post Practice Pint Place, even though the landlord did come over and say we could have a gig sometime, "once you've got yourselves established".

We discussed Big Birthdays (Tom's 40th is soon, and Tim is already planning TIMFEST for his next big birthday in 2018 - we agreed that DRESDEN would be an EXCELLENT venue!) and soon it was time to head home. I hopped on a train and was HOME just over 90 minutes later - if we can do practices THIS way it's all going to be peasy, and if they all go as well as THIS the next album is going to be GRATE. Who knows, we might even be able to have it ready for TIMFEST!

posted 27/2/2014 by MJ Hibbett
(click here for permanent link)
(0) comments


Roundhouse Rising
I got to bed quite late/tiddly on Saturday, so wasn't quite as SUPER ALERT as I'd've liked to be for getting up EARLY on Sunday to catch the train back to London, to go and take part in a panel for CMU at the Roundhouse Rising event at the Camden Roundhouse.

I was THRILLED to be asked and looking forward to it a lot, the only downsides being a) the getting up early and b) having to go to Camden. I got over the early wake-up easily enough, but CAMDEN was worse even that I expected, as it was a SUNDAY and so the whole area around Camden Town station was full of tourists AS WELL as the usual ranks of wazzocks, show-offs and idiots. I don't understand WHY Camden is always full of tourists - do they not have tat shops and junkies in other countries?

ANYWAY I got through the THRONGS and emerged into Chalk Farm, where suddenly all was pleasant, friendly and NICE. After some Getting Lost I eventually found the stage door to The Roundhouse and got in just as Mr Chris Cooke, organiser, was arriving. I was there EARLY as my train had unexpectedly got in on time, so I had time to tell Chris about Project G - as soon as I told him the Main Idea he said "ooh, think of the press you could get!" which was EXACTLY what I wanted to hear!

The room filled... and filled... and filled, until it was TOTALLY RAMMED. Mr Dave Green had come along too, and I think he and I were the oldest people in the room. It was all YOUNGSTERS, and i was very pleased to see that the slight majority (i think) were women. It seems to get a bit taken for granted that there ARE young women interested in doing GIGS these days, but back when I started out (around the time of the Corn Laws etc etc etc) there were almost NO women involved in the sort of lower league gigs that I did, and still do. I know there's a LOT that still needs to change in the world of ROCK, but I do think PROGRESS is being made.

Chris did a VERY interesting talk explaining copyright to a crowd which asked LOTS of questions. It was like being back at a CONFERENCE, like the sort of thing I used to organised YEARS ago, but this time about something INTERESTING and with people asking questions because they wanted to know the answers, rather than just to demonstrate that they were THERE, like what academics do.

My panel was next, and I sat with Gabby Young and Laura Kidd to talk about being a DIY musician. They had lots of interesting things to say, and I tried to a) NOD VIGOROUSLY in order to look like i knew what i was on about and b) make some REMARKS if possible. The best thing was that we all AGREED that, basically, you have to not be a dickhead and be NICE to people, and treat doing gigs like a chance for ADVENTURE and FUN rather than monetising it... which was a little bit against what we were meant to be saying, but worked out OK. Everyone also started out by talking about not wanting to use The Terminology of "product", "content" etc etc... and then totally DID the more we talked about it.

It was, as stated, VERY interesting and also lots of FUN - in the krazy world of ROCK, and especially in the arena of Solo Artistes, we don't get many chances to just talk SHOP and so when we do i always find it fascinating to hear other people's opinions and experiences. It was GRATE!

After our panel there was a break, and Chris said "Laura, Gabby and Mark will be around if anyone wants to speak to them." I thought to myself "HMM. I wonder how many people will want to 1) talk to the inspirational young women, or 2) listen to a daft middle-aged man?" The answers to those questions were: 1) EVERYBODY 2) a couple of polite people who got stuck near me. This did give me time, however, to put some CDs on the chairs - I'd come back with a pile un-given-away after Leicester, so got rid of them there. HA!

Dave and I had a HALF and a biscuit each for lunch, then went back for more, including another GRATE talk by the founder of Music Glue, which gave me MORE ideas, this time for some MERCHANDISE for when we release the Total Hero Team ALBUM at the end of the week. ALAS tho the weekend FINALLY caught up with me around 3pm and I had to leave, waving goodbyes as I did.

When I got to Camden Town station I found it CLOSED so had to spend a LOT more time in Camden than I'd hoped for, but eventually I got down to Mornington Crescent station and was soon ZOOMING home back to the Olympic Village, having had a pretty bloody marvellous weekend. I need a bit of a rest now though!

posted 26/2/2014 by MJ Hibbett
(click here for permanent link)
(0) comments


The Final Show Unless We Do It Again
Saturday morning dawned at a VERY leisurely pace. Usually when I'm in Leicester for the comedy festival i have Other Stuff to do during the Saturday, but this time all I had was a Late Lunch date with my old pal Mr C Lawson, so I LOAFED ABOUT a lot, watched telly, and then SLOPED into town for a wander round (including a look at the re-opened Silver Arcade, which was VERY posh), before meeting Chris in The Globe. We had a GRATE lunchtime, one of those daytime pub sessions which begin sensibly but end with you both going "All right, one more can't hurt can it? OW! WHAT IS THAT BRIGHT LIGHT OUTSIDE?"

I wobbled back to the Ibis to fetch my guitar then met Steve in The Pub, the pub which is called "The Pub", where he was watching Rugby. As usual I thought "OK, let's give this stupid game another go" and, as usual, I realised that Rugby is BORING and RUBBISH. It wasn't on for long though, so we picked ourselves up and headed over to Firebug to watch Max and Ivan in "The Reunion". We were VERY pleased with ourselves for actually going to see a SHOW while we were at the comedy festival (this was my sixth year and my first show seeing something else!), and I enjoyed it a lot. It was two blokes playing lots of characters, though instead of using WIGS and HATS they used lighting and sound effects. It was good!

Then it was back to the Criterion for more PIZZA and a return to BEER (i had SENSIBLY been on the diet coke since lunchtime in an effort to sober up a bit) and then the wait to see if people turned up. This time they DID, we had about 35 people in, including Mr Alex Dawson, Mr Dave Dixey, Mrs Angela Cox, Mr Mark Collins and Mr Tom "The Tiger" McClure. Everyone was WELL up for it, and the show was HUGELY enjoyable - if it does turn out to be the last one ever it was a GOOD one to go out on. We did it as well as we ever have, I think, though still had space for some LARKS. I'd wondered what to say when we got to the end about Fufu returning to fight again, but when we got to that bit I said "Fufu will be back to try again... whenever you want him to, on the internet" for LO! we're releasing the VIDEO version at the end of this week. Saying it out loud like that made me realise how glad I am that we're keeping a version of it FOREVER!

We returned to the pub area for some LARFS and CHAT, marred slightly by Steve's coat DISAPPEARING. Someone was seen wandering off with it, too quickly to stop, so it may have been nicked or just taken by mistake (a spare coat was lying around so you never know), but Steve bore up MANFULLY. Other than that there was more DISCUSSION (Mark made an HILARIOUS remark, saying Project G could be titled "Waiting For Ringo" which... er... makes a LOT of sense when you know what it is - honestly, if you see me in a pub, ask me and I'll tell you ALL about it. AT LENGTH) and BEER, culminating in me and Steve wandering home via a traditional last pint in the Firebug.

And that was the show done... in theory, anyway. As we were doing it I thought "this doesn't feel like the last time we'll do this at ALL", but then I realised I thought that during the last show of Moon Horse too! We HAVE applied to do it at a festival of New Musicals during the summer, so you never know, and I have a vague hope that people might BOOK us once the full length album and VIDEO versions come out. I've really enjoyed this show, but must admit that I'm a little disappointed it didn't get the attention/reviews/ALL THE AWARDS that I think it would have deserved, hence I hope there's a little but more to come. If there's not there's not, but I'd like to think Fufu really WILL be back to try again sometime!

posted 25/2/2014 by MJ Hibbett
(click here for permanent link)
(0) comments


Leicester Comedy Festival
A very busy weekend started well with a lunchtime meeting with Mr John Dredge. He and I have been having regular lunchtime meetings during which we NAG each other into writing sketches for Radio Shows. This has turned out to be an EXCELLENT scheme - not only have we forced each other to write several scripts, it's also been a DELIGHTFUL way to spend a lunchtime and also produce THORTS.

For instance, just before we finished I was telling him about my idea for a 2015 Edinburgh show, which would roughly be about lower division football, possibly called "Proper Football". I'd told The Audience In My Auditorium about it earlier in the week and she'd said "That sounds boring", and John said pretty much the same thing. I had to admit he could be right, and wailed "I just need to find something to do a show about that other people are interested in but that I like A LOT also." "Well", he said, as we put our coats on, "you like The Beatles."

And there and then an IDEA presented itself, fully formed, with such INFINITE BRILLIANCE that it was all I could do to remain standing. I'll not go into it in any depth here, so I can check if i can DO it or not, but I will tell you it is codenamed "Project G" and is AMAZING!

A couple of hours later I met Mr S Hewitt at St Pancras, ready to catch our train to Leicester and the comedy festival for the "final" (unless we do it again) performances of Total Hero Team. On the way I told him about "Proper Football" and he looked distinctly unimpressed, but that was FINE as it was just the lead-in to telling him about "PROJECT G". He tried to look thoughtful but I could tell it was BLOWING HIS MIND. Here is photographic evidence of it happening:




Speaks for itself, I think.

We soon arrived in Leicester, checked into the Ibis (usual suite, though this time I had a WHISTLING WINDOW which I ended up spending MINUTES fiddling about with to stop the INHUMAN HOWL that came from it when the wind blew), watched "Pointless" (TOURING!) and/or Curling, then met up and strolled over to the Criterion for the show.

We met this year's students (students from the Festival Management course at the Poly/DMU always do the door at The Criterion during the festival, it's VERY handy), ate some lovely Pizza, drank some lovely beer, and waited to see if anyone would be coming to see us. As it happened eight people did - this is our lowest ever audience for a Leicester Comedy Festival show, but VERY FAR from our lowest audience for this show, and also they were DELIGHTFUL, chuckling throughout and applauding wildly at the end. I thoroughly enjoyed DOING the show too - as ever, it's only when we get to the last few performances that I think "HA! I could do this forever, it is a) peasy b) fun" and, as ever also, I worked out a NEW BIT that FINALLY made sense of the "Thanks... but no thanks" line at the end!

All done we wandered over to The Swan & Rushes for a PINT and further discussion of how Project G might be enacted and then to The Ale Waggon where, slightly bizarrely, we bumped into a pal of Steve's! We had a lovely chat then Steve went off for a NIGHTCAP, while I, suddenly FLAGGED, went home. It had been a long but MARVELLOUS day, and a GRATE start to a weekend that would play out similarly!

posted 24/2/2014 by MJ Hibbett
(click here for permanent link)
(0) comments


Singing Alan Moore To Alan Moore
On Wednesday night I found myself heading up to Northampton for an unexpected gig. Mr Robin Ince had emailed me on Monday, asking if I fancied popping up to play with him and Mr Michael Legge at their Pointless Anger Righteous Ire night. "Why not?" I thought to myself, so headed up... though not before spending a large part of Wednesday afternoon trying to work out how to play The Ballad Of Alan Moore. He is, after all, Northampton's favourite son and also one of my all-time HEROES, so it would have been rude not to, though GOODNESS ME it has some STRANGE chords in. Usually re-learning my own songs is PEASY as they only have three chords, but this had SEVERAL!

Anyway, I got to the venue, the NN Cafe, to find that it was nice and small and so i wouldn't need a soundcheck. I got a beer and went upstairs for a chat with Messrs Ince and Legge. This seems to be the thing to do if you're EITHER a comedian OR an Rock Band, as these are the only groups of people I know who ESCHEW Chatting To The Audience. It was all rather jolly, but still felt a bit naughty to be sitting in a HUGE cold attic rather than saying hello to people.

We came downstairs and the first half kicked off - the basic idea of the show is that they talk about things that annoy them then the audience votes on whether it's Pointless Anger or Righteous Ire. They then take suggestions of similar from the audience - it's rather an ELEGANT way of framing them getting ANNOYED, and was VERY funny!

Just before the break Robin started talking about getting their guest on to do a song i.e. ME - there had been some brief mention of maybe doing this, so I could possibly sell some CDs in the interval, but I'd forgotten about it! Thus I wandered on and said hello then had to COVER while I got my guitar out and TUNED it. I did It Only Works Because You're Here, which went down all right, though once I'd got offstage for the interval i did realise that I'd just done my BEST song, and had to go on and follow it with four more!

On stage I'd noticed that Alan Moore HIMSELF was sitting on the front row! As I say, he is very much one of my all-time HEROES, and so I WRESTLED with whether or not i could, or SHOULD, do my song about him. On the one hand, it might seem WEIRD and he'd come out for a fun evening without being HASSLED, but on the other... well, i couldn't really NOT, could I? Thus I came back on and did THIS:

It was a HUGE amount of fun - Mr Alan Moore took the whole thing very well, and I got to say the "Thank You" bit directly TO him. I'd worried that Normal (i.e. non-comics reading) People in the audience might not understand half of it, especially the bits about alternate universes, but this didn't seem to matter and it was a DELIGHTFUL experience, which led to the rest of the set going pretty good too. It was certainly the NICEST one of these comedy-type gigs I've done - i have learnt before that comedy audiences prefer SLOWER songs, so did all of the above at a much slower tempo than normal. It seemed to work!

I sat back down and Robin said that if people wanted to buy CDs they should hassle me - Alan Moore himself shuffled over so i gave him a copy of Dinosaur Planet, and then very quickly had to RUSH OFF to get my train, stopping to WAVE to the audience before i went. They all waved back, it was lovely!

Only when I left did the full factual force of FACT hit me: I'd sung the Alan Moore song TO Alan Moore AND Alan Moore now owns a copy of Dinosaur Planet!

I staggered into the station to find that Northampton is one of those stations where they've decided to improve things by HIDING STAIRWAYS and REMOVING ALL SIGNAGE. I had a PANICKED five minutes of running around desperately trying to the entrance to the station, then to find my platform, then trying to work out how to GET there, but eventually MADE it, sat down, and breathed a sigh of relief. What a WEIRD, but also FANTASTIC evening it had been!

posted 21/2/2014 by MJ Hibbett
(click here for permanent link)
(2) comments


Early Retirement
It's finally happened - after eleven and a bit years my two-year contract at Birkbeck is finally DEFINITELY coming to an end!! There've been many extensions, with an extra year added at the last minute for both of the last two years, but THIS time it is not to be, for LO! I received an email from HR on Monday telling me that March 31st shall be my last day in employment.

I've been expecting it for SO long that I thought confirmation wouldn't make much difference, but to be honest it has SURPRISED me that it's finally happening, and my BRANE is struggling a bit to cope with the idea that, come April, I won't have an Actual Proper Job to avoid doing!

The current plan is to take a few months to have a go at FREELANCING and to see if i can make a go of it trying to WRITE stuff. I've got loads of scripts to finish off, or start, or work out, and various AVENUES to wander along, including the Nick Writing Program, which I've just finished off my entry for, and trying to write some sketches for Radio 4 shows. However, if anybody out there has any WORK offers they would like to offer me, especially if they involve WRITING of any kind (WURDZ and/or MUSIC), then do please let me know. PENURY doesn't really suit me!

In the meantime I intend to do some RESEARCH into my new area of work i.e. watching telly and going to the pictures. This began right away, post-notification, as we went to see THE LEGO MOVIE on Tuesday. GOODNESS ME but it was GRATE - so many BITS of GOOD STUFF (my favourite was "Spaceship! Spaceship! SPACESHIP!"), a PLOT that kept on and on being surprising, but best of all a MESSAGE that was a) interesting b) not straightforward c) COOL. I liked it a GRATE deal!

posted 20/2/2014 by MJ Hibbett
(click here for permanent link)
(4) comments