History
The first version of Dinosaur Planet was a one-man show performed as an hour of storytelling by MJ Hibbett at the 2009 Edinburgh Fringe festival.

Later that year he re-worked the story and songs into a full script which he and his band, The Validators, took into the studio to record as a concept album. They'd spend most of the next two years working on this, bringing in a host of guest stars (including singer songwriter Chris T-T and Phil Wilson of The June Brides) and using all kinds of studio wizardry and special effects to create a fully immersive rock opera.

While this was happening the recording script was used as the basis for a new two-man live show, co-starring Steve Hewitt. This version debuted in 2010 and was performed at the Edinburgh and Camden Fringes before going on to appear at the Leicester Comedy Festival and at venues around the country. In the end it was performed over 30 times, with visits to Brighton, Birmingham, Sheffield, Manchester, Northampton, Cardiff, Nottingham and back to London again.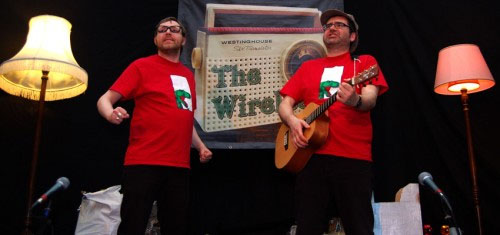 The album was finally finished in late 2011 and released in 2012 to great acclaim from the science fiction community. SFX Magazine called it "Jeff Wayne's new competition", io9 said it was "the space dinosaurs vs. giant robots rock opera you've been waiting for", and Den Of Geek called it "a ridiculous, charming, delightful oddity". It was also featured in publications as diverse as The Smithsonian Institute Magazine, The Word, The Peterborough Evening Telegraph and CILIP Update.

Four download singles were released over the rest of the year, and each of the accompanying videos received thousands of hits on YouTube. There was airplay from radio stations all over the world (including several on BBC 6Music) and a series of gigs around the country, culminating in a one-off reunion performance of the two-man show at the Green Man Festival 2012.

Now MJ Hibbett has released a new version of Dinosaur Planet specially designed to be performed on stage by a full cast. This version is being made available to amateur groups for free during 2013, partly to test the waters for professional productions, but mostly so that more people can enjoy the exciting story of why the dinosaurs REALLY disappeared!