---
current
/
archive
/
issues
/
faq
/
RSS feed
/
twitter
/
---
When Titans Clash!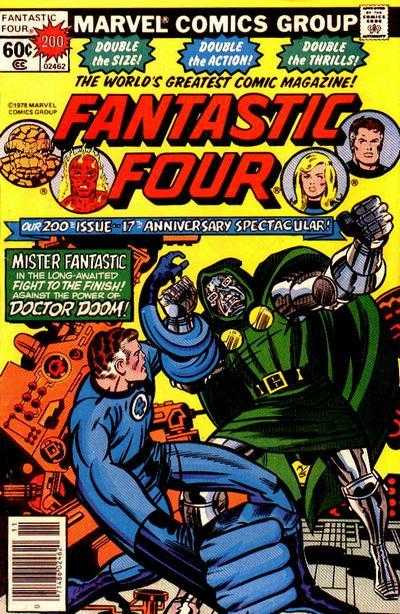 Here we go then, this is the grand finale for the recent (pretty exciting) story running through The Fantastic Four, starting where the last issue left off, with Doctor Doom cradling his son/clone in his arms, after strangling and electrocuting him to death.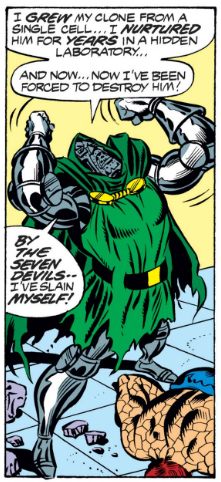 This is peak Doom-of-this-period, screaming into the ether, demanding to know why he was "forced" to kill his clone. As we saw last time, he did it in a fit of pure rage, and this denial of his own responsibility is entirely in line with his current characterisation.
The FF attack, and Doom blasts them all with "energy" which Sue says is "even more powerful than my force field", trapping them while he goes to "take care" of his clone. Before he can do anything though, a lackey comes in to warn him that the Latveria people are gathering outside. Doom once again lashes out, before rushing off to see what's happening.
This time he doesn't bother so much with pretending to be quiet, bellowing "Everyone - Silence!" at the waiting crowd. Keith Pollard again draws our attention to Zorba's credentials as a man of the people, by showing him standing within the crowd, shouting up at Doom in his lofty perch.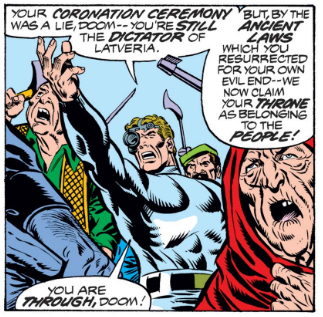 Doom can't be bothered with any of this, and unleashes an artificial whirlwind on the people, stating "you've brought your destructipon on yourselves" before stomping off to carry on with his plan. Here we get another insight into the inner life of Doom's goons, as one called Gustav does his master's bidding whilst in fear for the life of his family.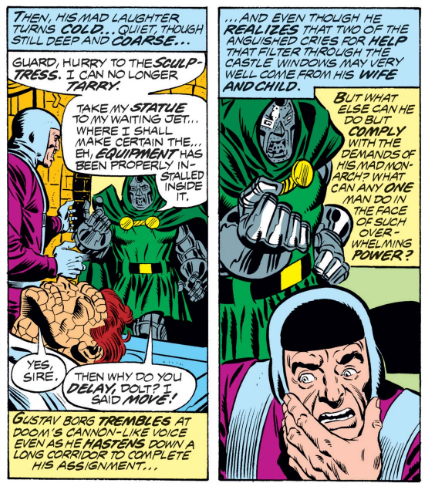 Marv Wolfman has been doing a lot of this during the course of this story, showing that the people of Latveria, even Doom's employees, are still people, seeking to find an explanation for how they can obey Doom in this way. It sets up the revolution as an inevitable consequence of his rule, and also comments on the people of Eastern Europe who, at the time the story was issued, were (according to the US Government) struggling under oppressive dictatorships themselves. It's a much more sympathetic way of looking at a people who, rather than being simple-minded peasants, are living in fear, dreaming of freedom.
Doom packs up the statue that Alicia has designed and heads off in a plane for the United Nations. The FF escape from their prison and give chase, much to the annoyance of Doom who, as usual, takes it out on his staff.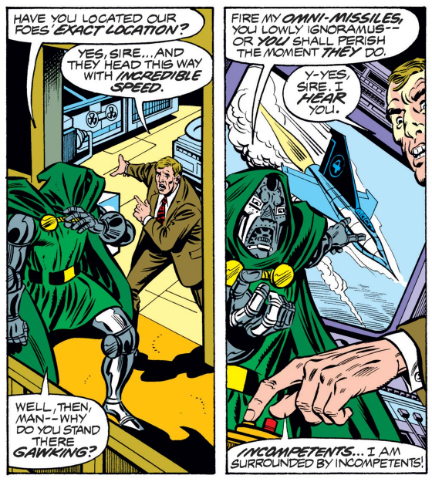 I keep saying it, but this is a long long way from the heroic revolutionary leader we saw back in the sixties! While the rest of the team deal with the Omni-missiles Reed Richards gives chase on his own, finding Doom in his "upstate New York laboratory", where he's treated to a recap of their history together. This follows all the usual beats of Doom's origin, neglecting the recent idea that he sought medical assistance before leaving the country, with the only change the idea that the monks in Tibet forged Doom's entire suit of armour, rather than just his mask.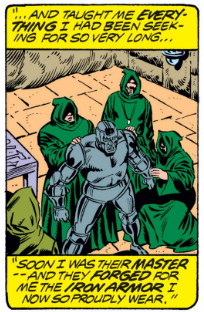 As advertised on the cover, a Big Fight then ensues between the two of them, which Doom very easily wins. While Reed lies on the floor Doom goes next door to observe his enemy from "my macabre murder room". As ever, he's watching via a screen.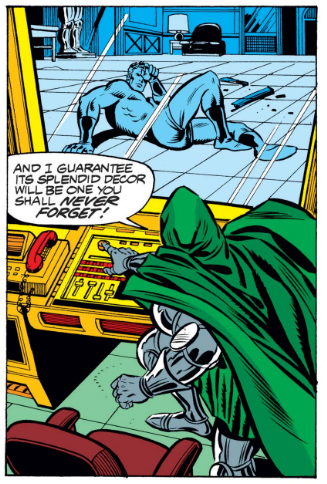 I do like the handy telephone in the console!
While Doom tortures Mr Fantastic, his robots are delivering the statue to the united Nations, where it's greeted by some very "of the time" racist caricatures.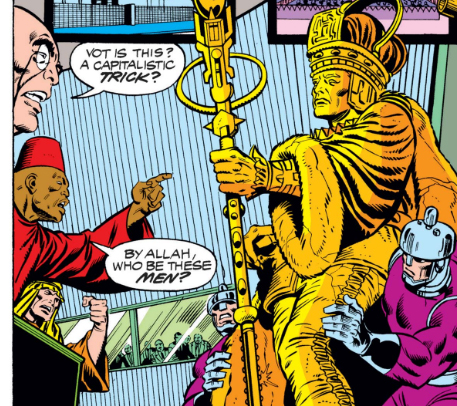 Doom receives a signal to say that the statue's in place and so leaves, trusting that his "automatic murder room" will be fine killing Reed Richards on its own. He's been a supervillain for nearly twenty years, and yet he appears to have learnt nothing! While Mr Fantastic (inevitably) escapes, Doom enters his "Solartron Complex - the energy storage center for all of Doom's incredible weapons" where, on yet another screen, he spots the rest of the FF fighting their way into the UN.

While he's distracted Mr Fantastic creeps up and, using a device mentioned a couple of issues ago, short circuits Doom's armour, leading to another Big Fight which, again, Doom wins pretty easily by using the "refrigeration controls" we've seen recently on the moon.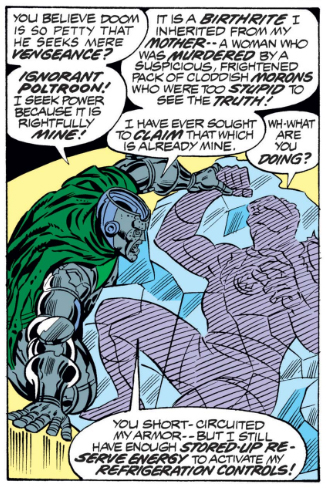 I'm not sure how these work when his armour is short-circuited, but I imagine it's the same way they managed to freeze water molecules when they were already at absolute zero!
The rant about his inheritance from his mother is very interesting - his mother didn't actually have any political power for him to receive, but the idea that he is somehow the rightful ruler of Latveria will return in a few stories' time. Here and now, however, he's busy with the next stage of his cunning plan, activating a hypnotic ray which takes control of the minds of the UN delegates.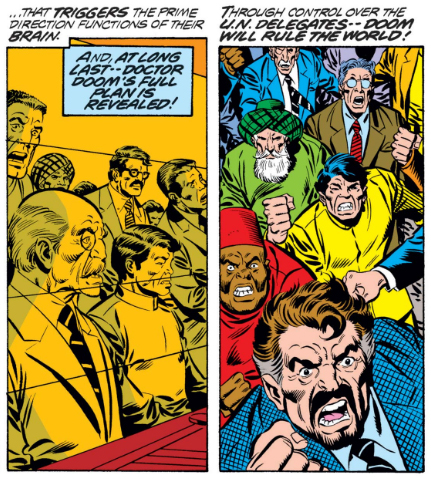 Once again, it seems that in the Marvel Universe the UN is more like a world government, and that if you can control the delegates you can control the world. This is clearly not true in our world, but it gets mentioned so often, across different media, that it must be true for Marvel's!
Everything's going great for Doom until Reed Richards picks himself up one last time. Getting up again when all else is lost is a common story point in Marvel comics, and normally you'd expect Reed's bravery and determination to triumph, but here Doom gets the upper hand yet again, strangling his enemy almost to death while demanding that he admits that Doom's disfigurement was his fault all along.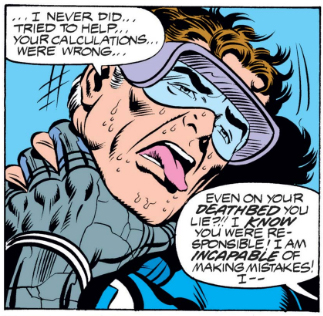 Just at the last moment Reed pulls off Doom's mask, without which he is unprotected from the "solar-powered intensified reflections" of the Solartron. Confronted by images of his own face he is driven MAD (or madder than usual, anyway), which Keith Pollard very cleverly manages to depict without actually showing Doom's face.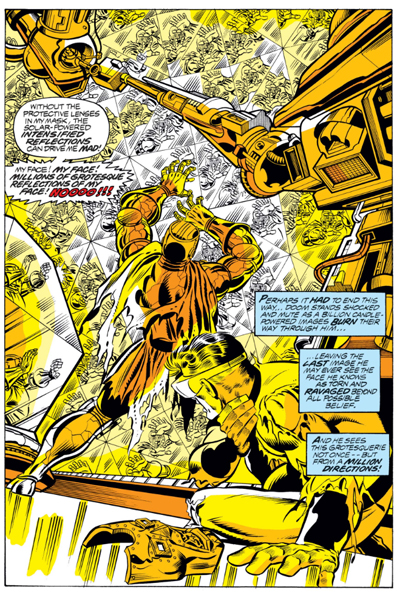 With Doom disabled Mr Fantastic is able to disable the hypno-ray, and we see a classic example of Marvel Age depictions of other (i.e. non-American) nations.
Blimey indeed! All the remains is an epilogue, featuring a particularly well constructed image showing exactly how the revolution has worked out.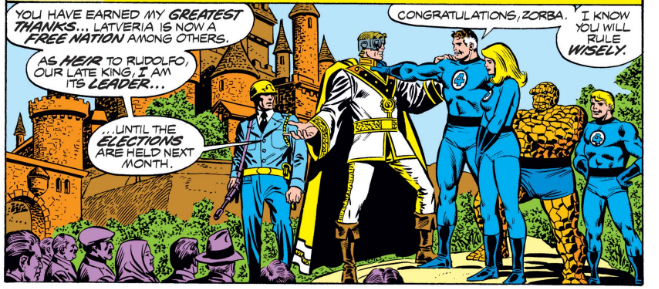 Here we see the Fantastic Four (representing America) conferring legitimacy on the new head of government, standing on a raised area which places them above the mass of the people, who are now coloured as a group and silent. Tellingly, there's a UN guard there too, standing to one side, taking no part in proceedings. It's almost as if Marv Wolfman and Keith Pollard are suggesting that America is the only country strong enough to confer legitimacy on revolutions abroad!
Doom, meanwhile, is seen in a padded cell, writhing in "eternal torment" as a result of what he's seen.
And there ends what has been, leaving my academic objectivity to one side for once (hem hem), a bloody brilliant storyline which has shown why this version of Doom is such a terrifying villain. After this it'll be an incredible two years before Doom properly returns to the mainstream Marvel Universe, although there'll be a lot of alternative realities, flashbacks, adverts and cartoon to look forward to along the way. Before that, however, we have an extra bonus look at part of this very issue where Doctor Doom attempts to sell... MILKDUDS!
link to information about this issue
posted 15/11/2019 by MJ Hibbett
(click here for permanent link)
(0) comments
---
The Son Of Doctor Doom!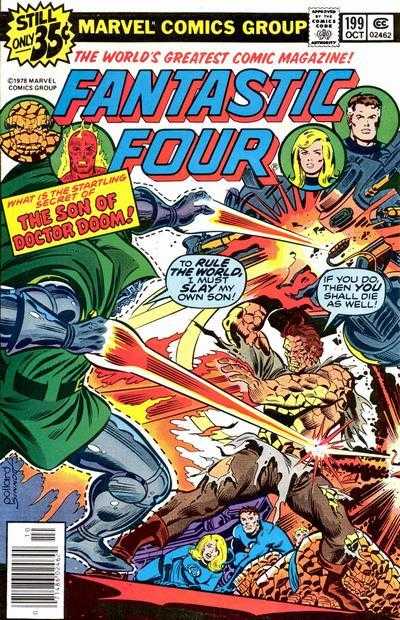 It's a massive relief to be back in the comics after that dreadful excursion into the 1978 cartoon series last time, and things are better right from the off with a thrilling cover and an even more exciting splash/recap page, showing Doctor Doom masterfully mixing metaphors around two of his favourite hobbies - chess and music!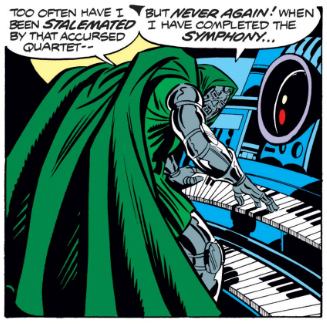 He's disturbed by his lackey Hauptmann, who rushes in to tell him that "the peasants are up in arms - led by the rebel Zorba." Doom does not take kindly to this news, and very much blames the messenger.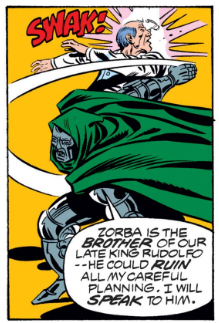 If anyone's not already sure which version of Doom we're dealing with, it becomes abundantly clear in the next two panels, with Doom appearing on the balcony to address his people in wheedlig terms, which instantly turns to abuse when he realises they're onto him.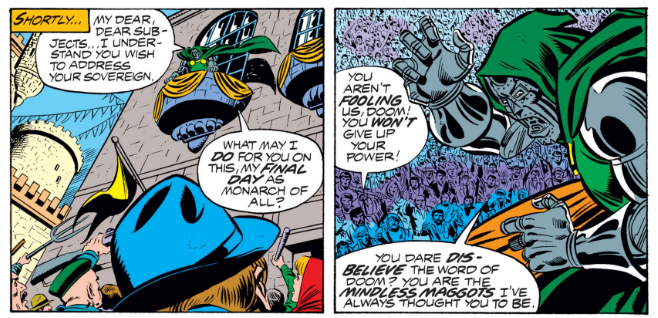 I must admit that it's hard to remain Academically Objective about this story, especially having recently sat through the cartoon series, because it is SO BRILLIANT! Enraged, Doom fires on the crowd with his finger lazers, leading Zorba's rebels to fight back with "weapons smuggled into our tyrant's country."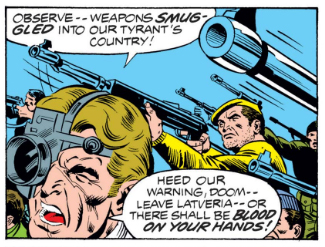 This was first published at a time when the USA was covertly funding rebellions all over the world, seeking to remove governments who disagreed with them. The only difference between that and what appears in this comic is that in our world these governments were often democratic, and not usually run by super-villains. I wonder though, did Zorba get his guns from SHIELD?
Doom reacts with more wheedling words, begging forgiveness and - bizarrely - promising to retire to do some gardening.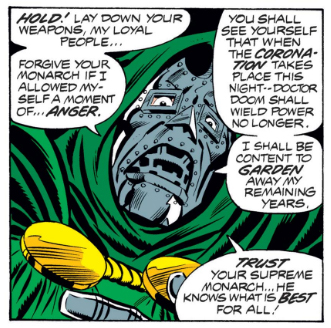 Throughout this issue Doom acts as a satire on East European communist governments who claim to love their people and only want what's best, while carrying out dictatorial policies and, according to US commentators at least, loathing the peasantry. It's all very different from the early version of Doom as a genuinely caring revolutionary leader.
He next visits the dungeons, where Alicia is working on the sculpture we saw in the previous issue. He removes his mask to allow her to feel his face, giving us a glimpse of the back of his head which differs markedly from previous versions - usually he's shown as having a full head of hair, with only the face disfigured, but here it looks as if his whole head is damaged. It's not unlike the brief glimpse we get of Darth Vader in "The Empire Strikes Back" a couple of years later.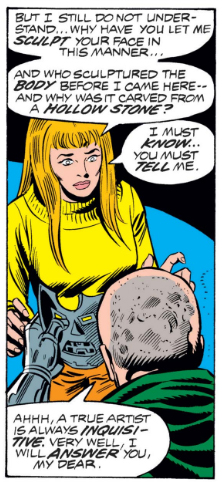 While he's busy the Fantastic Four escape and manage to get into a fight with Doom's "Servo Guards".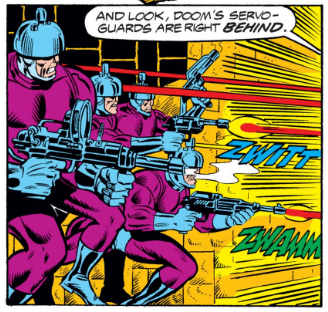 There's always been confusion about whether these are robots or human beings in robot-like uniforms, but calling them "Servo Guards" does tend to point to them being robots. The FF fight their way through to the dungeon, but are forced to surrender again when Doom threatens to hurt Alicia. "It looks like Doom has finally won", says Sue.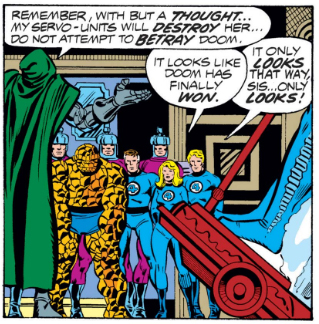 We're then treated to an utterly splendid splash page, showing Doom wearing a crown, stood on top of a flight of stairs with his "son", while down at the bottom Zorba and his men plan their revolt. This is a glorious page from Keith Pollard, showing Doom's arrogant delusion that he's better than everyone else, raised above the teeming mass of furious Latverians who, this time, seem to be dressed as modern East Europeans rather than the extras from "Hans Christian Anderson" we've seen before.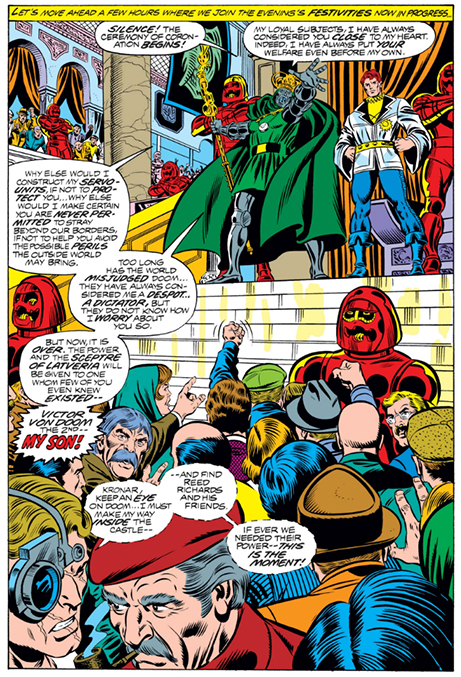 The coronation ceremony goes ahead but, just as Victor Von Doom the Second is crowned, Zorba bursts in with the FF, announcing that Doom's son is really his clone! Doom unleases the Omni-Bots (more killer robots) for a Big Fight, and then sets in motion the process of transforming his son/clone into a kind of quarter-strength Super Skrull, with milder versions of all the FF's powers in a single body. Unfortunately for Doom this also awakens his son/clone's consciousness, making him realise that he is actually a perfected version of Doom - a version who was never disfigured and turned to evil!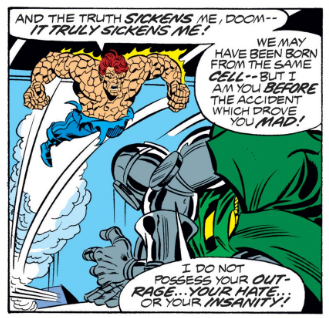 As I said earlier, this is bloody brilliant! The two versions of Doom fight, until the "son" tells his "father" the truth - that he is an evil being who has lost his own humanity.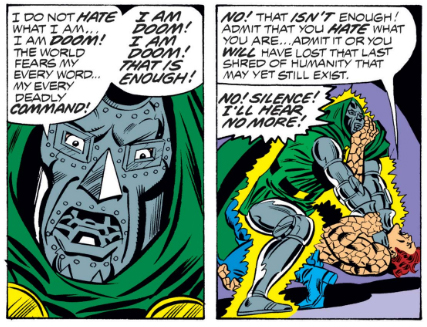 Doom refuses to accept this and is driven into such a state of madness that he ends up murdering his own son/clone to shut him up!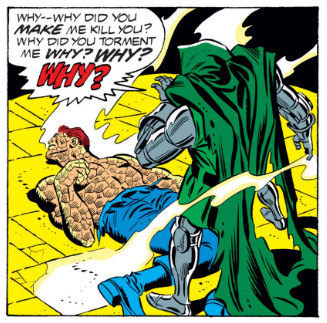 Crikey! That's where it ends, with a promise that the next issue will be "possibly the most important story in the Marvel Age of comics!" If it's anything like this one it's going to be a corker!
link to information about this issue
posted 13/11/2019 by MJ Hibbett
(click here for permanent link)
(0) comments
---
The Fantastic Four Meet Doctor Doom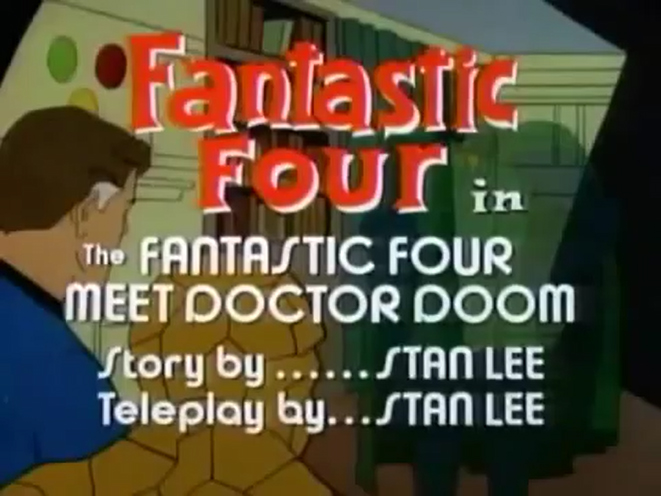 This is the first of two appearances by Doctor Doom in "The New Fantastic Four", the 1978 cartoon series by DePatie Freleng which is perhaps best remembered for featuring HERBIE The Robot rather than the Human Torch. There was a widespread belief at the time that this was because the television networks worried that kids would be inspired to set themselves on fire to be like their hero if they saw it on TV, but this was wrong on two counts - firstly because the rights to use the Human Torch had already gone elsewhere, meaning he couldn't be shown, and secondly because nobody would ever be inspired by anything in this show. It's not quite as terrible as Doom's first TV appearance in
The Marvel Superheroes
, but it's not far off.
It would be bad enough to have to watch this as it is, even without the knowledge that this dreary, half-arsed load of rubbish was actually the final Lee-Kirby collaboration, with Stan Lee writing the "teleplay" and Jack Kirby doing the storyboards. You can see hints of their better work, especially some of the jokey snippets of dialogue or the jaggedy Kirby lines on Doom's armour, but it's all submerged beneath a truly dire production.
This episode is a loose adaptation of Doctor Doom's first appearance in Fantastic Four #5, and begins quite promisingly in "the far off forbidden Kingdom of Latveria". The castle looks like a mix of science fiction and olde worlde magic, there a robots marching around, and inside we discover Doctor Doom glaring angrily at chess figure versions of The Fantastic Four.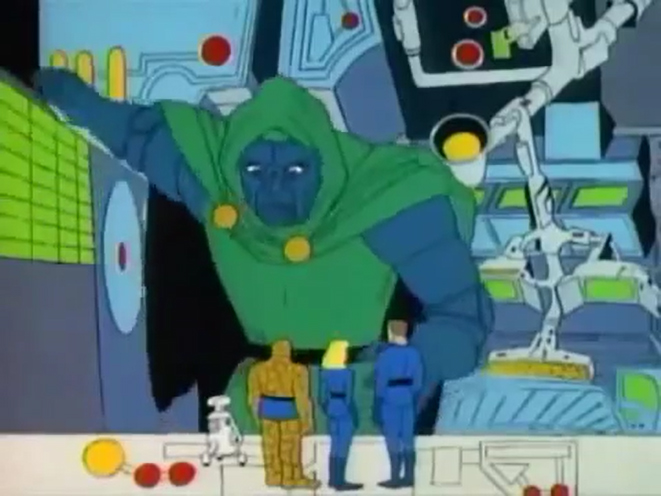 Doom himself talks with a heavily echoed deep voice, back to his usual performance style after the recent (much more fun) campery, and he looks very much like he does in the comics, with the only slight difference being that he appears to have a large row of metal teeth and a lower jaw that moves up and down as he speaks.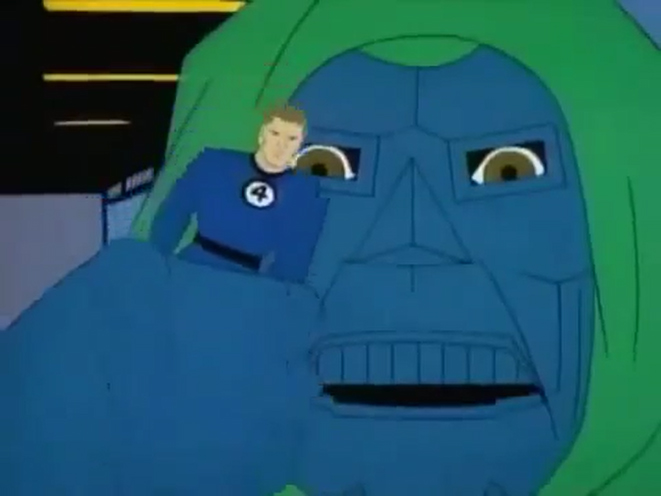 He sets off in his ship, heading for Manhattan where the action slides into the original story, right down to The Thing sitting reading a comic... except in this case he's reading a "Silver Surfer" comic rather than "The Hulk", I guess because someone else had the rights to the Hulk. There seems to be a tendency in a lot of these adaptations to keep stuff in that just doesn't work in the new medium - 16 years earlier it would have been fun to see a character in a comic reading a recently released comic starring another character, but here it's just someone in a cartoon doing so for no apparent reason.
Doom turns up and, as before, hovers above the Baxter Building. This time, however, it's a (much easier to animate) rope rather than a net that falls over everything, electrifying some (though not all) of the contents.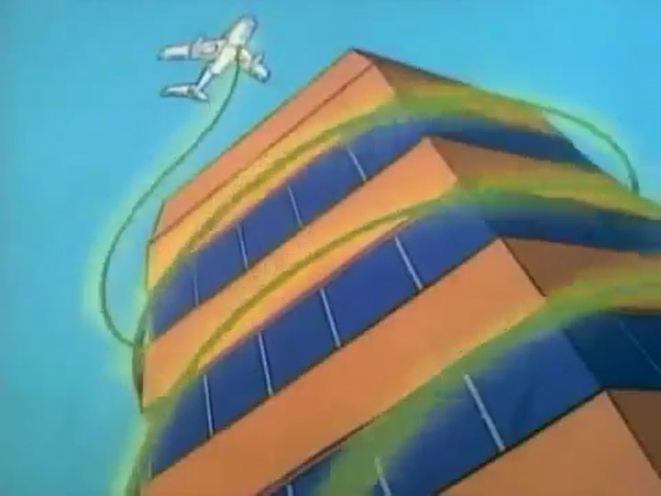 Doom appears as a hologram, much to the confusion of HERBIE who has no record of Doom in his "memory banks", so Reed Richards gives an extremely full version of his origin, including lots of details that weren't available in the original comic. The first part is much the same as usual, with Doom showing an unhealthy interest in ... sorcery!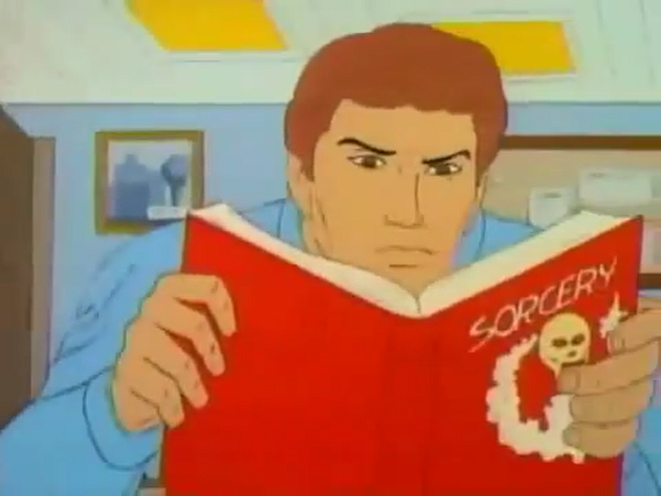 In this version he's doing some sort of chemistry experiment, but the end result is the same, and the heavily bandaged Doom gets expelled from college.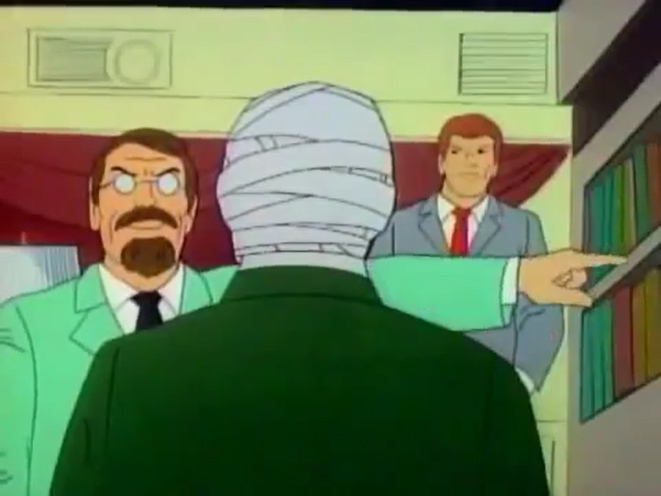 The college Dean here looks very Kirby-esque to me, reinforcing the sadness of this missed opportunity. Doom seeks the advice of specialists to cure his injuries, and then "forsakes the civilised world" to travel through remote villages dressed, for some reason, as a barefoot monk, using his horribly disfigured face to frighten off bandits.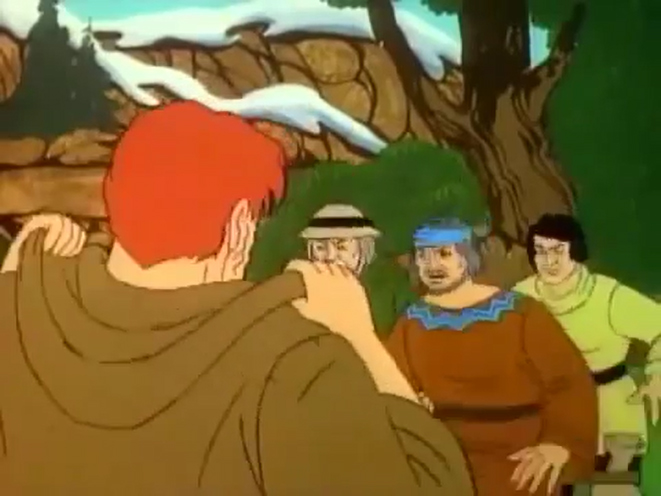 Eventually he finds some actual monks, makes his own armour, then heads back to Latveria to take it over. The whole thing is done very quickly and, again, makes me wonder why they bothered including things like the monastery, or indeed Latveria, if it's not going to play much part in the story.
"An admirable summation," says Doom, and then tells the FF it's time for them to return to Latveria with him. Understandably they say no, except Reed who wants to see what Doom is up to. Reed gets in the spaceship and then the others join him so he doesn't have to go alone, and they're soon in Latveria where a tractor beam and then some gigantic pincers bring their ship in to land. They're greeted by a great Jack Kirby robot.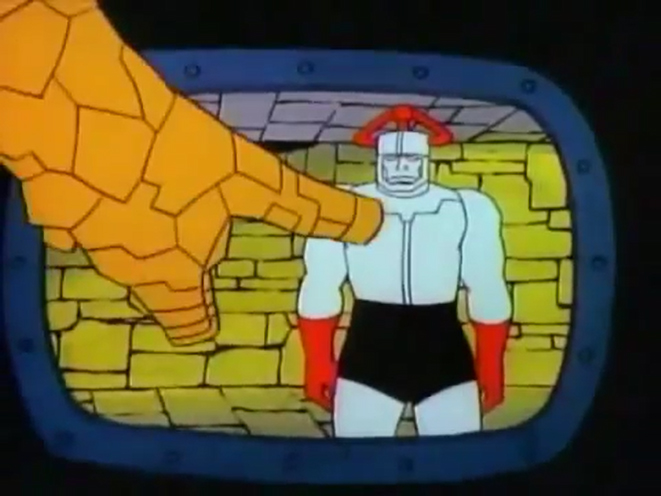 Doom tells them he needs money to buy "more arms, more magic potions, more giant robots" and, to be fair, who could disagree with that? He still wants the FF to go back in time to collect Blackbeard's treaure, but this time it's to sell it off rather than use it for magic. The whole thing is a much simplified, much blander, version of the original story and, with that in mind, on first viewing I thought it was rather odd that the composition was so different to the original. If they're copying the story so diligently, why didn't they copy any of the imagery? I was just thinking that, in fact, when this image appeared.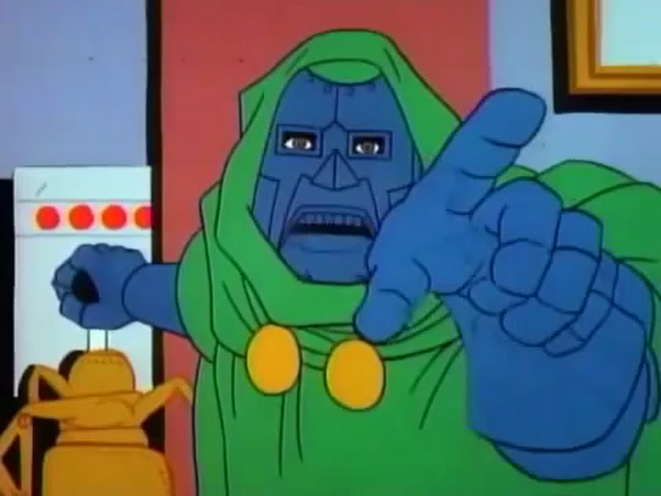 It's yet another direct swipe of John Buscema's image from
Thor #183
!!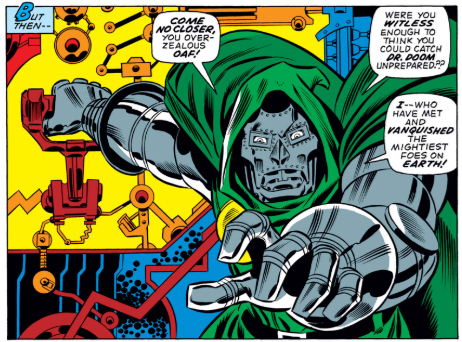 This strikes me as very odd - this image was definitely not part of the original story, yet here it is again, the only direct swipe I could pick out. I wonder why this above all else was chosen, especially in a Jack Kirby storyboarded cartoon?
Doom pulls the lever and Sue falls through a trapdoor, saying "I'm falling!" as she goes. "A trap door!" replies Reed. "He's captured me!" she responds. As stated previously, this really is a load of old rubbish!
As in the original, Sue's capture forces the rest of the team to go back in time to collect the treasure chest, despite Ben's wish that they "clobber" Doom instead. "Personally, I abhor acts of violence" replies Doom, taking another line of dialogue directly from the comic. There it was stated ironically, whereas here it seems to be true.
Reed tells the others that they needn't worry, he'll think of a plan to foil Doom... while standing right in front of him. Doom doesn't seem bothered about their planning and sends them back in time for a very sanitised version of the original story. There's a "comedy" section where Ben and HERBIE run away from some pirates while Reed steals their clothes, with "whacky" music playing all the time, but then they just agree to go with the pirates onto their ship rather than being drugged. Worst of all, when after a very brief not-quite-punch-up, when the pirates start calling the Thing "Blackbeard" it's just a mildly amusing occurrence, not the terrifically emotional chance for him to stay behind and be accepted as something other than a monster, as in the original comics. It's terrible!
They empty the box and we watch them very slowly head back to the island,load the chest with rocks, and walk back to their original spot. Slowly. Back in the future, Doom checks a clock and decides "they must have found the treasure by now" because apparently that's how time travel works, and uses a funky television screen to check.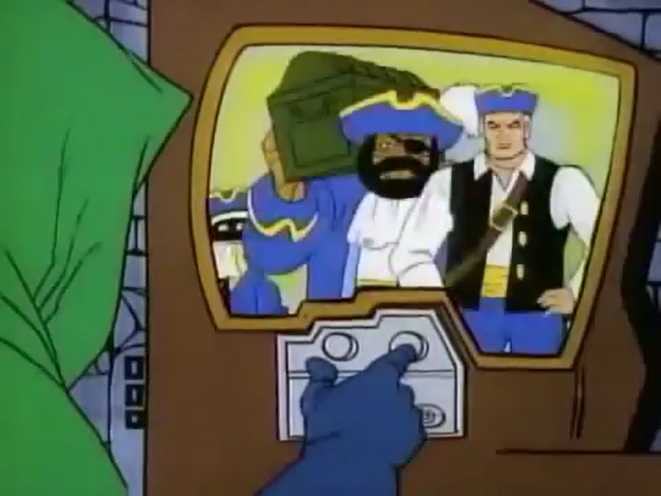 It would be unfair to point out how idiotic this is, because the comic itself did much the same thing, but at least the original comic was exciting, this is just dull! The FF somehow morph back into their costumes (presumably to cut down on the number of new figure drawings they'd need for the rest of the episode) and they're beamed back to our time, where Doom fulfills his promise by releasing Sue.
He is, however, distraught to see that Reed Richards has done the smart aleck tricking of bringing the chest as promised, without any treasure, so he points out that he promised Sue would be safe, but not the rest of them. A very slow, unexciting fight ensues which has lots and lots of time for chat, and then we cut back to Doom at another, very Kirby-esque, view screen.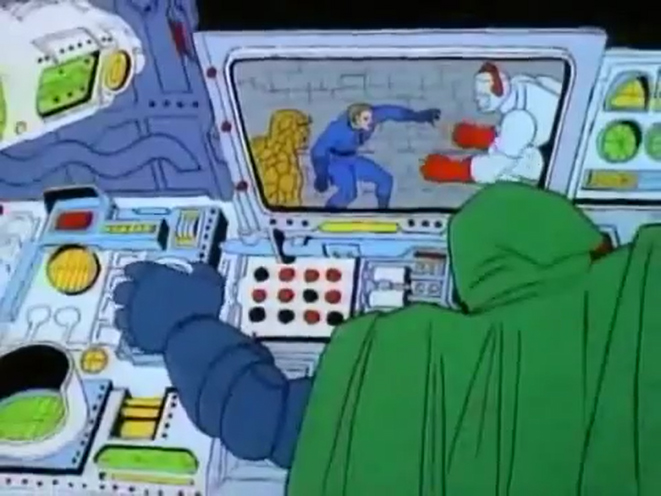 HERBIE and Ben had forgotten that Sue existed earlier, and now Doom does too. "The girl! She's vanished!" he says when he realises she's missing, apparently also forgetting she's called The Invisible Girl. Sue "short circuits the robot control" allowing the others to (very easily) break down a wall and discover a Doom who looks like he has been drawn by a ten year old.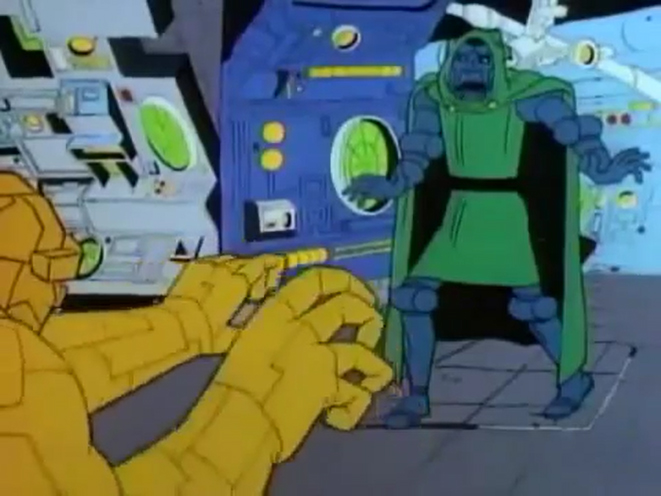 Doom pulls yet another lever and falls through a trapdoor. "It's over", says Reed. "He's the monarch here, if he chooses not to fight, so be it." It's not quite the same as the usual "He has diplomatic immunity" super-power, but it's close enough.
At the end Doom stands with a bunch of pilots, watching as they fly home. "They have earned their freedom," says Doom, "they won it fairly. But this was only the first round - there will be other encounters!"
Sadly, for me, he's telling the truth. They'll be another, equally awful, cartoon starring Doc Doom soon, but before that we'll be heading back at last to the Latveria of the mainstream Marvel universe. What a relief!
link to information about this issue
posted 11/11/2019 by MJ Hibbett
(click here for permanent link)
(0) comments
---
Thunder In The East!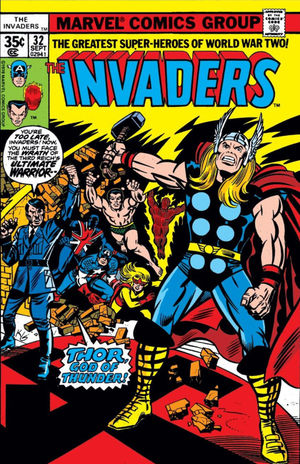 I'm combining two comics together in this blog, as it's one story in which Doctor Doom appears incredibly briefly across the course of both. It's also a comic in which Doctor Doom is completely and utterly unnecessary, and seems to have been chucked in by Roy Thomas as one extra bit of continuity re-writing, just because he can!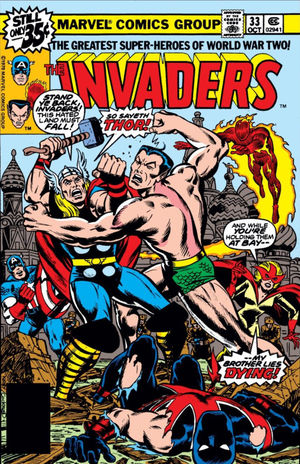 The story itself has more than enough going on in it already, as The Invaders (the team of World War Two Marvel Superheroes who never actually existed as a team at the time) are tasked with stopping the Nazis from destroying some experimental Achilles Tanks (which turn out to be a real, if rather oddly named, thing) and then delivering them to the Russians. Along the way we get a cameo from Stalin and several appearances from Hitler, who has had the brilliant idea of using a Dimensional Gateway to access the world of the Teutonic Gods which only Wagner had previously been able to see into in order to write his operas.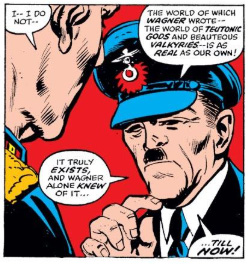 I believe this is where we all say together "Because Comics!"
Hitler recruits a scientist called Doctor Olsen to analyse Wagner's operas, using science, in order to build this dimensional gateway, because that is how both opera and science work. Olsen has a mysterious assistant called Hans, whose face is bandaged due to an accident.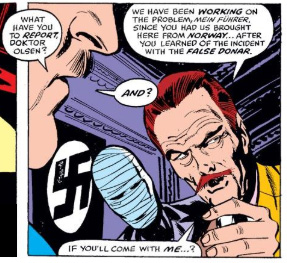 Olsen's machine works and calls Thor (actual Marvel Thor) into our dimension, and Hitler uses his astounding persuasive skills to convince him to fight for the Nazis.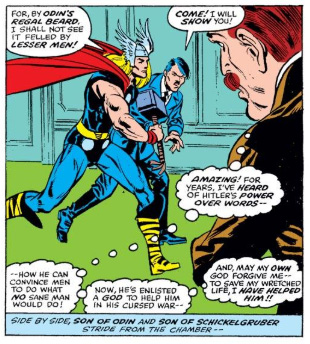 Thor flies off and, in the second issue, has a Big Fight with The Invaders, who are forced to save Stalin even though they - with remarkable foresight - don't really like him very much.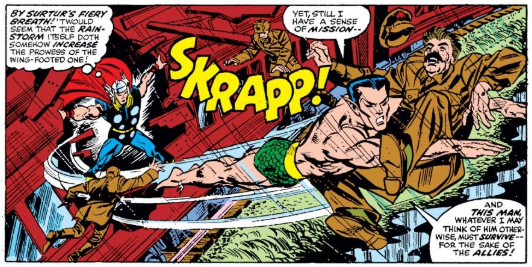 Hitler starts ranting about how he's going to get all the old Norse gods to fight for him, while Olsen and Hans become worried that he might - just might - be bonkers. The strain of it all is too much for Olsen, who has a heart attack and dies, leaving the mysterious Hans to carry on the work.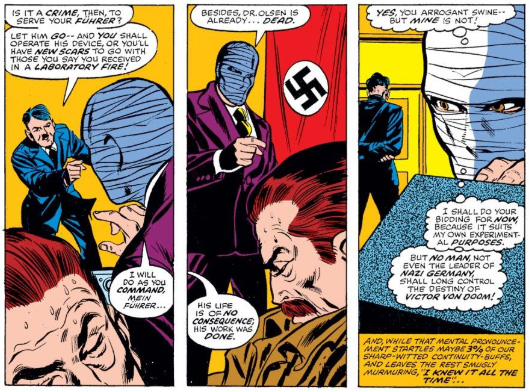 I do find that text box odd - I'd guessed it was Doctor Doom because I knew he was meant to be in these comics, but other than that there's absolutely no indication whatsoever that it's him, and nothing like this has ever been mentioned before. However, as soon as the reveal is made he starts to act in a much more Doom-like way, notably by double-crossing his boss, changing the spying device that allows them to watch Thor in action so that Thor himself can hear Hitler ranting, and then by destroying the dimensional gateway altogether.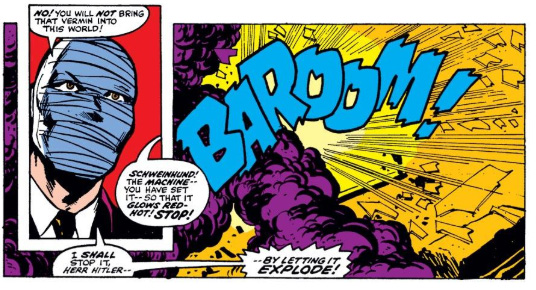 With Hitler trapped in the ruins Doom is able to give him a piece of his mind, pointing out that his mother was a gypsy, and so one of the people that Hitler would have destroyed.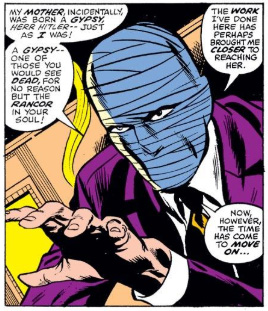 It turns out that Doom has been working for Olsen as a way of finding out more about dimensional gateways, so that he can build his own to try and bring his mother back from hell - which is actually quite a neat bit of continuity-revision from Roy Thomas. What is slightly less neat is that this nails down Doom's origin story to at least the late 1930s, as he must have attended college with Reed Richards sometime before this, hopped over to Europe for a while, and only then gone off to see the Tibetan monks. It doesn't really make any sense whatsoever, so it'll be interesting to see if this ever gets mentioned again!
It definitely won't next time, however, as we're off for a look at The New Fantastic Four cartoon series, starring the one and only Herbie The Robot!
link to information about this issue
posted 8/11/2019 by MJ Hibbett
(click here for permanent link)
(0) comments
---
Invasion!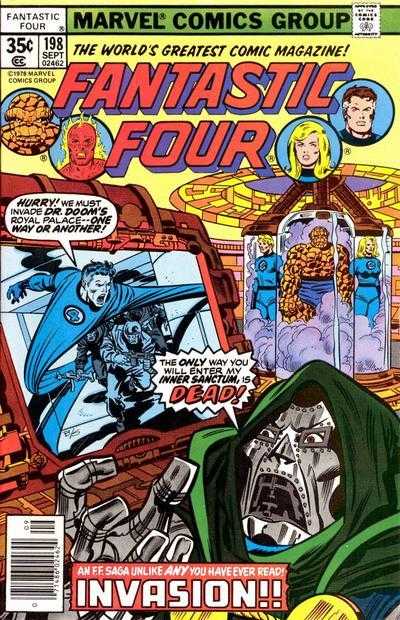 This is a comic that feels quite special to me, as it was part of my very first Academic Output in Comics Studies, when I presented a paper called
Latverian Incursions: Dr Doom and Cold War Politics
at the
Eighth International Graphic Novel, Comics Conference and Bandes Dessinées Society Conference
in Dundee in 2017. It feels like a long old time ago, but as it happens I'm off to do another talk, this time about periodising "The Marvel Age", at
Comics Forum
in Leeds tomorrow!
That first paper was all about the way that the portrayal of Doctor Doom changed over time as American attitudes to Eastern Europe developed during the Cold War. The actual comics starts with Mr Fantastic making his way into Latveria, where he discovers a country that's markedly different from the original version seen way back in
Fantastic Four Annual #2
. Back then it was an olde-worlde "fairytale kingdom", but now it's an Orwellian state, constantly watched over by unshaven goons and ruled with fear.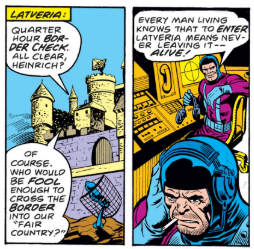 Mr Fantastic is immediately attacked by robot guards and thrown, unconscious, into a pond. "Will a man who has survived countless intergalactic battles die in a most ignoble manner?" asks the caption. The answer is "no", as in the very next panel he's dragged out by some locals who intend to "bring him to our leader".
Doom, meanwhile, is showing off his castle to the rest of the Fantastic Four while his people prepare for the coronation of his son. He takes them out onto the balcony of his residence to look at a parade rehearsing.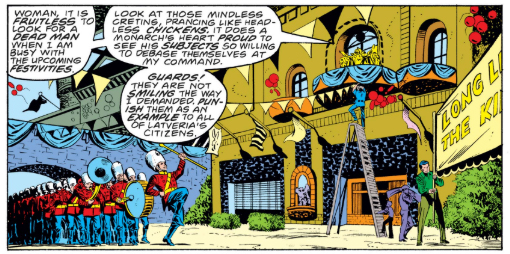 Referring to his people as "mindless cretins, prancing like headless chickens" is a very different attitude to his previously professed love for his people, and it's very much more in line with American attitudes of the time, with East European rulers (not unreasonably) viewed as propaganda-spouting despots who ruled over the masses without a thought for their welfare.
Alicia is still working on Doom's sculpture, which is designed to show Doom before he was "so horribly scarred". It's meant to be a gift to the United Nations, so he wants it to show him at his best in order to persuade them that Latveria itself is not scarred... or something. It doesn't make any sense to be honest and (spoilers) won't make any more sense later on either!
What does make a little bit more sense, comparitively speaking anyway, is the next stage of Doom's plan, which involves putting the Fantastic Four into "transference globes" which will allow him to transmit their powers into the body of his son.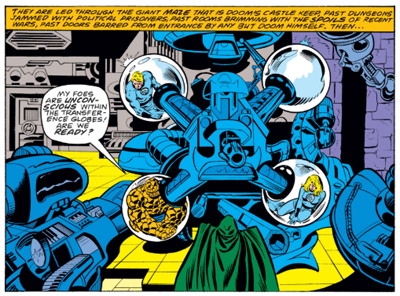 There's four globes there, which finally explains why Doom was spending so much time and money helping Mr Fantastic to get his powers back - so that they could then be given to his son. Talking of Mr Fantastic, he has woken up and been introduced to Zorba, the leader of the Latverian resistance who saved him. Together they are making their way towards Doom's castle, avoiding the gaze of more goons.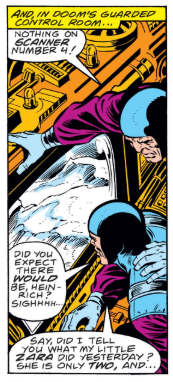 I like the way that Marv Wolfman gives the goons back stories and inner lives. I certainly hope this doesn't mean anything awful is going to happen to them! There's more to come, when Mr Fantastic manages to sneak up on a couple of guards who are moaning about how dull it is, working as hired goons for a super-villain.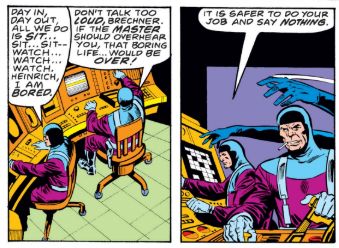 We've all been there Brechner!
Mr Fantastic leads the resistance army into the castle, only for most of them to get trapped in a gas filled room. Only he and Zorba make it out, much to Zorba's dismay. This leads to him requiring a talking to from an all-American ally.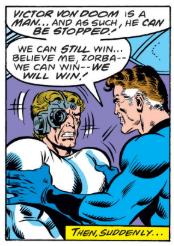 In my presentation I used this as an example of America (in the shape of Mr Fantastic) having to literally shake some sense into the revolutionary forces trying to overthrow Communism. It's a metaphor for the CIA intervening, because only with American leadership can the world become free! There's more of this when Reed confronts the scientist Hauptmann, who knows he was wrong to work for Doom, but was insufficiently American to resist.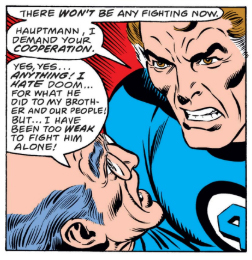 The action cuts to Doom's chamber, where he's back at the sonic keyboard we last saw back in
Fantastic Four #85
(which really does seem to be the key reference for this storyline).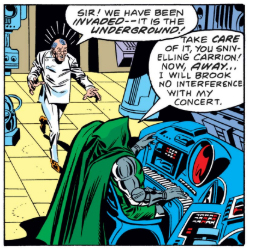 Hauptmann enters to tell Doom what's going on, but he's fooling nobody - Doom instantly recognises him as Mr Fantastic in disguise and zaps him with sleeping gas. Clearly he has a much better memory for faces than his adversary!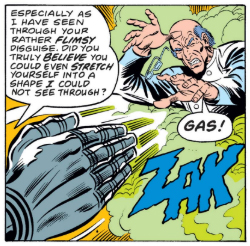 The story ends with all four members of The Fantastic Four captured and their powers being transferred into Doom's son. It looks like nothing can stop him now - but we'll have to wait a while to find out what happens, as next time we're off to World War Two and some classic Roy Thomas revisionism!
link to information about this issue
posted 6/11/2019 by MJ Hibbett
(click here for permanent link)
(0) comments
---
The Riotous Return Of The Red Ghost!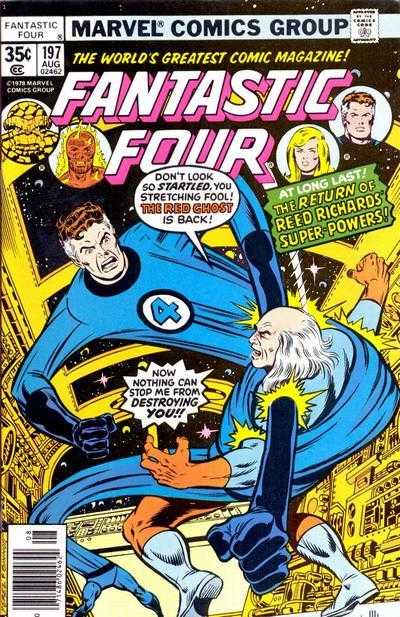 At the end of the previous issue, 75% of The Fantastic Four discovered that the person who had captured them was Doctor Doom. The only one who has not worked it out yet is Reed Richards, Cleverest Man In The World, despite the fact that he's been working on a top secret project with a man who looks exactly like his old college friend ... Victor Von Doom.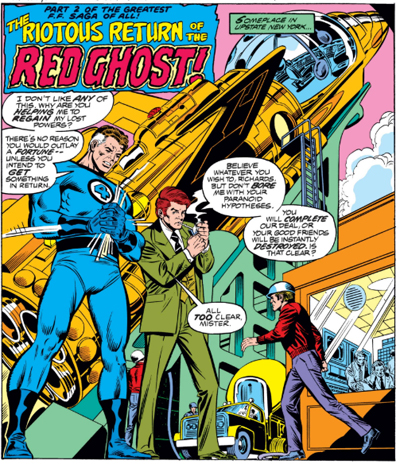 This mysterious, yet oddly familiar, figure has built a spaceship which he promises will give Reed his stretching powers back. Mr Fantastic, Super Genius, is perplexed by it all. "Why is he doing this?" he asks himself. It would need "the resources of a small country" to build the ship. "And why does he seem so familiar?"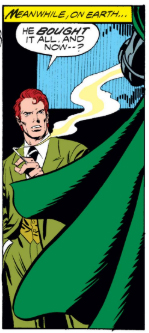 Yes, yes he did.
Mr Fantastic flies the spaceship into space for a bit of continuity re-writing - since the first issue of "The Fantastic Four" back in 1961 a lot of other people, in real-life and especially in the Marvel Universe, have travelled into space without becoming superheroes, so Marv Wolfman explains that it wasn't just cosmic rays that caused their transformation, but also sun spot activity, "a flaring of the van allen belt" and "an abnormal increase of neutron activity", all of which solves the problem of Neil Armstrong not turning into The Thing quite neatly. The plan here is the recreate these original conditions and, amazingly, it works, returning Mr Fantastic's powers but also allowing a stowaway to come back to life - The Red Ghost, the only other person to have been changed by the cosmic rays, who's been drifting around in space waiting for a chance to return!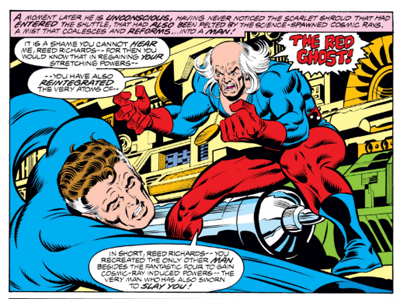 Meanwhile in Latveria, Doctor Doom is treating the rest of the FF to a private concert on his piano.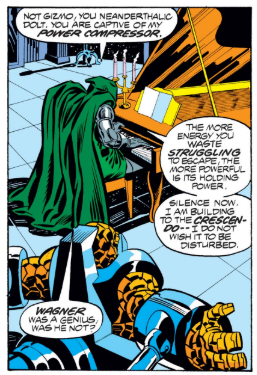 It looks like we're back to the pretentious, deranged, deluded mad desport version of Doctor Doom seen in Lee & Kirby's final Doom story,
The Power And The Pride
, where he used a similar piano to destroy Hauptmann's brother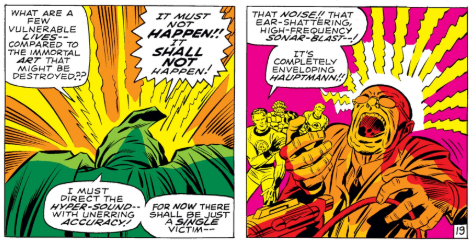 This becomes even more likely when Doom reveals that he has kidnapped Alicia to sculpt a statue of him, a statue which looks very similar to the painting he was having done back in
Fantastic Four #85
.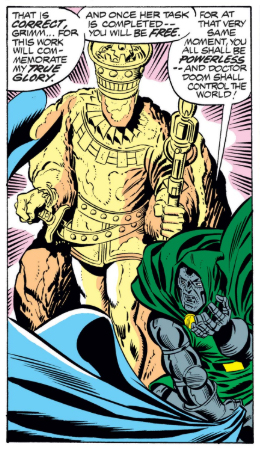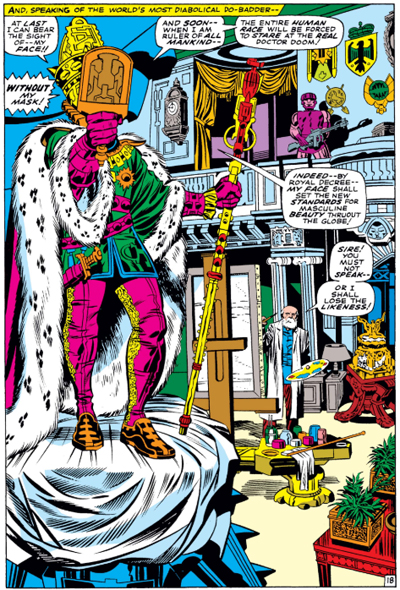 He's brought in Alicia to do the job because she is blind, and so can't look at his face. She does, however, have to touch it, and when she does she finds that he's not what she expected at all.
The idea that he's "a man wracked with a life-time of pain" switches back to the other version of Doom, as a good man turned bad by circumstances, and it shames Doom into another old characteristic, of turning his face away in shame.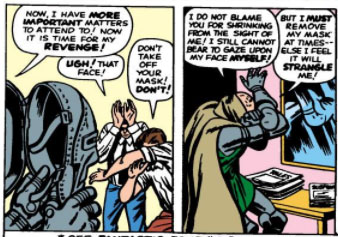 It looks like Keith Pollard has been doing his research! There's no time for reflection on any of this, however, as Doom reveals his plan, first of all by explaining that he has to abdicate as ruler under "the laws of Latveria" (something which we've never heard of before) and then revealing his nominated successor: his son!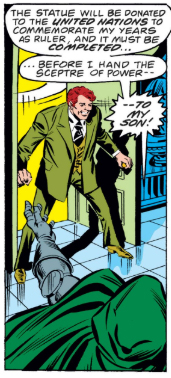 The action switches back to space, where The Red Ghost manages to beat Mr Fantastic, sending their shared spaceship plunging into the atmosphere, where it startes to burn up. Doom is disgusted as this goes against his plans, but he decides to make the best of it and move on with his scheme anyway, not even bothering to check that the ship actually does crash into the ground. It doesn't, of course, and the issue ends with Nick Fury collecting Mr Fantastic from the ocean, where he's finally worked out exactly what's going on.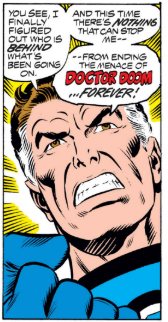 Will he end the menace of Doctor Doom forever? Find out - next time!
link to information about this issue
posted 4/11/2019 by MJ Hibbett
(click here for permanent link)
(0) comments
---
Who In The World Is The Invincible Man?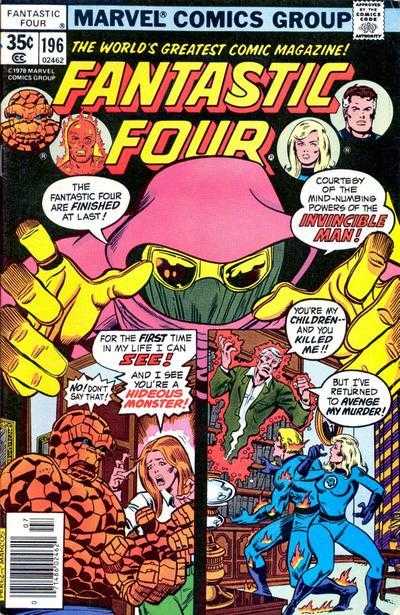 Since Super-Villain Team-Up ended Doom has drifted away from mainstream continuity. The final instalment of the series of solo Doom stories that began way back in
Marvel Super-Heroes #20
ended in
The Champions #16
with him paralysed by his own cunning, but then he reappeared a couple of months later apparently safe and sound, interacting with The Prime Mover in
Master Of Kung Fu #59
, then a little while after that he was back in Latveria, watching the skies as
Thor and Iron Man saved the world
, with no reference to either of the two previous tales. It feels like he's come loose from continuity, but now, after an absence of two years, he's back in the pages of 'The Fantastic Four' for a story that will have him very much in a lead role.
He doesn't appear until the very last page of this issue, but clues to his presence are laid throughout. In fact, hints have been laid for several issues prior to this, in an ongoing story that sees The Fantastic Four splitting up and a de-powered Mr Fantastic going to work for a mysterious corporation who, he's told, are working for "The Government". He's supposed to be a genius, but at no point does he ask exactly who's employing him, and the comic keeps cutting away to a mysterious figure, watching from a distance.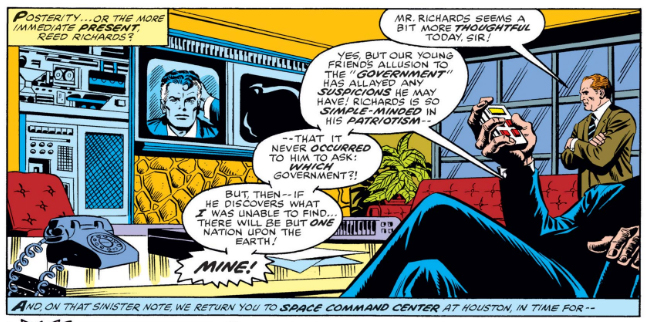 He's talking another nation conquering the world whilst watching a video screen... but then again he's also wearing a normal suit, so it can't be Doom, can it? Similar hints follow in this issue, as we see a shadowy figure referring to an underling called "Hauptmann" as a "dolt".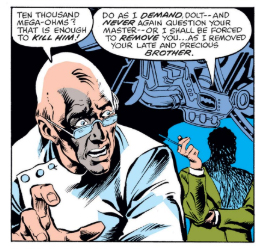 Meanwhile, the rest of the FF are in Hollywood, where they're attacked by their old enemy The Invincible Man. Last time he appeared he was a Skrull masquerading as Sue and Johnny's father, but this time he turns out to be ... Reed Richards?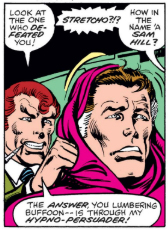 When we finally see the face of the mysterious character who has been employing Reed for the past few months, standing behind him above, he turns out to look oddly familiar.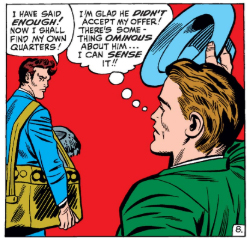 However, just when we're ready to believe that this is a Doctor Doom who is somehow cured of his facial disfigurement while also unrecognisable to his college friend, this same individual does something Doom would never do - he goes and reports to his boss.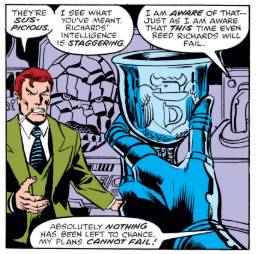 We're looking at an armoured hand holding a goblet with Doctor Doom's crest on it, yet still Marv Wolfman and Keith Pollard don't actually name him. It gets even more obvious a few pages later when Sue, Johnny and Ben escape from captivity and fight a bunch of purple-uniformed metal-helmeted goons who look very much like Latverian soldiers (or robots, depending on who's writing them).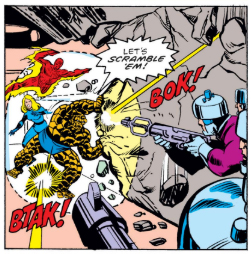 The trio burst into another room where a mysterious gloved hand blasts them with sleeping gas, leading to a final page reveal of who has been behind it all.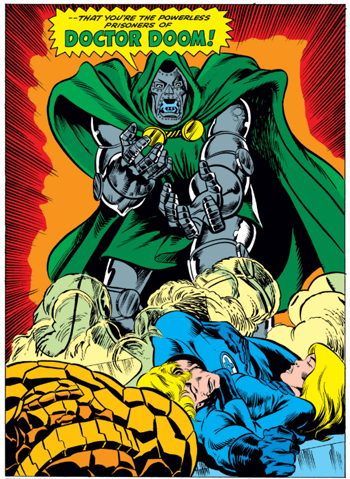 As so often happens, this is presented as a massive shocker, despite the fact that it's been blindingly obvious for several pages that it's Doctor Doom!
With his scream of triumph and mouth wide open in mad joy he's drawn to look like a throwback to the mad despot of Lee and Kirby's later years, rather than the more complex, thoughtful character who's been appearing more recently, but perhaps that's just all the excitement getting to him. We'll find out for ourselves... next time!
link to information about this issue
posted 1/11/2019 by MJ Hibbett
(click here for permanent link)
(0) comments
---
Flashback!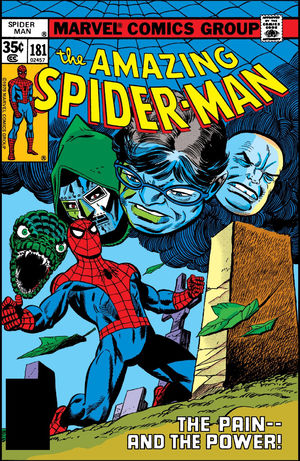 This is a great example of Bill Mantlo's "Dreaded Deadline Doom" work - a series that he (and some other creators) worked on every month which was never meant to be published, at least not as itself. The series was commisioned by Marv Wolfman when he was editor-in-chief as a way of ensuring there was plenty of fill-in material available for when a comic was running late, so that at least fans would get new material rather than reprints. Thus Mantlo would often write stories featuring two or more heroes together, so that they could fit into several different titles if needed. However, this one is clearly meant for Spider-man, as it sees him visiting his Uncle Ben's grave and reminiscing about his crime-fighting career.
It's a very well done story, giving some emotional heft to what is basically a summary of everything that's happened so far. Doctor Doom thus appears very briefly during a section when Spider-man remembers his friend Flash Thompson, in this case looking back to the time he accidentally got kidnapped by Doom way back in
Amazing Spider-man #5
.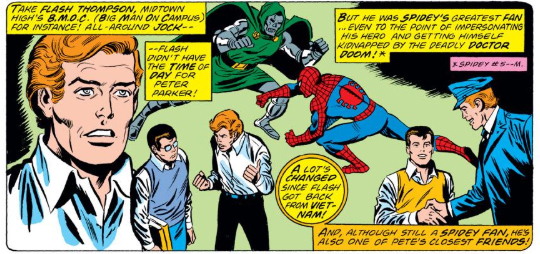 That's Doom's only appearance in the whole story, which makes it a little bit odd that he appears so prominently on the cover, alongside The Lizard, Doctor Octopus and The Kingpin - all much more regular villains in this series, though none as important as the unfeatured Green Goblin. I guess this is just another example of Doctor Doom being a big enough draw for readers to warrant putting on the cover, even when he's hardly in the actual comic itself!
link to information about this issue
posted 30/10/2019 by MJ Hibbett
(click here for permanent link)
(0) comments
---
Like A Diamond In The Sky!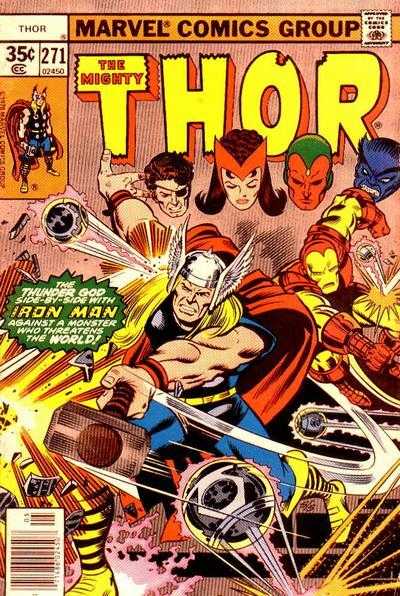 Only a single panel appearance from Doctor Doom in this story, which starts with another of those warnings to the reader that they haven't picked up the wrong comic:

I assume this story is carried over from an issue of The Avengers, though oddly there's no footnotes to say so, at least not in the Marvel Unlimited version. The story itself sees Thor and Iron Man leaving the other Avengers behind in a spaceship while they fly out to stop a computer called Faust from destroying the planet. To be honest it all seems like a pretty straightforward fight, but it does cause quite a lot of laser beams and explosions to go off in the skies around the world, and these are noticed by a selection of very mid-70s Marvel characters, including Captain Marvel, Spider-man, Nova, Daredevil, Shang-Chi and of course Doctor Doom.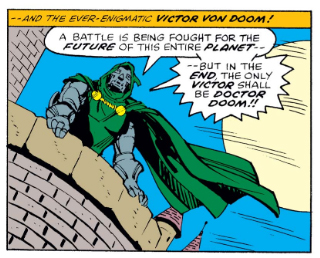 Is he making the "Victor" pun on purpose, do you think?
That list of charcters is quite interesting - every one of them apart from Doom has a series of his own, which might signify his existence as a roving character, especially compared to Nova and Shang-Chi (and to some extent Captain Marvel) who are lesser characters there to remind readers of their existence. Also, as ever in these situations, Doom is there to show that the battle is being watched all over the world, not just in New York.
That's all the Doom we get in this issue, and there's not a whole lot more to come next time, in a prime example of Bill Mantlo's "Dreaded Deadline Doom" work!
link to information about this issue
posted 28/10/2019 by MJ Hibbett
(click here for permanent link)
(0) comments
---
Star Jaws!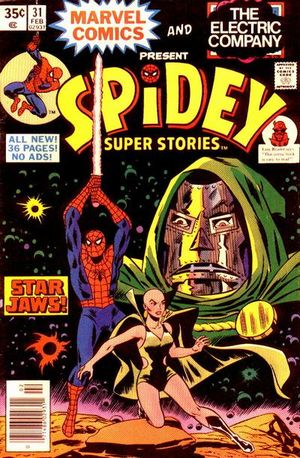 After the incomprehensible madness of
The Phoenix Gambit
it's a relief to be back in the comparatively calm and sensible world of "Spidey Super Stories", with a thoroughly enjoyabe riff on "Star Wars" that kicks off with a cover cleverly echoing the movie's own poster.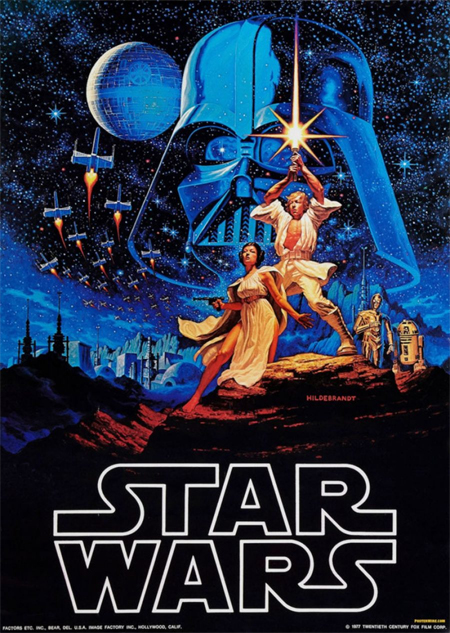 The film had been out for several months when this comic hit the newsstands, but was still dominating the cinema and was, clearly, becoming a great pull for younger readers. The poster recasts Spider-man as Luke Skywalker, Moondragon as Princess Leia, and Doctor Doom as Darth Vader - ironically, as Darth Vader was at least partly based on Doom. The story within also casts characters from the Electric Company TV show as R2-D2 and Chewbacca, with Marvel Boy (for some reason) brought in to play Han Solo and Doombots brought in as Storm Troopers. The Millenium Falcon, meanwhile, is played by... well, basically, the Millenium Falcon.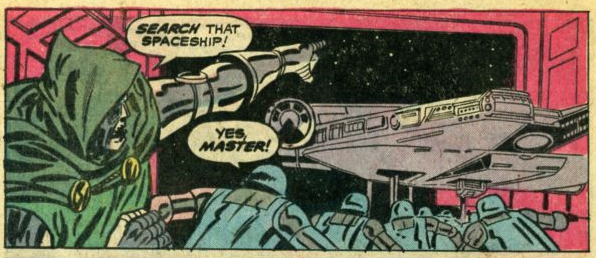 The story sees Doctor Doom in charge of a space station "as big as a planet" (it's no moon....), where he uses his army of Doombots/Storm Troopers to capture Moondragon.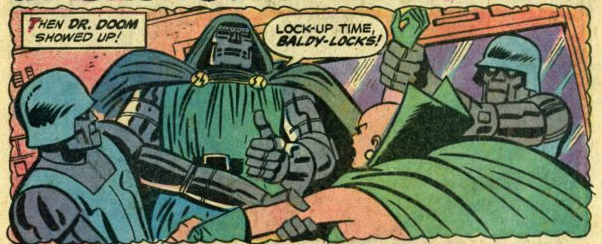 Sam The Sesame Street Robot escapes and seeks Spider-man's help, so go and find Marvel Boy filming a movie, and then jump into the Millenium Falcon and fly off. As ever with Spidey Super Stories, there's a childish dream-like logic to it all, as they use a spaceship that may or may not be a movie prop to fly up into Doctor Doom's space station. It has a gigantic mouth across the middle so, of course, he's called it "Star Jaws".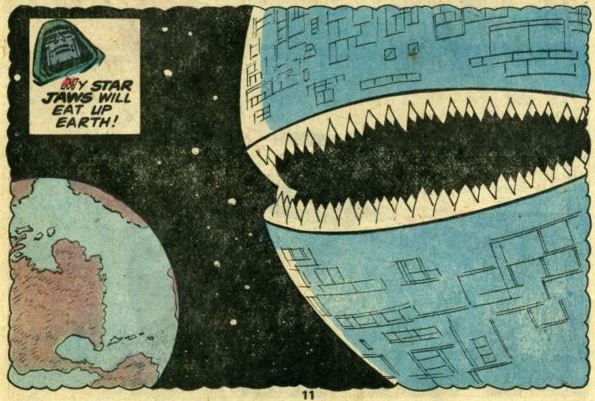 Marvel Boy and Spider-man disguise themselves as robots, allowing them to help Moondragon and the others escape back to the Millenium Falcon. However, Spider-man gets stuck on the way and ends up fighting Doctor Doom using handily placed Light Sabers.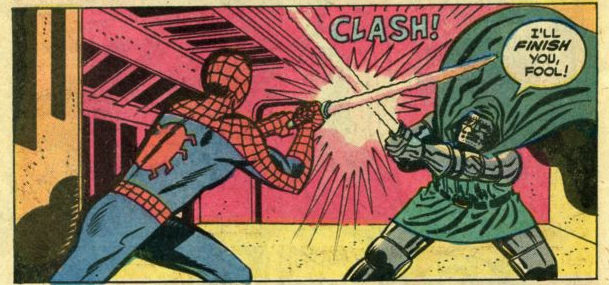 The plot has largely followed that of the movie at this point, but deviates here by having Spidey survive the flight, allowing the heroes to escape. Doctor Doom isn't that bothered.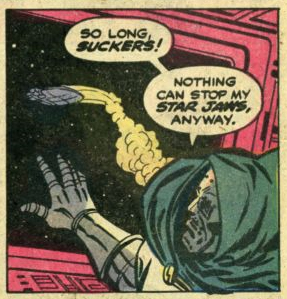 Apart from the (very amusing) use of language throughout, the Spidey Super Stories version of Doom is, as ever, close to the main Marvel Universe incarnation of the character, with his reliance on cunning plans and happiness to sword fight. Sadly for him he's beaten by an even more cunning plan, as The Pentagon release one million tons of TNT into space which Moon Dragon then disguises as planet Earth so that Star Jaws will bite it.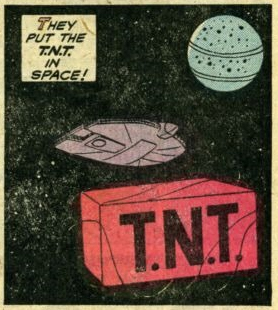 As I said, it's a very childish, dream-like logic, but it still makes more sense than "Masters Of Kung-Fu" did!
The plan works, as Star Jaws eats the TNT and explodes, leading Doom to float off into space with a few Doombots beside him, something which harks back to some of his earliest appearances back in
Fantastic Four #6
,
>Fantastic Four #17
and
Fantastic Four #23
.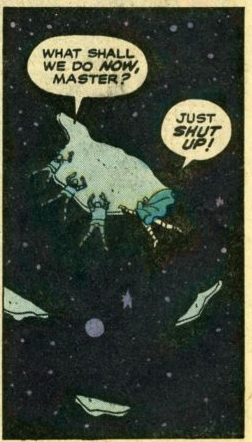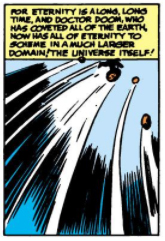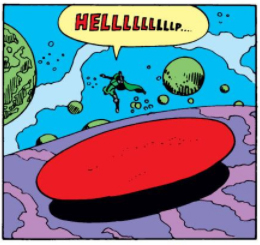 The comic is so full of story that it continues onto the inner covers - this was the only time Spidey Super Stories featured one continuous story rather than several - and it's a joy from start to finish. Doom is very much Doom, and the pastiche has a huge amount of fun using existing characters from Marvel and Sesame Street to retell the story. The only thing it doesn't do, which I would have liked, is to mention quite how similar Darth Vader is to Doctor Doom, but otherwise it's been the most enjoyable issue since Doom fought Kiss!
link to information about this issue
posted 25/10/2019 by MJ Hibbett
(click here for permanent link)
(0) comments
---
The Phoenix Gambit: End-game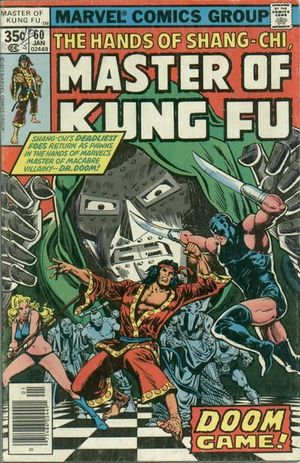 After the shock reveal of Doom's involvement at the end of the
previous issue of Master Of Kung Fu
, this one starts with a double dose of him looming threateningly over the other characters, both on the cover and the splash page.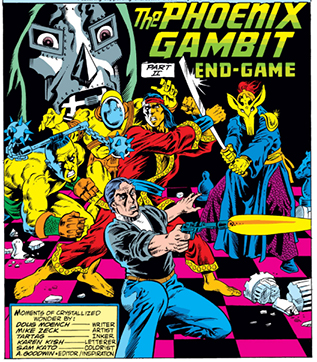 Shang Chi is on the way to Latveria with his friends to try and find out what's going on, but on the way he falls asleep and has a Mystical Dream about his father Fu Manchu and... dinosaurs?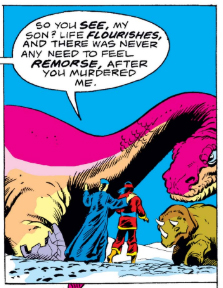 Actually it turns out to be a dragon, which kills Shang Chi, causing him to wake up in a sweat. He sweats a LOT during these two issues, does Shang Chi - is it part of his superpowers?
They land in Latveria, where a confused (and still sweaty) Shang Chi tries to remember how he got into the plane in the first place. Before he can work it out, however, he and his friend Reston are attacked by a samuri robot who kills Reston... who also turns out to have been a robot.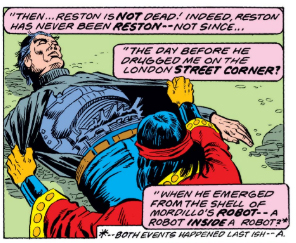 Shang Chi then fights his way into the castle, beating up lots more robots, until he faces someone called Shadow Stalker who has a double headed mace in his hair (for some reason). They fight, Shang Chi wins, and then a wall opens to reveal The Prime Mover and an absolutely delighted Doctor Doom.

It turns out that Shadow Stalker was NOT a robot, which means that Shang Chi has killed somebody! This is surely the most dick move of all dick moves ever undertaken by Doctor Doom, and Shang Chi asks the question we all want answering - "Why?"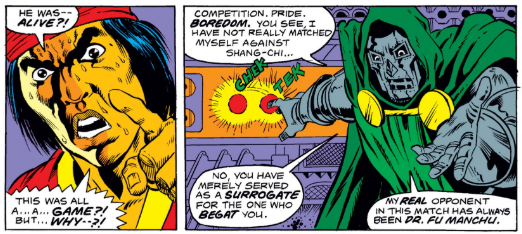 It's interesting to see an artist like Mike Zeck at such an early stage of his career here - he would go on to have such a distinctive style, but here is relying on several swipes to get by. Last time it was from Jim Steranko, this time it's from John Buscema in
Thor #183
: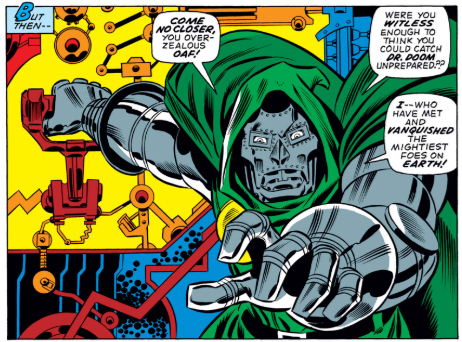 (or maybe this is a swipe of swipe of the swipe by Dick Ayers in
Incredible Hulk #143
!)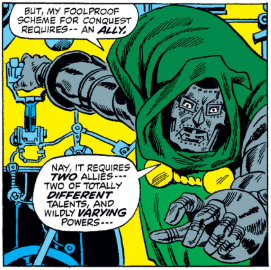 Doom seems to think this means he has won, and so all that's left to do is set all the spare robots on Shang Chi. During the course of beating them up, one of the robots - a man in a lady's swimming costume who has swords instead of hands - cuts through the body of the original Shadow Stalker, who turns out to have been a robot all along.

This leads to a final big fight between Doom and Shang Chi at the end of which - well, you'll never guess what happens!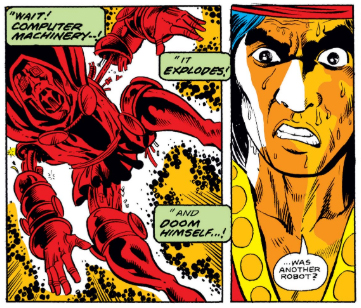 The Prime Mover starts to explode from all the madness (I know how he feels) and falls on the floor, where he turns out not to be the Prime Mover either, but actually Shang Chi's friend Reston in a robot costume, Reston, for some reason, attacks Shang Chi and the pair of them fall out of the window of Doom's castle which inevitably turns out not to be a castle after all but in fact a rocket flying over London.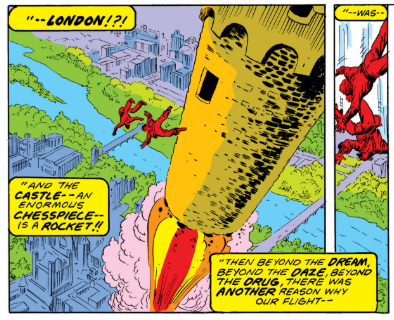 We then cut to a hospital bed where SHang Chi and Reston's boss tells them that he doesn't have a clue what was going on either - and who amongst us can say otherwise? At this point a nurse comes in to deliver a get well present which turns out to be a chess set, with a laughing model of Doctor Doom in the middle.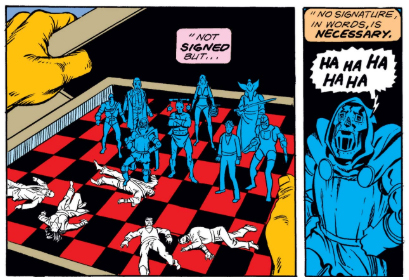 And that's the end, except for a repeat of the final panel from last time, this time presumably showing the real Doctor Doom and Primer Mover, still at their game.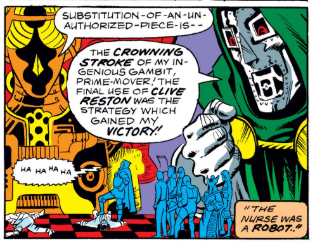 I have absolutely no idea what this is all meant to be about - was Doom just messing around with Shang Chi and his pals for the fun of it? As far as I'm aware the two characters do not meet again, so it wasn't part of a big plan, so what was it meant to achieve? And why was the whole thing called "The Phoenix Gambit"?
I think it's fair to leave the final word to Reston, who sums the whole thing up for me in the penultimate panel: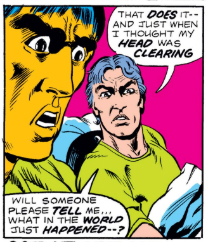 link to information about this issue
posted 23/10/2019 by MJ Hibbett
(click here for permanent link)
(1) comments
---
The Way It Was!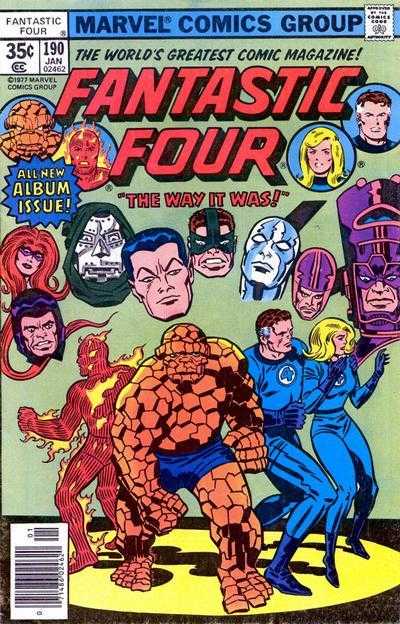 This is a hugely important comic for me and this blog (though probably not for anybody else) as it's the 147th text the (long) list of 293 items which currently make up the corpus, and so marks the halfway point for my reading. Of course, this isn't an exact number - the 293 items includes everything I've collected, so there are some comics in that number that, it turns out, don't feature Doctor Doom at all, and also doesn't include the inevitable extra items that will doubtless turn up in the future. However, while the numbers may change either way I think that this is still a pretty good place to point to and say "We're halfway there!"
After two years of blogging it's a cause for some celebration to have got this far, but it's also a reminder that I'm going to have to increase the frequency of updated if I'm going to have any chance of handing in my PhD on time!
Another reason for it being important is that it also marks the start of the third "phase" of The Marvel Age, with the arrival of Jim Shooter as editor-in-chief. Part of the aforementioned PhD involves using a Culture Of Production approach to define "The Marvel Age" as a distinct period of Marvel comics, and superhero comics in general, started with the first issue of "The Fantastic Four" in 1961 and ending with the last month of comics with Jim Shooter as editor-in-chief in 1987. Within this there are three seperate phases - "Creation", with Stan Lee as editor-in-chief, "Chaos", beginning in 1972 and running through five seperate editors-in-chief until 1978 when Jim Shooter takes over and we enter "Consolidation". There's all sorts of arguments as to why this is A Thing and why it matters which I'll not bore you with here, but suffice to say we're about to enter into a very different version of Marvel Comics, both from the preceding few years of "chaos" and indeed from its origins in the 1960s.
Sadly, the actual comic that marks this changeover isn't very special at all. It's a re-telling of most of the history of The Fantastic Four so far, which includes a single panel retelling of Doom's first appearance in
Fantastic Four #5
and then about half a page later on covering the time the Thing nearly killed him in
Fantastic Four #40
.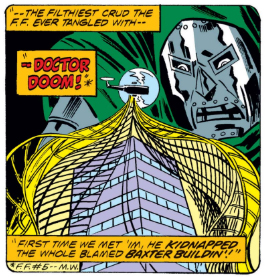 Doom also appears on the cover, drawn by his creator Jack Kirby, illustrating how important he's been to the history of the team even if he doesn't appear very much on the pages of this issue. The story, such that it is, happens just after The Fantastic Four have split up for good (again). The Thing goes through his diary, telling Alicia about all of the times this has happened in the past. She, very understandably, points out that this shows that The Fantastic Four will always get back together again (SPOILERS: they will), but The Thing dismisses the idea and suggests they go out and get something to eat.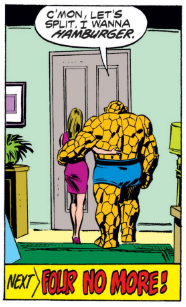 And that's all there is to it - a very downbeat, intentionally low-key ending to what has been a fairly low-key story, even though it contains versions of some of the series' most well known adventures. It's a shame but not to worry - Doom will be back in the pages of The Fantastic Four very soon, in a genuinely exciting and epic story that kicks off some major changes for Doom in the coming few years, Next time, however, we're looking at a brand new series for this blog, as Doom makes a brief appearance in the distinctly weird pages of 'Master Of Kung Fu'!
link to information about this issue
posted 17/10/2019 by MJ Hibbett
(click here for permanent link)
(0) comments
---
The Phoenix Gambit: The Temples Of Time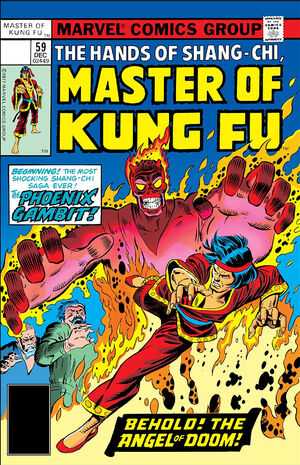 This is a really rather strange comic which did not appear in my original corpus at all. Doctor Doom is very much present in the story (including a very subtle hint to his presence on the cover), although not until the very last page, so the only explanation for his absence that I can think of is that none of the original indexers managed to get to the end. Having had to do so, I fully sympathise! I only realised that Doom might be in this comic because he appears in the next issue as if he's already been introduced. That comic, as we'll see soon, made almost no sense whatsoever, so I was hoping that reading this one might give a clue to what was happening, but if anything I came away even more confused!
The story exists in a weird, almost druggy, state, with Shang Chi wandering around meeting Strange Figures who say Mystical Things, all heavily narrated in that "hip" mid-70s style that would reach its high point in the next decade with Alan Moore's run on "Swamp Thing".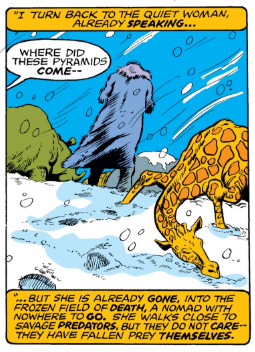 Shang Chi spends a lot of time sweating as he wakes up in Marvel's version of London, full of "blokes" and "bloody"-spouting bobbies drawn by a young Mike Zeck, who hasn't turned into the artist who would gain fame a few years later on Captain America, and also who clearly hasn't ever been to London! In the midst of all the confused, sweaty weirdness there's one small panel which cuts away to a view of a castle which, as yet, hasn't been mentioned.

There's more dreams, a pyramid, a spaceship, some kind of angel, and a whip-weilding woman in her pants who turns out to be a robot before we get another shot of the castle, this time with two silhouetted figures visible at a window.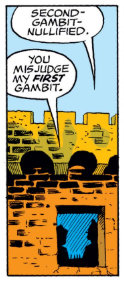 The whole story is so disjointed and incoherent that these cutaways slip by unnoticed - nothing else fits as a plot so the reader doesn't really notice that these are meant to be anything different! Things continue in this vein for the rest of the issue, with Shang Chi continuing to sweat an awful lot as he fights yet another robot who, this time, turns out to be someone he knows who is inside a robot costume, and is just as confused as anyone else.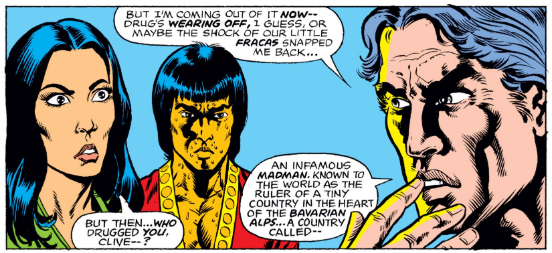 It all feels like an attempt to copy the structured weirdness of a Jim Steranko comic... which is exactly what it turns out to be as the very last panel reveals that our mysterious game players in the castle were none other than Doctor Doom and The Prime Mover!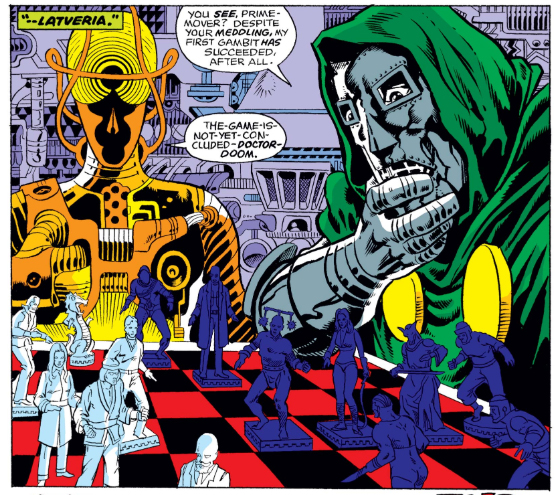 This is a homage to Doom and The Primer Mover's shock reveal at the end of
Strange Tales #167
: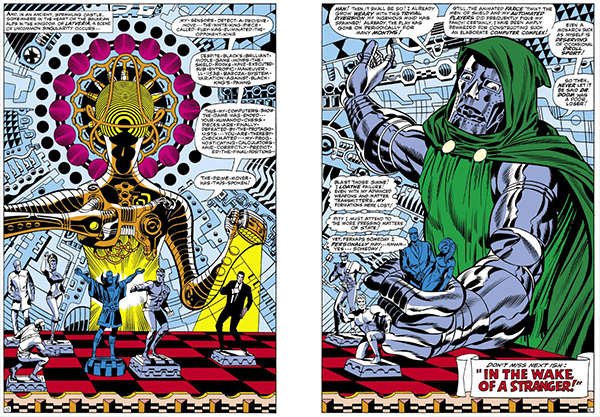 "More than mildly mystified and stunned enough people?" asks the next time box, "Or are ya craving more of this weirdness?" I definitely feel mystified but can't say I'm craving more!
Luckily for all concerned, before we delve into the next issue there's a very different comic too look at which marks a major milestone for this whole project - next time!
link to information about this issue
posted 15/10/2019 by MJ Hibbett
(click here for permanent link)
(0) comments
---
Kiss!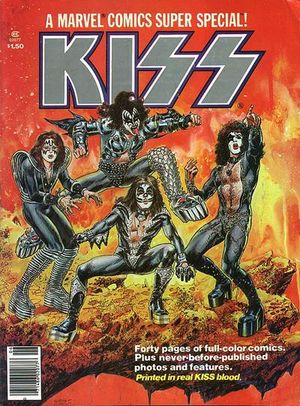 Nowadays a tie-in comic like this would probably be dashed off as a cheap knock-off designed to grab a few quid off a band's fans with little or no care given to what's actually inside, but this is something quite different all together. I mean, it's not something you'd ever read if you weren't a mad Kiss fan (or a serious scholar looking at important Doctor Doom appearances, OBVS) but everything about it is properly done by proper comics professionals at the top of their game including Steve Gerber, both Buscema brothers, Allan Weiss and Rich Buckler.
What's most interesting, from my point of view, is how much Gerber seeks to embed Marvel continuity (especially Doctor Doom) into the whole story, as an attempt to get Kiss fans to read comics. The story features members of Kiss talking about how brilliant comics are, and there are constant nudges towards the wider world of Marvel, including a grand tour around the Marvel Universe featuring guest appearances by Spider-man, The Fantastic Four, The Avengers and (probably because Steve Gerber was writing them around this time) The Defenders. There's even some rather jolly textual material about Doctor Doom, notably an Actually Quite Funny joke-advert for trips on Air Latveria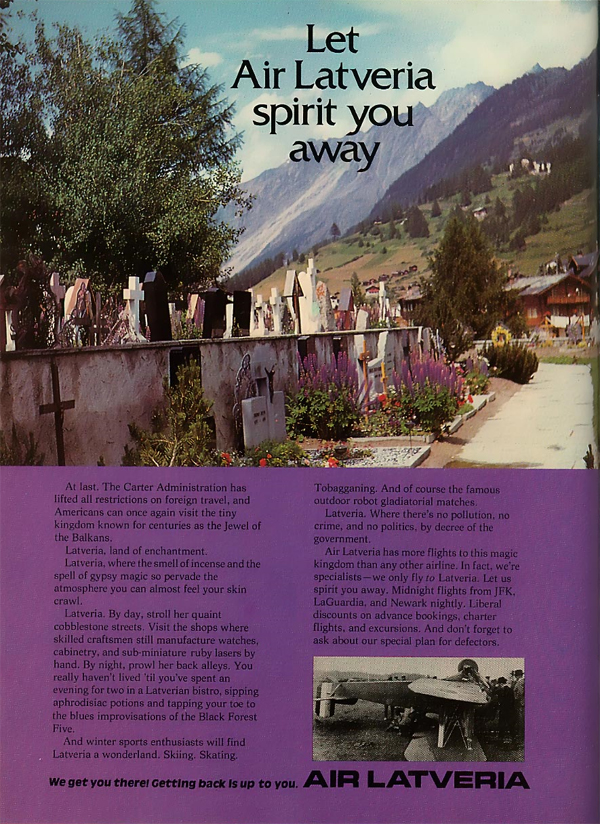 Doom doesn't appear until nearly halfway through the story, but his appearance is heralded on the back cover and, a few pages in, via a text version of his origin, heavily based on
Fantastic Four Annual #2
. The only difference from that version is that here Doom is clearly located in time, stating that he was born in the 1920s and that he went to Tibet after his accident rather than returning to Latveria because it was during World War Two. It's an interesting way to justify the original story which directly contradicts the usual date-avoidant policy of Marvel's sliding timeline. I know that Doom's appearing soon in an issue of The Invaders though, so we'll see if this timeline is upheld there (SPOILERS: don't hold your breath).
The first part of this issue is taken up with an origin story for Kiss, where a group of working class teenagers find a Mystical Box while trying to protect an old man from some muggers. They are transformed into the band Kiss, who already look like Superheroes so, in the Marvel Universe, are exactly that, powers and all.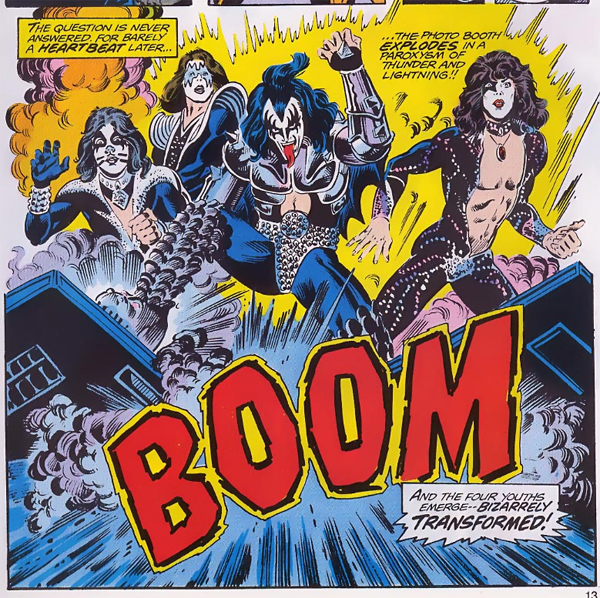 Doom arrives (in a spaceship disguised as a full-moon!) heralded by a group of "Gypsy maidens, each more alluring than the one before, scattering delicate petals for their master's boot to trample!"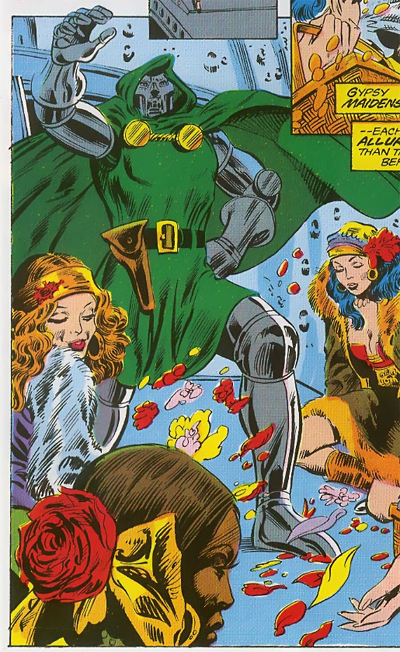 This is a new look for Doom, but one that makes a surprising amount of sense, as he acknowledges his own past as the son of a gypsy sorcerous. It turns out that the mystical box - The Box Of Khyscz - actually belonged to his mother, but was removed by one of his gypsy tribe because it was too dangerous for Doom to keep for himself. This, again, is neatly tied into his origin, where we saw his family friend Boris realising the danger in him early on - Boris clearly wasn't the only one to realise this, although the only one to actually do something about it.
There's more classic Doom action next, as Doom leaves his minions to fight for him and they turn out to be robots!

Again, this is a new twist on an old trope, and one I hope returns in the more mainstream version of the character!
Kiss use their own powers to try and give chase, but accidentally end up being split up, with two of them teleporting off to Hell to meet Mephisto, and the others ending up in a Space Disco. This is all filler, to be honest, and after the required number of pages are used up they telport back together again to Latveria where they are greeted by "Dizzy The Hun", the mystic who gave them the box in the first place. He doesn't have time to explain his name, or how he got to the other side of the planet, because he needs to quickly tell them that all of their experiences so far have been a training exercise to get them ready to fight Doctor Doom. This begins immediately, as they're attacked by a troupe of robot monks.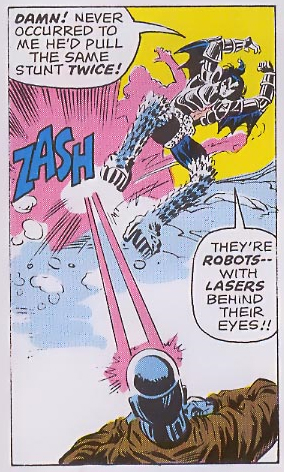 They then get sucked into some giant stone lips (I have no idea what's going on with this bit) and end up in space, where Doom immediately beats 75% of them up.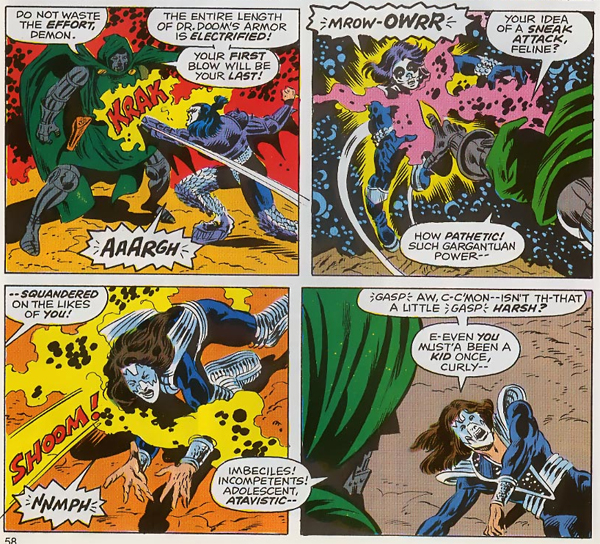 He's stopped by Ace Frehley, who points out that Doom was once a kid himself. This distracts Doom long enough for Paul Stanley to blast him with an Emotion Ray from his Star Eye, which leads to an extremely interesting insight into Doom's own origin.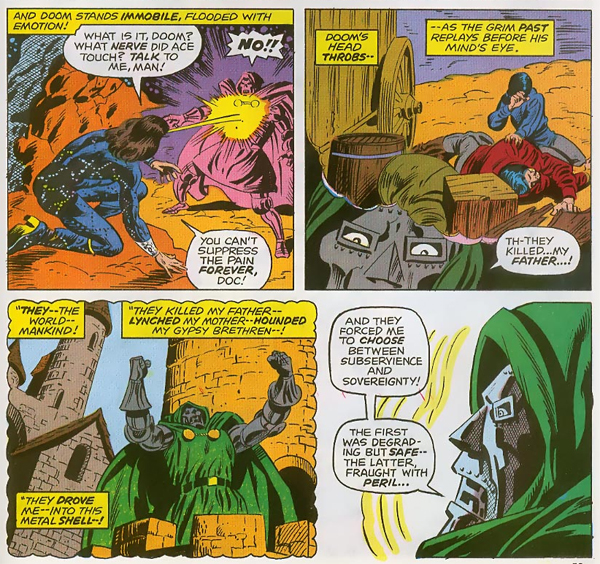 This is a fascinating (and brief) psyhoanalysis of Doom which gives clear motivation for all of his actions, which is an odd thing to find in a tie-in comic with a heavy metal band! If part of the idea of this comic is to show Kiss fans what Marvel comics are really like, though, this really works.
Vinny The Hun reappears and takes things further, by telling Doom that he must recognise the worth of these youths.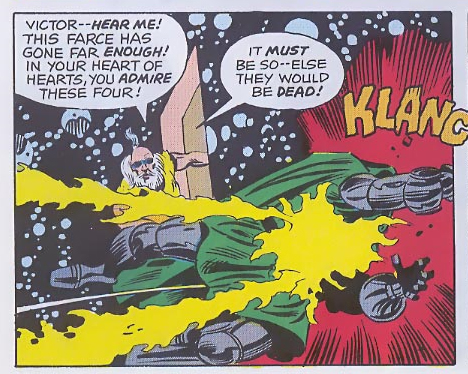 It's strange to see Kiss being talked about this way, as nowadays they're a bunch of wizened old pensioners, but I suppose even they must have been young once! Doom refuses to accept this analysis and is about to strike down the old mystic, before realising that he can't bring himself to do it.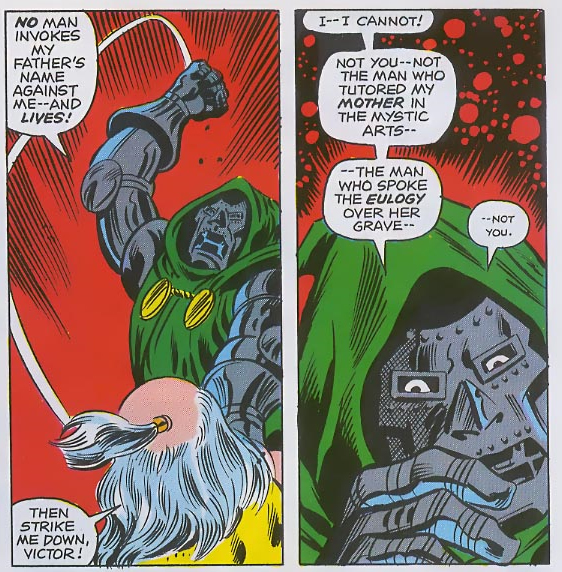 Yet more continuity here, as we discover that Vinny The Hun gave the euology at his mother's funeral. I really hope this comes up again in a mainstream comic so it counts as canon!
Unable to kill the old man Doom instead banishes him and Kiss from "this land", which is fine for everyone as they never really wanted to be on a space rock in the first place. "You've won more than you suspect this day", says Vinny to Doom as they depart, and then that's it. There's one more page about Kiss deciding to Use Their Powers For Good and then all we're left with is an inside cover about how the comic was put together (including an acknowledgement that "the deadly deadline doom" forced them to use several pencilers) and we're left with a back page illustration of a very pensive Doom, watching from his space rock.
This has been a (very) surprising comic to read - I thought it would be a tatty piece of merchandising designed to fleece some money out of Kiss fans, but it's actually a well thought out attempt to integrate them into the Marvel Universe in which Doctor Doom (as so often happens) comes close to becoming the main narrative focus. It introduces a couple of new twists on Doom himself and makes some insightful observations about his motivations too. We can only hope there's more of this to come - any chance of Doctor Doom fighting the Scorpions soon?
link to information about this issue
posted 11/10/2019 by MJ Hibbett
(click here for permanent link)
(0) comments
---
A World Lost!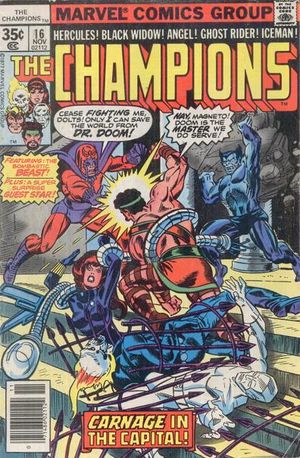 This is an important comic in the publication history of Doctor Doom, as it marks the end of a long series of stories starring him as the lead character, beginning seven years earlier in
Astonishing Tales #1
, moving briefly into
Sub-mariner
and then continuing in
Super-Villain Team-Up
. It's been one long run with him as the lead character (or sharing that position with Namor), but after this he returns to being the guest villain in other characters' series.
Which, really, is what he spends most of this story doing, as the focus switches to Magneto and The Beast. They're trying to persuade the mind-controlled Champions to help them defeat Doom but are surpsied to find that this is impossible - despite the fact that they already know that everybody on Earth is under his control. Come on, Magento and The Beast, pay attention!
To be fair to them, it is quite a complicated set-up, and so the editors (who provided the helpful "Read Super-Villain Team-Up" note last time) include a pretty detailed description of what's happened so far, right above the team's logo where the origin blurb would usually go.

The Champions spend the first five pages in the traditional Big Fight Based On A Misunderstanding, not giving The Beast enough time to explain what's going on. The action then switches to Washington where Doctor Doom is being feted by the White House staff, including a Bob Dylan-quoting Jimmy Carter.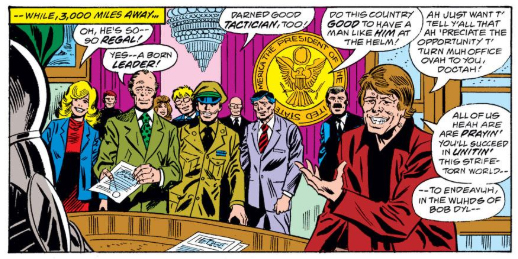 This is, understandably, more than Doom can handle, and he storms out onto the lawns just as the Hulk arrives. Doom's security guards leap to his defence, and Doom thanks them, as he often does, with a slap.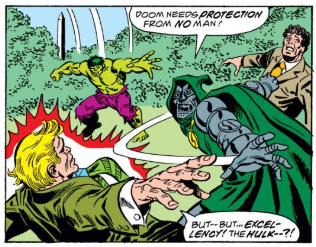 It turns out that Doom has summoned the Hulk to work for him, presumably as some sort of bodyguard, which immediately contradicts what he's just said about not needing protection. The Beast and Magneto arrive, closely followed by The Champions, and then another Big Fight breaks out between all of the superheroes. This only ends when Doom orders The Champions to fight for him, causing great surprise for Ghost Rider.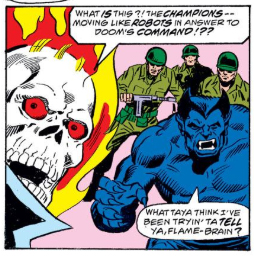 It turns out that he's not affected because, according to an editorial note from Archie Goodwin, "since the hell-spawned Ghost Rider does not breathe, he never inhaled Doom's neuro-gas". It's a neat get-out, which also implies that Doom has no control over robots either. Ghost Rider helps the Beast, and between them they manage to hold the Hulk and the other Champions at bay, leaving Doom and Magneto to fight it out between themselves, in a battle that hints at Bill Mantlo being a secret fan of Jon Pertwee's Doctor Who.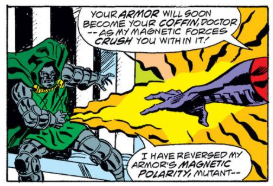 Doom calls in his other minions - the White House staff - to fight for him, forcing the conscious heroes to pull their punches so as not to hurt them. While this is going on Doom prepares to kill the Beast, forcing the Ghost Rider to attack with Hellfire and leading to this rather cartoon-ish image.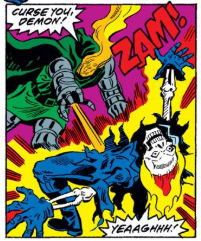 With the inside of his mask burning Doom is forced to take it off. He manages to cover up his face while he does so, but is unable to avoid exposing himself to the neuro gases in the atmosphere.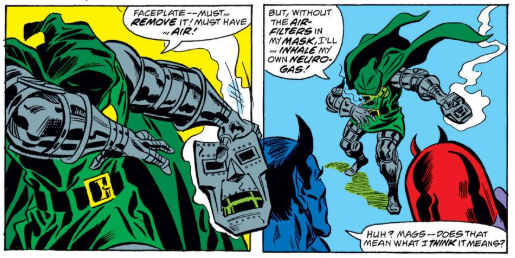 This immediately returns everybody to full consciousness (which doesn't make a huge amount of sense) at which point the Hulk and Magneto, along with the army and White House staff, clear off, leaving the Champions to ponder the immobilised Doctor Doom.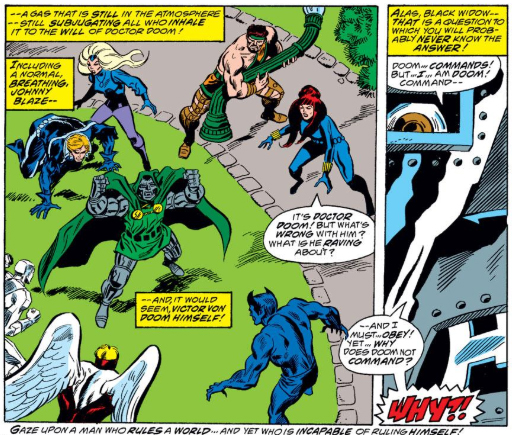 He's stuck in one of those logic loops, like Star Trek used to do - Bill Mantlo clearly does like sci-fi TV! This doesn't make a lot of sense either, but it's a neat twist in a story that's been full of them, with Doom first conquering the world without anybody knowing, only to fall victim to his own devices. In theory the neuro-gas is still in the atmosphere, so if Doom can find a way of giving himself orders he should be back in control, but I have a sneaking suspicion that things won't work out that way. Perhaps we'll find out in the next story, which sees him going up against the soft-rock stylings of ... KISS!
link to information about this issue
posted 9/10/2019 by MJ Hibbett
(click here for permanent link)
(0) comments
---
A World For The Winning!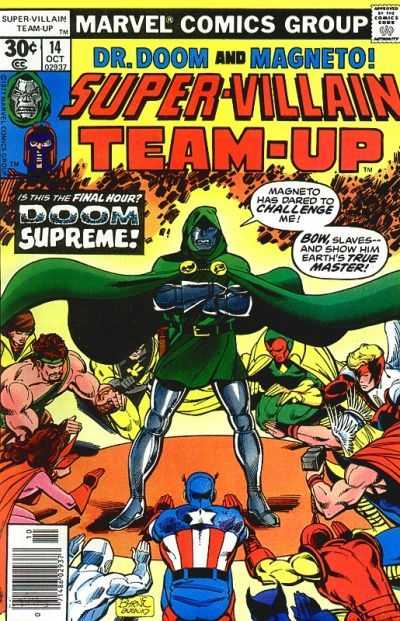 This is Doctor Doom's final appearance in Super-Villain Team-Up, and thus the last time he'll headline (or, rather, co-headline) a series of his own until we get to
Secret Wars
(which I will definitely be arguing he's the lead character for!).
There are a lot of cameos and guest spots to get through before then though, and also this issue which kicks off with Magneto pushing his way through a crowd of Latverians, who Bob Hall has chosen to show as a strange mix of medieval peasants and hipsters.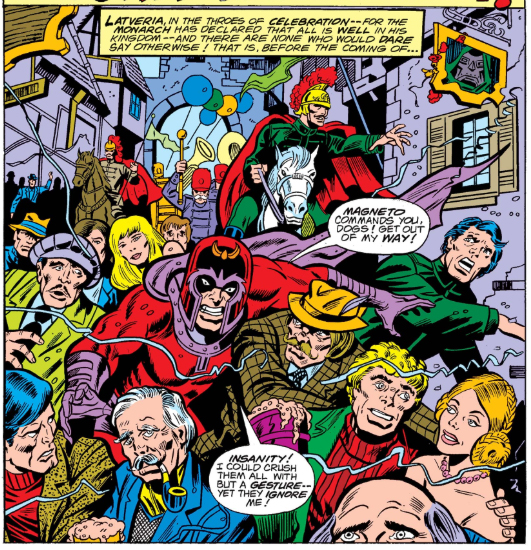 I love the fact that even the pub has a picture of Doctor Doom on its sign! The people are refusing to get out of Magneto's way because they have been ordered by Doom to "rejoice or face his wrath". Magneto gets really annoyed with them, especially when they don't recognise who he is, and he reacts by bringing a statue of Doom toppling to the ground in a weird pre-echo of the revolutions to come to Eastern Europe in 1989.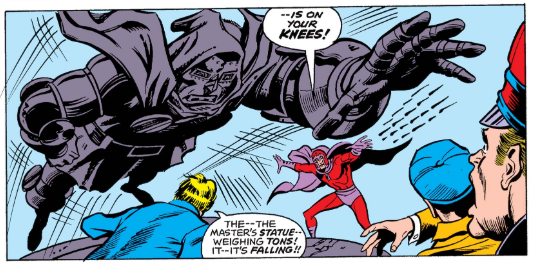 Magneto eventually finds Doom pondering his chess set, last seen very briefly in
Giant-Size Defenders #3
. It appears to have characters colour coded red and blue, presumably for teams, in which case Spider-man is on Doom's side?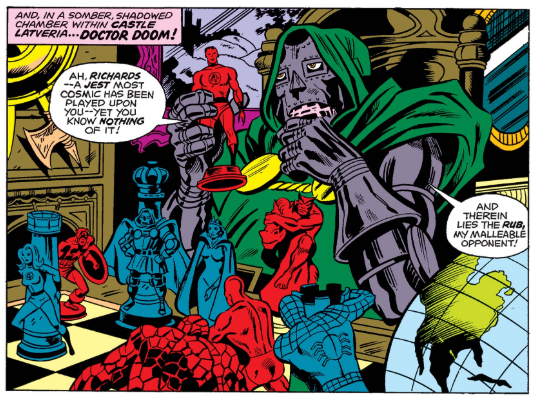 Magneto bursts in, and is pleased to find that Doom recognises him - they haven't met before, except of course in the pages of Not Brand Ecch, so it's a nice ego soother after the locals blanked him. Doom has actually been doing his research on Magneto, and so is able to quiz him on his recent continuity for a while, before he gets distracted by one chess piece in particular.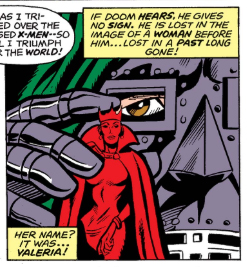 We haven't heard from Valeria in AGES, but sadly this isn't a hint of something to come, it's just Bill Mantlo enjoying some more background character shading. When Doom snaps back to attention Magneto asks for a team-up so they can rule the world together, but Doom states that he already DOES rule the world - he's released gases into the air which mean that the entire planet is under his control!

Doom demonstrates by forcing Magneto to kneel and then almost kill himself, and when the Master Of Magnetism asks why he was spared from completing his suicide Doom replies that he's bored!

This is a very unusual way to tell a story, with the villain already victorious, having undertaken his world domination plan without telling anybody to make sure nothing goes wrong - he is, after all, not a republic serial villain who would explain his masterstroke, though it seems that he did do it more than thirty-five minutes ago.
Doom, however, is not Rorschach either, so he offers Magneto the chance to fight him for world domination, just to keep things interesting. Magneto agrees and then makes the rookie error of sharing a toast with Doom and, inevitably, is knocked unconscious by the drugged drink. Never share a drink with Doctor Doom!
The scene then shifts to Avengers Mansion some hours later, where Magneto arrives seeking aid in his fight to overthrow Doom. Clearly he's not had much practice at this sort of thing. You or I might call ahead, or at least knock on the door and then explain your business, but Magneto just crashes in and rips up the floor, which, as usual, leads to a Big Fight.
Once that's all done with Magneto explains what's going on, but before anyone can leap into action a holographic image of Doom appears which commands the Avengers to kneel before him.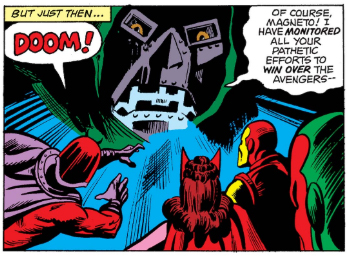 This is several recurrent Doom characteristics for the price of one - he's communicating from a distance, his face is looming huge over the action, and he's using mind control to get what he wants!
He also acts in a sportsmanlike way, or at least his version of it, telling Magneto that if he can free the mind of one of the Avengers than he will stay free to act as an ally. Magneto selects the Beast, magnetically floating him into a stolen Quinjet, and then using his mind control powers (duly backed up by a footnote to Avengers #111) to extract the hypno gas using magnetism.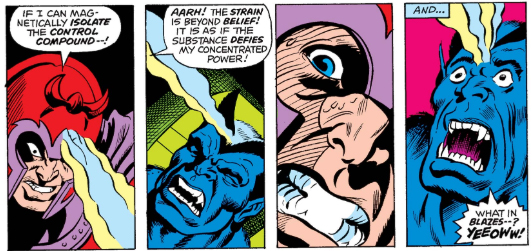 Yep, that makes perfect sense! The pair of them then zoom around Manhattan looking for more allies, despite the fact that Doom has very clearly told them that every other person on the planet is under his control. The issue ends with them flying to Los Angeles to see if they can get The Champions to help them even though, again, Doom had clearly told them that he has mental control of every single human on the planet.
The introduction of The Champions comes pretty much from nowhere, and there's a sort of explanation for this in the "next time" panel at the bottom of the page.

Bill Mantlo was writing The Champions at the time, so that does seem like a sensible place to carry the story on. The only odd thing though is that this wasn't actually the final issue of Super-Villain Team-Up - the next issue would come out a year later, with reprints of Astonishing Tales #4 and #5 (where Doom fought The Red Skull), with another issue six months after that starring The Red Skull and Hate-Monger, and an actual final issue over a year after that again, starring the same two characters. Publishing a comic starring two actual proper Nazis as the lead characters seems like a very strange decision - maybe the final issues took so long to come out because that's how long it took for the editors to persuade someone to write them, especially when you consider who The Hatemonger really is under the mask...
Suddenly Doom's victory and Magneto's plan both seem very sensible - we'll see how it all works out next time!
link to information about this issue
posted 4/10/2019 by MJ Hibbett
(click here for permanent link)
(0) comments
---
Dreadknight And The Daughter Of Creation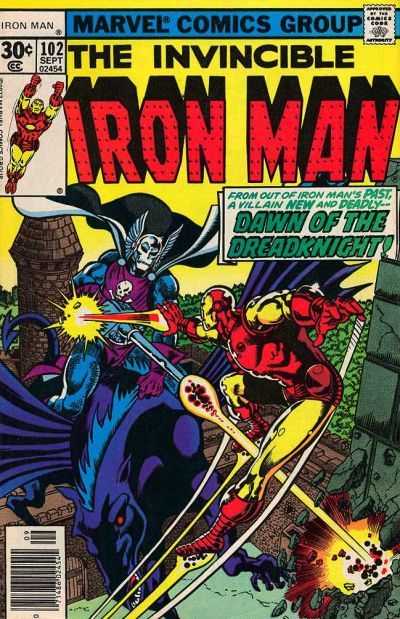 This time we're looking at a brief, but important, cameo from Doctor Doom in what turns out to be a very mid-70s issue of 'Iron Man', in that it features Frankenstein's monster, Jack of Hearts, characters who cross the line between heroes and villains, and of course a script written by Bill Mantlo!
The main story sees Iron Man being attacked in Castle Frankenstein by an armoured baddy called The Dreadknight, who has turned up on a mutated version of the original Black Knight's flying horse to steal the secrets of Frankenstein from his great granddaughter, who is currently using his discoveries to nurse some "dwarfish mutants" called The Children. As I say, it's very mid-70s Marvel!
Doctor Doom appears in the middle section when we learn the origin of The Dreadknight, who appears to have been called Bram Velsing.

I'm a big fan of Bill Mantlo's work, but I have to admit he could have worked a bit harder thinking up a name!
Bram Velsing works for Doctor Doom who, like so many bosses, tells him off for daydreaming on the job. Unlike so many bosses, however, Doom is at least honest about who does get to daydream.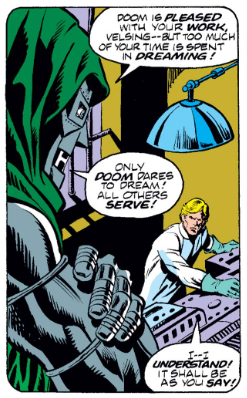 Bram Velsing rapidly gets sick of this, and decides to steal back his inventions and take over Latveria for himself. His girlfriend Maria begs him not to as its too dangerous and is proved right when Doom himself appears.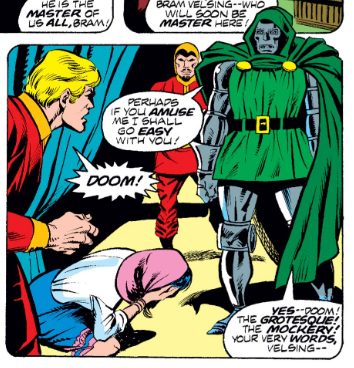 Doom orders his men to take Maria back to her family unharmed - she was, after all, trying to warn Velsing not to defy him, so it makes sense from his point of view to let her go home and repeat the story to others. It's very much in line with Doom's current characterisation as a reasonably sane-ish dictator, but then things rapidly change when Doom reveals Velsing's fate.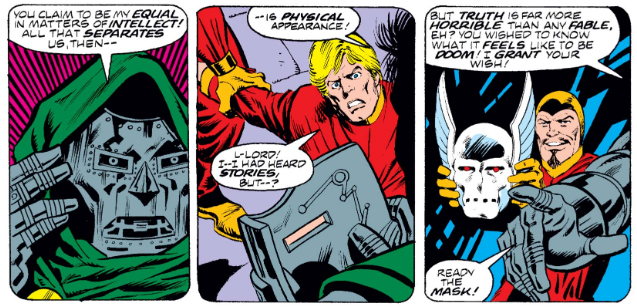 (note, by the way, that George Tuska includes Doom's ring on his gauntlet - something which is almost always missed out and is a lovely bit of non-essential detail here. Also Velsing does not actually say Doom is ugly, he's just surprised that he's not like the stories - tying in nicely with Kirby's preferred interpretation that Doom isn't really that scarred at all).
The mask is fixed to his face using a "bio-fuser" which means that it can never be removed. Doom says this will make them alike, but we've seen on the same page that Doom CAN take off his mask! This is more in line with the alternate tradition of Doom as utter lunatic - there's no possible gain for him in punishing Velsing in this way, nor any reason why he should have such a mask to hand or why it should have giant wings on it.
Velsing staggers away, apparently set free, and staggers for "days - weeks" (he's not sure) to Castle Frankenstein (keeping the geography sensibly vague) until he's rescued by Frankenstein's great grand-daughter, who happens to have found and mutated the original Black Knight's flying horse and gives it to him as a present.
Doom does not reappear, and the Dreadknight ends up being injured in battle and is left in the care of Frankenstein's Monster and The Baronness, who have fallen in love with each other over the course of the story. Once again - very very mid-70s Marvel!
link to information about this issue
posted 2/10/2019 by MJ Hibbett
(click here for permanent link)
(0) comments
---
Death Drone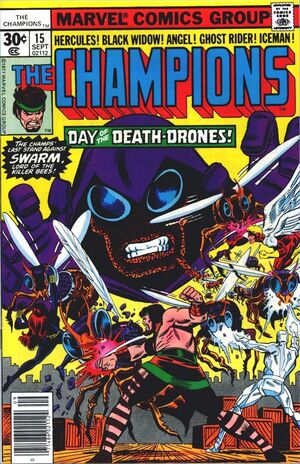 Doom doesn't appear at all in the actual story for this comic, which is an extraordinarily daft episode for the usually-very-daft-anyway Champions where they fight Swarm, The Bunch Of Bees Who Walked Like A Man. Doom only appears in the "next time" box, acting as a warning to regular readers that they'll need to read Super-Villain Team-Up #14 if they want to understand the next issue of this series.

It's just one spot illustration, but it raises three interesting points. First of all, this is the very first published depiction of Doctor Doom drawn by John Byrne. A few years from now Byrne would take over The Fantastic Four for a run which many (including me) think of as second only to Stan Lee and Jack Kirby's, and a version of Doctor Doom which some (especially me!) think is one of the best, so it's exciting to see the beginnings of all that here.
The second point is that I could very easily have missed it. This "appearances" isn't flagged up by any of the crowd-sourced databases that I used to put my research corpus together.hese databases are great, but they're not very reliable, and I only spotted it here because I wanted to check to see if there was any lead-in to the crossover for when it continues in the next issue of this series.
Which brings me to my final point, which is to say that it's interesting to see Marvel getting the hang of crossovers, explicityly pointing them out to readers and telling them to go out and buy the relevant comics to understand the story. Advance notice hasn't always been given, although I'm not sure how it would have been received by fans at the time who found they had to pay for an extra comic next month. In a few years time, of course, they would be doing this a LOT more!
link to information about this issue
posted 30/9/2019 by MJ Hibbett
(click here for permanent link)
(0) comments
---
When Walks The Warlord!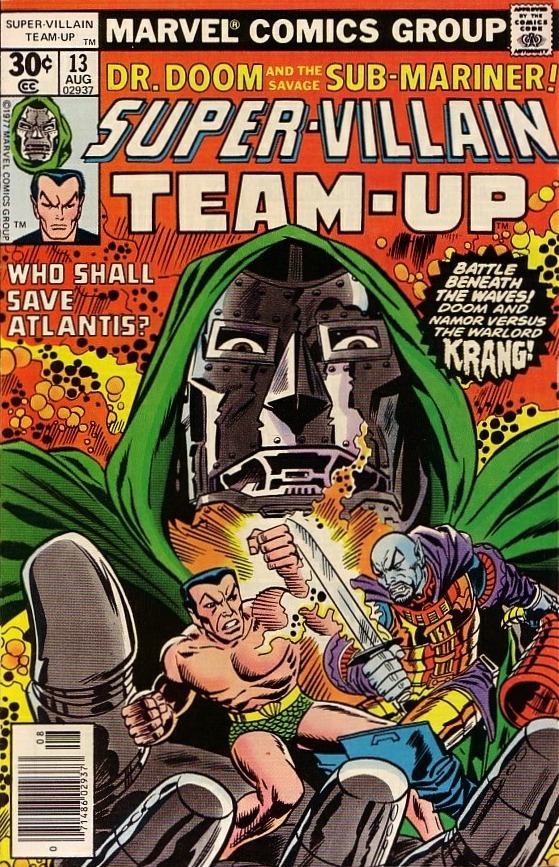 Keith Giffen channels the spirit of Jack Kirby throughout this issue, not necessarily by doing straight copies of his drawing style, but by using the same science-fiction design flair and dramatic poses. A prime example of this is the cover, which is another example in the long line of covers that show a huge Doctor Doom looming over everybody else. One of my PhD Supervisors has previously noted that there seem to be an awful lot of images of Doom like this, and I think he's got a point!
After the previous issue's thrilling Doom VS Red Skull showdown, this one catches up with The Submariner again. Afetr agreeing to help him free his people from suspended animation, the story this time sees Doctor Doom and Namor heading back to Atlantis to do just that. Before they get there, however, they are attacked by some very Kirby-esque underwater tanks.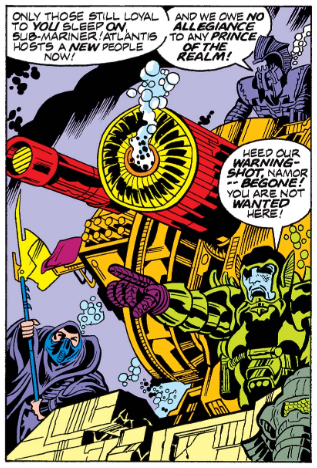 Initially Doom steps back and observes the battle, but realises that if Namor loses he will be left with his oath to help him unfulfilled. However, rather than intervene in the fighting he simply gets on with what he's come there to do, and releases what appears to be gas pellets into the water. Why he had to come himself to do this I do not know - he could have sent a lackey or just given them to Namor to take back - but whatever the reason they work. The Atlanteans are freed and Doom has fulfilled his promise.

This close-up of Doom's eyes glaring from behind his mask is another image that keeps on cropping up!
Most of the rest of the issue is taken up with Namor fighting the warlord Krang, the villain who attacked them in the first place and who is trying to take over Atlantis. There's not an awful lot of story in it, but it looks fabulous thanks to Keith Griffen's amazing artwork which, as I say, takes inspiration from Kirby without necessarily copying him.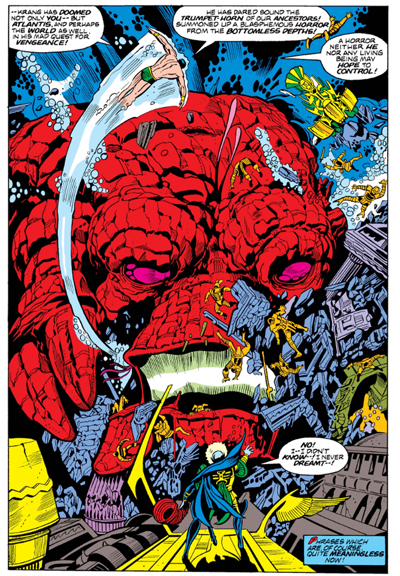 Krang is defeated, but when he tries to escape he bumps into Doctor Doom who finally gets a bit of action, beating the Warlord easily in a sword fight.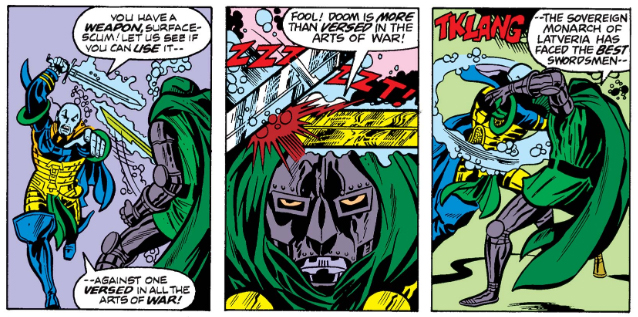 With that all done Doom returns to Namor, who is spectacularly ungrateful. I mean, yes, Doom did kidnap him, use him as a slave to attack his own enemies, and betray him on a monthly basis, but then again he has just saved the lives of everybody Namor knows, so his behaviour does seem a little ungracious.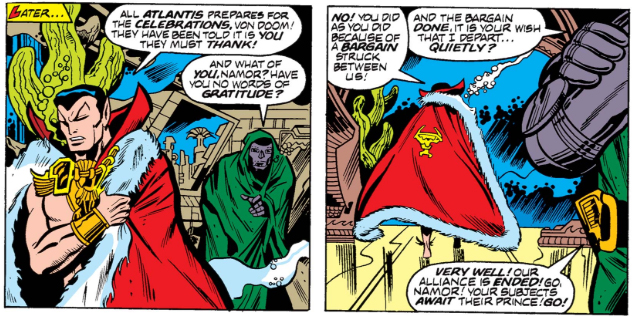 I suppose it seems odd because Namor is supposed to be more of a superhero than Doom, and so might be expected to be a bit more civil. The next page shows him being cheered as King by his people, and this also seems oddly villainous. They're hailing him, aren't they?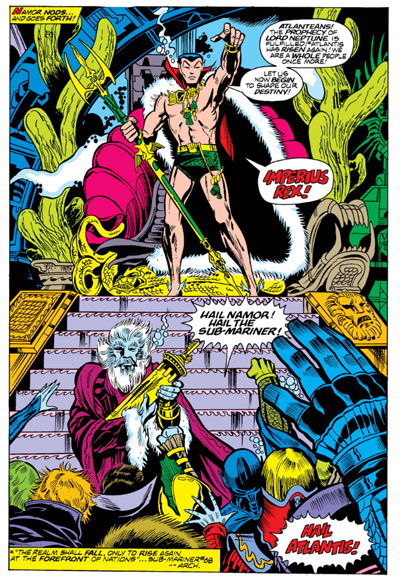 The story ends with Doom slinking away, musing on the fact that Namor's power over his people comes from love, whereas Doom's comes from iron will and power. I'm not sure that's entirely accurate - we've seen on many occasions that the Latverians at least respect him, but perhaps this is something too difficult for Doom to accept.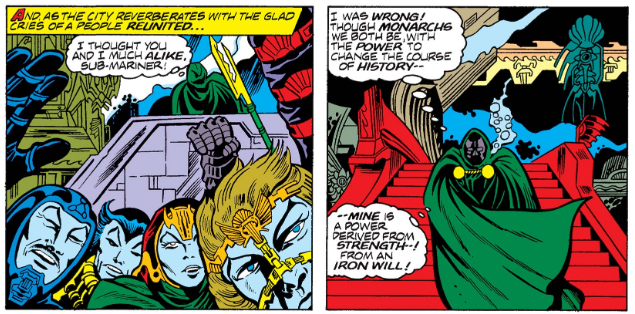 This is the end of Namor's appearances in Super-Villain Team-Up, leaving Doom to share the headline slot with other villains in future, starting next time with Magneto!
link to information about this issue
posted 27/9/2019 by MJ Hibbett
(click here for permanent link)
(0) comments
---
Spider-man And Web-man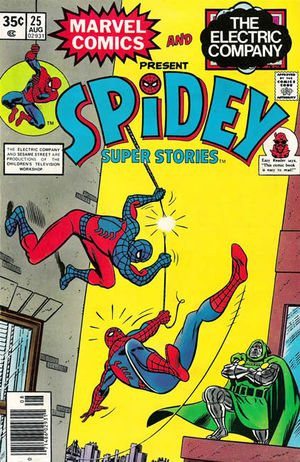 This story sees Doctor Doom trying to destroy Spider-man in a world similar, but not quite the same, to the regular Marvel Universe ... which is eerily similar to
the story we looked at last time
, over in the newspaper strips.
However, where that version of Doom was fairly similarly to the mainstream one, the Doom appearing in Spidey Super Stories is more in line with the characterisation given to him by Luis Avalos on
the Super Spidey Stories album
i.e. decidedly camp, right from the expanded version of his origin story on the inside cover.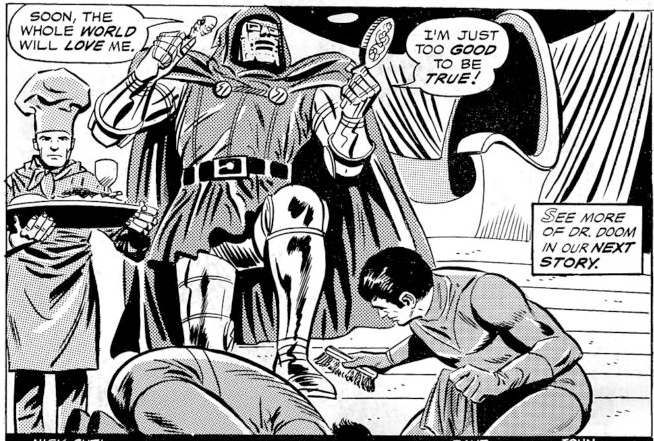 It seems strange that the origin concentrates on Latveria, as that has nothing to do with the story and isn't mentioned again. Instead we see Doom using a Mirror to make an evil copy of Spider-man called Web-man who "will have all of Spidey's powers... but none of Spidey's goodness."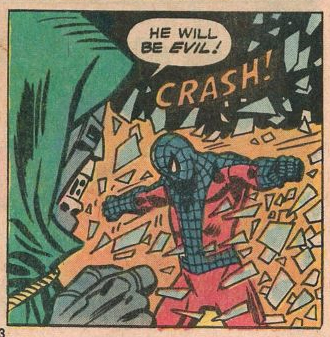 Web-man jumps out of Doom's Twin Machine and flies off into action... only to slam into a wall, leading Doom to slap his forehead in loving despair.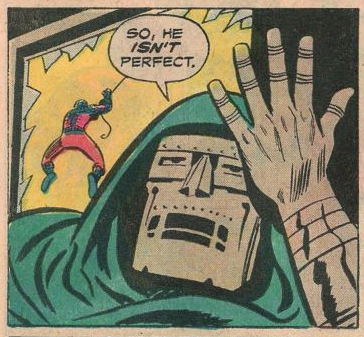 I wish they'd made an audio version of this one too, Luis Avalos would have killed that line!
Web-man tries to rob an armoured car and is stopped by the real Spider-man, at which point a Big Fight breaks out. When Web-man runs off Spidey follows him, all the way back to the original mirror room, enabling Doom to create another twin - Webby 2!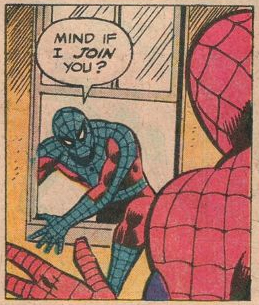 As is always the case with Spidey Super Stories, there's a weird dream-like logic to the whole thing, which continues as Spider-man simply jumps through the mirror, into the next door room where he captures Doom.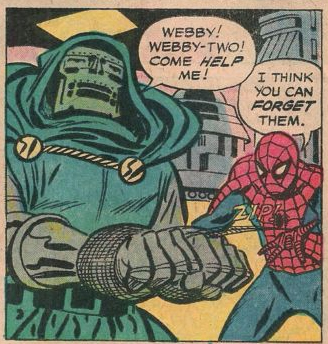 His two creations disappear, leaving Spider-man to finish off the story with the punchline: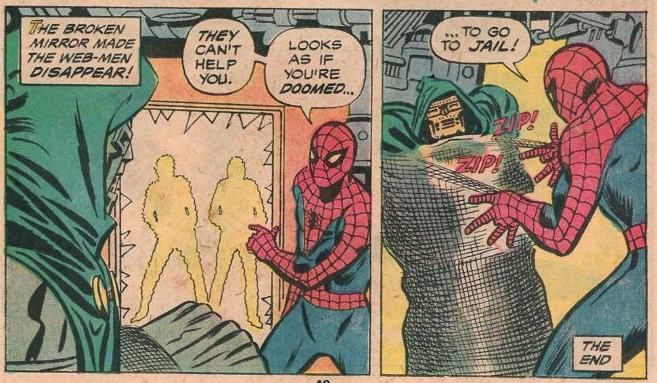 And that's the lot. It's a very simple, very easy to read story - certified as such by The Easy Reader AKA Morgan Freeman - which sees this version of Doom deviating somewhat from the norm slightly by behaving like a camp mad scientist. There's more to come from Doom in the Spidey Super Stories universe so it'll be interesting to see if he stays that way, but next time we're back to the regular comics to see Doom at his most scheming!
link to information about this issue
posted 25/9/2019 by MJ Hibbett
(click here for permanent link)
(0) comments
---
Return To Reality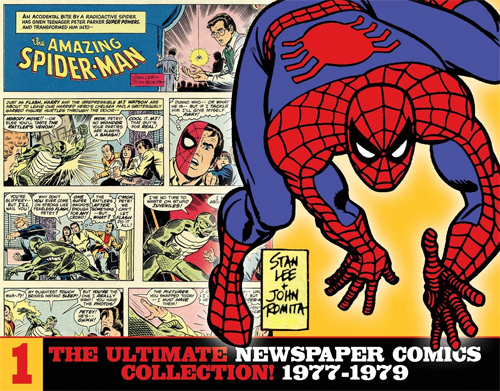 We're back in the world of newspaper strips this time, and it's very clear that Stan Lee and John Romita have been getting into the swing of it since we last saw Doom here, in the very first series. The recaps at the start of each strip are done a lot more smoothly, the Sunday strips now add information to the stories without being unmissable, and the self-aware sarcasm that Stan Lee is known for is starting to make itself known. There's less repetition on a day to day basis, but an awful lot in the story itself, as Doctor Doom tries to persuade Spider-man that he's going mad by, basically, tricking him again and again in the same way. This wouldn't be so bad in a single comic, but it must have been a bit annoying for readers over the course of three months of three panel strips!
We first see Doctor Doom in Latveria, where a group of peasants grovel as he approaches. In this version of the country it seems that the Latverians are outright terrified of him, and so are surprised when he spares the life of a young lad who wishes to look at him, leaving them impressed by his kindness.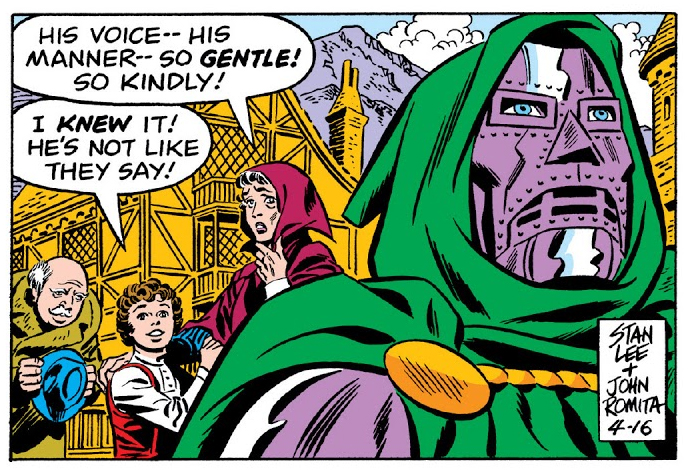 We immediately see another side of Doom, howeber, when he sends an unemployed man to prison for begging for help.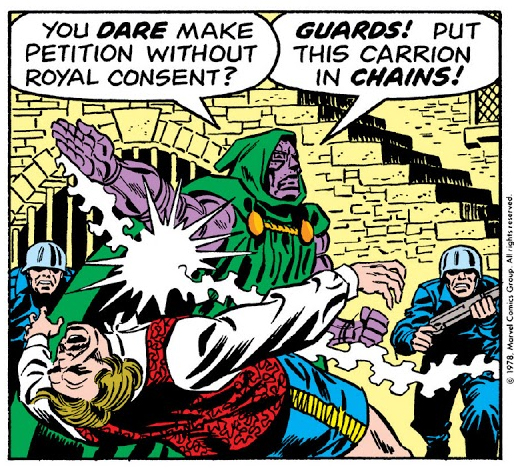 This version of Latveria is very similar to the 1960s one drawn by Jack Kirby, with medieval castles and a populace dressed as extras from The Sound Of Music. The only difference so far is that the state guards are dressed as policemen, rather than robots.
Doom returns to his castle, where he watches Spider-man through a video screen - another classic Doom characteristic. Doom will remain in Latveria for the whole storyline, never leaving his castle. It's from here that he sends some robots - here called "Mecho-Men" rather than Doombots - to kidnap a noted psychiatrist and bring him back to Latveria. Meanwhile, he uses a special Robot Pigeon, with a two-way video screen in its chest, to follow Spider-man around New York.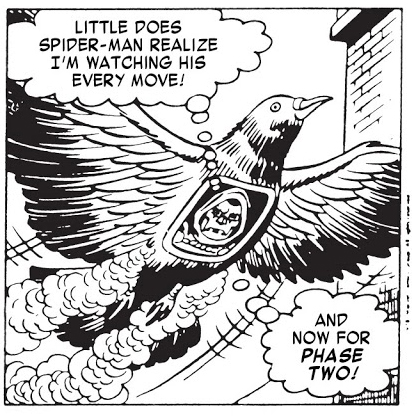 Spidey is amazed to see J Jonah Jameson standing on top of a bridge, threatening to commit suicide in the hope that Spider-man will get the blame. When he jumps off he falls into a cloud of smoke, generated by the robot pigeon, and then disintegrates, revealing himself to be another robot, operated by Doom.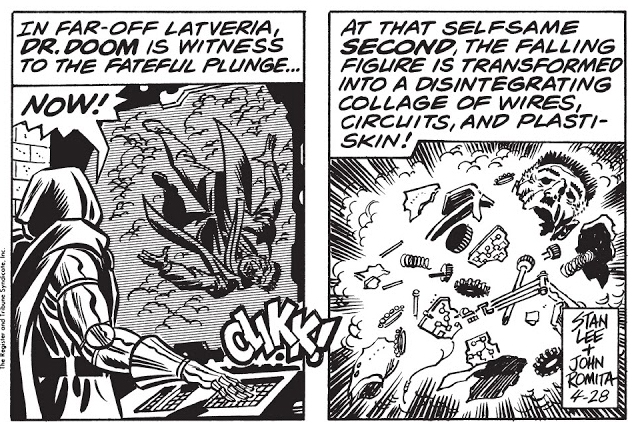 There are, as we'll see, some great sound effects in this story!
Spider-man is horrified, and distraught when he dives into the river and is unable to find a body. He's even more upset when he goes into the Daily Bugle the next day to find Jameson his usual grumpy self.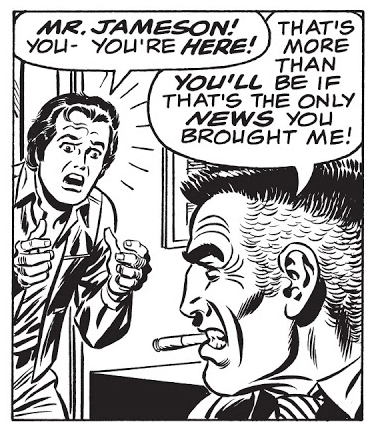 Back in Latveria Doom interviews the psychiatrist he has kidnapped, Karl Lazlo. When Lazlo refuses to help him destroy Spider-man Doctor Doom remarks that he hates violence... while smashing a wall.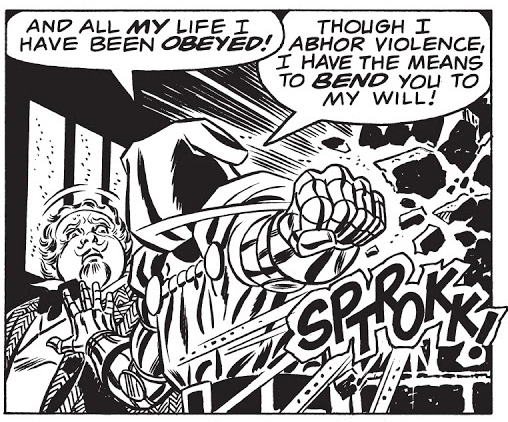 Again, classic Doom action! There's more to come, as he takes off his mask to show the horrified psychiatrist his true face. He does this an awful lot, so when he tells Lazlo "None but you... have ever seen my naked face" it rings somewhat hollow.
Having done that he puts Lazlo into a Scientific Device which drains all the scientific knowledge from his brian and records it in a computer, which Doom can use later on. Meanwhile Spider-man finds himself questioning his sanity when he faces Doctor Octopus - a character he knows for sure is in prison.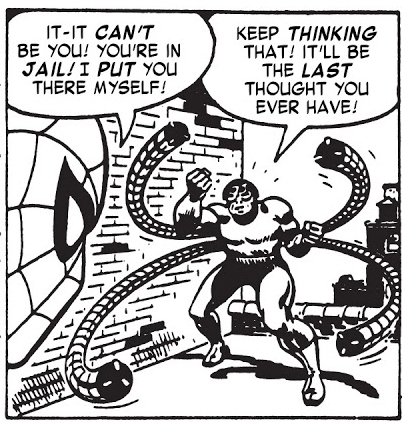 Doc Ock is a hologram created by Doctor Doom, unbeknownst to Spider-man, so when the baddy disappears a confused Spidey takes this as evidence that he's going mad. This impression is only added to when he switches on the telly to see a psychiatrist who just so happens to be talking about Spider-man, and how he's likely to lose his mind at any moment.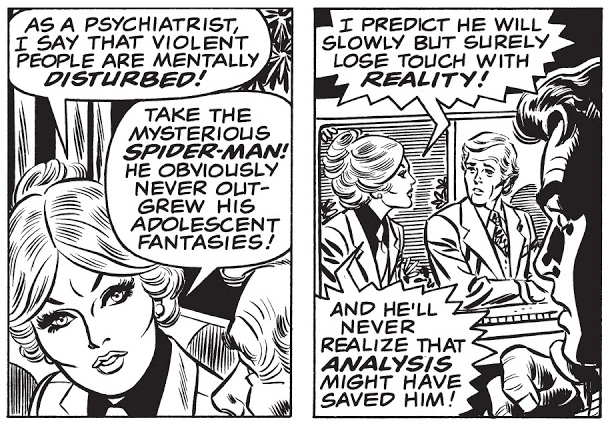 Things carry on in this vein, with Spider-man facing Kraven and then the actual Mayor of New York, both of whom are actually robots, both of whom are destroyed before Spidey can work out what's going on.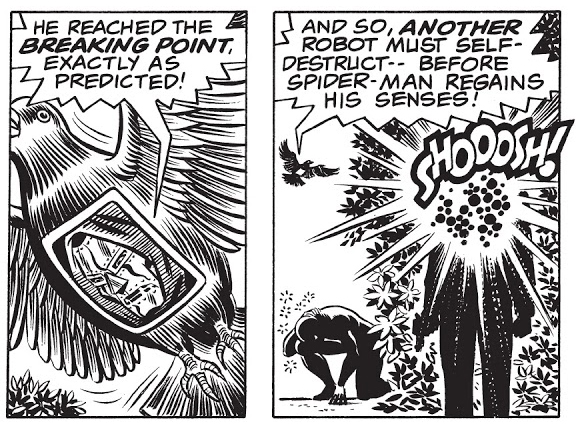 This does feel like Lee and Romita are treading water, so it's a relief when they finally move it all forward, with Spidey going to see the TV psychiatrist. During the session - which he's getting for free because he's so interesting - he sees another hallucination, and leaves even more convinced that he's going bonkers.
Things get even worse when he starts to lose his powers - caused by a tiny disc which Doom has attached via Robot Pigeon to his back. After another terrible session at the psychiatrists he discovers the disc, but when he takes it back to show her he's not paranoid Doom destroys it by remote.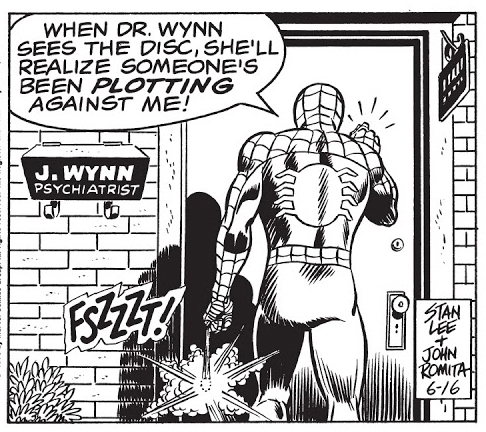 It's all a bit much for poor old Spider-man, so when the psychiatrist tells him the only cure is to abandon his superhero life and reveal his true identity he's ready to go along with it. Just before he pulls the mask off, however, he spots the pigeon and (somehow) recognises it as one of Doom's robots.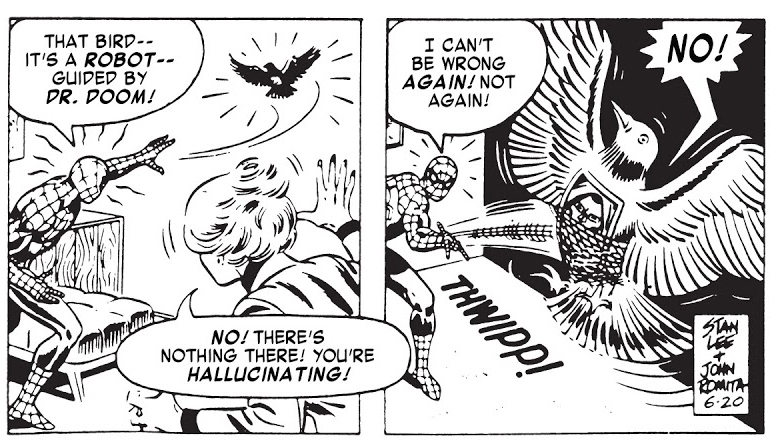 With the jig up the psychiatrist reveals that she's a robot too, and the traditional Big Fight ensues, watched as ever by Doctor Doom so that, when the robot looks like it's going to lose the fight, he decides to bring the whole thing to an end by using the same method he's employed throughout.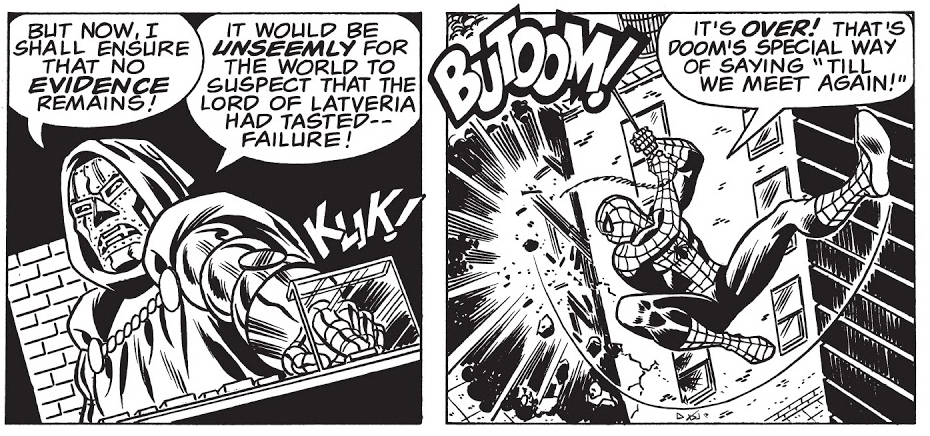 And that's the end of the story, with the strip very swiftly moving on to a scene where Aunt May gets threatened by muggers ready for the next storyline.
On the whole this has been an enjoyable, if rather repetitive, storyline, which has been especially interesting for the way it's allowed Doctor Doom to be the baddy for three months without ever even being in the same country as Spider-man. He's also displayed a lot of the traits we associate with the 616 Universe version of the character - something that can't be said for the next version of him that we'll encounter, over in Spidey Super Stories!
link to information about this issue
posted 20/9/2019 by MJ Hibbett
(click here for permanent link)
(0) comments
---
Deadly Is The Doctor Called Doom - The Album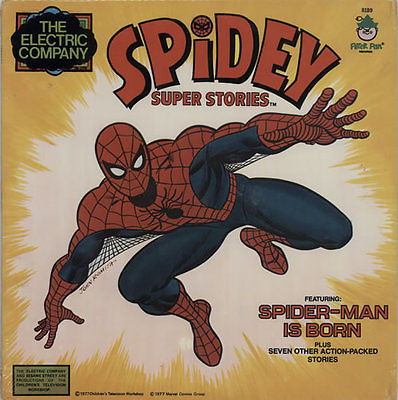 This time we're looking at - or rather listening to - an audio story which appeared on the 'Spider Super Stories Album'. It's one of eight adaptations of stories which originally appeared in the 'Spidey Super Stories' comic book, which was in turn based on the version of Spider-man seen in 'The Electric Company' show, which was a further adaptation of the original comic character. If that isn't transmedia then I don't know what is!
This particular story is based on
Spider Super Stories #19, and sticks extremely close to that storyline, with almost every single world being read out and only a couple of additional descriptions inserted to alert the reader to scene changes, all read out very clearly by none other than Morgan Freeman! It reminded me of the Power Records adaptation of Fantastic Four #126 in how closely it stuck to the comic, and I wonder if the idea was for the audience to read along as the record plays, similar to the Power Records one, in order to help them learn to read? If so, it doesn't seem to have come with a comic included.

It also reminded me of The Fantastic Four Radio Show, if only for the way that certain lines get said as quickly as possible by the actors, as they don't really make any sense at all without the visuals. The section where Doctor Doom imagines a future where he has a Spider Army is particularly confusing!

Here's a YouTube clip of the whole story so you can judge for yourself:





Doctor Doom is played here by Luis Avalos, one of the regulars on 'The Electric Company' who performs the role as a rather camp mixture of Vincent Price and Peter Lorre. In the context it works surprisingly well, coming off like a rather creepy uncle - I guess the usual vocalisation of Doom, as a forbidding, deep voiced menace, wouldn't really work when his main plot is to kidnap a bunch of school children in order to lure Spider-man to his castle to steal his spider powers. It's also quite close to Stan Lee's early 70s version of the character as a wheedling, self-pitying, deluded dictator, so it's a pity Avalos didn't get the chance to use his particular performance on one of those stories too - I think it would have worked, but maybe it wouldn't have been as much fun for the Electric Company's target audience!

It's a very interesting way to play the character which, I'll warn you now, has the unfortunate side effect of getting into your head, so that Doom will continue to speak a little bit more camply forever after, notably in his 'Spidey Super Stories' appearances, but in the mainstream universe too!



link to information about this issue

posted 18/9/2019 by MJ Hibbett
(click here for permanent link)
(0) comments


---
Death Duel!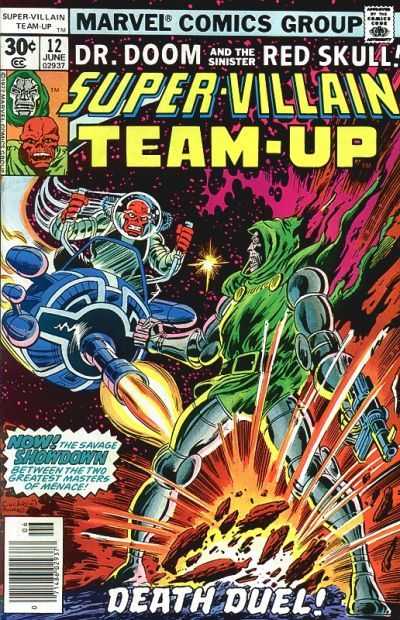 As we've seen before, one really easy way to make Doctor Doom the sympathetic lead character in a story is to pit him against someone who is clearly, unequivocally, much worse than he is, and they don't come much more clearly, unequivocally evil than The Red Skull.

The story here carries on shortly after the previous issue of this series, with The Red Skull on the moon ready to fire a hypno ray and Doctor Doom (accompanied by The Shroud) heading into space to stop him. There's a lot of minor plotholes getting explained and characters moving into place during the start of the story, and initially I thought that Bill Mantlo (who writes this one) had been brought in as "The Fill-In King" to sort it out, but no, he wrote the previous issue too. Maybe this sort of fix-it scriptwriting becomes a habit?

One early example of this is when Doom and Captain America discuss what's happened since last time, and why it's Doom in the spaceship. This is the kind of recapping/explanation that usually happens in the first few pages of superhero comics from around this time, and Mantlo achieves it with some excellent Doom dialogue.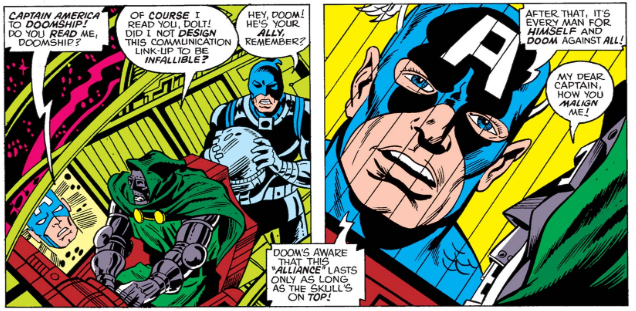 Dolt! There's a bit more plot mechanics as Namor decides to leave the others to it and head back to Atlantis, and then Doomn ejects The Shroud into space so ge can guard the Hypno-Ray satellite.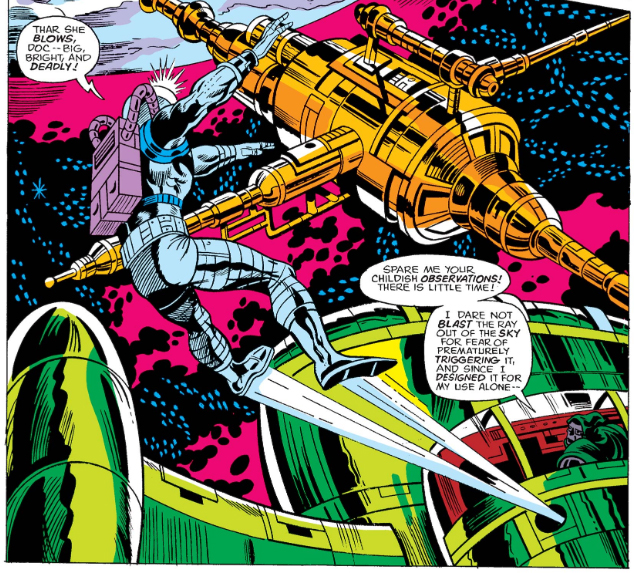 Having read quite a lot of The Shroud lately I am entirely in favour of him being ejected into space, and I really like Doom's reaction to his traditional superhero dialogue here. There's also a great, brief, explanation of Doom's entire motivation for saving the world - it will, after all, all belong to him soon!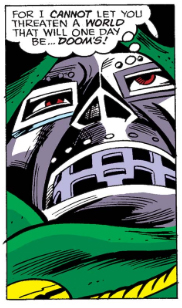 Next comes a brief interlude during which The Skull demonstrates his villainy by horribly murdering members of his staff for disagreeing with him (Doom rarely does this - he'll slap them in the face, but doesn't usually kill them) and then reveals that he was the mysterious bidder who's been buying Doom's technology in the distant sub-plots lately. He also does a recap of his recent history and explains that being teleported to the moonbase means that the firing of the Hypno Ray has had to be delayed by an hour. It's a tour-de-force of This Kind Of Comic Writing by Mantlo, getting a whole heap of information over in an exciting way (thanks to Bob Hall's illustrations) while demonstrating character and, on top of all that, setting a countdown timer before the end of the world! I am honour bound as a Middle-Aged Superhero Fan to say "That would take an entire issue nowadays".

It's then time for action, as The Skull fires missiles at Doom's approaching space ship. I was going to say that it all loooks a bit like Star Wars, but of course this came out before the film, so Doctor Doom being blasted into space comes at least a year before the same fate befell Darth Vader. You don't think..?

Doom escapes the destruction of his ship, sealing off his armour and jetting down to the lunar surface, where The Red Skull (with swastika clearly displayed) arrives on a space jet ski, intent on killing him.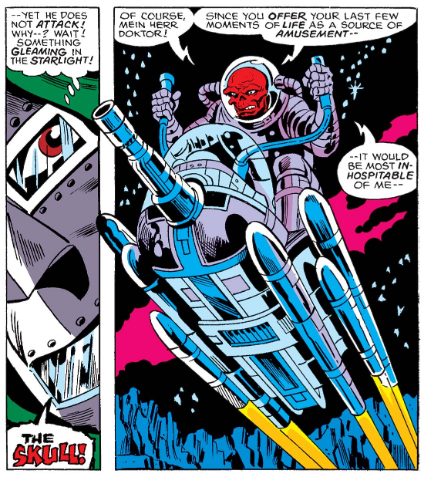 A Big Fight then takes place in which the two supervillains have a go at each other, both using Doctor Doom's own devices. At first it looks like The Skull is going to win easily, but then Doom produces what looks like a massive bread knife and cuts a hole into the underneath of the skull's space cycle.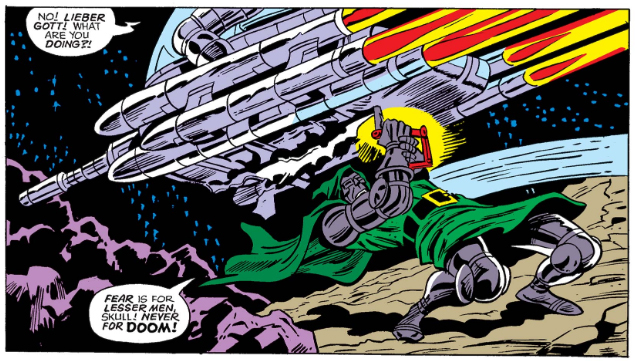 The Red Skull falls into the mines that he himself had set, and as Doom approaches we get a great character moment, showing the difference between the two once more, with Doom enjoying the game and the Skull absolutely terrified.
The Red Skull shows fear whenever he's in danger, a villainous trait which Doctor Doom rarely if ever demonstrates - another sign that we are supposed to be see him in the role of hero.

While this is going on The Shroud decides to ignore Doom's orders to wait and watch the satellite and instead try and disable it himself. This, of course, goes wrong (because The Shroud is rubbish) and he's knocked unconscious. Luckily for him (if not the reader) Captain America trundles by in the SHIELD spaceship and picks him up. Shame.

Back on the moon, Doom and The Red Skull are having a proper punch-up, which leads to Doom's armour being pierced so that his air supply starts to leak out. He solves this problem by using the freeze-unit in his glove to freeze the oxygen, sealing the hole.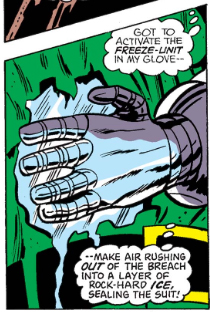 Um... it doesn't work like that, does it? Anyway, the fight continues until Doom manages to trap The Red Skull under an avalanche. Just as Doom is enjoying his victory, the Skull points out that his henchman are approaching to free him, but Doom, rather brilliantly, stays where he is and uses one of his major, unacknowledged, super-powers on them: persuasion!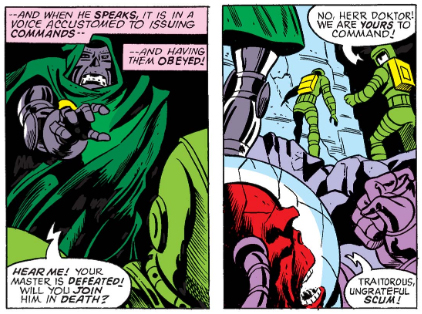 I love the fact that all of the henchmen say "Sod this" and clear off! The story ends with The Red Skull trapped under rubble, about to suffocate when his air supply runs out, and Doom in his spaceship heading for home. For all his heroic tendencies, that's one thing you'd never catch an actual superhero doing!



link to information about this issue

posted 12/9/2019 by MJ Hibbett
(click here for permanent link)
(0) comments


---
The Time Of The Terrorist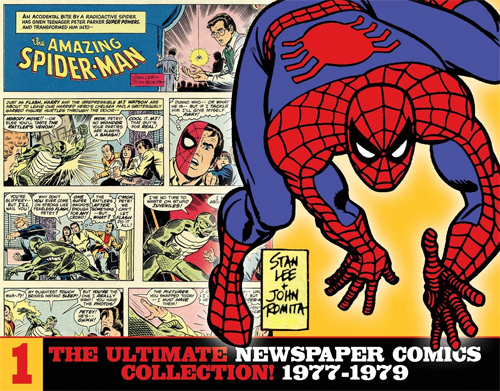 Doctor Doom makes his way into yet another media format this time, appearing as the villian in the first storyline in Spider-man's newspaper strip. This strip began in January 1977, written by Stan Lee and drawn (beautifully) by John Romita Sr and, with various other artists and ghost writers, would run for over forty years, only ending shortly after Stan Lee himself died.

The strip makes for mildly frustrating reading at first, as each three panel storyline is constructed so that the first panel is usually a recap of what's happened before, and the Sunday strip generally being unnecessary to follow the story, so that readers who could only follow it in a daily edition wouldn't miss out. This was, and probably still is, standard practice for an adventure-style comic strip, but in it does mean that there's an awful lot of strips which start or end with J Jonah Jameson leaning out of a window, angrily shouting the story so far at Spider-man!

Spider-man himself is slightly different from the comics version - here he's seen as a frightening, creepy individual by New Yorkers, while his alter ego Peter Parker is rather hairier and more matinee idol. It's as if Lee and Romnita are merging the Spider-man of Ditko's early run with the Peter of their own run shortly afterwards.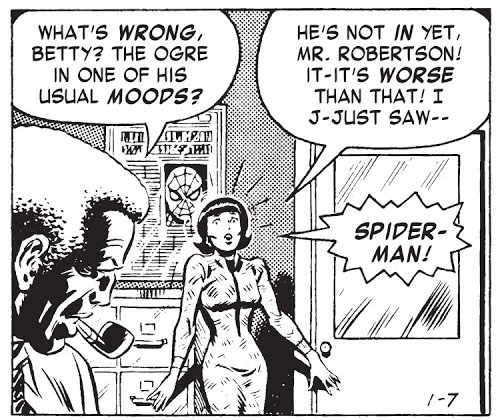 Doctor Doom doesn't appear in person until the very end of the second week of strips, with the precediing fortnight concerned with introducing the reader to Spider-man's supporting cast as they all wait for Doom to arrive. He's been invited by J Jonah Jameson to - wait for it - address the United Nations!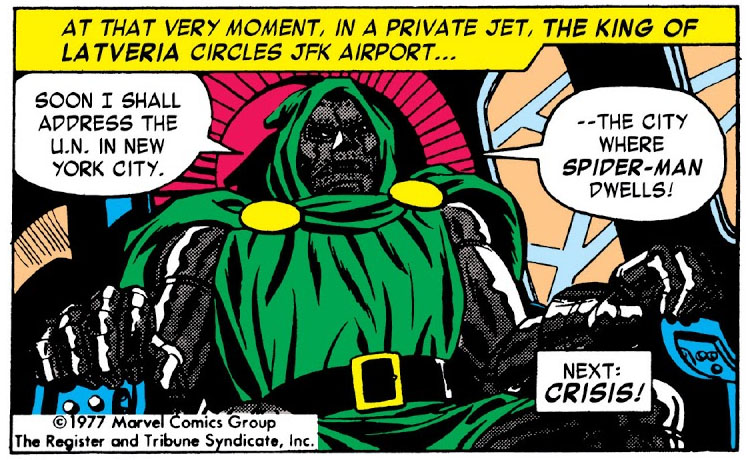 What is it with Doctor Doom and the United Nations? He's been there in the regular comics, Spidey Super Stories, the cartoon and now here, to the extent that it's almost as much a part of his world as his castle and the Latverian embassy!

One small difference here is that Doom is the actual King of Latveria, rather than just the "Lord" as he's usually termed. It doesn't make any difference to the story, so I assume this was done to make it easier for new readers to understand in the quick three panel version of the Marvel Universe. We do still get a brief, yet fairly complete, version of his origin in the Wednesday to Friday strips on week six, which sticks pretty closely to the regular comics version, including some near swipes of that version.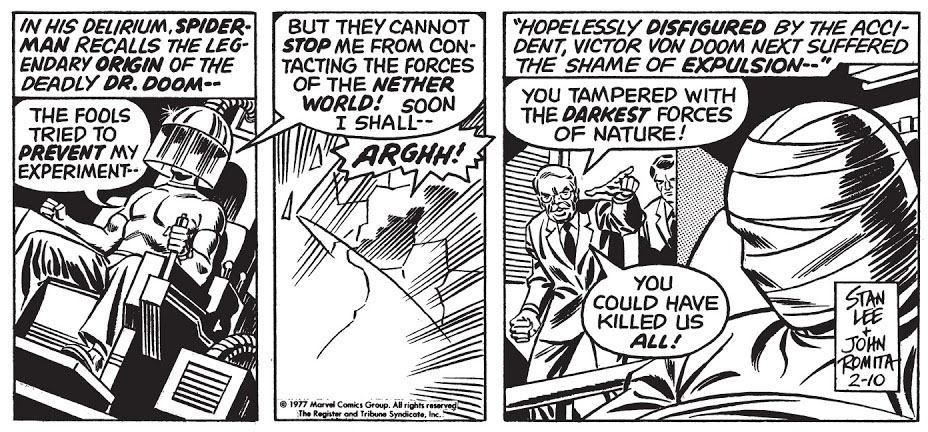 The only big difference, in fact, is that Reed Richards doesn't appear!

When Doom finally arrives in New York he's very rude to an ingratiating J Jonah Jameson. He holds a press conference where he stops a crate from landing on some news reporters, which he blames on Spider-man, thus happily reinforcing the Daily Bugle-promoted view that Spider-man is a menace and Doctor Doom is a hero - just as was the case when a very similar story played out in Spidey Super Stories #9. Here, as there, Doctor Doom is speaking to a meeting of the UN - a smaller sub-committee in this case, although it does contain some very familiar faces.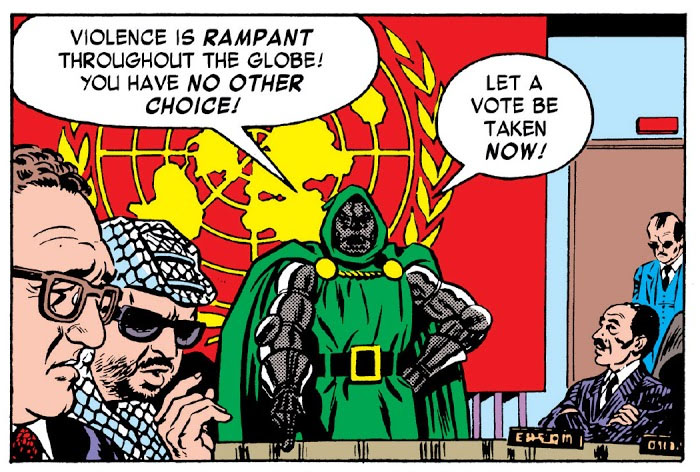 Does Henry Kissinger have a non-aggression pact with Doctor Doom in this universe as well? Either way, the assembled dignitaries are very wary of Doctor Doom, refusing his offer of taking full control of the world's security services to destroy terrorism.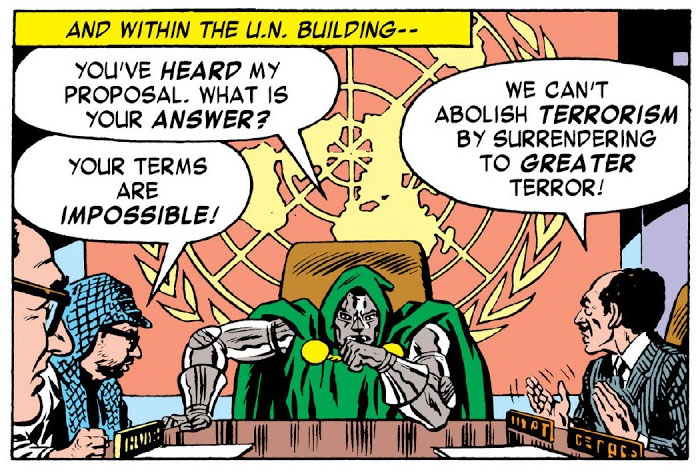 Maybe our universe is the only one where the UN DOESN'T have the power to decide policy in all member states? Doom doesn't take kindly to this and locks the world leaders in the room with him, apparently as part of his plan for world domination. This makes little sense, but luckily Spider-man bursts in for a fight during which he is knocked out and, for some reason, dreams the aforementioned precis of Doom's origim.

The fight carries on, with Doom burning through Spidey's webbing but then getting trapped by a specially prepared web-fluid which causes his armour to short circuit. Doom thus has to fight back using only his "super strength" until he's caught by a judo throw which, accoring to the world leaders, means Spider-man is the winner.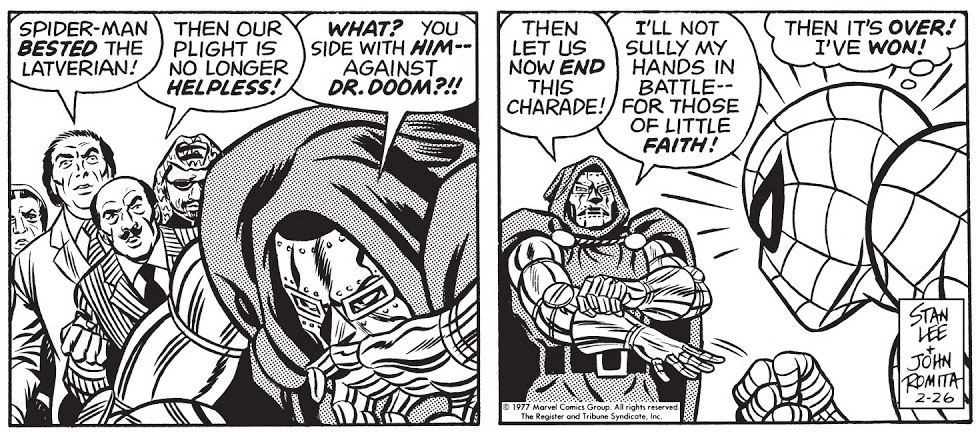 Doom is so disgusted in the world leaders for siding against him that he storms out, refusing to have anything more to do with them, rather like someone who angrily quits their job five seconds after being sacked, much to the dismay of his biggest fan.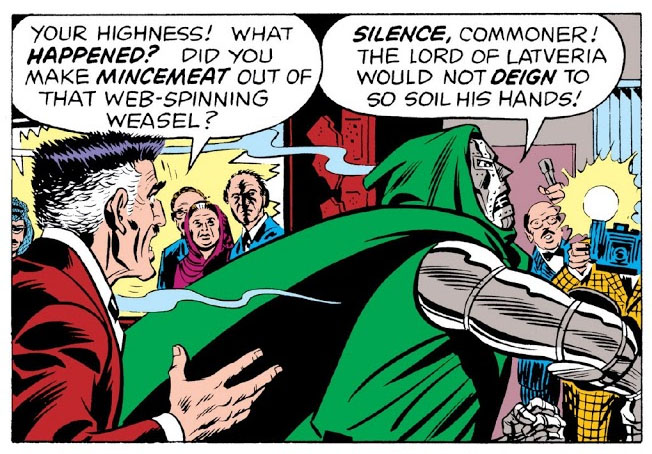 And there this first foray into newspaper strips ends, with the story's attention immediately switching for the story beginning the following day with Doctor Octupus. It's been a very faithful rendition of Doctor Doom for the first part, and oddly similar to the version seen in Super Spidey Stories. He will return to the newspaper strip very soon, but before then we've got the thrilling conclusion to Doom's battle with the Red Skull - next time!



link to information about this issue

posted 10/9/2019 by MJ Hibbett
(click here for permanent link)
(0) comments


---
My Ally, My Enemy!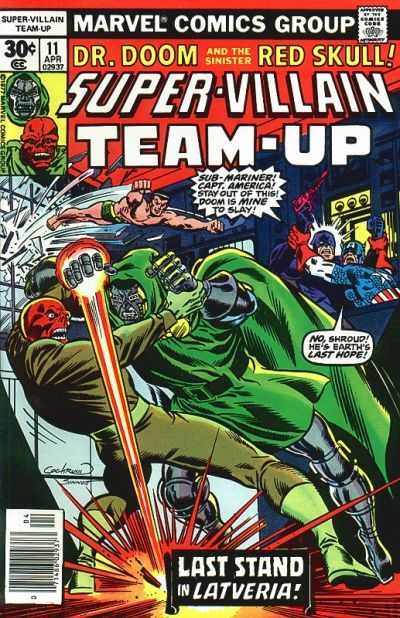 Last time I was bemoaning the fact that this series was claiming "a dynamic new direction" while doing nothing of the sort, but maybe I was being unfair. Until now "Super-Villain Team-Up" has actually been just "Namor And Doctor Doom" every issue. The main "Marvel Team-Up" series almost always had Spider-man as lead, it's true, but they did swap around the guests a bit.

However, I now realise that this issue, and the previous one, actually did have a change, with The Red Skull sharing the top billing instead of Namor. It does make more sense of the title, although Namor is still there, as is The Shroud, and Doom and The Red Skull don't so much team-up as fight each other throughout.

The story begins where the last one left off, with The Red Skull having shot Prince Rudolfo, who was disguised as Doctor Doom. The Shroud tries to fight the Skull but is quickly overwhelmed by a Goon with a spanner.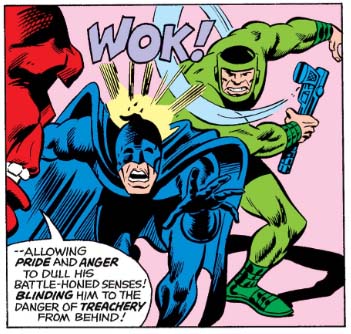 The Shroud is rubbish.

The Red Skull then drags him over to a video screen, where we see that his Doomjet had not, as depicted last time, disappeared, but instead has been hit by The Rainbow Missile and is now crashing.

We also FINALLY get a reveal about the mysterious "buyer" Doom was talking about so long ago - it was The Red Skull, conning Doom into building him a Hypno-Ray!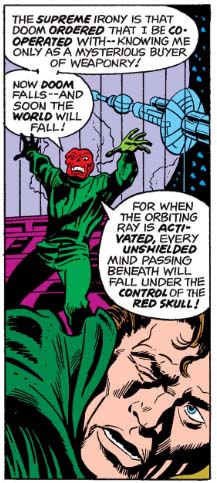 We then cut to The Doomjet as it crashes, with Doom and Captain America discovering that The Red Skull has used some of Doom's own technology against them, and shrunk them "to the size of field mice."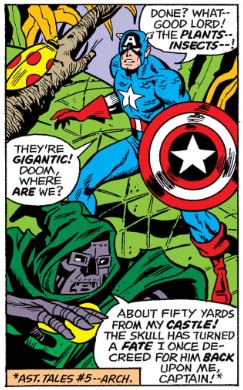 There's a reference to Astonishing Tales #5 when Doom similarly shrank The Red Skull and The Exiles down to the same size... except that he totally didn't - it was Hypno Gas that made them think they'd been shrunken! I'm all for an obscure callback, but come on Bill Mantlo, if you're going to do that at least get it right!

The pair fight their way through a range of over-sized obstacles, including a grass snake and the castle's moat, with Doom remarking how well they work as a team, and Captain America being sensible enough to see exactly how that would work out.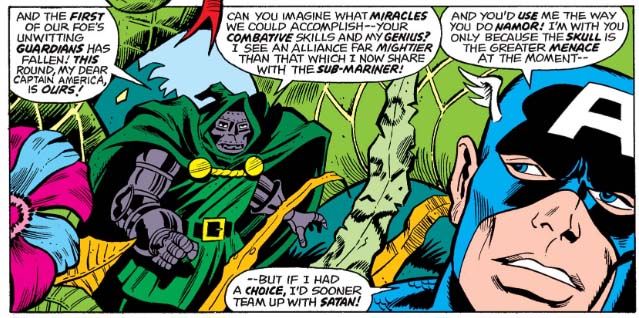 Again, I very much like Bill Mantlo's take on Doom here - arrogant, self-assured, but also enjoying himself and keen to behave honourably - or at least to his own ideas of honour.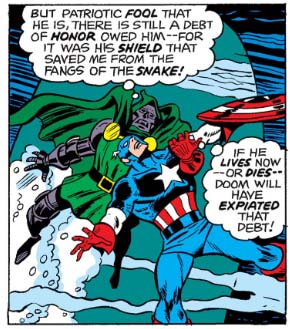 This characterisation continues when Doom discovers that his old friend Boris has been captured, all of which surprises Captain America.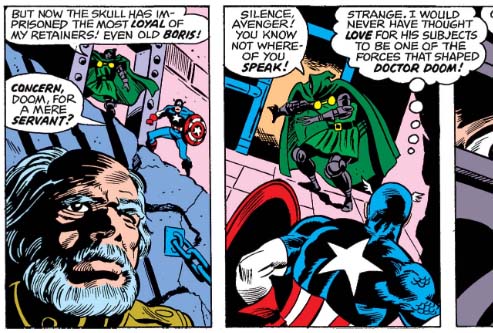 Clearly Cap has not been reading this blog!

The shrunken pair discover that Namor has arrived, and is arguing with The Red Skull and The Shroud in Castle Latveria's throne room. This enrages Doom who leaps into action and shoots the Skull... up the bum?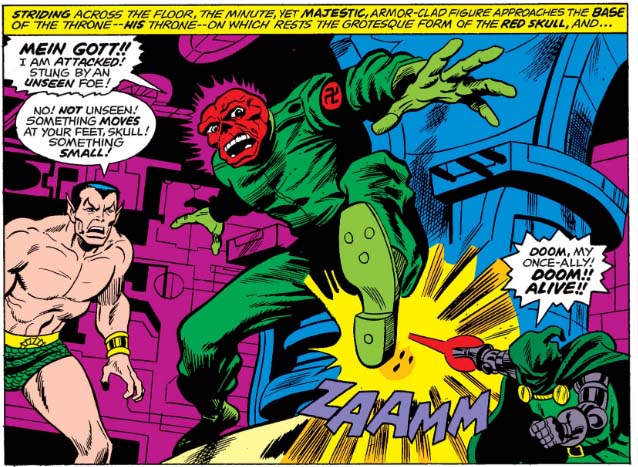 The Skull grabs Doom, who orders Namor to save him - in theory Namor has sworn an oath to do whatever Doom says, so should do it anyway, but Doom sugars the pill by promising to cure the people of Atlantis. Namor does as he's asked, Doom and Captain America return to normal size, and then it's time for a Big Fight between the heroes and The Skull's forces. In this context Doom is very much a hero, trying to save the world, although The Shroud doubts this, believing Doom will use the weapon for himself. In a weird turnaround, Doom shouts for Captain America's aid, and he leaps forward to help.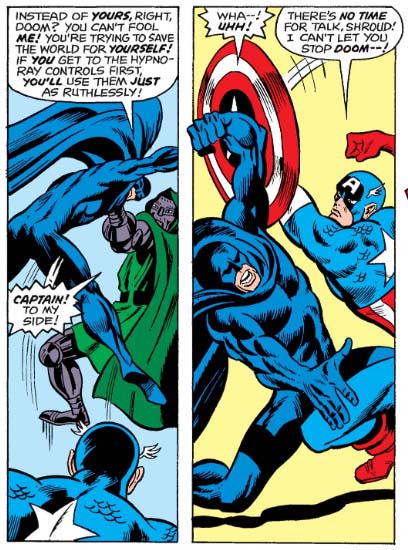 The Shroud, understandably, is shocked by this!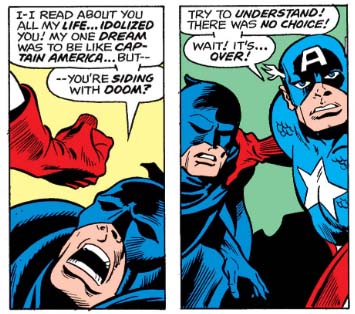 Despite Doom and Captain America's efforts, The Red Skull manages to retreat inside a force field of Doom's own making - other people using Doom's inventions against him is a characteristic of these stories almost as much as him watching people via a remote viewer!

Faced with the prospect of a world mind-controlled by The Red Skull, a wounded Prince Rudolfo decides he prefers rule under Doom, and activates a device which he hopes will defeat The Skull.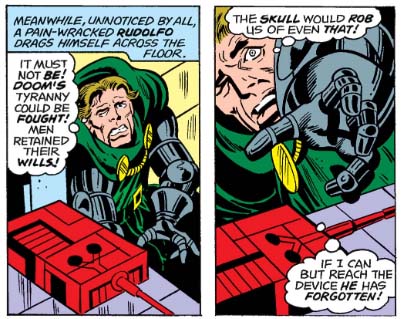 Sadly for all concerned this turns out not to be a bomb or something equally useful, but a teleportation device which sends The Red Skull to the moon, where he can activate his world-dominating hypno ray by hand!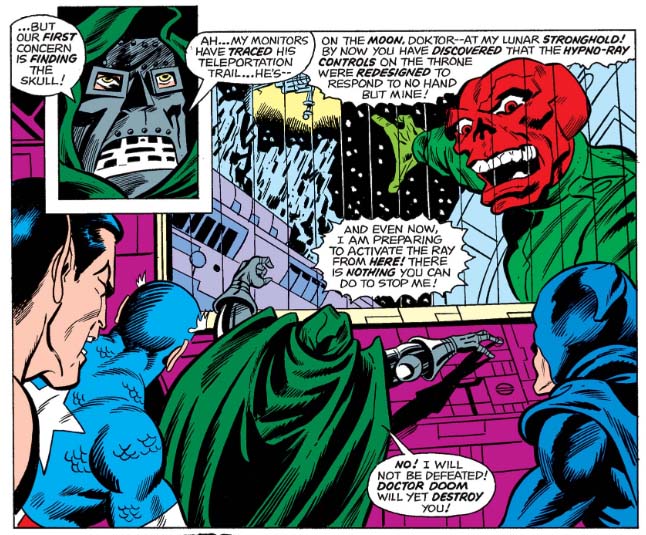 This is spectacular bad luck for Doom and co, but a great way to end an issue in which Doom has, fairly successfully, been cast as the hero against an even greater villian. Will he win in the end? We'll have to wait a while to find out, because next time we're off to another version of Doom in another media altogether - the newspaper funnies!



link to information about this issue

posted 6/9/2019 by MJ Hibbett
(click here for permanent link)
(0) comments


---