---
current
/
archive
/
issues
/
faq
/
RSS feed
/
twitter
/
---
Assault On Galactus!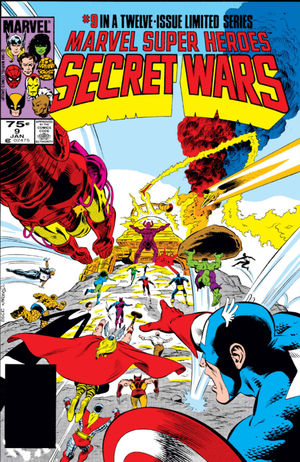 Last time we visited Battleworld Doctor Doom was having an extended lie-down. This time he does actually get out of bed, but it takes him quite a while, and we have to get through a lot of talking and some extreme stupidity in the mean time.We do, however, get a title which for once bears some relationship to the story contents, as they actually do try and fight Galactus!
We start with the X-Men reacting to Galactus finally finishing off his World Eating Machine and doing their best to stop him. They completely fail, because he's Galactus, but while they're doing that the other group of heroes are just as busy, talking and talking and talking.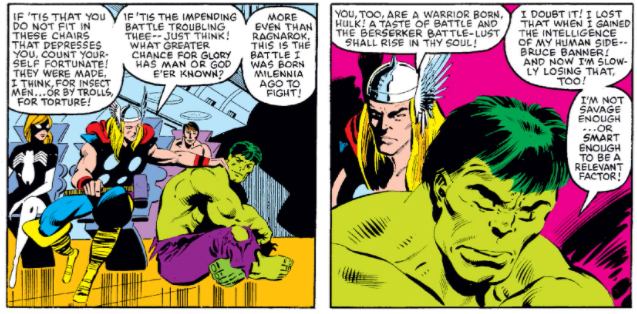 As well as Thor giving Hulk a pep talk we also see Ben Grimm delighted to turn back into the Thing (despite him spending the past couple of decades wanting the opposite) and James Rhodes embarking on a lengthy monologue about the fact that he, not Tony Stark, is Iron Man - "now and forever!" - which didn't exactly work out that way. Oddest of all these interludes (at a time when the entire planet is about to be eaten, don't forget) is Spider-man demo-ing some of his new suit's abilities to Reed Richards.
Nice! The only person not talking at enormous length is Reed Richards, who is too busy thinking at enormous length. Along with the deluge of words this does at least feature a nice illustration by Mike Zeck, showing the two groupings of heroes and the larger one of villains. What's especially nice about this is that he makes it work as a Venn diagram, with Magneto as the crossover between villains and the X-Men.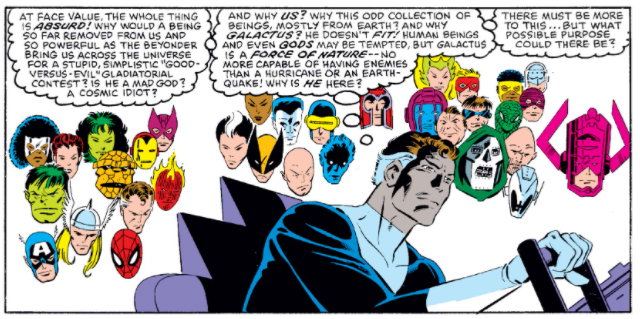 Jim Shooter is obsessed with explaining things all the time, which is fair enough if you want to make the story accessible to new readers, but he's also obsessed with these weird plot cul-de-sacs where ideas pop up from nowhere, delay the progress of the story for a few pages, and then disappear again. In this issue it's Reed Richards suggesting that they shouldn't stop Galactus after all.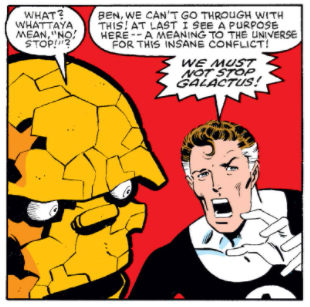 The (stupid) idea is that if they let Galactus kill them all then The Beyonder will have to give Galactus his wish, which (Reed assumes for no reason) will be to free him of his hunger, so lots of future worlds won't get eaten. Alternatively, The Beyonder won't grant him his wish and Galactus will be so powerful from eating the planet that he'll be able to beat The Beyonder and then either one or both of them will die in the conflict, leaving the other to either carry on eating planets or doing whatever it is the Beyonder's up to. What the so-called smartest man in the world doesn't consider here is that Galactus' greatest wish might be to have a full set of Beanie Babies or something, but before anyone can point this out Reed is teleported to Galactus' ship for a chat.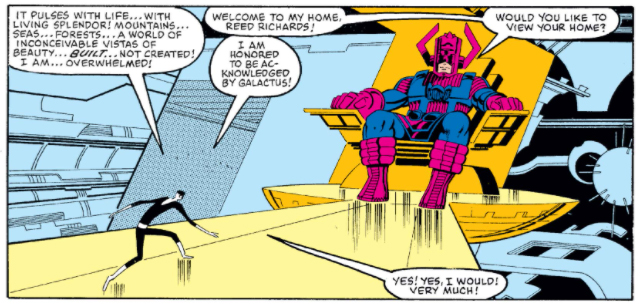 Reed later reports that, during this meeting, Galactus told him that he is "a force of the universe, just as he is... a universal champion of life just as he is an instrument of death!" Hmm. This has never been mentioned before, and as far as I know never was again, and certainly did not come up a few months earlier in "The Trial Of Reed Richards" when Mr Famtastic is put on trial for saving Galactus' life, and Galactus himself turns up to defend him without mentioning this at all. Maybe they actually talked about collecting Beanie Babies, so he's made something else up to sound more important?
Whatever it is, the other heroes are entirely unconvinced, and when the X-Men turn up they all decide to go and fight Galactus together anyway, joined by... Mr Fantastic, who has decided that he is going to go completely against all of his own advice because he misses his son and wants to indulge in some violence.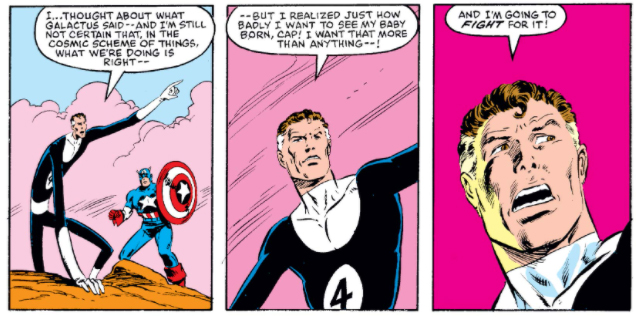 This is Brexit-level stupidity, and it turns out much the same way, as fighting Galactus causes him to fly off and devour his own spaceship to get more power to fight The Beyonder AND eat the planet. Great work everybody - I only hope they got blue passports out of it along the way!
Talking of supervillainy, while this has been going on Doctor Doom has sorted himself out. It turns out he wasn't just sitting round moping, he was having a good old think, and has come up with a Cunning Plan.
He powers up his armour by activating his "point-singularity power supply" - another device which was never mentioned before or since, and exists to solve a plot problem which could much more easily have been solved by saying "my armour has had time to recharge" or just by ignoring it. Jim Shooter really does make life hard for himself, and also for the reader! Doom stomps off to find Klaw, for whom he has a very exciting proposition.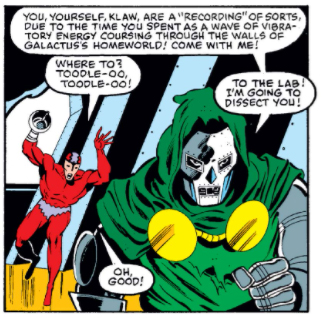 True to his word, Doom does dissect Klaw, or at least chops him up into slices in a scene that is both disturbing and disappointing - even chopped up like Salami, Klaw is still doing that incredibly annoying-oying-oying thing with his dialogue.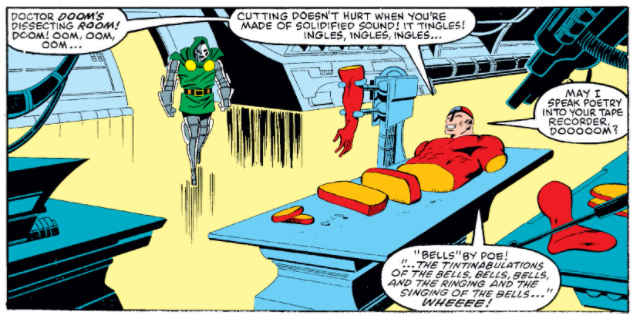 Doom's scenes are intercut with the main plot so, while the heroes make a complete mess of their fight against Galactus, Doom is somehow using Sliced Klaw to do ... something... which will enable him to ... somehow... drain Galactus' power for himself!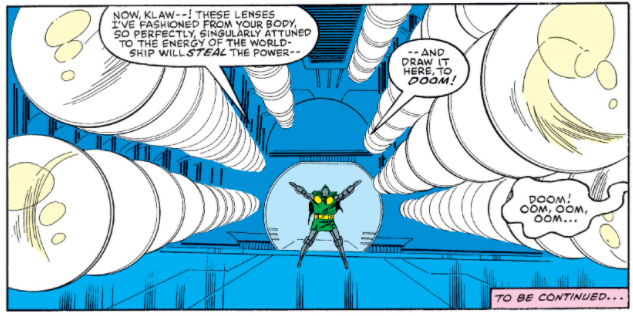 That's the final page - as I've said before, Secret Wars tends to have these weirdly low-key endings where it feels as if the issue has come to a halt all of a sudden without anybody realising. Doctor Doom trying to steal the power of Galactus could be something amazing, but here it comes across as a linking panel to the next page, purely procedural but with a side order of Klaw still being incredibly annoying. We'll find out whether Doom succeeds soon, but before that it's back to the main Marvel Universe for some posters!
link to information about this issue
posted 5/3/2021 by MJ Hibbett
(click here for permanent link)
(0) comments
---
Beauty And The Beast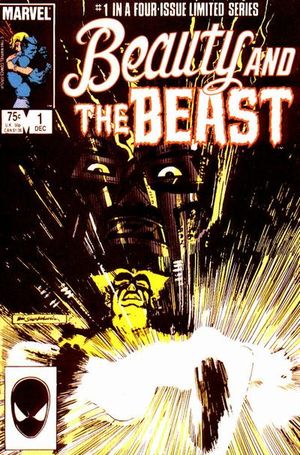 Over the past year or so of writing this blog I've got into an interesting situation where I'm reading a lot of comics that I first read when they actually came out. Several years ago when this all started it was all about series like Lee and Kirby's run on "Fantastic Four", long accepted as A Classic, but as we moved on towards the 1980s I started to find that any critical opinions I might have on a given text were mixed up with my memories of reading it when it first came out. With John Byrne's "Fantastic Four" series I can often remember which shop I bought each copy from, and reading them back now I find that they're touched with nostalgia for the excitement I felt back then.
However, as time moved further along we arrived at my teenage years where excitement got mixed up with disdain, when I'd spend a lot of my time around comics slagging them off with the two or three other people at my school who walked the long lunchtime walk to our local comics shop. I'd started to read fanzines like "Fantasy Advertiser", and was coming across viewpoints that were very different to the ones I'd read in "Marvel Age". I was beginning to see that there was a whole other world of comics out there aside from the superheroes.
With all that in mind, I did wonder what I'd feel when I got to series like "Secret Wars", which I had thought was so terrible at the time. Was that just me being a teenager and deciding that everything popular was crap, or was it really as rubbish as I remembered? As we've seen recently, it was, if anything, even worse! Looking ahead to some of the other comics still to come I'm starting to think that I was on the money back then, as there's some right ropey old rubbish on the way!
Which brings us to "Beauty And The Beast"! The cover to this first issue gives you the idea that it might be quite good, with a Bill Sienkiewicz illustration promising some of his thrilling "experimental" style of art, and a dramatic pose which leads the reader to believe they're going to get some high drama and also some Doctor Doom. Reading the actual comic, however, you get none of these things. The art is by Don Perlin, an old-fashioned craftsman whose style is about as far from Bill Sienkiewicz as you can get, and Ann Nocenti's story is a dreary, plodding tale that mixes up an unconvincing attempt at romance with a parade of entirely dull characters. Worst of all, Doctor Doom only appears for a couple of pages per issue, and doesn't join in with the main storyline until the very end!
Happily for me, the series does at least start with Doctor Doom, roaming around the art gallery which is the "heart" of Castle Doom, looking at artworks which only those worthy enough (i.e. him) are allowed to see.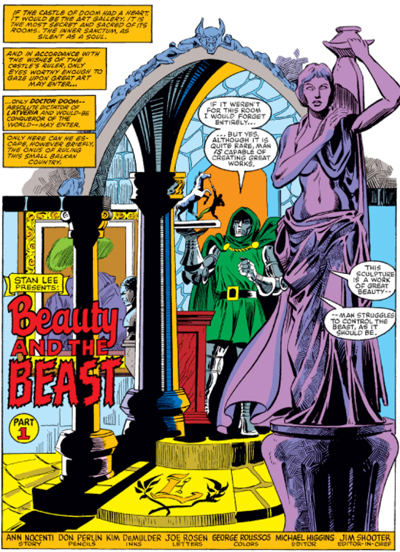 He wanders around monologuing to himself about the virtues of dictatorship, only to be interrupted by a lackey with news of someone in America claiming to be his son. It's not clear whether this person actually is Doom's son or not, although we do get a flashback to Doom sending a child and its mother away from Latveria while he thinks "Doom must not have a son", which suggests he might be. So why does Doom now call him a liar?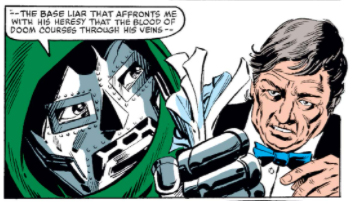 With our alloted two pages of Doom done for, we get to the main story, which starts with The Beast arriving in Hollywood on holiday. He bounces around the sights and sees some anti-mutant graffiti on a poster for a Dazzler gig. We then see Dazzler herself at a "decadent" Hollywood party, where she's drinking Ginger Ale.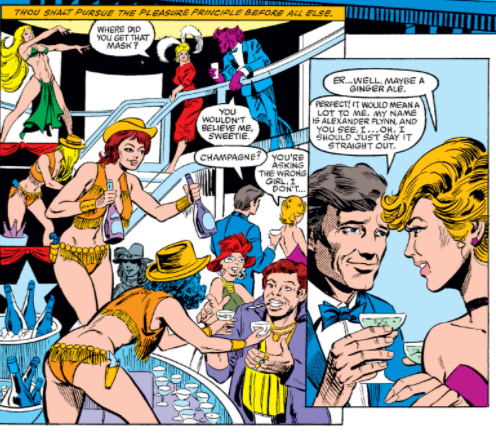 As a Certified British Person I always find it extremely weird in American media when drinking booze is something that only villains and alcoholics do, and if started invariably leads to a rapid descent into evil and/or madness. Here Dazzler's heroic nature is shown by her refusal to drink alcohol, and the basic evil of the other characters by their acceptance of it. It does make me wonder though, what is she doing in this den of iniquity in the first place?
Dazzler meets a "fan" who next day introduces her to a "producer". She signs a contract immediately and then over the next few days she and her fan go to various parties where - OH NO - she has a drink of THE DEMON BOOZE.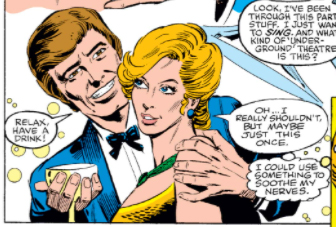 Days pass and she finds that she has very quickly got herself a reputation as... The Queen Of Decadence!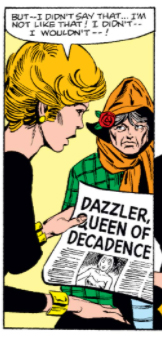 She finally gets to a film studio, where she bumps into The Beast, who's on a studio tour with his old pal Wonderman. There's a minor kerfuffle when Beast objects to the way that Dazzler (who he's never met before) is being addressed, and then she leaves as Hugo The Producer stomps off. Hugo turns out to be a Bad Egg who is wanting to cynically use Dazzler for her singing and acting talents - the absolute fiend!
Dazzler gets lost in a back lot, where she realises that her power is operating without her wanting it to. The Beast, meanwhile, has become obsessed with Dazzler and decides to break into the Producer's house to prove he is Up To No Good. Here he meets another mutant and they have a big fight that goes on for ages while, elsewhere, we find Dazzler staggering around with her powers going haywire.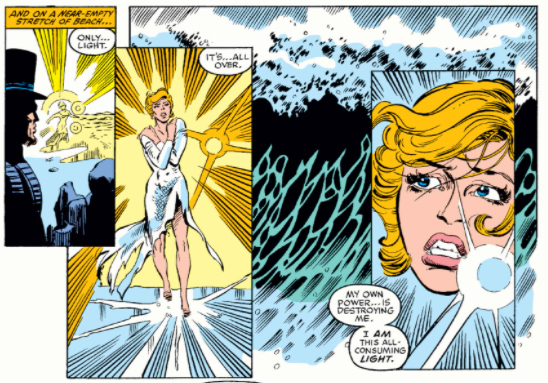 We're meant to see Dazzler as an innocent victim of Hollywood Naughtiness and Beast as her saviour, but all the way through this Beast acts like an obsessional weirdo who's decided to "save" her despite the fact he doesn't really know her at all. This feeling is only added to when he strangles somebody to find out where she is.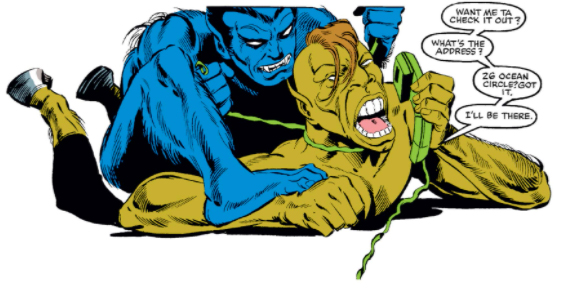 As with "Secret Wars", this sudden insertion of violence feels queasily wrong, like Marvel is trying to catch up with popular "Grim'N'Gritty" stories like "Dark Knight" and "Watchmen" by copying the perceived violence, rather than the storytelling, artwork, or ideas. This is something that would become a theme for the following decade of comics, and it's one of the reasons I'm glad my corpus finishes in 1987!
The issue concludes with Beast arriving at A Weird Old Hotel, where he finds Dazzler glowing uncontrollably on an old mattress. Rather than seek help from Professor X or any of the many other Superpower Experts he knows, Beast grabs hold of her, tells her to stop talking, and says he'll take care of her.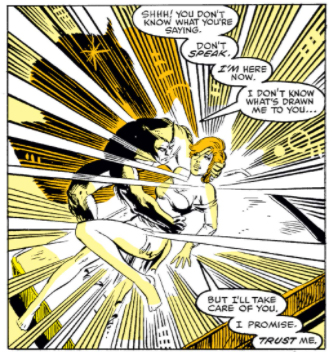 And that's that for this issue - the series only came out bi-monthly, so we've got a couple more issues of "Secret Wars" to go before we find out whether Dazzler tells him to get lost and stop being so creepy. I wonder if she will?
link to information about this issue
posted 26/2/2021 by MJ Hibbett
(click here for permanent link)
(0) comments
---
Invasion!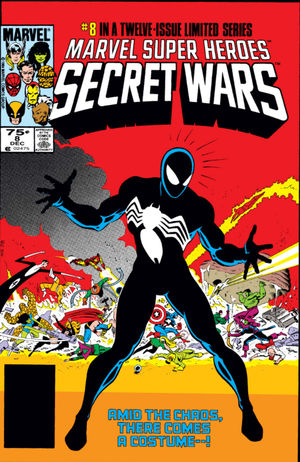 We're back to actual comics lettering on the cover of "Secret Wars" this time, which signals a return to some actual comics action inside, although you wouldn't necessarily guess that from the image on the front. To be fair, "Spider-man Changes Clothes!" would actually have been an exciting inducement at the time, as Spider-man had been wandering around in his new costume for over six months in his own series by this point, without any explanation of how he got it, so comics-readers at the time must have been quite excited to finally find out how it all happened.
I doubt they'd have been very excited when they actually found out, but that's another matter all together!
There's hardly any Doctor Doom in this issue, so we might as well get that out of the way. He appears just twice, and doesn't speak either time. We first see him sat on his bed, still stunned after being ejected from Galactus' ship last time.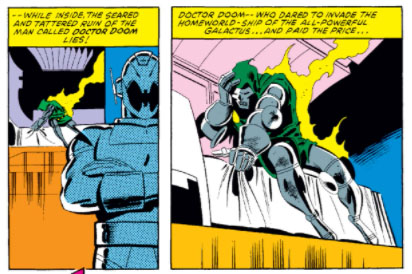 We then see him towards the end of the story, still sat on his bed, and still stunned.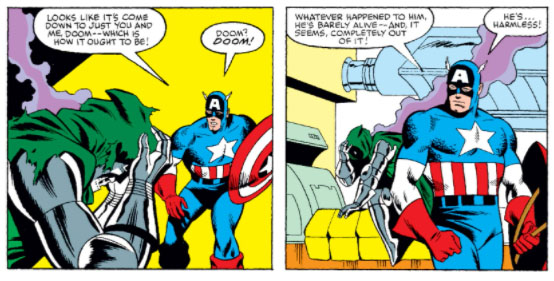 And that's your lot! There's a HUGE amount of hanging around for things to happen in this series, as if Jim Shooter had an idea for a four issue series that then had to be padded out to fill twelve. I re-read "Crisis On Infinite Earth" a year or so ago, and found that that suffers a bit from the same problem - the heroes are constantly going off to fight battles that don't seem to matter much, or embarking on busy-work side missions, but at least in that series you sense that it's building up to something, and of course it looks amazing with George Perez drawing all of those characters, and Marv Wolfman makes all the different worlds seem really exciting. In "Secret Wars" it's just the same characters every month, talking about the weather.
Still, this issue does at least fulfill the series' main objective, which is to have a load of superheroes having a big fight with a load of supervillains, although it takes a little while to get there. We start where we left off last time, with the heroes zooming off to Doombase to rescue She-Hulk and take revenge for the murder of The Wasp. Their approach is watched by The Enchantress, who is - horrors! - drinking!!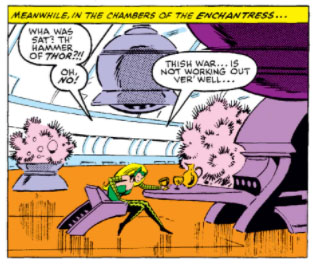 Has Jim Shooter every actually had a drink? Or is this like the "romance" in previous issues, where he's channelling a thirteen-year-olds idea of what adult life may be like? Or - perhaps worst of all - is this another of his attempts to be "grim and gritty", as was the incoming style at the time?
Happily, we then launch into something which Shooter and Mike Zeck are much more capable of producing - a proper fight! Over the next several pages we get a whole series of punch-ups, as heroes and villains split up into various combinations to wallop each other in an entertaining set of ways. There is still an awful lot of talking, but at least this time it's accompanied by a bit of violence!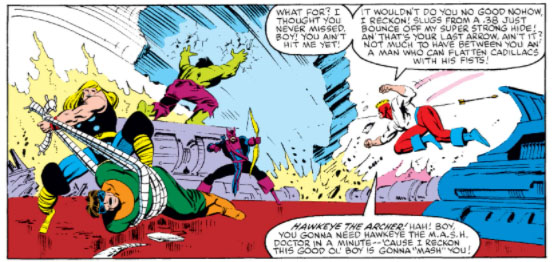 The goodies win after a satisfying bout of punching and zapping, and after the usual dreariness of characters telling each other things they already know, we go over to Colossus in the alien village. He's carrying an unconscious Zsaji back to her hut. She seems "on the edge of death" so he does the only sensible thing - he lights up the "mind-linking vapors" that she shared with the Torch a little while ago because, as everyone knows, the best cure for death is to spark up a bong.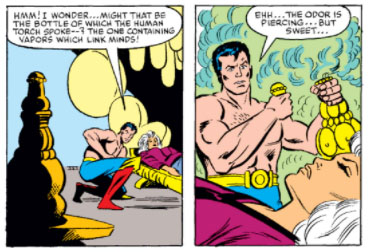 This reveals a shocking truth, that "The Wasp was not dead - merely wounded, but also in some kind of death-like stasis". What? She was zapped by a lazer beam and then chucked out of a moving vehicle - how on earth is that "merely wounded", and where does this "death-like stasis" come from? It is, of course, a load of old rubbish like so much of the rest of the story, but it feels even more stupid than usual. Zsaji, it turns out, is in her own death-like state because she went off and revived Wasp when no-one was looking, and we see the results of this on the next page when Hawkeye and Captain Marvel find her back alive again.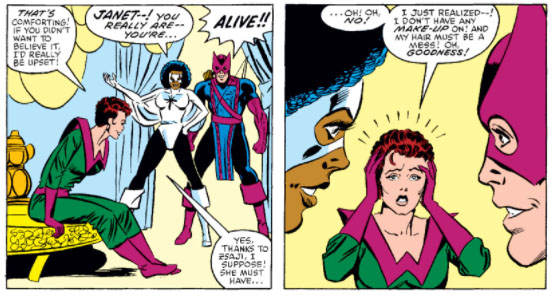 With that bombshell we briefly cut back to the X-Men, who are sat around watching Galactus tinkering with his device. All of a sudden though, something happens so shocking that it makes Nightcrawler drop his muffin!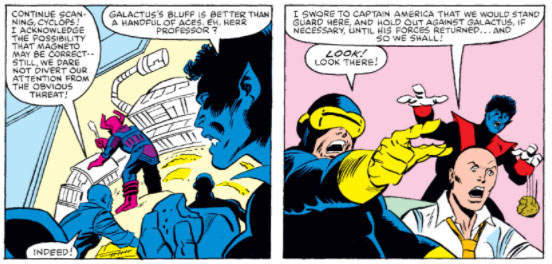 We're getting near the end now, but you might have noticed that we still havent had the thrilling story of how Spider-man got his new costume. Fear not, that mighty moment has finally arrived, as we see Spidey bump into a very pleased looking Thor and Hulk. It seems that the Hulk has worked out how to use one of the alien machines, getting it to create new clothes simply by thinking about them. How they managed this is anybody's guess, but there's a much more serious question to ask here: if the Hulk can now operate a machine to create new clothes just by thought, why is he still wearing the same tatty old ripped up trousers>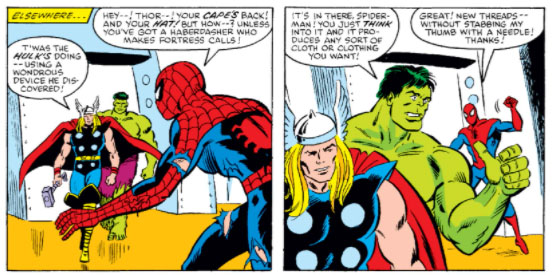 Spidey goes into the Machinery Room, finds a machine that "looks like it wants to make me a costume", sticks his head in, and then the new costume appears.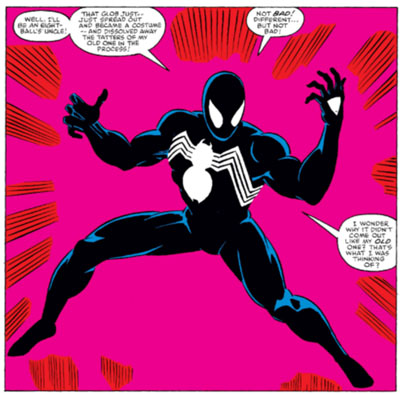 Yes, true believers, the big mystery is solved - Spidey got his new costume by... thinking he could do with a new costume! Wow!
As we all know, there would eventually be a bit more to it than that - various retcons over the years have shown that Spidey used the wrong machine and instead released the alien symbiote Venom which just pretended to be his costume for a while. I do wonder if there might have been an inkling of that right from the start - Spider-man does say that his spider sense is tinglling right before the costume appears, and there's a nice big gap in the plot which would very much allow for him to use the wrong machine. Could this be Jim Shooter NOT just making it up as he goes along?
He clearly wasn't thinking ahead for the pacing of the story though, as after finally getting round to the costume reveal there's only two panels left in the whole comic, one of which consists of Spider-man falling over due to a sudden earthquake, and the other with a weirdly dull looking image of Professor X telling the other superheroes that Galactus has finally finished tinkering with his Galactus-Gizmo and is about to start doing what he always does - eating the planet!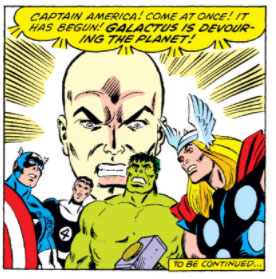 Who can blame Nightcrawler for dropping his muffin in the light of that news? We've got a proper cliffhanger at last, but sadly we'll have to wait to find out how the heroes deal with it, as next time we're off to see what Doom's up to back in the main timeline, in "Beauty And The Beast"!
link to information about this issue
posted 19/2/2021 by MJ Hibbett
(click here for permanent link)
(0) comments
---
Questprobe
Today we're taking a break from getting annoyed about "Secret Wars" to looking at (and also, to be honest, getting annoyed about) the first video game to feature Doctor Doom - although when I say "feature" I actually mean "mention".
The game is "Questprobe 3: Fantastic Four Chapter 1" which sees you guiding The Thing and The Human Torch through a text-based adventure story. There was meant to be a chapter 2 which, presumably, would have featured Mr Fantastic and The Invisible Girl, but that never materialised. Having tried playing this game I must say I'm not hugely surprised!
I must admit that I didn't actually manage to play this all the way through - I did try, but after a few hours it became so incredibly annoying and tedious (even for a 1980s text-based adventure) that I gave up, and so am basing this assessment
a walkthrough on YouTube
using, of course, the ZX Spectrum version.
There were tie-comics for the Questprobe series released, telling the story of what happened before the games started, with Spider-man and Hulk featured in the first two. The comic for "Questprobe 3" isn't featured in this corpus though because it doesn't feature Doctor Doom at all. The game barely squeaks in because we're told via a copyright notice that Doctor Doom and his distinctive likeness will be appearing... but he doesn't.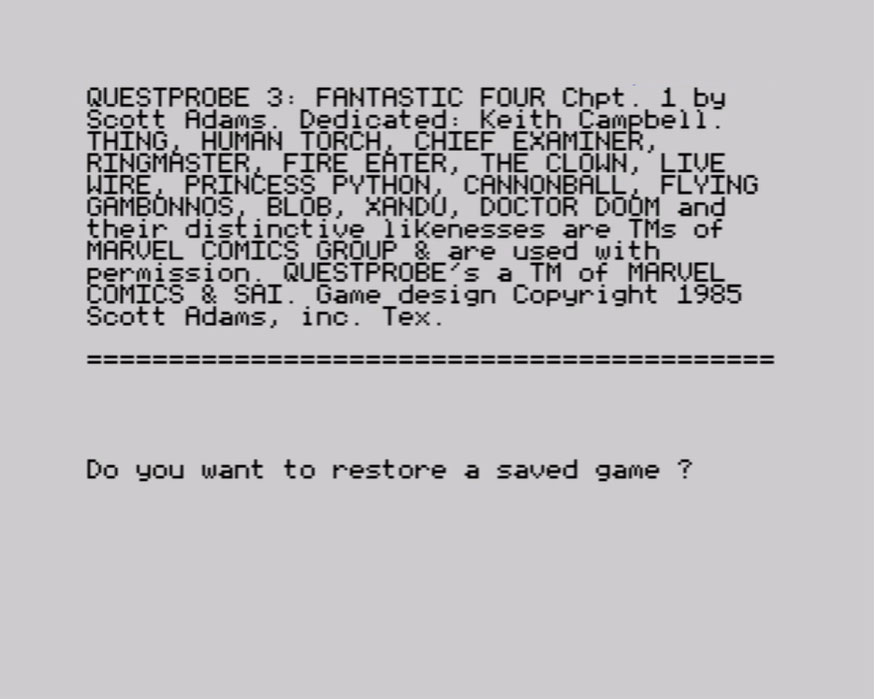 The first puzzle in the game is how on earth to get it started. You can try all sorts of things but in the end the only option that actually gets you anywhere is to say hello to the Examiner, who then tells you that "you must free ALICIA MASTERS from DR. DOOM" and that you'll need to "master the powers of two MARVEL SUPER HEROS (tm)" to do it. Exciting!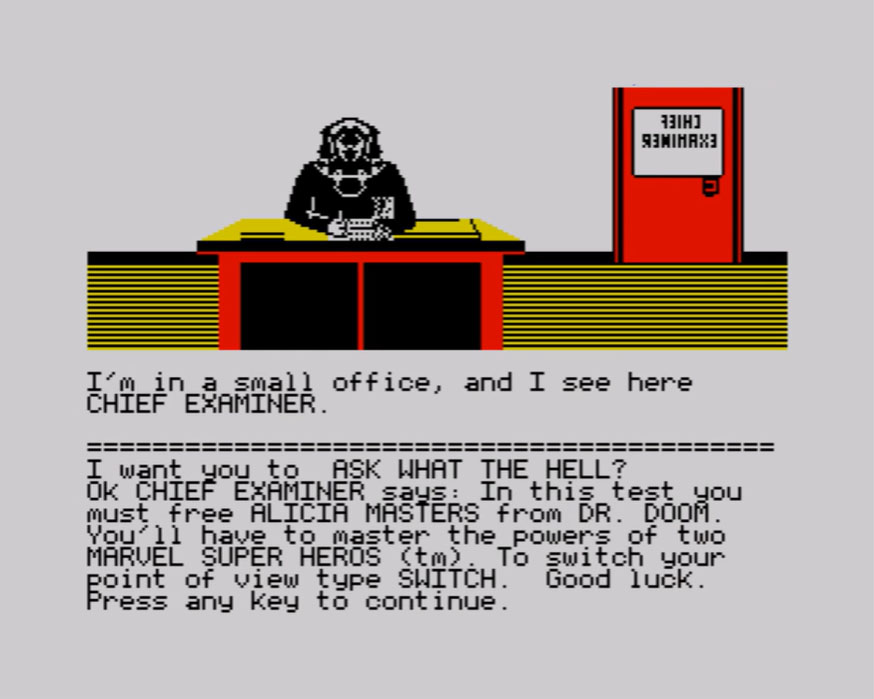 The game begins in office of The Examiner, a character invented for the Questprobe series as a mysterious figure setting extremely annoying and pedantic questions for superheroes. The first puzzle is how to get the actual game started, and once you've managed that the excitement kicks off with The Thing stuck in a tar pit and the Human Torch floating around helplessly. The Human Torch is generally useless throughout the story, getting tired within about 30 seconds whenever he flies anywhere, so you spend a lot of time using the command "WAIT" so he can get his breath back. There's so much waiting, in fact, that the game allows you to use commands "WAIT 10", "WAIT 20" and "WAIT 50" so you don't need to keep typing it. In this instance, your only option is to be The Thing, hold your breath, and then just wait to get sucked down further into the tar pit.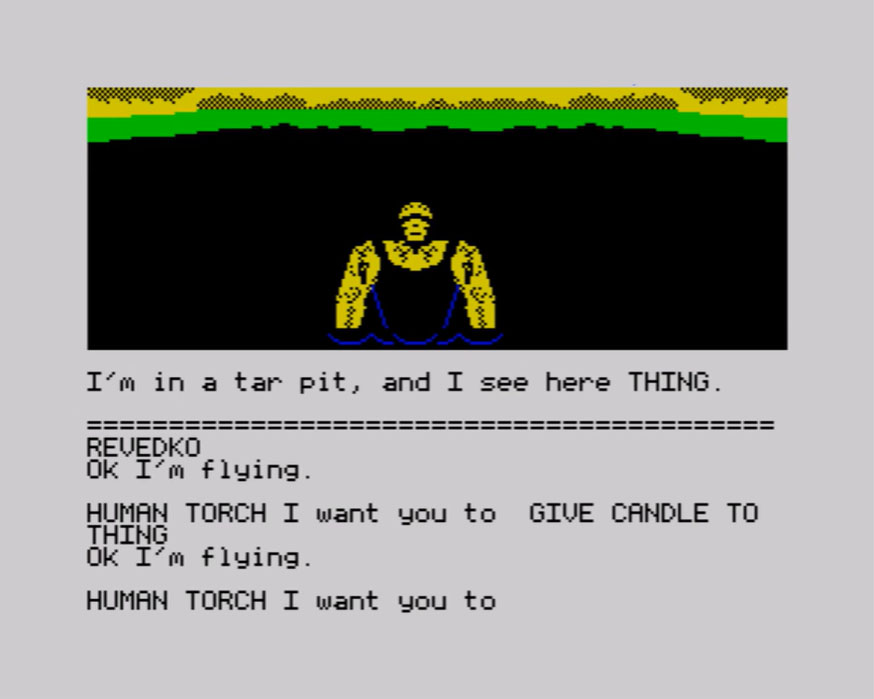 Once you've fallen through you're in a dark space where you have to scrabble around and find some machinery, which you can smash! "IT'S CLOBBERIN' TIME!" says The Thing, and that is pretty much the end of Clobberin' for the whole game. He then has to wander around in the dark for ages (which at least saves on memory for graphics) while The Human Torch flies into a cave and uses his amazing powers to... er... chip a pebble off a stone and drop it down a hole.
This is followed by some interminable falling down a ventilator shaft, and more staggering around in the dark.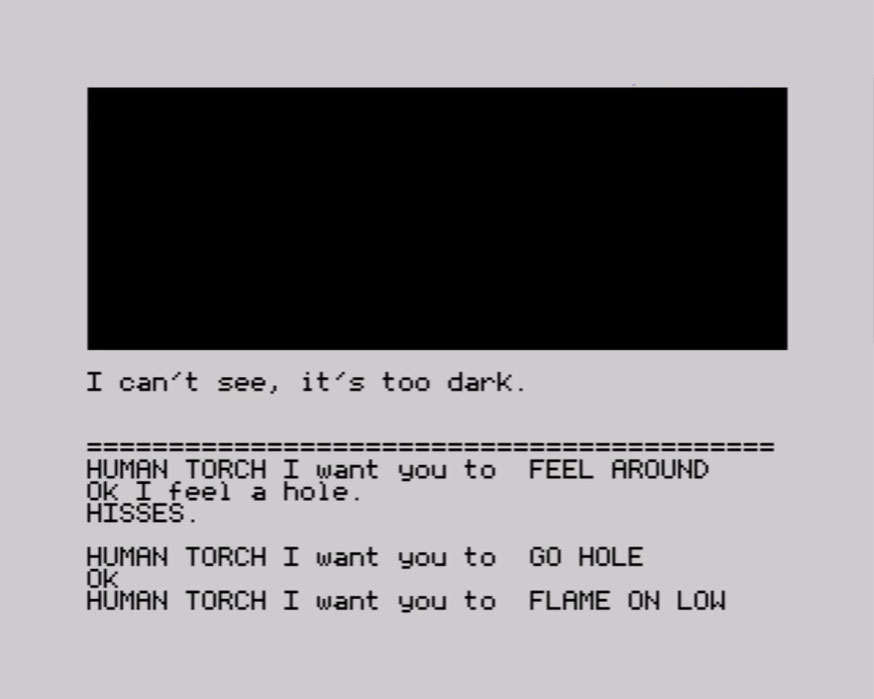 Maybe I was expecting too much from this, but it doesn't feel particularly superheroic. Eventually you find a maintenance room, and then the Human Torch flies outside again where he finds Doctor Doom's castle - at last!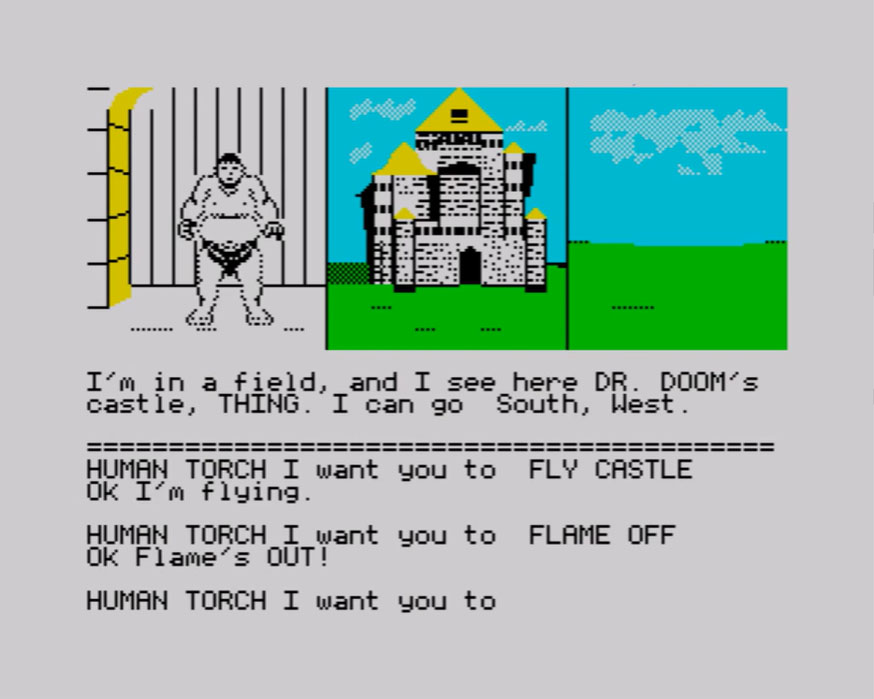 I'm slagging the plot and game mechanics off here, but I must say the graphics - when they eventually get a chance to show superhero stuff rather than darkness and tar pits - are pretty good, and Castle Doom is very on model! The entrance to the castle is guarded by The Blob, and the to get past him you first need to zoom off to a nearby circus tent, where we discover - The Circus Of Crime!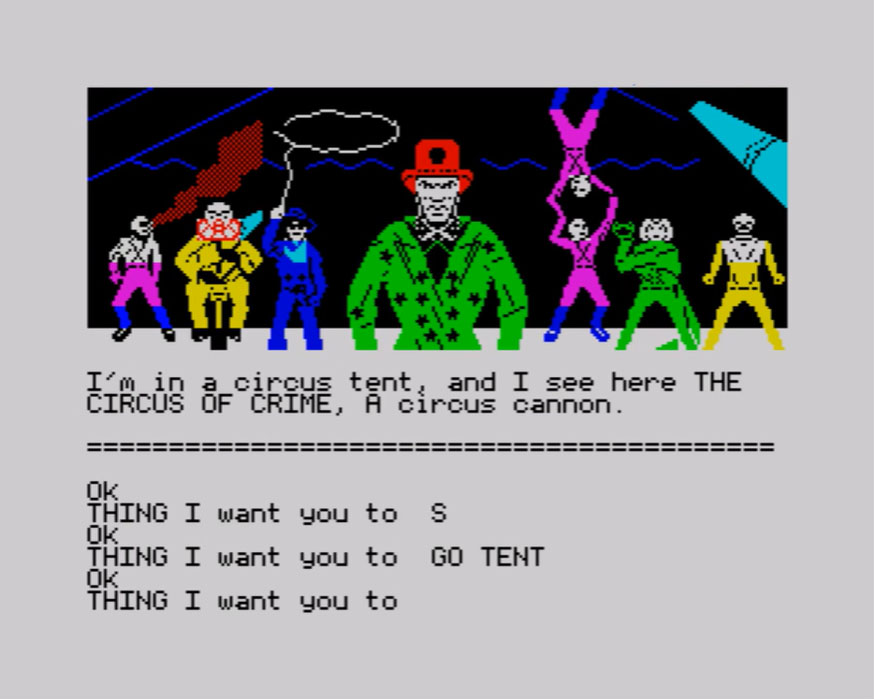 I wonder if Scott Adams, the writer of this series, had been given
Super-Villain Team-Up #9
as reference, as that has The Circus Of Crime in Latveria? It also has Namor, Rudolfo, and all sorts of exciting (if confusing) incidents, so maybe it wasn't such an inspiration after all, because none of those things crop up here. Instead there's some business with a cannon and the need to close your eyes to avoid being hypnotised (which leads to another wonderful image of darkness) and you then pop over to somewhere we know well - Latveria!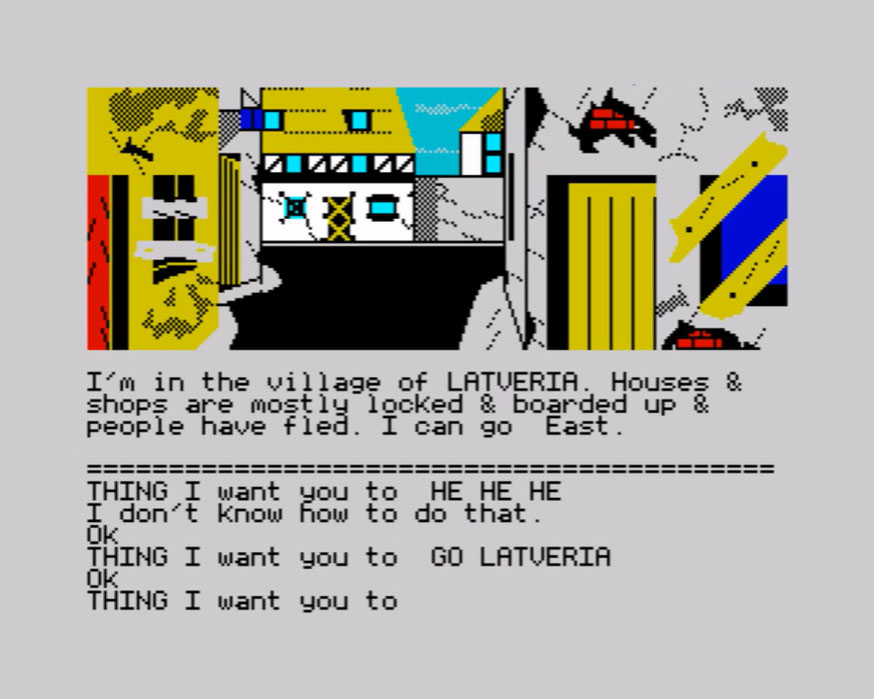 This is "the village of LATVERIA", rather than the country. We've seen Latveria be an island back in the days of
The Marvel Superheroes cartoon
and we've seen it act as a homage to The Village from "The Prisoner" in
Fantastic Four #85
(in a story called "Prisoners In The Village"!), but this is the first time it's been described *as* a village. Here it's boarded up and abandoned, for reasons not given, so all you can do is pop into an abandoned shop where you find some very handy gun powder. You can then use this, eventually, after lots of waiting and fiddling around with syntax, to fire The Thing via the cannon into the castle. You don't get to see this happen, but you do get the aftermath!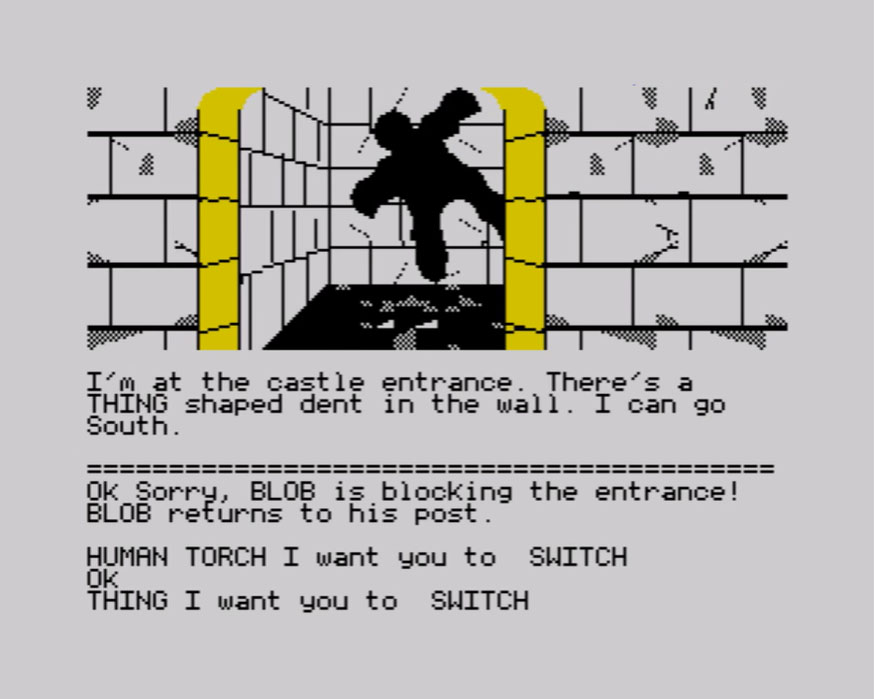 The Torch has to WAIT a whole lot more to get his energy back, then re-traces his steps back into the castle via the tedious ventilator shaft where he causes an earthquake (somehow) which in turn allows Thing to go into a different room where he finally - finally - sees Doctor Doom!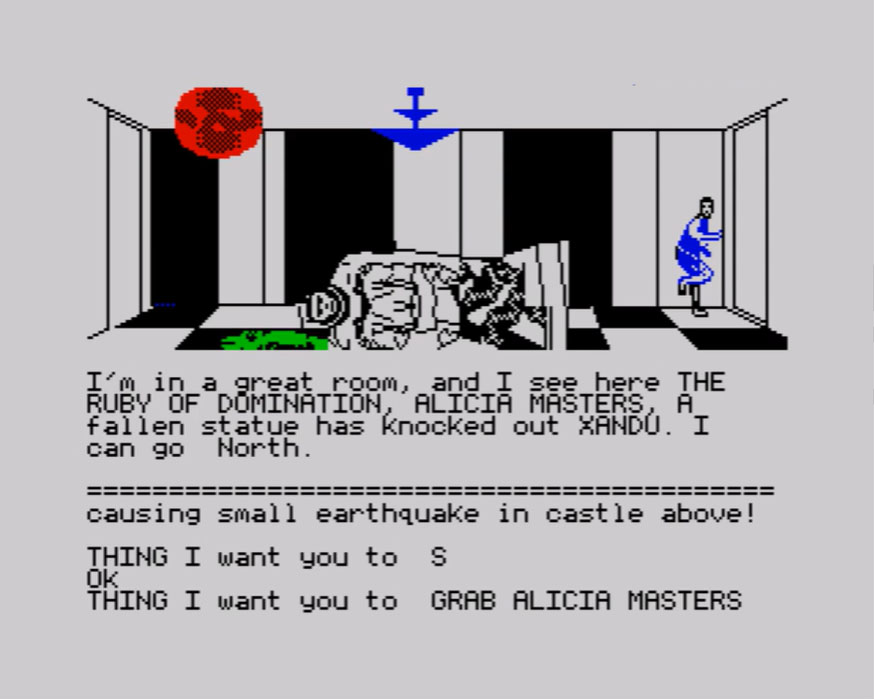 All right, he sees a statue of Doctor Doom, which has fallen over, but still, surely this is the start of the action, right?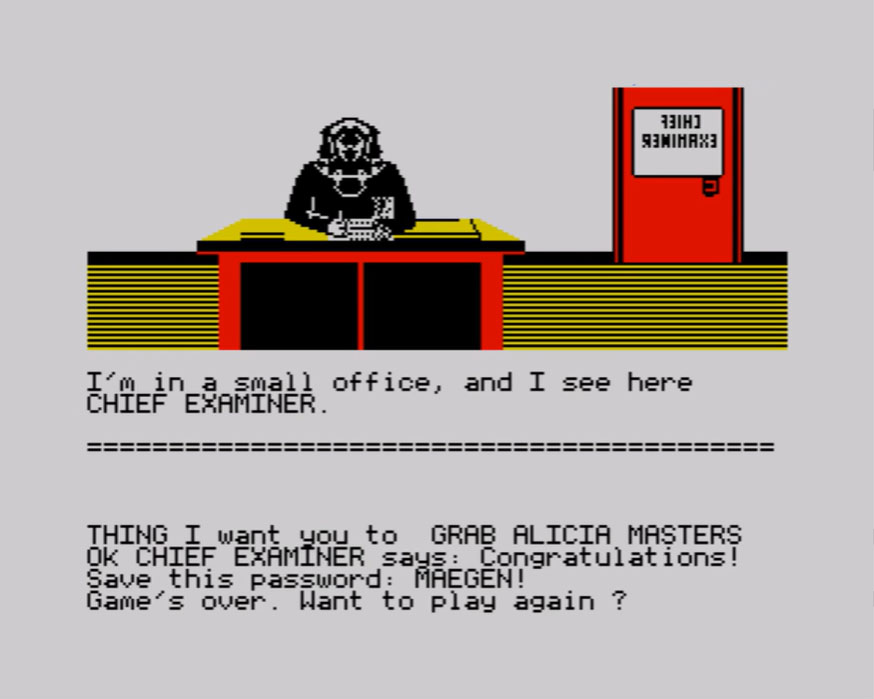 Hang on, what? You grab Alicia and then it's Game Over and back to the Examiner's Office! This was, of course, very often the case with computer games of the 1980s, where there was so little memory available that the end of a game would be signalled either with a text message saying "Congratulations You Have Finished" or just going back to the start again, but after all that it does seem like an anti-climax for a superhero story to end in an office. Although, having said that, an "adventure" that mostly involves waiting for people to get their breath back probably deserves something like this - it's almost making me miss the constant Chats About The Weather in "Secret Wars"!
Talking of which, we're back to Battleworld next time, when the big thrill is going to be someone changing their outfit! I can hardly wait!
link to information about this issue
posted 12/2/2021 by MJ Hibbett
(click here for permanent link)
(0) comments
---
Berzerker!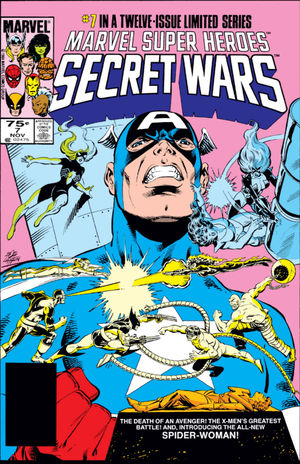 Secret Wars continues with a story in which, despite the title, nobody goes berzerk and nothing even vaguely berzerk-ish occurs. On the contrary, most people involved are very very calm and sober. This extends as far as the cover, where once again we see the use of non-comics lettering to explain what's going on inside. Were the usual letterers just so bored with it all that they had to get someone else to finish it off with some letraset?
The story itself kicks off with a splash page revealing the answer to last issue's cliffhanger , which showed a mysterious figure lurking in the shadows near the superheroes' base. Who could it be? What are there intentions? Comics fans must surely have spent a month trying to work it out, only to discover right away that it's... a character they had never seen before! And she's just popped by to say hello!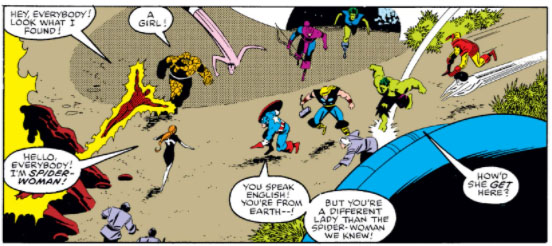 Bizarrely, after taking up the whole splash page and then another page saying hello to everybody, this new Spider-woman doesn't say anything else for the whole issue, and only appears in two more panels, right at the end, in the distant background of a group of heroes. So what on earth is Jim Shooter playing at? It feels like one of those series where different creative teams leave a cliffhanger at the end of an issue for the next team to get out of, except here it's the same team and they get out of it by chucking in a new character (possibly because they needed new female characters for the toy range) and then forgetting about her. Have I mentioned before what a load of rubbish this all is?
Once Spider-woman's finished saying hello a tank arrives, and the super-villains inside chuck out the dead body of The Wasp.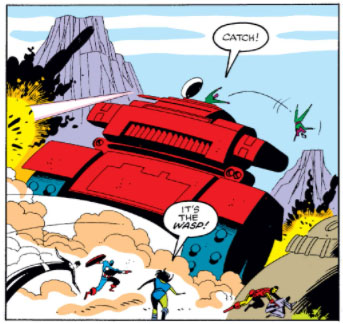 There's something about the way that this is done that just feels... wrong. Obviously Murder is a Very Bad Thing, and super-villains are meant to be super villainous, but just chucking a body around like this doesn't seem to fit with the way Marvel comics work. It's a queasy wrongness that hovers over the whole series, as if Jim Shooter is trying to do this new "Grim'n'Gritty" style that was becoming popular at the time, but does it all from the standpoint of the teenager who used to write Legion Of Superheroes. In many ways it's a forerunner for the really really terrible comics that were to come in the nineties, but without the crazy frenetic artwork.
Talking of which, there's a few panels in this issue that look markedly different from the rest, as if they've been drawn by another artist apart from Mike Zeck. This one, for instance.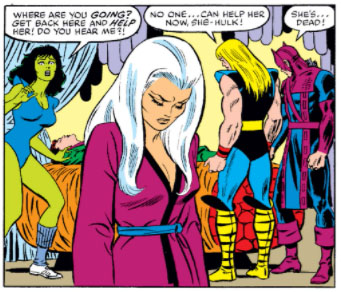 I want to say that it looks like Joe Staton, but I don't think that's right. John Romita Sr maybe? Anyway, in reaction to this horrible murder of their long-time friend the superheroes fly into action immediately and ... have a lengthy discussion before deciding to do absolutely nothing at all. Captain America says that Doctor Doom may be trying to goad them into action, so they mustn't fall for it and instead carry on with watching Galactus build his contraption. This is exactly the sort of thrill-a-minute superhero action that we want - who knows, by the end of the issue they may decide to take a nap!
Next we see Volcana and Klaw at the villain's base. Klaw is still doing the "repeat the second half of a word -urd - urd" thing that is so annoying, and also refers to Volcana as "plump". Everybody keeps referring to her weight throughout the series, but Mike Zeck does not seem to have read the dialogue as he continues to draw her to almost exactly the same body type as the Enchantress.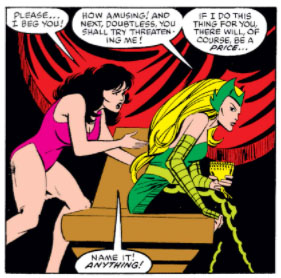 Again, this feels like Shooter trying to be "Different" by having an overweight character, without going to the trouble of having them actually BE overweight.
Volcana makes a deal with Enchantress so she can go to be with Molecule Man, who is being brought back to base by some of the other villains. She gets there just in time for them to run into the X-Men, at which point an entirely pointless fight breaks out. I mean, it's a blessed relief to get some proper action at last, but it does seem a bit insulting when it's all over for the comic itself to state that it was entirely pointless.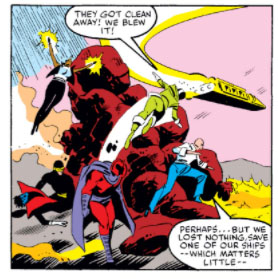 "They got clean away", "But we lost nothing, save one of our ships - which matters little." Phew, talk about high stakes!
We finally get to see Doctor Doom next, still prowlilng around Galactus' ship "like a burglar", monologuing to himself about whether he's scared or justifiably nervous, and wondering how long he can carry on before Galactus notices he's there.
Clearly he forgot to touch wood, as no sooner has he said this than Galactus does notice, and expels him from the ship.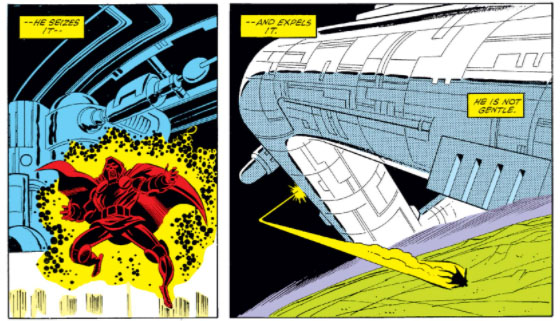 Doom gets sent back to Doombase, having achieved nothing except to use up a few pages over a couple of issues, and collapses into bed.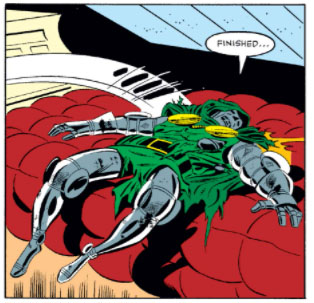 There's something that feels wrong about this sequence too, but I can't quite put my finger on it. We've seen Doom stagger off defeated on a few occasions before, but never to simply collapse into bed. We've seem him in bed before too, so maybe it's the fact that he doesn't even bother to get into his hooded pyjamas?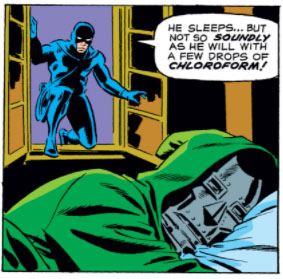 While he's having a bit of a lie-down (I told you there'd be some napping by the end!) She-Hulk arrives to take revenge for the Wasp's murder, only to be roundly duffed up by the super-villains. She's slipped away from the other heroes without getting permission from Captain America, and when this news reaches him he still refuses to go and help her out, because it's very very important that they all sit quietly and watch Galactus do whatever he's doing, without taking any action at all. He won't even let the others vote on it - Captain America is rubbish!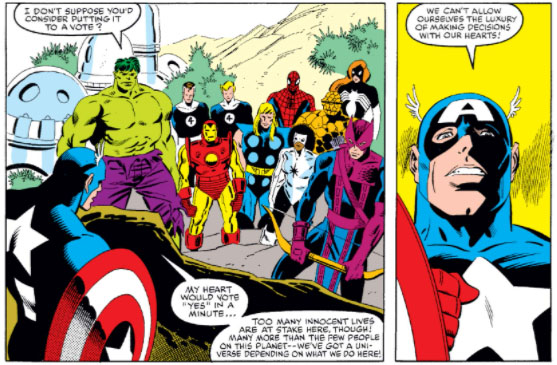 However, just when it looks like the rest of the issue is going to feature everyone sitting quietly and doing their homework, Cap gets a telepathic message from Professor X to say that the X-Men will take over the job of sitting around doing nothing, so that The Avengers can get on with any other projects they have on the go.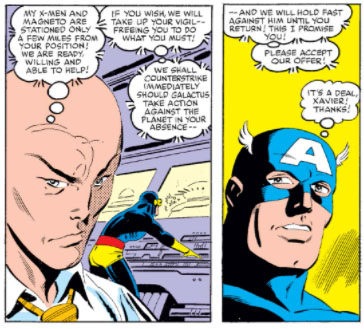 Oh my good grief, this is just terrible. How does Professor X know about She-Hulk? Or is he just offering some generalised respite? Why is he now deciding to help out? Aren't they supposed to be enemies, or at least suspicious of each other? And how is this in any way a dramatic form of storytelling? Captain America refuses to take action, but then someone offers to help so he simply changes his mind. It all leads into a final panel which promises action at last, but it's action that could have been taken at any point ovee the entire issue.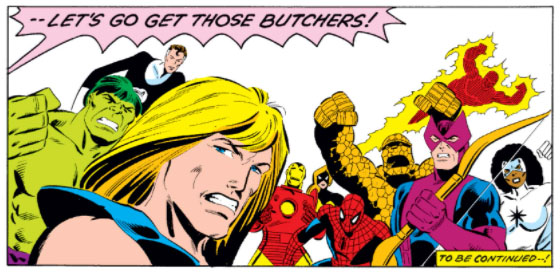 Thankfully that's the end of the issue, and marks a point where we're going to take a brief break from Secret Wars to go and look at... a video game!
link to information about this issue
posted 5/2/2021 by MJ Hibbett
(click here for permanent link)
(0) comments
---
A Little Death...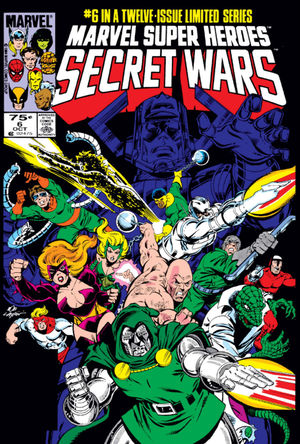 There's a whole lot of sub-plots going on in this issue, with the main one featuring The Wasp getting into trouble as she escapes from Magneto, but also Doom summoning Klaw, Galactus building his giant machine, ructions within the X-Men, Colossus having girl trouble, and the Avengers bickering amongst themselves. It's neither better nor worse than the rest of this series so far, although some of the dialogue from Klaw does stand out as particularly awful.
Last time we were left with one of Jim Shooter's bizarrely dull cliffhangers - Doom sees something mildly interesting! - but before we get to the payoff to that we have to follow The Wasp as she crashes her escape craft, sees some Large Bees and finally bumps into The Lizard. Once that's all done with we finally get to see what Doom's interest was piqued by in the previous issue - some vibrations!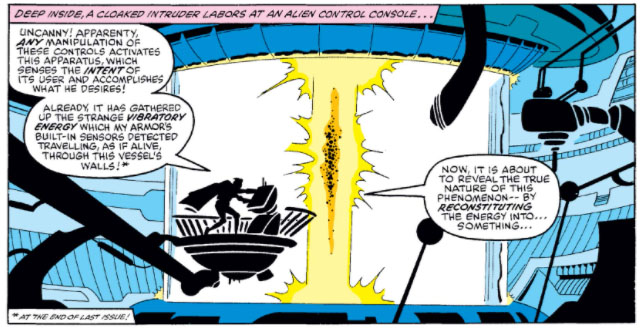 Whoo! Vibrations! That was worth waiting a month for! Luckily for everybody Doom has found a machine that will do whatever you want it to (in which case surely he could use it to get rid of Galactus and all the other superheroes - or is that me being a Super-villain Super-genius again?) and uses it to reconstitute the energy causing the vibrations. It turns out to be Klaw, the (as Doom helpfully explains) "Master Of Sound".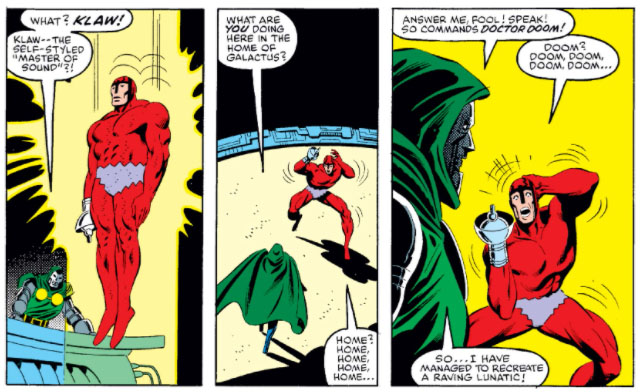 Klaw is traumatised from being converted into energy for so long, and this manifests by him repeating words or parts of words over and over again in a manner that becomes excruciating very quickly and does not let up for the rest of the series. "Crush, rush rush rush rush" he says, "Power, ow-er, owe-er, owe-er" and so on on on. Doctor Doom, quite understandably, decides that Klaw would be most useful at a distance, preferably out of hearing range, and sends him off to give orders to the other villains.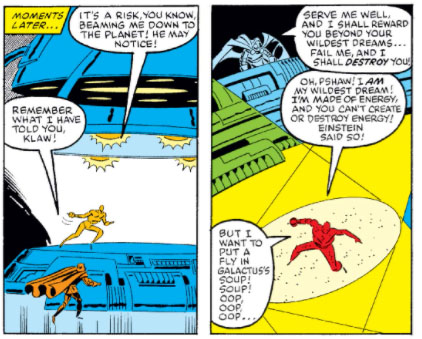 We then get a single panel of Galactus carrying on with his building, before we return to The Wasp, making friends with The Lizard. It's then yet another change of scene as we discover Professor X using his powers to see what's going on around Battleworld, and then to telepathically boss the X-Men around. They all leap into action at his orders, except for Storm who is supposed to be the current team leader and thus objects to him telling them what to do. They have an argument about it during which Storm is angry and Professor X is, to use the correct psychological terminology, a bit of dick.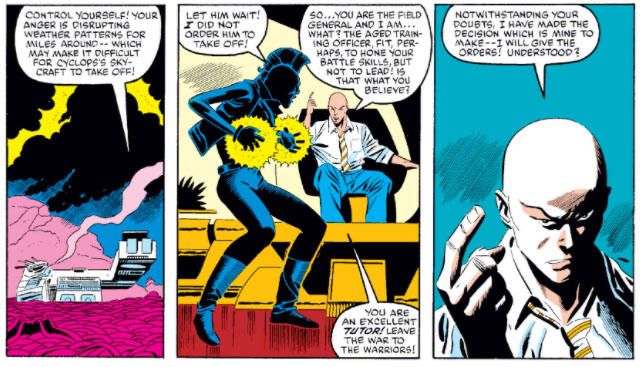 As I've said before, Jim Shooter seems to think that constantly having characters argue with each other counts as characterisation, but when they do it like this without any charm or much justification it becomes grating. Not as grating -ating -ating -ating as the way Klaw talks, of course, but still not much fun.
Back in the alien village we drop by to find Colossus tormented by his feelings for Zsaji, when he should be thinking about his underage girlfriend back home, and then there's more bickering from the Avengers.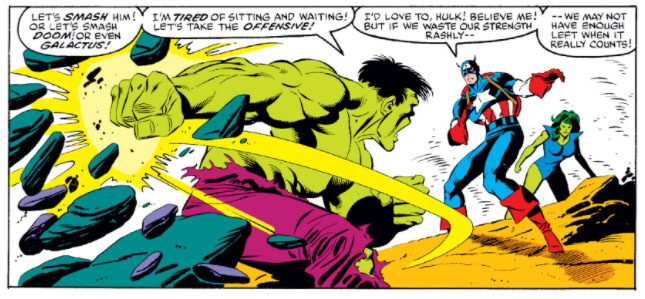 The Hulk makes an excellent point here - the Avengers spend pages and pages chatting but doing nothing very interesting at all. Hawkeye even has time for some whittling!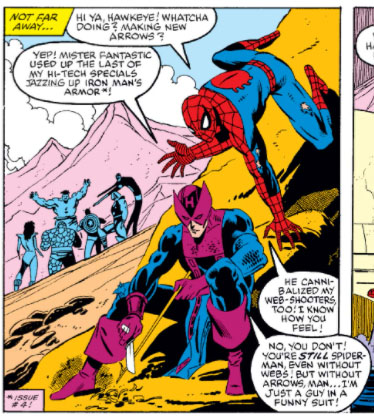 There's a bit more action when Cyclops, Rogue and Wolverine, following Professor X's orders, bump into some supervillains and have a pointless fight which they all walk away from. Cyclops works out that the villains were there trying to ignite a volcano and decides that, actually, this is a really good idea and so zaps it with his eye blasts which cause the whole range to start erupting.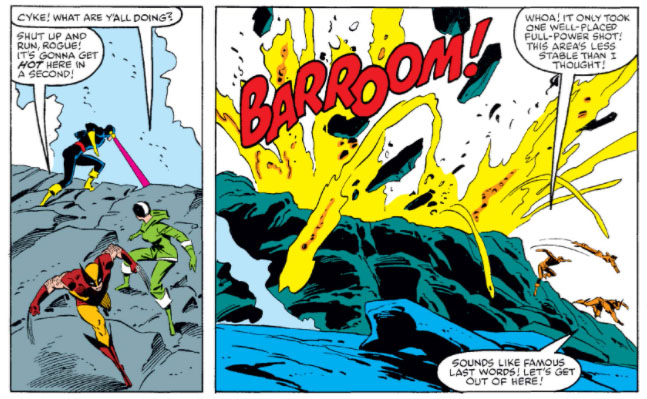 Is it me, or is this complete nonsense? We then flip over to The Wasp, who is killed by a laser blast from The Wrecker and then scooped up into some sort of bulldozer thing by the baddies who drive back to base with her body. The death happens in a single panel, out of the blue, and the whole episode is done in the most pedestrian way possible - I really do not want to be That Guy, but surely the murder of A Founding Avenger in a Big Event Comic deserves more than a single panel? The comic spends more time discussing how to pick up her body from the swamp than it does with the actual death!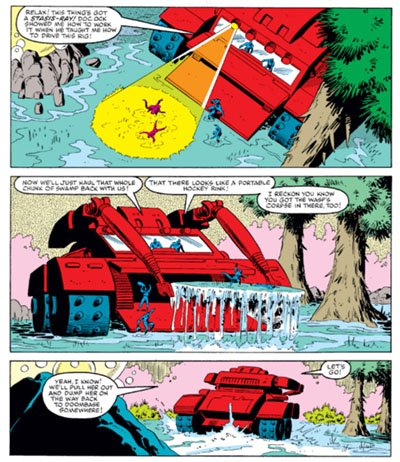 The whole comic, not to put too fine a point on it, absolutely terrible from start to finish, but happily there's only one page left, which features as the climax to the whole story The Avengers looking at Galactus' ship and, THRILLINGLY, deciding to wait around a bit longer.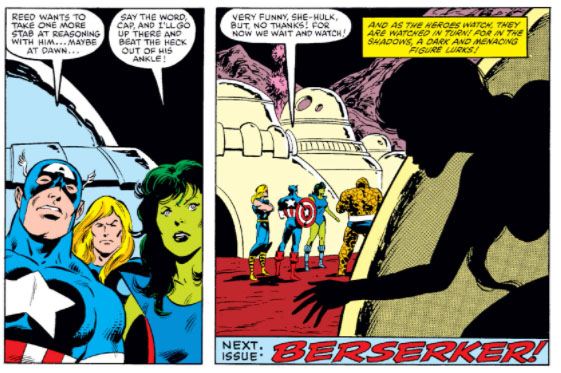 SPOILERS: the shadowy figure listening to their extremely dull conversation will turn out to be neither dark nor menacing, as we'll find out next time!
link to information about this issue
posted 27/1/2021 by MJ Hibbett
(click here for permanent link)
(0) comments
---
The Battle Of Four Armies!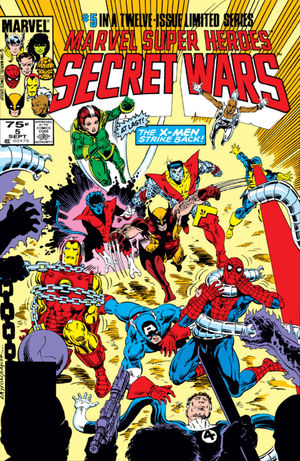 The big cliffhanger last time was Galactus twitching a bit, but this time we find out what was really going on - he was summoning his spaceship to Battleworld!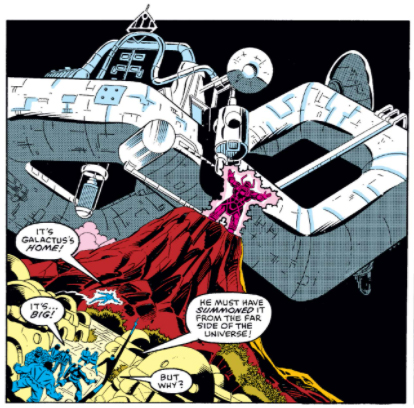 OK, that is a bit more dramatic than I thought! This spooks everybody, especially the alien healer girl who Johnny Storm has latched himself onto. He tries to comfort her, but she drags him off to "her place" which he interprets as her wanting to shag him, basically. She gets a bottle out, which he of course assumes is her fixing them a pre-shag drinky, but when it turns out to be some sort of bong he is cool with that too.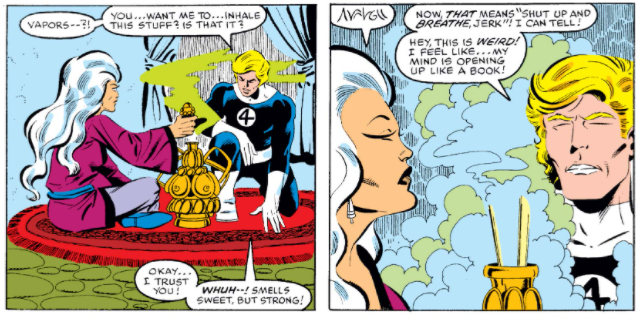 Shooter seems to have decided that Johnny Storm's entire character boils down to "an absolute dick" and, to be fair to him, he does carry this on consistently throughout the series. Sadly for Johnny's libido this isn't foreplay, but rather a drug which allows them to share minds (man) and, happily for new readers, it enables her to get a clearly labelled guide to the major characters in the story.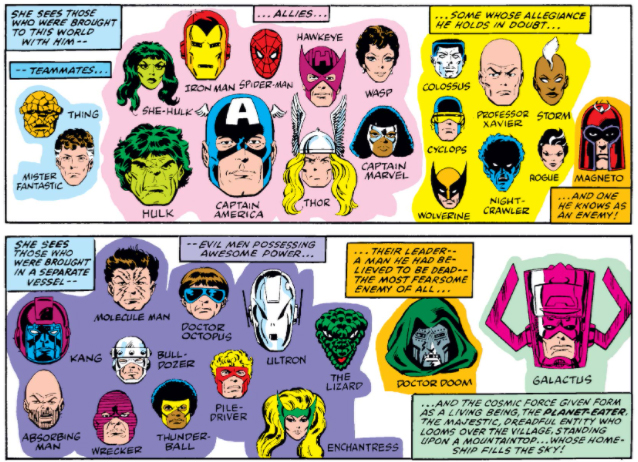 There's also a recap of the story so far, after which Johny and the girl - who introduces herself as "Zsaji" - finally get down to some snogging. Jim Shooter really likes the idea of getting some "romance" into the series, and this carries on in an even more icky style as we find Colossus thinking about Kitty Pryde, his under-age girlfriend back home who he had "big plans" for "a few years from now, when you are old enough."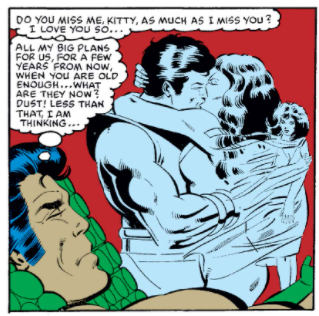 Before that can get any worse he is called to meet Magneto and Professor X so they can look at Galactus's big ship, and then we nip over to the villains to see their reaction to it. Then, at last, we go inside the Doombase to find Doom sitting inside what looks very like his old command centre back home.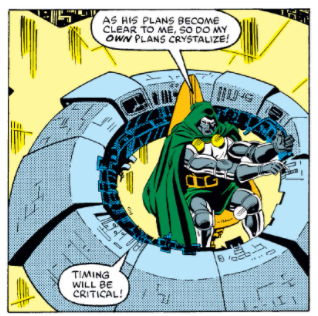 The Enchantress turns up and offers Doom an alliance, promising to fix his face with magic if he agrees. Doom is tempted, but realises that this will come at a price, so refuses.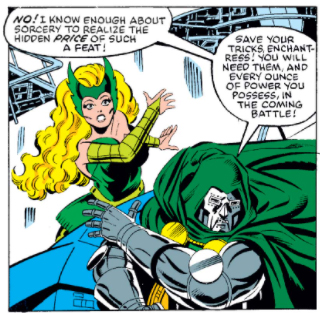 She doesn't take this well, and teleports off in a huff, calling Doom a "madman" as she departs. Doom is often called this, despite the fact that he generally acts very sensibly (if you take into account the fact that he thinks he knows better than anyone else and wants to rule the world), and here it leads him into a thoughtful moment.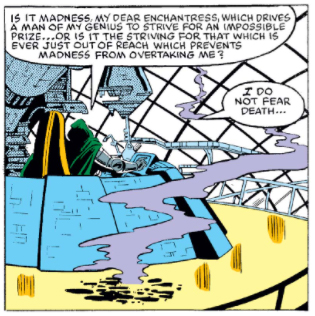 All right, I said he wasn't mad, but that doesn't make any sense at all!
We then switch back to the superheroes, who are trying and failing to get Galactus' attention. Eventually Magneto and Professor X manage to do so by redirecting the former's "latent mental powers" (eh?), causing Galactus to send down a futuristic robot to stop everyone bothering him.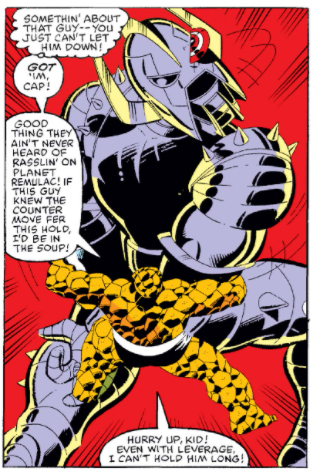 I say "futuristic" of course, because it looks like it comes from the 1990s! They manage to defeat the robot, but there's no time to catch their breath as Doom sends in his army for yet another big fight which, as ever, he is watching from afar via video link.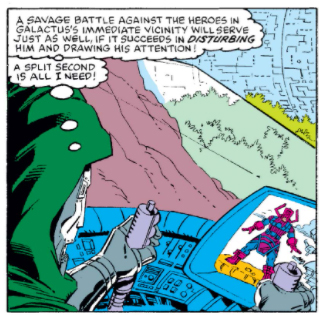 The X-Men turn up and join in, leading to a Big Fight so Big that even Galactus has to notice, and Doom uses that distraction to fly into his spaceship at "tachyon speed", whatever that means.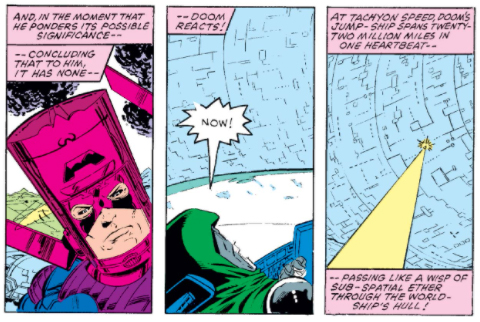 Colossus gets captured by the villians and so Cyclops zaps them with his eye blasts. They retreat, but Professor X orders the X-men back to the ship before they can collect Colossus. As far as I can tell there is absolutely no need for this at all, except to generate conflict within the team and for Colossus to end up with the main body of superheroes in the alien village, where he can be healed by Zsaji, to whom he is immediately attracted.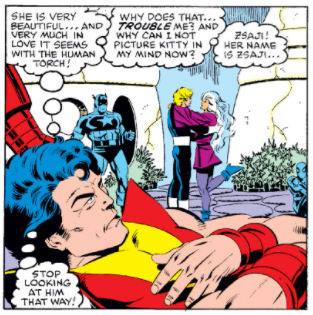 The issue finally comes go a halt with Doctor Doom inside Galactus' ship, where he wanders about monologuing to himself about how big it is, but how he will find an "answer" somewhere thsat will enable him to beat Galactus and then The Beyonder. It's a plan that (SPOILERS!) he will get quite far with, but that's all for another time. For now we are left with another low-key cliffhanger, very similar to the last time, as Doom... sees something!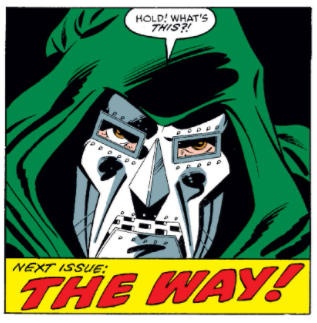 Whatever could it be? I have absolutely no idea, but hopefully we'll find out next time!
link to information about this issue
posted 22/1/2021 by MJ Hibbett
(click here for permanent link)
(0) comments
---
Situation: Hopeless!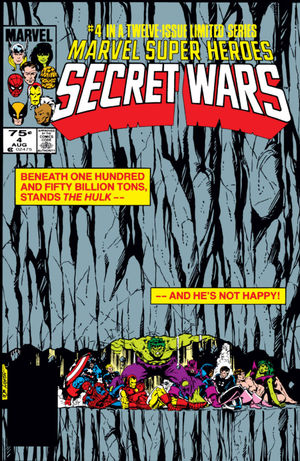 Before we get going on this issue proper, I just wanted to note how odd the lettering is on the cover. Like the previous issue, it looks like they couldn't get an actual letterer to put proper comics text in, so pasted it in using Letraset or something. I wonder if that's what happened? The first issue had a traditional comics lettering chunk of text, the second had none at all, and then from then on it tends to be this very unsatisfactory slab of text. I get the feeling a lot of "Secret Wars" was done in a rush, so maybe that was the case here too, or perhaps it was Jim Shooter on his never ending mission to make everything as clear as possible to new readers?
It's a shame as the cover is rather nice - indeed, the art itself is pretty good throughout, with Bob Layton taking over from Michael Zeck for a couple of issues. The writing, however, remains bloody awful!
It starts with a bang - or rather a "BUH-WHU-WHOOM!" as we see the superheroes' base exploding after the attack by the villains last time. Doom is in charge as his group search through the wreckage looking for bodies, but the heroes seem to have escaped. Doom doesn't seem to be too bothered.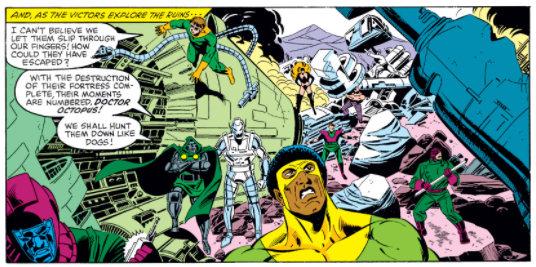 He's right not to worry - Doctor Octopus spots the heroes escaping, so Titania chucks a building at them. Molecule Man - in an apparent attempt to impress Volcana - responds by dropping a Mountain on top of them too.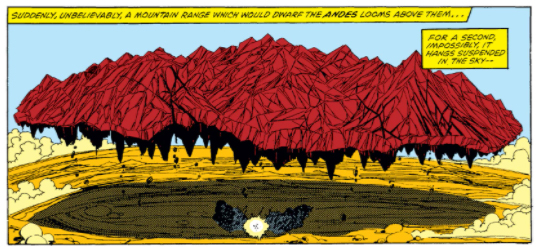 This is all good fun, but the jolly superhero craziness is rather spoilt by the horrible characterisations, notably the "romance" between Volcana and Molecule Man which, as i said last time, reads like it was written by a particularly drippy thirteen year old.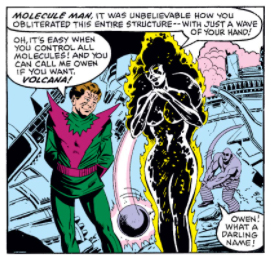 Meanwhile, "half a world away", Thor and Enchantress are having a similarly stilted conversation, but luckily for those of us who hate soppy kissing (yuck!) they are interrupted by an earthquake resulting from the mountain tossing on the other side of the planet, and return to find out what's going on. This leads to a Big Fight between Thor and the villains, which ends with Doom commanding Ultron to disintegrate the Thunder God.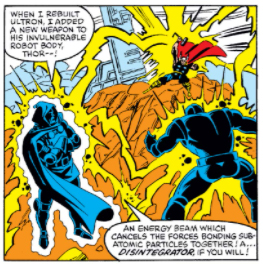 Fear not, true believers, we very quickly get a shot of Thor hiding behind a boulder, so we know he's OK. Phew!
There's then a lengthy section where the X-Men sit around thinking about stuff. It's all tremendously boring and is absolutely PACKED with words.

We then go over to Magneto's base, where we find him using his mighty powers to create a metal comb for the Wasp, who is chatting to him about the fact that there are no toilets in his base. Combs and toilets - this is what The Kids want!
The X-Men arrive and there's loads and loads of talking, during which Magneto suggests trying to kill the super-villains and thus win the contest, so that they can then go back to Earth and create "a golden age... in which men and mutants live together in peace."

This isn't necessarily the nicest way to deal with the problem, but it does seem like a bit of an over-reaction when The Wasp calls him "the most evil scum since Hitler." Really, The Wasp? I think that's going a bit too far, especially when he's just made you a nice new comb. Or maybe she's feeling stressed because she really needs the loo?
This causes things to kick off, with the X-Men trying to stop the Wasp from escaping. I'm not sure why they do this - does it mean they agree with Magneto's idea or not? The Wasp gets away because Professor X refuses to use his mental powers to stop her, even though he did something very sinilar to Spider-man last time, erasing his memory. Charles feels very bad about this, and compares himself to Hitler!

Had Jim Shooter seen a telly programme about Hitler or something, and thought it was a good idea to use him as a comparison point for Not Being Very Nice? It all feels very dodgy, but thankfully that's the end of the X-Men for this time, with the rest of the issue consisting of the superheroes escaping from beneath the mountain. Basically, the Hulk holds up a small section of space long enough for Mr Fantastic to put together some "circuit relays" from the other heroes' costumes and gadgets which enables the Human Torch and Captain Marvel to channel their powers into Iron Man's suit so he can blow up the mountain.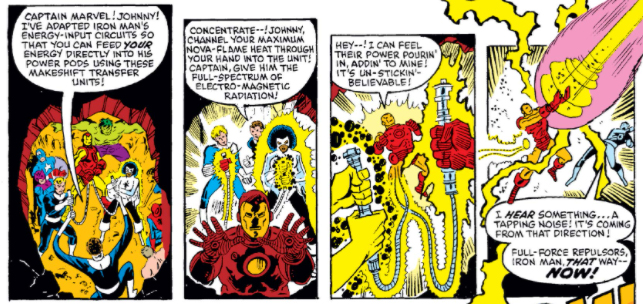 Again, it's a neat solution in a good old superhero style, only spoilt by the tremendous amount of talking that goes on throughout as everyone constantly explains everything to each everybody else. Suffice to say they get out all right and then head over to a nearby village, where there'll be more shenanigans next time. All that remains is for Ben Grimm to suddenly turn back into the Thing and then for Galactus to... um... move a bit.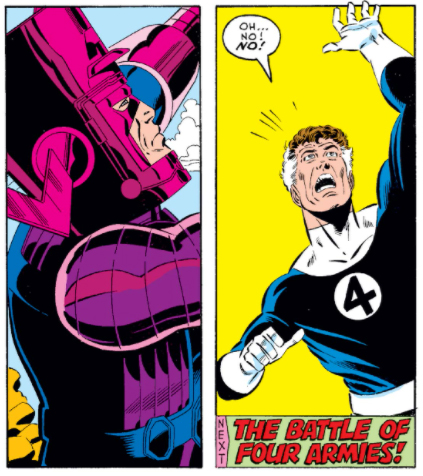 As you may have gathered, I really don't like this comic but I do quite like this incredibly low-key ending. Oh no! He twitched! Will this be followed by some cosmic shuffling, or possibly even a galactic sniffle? Join us next time to find out!
link to information about this issue
posted 20/1/2021 by MJ Hibbett
(click here for permanent link)
(0) comments
---
Tempest Without, Crisis Within!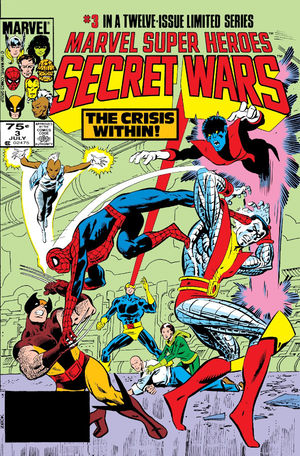 All right then, we've put it off long enough, so now it's time to get properly stuck into some more of "Marvel Superheroes Secret Wars". It's a series which I read when it first came out and thought was utterly rubbish, but has time changed my mind? Is it in fact a misunderstood work, possibly playing with tropes of the superhero genre and bringing them to a wider audience via early stirrings of the kind of transmedia expertise that would make Marvel a global cultural player?
No. It's utterly rubbish.
It's a shame it's so crappy because it does feature a lot of Doctor Doom, especially later on in the series, but in this issue he doesn't even turn up until halfway through. Before then there's a lengthy section with Magneto and The Wasp stuck inside the latter's fortress. The Wasp has been captured for... um... some reason or other, but Magneto can't release her because the weather outside is horrid and they don't have brollies on Battleworld, so he suggests they have a chat, which very quickly leads to him leaping on her for a snog, and her deciding to say "sod it" and go along with it.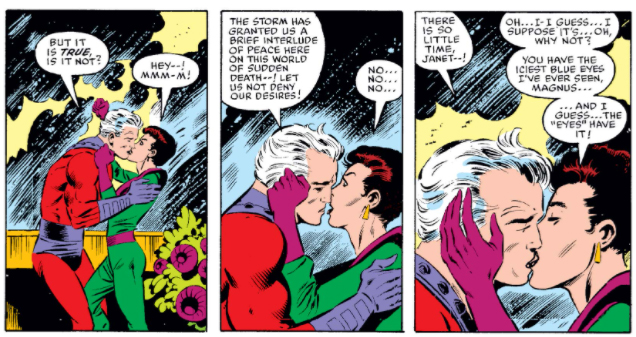 The whole thing reads like it was written by a 13 year old who has never kissed anybody but has definitely seen it a lot in movies, which I guess is pretty much the target audience for the series. That doesn't make it any less awful though!
The weather's also horrible for the Avengers and Fanastic Four over in their own base, and there's a couple of pages of them talking about it. Thor does get to go out and smash up a boulder that was threatening to hit them, but the whole thing feels like its making up time. We're only three issues into the series, and we've already got about a third of the comic filled with people looking out of the windows talking about the weather!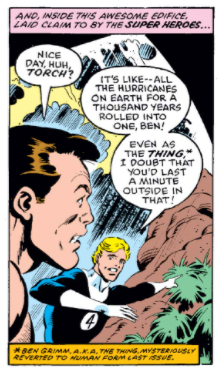 Spider-man is as bored with all of this as I am, so goes out for an explore. On his travels he overhears the X-Men talking to each other in a terrifyingly stiff version of Chris Claremont dialogue where everybody speaks either as if every single word is a portentious quote from the Bible, or they're being transcribed by a music journalist from the 1990s who thinks it's funny to mock regional accents.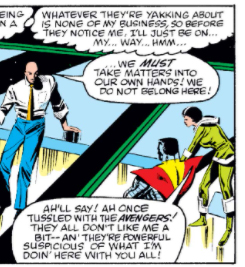 Professor X detects Spider-man's presence and then there's a Big Fight where the X-Men are absolutely desperate to stop him getting away, although why this is I have no idea. Spidey rushes off to find Mr Fantastic to tell him something incredibly important, but then Professor X wipes his mind before he can tell anybody... what exactly? As far as I can tell he didn't hear anything even vaguely controversial, so the whole thing is massively stupid - well done, teenage me, you were if anything too polite about how terrible this stinker of a comic is!
Doctor Doom finally turns up on - of course - a viewing screen, where he's just offered Magento an alliance but been turned down. We then see Doom in his own base making plans for "Victory". He's found some alien machinery which he's managed to get working, and is using it to create two new super-villains: Titania and Volcana.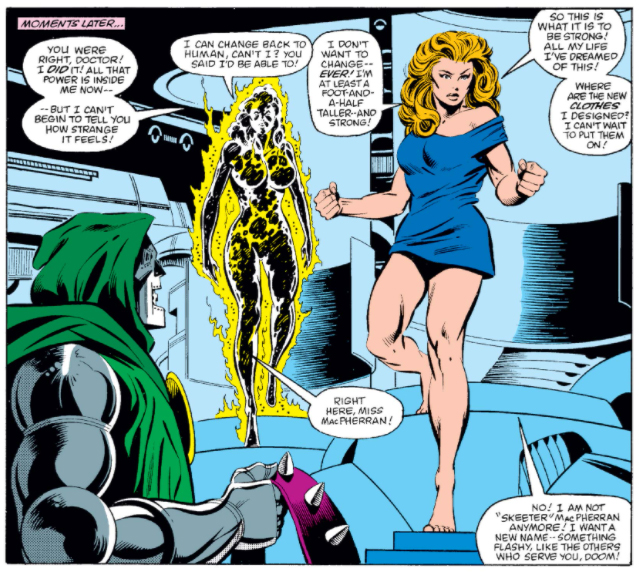 Doom takes them to meet the rest of his gang where, once again, he introduces everybody to each other, conveniently lined up in order.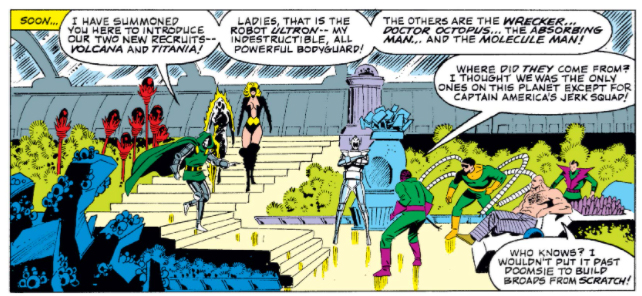 Jim Shooter immediately gets down to some more romance, introducing Titania (who is "like a Titan") to Absorbing Man and Volcana (who is like a Volcano) to Molecule Man. Titania and Absorbing Man start off their relationship by nearly having a fight, while Volcana and Molecule Man stand at the window talking about Therapy, sensitivity, and how cool Doctor Doom is.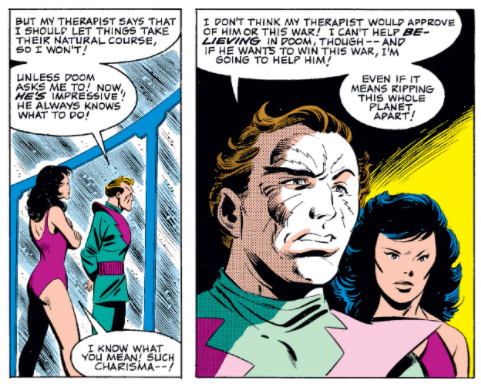 Back at the superheroes' base Thor goes to chat to Enchantress, who suggests they pop to another dimension for their talk. Is that allowed? I thought they were all trapped on Battleworld? However, before we can find out how that works, the rain finally ends just in time for Doom and the baddies to launch an attack. They ram into the base with their ship and then follow Doom's cunning plan: to mess stuff up.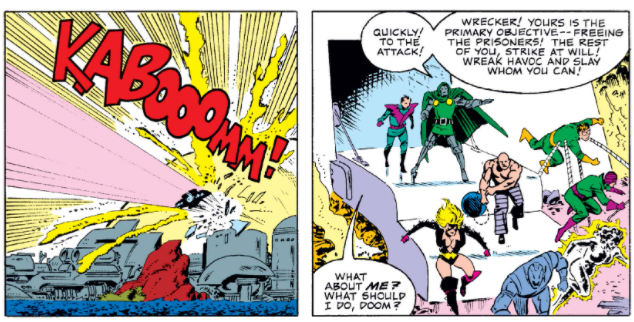 They're there to rescue the supervillains who were captured last time around, and they manage this quite successfully by catching the superheroes off guard. There are a couple of skirmishes and then all of a sudden that's that, with Doctor Doom and Molecule Man summing the battle up almost as if they were two young boys playing with action figures or a role-playing game.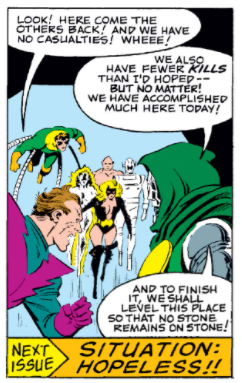 Secret Wars action figures and Role Playing games were very much available! And with that, thankfully, we're at the end of this issue, but don't worry, there's plenty more of this sort of thing to come next time!
link to information about this issue
posted 15/1/2021 by MJ Hibbett
(click here for permanent link)
(0) comments
---
The Masque of Doom!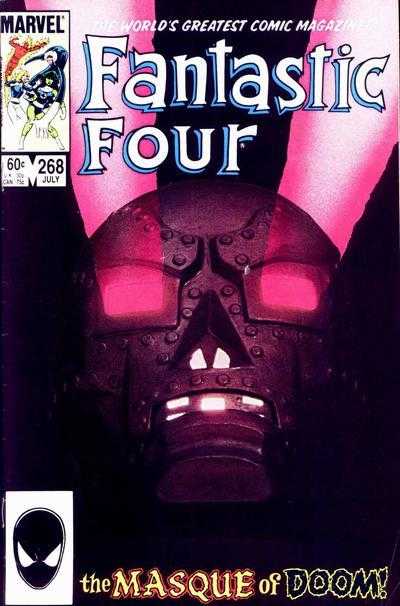 As has been mentioned many many times over the past few years, this blog is meant to be part of the research for my PhD, which is using Doctor Doom as a case study for an empirical method of assessing transmedia character cohesion. This involves analysing the frequency of different aspects of a character, such as their appearance, motivations, dialogue, other characters and so on, and one of the main characteristics of Doctor Doom turns out to be (not surprisingly) his mask. In the sample I've selected for my analysis his mask appears in every single text, almost always with square eye holes, triangluar nose, a grilled mouth and rivets, but today's comic is the only example I've come across so far where the mask appears without Doctor Doom himself!
Before we get into the story itself, it's worth taking a look at the cover which, excitingly for the time, was an Actual Photograph that had been manipulated to add eye beams. This sort of thing would become much more popular in the following decade, when comics went crazy and/or rubbish (depending on your point of view) with all sorts of experiments with covers as publishers tried to sell multiple copies of the same issue to "collectors". This one looks pretty good, but its very existence is the harbinger of much daftness to come - thankfully though, most if it takes place after the period for this blog!
I'd also like to make a quick mention of the title, which uses the unusual "masque" spelling here because, I assume, it just sounds fancy. It's not the first time this spelling has been used - way back in the (brilliant)
Astonishing Tales #8
Gerry Conway promised a story called "Deathmasque" in the next issue, and when that ended up not featuring Doctor Doom he eventually used an altered version for the story "Doomsmasque" in
Sub-Mariner #47. It looks like he was quite pleased with this spelling, as he took the time to explain what it meant to readers: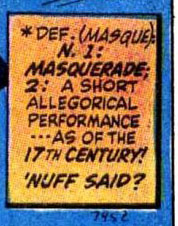 A masquerade is also a sort of party, which does not fit the start of the story at all, as we pick up from the previous issue which saw Reed Richards and various other Marvel physicians unable to help as Sue had a miscarriage. At the time this felt very Adult and Serious (another harbinger of the then-future of superhero comics) but now, quite a few decades older, I'm not so sure. I've never subscribed to the view that superhero comics should be "escapist", but there's something about discussing a miscarriage while Hulk fights Doctor Octopus on the other side of the room that doesn't feel quite right.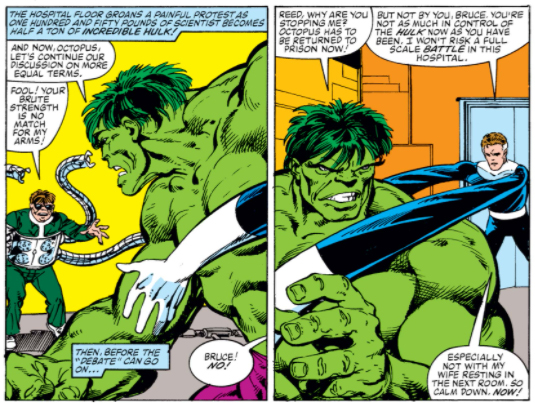 She-Hulk also feels uncomfortable about the whole thing, so she and Johnny head back to the Baxter Building, with her giving him (and FF readers who've not read her solo series) a quick recap of her origin story. When they arrive Johnny shows her a Big Red Button which cuts off all signals into the building which, I'm sure, will not have any further place in the story.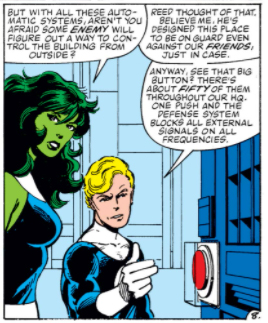 They then go for a tour round the building, including the room where they store all the most dangerous and mysterious artefacts they've uncovered during their adventures. This includes the mask - or masque - of Doctor Doom which was picked up after his death at the hands of Terrax in Fantastic Four #260.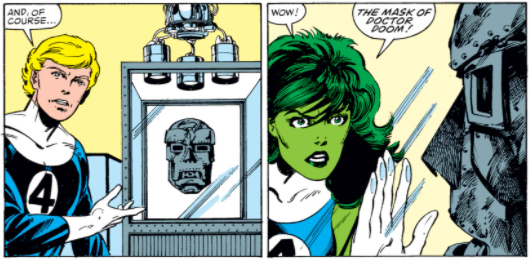 There's a quick update on the ongoing subplot of Reed and Sue's attempt to have a secret identity, with a nosy neighbour poking round their empty house in Connecticut, and then it's back to the Baxter Building where all the alarms are going off. Johnny and She-Hulk investigate, only to find that - surprise surprise - it's not a "mystery assailant", but Doom's mask!
It gives them one heck of a going over, knocking the Human Torch down and chucking She-Hulk out of the building, and it's only when Mr Fantastic turns up that it's finally defeated. Reed works out that this attack is too complex to have been pre-programmed into the mask and so it must be receiving a remote signal somewhere. He fixes this problem by hitting that Big Red Button we saw earlier.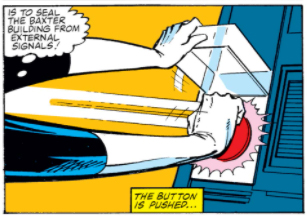 Well, who could have guessed that that would come in handy so soon? And that's pretty much it for the story, with the only item of business that remains being for Reed to explain to the others how it all worked, and also deliver the revelation that maybe, just maybe, this is an indication that Doom isn't quite as dead as they all thought!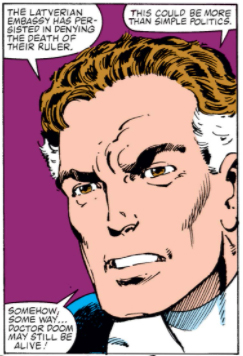 What the?!? But I thought this whole blog was about to end!

It's not a classic episode of Byrne's run on the series by any means, but it is a fairly typical example of the way he liked to juggle multiple storylines in a soap opera style, not dissimilar to the way that Lee and Kirby's classic run used to. It's also nice to get to the She-Hulk era too, which is a period of the Fantastic Four that I have a great deal of fondness for, and led on to the very enjoyable (if brief) solo series a little while later. It's basically been a fun story to re-read, which is a lot more than can be said for what's coming next as we finally, very reluctantly, dive back into Secret Wars!



link to information about this issue

posted 13/1/2021 by MJ Hibbett
(click here for permanent link)
(0) comments


---
That night...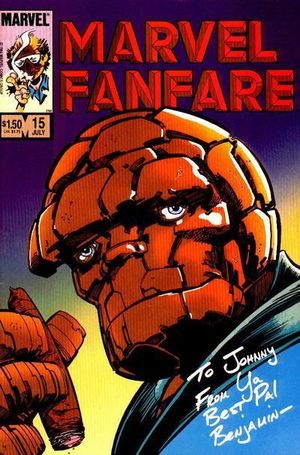 Over the course of this blog I have often railed against Marvel's attempt at humour comics like "Not Brand Ecch" or "Fantastic Four Roasts", but lo and behold - today we're looking at a Marvel comic that is Actually Funny!

Not only that, but it looks amazing too, as it's drawn by Barry Windsor Smith. I've not always been entirely persuaded by his art in other comics of the time, as the characters always look a bit stuff and poised, but goodness me he draws a lovely Thing here!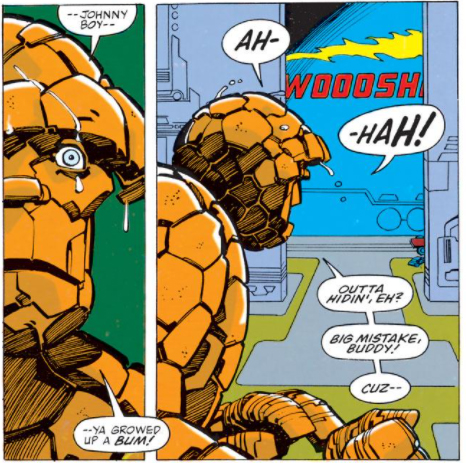 This is another of those issues of Marvel Fanfare that turned up in my local comic shop at a bargain price because it was water damaged. I remember buying it at the time and findiing it all a bit lightweight and pointless, but re-reading it now I was surprised by how charming and genuinely amusing it is, in a story which sees The Thing gently falling for a long string of practical jokes which the Human Torch has set up the night before.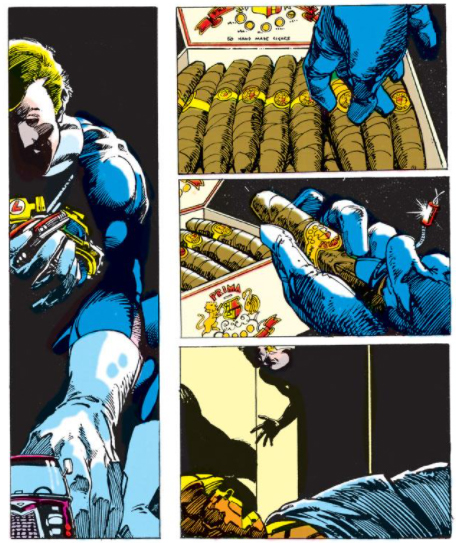 That's all that happens really, but it features some moments with real charm and character insight, such as when The Thing looks in the mirror first thing in the morning and sees what appears to be stubble.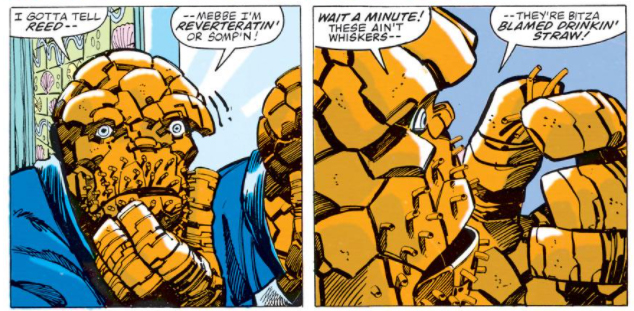 There's also a great bit where he slips on a mass of toy trucks and is propelled along a corridor, bursting through images of the worst people imaginable. This starts with, of course, Doctor Doom.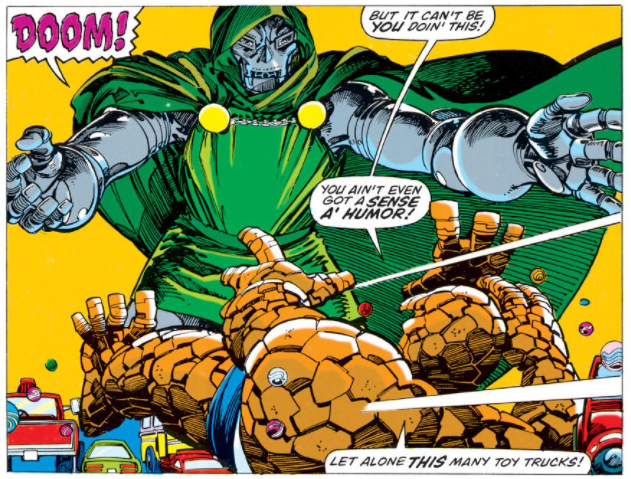 That's the only appearance of Doom in this story, but I don't really mind when it's part of something so enjoyable. It does at least make the point that Doom can't be behind these pranks because he has no sense of humour (he definitely doesn't) or toy cars (I have no data to back this up). The Thing continues on his ride along the corridor, bursting through an image of The Super Skrull and then finally cracking he sees his worst nemesis of all.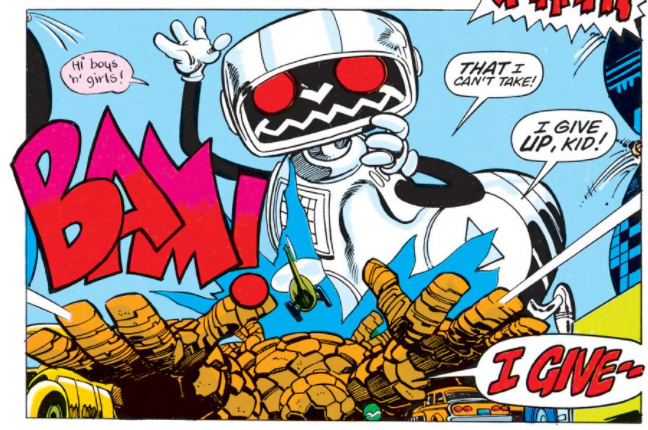 I thought it was funny anyway! Eventually we discover that Johnny did all of this for April Fool's Day, except, Ben calculates, Johnny has got the dates wrong - April Fool's Day is tomorrow.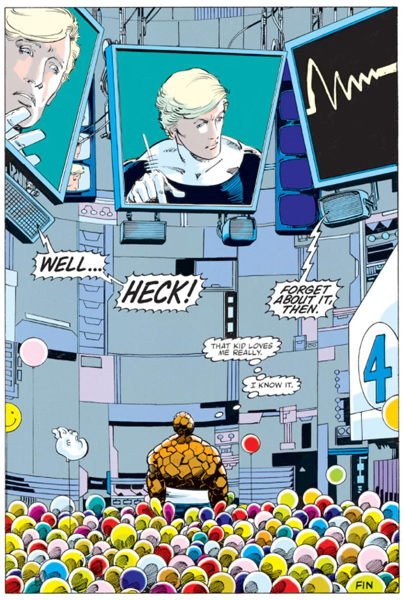 If this was the end of the story it would be a bit disappointing, but Windsor Smith then gives us an epilogue where Ben gets a whole bunch of his own pranks ready for the next day, which is April Fools Day proper. In the final panel he settles down to relax with a cigar... the same exploding gag cigar that we saw Johnny setting up on the very first page.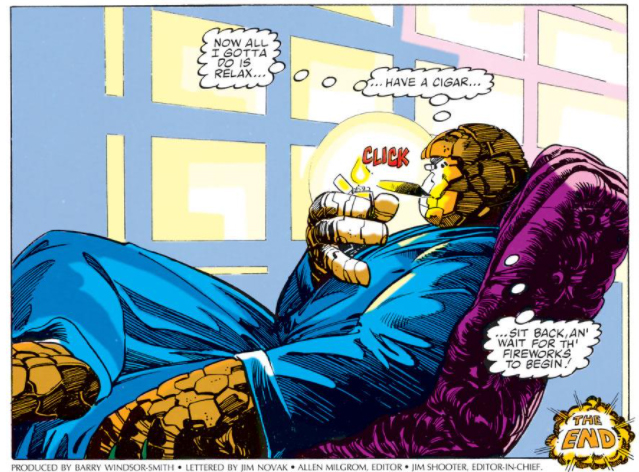 I love the fact that the payoff is done so subtly, through the wordplay of Ben's final statement and the lettering in the bottom of the picture. All in all it's a glorious piece of work, and a real shame that Barry Windsor Smith didn't do much more of this sort of thing!



link to information about this issue

posted 8/1/2021 by MJ Hibbett
(click here for permanent link)
(0) comments


---
In All The Gathering Gloom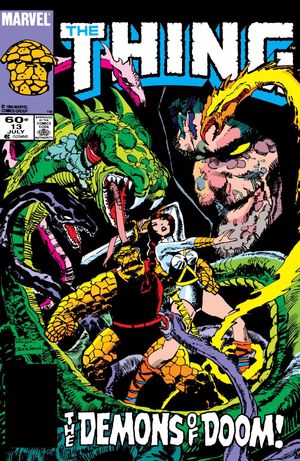 Welcome back for what I think (and sort of hope!) is going to be the final year for the Marvel Age Doom blog... at least as far as bi-weekly reviews of texts goes anyway.

We kick off with a slight change to the previously advertised programme. Last time I said we'd be starting the year with a look at the main Secret Wars series, but after that cliffhanger on Battleworld I felt that we just had to carry on with "The Thing" before we did anything else. Also, it's too soon in the year to face actually reading more of "Secret Wars" yet!

So, if you can cast your mind back you'll recall that we left Ben Grimm, Tarianna and Hanrak as they stumbled into what looked like Doctor Doom's castle. As they get closer we find out that it's actually a town populated by Tarianna's people, who get a detailed description from her of what happened last time. They're a bit dubious about Ben being a super warrior, but they decided to take her word for it. Once that's done we get a further recap of the history of the town and the people who live there, which Ben later self-monologues is "like something out of a role playin' game."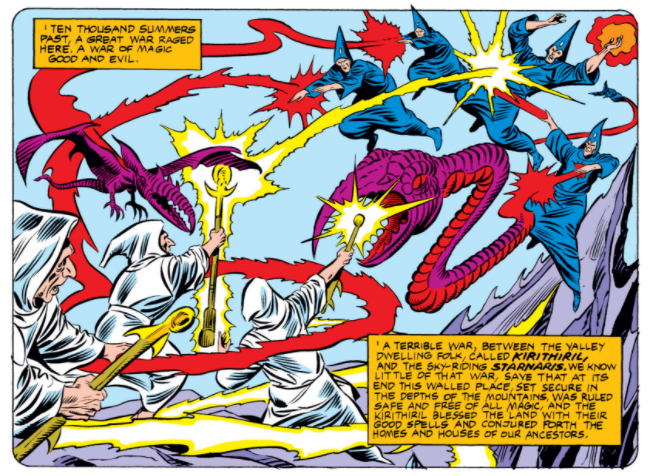 I like the way that Byrne, Wilson and Sinnott play with this idea that something's not quite right here, making everything look deliberately wonky and odd, with Latveria mixed up with people from "a Hagar the Horrible Convention" and a convoluted backstory that, we are told, cannot be true because Battleworld has only actually existed for a few weeks.

The Thing decides to investigate, heading into The Mysterious Keep at the centre of the town. Tarianna follows, and then an ashamed and belittled Hanrak follows her in turn, and they end up inside A Spooky Castle.
There's a brief Enigmatic Interlude with something happening on the other side of Battleworld, which I'm sure will pop up in a later part of this series, and then we're back to find that Hanrak has captured Tarianna and, for some reason, decided to make her love him again by tying her to a pillar.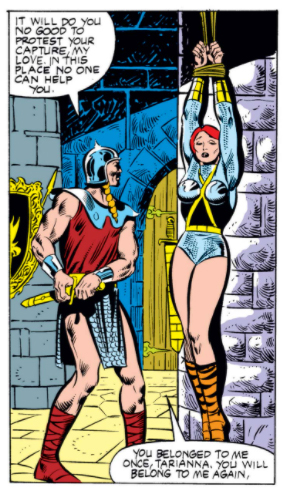 It takes all sorts I suppose. Ben Grimm is elsewhere, battling against Mystic Illusions and suchlike until he is forced to transform into The Actual Thing again.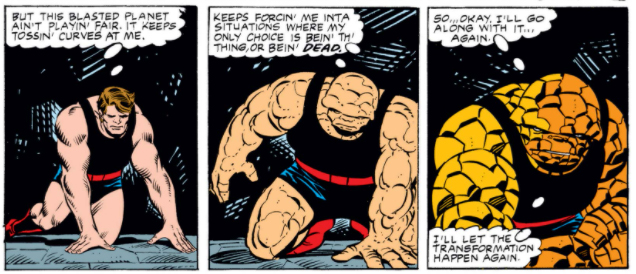 The idea that he doesn't like being The Thing, but does it anyway, is The Big Gimmick for this version of the series. It seems a bit half-hearted to me - there don't appear to be any consequences to the transformation, except for the fact that it reminds him of when he couldn't change back, but now that he can it doesn't feel like such a big deal, especially when it's a great way of getting out of trouble. This time the transformation allows him to stand up to the Mystic Illusions, fight his way through to the centre of the castle, and find - Doctor Doom!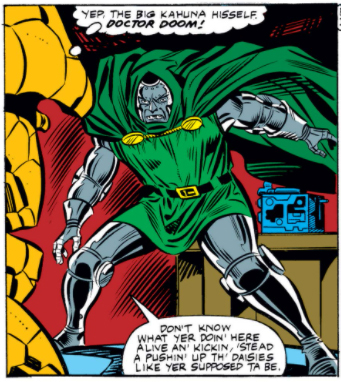 Of course, this isn't Doctor Doom, it's another Mystic Illusion, which seems to be guarding some sort of machinery box. The Thing smashes it, and then the castle vanishes, along with the village and all of the people in it, except for Tarianna.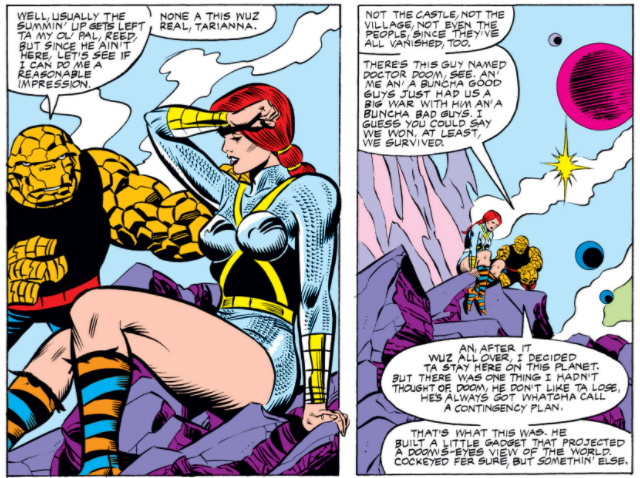 All that's left is for The Thing to give a rapidly cobbled together explanation for the entirety of the past two issues, which seems to be that Doctor Doom had set the whole thing up as a "contingency plan" while he was there, and ... er... left it behind when Secret Wars ended. It all feels like a massive cop-out, especially when the final panel asks the obvious question "so how come Tarianna is still here?" The obvious answer is "because this series needs another character to wander around with The Thing", but that doesn't make it feel any less like a crappy ending for what's been an at least lovely *looking* couple of comics.

We'll have more very good looking comics next time, as we take a look at Barry Windsor-Smith's version of Doom, over in Marvel Fanfare!



link to information about this issue

posted 6/1/2021 by MJ Hibbett
(click here for permanent link)
(0) comments


---
Merry Christmas, Dolts!

The Doom blog is going to be taking a break over the festive period - we'll be back in the New Year for the final run of stories, which will take us all the way through Secret Wars and beyond, but until then I leave it to Doctor Doom to wish you all a very Merry Christmas!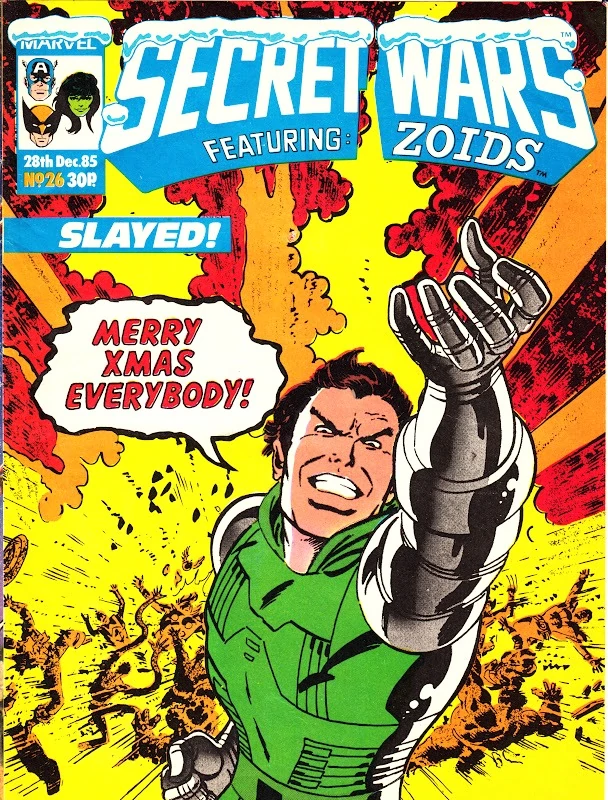 posted 21/12/2020 by MJ Hibbett
(click here for permanent link)
(0) comments
---
Doom!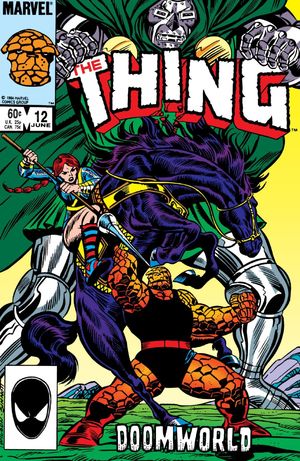 This issue's cover shows Doom looming above everybody else, something we've seen many times before. Usually this is a metaphor, such as when he was seen taking up the whole sky back in Astonishing Tales #3 but, as we'll see, it's meant rather more literally here.

The story sees Ben Grimm wandering around on Battleworld after everybody else has gone home at the end of Secret Wars, a series which was only on its second issue at the time this comic came out. That means that the writer, John Byrne has to be fairly vague about what actually happens, which he manages to do here by massively overwriting the rest of the text so that we don't feel we're missing out on words!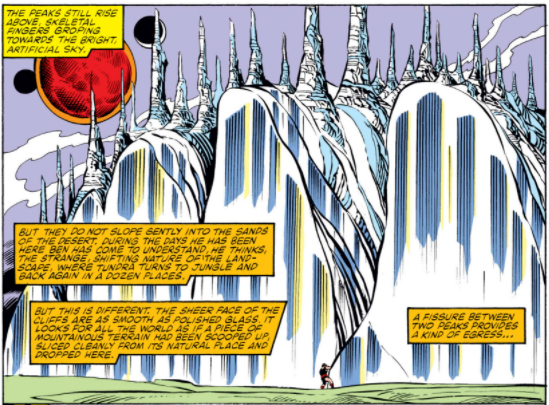 The writing might be a bit florid, but the arts looks gorgeous. I'm not usually a fan of Ron Wilson or John Sinnot, but the two of them together makes everything look super-slick and heroic. It's a lovely combination!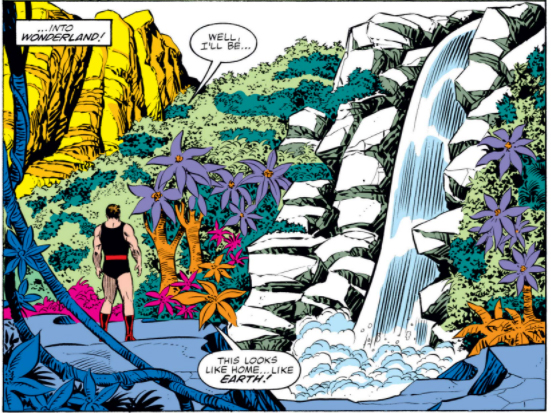 We follow Ben Grimm as he meets up with a couple of viking-esque giants, first Hanrak and then his betrothed Tariaana, both of whom Ben has to fight. Hanrak faints when he sees Ben change into The Thing, then Tarianna gives in gracefully when he ... um... grabs her by the throat.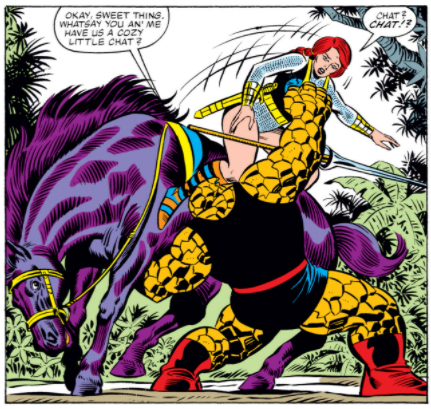 Hanrak wakes up and instantly runs away, into a clearing where all three of them face the gigantic Doctor Doom we saw on the cover.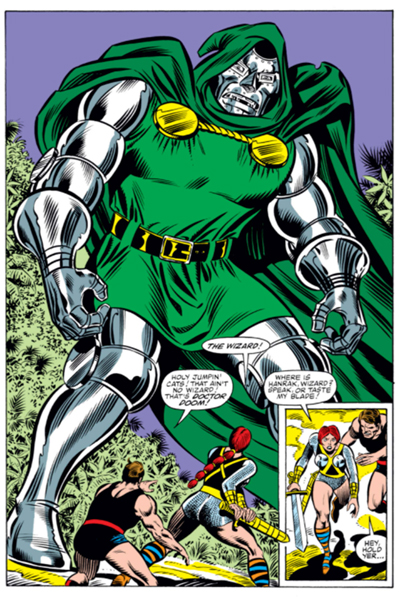 The other characters refer to him as "The Wizard", and there's something off about him right from the start, notably the fact that he doesn't speak which, as we've seen recently in Secret Wars #2, isn't like Doctor Doom at all. There's also the small matter of Doctor Doom being dead. As The Thing says, we saw him die recently in Fantastic Four #260>Fantastic Four #260, and John Byrne very carefully puts this across without giving any clues as to what might happen in the rest of "Secret Wars" - probably because he doesn't know!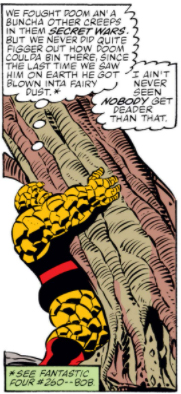 The Thing, quite sensibly, decides that this must therefore be a robot - it usually is after all - and this seems to be borne out when the giant Doom falls to bits. However, it then starts to put itself back together in a very odd way indeed.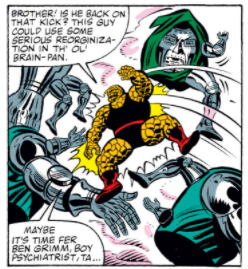 This is my favourite panel in the whole comic! Sadly, Doom does not remain like this, and the various odds and sods transform into a bunch of normal-sized Dooms which gather round to give the Thing a right old kicking.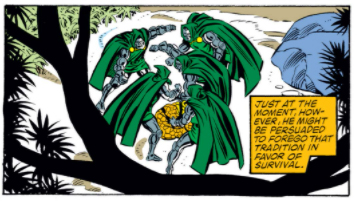 Hanrak, who we have by now realised is a complete prat, refuses to help, but when Tarianna gets involved Doom finally speaks, telling her not to.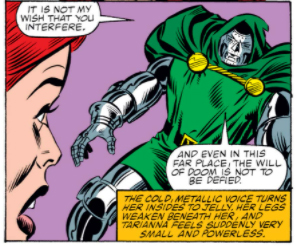 The fact that when he finally does speak he does so in the first person is another clue that this is not the Doom we know, and when Tarianna lobs a spear at him he disappears into thin air. She and Ben then pick up Hanrak (who's passed out again) and head back to her village, where things get even more mysterious.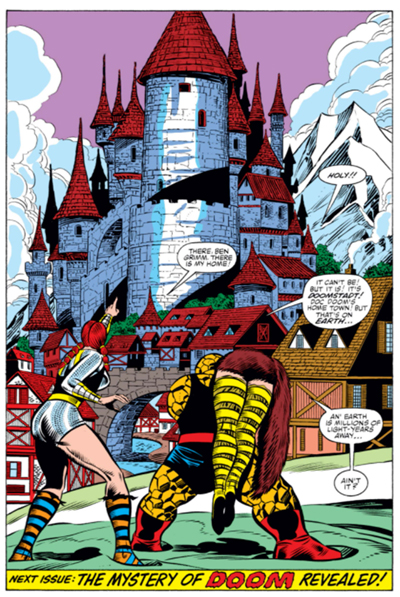 What the?!? It's a great cliffhanger that made me want to go and read the next issue right away to find out what on earth is going on. However, before we can do that I'm afraid two things stand in the way firstly is the fact that this blog will be taking a break for Christmas, and secondly we've got to skip back to the main "Secret Wars" series next. Join me for the that in the futuristic year 2021AD!



link to information about this issue

posted 16/12/2020 by MJ Hibbett
(click here for permanent link)
(0) comments


---
Prisoners Of War!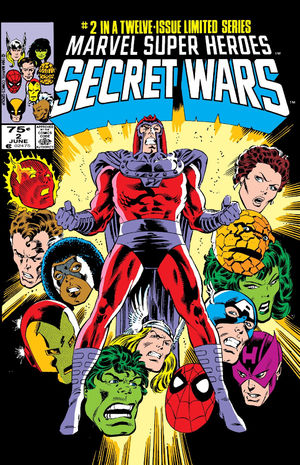 For all that "Secret Wars" is a terrible load of old rubbish (and it really is a terrible load of old rubbish), I can't deny that there's some craft to it. Jim shooter gives the reader plenty of action, with lots of Big Fights and explosions, while also giving plenty of time to character interactions and moving the plot forward in very carefully explained stages. Maybe it would feel more interesting if it was drawn by a different artist - Mike Zeck was great on Captain America's solo adventures, but here the multiple crowd scenes take on a sort of puffiness, with all of the characters looking inflated and slightly cartoony.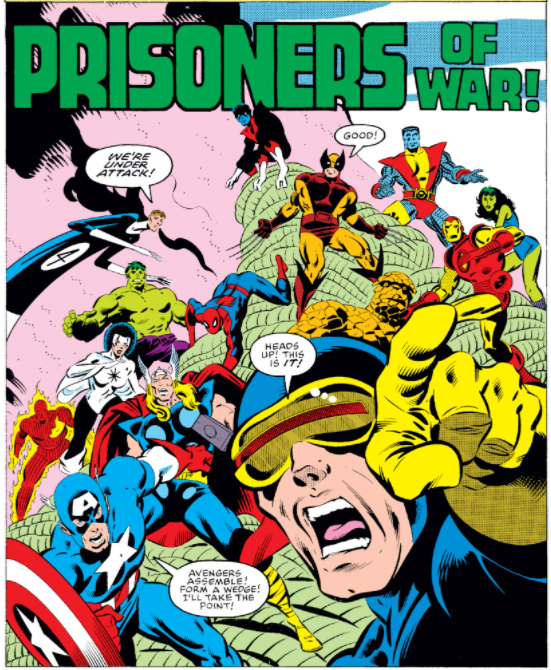 This issue starts with everybody enjoying a good old punch-up, while Doctor Doom gets down to business with the issue's main sub-plot. As he flies off to find Galactus he recalls the events of the first issue in extreme detail, arriving just in time to find him displaying his near god-like nature by ... um... being able to stand up without the indignity of using his hands.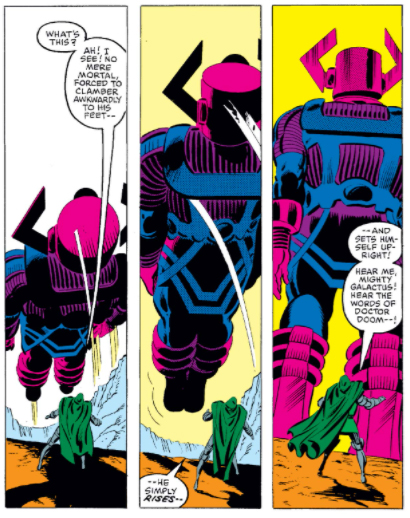 Impressive! Doom tries got get Galactus' attention, but is completely ignored, "as though I were a gnat, buzzing at his feet!" Some versions of Doom (e.g. the wheedling East European dictator of Lee and Kirby's later run) would have been absolutely infuriated by this and let off a few gauntlet blasts, but here he accepts this as only natural.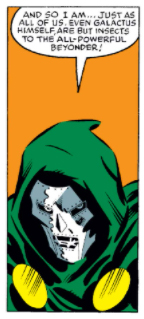 Changing tack, Doom wanders over to a nearby fortress, explaining his actions out loud to himself as he goes, where he discovers the body of Ultron, dormant and ripe for reprogramming. There's then a break for some mroe fighting involving the main bunch of superheroes, and when we next see Doom he is welcoming a group of supervillains to "his" fortress, which he has renamed "Doombase".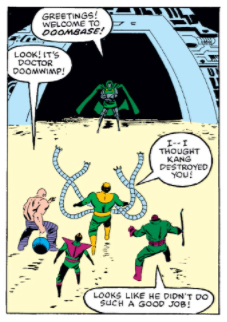 Calling it "Doombase" is a VERY Doctor Doom thing to do, but I'm not sure why Absorbing Man is calling him "Doctor Doomwimp". It's not a pun on anything I can think of, nor is it a commonly used phrase. Maybe Jim Shooter was just in a hurry and couldn't think of anything better?

When the supervillains object to Doom taking over he unleashes Ultron on them and they very quickly decide to accept Doom as their new leader. He leads them inside where we get a lovely example of the green and purple pallete that is so often used for supervillains.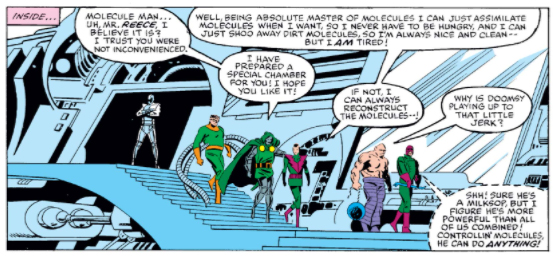 There's just time for Doom to do some buttering up of Molecule Man and to show Doctor Octopus a Giant View Screen (he loves a Giant View Screen, does Doctor Doom!) and then that's it for him in this issue. The rest of the comic is taken up with another Big Fight, this time between the heroes and Magneto, during which the Thing suddenly turns back into Ben Grimm right in the middle of a big battle, and then the story ends with the heroes looking at their own Giant View Screen, which shows Galactus about to Do Something Galactus-y. We'll find out what that is soon enough, but before that we get to that next time we're going to find out some more about the Thing's new ability to transform at will, over in his own series!



link to information about this issue

posted 9/12/2020 by MJ Hibbett
(click here for permanent link)
(0) comments


---
Turning Point!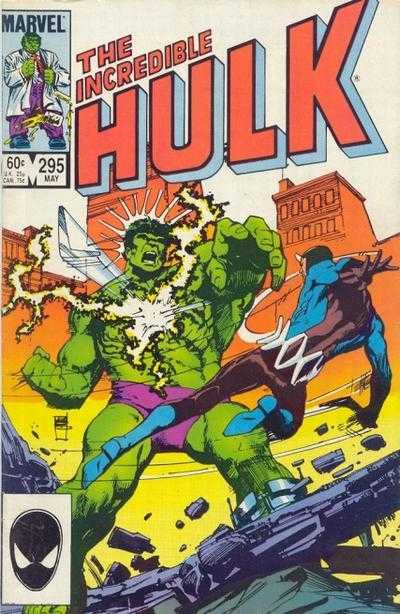 One of the actually properly interesting things about "Secret Wars" (as opposed to how terrible the actual comics were) is how the series was worked into the ongoing stories of the other series in the Marvel Universe. The month before it all began several series ended that month's issue by having their characters disappear after entering a mysterious building in New York's Central Park. The following month they returned, often drastically changed, having been through Some Sort Of Experience. The biggest changes included Spider-man getting a new costume and She-Hulk replacing The Thing in The Fantastic Four, and readers were left to wonder how this had all occurred. The regular Marvel Universe carried on from there, while the story of how it all happened was gently unravelled over the next twelve months in "Secret Wars" itself. As a way of intriguing readers and getting them to buy the main series this must have worked, as it's been used many times since, notably in DC's "52" series where all of the stories in their main series jumped forward a year with new costumes and changes to the status quo, leaving "52" to slowly reveal how everything had changed during the intervening time. Funnily enough, it had its own line of action figures too!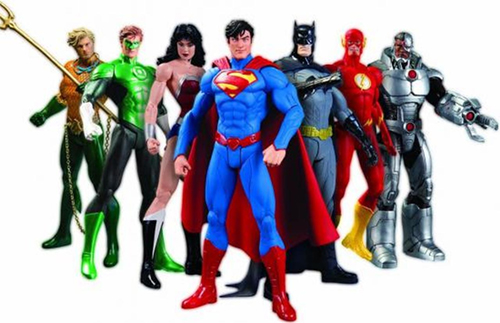 This issue is post-Secret Wars, and so starts off with the Hulk emerging from that same building with... a mysterious limp!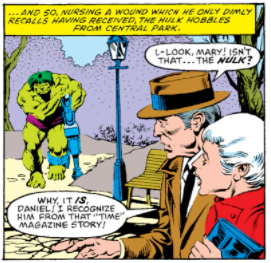 All right, it's maybe not quite as exciting as a new costume or a new team member, but it does at least show that something has been going on that we don't know much about. The text of the comic has to keep up the air of mystery too, only vaguely referring to events, partly to maintain the susspense but also, I imagine, because nobody knew what the ending was going to be yet! It's here that Doctor Doom makes his only appearance, standing in a group of characters as part of an image which seeks to summarise what we can expect to see in Secret Wars itself.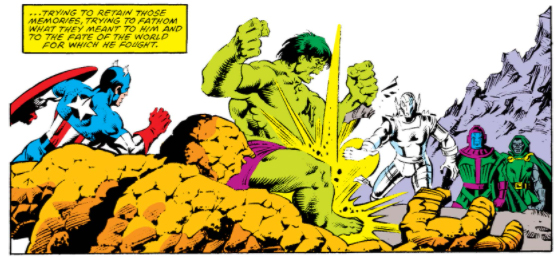 This is Doom, yet again, standing in a group,representing Super-Villains and the Marvel Universe as a whole. He does that a lot!

The rest of the story sees a spectacularly grumpy Hulk stomping around on the trail of the lower-league supervillain Boomerang, who has something to do with another character called Max Hammer and some illegal experiments involving Gamma Rays.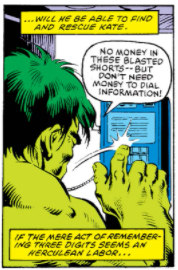 I found it all a bit disconcerting, as it's not any version of the Hulk that I remember. It's drawn by Sal Buscema, which is definitely how I remember the Hulk being drawn, but Danny Bulandi's inks give it a much smoother, glossier look that I'm used to. It's very nice, but it's not what I associate with our pal Sal! His personality is also miles away from the classic "Hulk find Betty!" characterisation that I remember from the pages of Marvel UK's "Hulk Weekly". I know that part of the Hulk's character is that it keeps changing, as has been shown in the completely brilliant "Immortal Hulk" recently, but it was still a surprise to come up against it at this point in time.

It does all get a bit "Immortal Hulk" towards the end actually, as they find a family pet that has been turned into a Gamma monster.

It all ends with the scientist who has been running the experiments turning into a monster, which everyone seems to be surprised by despite this, as far as I'm aware, being what always happens to Scientists Dabbling In Forbidden Technology. Sadly we won't find out what happens next (my guess: he regains his humanity to save a loved one at the expense of his own life?) as we're back in the ongoing story of Secret Wars itself!



link to information about this issue

posted 2/12/2020 by MJ Hibbett
(click here for permanent link)
(0) comments


---
The War Begins!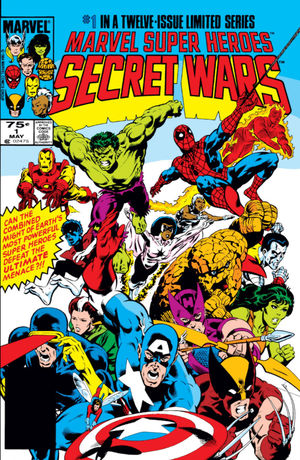 Ever since I began this blog I've been dreading this day, for LO! this is the day when I've had to sit down and read "Marvel Superheroes Secret Wars".

The dread came from my memories of reading it at the time, remembering it as absolute rubbish which was a trial to get through, although part of me wondered if maybe I was being unfair - after all, I was 13 years old when it first came out, and full of sneers for anything I judged to be mainstream. Maybe, just maybe, "Secret Wars" would turn out to be a lot better than I remembered?

SPOILERS: it is if anything even worse.

As I'm sure most people reading this will know, the" Secret Wars" series was set up as a tie-in with the Secret Wars range of toys, featuring action figures of various Marvel characters with vehicles and play sets. Even the name is a cynical attempt to maximise CA$H, as surveys had shown that the two words which most excited their target audience of young boys were "Secret" and "War". When Jim Shooter sat down to write the plot he decided to just write the thing that the fans asked for the most - all the characters gettig together and having a big fight - and to be fair to him, that is exactly what he did. There are loads of characters, and there are loads of fights!

It's all written by Shooter according to the rules he would go on to impose on other creators across Marvel, which he believed would lead to clear, easily understood stories that would excite their readers. One of these rules was that every character should be introduced, and this is done in the most blatant fashion within the first few pages, first by the goodies:

... and then the baddies:

Each group of characters is in a seperate spaceship, heading for a place called "Battleworld", a planet made up from lots of bits of other planets. Doom watches Battleworld take form, while behind him characters continue to introduce themselves.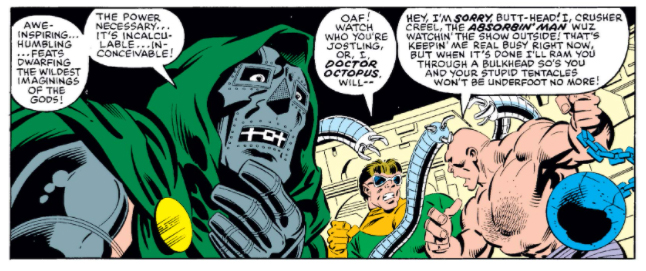 A fight breaks out (for no apparent reason) on the baddies' ship, and Doom tries to take command to stop it, but before he can take control everyone on both shops is silenced by Something Happening out in space. There's a bright light and then a mysterious voice says "I am from beyond! Slay your enemies and all you desire shall be yours!"

WHat has happened, basically, is that some Cosmic Being has got together two teams of toys... sorry, heroes and villains, and is about to bash them together in a Big Fight. It's such a blatant reflection of what the series has been designed to promote that it's cheekiness would be almost charming, if it wans't all written so ponderously. This series had been promoted as promising Big Changes for the Marvel Universe, after which of course Nothing Will Ever Be The Same Again, so it's all Very Serious with not much room for fun.

Galactus flies off to give The Beyonder (as he decides to call him) a piece of his mind, and Doctor Doom follows, but The Beyonder is having none of it.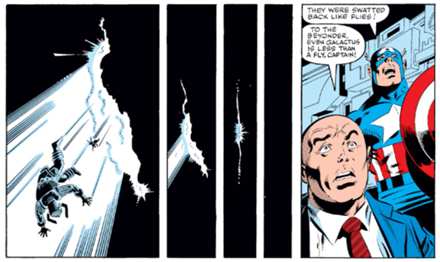 Meanwhile the superheroes are deposited on Battleworld, and after several pages of very dreary bickering about who's in charge they eventually nominate Captain America, because he is The Most American out of any of them. We then catch up with Doctor Doom, who wakes up next to a comatose Galactus and then heads off to look at a nearby fortress. Doom is very much a leading character in this issue, as he will be throughout the series, and this is reflected in the advertising for the toys too.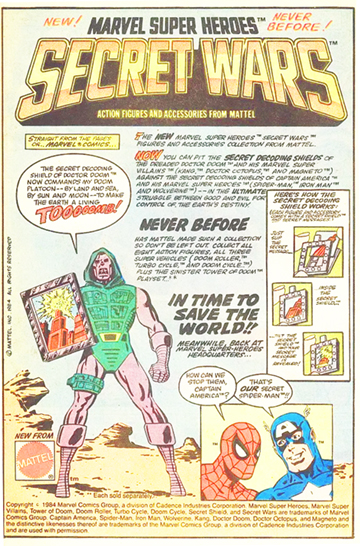 Inside the fortress he finds the supervillains gathered for more bickering. Jim Shooter sure does like to write people bickering! Again he tries to take control, and when they won't agree to him being the leader he behaves in a very Doom-like way by calling them all fools and zapping them with his gauntlet blasters.

He pinches a ship and flies off in a huff to talk to Reed Richards, reasoning that they can only get out of this if their two great brains can work together. Kang The Conqueror doesn't like this so zaps him with a handy laser gun, causing his ship to crash. The heroes rush out to help, and Doom takes exception to their offer of charity and zaps them all.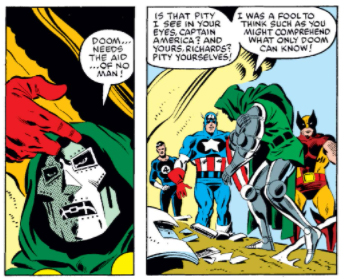 Just to recap the plot, what's happened there is that Doom has gone off to ask the superheroes for help, but then takes enormous offence when the superheroes... offer to help him? It's deeply stupid, but before we can try and unravel what's going on Doom flies off and the other supervillains turn up (having got there... somehow?) with a promise of a Big Fight for next time.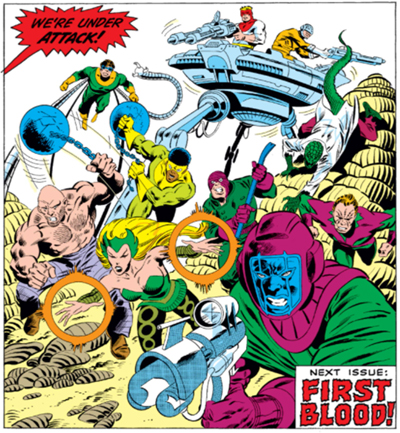 As I say, it's a right load of old rubbish, but thankfully there's only...um... eleven issues of it left to get through. That'll have to wait a while though, as next time we jump sideways and, in many ways, ahead to see what's going on back in the rest of the Marvel Universe!



link to information about this issue

posted 26/11/2020 by MJ Hibbett
(click here for permanent link)
(0) comments


---
What If Susan Richards Died In Childbirth?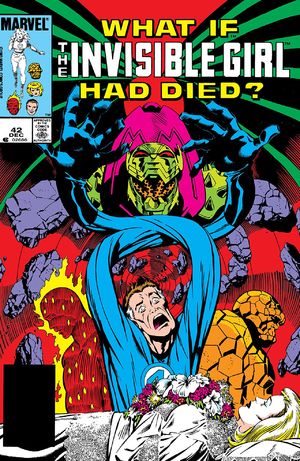 In most issues of "What If?" the answer to the question posed one the cover is usually "everything goes horribly wrong and several superheroes get killed". This comics is no exception, although it's still remarkable quite how utterly bleak and depressing the whole story is.

It starts off quite gently with a recap of Fantastic Four Annual #6, with the male members of the FF heading into the Negative Zone while Sue is in hospital about to give birth. There's a nice bit where she talks to Crystal about how she first met Reed and Ben, and then The Watcher tells us how this story originally ended, with the guys getting back in time to give Sue some Negative Zone energy which allows everything to work out fine.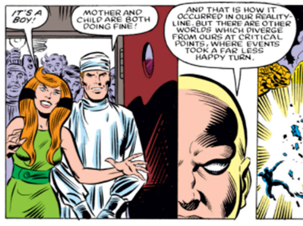 Showing this happiness feels a bit cruel as The Watcher immediately snatches us away to another version of reality, where they didn't get back in time and Sue and the baby both died. It's horrible.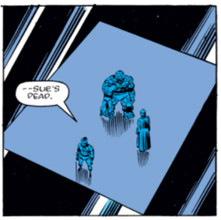 This is the point where Doctor Doom appears, as part of a whistle-stop tour around the Marvel Universe where we see different characters reacting to the news. Doom, as is so often his wont, has gone out onto a parapet for a bit of an old muse.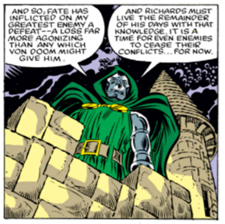 Doom is a regular feature in these sort of round-the-world trips, often being used as here to represent both supervillains and places that aren't America - a very similar example of this can, for instance, be seen in Thor #271, where Doom is shown alongside various other characters, pointing out that Something Important Is Happening.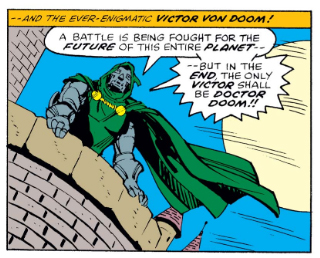 The issue then gives us a lengthy look at Sue's funeral, the sombre nature of which is somewhat spoiled for me by how much it reminded me of Fantastic Four Roast!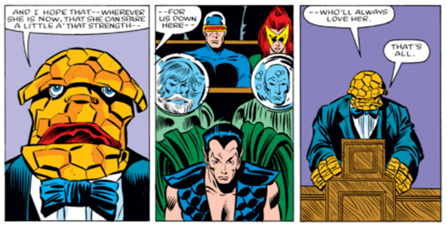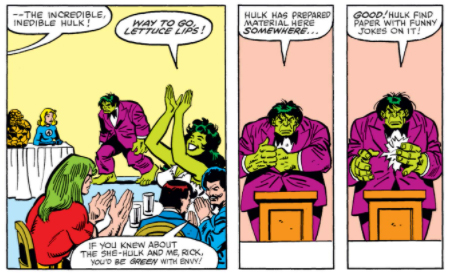 The rest of the issue follows Reed Richards as he falls into depression and heads back into the Negative Zone to take revenge on Annihilus for stopping him from getting back to our dimension in time to save his wife. Ben and Johnny, along with Namor who is staying in The Baxter Building for some reason, follow him, and there are various skirmishes which all end with Reed and Annihilus plummeting to their deaths in a Negative Zone sun.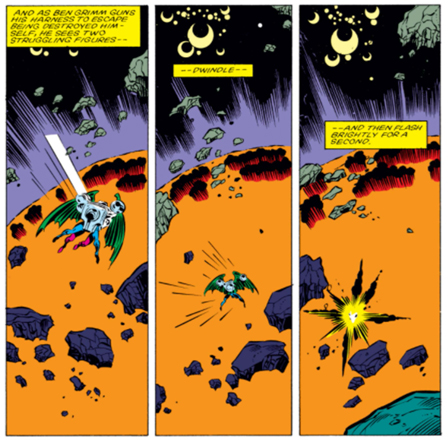 What a thoroughly gloomy and depressing read that was - it almost makes me eager for the light-hearted simplicity of "Secret Wars" which we'll be looking at next time. Almost!



link to information about this issue

posted 24/11/2020 by MJ Hibbett
(click here for permanent link)
(0) comments


---
Mindscape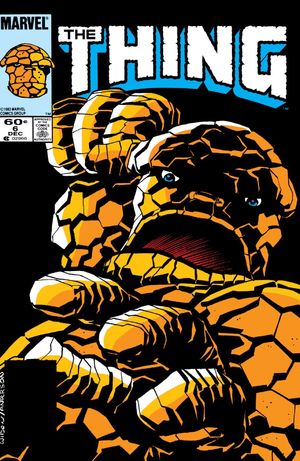 Another Doom flashback today in an issue which sees John Byrne (via the artwork of Ron Wilson and Hilary Barta) experimenting with form in a vaguely similar manner to his (in)famous issue of Alpha Flight where five pages took place in a snow storm, meaning that there were no pictures at all. This one's a little less cheeky, in that there are definitely characters, but as most of the issue takes place within the dark recesses of Ben Grimm's mind there are no backgrounds, only blackness.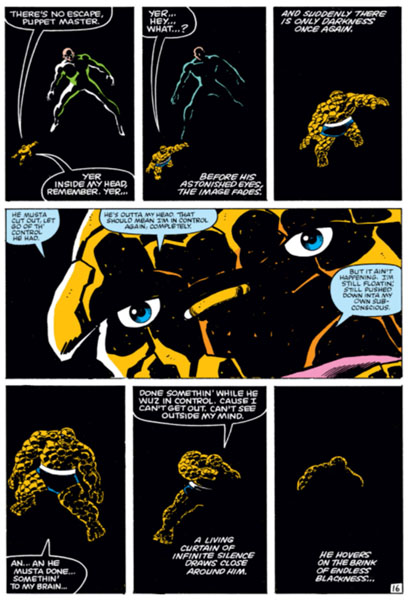 Wilson and Barta do fill out the panels with characters though, and the time saved on drawing backgrounds for most of the issue is clearly lavished on a double page spread towards the end which shows the true results of the battle which has filled most of the issue.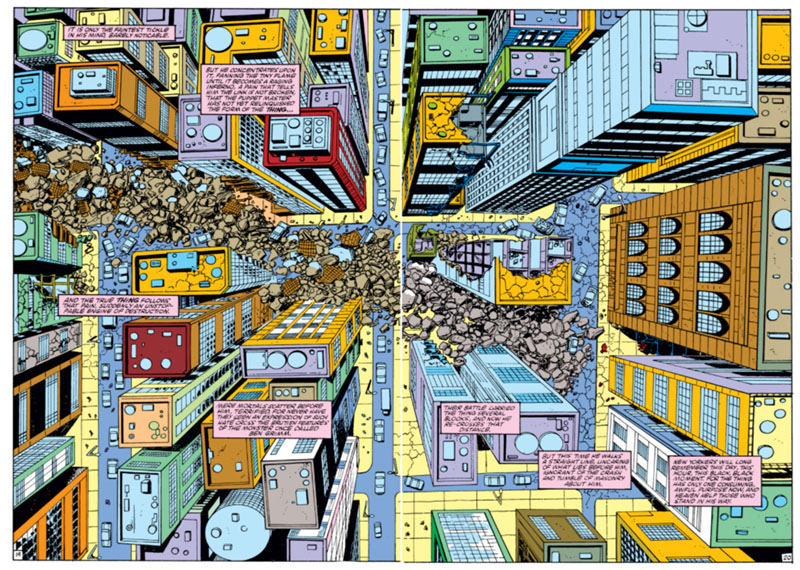 The story sees Ben Grimm trapped inside his own mind by The Puppet Master, who has developed new powers since we last saw him being crushed by Doom back in Fantastic Four #246. We get a recap of that issue, as well as aspects of Fantastic Four #236 and Micronauts #41, with Wilson redrawing/quoting some of the panels to fill in the story.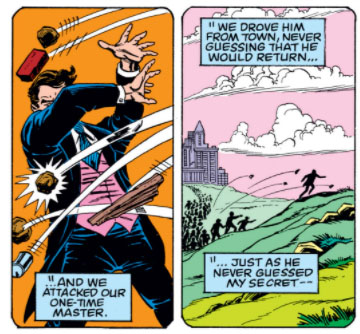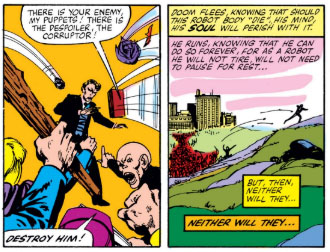 Doom has nothing more to do in this issue, but it's interesting how rooted in continuity and citation this story - and so many of the stories around this time - are. It's as if the creators (not just Byrne, but he he's definitely one of the main participants) are seeking to validate their own stories by including references to the past, proving that what they're creating is "real" and "counts" as part of the ongoing story. I'm not proud of it, but I must admit that I really like this, and miss it from more modern Marvel comics. Modern stories do still quote continuity, but they don't often include the editorial footnotes, which I think is a shame. When I was first reading comics I always found these very useful, as they told you whether or not something mentioned had already happened in another story, or was something new happening here for the first time. Actually, I still miss them and I wish they'd come back!

The actual plot of the issue sees The Puppet Master taunting Ben Grimm, who is stuck in his human form because his mind is the only place he can escape being The Thing. Eventually he is forced to transform and thus fully accept who he is, and, this being comics means, the psychological breakthrough manifests itself through lots of punching.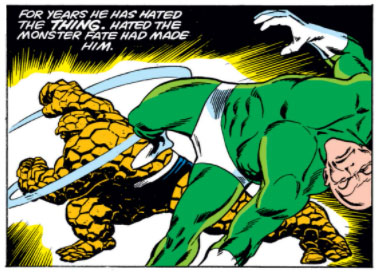 The Thing eventually escapes, and realises that he has been enacting the battle in the real world (as shown in the double page splash at the top). He goes to find the Puppet Master who is now living clay, taking on the form of whoever he controls. However, now that he has convinced The Thing to accept his own physical body he can now not change form himself and, under the strain... er... falls to pieces.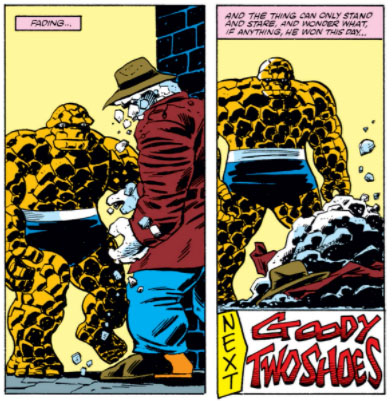 I'm not sure this is quite the masterstroke twist ending it's meant to be, but after such an enjoyable issue of psychology and punching I think we can let the creative team off. We're getting terrifyingly close to 'Secret Wars', where daft plots and ridiculous twists are going to be on the menu for weeks, so let's enjoy this while we can!



link to information about this issue

posted 20/11/2020 by MJ Hibbett
(click here for permanent link)
(0) comments


---
Unusu-Al Pin-Ups!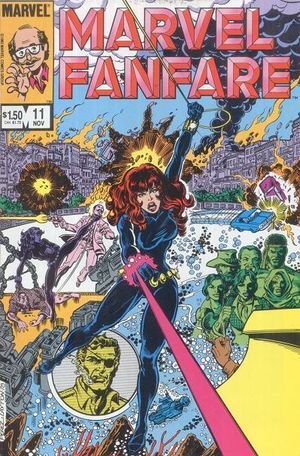 One of the most minor of minor Doom appearances today, as a small part of an intro page to a "hoovering up oddments" section of a title itself pretty much dedicated to hoovering up oddments!

"Marvel Fanfare" was supposedly a showcase of the best that Marvel had to offer, but my memory of it was as a ragtag collection of bits and bobs that hadn't been used elsewhere. Admittedly that was probably because the only copies I ever saw were those which my local comic shop had picked up cheap (often due to being slightly damaged) and sold at half price. For those of us on dinner money budgets this was very appealing, though I remember always being disappointed by the contents, which never seemed to match the High Quality Baxter Paper they were printed on. This was one of the issues that I bought back then, and the fact that it does feature an unused inventory story about Black Widow might well be what gave me the impression that's all it was.

This was reinforced by the contents of "Unusu-Al Pin-Ups" a section of supposed "pin-ups" (in actuality unused covers or single images) which clearly states that at least some of the images contained were repurposed from elsewhere.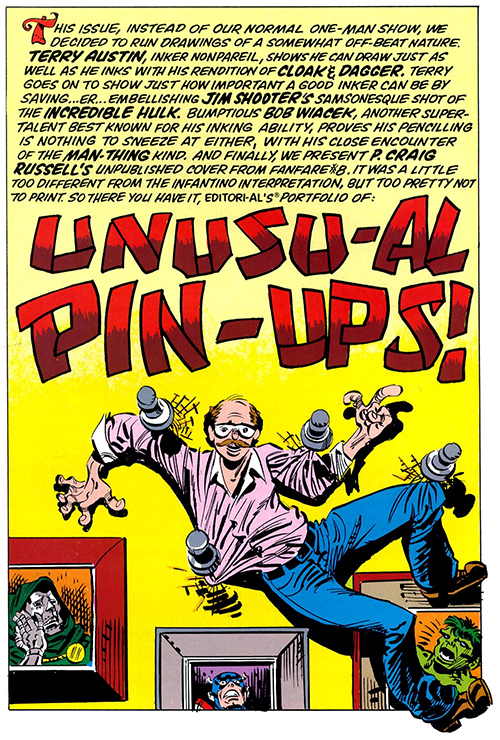 Doom's presence in this comic comes from here, with him above shown looking worried about editor Al Milgrom's predicament. It reminds me of all those other times when Doom has been used in "humorous" situations, with his usual status as Main Supervillain being very gently subverted by showing him expressing an emotion that one wouldn't normally expect to see - similar to the Hulk looking surprised elsewhere in the image. If nothing else it shows how consistent Doom's role has been in these sort of scenarios. All it really needs is a picture of Aunt May attacking someone to make it go full-on Not Brand Echh!



link to information about this issue

posted 17/11/2020 by MJ Hibbett
(click here for permanent link)
(0) comments


---
The Daydreamers!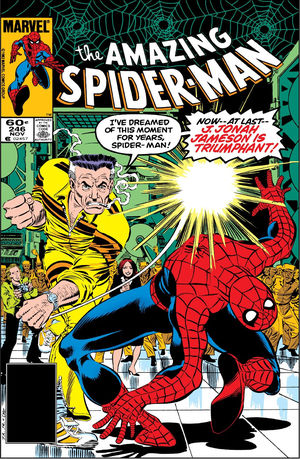 After all the excitement of the recent John Byrne trilogy, today we're looking at an extremely minor appearance by Doctor Doom in a rather minor issue of Amazing Spider-Man. It doesn't have an awful lot to say, but is quite a sweet little story in which The Watcher invites us to look into the daydreams of the regular cast. In many ways if feels like a fill-in issue, except for the fact that it's clearly situated within the current run and is written and drawn by the regular creators, so it's really just a nice one-off, done-in-one story which delves deeper into the regular characters.

It's all a lot of fun, although I'm not quite sure why The Watcher has to get involved - as far as I'm aware he doesn't usually have anything to do with daydreams, and the storyline would work perfectly without him. Anyway, it starts with The Black Cat recuperating in hospital from events of previous issues, only to be interrupted by Spider-man.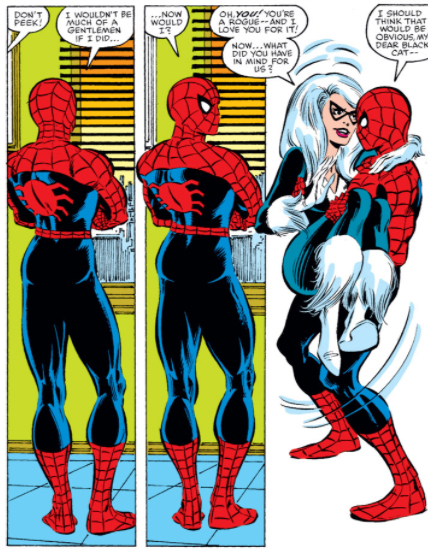 I really like the way that Spidey is a little bit "off" throughout, a lot more self-confident than usual - this is Black Cat's daydream version of him, and it's done in a way that is obvious without ever being pointed out in the text itself. The daydream sees him taking her out for an evening of high living, at the end of which he removes his mask and turns out to be... Cary Grant!

Next we get J Jonah Jameson dreaming about beating Spider-man once and for all, in a sequence that's notable for the delightful way in which his hair gets darker and more flowing as he gets happier.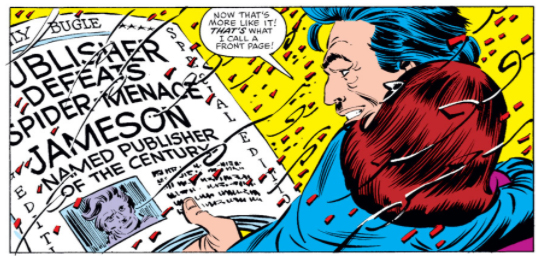 Following on from that we see Mary Jane merrily imagining beating Meryl Streep to a job playing herself, with John Travolta as Spider-man and Woody Allen as Peter Parker. Interesting casting!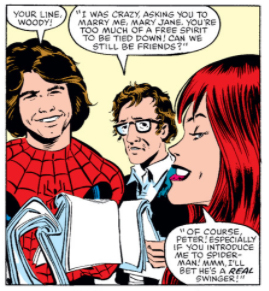 Doom appears in the last section, in which Spidey dream of saving Jonah from an attack by a whole bunch of super-villains, forcing Jameson to finally recognise him as a hero.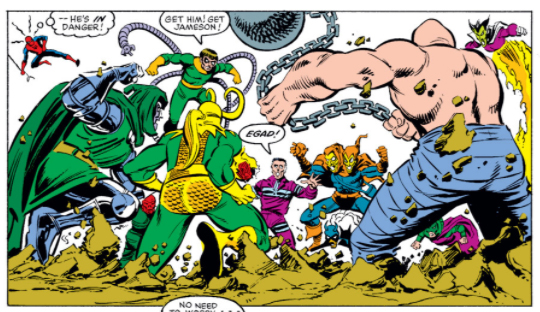 This appearance by Doom reminds me of the way he was used so often a decade or so earlier as a member of groups of super-villains, always placed prominenty in a scene to show that this grouping together was a big deal. There'll be a lot more of this when we get to "Secret Wars"!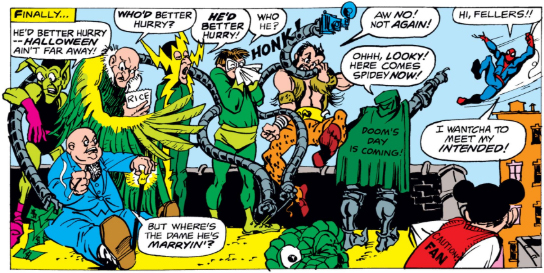 Spidey being Spidey he can, of course, never be happy for too long, even in a daydream. The Avengers and Fantastic Four are arguing over him, each wanting him to join their team, until suddenly they all realise at once that he's just some skinny kid and drop the whole idea. This neatly dovetails into real life when Spider-man spots an actual skinny kid being bullied, and leaps in to help. As he leaves the boy again the story finishes with one last bit of daydreaming.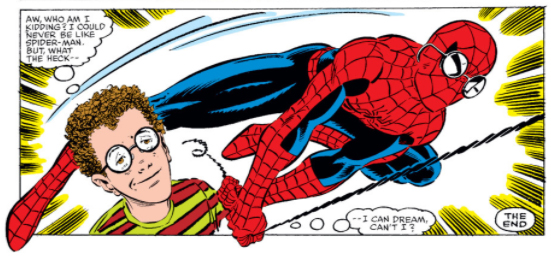 It's a lovely ending to a sweet story that, as I say, doesn't have an awful lot to say about Doctor Doom, but even a Doctor Doom blog has to admit that, just occasionally, that's all right!



link to information about this issue

posted 12/11/2020 by MJ Hibbett
(click here for permanent link)
(0) comments


---
When Titans Clash!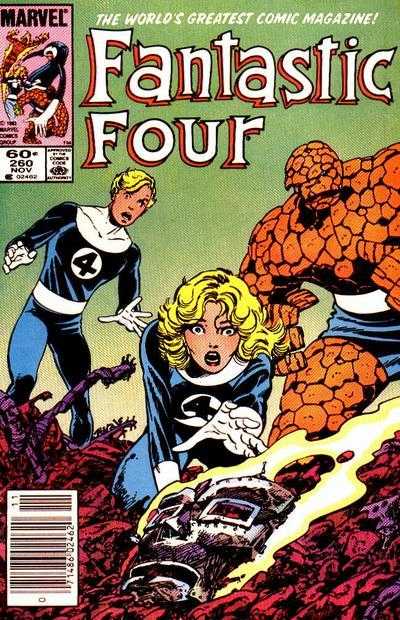 As I've mentioned many times before, this blog is part of the process of writing my PhD, which is looking at Doctor Doom as an early transmedia character. Part of this involves looking at his "character coherence" - the extent to which he remains the same over time and media - and I'm measuring this by looking at his "signifiers" i.e. the things that make him Doctor Doom. This includes aspects like appearance, the other characters that are around him, the names he's referred to by them, and the physical actions he undertakes (among others). I mention this here because this issue is like a roll call for Doom signifiers, as if John Byrne was intent on making this the Doomiest Doctor Doom of all time... right before killing him.

Yes, that's right - Doctor Doom is killed in this issue, definitely, totally and without question. I remember reading this at the time and thinking that that must be true anyway, although now, with the experience of having read every Doom appearance up to this point, it's pretty clear how he gets out of it, even if it does take a very deep dive into past continuity to work it out. Maybe that's why Byrne has been using so many references in earlier parts of this story, so he can justifiably lay the groundwork for Doom's escape.

That's all to come later on though, as this issue begins with three pages featuring The Submariner. Reading Doctor Doom stories means I've read a LOT of Namor stories, and I must say he's never been a character I've ever been interested in. Luckily for me he is soon replaced by a much more enjoyable Big Fight between Tyros and the Fantastic Three (as Reed Richards is Mysteriously Absent) as he fights them to a standstill, watched the whole time by Doctor Doom.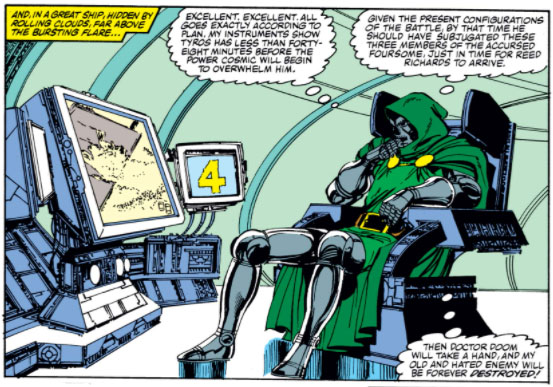 Watching events via a screen is one of the MOST Doomiest things that Doctor Doom does, and on the same page we get to see a Close Up Of Doom's Eyes and then Doom Striding Through A Crowd, two more extremely common signifiers, swiftly followed by Power Blasts From Gauntlets.

Doom is unhappy because Reed Richards hasn't turned up, and he can't have the final victory he wants if his greatest enemy isn't there. This is a lovely bit of characterisation by Byrne - Doom hates Reed Richards specifically, much more than the rest of the FF, and is prepared to cancel the whole plan if he can't have the full result he's after.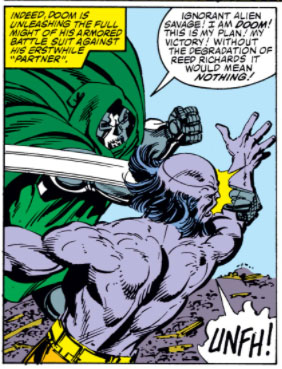 Tyros is understandably unhappy about having his own revenge thwarted, and uses a blast of the power cosmic to fuse Doom's armour, leaving him to "remain a monument to your own stupidity". Before he can carry on with killing the three members of the FF, however, yet another guest star arrives in the shape of The Silver Surfer.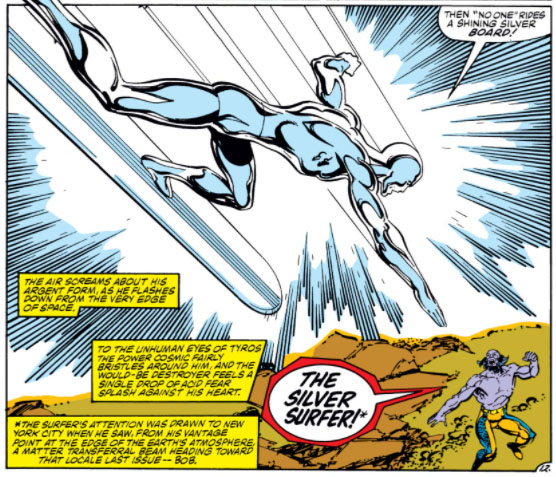 As the text box in the corner says, we saw the Surfer right at the end of the last issue, noticing a matter transference beam leaving the earth and deciding to investigate - I guess that the editor Bob Budiansky didn't think this was particularly clear, so felt the need to point it out in case it seemed like just a coincidence that the Surfer turned up. The matter transference beam, by the way, later turns out to be Reed Richards being transported off-planet to stand trial for saving the life of Galactus in an earlier issue, but that's got no Doctor Doom in it so, very sadly, won't be discussed here!

What we will discuss, however, is Doctor Doom's escape. We see him trying to work out how to escape while watching Tyros and the Surfer having a Big Fight in the sky, and realising that there's one way he could do it.

We then switch to the watching crowds, and see a young man look suddenly surprised, and then speak very rudely to yet another guest star - it's Aunt May!
This is a lovely bit of casting by Byrne, and an actually quite subtle bit of acting in the illustration of the surprised young man - at the time I thought Doom was sending a telepathic message or something, but now it's obvious that he's taken control of his body. This is done, we'll eventually find out, using the mind-transference techniques he was taught by The Ovoids way way back in Fantastic Four #10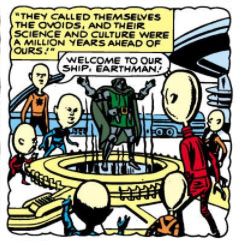 For now though all we see is Doom's body being destroyed when the Surfer and Tyros crash to earth.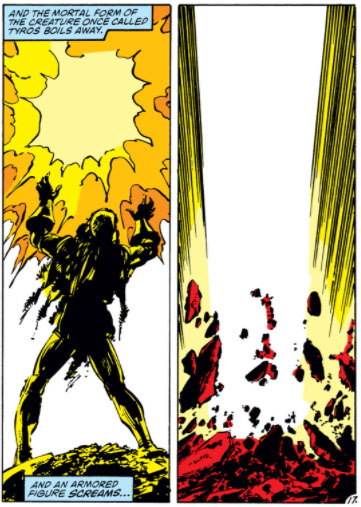 I do like the fact that Byrne says "an armoured figure screams" - we later realise it's not Doctor Doom, and this way of putting it remains truthful while not giving the game away.

Tyros is defeated, and all that remains is for Sue to find Doom's mask in the wreckage, and to declare their old enemy as dead. "Good riddance", says The Thing.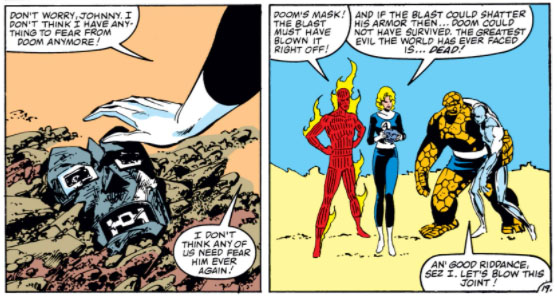 The comic still has three pages to go - they really packed the story in in those days! - as Sue wanders around the Baxter Building looking for Reed, realising something's up when she sees that he didn't put their lasagne in the oven for tea. Before she can stick it in the microwave, however, she's interrupted by Namor, who wants her to come with him into John Byrne's other series.

Doctor Doom will now be absent from the majority of the Marvel Universe again for about two years, but that doesn't mean we won't be seeing him around. Very soon we'll be leaping into his show-stealing appearance in Secret Wars, but before that we've got a whole bunch of flashbacks and recaps, starting next time!



link to information about this issue

posted 10/11/2020 by MJ Hibbett
(click here for permanent link)
(0) comments


---
Choices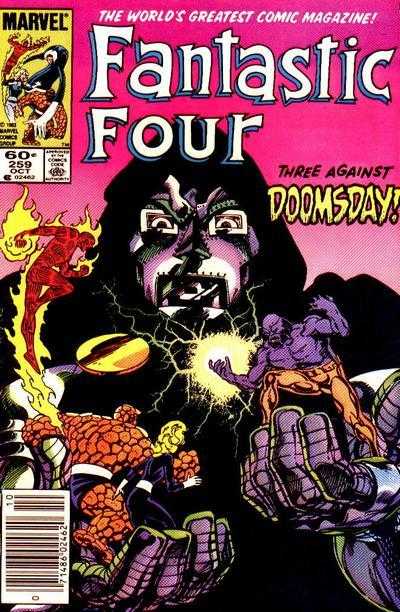 After John Byrne's power grab of the last issue, where he did his very best to envelop every Doom appearance of the past few years into his own narrative, this time it's sort of back to normal. I say "sort of" because Mr Fantastic doesn't appear at all, and also because a large portion of the story is the rest of the FF going about their domestic business. Johnny is sitting around in his new apartment, Ben is catching a taxi back from the airport, and Sue spends the first several pages of the comic looking at a new house.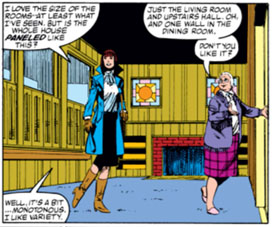 It's all so nicely done that you almost forget that this is supposed to be a superhero comic, but things eventually get going when Terrax, now back to calling himself Tyros after being re-imbued with the power cosmic by Doctor Doom last time (I've read so many comics where trhe characters give recaps of previous issues that I seem to be doing it myself now!), attacks Ben and a proper Big Fight breaks out.
While Johnny heads over to help Sue is picked up by a floating ship hidden in the clouds - an old trick of Doctor Dooms we last saw back in the much-adapted Fantastic Four #17. However, when Doom appears Sue quickly works out that he's a robot.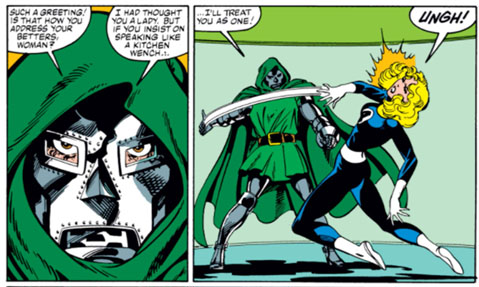 Doom would happily kill a woman, she reasons, but not hit one, and so she's happy to blast the robot's head off with a force field. This leads Doom himself to show up, using a floating display screen that rather charmingly recalls the cover to his very first appearance.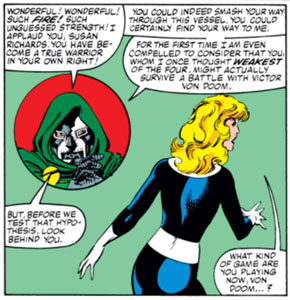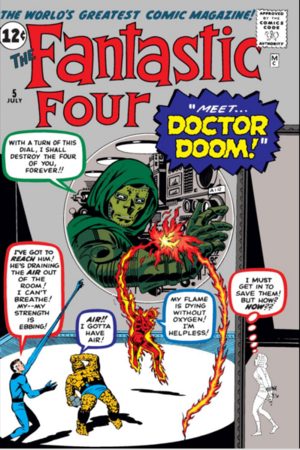 Doom talks about how much Sue has come on as "a true warrior in your own right", echoing John Byrne's expressed determination to make her more than just a feeble female who gets kidnapped all the time. He then opens the side of his floating ship to show her the scene below, where Tyros is beating up both Ben and Johnny. He then finally shows up in person and offers her the choice, to fight him there and then or go to help her friends - "remembering always that to do so is to flee Doom, to acknowledge him your master."

I hate to disagree with The Master Of Menace, but I don't think that's an entirely accurate appraisal of the situation, and even the narration acknowledgea that "his logic is flawed , warped by his unequaled ego". Still, Sue obviously has no choice and so leaps into battle - and there the episode ends, bar a final page where we see the Silver Surfer spotting a "matter transference beam" and zooming down to Earth to investigate.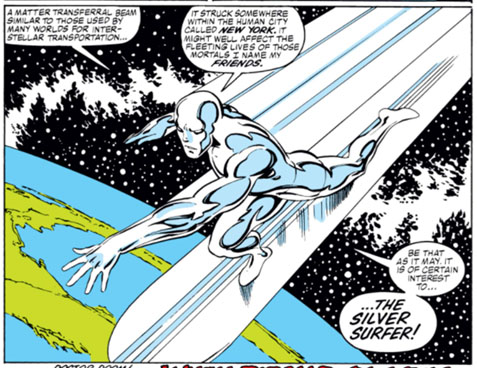 And that's the lot for this one - I must say it's a relief to have a story so light on continutiy after the mammoth task of last time, but there's more deep (very deep!) continuity to come in the next one!



link to information about this issue

posted 5/11/2020 by MJ Hibbett
(click here for permanent link)
(0) comments


---
Interlude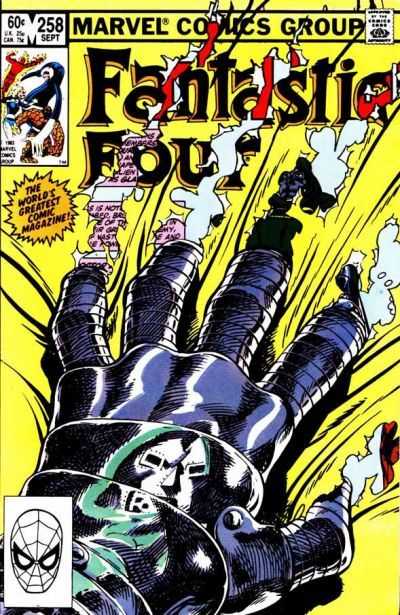 A few weeks ago we looked at This Land Is Mine! in FF247, a story where John Byrne brought together strands of Doctor Doom continuity from the previous twenty years in order to place his own stamp on the character. It was a masterful use of the possibilities of creating new stories within a massive, long-running storyworld, but in terms of continuity the comic we're looking at today makes it look like an issue of Spidey Super Stories!

This blog took me longer to write (by a LONG way) than any other up to this point, because it's a concerted attempt by John Byrne to gather together as many recent (and not so recent) Doctor Doom stories as he possibly can and hammer them together into a single coherent storyline that he is in control of. It reminded me of the games fans play trying to make it all make sense, or indeed recent series like History Of The Marvel Universe or X-Men: Grand Design, where creators tried to force every single piece of comics history into a single unified, sensible, narrative. For the most part those series worked more as illustrated encyclopedias, bringing events together through narration and montage, but here John Byrne weaves it all together in a single story, often using quotation of images and dialogue to link past events together. It's a bold, quite experimental, move, for a mainstream superhero comic, and while it doesn't quite match "This Land Is Mine" for narrative daring or character redefinition, it's a very satisfying one to play "spot the references" with.

The experimentation starts with the front cover, which sees Doom ripping apart the cover to reveal something else underneath. I wonder how Byrne achieved this? The bits of the splash page we see revealed on the cover do match up exactly with what's beneath, including the inking, and lettering (see below), and whereas nowadays this would be easy to do this using computers, back then I guess the original artwork would have had to been cut through and then laid over the lettered version of the first page.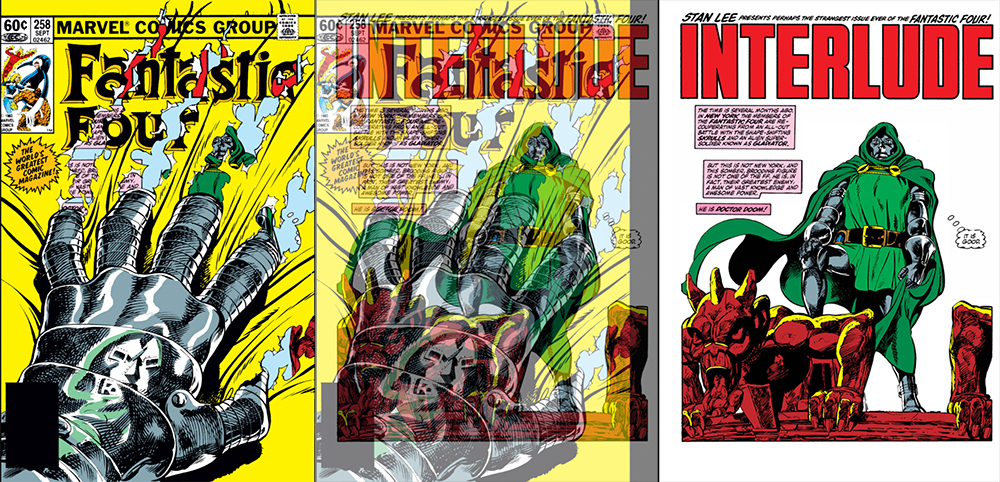 The idea of the cover being torn is not new - a very famous example is the new X-Men bursting through the original version of the team in Giant Size X-Men #1 - but here the action of destruction is coming from outside the comic, rather from within. Doom is not escaping from inside the comic, he's breaking it from the outside so that we can see behind the usual imagery and get a look at something we wouldn't see - much like the story itself.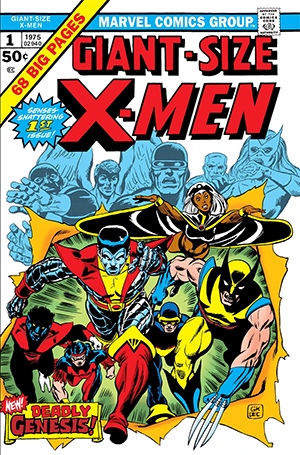 This issue of "The Fantastic Four" does not feature the FF at all. It's an entire comic dedicated solely to Doctor Doom and what he's been up to over the past few months, often in the background of other stories. In some ways this is a comics version of what this blog has been trying to do - seeing if there's a single Doctor Doom storyline that has been told within (and often between) different texts without breaking through into it's own comic ... until now.

Having Doctor Doom as the lead character is not new either of course. He had his own series back in Astonishing Tales and Super-Villain Team-Up, and he's taken over large portions the FF's series too, such as when his origin story was first told in Fantastic Four Annual #2 or the focus on his many machination in Fantastic Four # 87. That means this isn't quite "the strangest issue ever of The Fantastic Four" as promised on the splash page, but it's certainly the most reference-heavy that I've ever read!

The referencing starts with pages two and three, a double page spread showing Doomstadt being repaired, which instantly recalls the ruined city we saw in the similar spread in "This Land Is Mine".
Interestingly, the castle in the background has changed from the slender version earlier to a direct copy of the Jack Kirby version first seen in Fantastic Four #87 (and then Spidey Super Stories #19) and more recently in The Official Handbook To The Marvel Universe. It seems that this version is taking over from the Frank Miller castle that has been the standard for some time.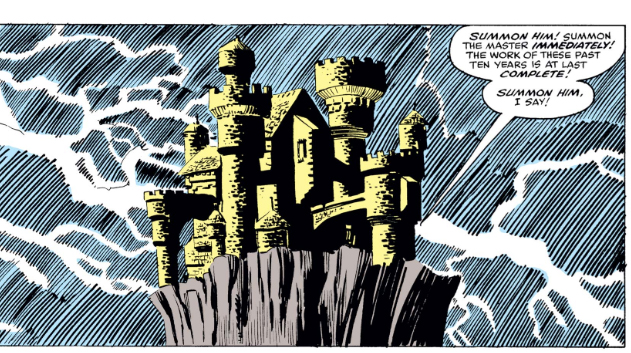 Byrne adds another detail which makes it clear (to those who are super-familiar with his run on this series anyway) that this is definitely meant to be the same location as in the earlier comic - in the background we can see the same statue that Doom was standing in front of when he first confronted the FF with the results of Zorba's rule.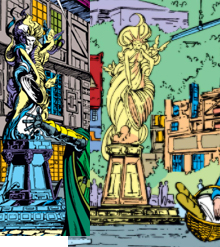 The workers in the foreground, who echo the positions of the FF in the previous version, are notably happy about their work. This is in marked contrast to other occasions when Latverian workers have had to rebuild their town, such as in Astonishing Tales #4 or the Spider-man cartoon series.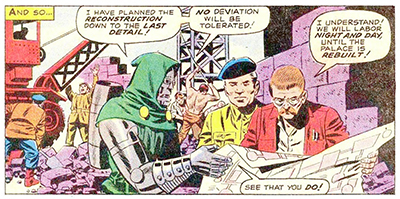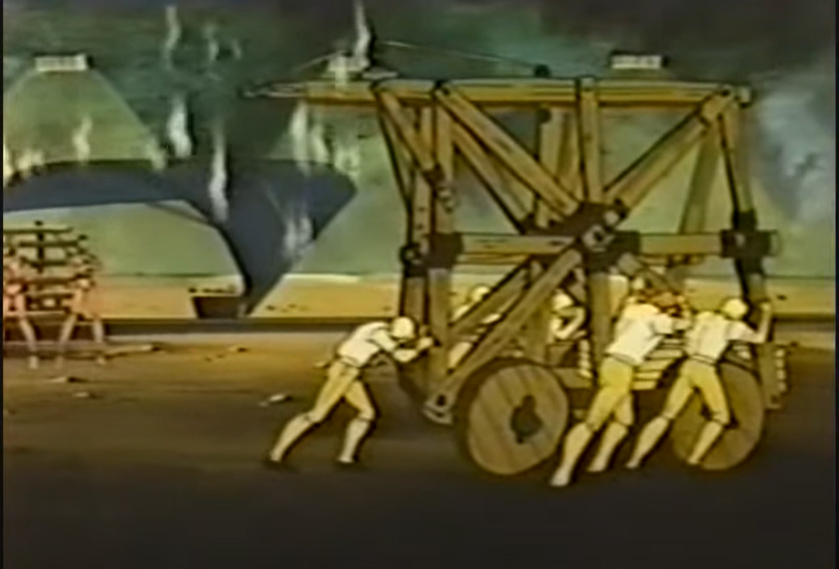 The continuity continues on the next page, where Doom is visited by a gipsy girl with news from the outside world.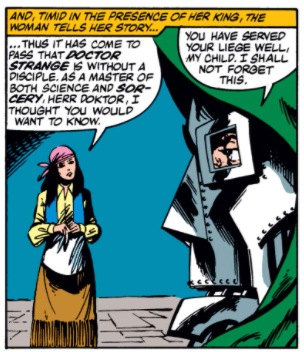 If this exchange seems eerily familiar that's because it's an exact retelling of a scene we saw very recently in Doctor Strange #57.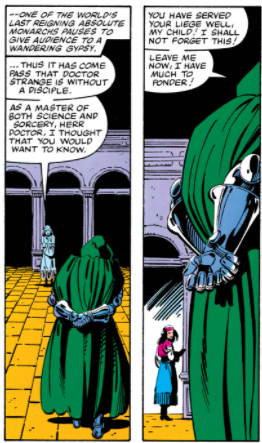 I don't know if this was a mutual decision between John Byrne and Roger Stern (the writer of Doctor Strange) or Byrne just did it without consoltation, but the pair would collaborate like this a couple of years later on Fantastic Four Annual #19 and Avengers Annual #14, when the same story was told from the perspective of each team, with several scenes being duplicated.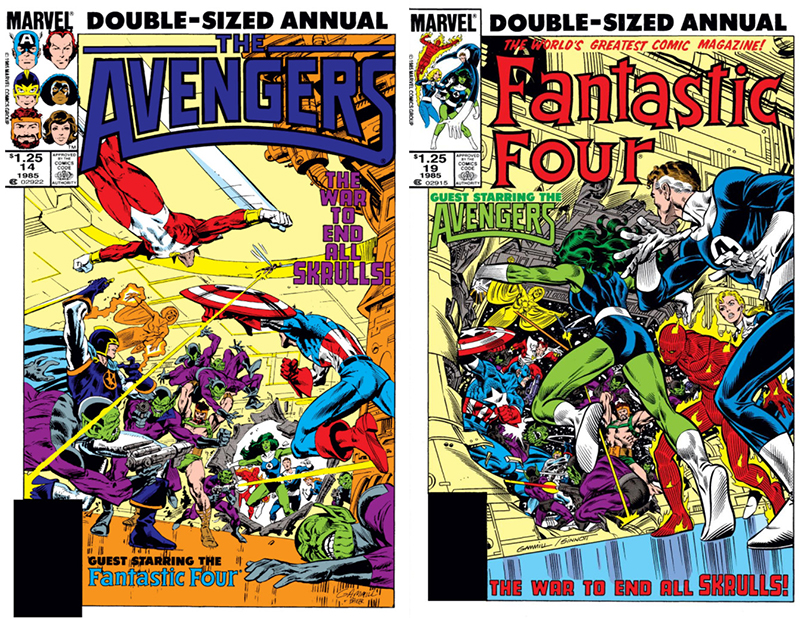 The continuity keeps on coming as we catch up with Kristoff, the young boy whose mum was killed back in This Land Is Mine! It turns out that Doom has adopted the child as his ward, and we follow the pair as they go on a tour of the castle where Doom (or rather John Byrne) catches up on even more continuity. This time it's Uncanny X-Men 146, which saw Doom teaming up with Arcade. Apparently John Byrne felt that Chris Claremont, scripter on this and so many other issues of X-Men, did not write Doom properly, notably allowing Arcade to strike a match off his armour, so retcons the whole storyline so that it was a robot, not Doom, who was involved.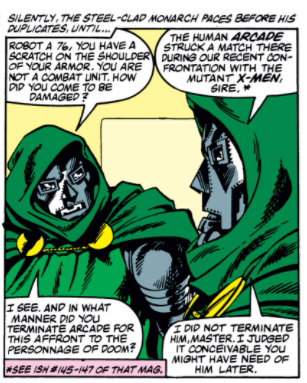 Doom destroys the robot for suggesting he would "need" anyone... and John Byrne basically gets to throw his weight around a bit, demonstrating that Doom is his character, so he has final say on how he acts. This whole issue is an exercise in ownership, with Byrne bringing as many previous Doom stories into his own series, partly to show that we're looking at the one true Doom here, but also to say that he himself is the one true author of the character.

We follow Doom and Kristoff for the rest of the day, including an appearance by one of the Latverian policemen from Fantastic Four Annual #2, before cutting to the next morning, where Doctor Doom's breakfast is disturbed by a message from Hauptmann, the long serving/suffering scientist who we last saw reviving Doom in Fantastic Four Annual #15. This leads to a recap of the storyline which began in Fantastic Four #57 where Doom stole the power of The Silver Surfer - a recap which features more of Byrne's redrawings of Kirby panels from a different viewpoint.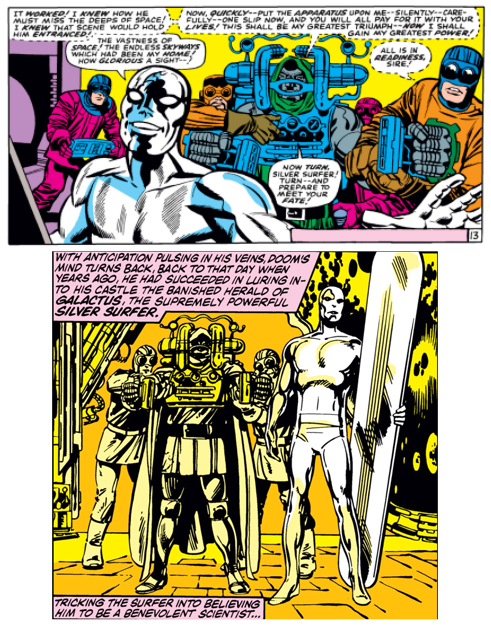 It turns out that Doom still has access to the Surfer's power, and has had Hauptmann working on a way to transfer it into another body. Hauptmann invites Doom to use the machine to empower himsefl, but Doom is having none of it and insists the scientist has first go... with predictable results.

Byrne thus ties up the long-running saga of the Hauptmann brothers by having this one finally attempt to take revenge on Doom for murdering his sibling way back in Fantastic Four #87.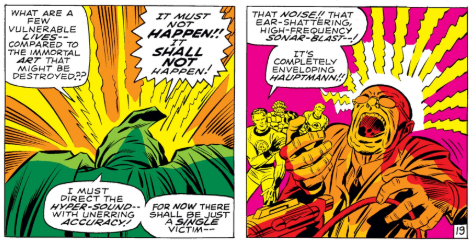 I did say there was a lot of continuity references in this comic didn't I? We get a very brief respite from it now though, as Kristoff returns to say goodnight. He makes the dangerous mistake of telling Doom that he's read somewhere that Magneto's power rivals his own. Doom snaps at this (despite the fact that poor old Kristoff only said that he'd read it) and lifts the boy up by the scruff of his neck to give him a right telling off before sending him to bed.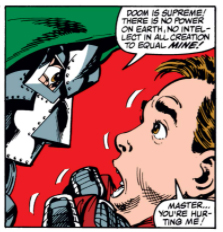 With his parental duties done (badly) Doom returns to the issue of the power cosmic, with a cunning scheme to find a new host powerful enough to be able to handle it. This involves, of course, even more continuity as he sends some Doombots off to New York, where they sneak around a hospital looking for a specific patient. As we should be able to guess by now, this is not just any hospital but instead the very same one where The Thing was a patient recently in Marvel Two-In-One #96.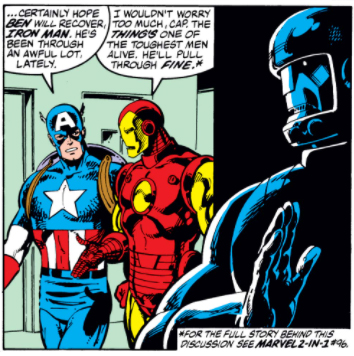 It strikes me that Byrne may have asked for a list of all Doom's recent appearances, and chanced upon this one as a nice way to link the hospital visit in too. In fact, Byrne's managed to rope in pretty much every major Doom appearance (ignoring flashbacks and single panel cameos) from the last three years, with the only ones missing being "Doomquest" in Iron Man and his two issues of Dazzler. Having said that, both of those storylines were already tied into the loose "The Return Of Doctor Doom" storyline. so maybe he thought they were already covered.

The robots find the patient they're looking for and take him back to Latveria, where he's revealed to be Terrax, recovering from his dismissal from Galactus's service in Fantastic Four #243. There's a triple whammy of continuity here, as not only does Byrne refer back to his own story, but also to Terrax's original origin story as Tyros The Tyrant from Fantastic Four #211 AND to the naming of his planet and people in The Official Handbook Of The Marvel Universe #6. It was here in the handbook, apparently, that his planet was named Lanlak and his people the Birj, although it may be that Byrne himself chose the names and told the Handbook compilers he'd been doing this in advance.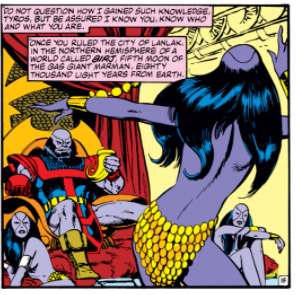 Doom has selected Terrax/Tyros to be the bearer of the power cosmic because a) he's used it before and b) he hates the Fantastic Four, so charges him up and sends him off for a big fight in the next issue. One of the Doombots (who clearly hasn't seen what happens to people who question Doom's schemes) suggests that this might be a bit daft, as Tyros now has the power cosmic and could very easily use it to take over the world himself, but Doom reacts much more calmly than previously - possibly because he was waiting for the chance to show off about how clever he's been.

Tyros only has five hours to live, whatever happens, so will be no threat to Doom! The cunning rotter!!

And that - at last - is the end of the comic. As I said at the beginning, this blog took me far and away the longest to write out of all of them so far, purely because it's packed so tight with references. It's been a fascinating (for me) examination of all the work that Byrne's put in here to claim Doom as his own, possibly in preparation for the changes that are on the way soon. It is, in fact, his way of saying "This Character Is Mine!"



link to information about this issue

posted 3/11/2020 by MJ Hibbett
(click here for permanent link)
(0) comments


---
The World According To ... Faustus!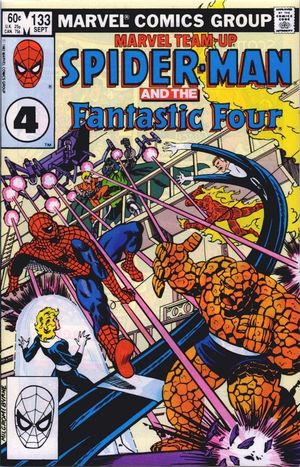 This issue of Marvel Team-Up claims to be a team-up between Spider-man and The Fantastic Four, but it's not really that at all. It's partly a continuation of the previous issue's team-up with Mr Fantastic, with the rest of the FF appearing as helpless victims of the main villain Dr Faustus, who is the real star of the issue with the main story concerning his creepy relationship with a character called Anna.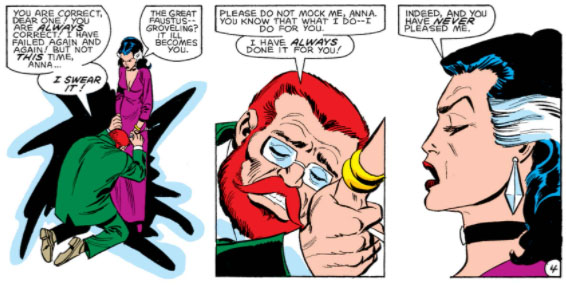 We're meant to think that Anna is Faustus' wife, but (SPOILERS) when we reach the end of the story it turns out that she was never there at all - she was some mysterious projection of Faustus' mind! OOooOOooOh!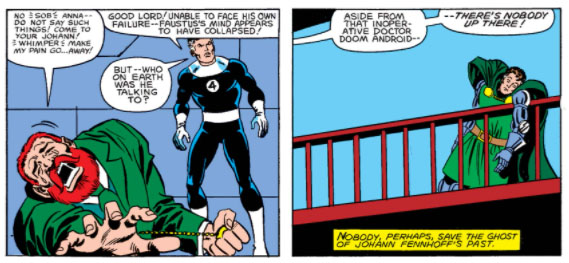 This is not quite as surprising as it was probably meant to be, largely because this is an extremely common story point used again and again, notably in "Psycho". The very end of the story even goes so far as to say that Anna was actually the main character's mother all along!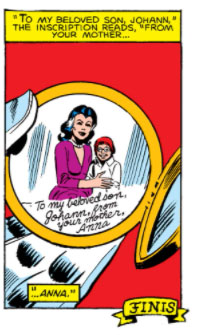 As shown above, Doctor Doom doesn't really appear at all, despite being shown on the cover. He's actually a robot used as part of Faustus' incredibly complicated scheme to drive Mr Fantastic mad through screwing about with his mind.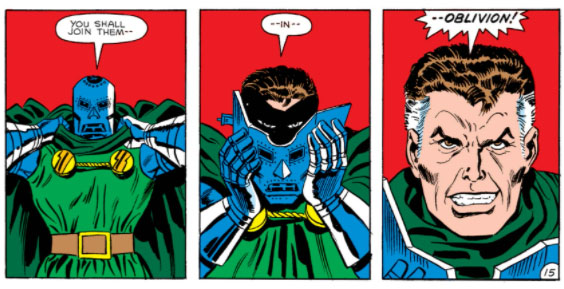 The scheme fails because Mr Fantastic was able to tell the difference between his actual wife and the robot that Faustus used on him - I'm only surprised that this gigantic flaw doesn't bring down more Evil Schemes. For instance, Arcade is forever fooling people into mistaking robots for loved ones they interact with every day, which doesn't seem hugely likely however amazing the robot is. Actually, this story does very much remind me of Arcade stories, as all sorts of impossible and weird things happen which get explained half-heartedly at the end as down to mirrors, robots, or, in this case, suction cups.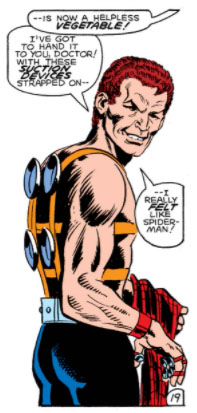 It's all a bit crappy to be honest, but better things lie ahead for us as next week we embark upon a three-part story back over in the pages of Fantastic Four that is full of Doctor Doom, kicking off with an entire issue all about him - next time!


link to information about this issue

posted 29/10/2020 by MJ Hibbett
(click here for permanent link)
(0) comments


---