current
/
archive
/
issues
/
faq
/
RSS feed
/
twitter
/
---
A Past Gone Mad!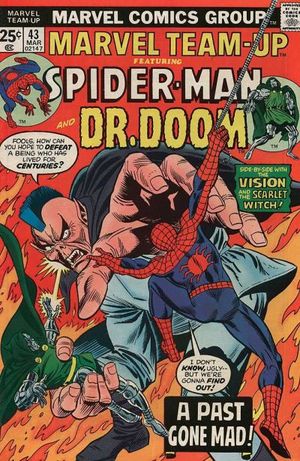 Doctor Doom's been co-starring in various versions of "Super-Villain Team-Up" for a while now, but this is his first appearance in the more popular "Team-Up" series. Spider-man's shared this title with various anti-heroes before, including Namor, Werefolf By Night and Son Of Satan, but Doom is the first outright supervillain to star. And is that a Jack Kirby Doom at the top right?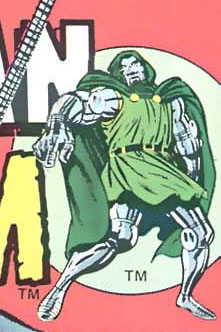 (sorry for the poor quality picture - this issue isn't on Marvel Unmlimited so I had to source it elsewhere!)
The previous issue ended with Doom saying he's come to make an alliance with Spider-man in order to save the world, but this one starts with him admitting that he's been drawn here by the power of The Dark Rider. The Dark Rider claims to have been expecting this, deliberately luring Doom here out of interest in the magic powers Doom inherited from his mother, and this leads into a rather natty double page spread by Sal Buscema which gives a pretty swift recap of Doom's origin (missing out the attempts to save his mother from hell) while, around them, Spider-man and The Vision are attacked by the Rider's familiar.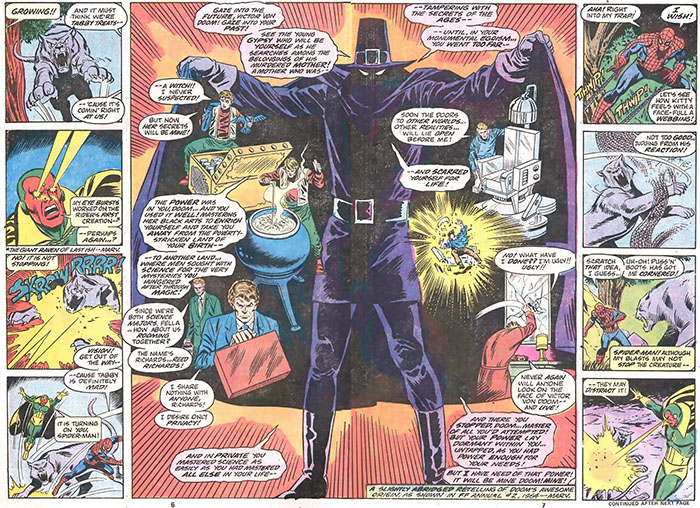 This is all a distraction, as The Dark Rider is draining Doom's mystic powers for himself - another example of Doom's old plots being used against him, in this case the comfy chair which drained the power cosmic from the Silver Surfer - but Doom, as ever, refuses to be beaten, and fights back.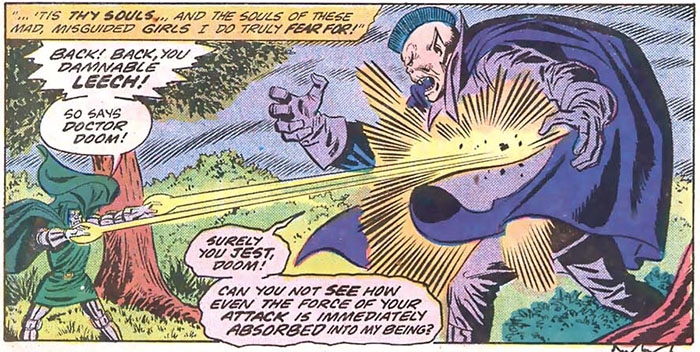 The action cuts to a fairly straight re-telling of the historical story of the Salem Witch Trials, before we return to find Doom and the Rider still fighting. Spider-man and The Vision leap in to help, with the latter getting zapped. The Scarlet Witch revives herself enough to zap back, but then she too collapses, leaving Doom and Spidey alone. At which point the former makes a slightly less than truthful statement:

Not "the first time", surely? Doom takes control of the situation, giving orders to Spider-man, but it's all for nothing and, when the issue ends, Doom's worries turn out to be true.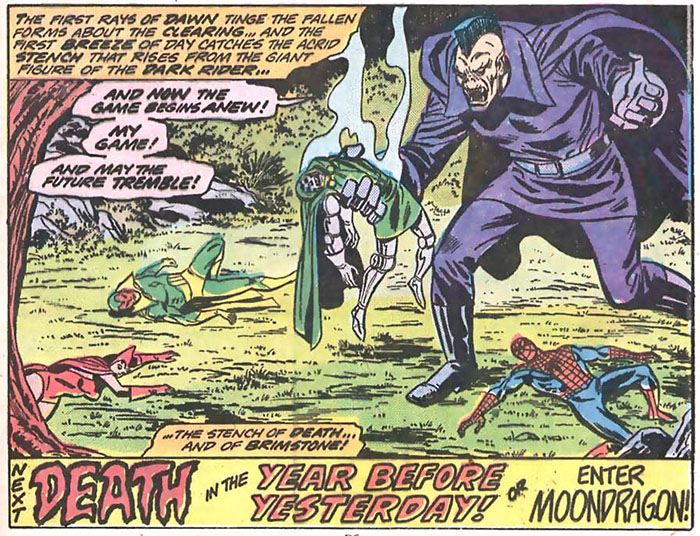 It seems significant that Doom is the one the Rider is holding as the final trophy - the last one to fall, showing his heroism once again. It's all very exciting, and we don't even have to wait a month until we find out how it all ends!
link to information about this issue
posted 11/7/2019 by MJ Hibbett
(click here for permanent link)
(0) comments
---
Visions Of Hate!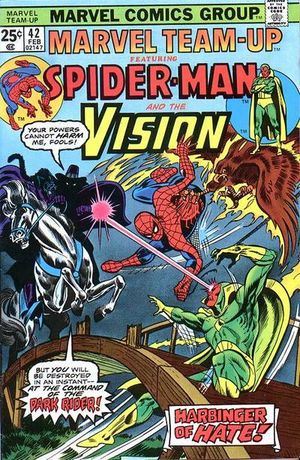 This is the second part of a four issue-long story in "Marvel Team-Up" which sees Spider-man and various pals travel back to the time of the Salem Witch Trials. Doctor Doom very nearly appeared in the previous issue, in which The Scarlet Witch was summoned by evil voices to a mysterious castle, where she stole a time machine. It's clearly Doom's time machine, although its less clear whether the castle is in Latveria or the original one near New York (which seems to be left completely unguarded - surely a health and safety incident waiting to happen?) but Doom himself is never mentioned, I guess in order to raise suspense for when he eventually does appear, in this issue.
Spider-man, Scarlet With and The Vision start the issue in Salem in 1692, with The Scarlet Witch casually mentioning that yes, it definitely was Doctor Doom's castle she was summoned to, which rather spoils my theory above. They're surrounded by Cotton Mather and various Salem citizens, who are extremely keen to see them burnt as witches. It's a bit of an uneasy situation for a reader - we know that the people of Salem murdered several women in a fit of mass delusion, but in this case all three characters are at least supernatural, and one really is a witch!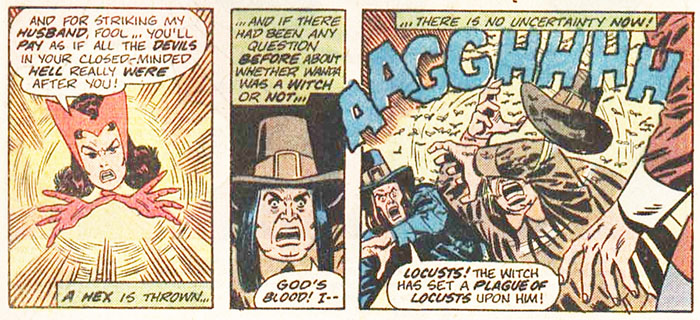 A big fight breaks out, as it so often does, until Spider-man is knocked out and Wanda is shot. The Vision is about to embark on a killing spree, but then he gets struck down by Cotton Mather with what seems to be a laser powered crucifix.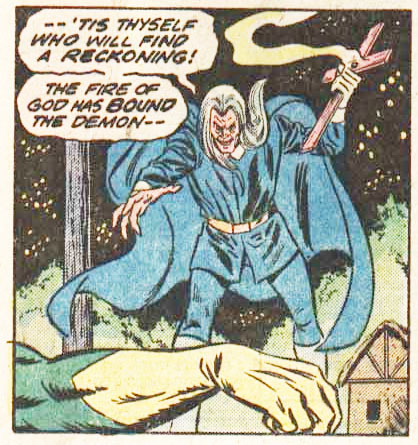 Spider-man wakes up in a dungeon, where a Historical Character gives him a brief history of the Salem Witch Trials. Again, it's a slightly uneasy read as these were real people who were killed, but then maybe it's no different to reading stories set in, say, World War Two.
Spidey breaks free, freeing the others along the way, and together they escape, with him and The Vision heading towards a "weird greenish glow away off in the woods". This turns out to be Cotton Mather's master, the distinctly demonic "Dark Rider".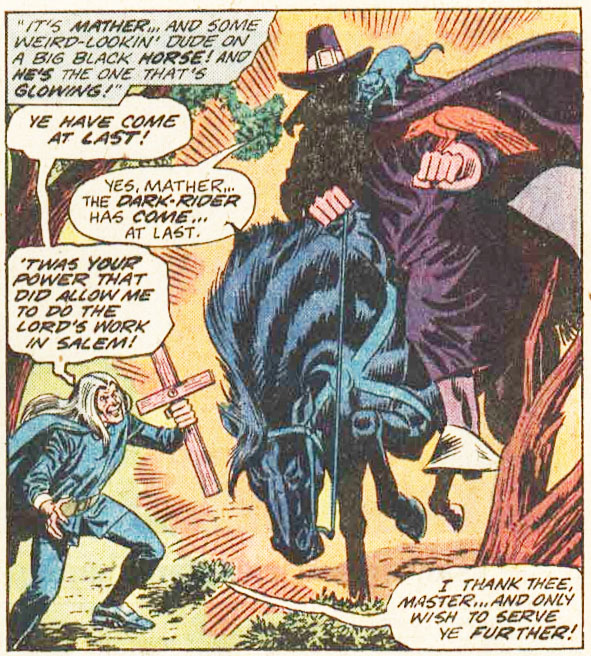 The Vision, who is rather enjoying This Human Emotion You Call "Hatred" leaps in to thump him. Another fight ensues, broken by a voice off panel who turns out to be...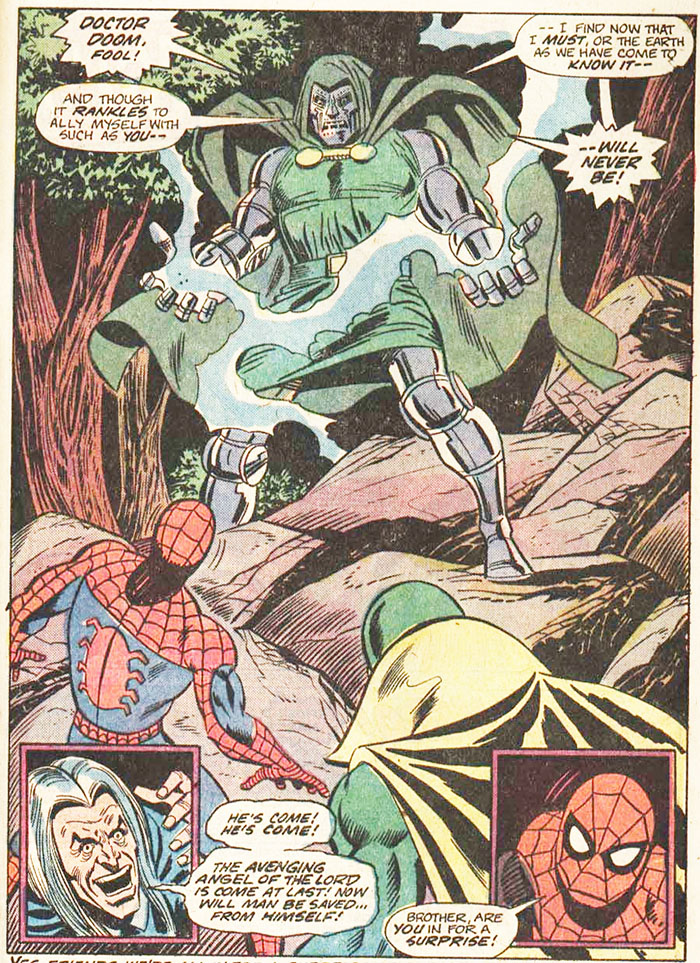 Doctor Doom! He's arrogant, demanding an alliance, and working for the common good - all excellent signifiers of Doom which, hopefully, we'll see more of in the next issue!
link to information about this issue
posted 5/7/2019 by MJ Hibbett
(click here for permanent link)
(0) comments
---
A Time Of Titans!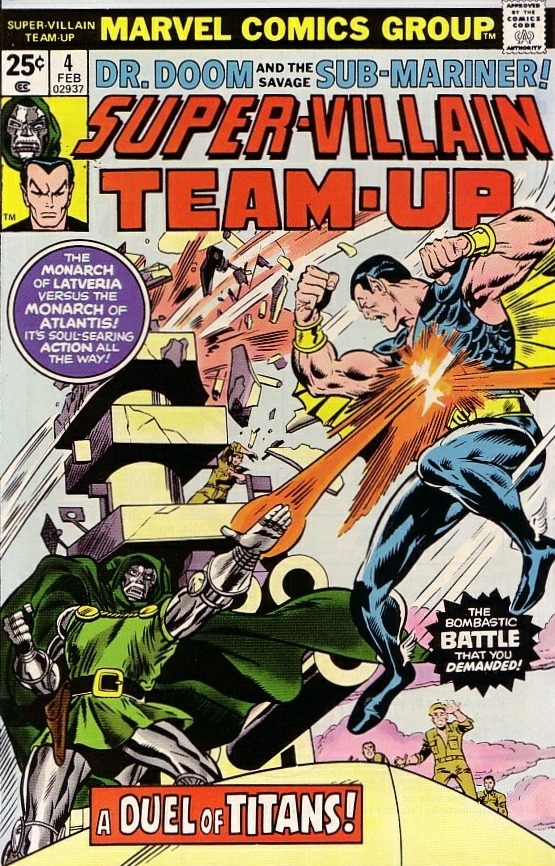 The previous issue of 'Super-Villain Team-Up' ended with a promise of "a new artist! a new writer! and a new direction from your humble house of ideas!" and while this one does indeed have a new creative team, it feels much more like a fill-in rather than a new direction. Bill Mantlo,
King Of Fill-Ins
, only stays for this one story, although "story" is perhaps a generous description as it basically consists of one long fight, with half a sub-plot flown in from an entirely different series altogether. At times the whole thing is so lightweight that it almost becomes comical!
It all starts right where
the last issue
left off, with Namor suddenly becoming a lot less sanguine about Doctor Doom murdering Attuma's jester. Doom is having none of this and makes to leave, but Namor hasn't finished.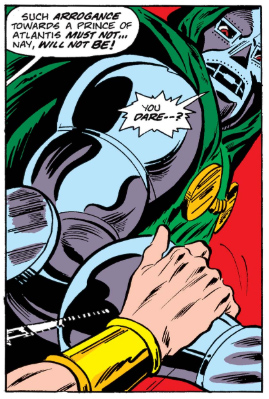 This leads to a big fight which takes them most of the issue to sort out, with the two characters knocking seven shades of super-villainy out of each other. The fight is watched by a navy vessel which has come in search of the "energy accumulation" that the two are generating. The ship, it turns out, is carrying Simon Ryker, the mad scientist who eventually creates Deathlock, along with a body floating in a tank of Protogen Gel.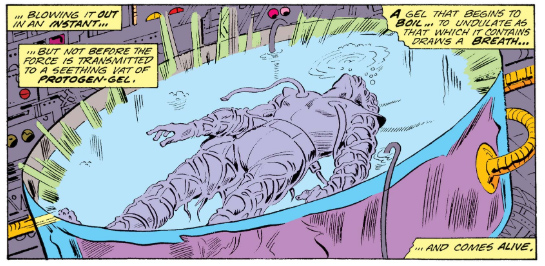 I don't know enough about Deathlock to say which version of the character this is meant to be, or even if it is Deathlock, and there's nothing in this story to explain what's going on or where this fits in continuity. This in itself is unusual, as other recent stories have gone out of their way to point out exactly where they fit in the general continuity.
Meanwhile Doom and Namor continue to fight, with Doom using his forcefield to tire his opponent out before retaliating. When he does, however, he discovers that Namor was only pretending to be knackered, and is still strong enough to throw Doom into the nearby ship.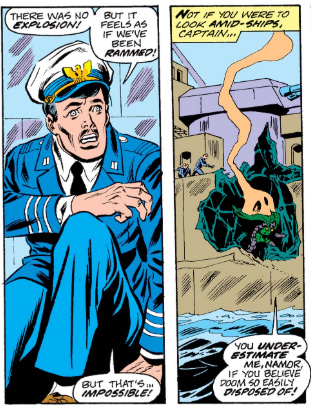 Doom recovers in time to fight back, blasting Namor with an apparently fatal dose of "pure energy", but then is grabbed from behind by Ryker with some sort of Power Syphon.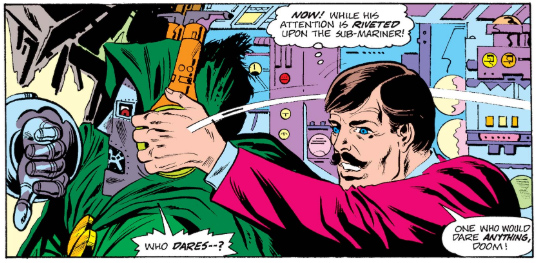 This is a neat reversal of a trick which Doom has previously used on The Silver Surfer, and it provides enough power to bring Ryker's creature to life. We don't actually find out what that means, however, as Doom throws Ryker around and then, full of joy because he thinks he's killed Namor, flies away.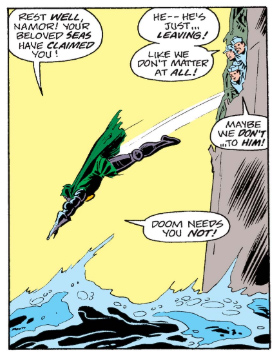 Namor, of course, isn't dead at all, and the issue ends with him bashing up some rocks in frustration. And then that's it, with no resolution to the the whole Ryker/Deathlock storyline, and none forthcoming in the following issue either. Apart from that the entire comic has been taken up with a single fight, almost as if it was, well, a fill-in while we wait for Steve Englehart to take over next time.
Before we get to that on this blog, however, the bi-monthly schedule of 'Super-Villain Team-Up' means we can fit in a three issue run of Doctor Doom guest-starring in Marvel's other team-up series, featuring the return of his time machine - next time!
link to information about this issue
posted 26/6/2019 by MJ Hibbett
(click here for permanent link)
(0) comments
---
If Vengeance Fails!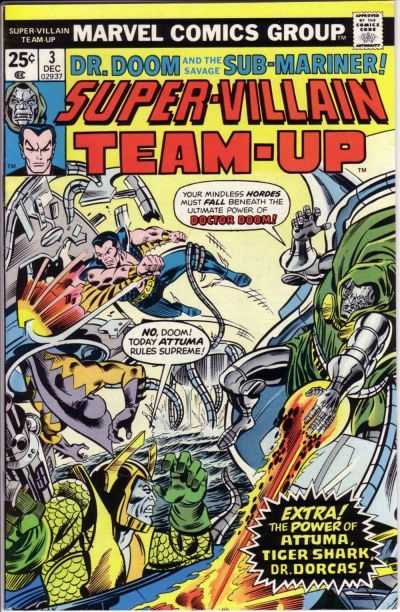 This issue kicks off right where the last one ended, with a furious Namor ready to kill Dr Dorcas for murdering his wartime girlfriend. Angry Heroes Intent On Revenge is nothing new in the Marvel Universe - raw human emotion was the main selling point after all - but usually the hero would be talked down from actually hurting people by their friends. Here Namor's friend is Doctor Doom, who simply watches the ensuing fight for a while before zapping everybody with a "stun-shock" to stop them.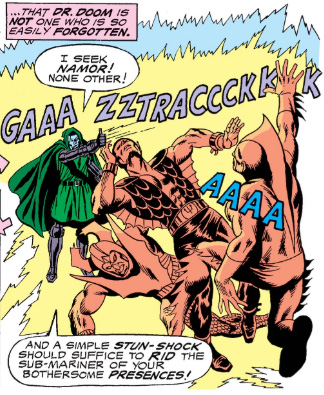 Doom knocks Namor unconscious, who later wakes up to see Doom chatting with the other villains. This cues up another fight, and this time Doom does try and calm Namor, begging him to calm down and not be ruled by his emotions.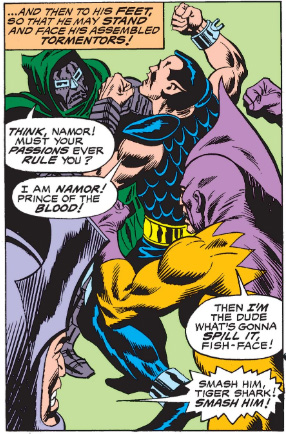 This is a bit rich coming from him, as we shall soon see, but before the group can start thumping each other the pair are teleported away to Doom's ship, where Namor collapses again.
When he wakes up he finds he's been transported to a health facility in Doom's castle, where loyal Latverians are happily serving their master.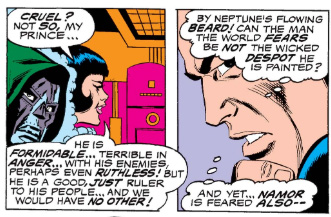 Namor considers this, and comes to a similar conclusion to Betty in the previous issue. "Can the man the world fears be not the wicked despot he is painted? And yet... Namor is feared also," he thinks. Here Jim Shooter, taking over for this issue from Tony Isabella, is similarly casting doubt on the trustworthiness of Marvel's own "reporting" of their storyworld. It's a really nice way of helping the reader to sympathise with characters who they should really be booing.
Doom offers "constructive" criticism, telling Namor that he was stupid to go into battle unprepared. This leads to heated words during which Doom also loses his rag.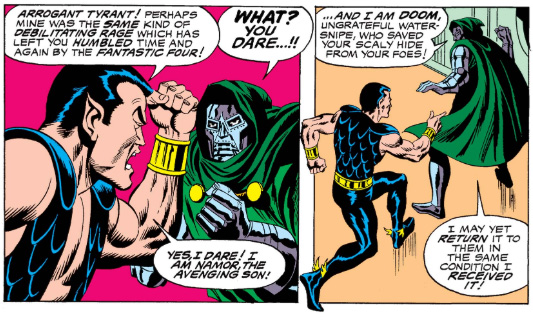 The pair quickly come to their senses, and then set off back to Hydrobase, where Doom has concocted a plan of attack. It all goes brilliantly well, with him distracting Attuma's armies to allow Namor to sneak into the base to free the prisoners - once again, Tiger Shark, Dr Dorcas and Attuma are shown to be the baddies of the story by the fact that they've kept hostages, while Namor and Doom are the liberators.
With that done Namor returns to the main battle to continue the plan, using a freeze-ray gun given to him by Doom to stop his enemies in their tracks. It's all going really well, until Namor decides that this isn't how he wants to win, and smashes the gun up so he can have a proper fight instead.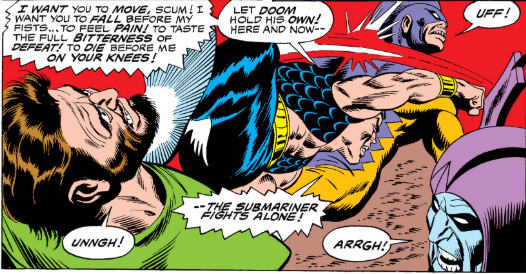 It's noticeable that Namor says again that he wants to kill them - there's no chance of him tying them up and dropping them off at the police station like Spider-Man would.
This is all well and good for Namor, but it leaves Doom high and dry without reinforcements, and he is soon overwhelmed by Attuma's army. As Attuma's jester mocks him, Doom scrabbles around in the sound and finds a couple of handy high-explosive missiles which he is able to slam together, killing everybody else around him.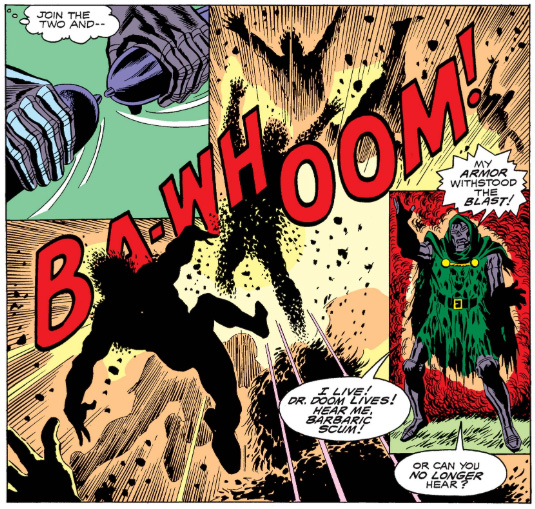 There's no escaping, and no robot doubles here - Doom has just killed a whole bunch of people. Namor then does the same, throwing Tiger Shark at a nearby Octo-Mek, forcing it to collapse and apparently kill Dr. Dorcas.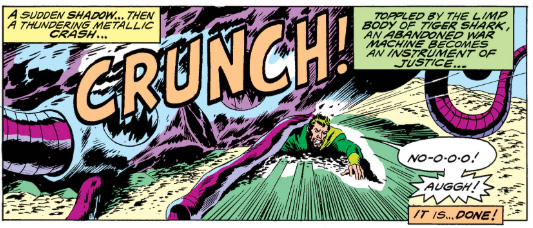 There's more murdering to come, as Namor heads back to the beach where he finds Doom taking his revenge on the Jester, giving him a couple more missiles which he asks him to smash together, so that the poor Jester explodes.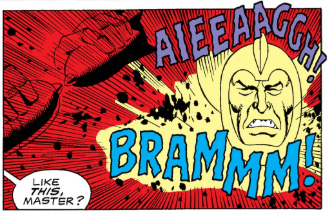 Namor is not impressed, but Doom tells him to mind his own business, which in the circumstances seems fair enough.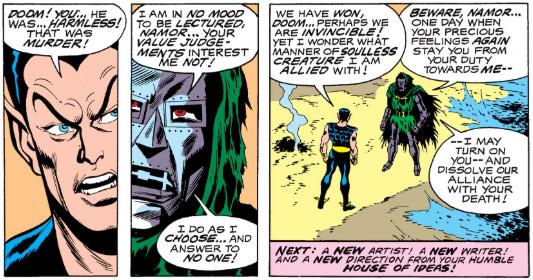 And so ends a story where a pair of self-obsessed villains merrily murder a whole bunch of people, and then stand together at the end proposing an alliance that neither of them expect to last long. It's all a bit bleak and oddly unsatisfactory, at least for someone used to conventional superhero stories where, in the end, something good comes out of it.
link to information about this issue
posted 20/6/2019 by MJ Hibbett
(click here for permanent link)
(0) comments
---
In the Midst of Life...!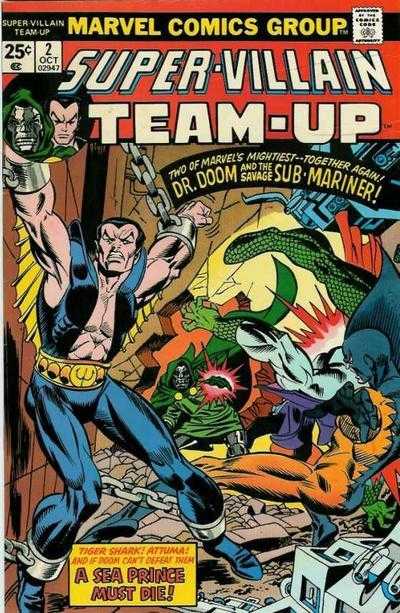 In many ways Super-Villain Team-Up is like a glimpse into the (then) future of comics, to the "grim'n'gritty" 90s when the superheroes of the time would happily kill anyone who got in their way without a second thought. In this issue, for instance, Doom and Namor are meant to be forging an alliance, based on Doom's slightly creepy plan to demonstrate to Namor how much he needs him by saving him from his enemies, and along the way they behave in ways which would have been unthinkable for heroes of the time. However, they also get to demonstrate some of the soul-searching that had always been part of the Marvel Universe, leading to questioning of boundaries between "good" and "evil".
It starts with Namor defeated, and Doom watching proceedings, as he tends to, from a distance via his viewing screen. He does this via a robot fish which he'd sent to follow Namor around, which unfortunately is discovered by Tiger Shark, one of the Submarinor's captors.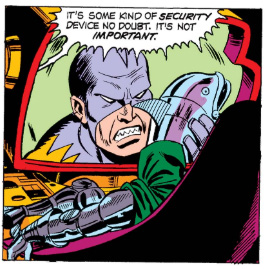 This is followed by almost two full pages of silent captions as Doom hops into a rocket ship like a romantic hero, off to save his beloved.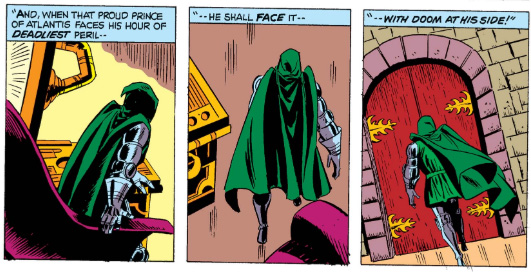 He arrives on Hydro Base, the island where Namor has been trapped, and is greeted first by an electric tripwire (which he defeats easily thanks to a rather neat callback to he and Namor's very first meeting) and then by Octo-Meks. These are eight-limbed defensive vehicles, which Doom forces to fight each other using his "instant hypnotism optimiser."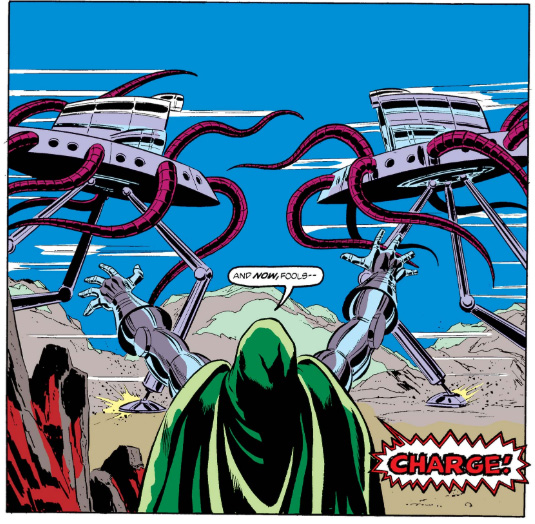 Doom then meets Betty Dean Prentiss, Namor's former girlfriend from the war years who is also living on Hydro Base. He reveals that he knows all about her - almost as if he's been looking up his crush's exes on Facebook.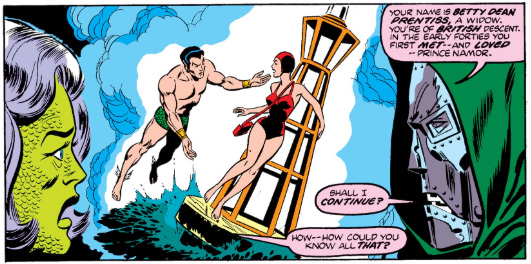 Doom tells her he's a friend of Namor, which she finds hard to believe at first as he's a well known villain, but then again "Namor's gotten some awfully bad press though, so I guess the same thing could have happened to you." It's an interesting way to cast Doom as a possible hero again, as if everything we've learnt previously about him could have been Fake News.
Doom does act like a hero here, calmly setting off to save his friend with Betty in tow, using his gadgets to steadily make his way into their enemies' lair. When they arrive the other villains greet him as an equal, but then demonstrate that they are actually more evil than Doom by hitting Betty.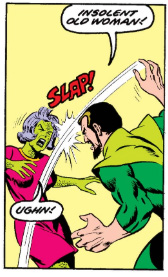 This is in marked contrast to Doom's gentlemanly behaviour, and leads to tragedy as Namor tries to escape to help her, only for Betty to get caught up in the crossfire of a super-villain battle, and end up dead.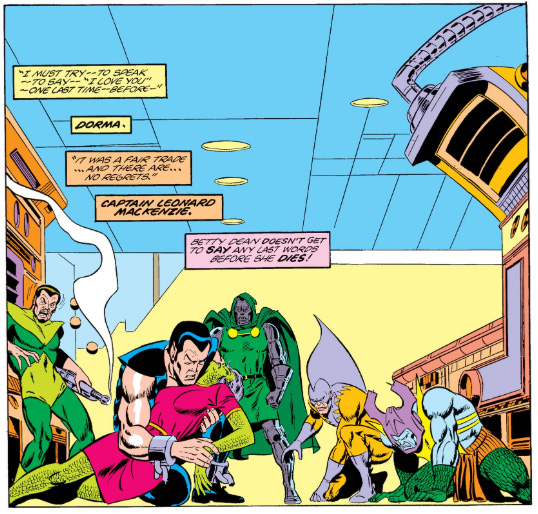 The issue ends with a furious Namor, with murder in his eyes, ready to take vengeance for the death of someone he loves. If this were a superhero led comic we'd expect a friend to step in and stop him, but Namor's friend is Doctor Doom, so who knows what'll happen? See you next time to find out!
link to information about this issue
posted 17/6/2019 by MJ Hibbett
(click here for permanent link)
(0) comments
---
The Fantastic Four Radio Show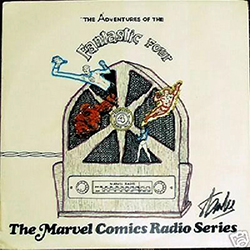 The Fantastic Four Radio Show was a series that ran on syndicated radio for 13 weeks in 1975. There's an extremely interesting interview with the Producer, Peter B Lewis, at
Kleefeld On Comics
where he discusses how it came to be made, cast, and broadcast, and how it pretty much ruined him financially. The short version is that he originally hoped to make a "Silver Surfer" radio show but thought the FF would be a better place to start, got together some actors (including a young Bill Murray), put the whole thing together himself, and then never really got the funding he needed to make it work. The full interview is well worth a read!
The shows were originally broadcast daily in five minute sections, with each week's episodes making up an adaptation of a single comic, taken from the very earliest issues of the series. You can listen to all of the episodes for free over on
Archive.Org
, and they are also well worth a listen as they're a lot of fun, although I'm not sure how much actual sense they would make if you haven't read the comics already - I was reminded quite powerfully how much comics relies on visuals, especially when you have characters who stretch or turn invisible!
The adaptations themselves are pretty interesting, as they follow the original comics fairly closely, but not literally. A lot of the dialogue, for instance, is altered to help carry the story more clearly, or to share the lines out more equally, with the characters often describing what's happening to each other. The sound production helps it along (and is generally pretty great) and, like the
Power Records
audio version, Stan Lee is on hand as narrator, but even for someone who's read these stories several times already, in several different formats, there are moments when what's going on becomes unclear.
The episodes that are relevant to us on this blog are adaptations of
Fantastic Four #5
,
Fantastic Four #16
,
Fantastic Four #17
and
Fantastic Four #19
which all feature Doctor Doom (if only slightly for issue 19). The character is played in all of these episodes by Jerry Terheyden, who gives him the menacing air of an old b-movie villain, with a posh, superior voice and a lot of cackling. It works really well, even though sometimes the ring modulator effect on his voice makes him sound a little bit like a Dalek.
The other performances are pretty good too, with Bill Murray clearly enjoying himself and Cynthia Adler basically doing celebrity impersonations for the minor characters - for instance, Alicia Masters is performed as a semi-comatose Marilyn Monroe and Princess Pearla, bizarrely, talks exactly like Mae West!
As I say, the episodes are, for the most part, pretty faithful adaptations of the comics, except for the adaptation of
Fantastic Four #5
, which has the ending of
Fantastic Four #10
pasted in instead of its original ending - the team-up between Namor and Doom is skipped (possibly due to rights issues?), and so instead of jumping out of a window to escape his burning castle at the end of the story, Doom is shrunk, ready to reappear in The Micro World. Another change is in
Fantastic Four #17
where Doom still blackmails the president, but this time it's Richard Nixon (impersonated by a member of the cast) rather than John Kennedy.
The most curious thing, to me, about this series is the fact that they went right back to the start of the comics for their adaptations - just as most other media versions so far have done - rather than dip into other aspects of the (at this point) 14 years of publication. This tendency means that there are plenty of adaptations of some fairly clunky stories (especially "The Micro World Of Doctor Doom") while later stories in Lee & Kirby's run, which some people (me) would argue are much more worthy of adaptation, don't get touched.
I won't be going into the individual episodes in any further depth because, as I say, they are for the most part adaptations of existing comics, but they're definitely worth a listen. Next time we're back to the comics themselves, as we find out whether Namor realises how wrong he was to dump Doom!
link to information about this issue
posted 6/6/2019 by MJ Hibbett
(click here for permanent link)
(0) comments
---
Slayers From The Sea!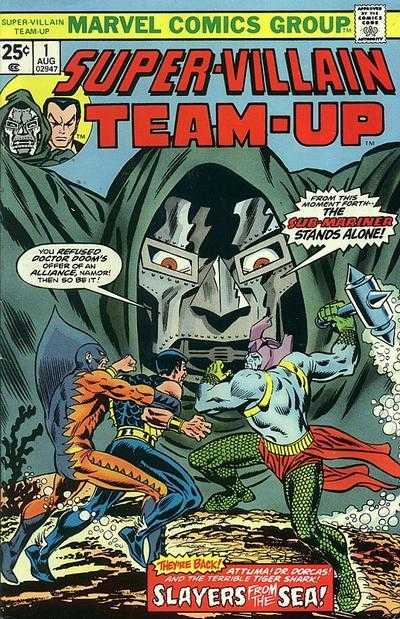 We're back in the Marvel Universe again for this issue, which provides features a LOT of references to previous stories!
It all kicks off moments after the end of
Giant-Size Super-Villain Team-Up #2
with Namor suddenly changing his mind and (quite sensibly) realising that Doctor Doom may not be the best person to ally yourself with. To begin with Doom argues his case, but then Namor points out some of the many times Doom has betrayed him recently, with footnotes linking back to stories in
Giant-Size Super-Villain Team-Up #1
,
Fantastic Four #157
and
Giant-Size Super-Villain Team-Up #2
. As mentioned previously, Roy Thomas has cast doubt on the existence of these index cards, but from the amount of footnotes that keep cropping it there must surely have been some sort of indexing going on.
Namor flies off and initially Doom rails against him, calling him an "ungrateful water-snipe", but then stops and reflects, asking himself whether this problem has been caused by his own pride, in an (unfootnoted) reference to
Fantastic Four #116
.

Doom retreats to his control room, where he looks at recordings of some of his many defeats. There's more evidence of research having gone here, as Doom looks back at stories told in "over a dozen" encounters with the Fantastic Four, as well as in
Thor #183
,
The Amazing Spider-Man #5
,
The Avengers #25
and
The Incredible Hulk #144
(with a direct swipe from that issue's cover) and
Daredevil #37
.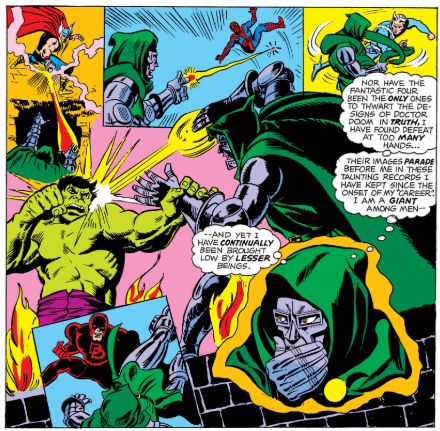 Having just spent a good ten minutes looking all of those up with
my own set of index cards
I certainly hope Tony Isabella had access to some when he was writing the story!
In a moment of surprising reflection Doom thinks to himself "I'd always thought I could stand against all mankind unaided, but the evidence of my eyes proves those vain thoughts false." This is a long way from the power-crazed megalomaniac who was
only recently
proclaiming himself as the rightful ruler of the world, and shows again how differently Doom appears when he's a lead character to when he's the villain of the month.
Doom thus decides that he will stand alone no more, and hatches a plan to follow Namor, so that when he's in trouble Doom can prove his worth by stepping in to help.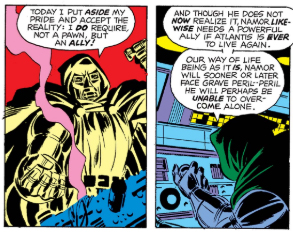 Doom here acts rather like a creepy/needy ex who believes that Namor just needs to wake up and realise how much they belong each other, and all will be well. He sends a robot fish to chase the Submariner, and thus ends part one of the story. The second part sees Namor returning to his current home of Hyrdrobase, where he is captured by a group of his own villains who, ironically, have decided to band together to fight him. This leads to a good old punch-up and an avalanche of footnotes before the issue ends with Namor defeated, at the mercy of his enemies.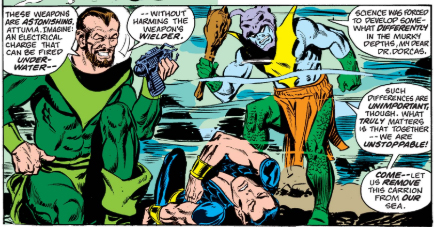 There's been no Doom at all in this second part of the story, which means we need to wait until the next issue to see if he comes charging in on (I assume) a white stallion to save Namor. Before that we're looking at a familiar story in an entirely different media, as the Doom arrives on the radio!
link to information about this issue
posted 31/5/2019 by MJ Hibbett
(click here for permanent link)
(0) comments
---
The Day Of Doom!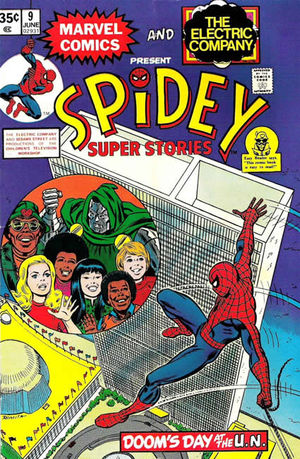 We've had various different versions of Doctor Doom before via the various cartoon series he's appeared in, but this issue of Spidey Super Stories marks the first time that an "alternate universe" version of Doom has appeared in an actual comic. Weirdly, it's a comic based on a TV show, which Doctor Doom did not even appear in!
"Spidey Super Stories" was a regular sketch feature on "The Electric Company", a TV show made by the Children's Television Workshop for children aged 6-10 i.e. the next age group up from kids who'd watched "Sesame Street". Spider-man would interact with a range of characters, often from other aspects of the show, in short comedy skits. Marvel didn't charge a licensing fee for this, most likely because they saw it as a way to draw children towards the comics, and this series was a tie-in designed to do just that, featuring adaptations of existing sketches plus new stories featuring other Marvel characters (none of whom ever appeared on the TV show).
The adaptations of existing sketches are pretty weird, as they stick with the actors and designs of the TV show, making some of it look a bit queasy.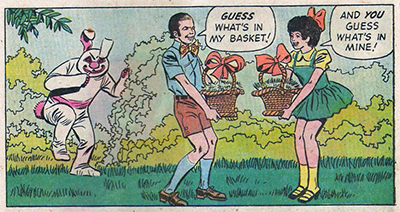 The art is gorgeous though, drawn by DC veteran Winslow Mortimer, and it's written by Jean Thomas, wife of Roy Thomas and author of "Night Nurse" around the same time. The stories are very straightforward but are not hugely different from regular Marvel comics, although they do have a distracting habit of splitting up sentences into seperate speech bubbles which makes it seem... like everybody talkes like ... William Shatner.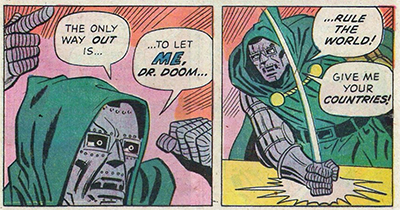 The story starts with a potted origin of Dr. Doom, and it's immediately obvious that he has been simplifed a LOT for a younger audience.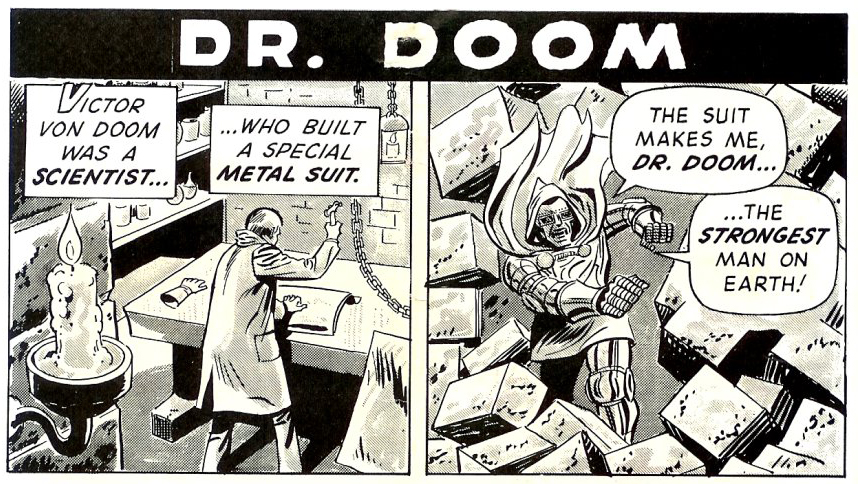 Interestingly he's still the King of a foreign country, and the image chosen to illustrate this does look rather similar to previous stories in 'Astonishing Tales', with his briefly glimpsed army reminiscent of Latverians seen in the same series.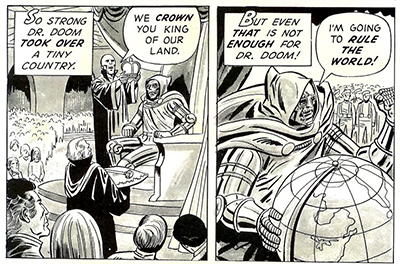 Doom himself is visually very much on-brand, drawn in exactly the same style as that set out by John Buscema a few years ago, although in this version he does seem to wear a wrist watch over his armour.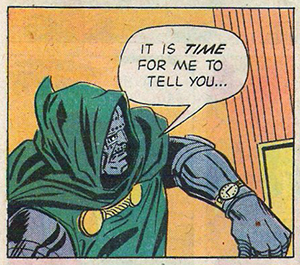 The storyline is very similar to the Hanna Barbera version of
The Three Predictions Of Doctor Doom
, with Doom trapping the United Nations inside a force field, and refusing to let anybody leave until they've all given him their countries. J Jonah Jameson and Robbie Robertson are also trapped inside, and there's a lovely running gag about Jonah thinking Doom was "peace loving".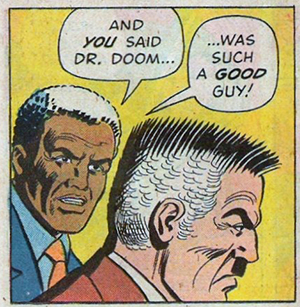 Spidey watches from outside the force field, and realises that it must be powered by electricity, so he writes a message using his webs to tell the team from The Electricity Company to pull the power. A character called "Easy Reader" (played by Morgan Freeman) uses the mighty power of literacy to read it, and the kids go off unplugging everything they can find.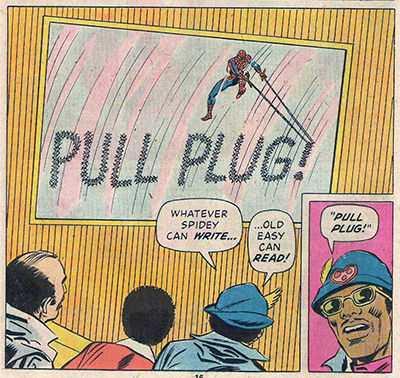 Duly defeated Doom tries to flee, only to be knocked out by Spidey, who's been able to get in now that the force field is down. It all ends with the police leading Doom away, and J Jonah Jameson still looking annoyed that he was wrong about Doom's character.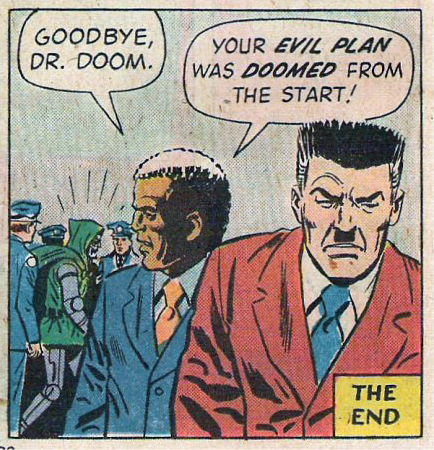 It's an elegantly done, really rather delightful story that, apart from aspects of the origin, is surprisingly close to Doom's usual characterisation!
link to information about this issue
posted 24/5/2019 by MJ Hibbett
(click here for permanent link)
(0) comments
---
To Bestride The World!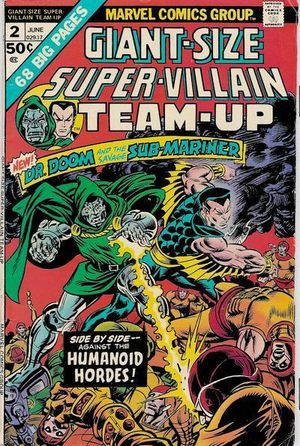 After so much Doom in recent issues of
The Fantastic Four
it's something of a surprise when he doesn't appear for the whole first "chapter" (apart from the silent splash page) of the series he officially co-stars in. Instead we spend a lot of time with an oil tanker, especially two crew members called Mickey and Turk who are so distinctly drawn and written that I think they must be references to real people.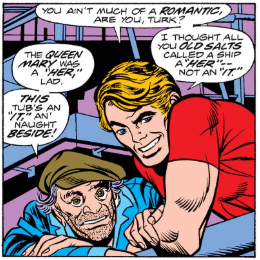 I guess they might be based on characters from a TV show but have no idea - any thoughts would be most welcome in the comments!
Namor shows up, tells them to leave Atlantean waters and then when they don't, sinks the ship. This does seem to be somewhat counter-productive - if he's bothered about surface dwellers impinging on his territory, surely he wouldn't want a dirty great tanker full of oil on the bottom of the sea - but he doesn't seem too bothered. Instead he heads back to Atlantis to mope around his people, who have been put in suspended animation, only being roused by the sounds of battle above.
This brings us to part two of the story, where he discovers an underwater army attacking the city. They're dressed in red and gold with a logo not unlike that of The Flash, but when Namor gets up close to one of them he discovers that it's -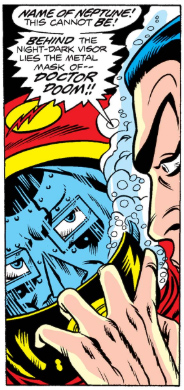 Except, of course, it isn't him - as usual Doom is not getting directly involved, he's simply projecting his face onto the inside of the helment, in a new twist on his old "floating TV screen" idea. He directs Namor to the surface, blowing up one of his own ships in the process to force him to get a move on, and when Namor arrives Doom greets him like an old pal.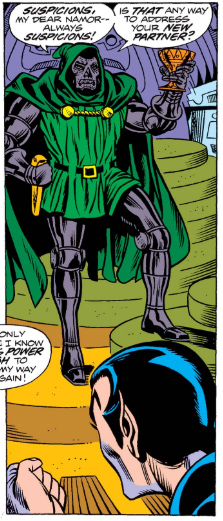 It turns out the attack was just a way to get Namor out in the open so Doom could re-propose an alliance. Personally, if I'm not answering my emails, I would prefer a phone call rather than a fleet of death robots attacking my flat, but super-villains probably have different priorities.
Doom tells Namor that he's reconsidered the matter and would like to have an alliance now, especially if Namor is going to be attacking the oil trade, as the more the world is in crisis the easier it is for Doom to seize control. There follows several pages of talking heads, dynamically illustrated nonetheless by Mike Sekowsky and Sam Grainger with cutaways and exciting expressions, where the pair discuss the nature of "super-villainy".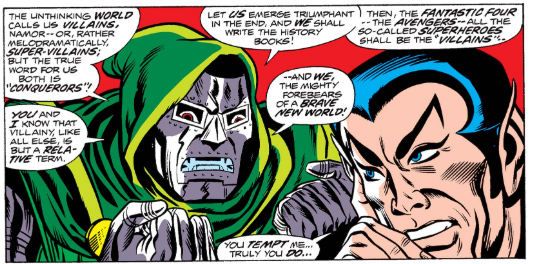 It's always weird in comics when the "villains" describe themselves as such, and Doom addresses this directly, saying that calling them "super-villains" is, to him, melodramatic and that, actually, seen from another angle it's them that are the heroes. As a brief SIDEBAR, I'd say that, according to screenwriting theory, characters like Doom and Namor really ARE the heroes. They're the ones who are always struggling against the system, striving to change themselves and the world, whereas the "superheroes" always act to maintain the status quo.
Anyway, their chat occurs as they fly back to Doom's castle in Latveria, where he unveils the latest version in a long line of android armies, which Doom is now using entirely instead of actual human lackeys because they are unable to betray him. Doom demonstrates this fact by ordering two nearby androids to fight to the death.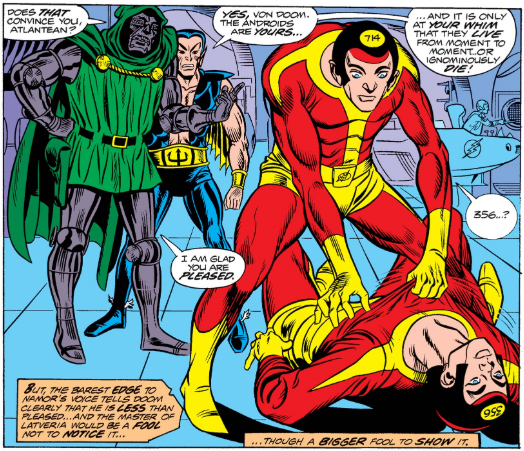 I love the simplicity of Android 714 whispering "356...?" here. It's a first gentle hint of problems ahead which Roy Thomas very skilfully builds up. The next hint follows soon after when they pass what appears to be a religious altar.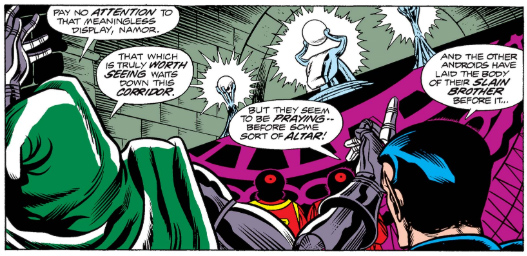 It never gets addressed in the story, but it's clear to anyone (who has read every single appearance of Doctor Doom so far) that the idols on the altar are meant to represent "The Faceless One" detaching his true form from his robot body way back in
Astonishing Tales #3
.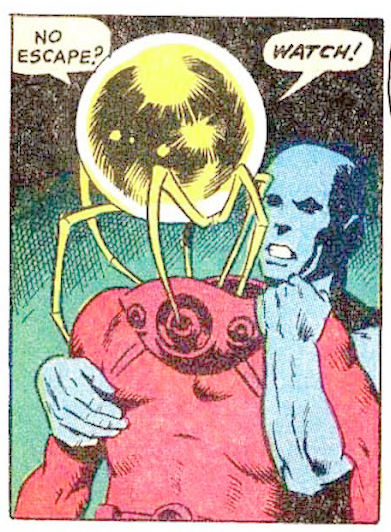 Hmm, didn't we talk about that particular issue
recently
?
Doom dismisses this as a simple design flaw (which is odd, as surely his creations are perfect?) but Namor notices an odd look pass between two other androids. Again, this is lovely work from the whole creative team, slowly building up the sense that something isn't quite right and giving subtle hints as to what might be coming.
This is expanded on further over the next few pages as we see hundreds of androids worshipping at the altar, and the appearance of a Mysterious Figure who the androids bow down to. Doom and Namor are unaware, as they are viewing Doom's latest dastardly invention - solar panels!
Doom, it turns out, is a green warrior, intent on replacing oil with solar power - what a madman!
Doom brings his presentation to a close by showing how great their combined branding will be, drawing his own lighting flash logo (which has never previously been seen) over the top of Namor's trident.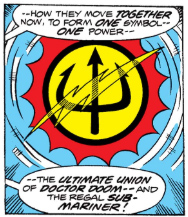 My advice: stick to Solar Energy, victor, brand design is not your strong point.
Before they can get onto a discussion about corporate fonts they are attacked by Doom's army of androids, now under the leadership of the Mysterious Figure, who is now calling himself "Andro, Lord Of The Androids".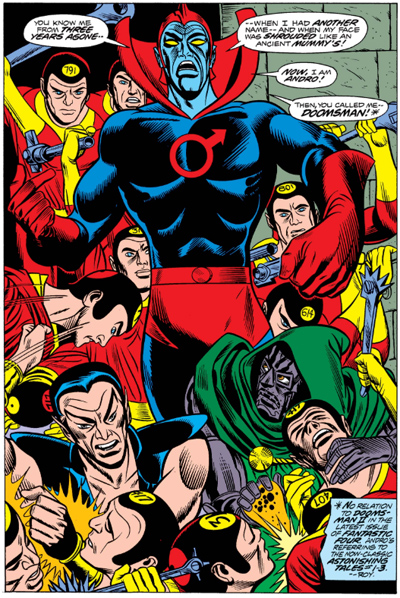 Andro is the original Doomsman - it's almost as if Roy Thomas went back and read Astonishing Tales as part of his recent data gathering exercise and came back with all sorts of ideas for new stories. Andro retells his origins, and explains how he escaped from the dimension where Doom exiled him. This involves yet more continuity, although this time it's to a story that hasn't even been published yet.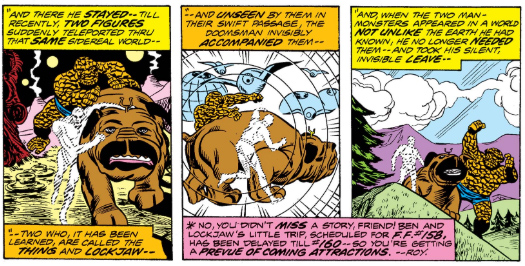 I've checked, and there's no mention of Doomsman in that issue, which seems an opportunity missed. A fight ensues, which Doom and Namor win by flooding the castle. These androids have been specifically designed to breath air (it's an anti-betrayal tactic, apparently), and Andro proves himself no better than Doom by sending his androids to drown. This is because, of course, Andro is designed to be a duplicate of Doom himself, with all of his ruthlessness. Andro points this out when the two of them come to blows, before immediately teleporting away.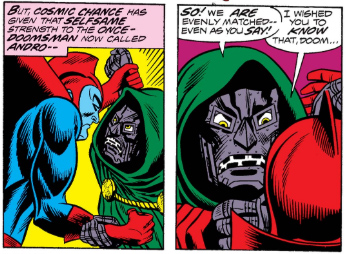 As with the previous story, a final battle is avoided through stalemate. This does seem to happen fairly often with Doom - I wonder if it's a way to avoid showing him actually winning? The triumph of evil was explicitly banned by The Comics Code Authority, and although they were much less powerful in 1975 than a decade or more earlier, especially after
Amazing Spider-man #96
was issued without their approval (due to its mention of drugs), but perhaps Roy Thomas and other writers are still erring on the side of caution.
The story ends with another science fiction twist. Doom decides to go back to his original army of obedient robots, who never caused him any trouble, and as he and Namor go off to plot their next moves, we see a glint in the eye of one of his robot soldiers, suggesting matters might not be quite as straightforward as they think.
So ends the story and indeed the very short-lived "Giant-Sized" version of this series. Doom and Namor will return soon in a normal-sized version, but before then we have some distinctly different versions of Doom to enjoy, including what I think is the first alternate universe version of the character!
link to information about this issue
posted 17/5/2019 by MJ Hibbett
(click here for permanent link)
(0) comments
---
The MODOK Machine!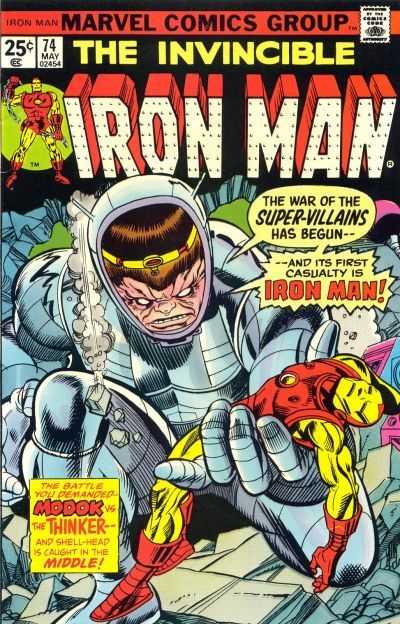 We're back to Minor Appearances again for this issue, as Doctor Doom appears in a single panel of a story which sees various supervillains being approached by a mysterious figure called The Black Lama, who wants them to compete for a "golden globe" which will bring them inner harmony and thus allow them to conquer the world. I would have thought that gaining inner harmony would mean you wouldn't be so bothered about conquering the world anymore, and Doctor Doom seems to agree, sending the lama packing.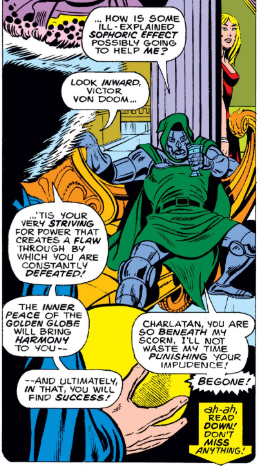 The Red Skull and Fu Manchu are similarly dismissive, leaving lesser villains like MODOK, The Mad Thinker and Titanium Man to punch it out. As ever, Doom is thus used as a signifier of Serious Supervillainy - his decision not to take part in the competition, alongside other heavyweights like the Red Skull, gives the reader clear guidance about exactly what sort of supervillain they're going to be seeing in this contest. Whiplash might turn up, but Galactus definitely won't!
That's your lot for Doom in this story, but come back next time for more Giant-Sized Super-Villain Teaming-Up!
link to information about this issue
posted 15/5/2019 by MJ Hibbett
(click here for permanent link)
(0) comments
---
The Endgame Cometh!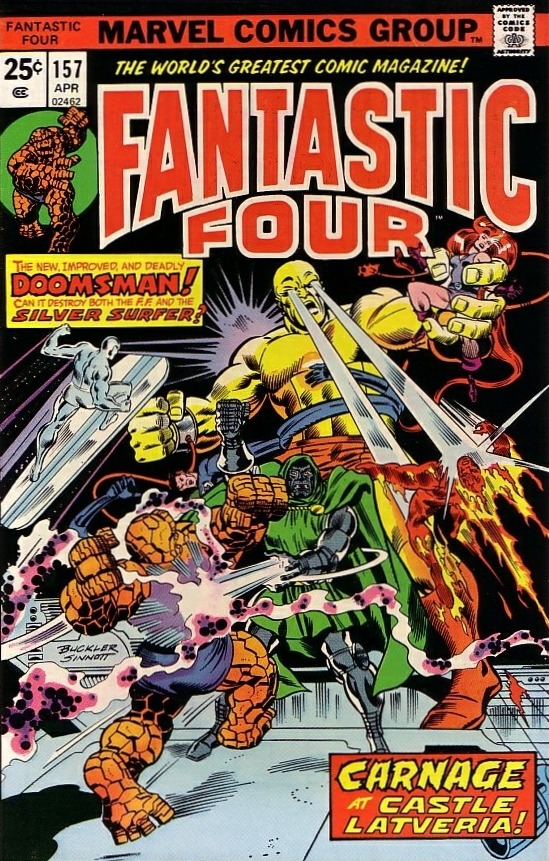 This story kicks off right where the last one ended, with Ben Grimm complaining about Doctor Doom's use of technology, as "every time I put the kibosh on 'im he turns out to be a blasted robot!" It's a fair complaint, which Doom himself witnesses via his usual video screen.
Doctor Doom sure does love his video screens! He then tears himself away from the telly to witness the birth of his latest humanoid creation, which he's decided to call "Doomsman II", after the creature we last saw back in
Astonishing Tales #3
. Unusually Roy Thomas doesn't give us a reference for this one, although he does then have Doom refer to his attempted alliance with Namor in
Giant-Size Super-Villain Team-Up #1
.
We then cut to The Silver Surfer and Shalla Bal, who have a go at that tried and tested amnesia cure "snogging" to see if it'll help Shalla Bal remember who she is.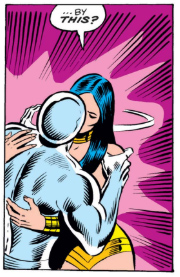 Before we can find out if it worked we swicth to the Fantastic Four making their way through the castle although, yet again, it's The Fantastic Three, with Medusa just tagging along. They turn a corner and find themselves face to face with Doomsman II in the second chapter of the story, which is called ...

To save you the bother, it means "a situation in which the obligation to make a move in one's turn is a serious, often decisive, disadvantage." I'm not entirely sure that it appplies here, but it does have a lot of "Z"s in it.
After a bit of fighting we return to find that yes, smooching IS a medically proved memory aid, as Shalla Bal realises that she's not Shalla Bal at all, but a local Latverian girl called Helena who happens to look exactly like her, and in whom Doom implanted vague memories in order to use her against the Silver Surfer. The swine!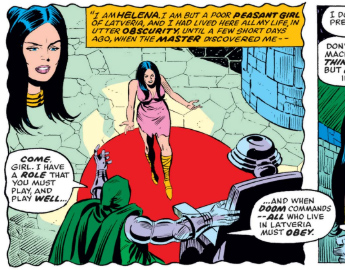 Almighty HECK then kicks off, with the Surfer joining the FF to defeat the Doomsman but, just as they are about to fully put the kibosh on Doom, Helena intervenes to point out that they are equally matched, and that any further battle will "destroy this castle and all the archives in it - the priceless treasure trove of a nation's legacy!" It's an interesting argument against fighting Doom - and one which many people have, and in future will, entirely ignore - and in this case it works, with all sides realising they have reached another chess (mixed with tennis) analogy.

Yes, it IS a stalemate, not zugzwang at all! But what's this? Just as Doom fumes about the fact that he lost control of proceedings the frame borders tatter and we pull back to see that - oh no! - the whole thing was a cunning ploy by Mephisto to punish The Silver Surfer. That really WAS Shalla Bal all along, unbeknownst to herself, Doctor Doom or anybody. I'm not quite sure how this is an attack on the Surfer, as he had no idea either, but still Mephisto seems quite pleased with himself.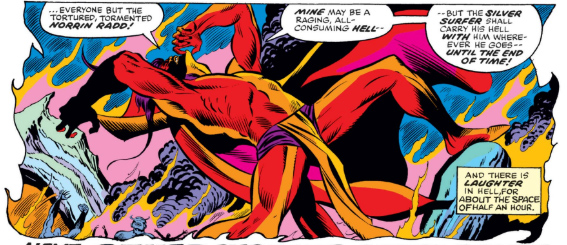 It's an odd, unsettling ending to a storyline which has never quite seemed to know where it's going, or what it's using the characters for. This will be Doctor Doom's last appearance in "Fantastic Four" for a couple of years, but he's going to be busier than ever, with his own (shared) series to look at and, next time, even more Minor Appearances!
link to information about this issue
posted 10/5/2019 by MJ Hibbett
(click here for permanent link)
(0) comments
---
Middle Game!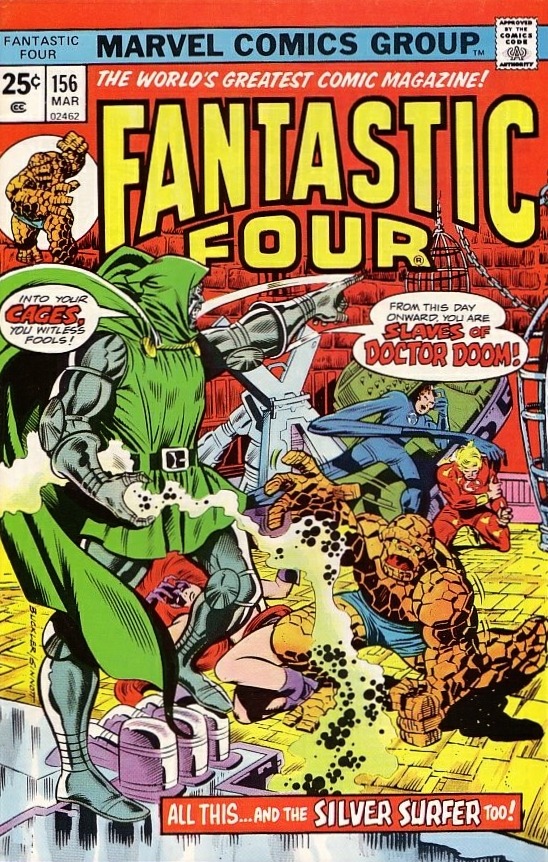 The title for this issue isn't shown on the front cover, possibly because it's so dull. "Middle Game"? I know it's a reference to chess (which sort of appears in the story) and the fact that this is part two of a three part story, but come on Roy Thomas, even going with "Doom's Day" for the 219th time would have been better!
Doom exhibits several of his usual signifiers in this issue, notably his preference for keeping out of the main action by sending in robots to do his work and/or watching things on a TV screen. There's also some of the above mentioned chess, although it's not chess as you and I might know it. Here Roy Thomas and Rich Buckler hark back to Jim Steranko's
Strange Tales #167
where Doom played a game of "chess" with The Prime Mover, moving figurines of the main players across a board to (somehow) express their actions in real-life.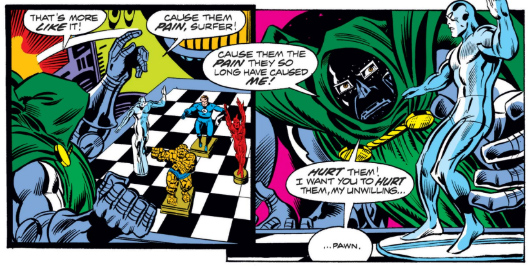 It was never clear how that worked before, and it's not explained here - indeed, Doom himself suddenly realises that the Silver Surfer figure he holds in his hand is a "pawn", "as all men are but pawns in the hands of Victor Von Doom," hinting that maybe it's not meant to be Actual Chess at all. This is followed by yet another use of
Roy Thomas's index cards
, with a link to
Fantastic Four #57-60
) - since writing the previous blog I've read
an interview with Roy Thomas
where he claims to have no memory of these cards, and to find them unlikely. Reading through this batch of comics with their sudden increase in references and footnotes, it does look to me as if some sort of record keeping system had recently come into play, so perhaps Roy just forgot about them?
Doom returns to watching his viewscreen, where he's horrified to see that the Silver Surfer has decided not to kill the FF after all. This leads to a recap of both the previous issue of this story AND the events in
Giant-Size Super-Villain Team-Up #1
, which ends with Doom spotting the Surfer coming back with the Fantastic Four captured.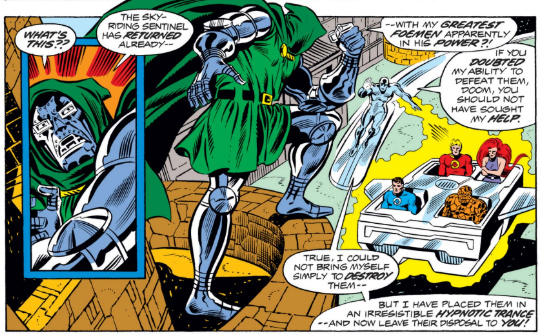 Up until this point Doctor Doom has behaved very much in anti-hero mode, as a schemer who doubts his own actions rather than a power mad dictator, but next he gives the Surfer a lecture where he paraphrases George Orwell's description of the future as "a boot stamping on a human face — forever", twisting it to refer to a desired outcome for his own quest for power.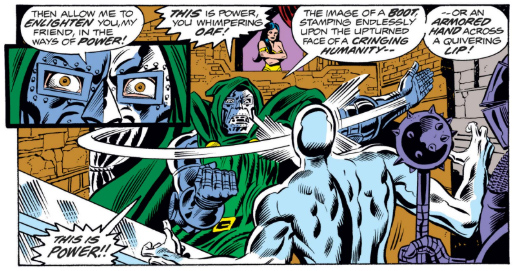 The Surfer totally loses his temper, ripping apart a suit of armour which Doom then uses his own powers to rebuild. This apparently demonstrates that they're equally matched so don't need to have a proper fight, which is a bit of a shame if you ask me. Instead of having a punch-up Doom shows the Surfer where he is keeping the Fantastic Four, with each of them trapped in a prison specifically designed for their own powers. This makes the Surfer wonder what on earth can have happened to Doom to make him behave this way, and Doom reveals that it is, basically, envy.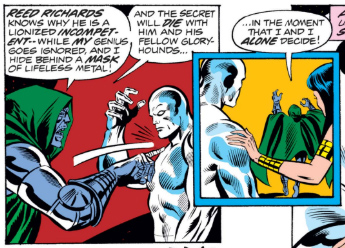 This is another lurch back to Doom being a damaged, almost relatable figure, away once more from the power-crazed dictator. He and The Silver Surfer have very much been the stars of the comic so far - we're over halfway through the issue and the Fantastic Four themselves haven't really done anything - and that feeling continues as Doom instructs a lackey called "Daedalus" to take the Surfer to a chair in another room. Doom, once again watching from a view screen, finds this hilarious for reasons which will become clear later.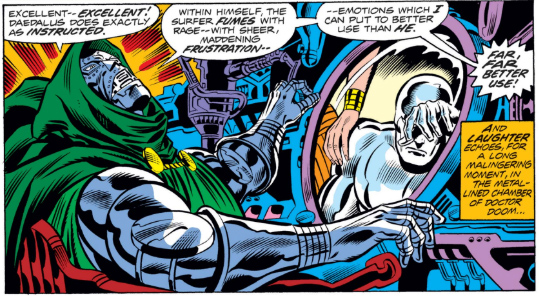 At this point we finally focus on The Fantastic Four who, as before, behave much more like The Fantastic Three with Medusa being mostly ignored. They quickly notice the flaw in Doom's prison - that if they work together they can free each other seperately - and The Fantastic Three free each other while Medusa... just takes off the helmet holding her hair in. They advance through an army of Doom's "death dealing humanoids" (with Medusa completely disappearing from most of the action - why did they bother including her in the team if they weren't going to use her?) before finally reaching Doom himself who turns out to be ... a robot.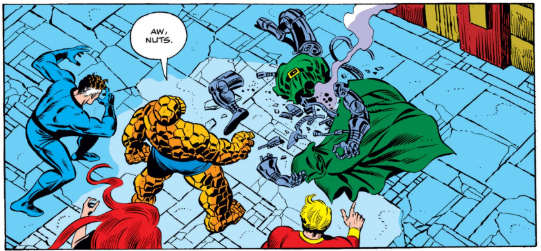 Well exactly - it must be getting repetitive for them by now. The story ends with Doom laughing away to himself as he watches the Surfer sitting in his special chair which, it turns out, is being used to drain his power in order to charge up yet another of Doom's creatures. We'll find out more about it in the next story which is called, in the ongoing chess narrative, "Checkmate!"
link to information about this issue
posted 3/5/2019 by MJ Hibbett
(click here for permanent link)
(0) comments
---
Encounter At Land's End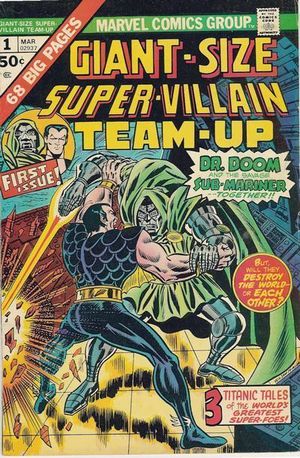 During the now legendary 'Minor Appearances Week' on this blog we looked at a reprinted poster of Doctor Doom in
Giant-Size Superstars #1
. The poster was interesting because it featured a surprisingly accurate list of Doctor Doom's previous appearances, and in today's issue we find out who put it together!
The information comes in an editorial at the back of this issue, 'Giant-Size Super-Villain Team-Up' #1, where Roy Thomas reveals that it was none other than he who put it all together. This makes a lot of sense, as he comes from the world of fanzines, where list-making like this is very much part of the fun. In his (brilliant) book
Marvel Comics: The Untold Story
Sean Howe discusses how Roy Thomas kept a box of index cards during this period, with details of character's powers and appearances, in order to help writers keep track of who was where, who'd met before, and what they were capable of. Over time this would become a computerised database, but at this point Roy was keeping it all on paper, and it seems that going through this data, and seeing how often Doom and Namor had tried to team-up before, gave him the idea to create this new title.
(ADDENDUM: since writing this blog I've read
an interview with Roy Thomas
in which he says he doesn't remember creating any index cards, and that it seems a bit too organised for him to have done. It was, however, forty years ago, and the evidence for some kind of recording seems pretty compelling, so I'm going to go with him having forgotten about it!)
The box of index cards comes in handy right at the start of the story, as Thomas speaks directly to the reader, acknowledging that they have (very) recently seen Doom alive and well in
Fantastic Four #155
with no explanation of how he escaped from being blown up in a spaceship at the end of
Fantastiuc Four #144
almost a year earlier.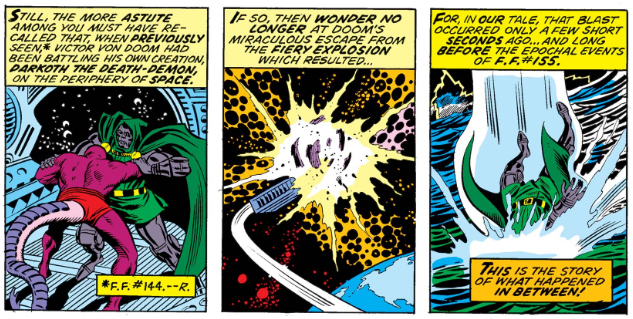 It turns out that Doom fell into the ocean (from space) and was picked up just in time by Namor, who pops him into 'The Electronic Stimulatron' which he has onboard his ship and blasts him back to life.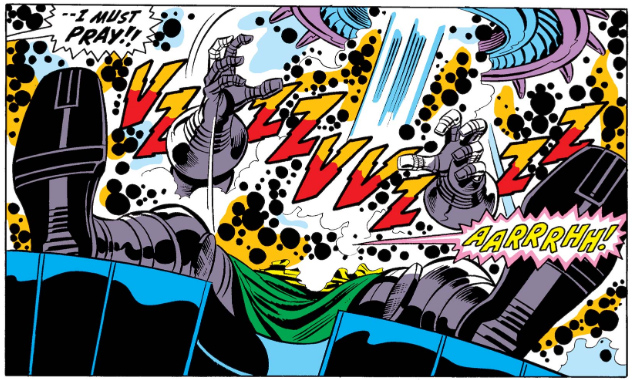 The box of index cards comes out again as Namor reminds Doom of a conversation they had back in
Submariner #20
about being "natural allies" and Doom hit backs with a reminder of their first team-up in
Fantastic Four #6
. Thomas seems to be really enjoying using this resources, as Doom thinks back to the team-up Namor mentioned in
Submariner #20
, which is reprinted here in full. It's an interesting story from the time when Doom's character was being pulled in two different directions, with his creators Stan Lee and Jack Kirby turning him into a maniacal despot, and others like Roy Thomas and Gerry Conway pushing back towards his original status as a tortured outsider.
That conflict, as we've seen recently, was still going on in 1975, with Doom alternating between lunatic and anti-hero, and this issue sees Thomas giving Doom a shove back into anti-hero territory as he thinks back on his old adventures. The reprint is followed by a one page interlude leading into Doom recalling the events of
Marvel Super-Heroes #20
.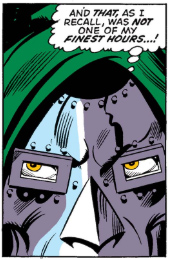 I have to respectfully disagree with Doctor Doom on this one - 'This Man! This Demon!' very much WAS one of his finest hours, especially in the second half of the story where none other than Roy Thomas delved further into the character's background for an exploration of what makes him who he is.
The moral that Doom himself takes from this re-telling is surprisingly self-aware, seeing that he himself is not to be trusted, and he decides not to ally himself with Namor again because they'd end up betraying each other. A fight breaks out, during which Doom escapes, leaving Namor to shout to the skies like a drunk outside a nightclub at 2.30am that one day they will get back together again.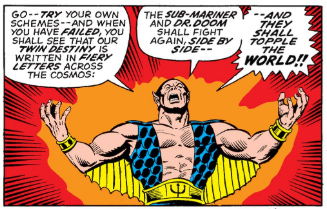 And there the story ends, with the aforementioned editorial promising more team-ups to come. This may not have been a particularly noteworthy story in and of itself, but the sudden explosion of references to past adventures does point to this being written around the time that Roy Thomas's index cards were created, and that's something that will become a bigger and bigger part of the storyworld for years to come.
link to information about this issue
posted 25/4/2019 by MJ Hibbett
(click here for permanent link)
(0) comments
---
Battle Royal!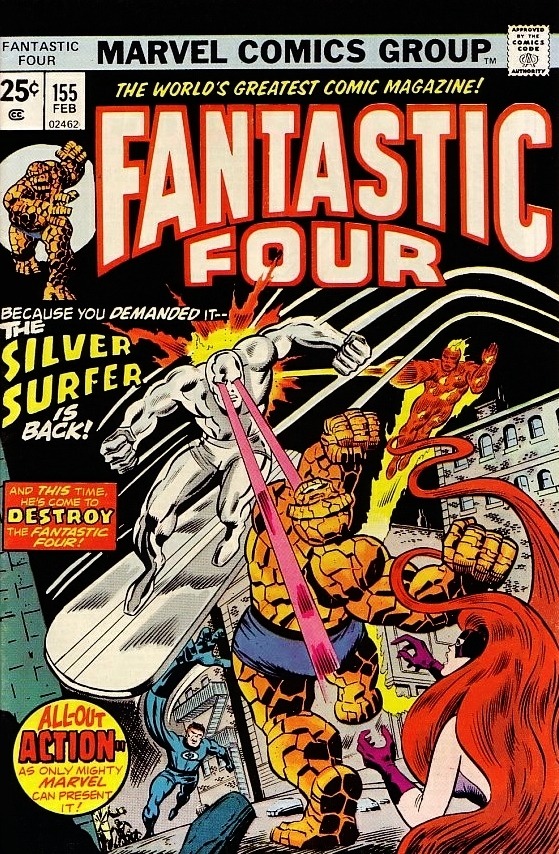 Doom's return to "The Fantastic Four" is, in some ways, yet another minor appearance to follow all of those seen in Minor Appearances Week, as he only really turns up on one page. He does at least speak in this one though, and in many ways he's the driver of the plot.
The story kicks off with the Fantastic Four walking through Central Park, where a bunch of muggers try to attack them. The Thing frightens them off, and then they're suddenly attacked by The Silver Surfer who asks the ever pertinent question, "who shall clobber whom?" He has turned up with only one thing in mind: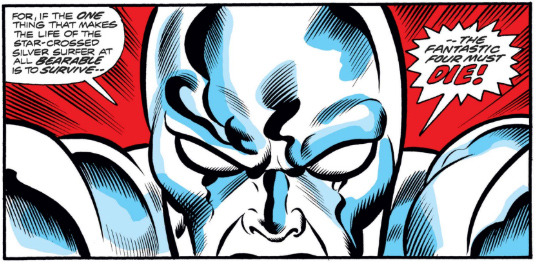 The Silver Surfer easily beats the Fantastic Four in a fight - or, rather, The Fantastic Three, as Medusa does precisely nothing. It's very noticeable during this, and other issues featuring the character, that she never actually seems to do anything. She's been brought in to replace the absent Invisible Woman, but for all intents and purposes they could have just left her out. Her powers are very similar to Mr Fantastic's, so it makes me wonder why the writers decided she'd be a good replacement in the first place.
Anyway, The Silver Surfer is just about to kill the team when he realises he can't go through with it.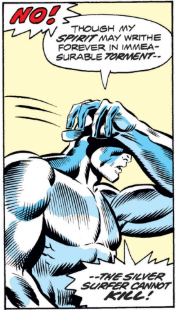 Instead he explains that, after a failed attempt to escape the planet's orbit he fell back to Earth, landing in a "quaint balkan township."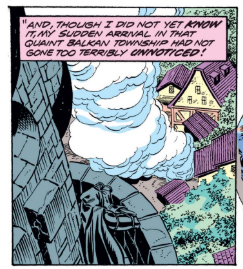 Looking at this image again I realise that Doctor Doom is standing on the balcony watching. I hadn't noticed it before because he'd been coloured the same as the battlements, presumably in order to hide his presence ready for the big reveal at the end.
The Surfer spots a poster of the town's new queen, who looks uncannily like his lost love Shalla Bal. The Surfer goes to find her, and comes across a battle scene featuring the Fantastic Four... or rather Three.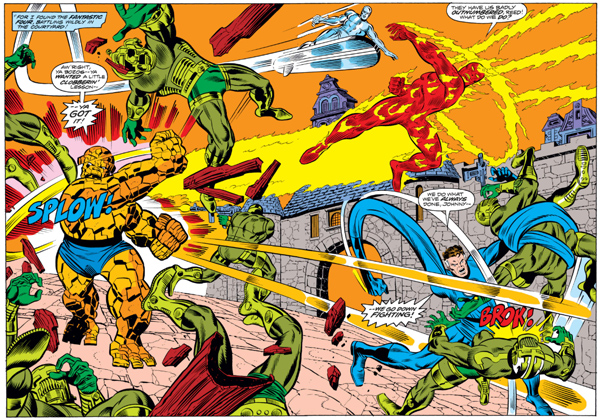 This turns out to be robot versions of the team being used in a military exercise, so the Surfer flies on, into a nearby castle where he discovers Shalla-bal, who doesn't recognise him. The Surfer turns round to discover that he is in the castle of ... Doctor Doom!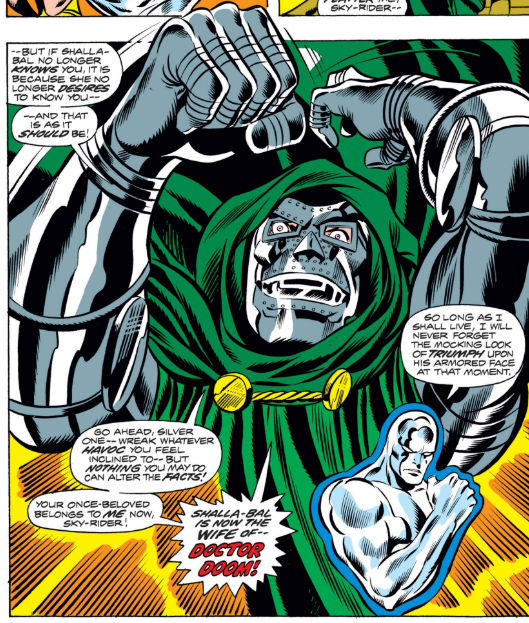 How he didn't realise this earlier is beyond me - he's been there before at least once, has seen Doom's military, and also of course has The Power Cosmic, but maybe he was just distracted by the thought of seeing his girlfriend again?
with his story told the Surfer realises that, now he thinks of it, he really should get on with killing the FF, and the issue finishes with him doing just that.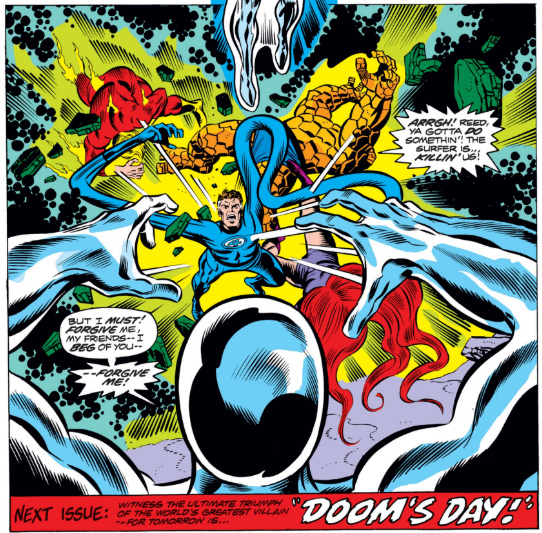 Interestingly, the next issue blurb promises a story called "Doom's Day", which we've had several times before. That won't be the title (it'll be something much less exciting) but it will definitely feature a whole lot of Doom. Before then though, we'll be hopping over to a brand new series to find out exactly how Doom got back to Latveria from space!
link to information about this issue
posted 18/4/2019 by MJ Hibbett
(click here for permanent link)
(0) comments
---
Marvel Value Stamp #84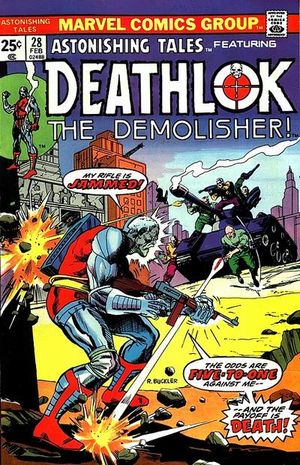 As a special addendum to Minor Appearance Week we have what may be one of the most minor of ALL minor appearances, although one which sheds interesting light on the methodology of the people adding information to the various databases I used to set up this corpus.
At first I thought this would be a Doom solo story, as used to be the case
when this series began five years before
, but sadly he makes no appearance at all in the actualy series - this issue was logged as featuring Doom simply because it includes a 'Marvel Value Stamp'.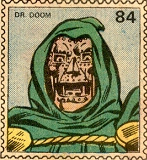 This was a long running series that ran in the Marvel house ad pages, encouraging readers to collect the entire set. According to
The Unofficial Index Of Marvel Value Stamps
this particular stamp, #84 in the series, had already appeared in three other comics before this one, none of which made it into any of the comics databases. The fact that it did get entered this time is, I think, purely down to a very diligent data enterer!
As ever the fact that Doom gets his own stamp, as with
the Slurpee cup
, demonstrates his prominence in the universe, although in this case various other villains had stamps too. The really interesting aspect of the stamp itself is that, like the back of the Slurpee cup, it's using the Rich Buckler image from the end of
Fantastic Four #142
. Clearly this was a favourite among the Marvel editorial team at the time, and is on its way to becoming one of the defining images of the character for this period.
And so ends Minor Appearances Week - next time Doom returns in a three-part story battling his old nemeses, The Fantastic Four!
link to information about this issue
posted 8/4/2019 by MJ Hibbett
(click here for permanent link)
(0) comments
---
Games Godlings Play!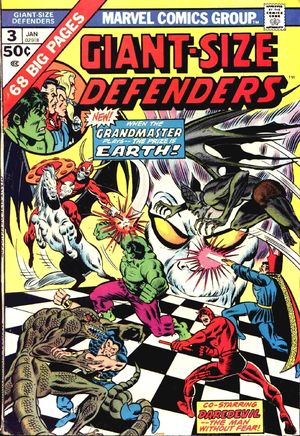 Minor Appearances continues with a WEIRD comic, which is just what you'd hope one co-created by Steve Gerber, Jim Starlin and Len Wein would be like. It sees The Defenders being recruited for a cosmic game of chess between The Grandmaster and... The Prime Mover!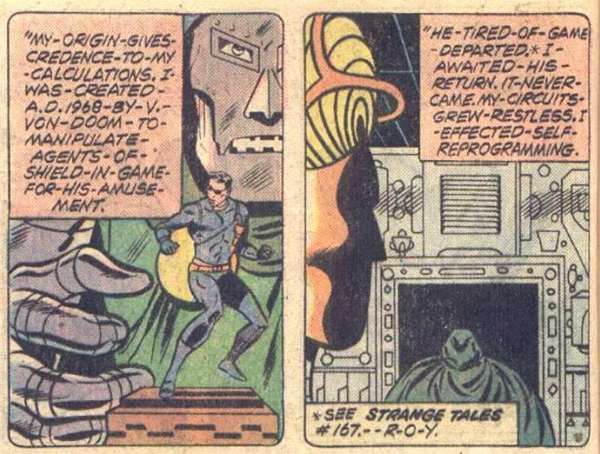 The Prime Mover originally appeared, as detailed above, in one issue of Strange Tales and then disappeared, apparently abandoned by Doctor Doom. It turns out that the hyper-intelligent robot decided to sod off under its own power in search of more games when its creator didn't come back, and to be honest, who can blame it?
There's no more Doctor Doom in the story, but there's a lot of other stuff going on, including some illustrated text pieces, very similar to the ones that Gerber tried out towards the end of his run in Howard The Duck, lots of flashbacks, some general Cosmic Malarkey, and... this very strange sequence: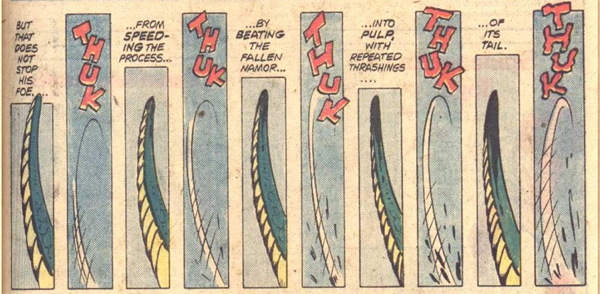 It also includes an imp walloping the Hulk and, I think, the first appearance of Korvac, who would later go on to fight the Avengers. It all ends with Daredevil gambling the fate of the entire human race on the toss of a coin and, thankfully, winning, due (somehow) to his hypersenses. It's a right rollercoaster of a story, and a prime slab of mid-1970s Marvel!
Minor Appearances Week has one more instalment, coming your way on Monday!
link to information about this issue
posted 5/4/2019 by MJ Hibbett
(click here for permanent link)
(0) comments
---
Slurpee!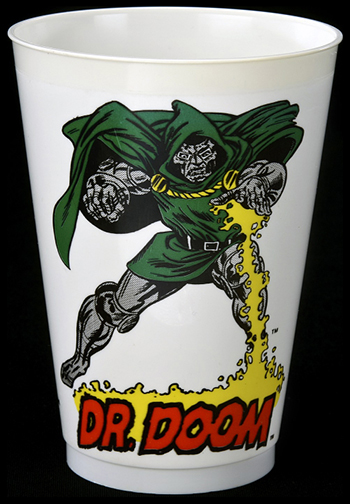 In 1975 the 7-Eleven chain of US convenience stores launched a new range of plastic cups for Slurpee drinks featuring Marvel characters. They'd already done this a couple of years earlier with DC characters, with the idea being that comics fans would be encouraged to buy Slurpee drinks in an effort to collect thet lot.
There's a lot more information about the series on
The Dork Review
, and about this specific cup at
The National Museum Of American History
. Points of interest for this blog include the fact that this is one of the earliest examples of Doom appearing in non-comics merchandising (with the Power Record being the first, I think) and that he is the only supervillain to appear in the entire series, showing once again his importance in the Marvel character universe.
Also of interest is that the back of the cup features the Rich Buckler Doom who appeared at the end of
Fantastic Four #142
. This particular image will be making another appearance very soon in an almost, but not quite, as odd location!
posted 4/4/2019 by MJ Hibbett
(click here for permanent link)
(0) comments
---
Prisoners of the Pharoah!
This very Minor Appearacne see Doom appearing only once in flashback. The story itself is still pretty entertaining, with some great art by Dave Cockrum and some properly amusing writing by Steve Engleheart, as Hawkeye and The Swordsman, officially The Worst Avengers, recruit The Pharaoh to do battle with Kang The Conquerer. The Pharoah and Kang are sometimes said to be time-split versions of the same person, as well as being variously The Scarlet Centurion and a much older version of Doom himself too, and this story doesn't do much to clarify the issue, instead showing them all together as part of one massive time paradox.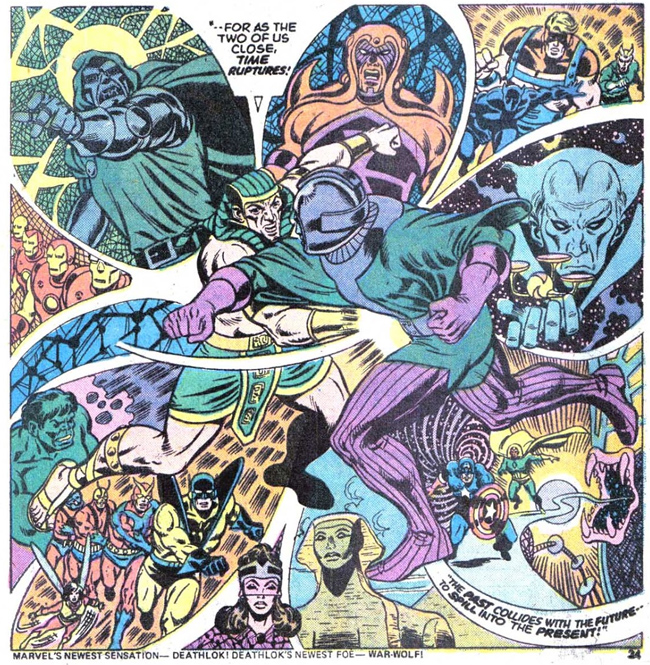 That's the one and only appearance of Doctor Doom, but I so there's plenty of room for excellent panel from halfway through the issue, showing Kang raging against the efforts of Hawkeye and Swordsman.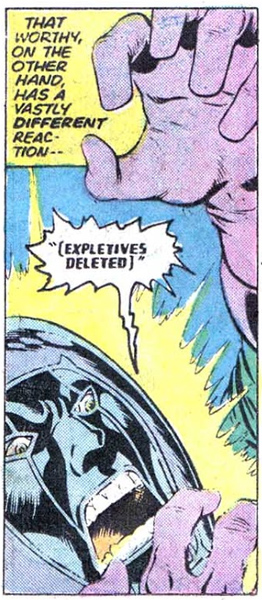 I think we can all sympathise with the immortal conqueror from the future here can't we?
Next time it's time for some proper transmedia action in Minor Appearances Week, as Doom makes his debut on... Slurpee cups!
link to information about this issue
posted 3/4/2019 by MJ Hibbett
(click here for permanent link)
(0) comments
---
Power Records - The Way It Began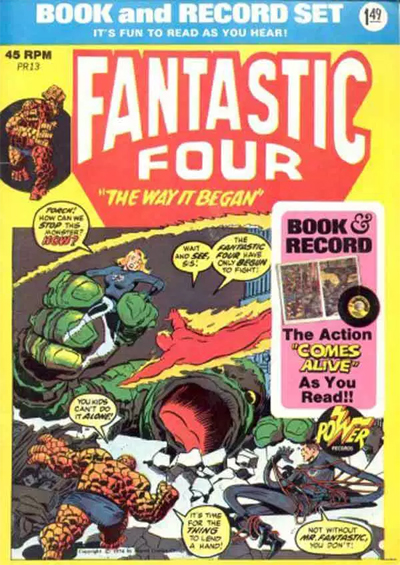 Minor Appearances Week continues, with what is strictly speaking, just a reprint of
Fantastic Four #126
, accompanied by an audio recording of the whole issue being read out. Apparently the idea of this was that young readers would listen to the record and read along with the comic, as a way of helping them to learn to read.
I'm not sure quite how valid this is, educationally, but it is a very entertaining listen, especially the full-powered interpretation by the actor playing The Thing. Stan Lee also provides the narration, which you can hear for yourself right here:
The only real shame is that Doctor Doom doesn't actually say anything! More minor appearances tomorrow!
link to information about this issue
posted 2/4/2019 by MJ Hibbett
(click here for permanent link)
(0) comments
---
The Fantastic Four's Most Famous Foes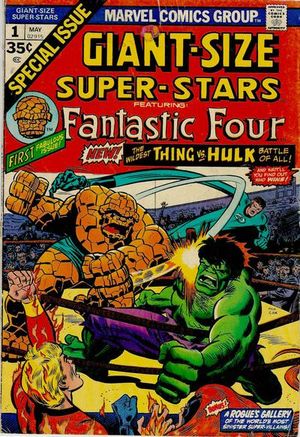 This week is 'Minor Appearances Week' with a whole string of extremely minor appearances by Doctor Doom in Marvel comics during 1974 and 1975. We start with one so minor that Doctor Doom doesn't even appear in the actual story itself, instead popping up at the end in a series of pin-ups reprinted from way back in
Fantastic Four Annual #1
. When I started doing these blogs I was quite strict about what "counted", preferring to look only at actual in-story appearances, which means there is no blog about this issue, which seems a bit daft looking back. Doom may not be in the story, but he's on the cover!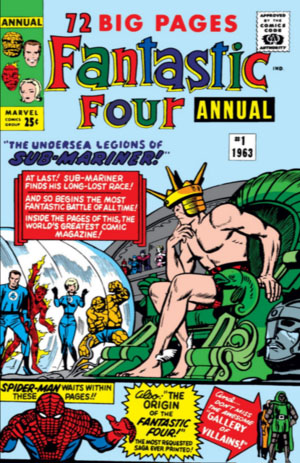 The "pin-up" in this issue is not an exact copy of the original - it's been slightly recoloured to make Doom's chest clasps yellow, rather than green as they occasionally were when they first appeared, and there's a new text box in the bottom right with some "vital statistics". Here's both versions, with the original on the left and the new one on the right.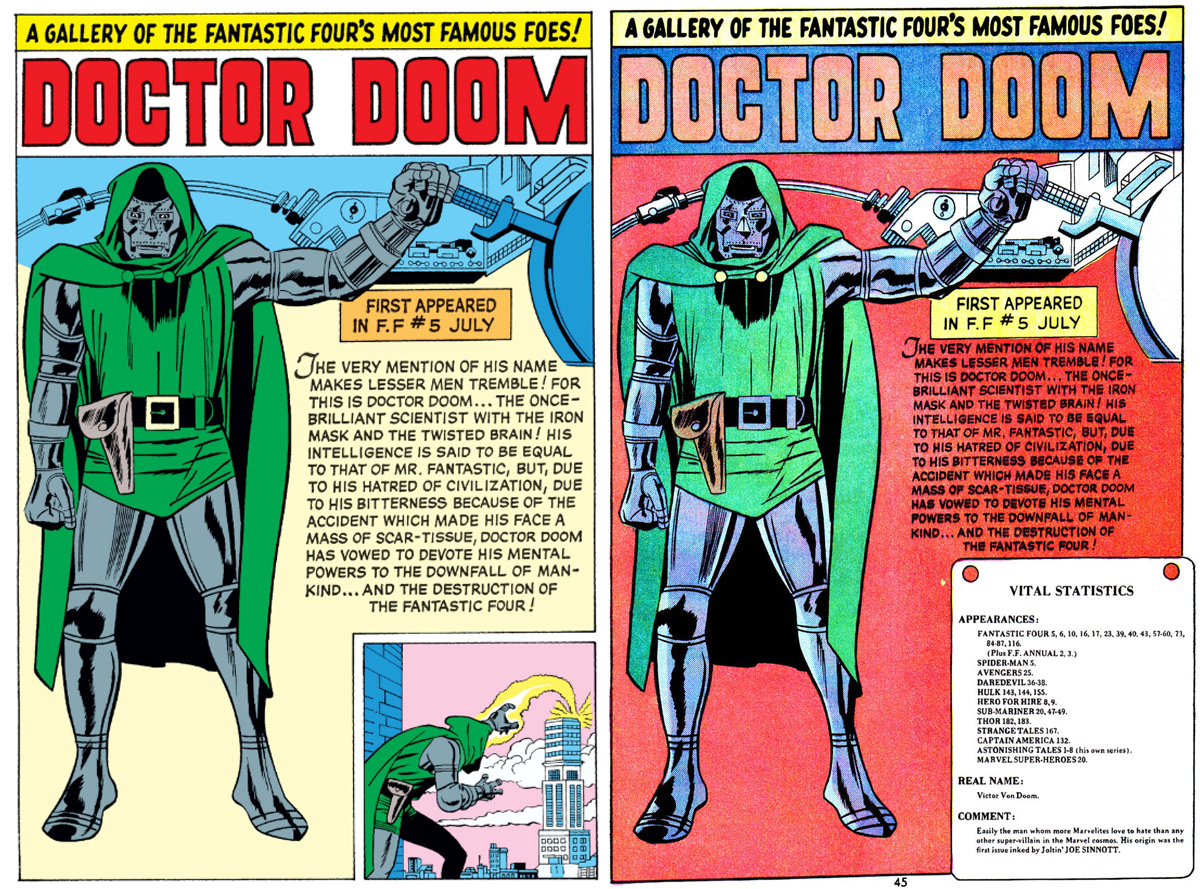 This seems like an odd choice of image to reproduce, because it's not what Doctor Doom looks like anymore. The John Buscema version has been standardised for a couple of years, whereas this much earlier Jack Kirby version has small cloak clasps, pants instead of a tunic, and very off-brand gauntlets and boots. The only reason to use it, and I suspect this was the reason it was, is that it's part of a ready made sequence of already formatted images that can just be shoved in en masse.
The list of appearances is also rather interesting, as it marks a recognition of the fan activity (which in many ways this blog is a part of) of making lists of appearances. It's even more interesting for the appearances it chooses to include, with almost every "real" appearance counted (when Doom himself takes part in the story), but with none of the flashbacks or illusions that we've noted along the way, like in
Iron Man #33
or
Daredevil #100
, and DEFINITELY no 'Not Brand Echh'. Weirdly, while it does contain fairly recent appearances in other series there's nothing from 'Fantastic Four' for the past couple of years. Other than that I was surprised by how accurate it was - I wish they'd done one of these every few years, it would have made selecting the corpus an awful lot easier!
More Minor Appearances tomorrow, Minor Appearances fans!
link to information about this issue
posted 1/4/2019 by MJ Hibbett
(click here for permanent link)
(0) comments
---
Attack!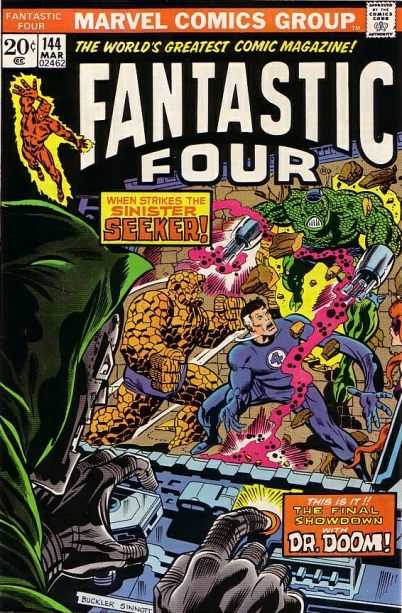 Joe Sinnot is back on inks for this issue, which immediately makes everything look slicker and more "Fantastic Four". As I've said before, I've never really appreciated his contribution to the series much in the past, but seeing how he works with Rich Buckler here has made me understand it much more.
The Fantastic Four - with Darkoth The Death Demon temporarily standing in for the Human Torch - journey through the basement of Doom's secret fortress, where they meet a creature called 'The Seeker' who has 'been - sent - to - make - you - die!'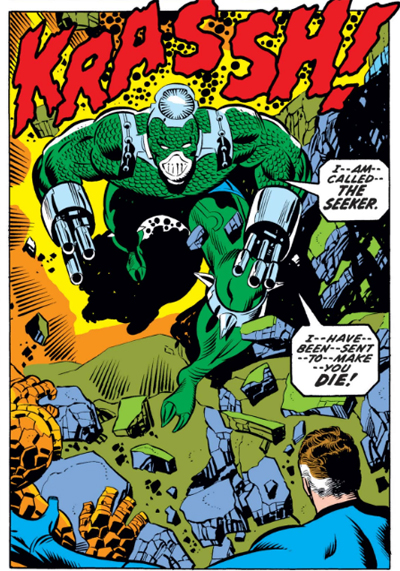 This is another new character designed by Rich Buckler, to go with Darkoth, and... well, he's not exactly Steve Ditko is he? Both characters look a bit 'Grim'n'Gritty Nineties' to me, with lots of pointless fiddly bits, extra weaponry, and even a spiky garter for the Seeker. Was Rich Buckler just ahead of his time?
The FF beat The Seeker easily, and then we see Doom beating up some staff members who were supposed to be keeping an eye on proceedings.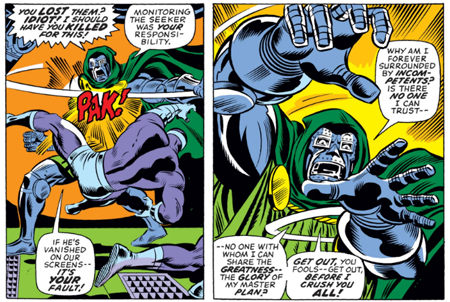 Once again, we're a long way from the Doctor Doom who abhorred violence and didn't wish to sully his hands with it. This is a paranoid, self-centred figure who cares nothing for anybody else, only assured of his own genius. Coach Thorne goes even further, calling him insane.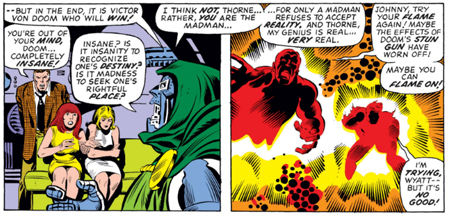 Doom's reply is basically 'I know you are but what am I?' but Thorne has a point - Doom is clearly a Mad Scientist happy to kill to prove his point.
We then return to the Torch-free FF, for some more of the PE Teacher-baiting that we spoke of last time.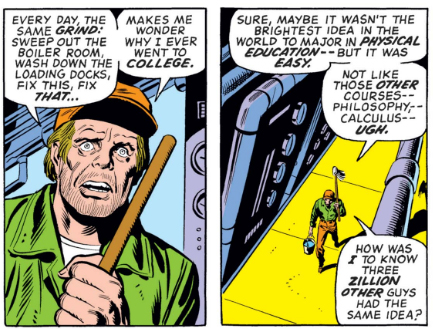 Like many people who grew up reading comics, I am no fan of PE Teachers, but this does stick out as an obvious dig at somebody in particular. Gerry Conway was only about 20 years old when he wrote this, so can't have been long out of school. Was there maybe a teacher who especially irked him, or perhaps someone his own age who was taking it up as a career?
The janitor is cleaning up at the Baxter Building, where the FF have returned to examine The Seeker. While they're doing that Doctor Doom launches his Vibrator Bomb into the atmosphere. Our heroes, fed up with waiting, have a punch-up, and then the bomb goes off. Doom, and his men, are delighted.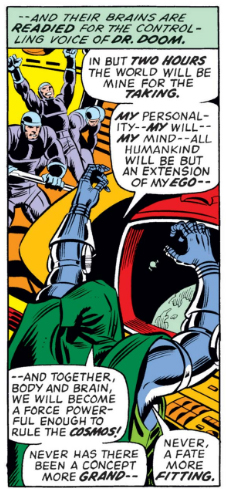 However, unbeknownst to them, the Seeker has returned, using its security access to the fortress to get inside and free the Human Torch. It turns out that the Seeker was actually a robot, which Reed Richards scooped the insides out of so that Darkoth could wear it as a costume.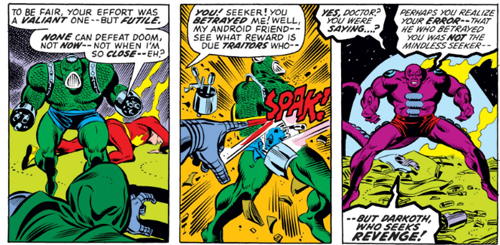 Doom runs away to his central control room where he plans to launch himself into space and activate the full force of the Vibro-Bomb. The control room looks very familiar, as Buckler pays tribute to a classic bit of Kirby design.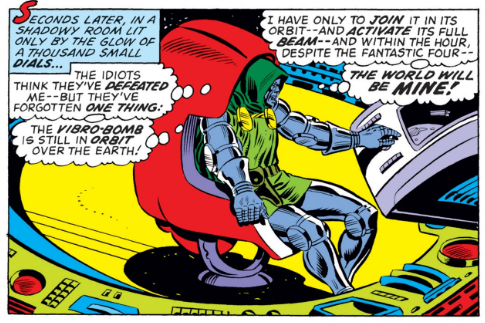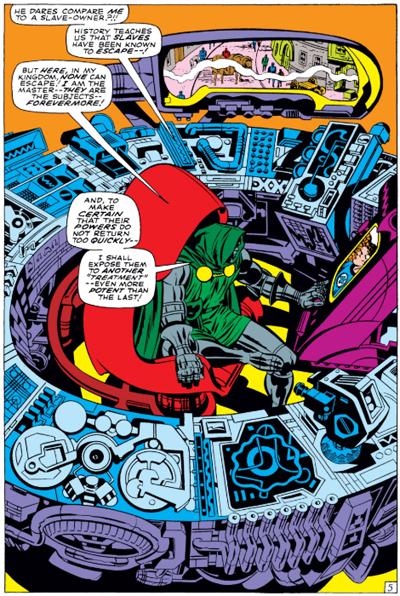 That said, it's hard not to compare the two, and find Buckler wanting here.
There's another nod to the past as the story concludes, with Doom launching the entire building into space, just as he did with the Baxter Building way back in
Fantastic Four #6
.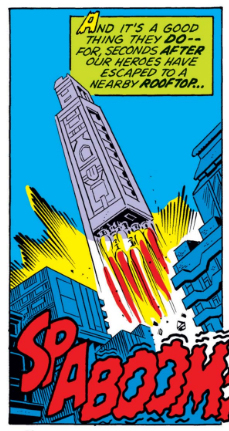 Then, much as in that issue, an ally turns on him, with Darkoth taking the place of Namor The Submariner. This time the building explodes, and once again Doom seems to have been lost in space.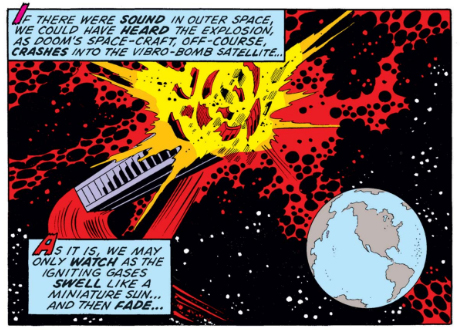 SPOILERS: I think he'll probably be OK.
So ends a trilogy of issues which saw Doom very much returned to the status of a madman intent on glory only for its own sake, working at the edges of sanity. It looks like it'll be a while before that changes again, because next week we launch what I'm calling 'Minor Appearance Week' - a whole five days of cameos and single panale pictures! See you then!
link to information about this issue
posted 27/3/2019 by MJ Hibbett
(click here for permanent link)
(0) comments
---
The Terrible Triumph Of Doctor Doom!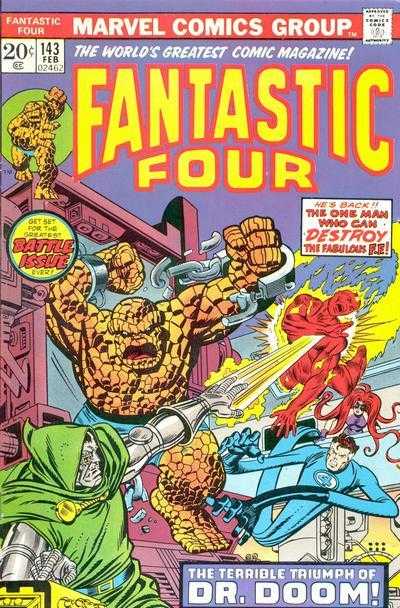 The first thing to note about this issue is the (brilliant) cover which, in an adjusted form, was one of the first images I ever saw featuring the Fantastic Four. As mentioned in
one of my very first blogs
, this was used as the basis for the Fantastic Four paperback I bought as a child which started my love of comics in general, and this series in particular. That version was altered so that it featured the Invisible Girl (as she was then) rather than Medusa, but other than that it's the same design, and you can see why it was chosen, as it's a dynamic scene showing the team exhibiting their powers to fight their greatest villain, Doctor Doom.
The second thing to note is that this issue shows what a difference an inker can make. The previous story had been inked by Joe Sinnott, who gave it a very traditional Fantastic Four "look", sort of shiny with clean rounded edges. Here Rich Buckler is inked by Frank Giacoia, who makes it look much rougher, perhaps closer to Buckler's original pencils. I first became aware of Joe Sinnott's style when he inked John Byrne towards the end of his run of the title, and I didn't like it at all because it brought Byrne's pencils more into line with everything that had gone before, but here I can see that he provided a vital role in ensuring consistency.
The story's written again by Gerry Conway, and he steers Doom's character back towards the Mad Villain role, as opposed to the sensitive, tortured individual we saw previously in his solo stories, written by ... Gerry Conway. I must admit I found it a bit disappointing that, after that batch of exciting and interesting stories we find Doom here back to being, basically, a Mad Scientist intent only on world domination for its own sake. It may be that Conway felt he needed to focus on the Fantastic Four themselves, rather than the baddy, but it seems a shame to drop so much interesting characterisation in favour of making him a wide-eyed loonie.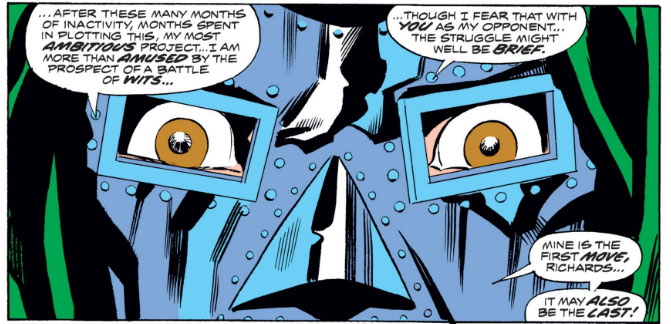 Doom easily defeats Mr Fantastic and Medusa, and then turns on his other guests, Coach Thorne (the other college alumni invited) and his wife. The Coach decides that he doesn't need superpowers to fight Doom (which doesn't seem like a very logical conclusion to come to) and Doom zaps him into unconsciousness, after saying that the only reason he was invited was so he could be humiliated.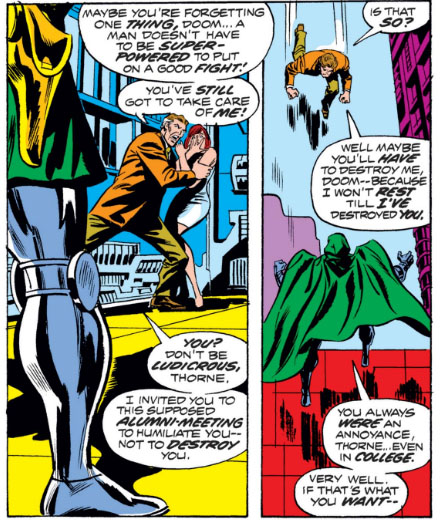 This isn't the only time that PE Teachers will suffer during this story, with a particularly odd interaction coming up in the next issue. I wonder if Gerry Conway had a PE Teacher he really really disliked?
Doom takes Mrs Thorne down to his secret lair, a Steranko-esque double page splash mixing in elements of Jack Kirby.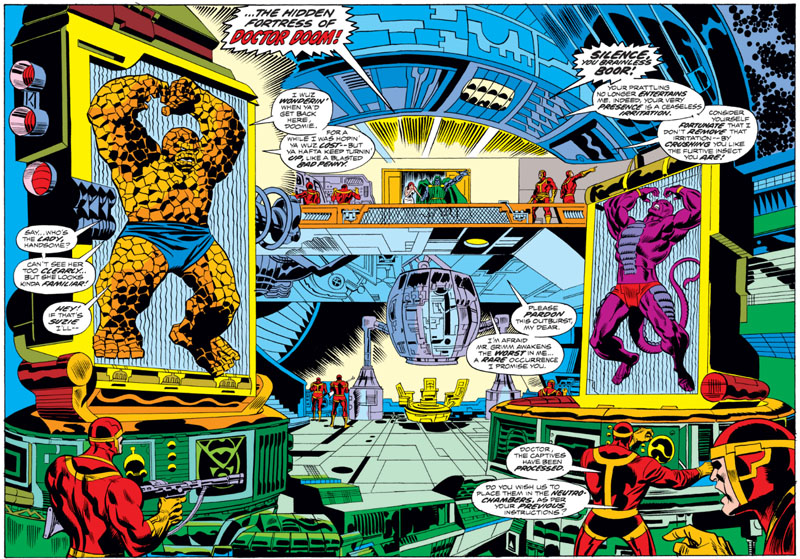 Here he explains his plan, which first involves a recap of the previous issue, where he describes luring the Thing to "a European country bordering Latveria". As with the previous issue, the name of the country is never mentioned, which I guess is Conway's attempt to avoid giving Latveria a definite location, except to say that it's in the Balkans somewhere.
The plan is to use a 'Vibration Bomb' to erase the personalities of all life on Earth and replace them with blind loyalty to Doom. He demonstrates on a couple of lackeys who have been disloyal to him, all the time acting like a raving lunatic Mad Scientist as he forces them to kill each other as a demonstration of his power.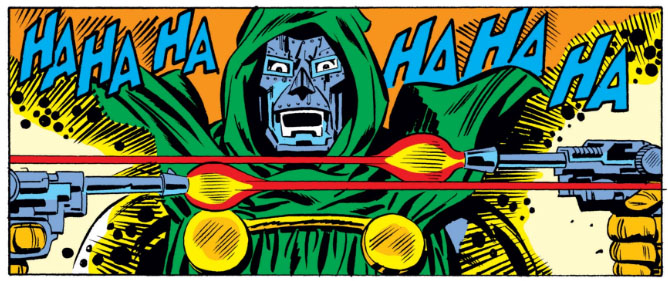 There's then a desultory switch to see what the other members of the FF are up to, which even the captions acknowledge is taking us away from the main story, ending with a note that says "Enough catching up", before we go back to see Doom preparing his missile, containing the Vibration Bomb, for launch. As he does so he considers his plans to become the greatest leader the world has ever known, with everybody chanting his name.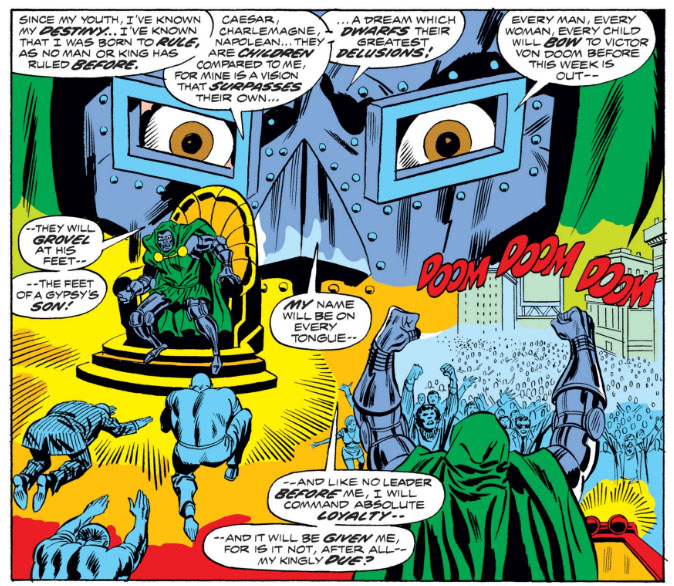 It's interesting that Doom mentions that he is a "Gypsy's son" here. Where previously his humble origins were part of his sympathetic appeal, as a self-made revolutionary who rose to power through his own determination, here they seem to be part of his villainy, that he is attempting to conquer the world in order to disavow his past, and humiliate all those who have tried to do the same to him in the past. Looked at it this way, the kidnapping of a "jock" from his college days makes more sense! Still, this is the only time we get a glimpse into Doom's own thinking in this issue, and it's a long way from the tortured, self-doubting, monologues we've seen before.
There's also a neat little cutaway diagram showing Doom's fortress, in homage to the earlier cutaways of the Baxter Building. It's just a shame the image is too small to show much!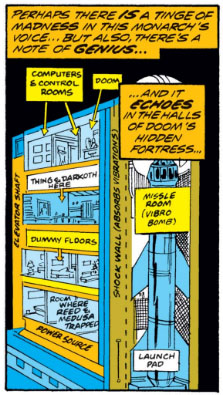 Doom's thoughts are interrupted by the news that Darkoth has escaped, something which Doom solves easily by telling him to behave. For some reason he decides this would be a good time to tell Darkoth the truth about where he comes from, something which will come back to bite him in the bum very shortly.
We then go over to see Johnny Storm and Wyatt Wingfoot sitting in jail, after accidentally destroying some property earlier on when the Human Torch threw a tantrum. The wall of the jail suddenly explodes and a bunch of guards run in, in another homage (or possibly a swipe!) to Jack Kirby.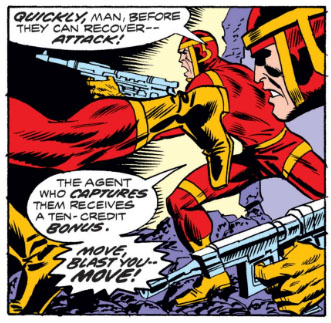 Doom turns up and, once again, easily captures the pair, and then we go back to Doom's base for the final page, where Darkoth visits Mr Fantastic, freeing him along with Medusa and the Thing, in return for them promising to help him be avenged on Doctor Doom. It turns out that he didn't like what Doom told him about his origins, and he wants to have revenge for having been turned into this creature through Doom's science experiments.
The issue ends on a low-key note, with Reed saying he thinks he might know a way to stop Doom, and then that's it. Next time we have the conclusion of the story, and some more PE teacher bashing!
link to information about this issue
posted 22/3/2019 by MJ Hibbett
(click here for permanent link)
(0) comments
---
No Friend Beside Him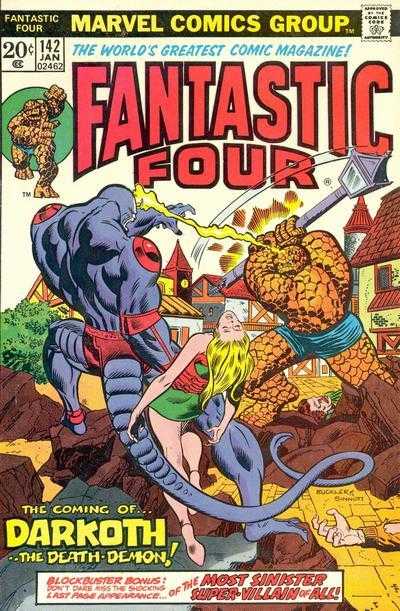 It's been a while since we've covered a truly daft comic, where the story makes no sense whatsoever, but we're back in that territory todau with a bunch of characters making entirely silly decisions for no other reason than to keep the story moving.
The splash page carries on from the previous issue, where Mr Fantastic used an 'Anti-Matter Gizmo' to stop his son Franklin from exploding and, for reasons not well explained, the rest of the Fantastic Four were so disgusted that they split the team. It all seems a bit odd to me - Franklin appears later in the story, and seems fine, and surely that's better than being exploded?
We briefly see Johnny and Sue going their own seperate ways, and there's some time spent with Mr Fantastic (who now seems to be going around with Medusa, who is helping him get over the whole situation by taking him out to dinner), but the main story is with The Thing, who gets a letter from his girlfriend Alicia. She's gone 'on holiday' to 'some little country in the Balkans', so the Thing immediately gets on a plane to join her. He doesn't wonder why, or even seem to check where he's going, which seems very odd. Surely you'd have to know your destination just to get on the right plane?
When he arrives (after another passenger on the plane decides it makes sense to pick a fight with a famously strong, ill-tempered world celebrity) he meets Alicia and her not at all suspicious doctor, 'Hans Stutgart'.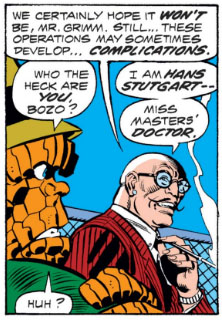 As they walk into town they spot everybody else running home, due to a 'silly' legend about 'some sort of death demon'.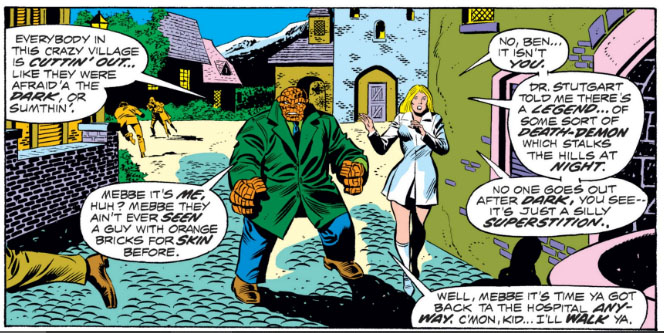 You might think that Alicia, who has met all kinds of weird creatures over the years, wouldn't be so quick to dismiss the possibility of a death demon, but she does. Needless to say, the aforesaid Death Demon turns up a couple of pages later and gets into a big fight with the Thing, who's gone out for a walk. The Death Demon gets away, but Ben is worried - that Demon knew things about him that no Demon has any right to know, something is clearly going on!
Twenty four hours later in this 'small Balkan city' Alicia goes in for an operation which will, apparently, restore her sight, and the Thing is left to wait outside the room. After three hours (!) he finally decides to look through the window to see how it's all going and realises that the entire surgical team have disappeared. The Death Demon appears again, while 'an armored hand closes a fatal switch' and a door opens up nearby.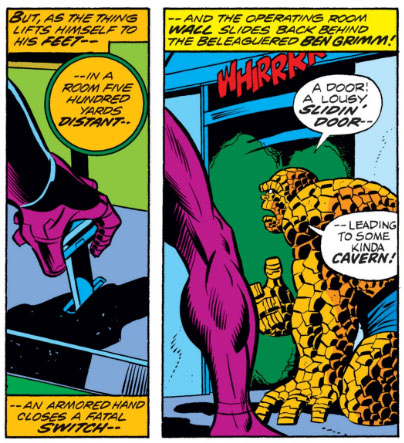 Whose armoured hand could it be, observing events from afar in a small country in the Balkans? I think this would be pretty clear even if you weren't reading about it on a blog called 'Marvel Age Doom', but Gerry Conway tries to keep the suspense building as the Thing and the Demon fall into a cavern, and those hands keep manipulating events. Eventually Ben is captured, as a 'mysterious' figure watches on.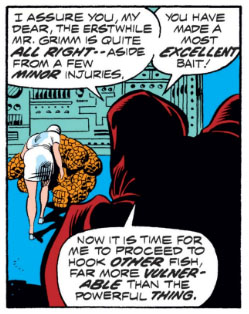 Hmm... is it the Mole Man, do you think? The last couple of pages then show us Reed Richards and the mini-skirted Medusa (Rich Buckler really likes drawing women in very short skirts) arriving for a college reunion, where they're surprised to find that only two other alumni have arrived, a sports coach and... Doctor Doom!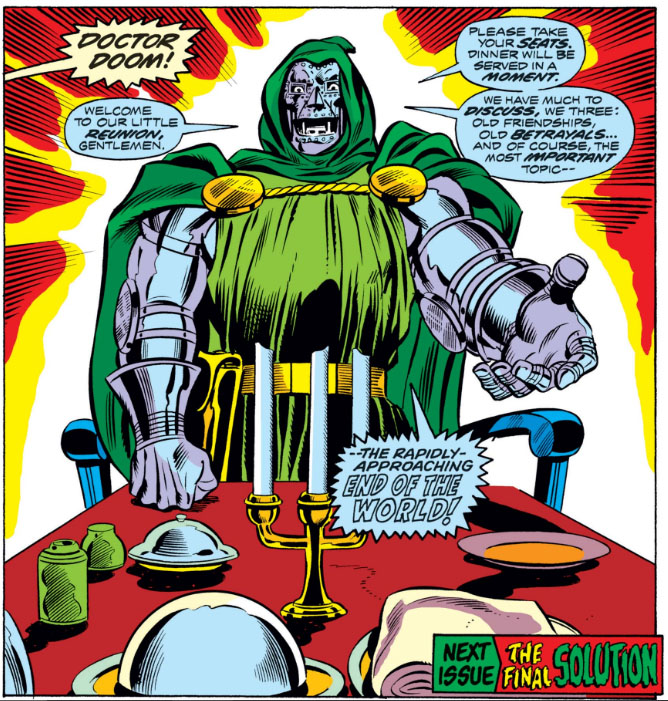 Crikey, who'd've thunk it eh? Apart from the fact that this is a brilliant image (which very much conforms to the design set out by John Buscema) it hasn't really earnt the right to be a shocking ending - surely everybody who knows who Doctor Doom is, already knows it must be him? Still, at least we've got all that out of the way now - let's hope the next issue is a bit better!
link to information about this issue
posted 15/3/2019 by MJ Hibbett
(click here for permanent link)
(0) comments
---
To The Death!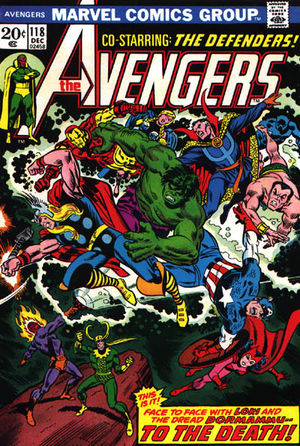 "This Is It!" says the cover, and it certainly is - the grand finale of The Avengers/Defenders War, the first ever big proper superhero crossover, where one story carried on for six months across two seperate series. It was a very big deal at the time, and set the tone for pretty much all of the big crossover series to come - you can see just how exciting it all is by this fantastic splash page: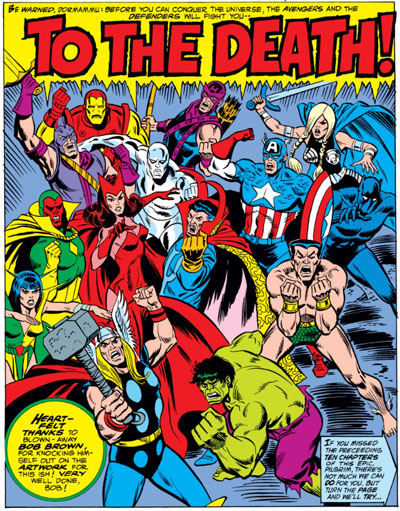 It's odd to think now just how revolutionary this was. There had been crossovers before, and of course one of the selling points of the Marvel Universe itself was that it was a single storyworld with characters that could wander into each other's stories, but this was the first time it had been done on quite this scale.
The story so far has seen the Avengers and Defenders being manipulated into fighting each other by Dread Dormannu, with the two teams coming together here for one big final battle against evil - you can tell it's a big deal because The Watcher turns up, and he hardly ever... all right, he pops up a lot, but still. All of earth comes under attack, which gives Steve Engelheart and Bob Brown an excuse to take a tour around the rest of the Marvel Universe of 1974.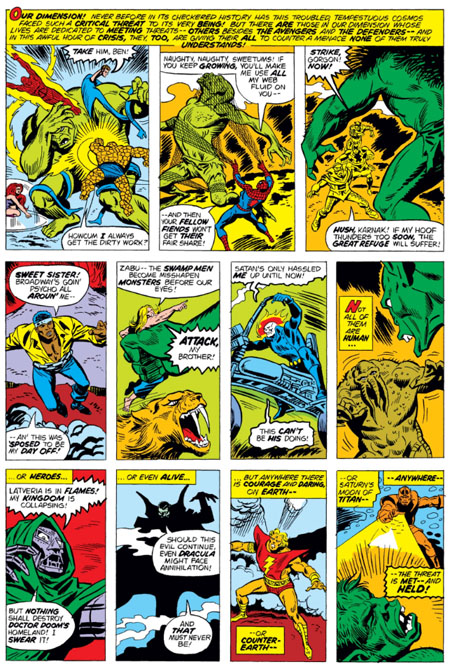 If you didn't know what year this was you would probably be able to guess from some of the heroes that we see fighting - Luke Cage, Ghost Rider, Swamp Thing and especially Dracula, during his heyday of Marvel publication. Doctor Doom is there too, of course, defending his country from attack, and we see again that although the story says he's not exactly a hero, he pretty much is here. He's not working for his own self-interest (except inasmuch as anyone trying to save the world is), and he's certainly not running away and hiding. He's defending his homeland, and his people, showing that he's once again the heroic defender of his subjects, rather than a deluded dictator. His inclusion in this montage also shows his continuing importance in the Marvel Universe, even at a time when he's being used much more for cameos like this, rather than in actual stories.
Having said all that, our next issue sees him returning to the comic of his birth, and also to the role of Absoluten Baddy, in 'The Fantastic Four'!
link to information about this issue
posted 8/3/2019 by MJ Hibbett
(click here for permanent link)
(0) comments
---
Mindstorm!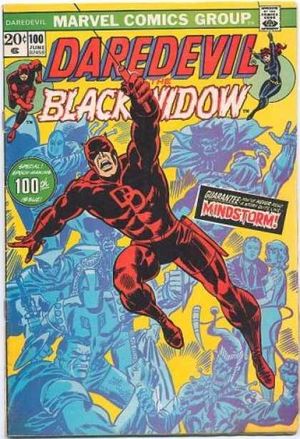 After all the excitement of the last couple of stories, this comic sees Doom back in the most fleeting of cameos, though one which continues the theme of him being the leader of villains.
The story sees Daredevil returning to San Francisco, his current base, in a borrowed Avengers Quinjet, bemoaning the trials of his love life. He sees trouble on the streets and leaps into action, finding himself (in a very Steve Gerber moment) fighting "an armed 'street theatre' group".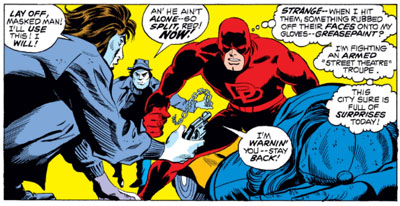 Once he's sorted that out Daredevil talks to the victim of the gang, none other than Rolling Stone Magazine's Jann Wenner!
Once again, this feels very Steve Gerber, with Daredevil popping into Rolling Stone's offices and marvelling at how groovy it all is, especially compared to his own lawyer's chambers. The only slight problem with all this is that the artist, Gene Colan, is not quite so up to date, choosing to illustrate the magazine's dedication to the counter-culture with... a poster showing John Lennon in his Sergeant Pepper days.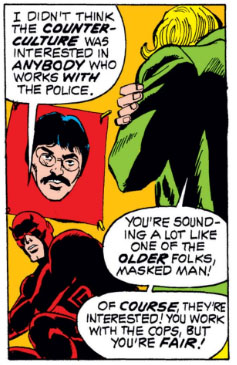 There's a brief interlude where Wenner interviews Daredevil and gets a re-cap of his origin and story so far (this is issue 100 after all), and then everything gets properly weird, as the entire city starts to freak out, apparently tripping and then forgetting about it not long after. Daredevil is the only one who seems to remember what's happening, and as he and Jan Wenner navigate "the cosmic giggle" they meet a succession of his old enemies.
This is where Doom comes in - after fighting off some of his own major villains Daredevil sees a whole crowd of them led, of course, by Doctor Doom.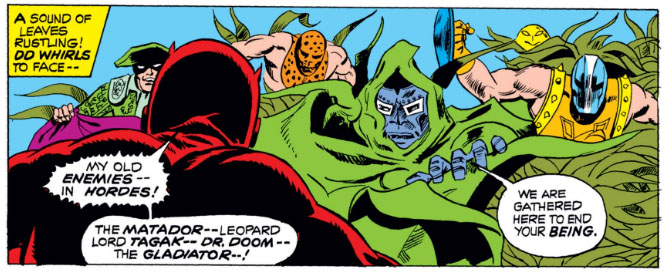 This use of Doom as a signifier of Super-Villainy originates in his appearances in 'Not Brand Echh' some years ago, where he was deployed to make clear that a crowd of super-villains was meant to represent Proper Baddies, rather than a collection of twits being used for a joke. Without Doom a crowd of villains could be, for instance, some losers going about normal business, or trying to pretend to be superheroes instead, but whenever Doom was leading them it would mean that the reader was supposed to accept that this was a terrifying grouping of evil, there to do proper supervillain business (even if this was undermined in the next panel to service a gag).
The really interesting thing about this is that it leaked out into the 'real' Marvel Universe, with Doom appearing more and more as the leader of these assembled groups, always demonstrating that This Is A Group Of Baddies. That's the case here, with Doom telling Daredevil they're here to witness his end - the fact that Doom is there, as stated above, shows that this is not just a get together of defeated enemies (which, given the loopiness of some of Daredevil's villains, it could well have been) but a coming together of supervillains for a special occasion. It's a hallucination, as a lot of these appearances tend to be, but that makes an even stronger case for Doom representing Super Villainy in the minds of the heroes.
That panel is Doom's only appearance, and Daredevil spends the rest of the issue trying to work out what's going on before coming face to face with another one of his, shall we say, less than terrifying villains, Angar The Screamer!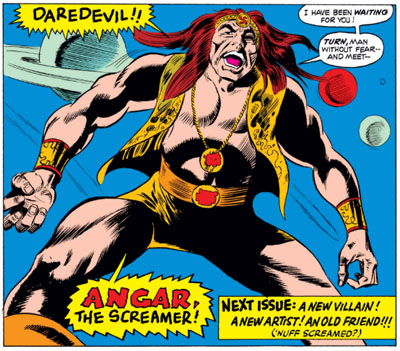 Sadly, we won't be finding out what happens, or what's causing the mass freakout of San Francisco - not on this blog at least - as we're off to visit The Avengers next for another cameo, this time in a much bigger story!
link to information about this issue
posted 1/3/2019 by MJ Hibbett
(click here for permanent link)
(0) comments
---