---
current
/
archive
/
issues
/
faq
/
RSS feed
/
twitter
/
---
Enter... Dr. Doom (again)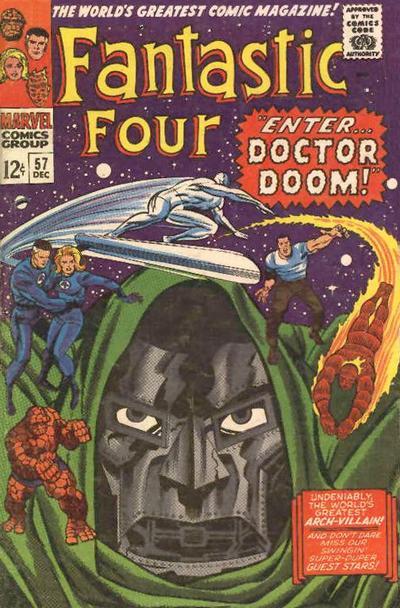 Say what you like about Stan Lee, but when he finds a story title he likes he's not afraid of re-using it - we've already had Doctor Doom Returns twice, and now he's Entering for the second time this year!
That's about the only economising that goes on in this comic, which features at least three separate stories, none of which connect together by the issue's end. It's a style of storytelling that was common in continuing narratives like soap opera, but new to American superhero comics at this time. Where previously an individual issue would contain one or more self-contained stories with little or no sequential continuity between them, here Stan Lee and Jack Kirby are happy to throw us into the middle of one story then cut to another that is almost entirely unrelated. It's no wonder that Sue needs to take a moment, a few pages in, to bemoan how complicated their life has become.
The first story concerns the hunt for The Sandman, a member of the Frightful Four who seems to fight his battles wearing a t-shirt and... nothing else.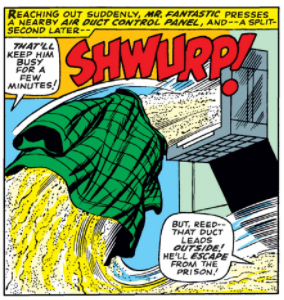 The FF spend most of their time searching the city for him, only for the Sandman to turn up at The Baxter Building and sneak into their secret vault to steal a bunch of weapons. Mr Fantastic estimates that it'll take him at least five minutes to open his own Impregno-Lock and get into the store room but, when he manages to gain entrance "exactly 300 seconds later" he finds that the villain has escaped through the window.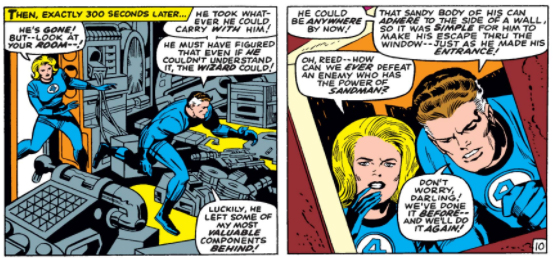 This leads me to ask, once again, whether Reed Richards really is the most intelligent man on earth in the Marvel Universe. Why didn't he just stretch out of an adjacent window and in again that way?
Meanwhile Johnny Storm and Wyatt Wingfoot are on a quest to track down The Inhumans - or at least Johnny's girlfriend, Crystal. They're helped by the Inhhuman dog Lockjaw, who teleports them from place to place, this time dropping them into a whole other dimension full of creatures so enormous and heavy that they've turned their entire world into a car park.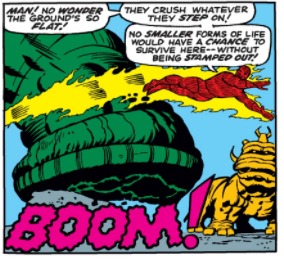 Unbeknownst to Johnny and Wyatt, the Inhumans are actually trapped inside a Negative Barrier in the Himalayas, where the Royal Family are gathered round the bed of their King, Black Bolt. This is a brief interlude, laying the groundwork for future stories, where Maximus The Mad rolls up and tells the assembled superheroes that his brother Black Bolt and Queen Medusa have been lying to them all for years - Black Bolt is perfectly capable of speaking, but he refuses to do so!
This would all be more than enough for most comics, but these three plots only take up half of the pages of this issue, with the rest being given over to the first meeting of Doctor Doom and The Silver Surfer!
This is yet another example of the way in which Lee and Kirby were developing the shared continuity of the new Marvel Universe. Previously a villain such as Doctor Doom would only be expected to act as a foil for the main characters, while the Silver Surfer was introduced (back in
Fantastic Four #48
) simply as a supporting character for Galactus, but here these two supposedly secondary characters are able to carry half of the issue by themselves, emerging from the rich world that has been created as leading characters in their own rights.
Doom has summoned the Surfer to his castle, apparently just to learn more about him. The Surfer is more than happy to explain and demonstrate the capabilities of The Power Cosmic, including generating an incredibly powerful weapon which Doom uses to knock down the room they're standing in.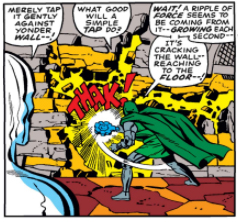 In return Doom takes the Surfer to visit his experimental workshop complex, which manifests as a fantastic splash page of Kirby Tech.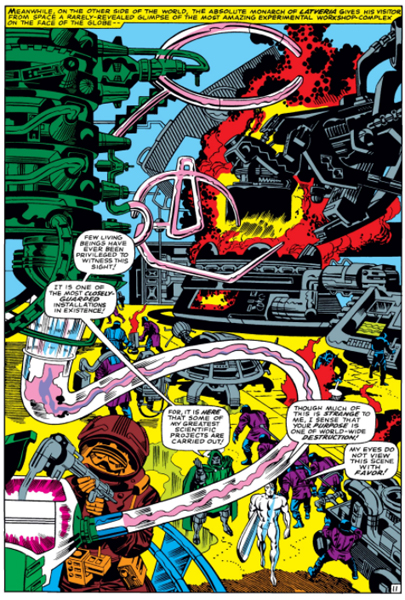 As well as being a wonderful image, this is a fascinating dip into the hyperdiegesis of the Marvel Universe. We know that Doom has all of his technological gizmoes, but we've never yet seen the actual factories where they're built. It makes sense that a national leader like Doom would be able to have weapons plants like this in his country, and indeed employ citizens to work there. We even get a glimpse at Doom's approach to HR when he loses his temper with a clumsy lab worker but then, realising that he's being observed, decides to give him the day off instead of "the ultimate punishment" (which is probably not a written warning).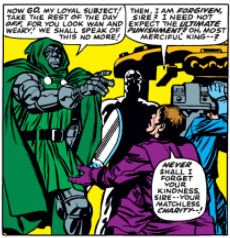 Once again we see here the difference between the image Doom hopes to project, of a benign, caring leader, and the violent despot he really is. This is a constant throughout his fictional life, although his own levels of self-knowledge will vary. Sometimes, as here, it seems that the caring leader is all just an act to impress others, whereas on other occasions he appears to believe that he is genuinely working for the benefit of the Latverian people.
Soon the real reason for his summoning of the Surfer becomes clear, as he pounces on the unsuspecting alien and clamps him into a pair of High Intensity Inductors which transfer the Power Cosmic into Doom himself!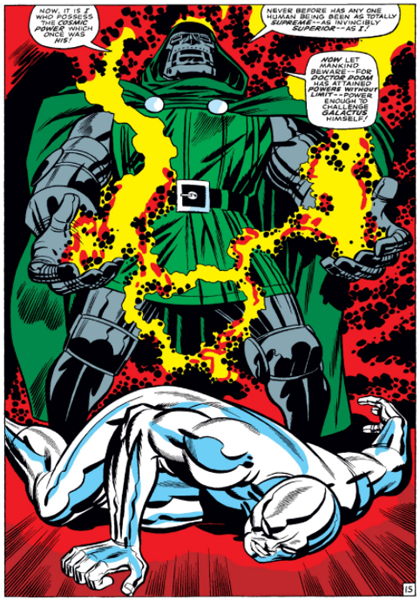 Doom immediately uses his newfound power to hop on the Surfer's board and zoom around the skies of Latveria, blowing up trees and terrifying his subjects. The issue closes with Latverians dreading the prospect of their leader having so much power, and the FF, back in New York, getting an eerie feeling that there are bad times ahead for them.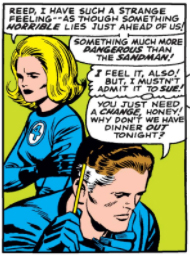 I've got a nasty feeling she might just be right - let's find out, next time!
link to information about this issue
posted 11/4/2018 by Mark Hibbett
Comments: