current
/
archive
/
issues
/
faq
/
RSS feed
/
twitter
/
---
The Dismal Dregs Of Defeat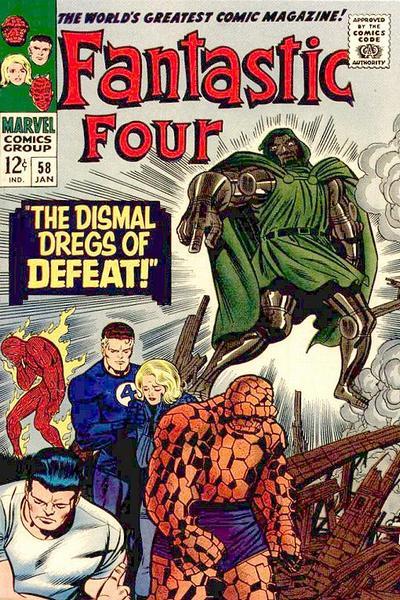 After the multiple narrative of last time this issue is all a single story full of plot, playfulness... and prevarication.
When last we saw him Doctor Doom had stolen the Power Cosmic from the Silver Surfer, and was heading out to wreak havoc on the world. However, where other supervillains might get straight to it Doom prefers to savour the moment, making it last as long as possible by zipping around the world causing mischief while his enemies get more and more distressed.
As this story begins Doom is sending terrifying visions of himself to the Fantastic Four via the medium of a lightning storm. He's now all powerful and could destroy them at will, but instead he chooses to have fun by simply giving them the willies. This is how he gets his kicks.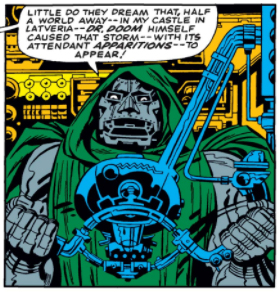 He also likes a good old gloat, so he pops down the corridor to look in on a desolate Silver Surfer, before setting off towards Manhattan. The situation is full of dread for humanity and is expressed in very serious terms... until Stan Lee takes the opportunity to add in a little self-mockery of his own dialogue.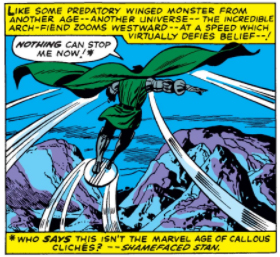 Doom arrives at The Baxter Building to find a spooked Thing (who's been upsetting himself with ghost stories) on his own. Doom attacks, rejoicing in his revenge on the person who humiliated him so much on their last meeting. "Feel the limitless cosmic power in the hand which you once nearly crushed", he says, referring to an injury that clearly bothered him. He mentioned it last time we saw him too!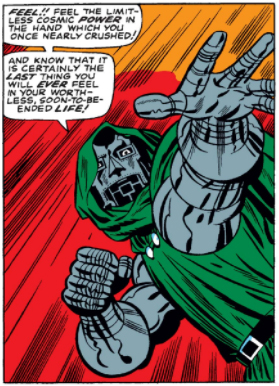 Interestingly Stan Lee does not include a footnote referring us back to the issue Doom's talking about - either he felt readers would all remember, or that the story should not be interrupted, or he forgot!
After a pitched battle Doom defeats the Thing, but then once again decides to defer his final victory by leaving him standing statue-like in a park. He promises to return to finish Ben off once he's defeated the rest of the Fantastic Four, but one does have to wonder whether Doom is capable of ever learning from his mistakes. Every time he's done this in the past it's ended up being his undoing. It's part of his character - it's right up there with watching telly and jumping out of windows in the Doom Personality Matrix - but it's flipping infuriating!
Doom heads back to the Baxter Building where he finds Reed Richards and sets to giving him a good thrashing with an energy mace, similar to the one the Silver Surfer demonstrated in the previous issue. While this is going on Johnny Storm returns from his travels and discovers Ben trapped in his statue form in the park. When he rushes off to get help he discovers Doom and jumps into action, only to be defeated by a "cosmic drop in temperature" which nullifies his flame completely. Once again Doom refuses to kill him, deeming such things beneath him now.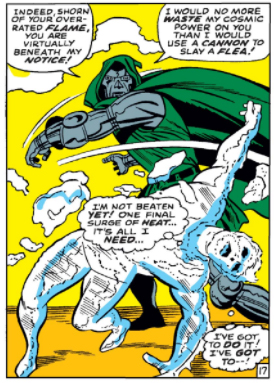 Wyatt Wingfoot uses this month's Handy Reed Richards Gizmo (which Lee describes in some detail, before concluding with "at least, that's how Jack described it to us!") to free The Thing, and the team are united once more. Usually this would be the time for a fightback, but much to everyone's horror Reed concedes that the situation is hopeless, and that Doom has won.
He later says he was playing on Doom's "inconceivable vanity", surrendering in the knowledge that Doom would decide they are all beneath him now and let them live. A lot of the time when Reed Richards says this it's not entirely believable, but here you can sort of see his point. He's basically offering Doom the chance to keep his greatest enemy alive so to bear witness to his continuing victories and, as anyone who knows him would guess, this is something Doom is all too happy to accept.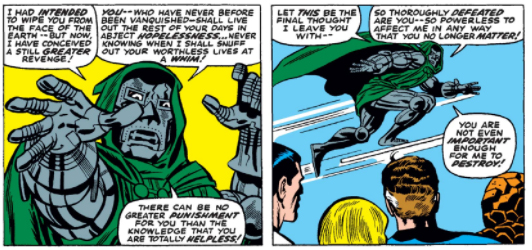 And so the issue ends with Doom flying off, leaving the Fantastic Four still alive but clueless as to what to do next. It's been a fun issue full of fantastic visuals from Kirby as Doom exercises his power, but as a single story it's somewhat unsatisfying. Doom never actually uses his power to the full, and nobody does anything which could stop him. In a modern comic, where creating stories of the correct length for later collection is the norm, one might consider this "padding", but here I suspect Lee & Kirby are enjoying experimenting with the form. They've not long finished their much lauded "Galactus trilogy", which ran over three (obviously) issues, so I wonder if they were trying to repeat the trick here, creating a tale "too big for a single issue" starrring Doom?
We'll see how it all works out in the next issue when surely - surely! - Doom will strike for real!
link to information about this issue
posted 18/4/2018 by Mark Hibbett
Comments: