---
current
/
archive
/
issues
/
faq
/
RSS feed
/
twitter
/
---
Rama-Tut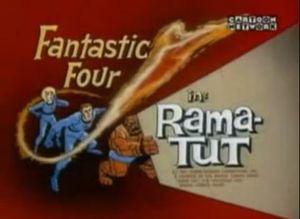 We're back in the world of Hanna Barbera again today, with a story that owes a huge debt to
At The Mercy Of Rama-Tut
in
Fantastic Four #19
.
As with all these cartoons the story is significantly streamlined compared to the original. For instance, in the comics the team go back in time to find a cure for Alicia's blindness but here they do it to find a cure for Ben's condition as The Thing. Alicia doesn't seem to exist in these stories, so this is a much clearer, more direct, way to get them heading back into history.
Still, it's a bit odd that the makers of the cartoon chose to adapt this story at all, as it relies heavily on the use of Doctor Doom's time machine, introduced in the comics in Doom's first appearance in
Fantastic Four #5
, but never adapted by Hanna Barbera. Thus when Reed Richards refers to the existence of the time machine, in a scene taken directly from
Fantastic Four #19
, he's talking about something that happened only in the comics.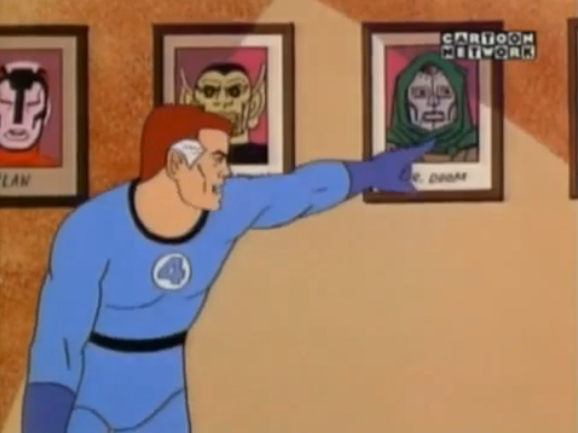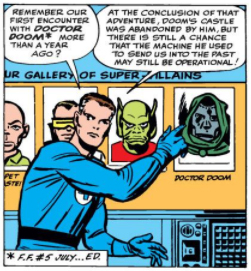 It could therefore be argued that this is the first example of Doom being involved in actual transmedia storytelling! The picture of him hanging in the gallery certainly looks a lot more like his appearance in the comics than in these cartoons, so one could argue that this story is following on from that one. However, one could also be a little less excitable and say that its simply a reference to an adventure that did happen in the Hanna Barbera storyworld but was never actually seen on screen.
Reed goes on to relate what happened in that unseen adventure. "He abandoned his castle, but there's a chance the time machine he left behind is still in working order," he says, and so they jet over to Latveria to search Doom's castle which, again, looks very similar to the comics version.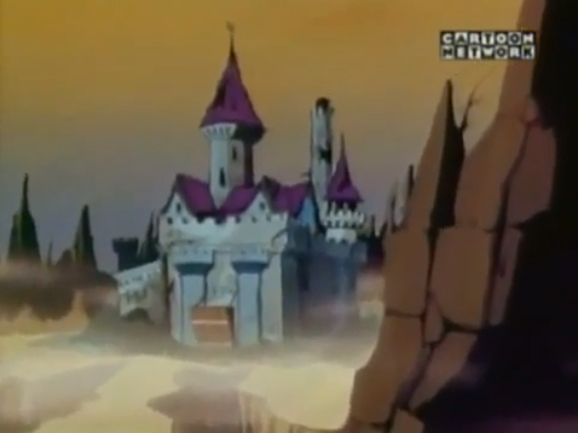 They use the machine and things progress in a very similar manner to the original story, except that when they eventually meet Rama Tut he turns out not to be an ancestor of Doctor Doom. He's still a frustrated adventurer from the future though, who was similarly enthralled by watching the Fantastic Four's old adventures on television.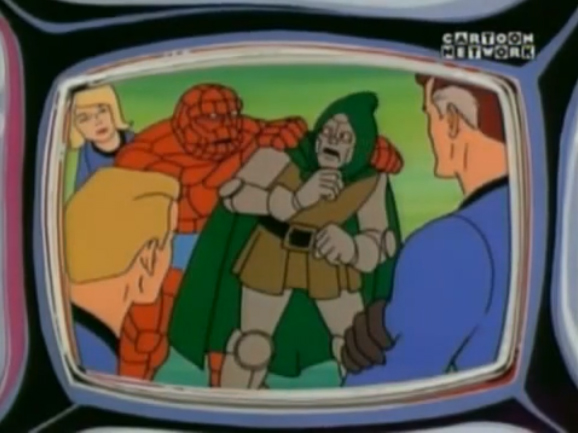 Doctor Doom's importance is reinforced by the fact that it's his capture we see in the archive footage, and perhaps it was this that led Rama Tut to go and visit the castle, which is apparently a tourist attraction in the year 3000. It's here (while presumably dodging the tour guides) that he found the blueprints for the time machine, which he then used to build one of his own.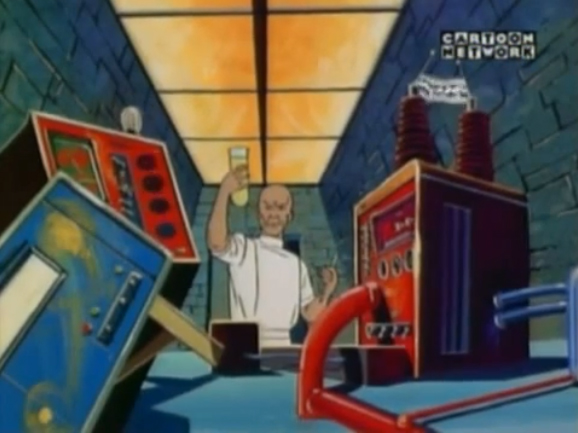 It's noticeable that Rama Tut looks very different from in the comics, here being given a much more 'Oriental Baddy' design, similar to The Yellow Claw or Ming The Merciless. I wondered if maybe this was to make the story simpler, so that he appeared Egyptian rather than the original Rama Tut's more 'American' look, but then he doesn't resemble any of the other Egyptian characters either, so maybe it's just a bit of old fashioned racism.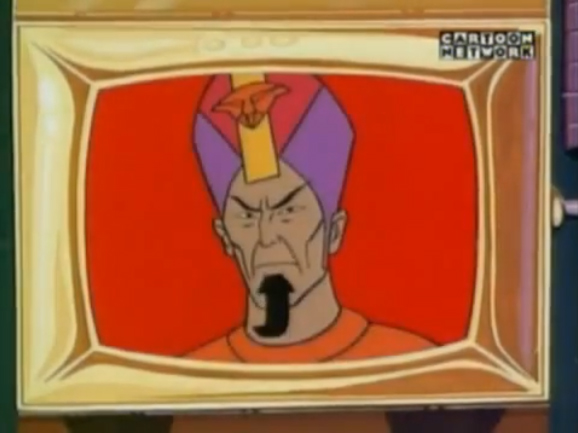 Other than that the rest of the story follows the comics pretty closely, with the FF falling under Rama Tut's control, eventually escaping, fighting back and returning to their own time. There's lots more of the repetition of animation sequences that would make Hanna Barbera cartoons notorious amongst their young audiences, and also more of their insistence on ending an episode with an entirely uncomical joke. Here Ben laughs off the fact that their search for a cure didn't work out, by saying "Maybe it isn't so bad being the ever lovin' Thing. After all, I'm the only one who's an antique in his own time. For posterity!"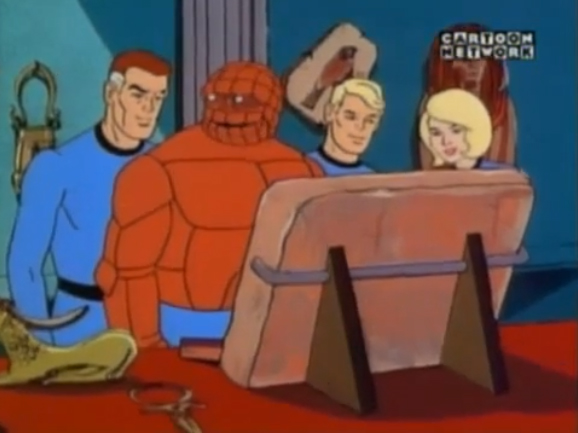 The incidental music crescendoes to a big laugh... and the other three stare pointedly ahead, not reacting. I like to think that they're being polite, inwardly thinking "What on earth is that supposed to mean?" I know I was.
And there the episode ends. Next time we're off to the Micro World where, who knows? We might even get to see The Lizard Men Of Tok!
link to information about this issue
posted 23/5/2018 by Mark Hibbett
Comments: