---
current
/
archive
/
issues
/
faq
/
RSS feed
/
twitter
/
---
The Micro World Of Doctor Doom
Doom's final appearance in the Hanna Barbera series "The Fantastic Four" is a fairly straight adaptation of
The Micro World Of Doctor Doom
in
Fantastic Four #16
. There are a few changes - notably the removal of Ant Man - but for the most part it follows the usual Hanna Barbera route to adaptation of simplifying certain aspects and more fully explaining others.
The story starts with The Thing getting shrunk while carrying a piano down the street. In the original this happens at Alicia's house, but she's not in these cartoons so the action's translated to the street, which has the added benefit of increasing the opportunities for shrinking-based shenanigans. Similarly, the comic starts with each member at base relating previous occasions when they've been shrunk, but here we just see the shrinkages as they happen, which is a lot easier to follow.
Reed, Ben and Sue make their way back to the Baxter Building, still at miniature size, where they hear a voice say "Beware!" Unlike in the comics, the voice doesn't say "Beware Doctor Doom", which is probably to keep some of the mystery alive about who could be doing this to them... although the story
is
called "The Micro World Of Doctor Doom" and the titles of every episode do show a clip from this one, featuring a miniaturised FF fighting Doom, so I would suggest that that ship has probably already sailed.
A couple of minutes later Johnny arrives to find the others, as in the comic, about to be killed by the horrifying menace of air conditioning. As he's trying to save them the mysterious voice says "Beware Of Doctor Doom!" and we cut to the Micro World where Doom is already acting true to character by a) kidnapping a woman as a lure to capturing the Fantastic Four and b) watching the action from afar on a television screen. This time it's Princess Pearla, not Sue, but otherwise all is the same as usual.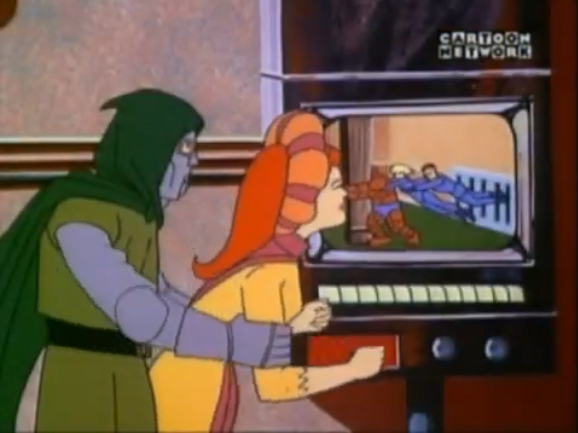 Once the terrifying threat of an air vent has been beaten, the FF clamber up a table leg to look at an atom in a microscope, and Reed reveals that all those student discussions at 2am were right - there
are
microscopic worlds at an atomic level! Far out! "It's quite possible that Doctor Doom could have ended up on some such atom planet or Micro World" says Reed, because of course it is. In the comics this at least had some logic to it, as we saw Doom being shrunken down on his previous appearance, but here's it's just accepted as Something That Could Totally Happen.
"A clever guess" says the watching Doom, who then shrinks the four further until they arrive to be welcomed in ... The Micro World Of Doctor Doom!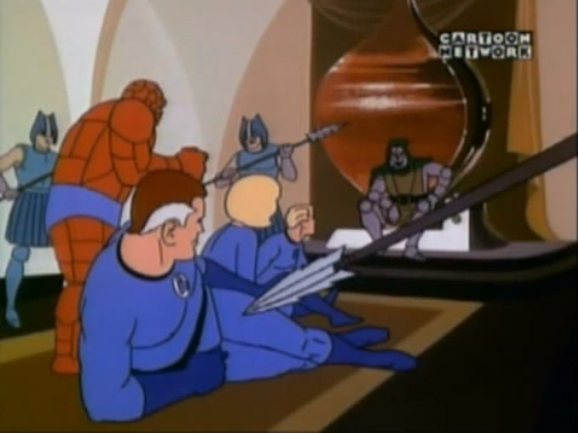 This leads to a big fight with the guards, which is ended when Doom uses his shrinking ray again to shrink them even further. With the FF powerless again, Doom asks Reed what he thinks of his power over size - seeking the approval of his arch-enemy as he always does. "Absolutely amazing" says Reed, conforming to his own character by appreciating his foe's genius. He then asks how he found the Micro Worlds and, again, as usual, Doom is happy to relate the story.
It turns out that this version of Doom was working on a shrinking ray, but rather than fall into it during a battle with The Fantastic Four he just sort of stumbled in front of it by accident.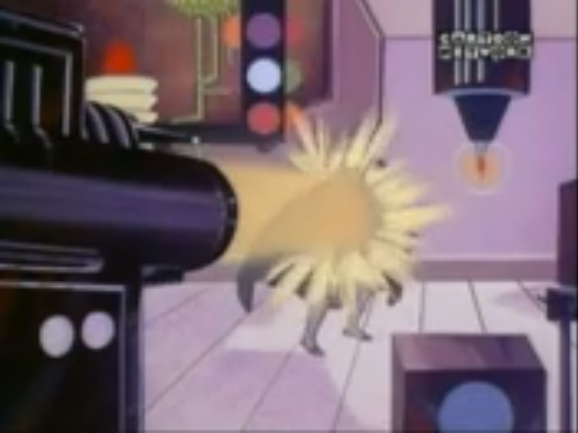 After that it's all much like the comics - he discovers a happy world, which makes him RUDDY LIVID, and preys on the natives' trusting nature to take control of the whole world.
The FF fight back, beating up the guards as they attempt to gain control of the shrinking ray... leading to Doom capturinng Sue (again) and gassing the others. They're then put in prison with the King and Princess Pearla, although unlike the original, this prison under a sea of acid is made of stone rather than metal.
It's at this point that the cartoon makes what I consider a brilliant decision - it shows us a LOT more of The Lizard Men Of Tok! Doom imagines the various uses the subdued FF members could be put to, and each time The Lizard Men appear in his mental image. The punishments are the same as the comics, even down to Sue's (much better) hairstyle when she's working in the kitchens.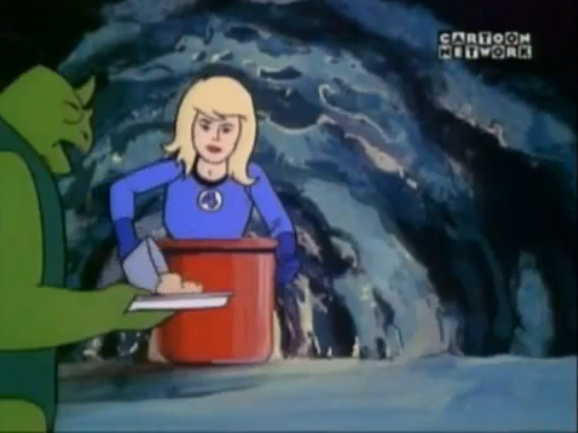 The Lizard Men arrive (in a much less cool looking ship than the Kirby-designed original) to swap some minerals for the four prisoners Doom has promised them. Meanwhile, down in the dungeon, the four tear some strips of rock off the walls to form an escape pod - sheets of metal made much more sense in the original, so I don't know why they changed it. Even less pleasingly, in this version it's Reed, not Sue, who comes up with the escape plan. Other than that things progress as before, with the four escaping with the King and Pearla.
They return themselves to normal size - or at least normal in the Micro World - and head off to the Royal Gardens to fight Doctor Doom and his new ally King Tok. They fight their way past the Lizard Men, and then when they reach the human (or whatever they are in the Micro World) guards they are surprised to discover that their King is alive, "Not dead as Doom said". It's a small addition to the original which handily explains how Doom took charge of an entire army so easily.
They burst in on Doom and Tok, having a delightul meal together.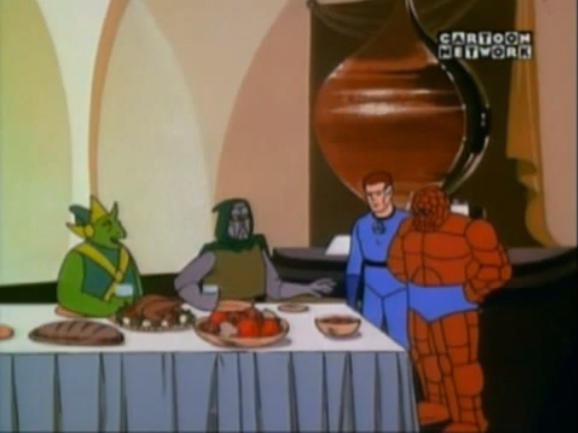 Doom plays true to character once again and legs it, leaving the Lizard Men to fight for themselves.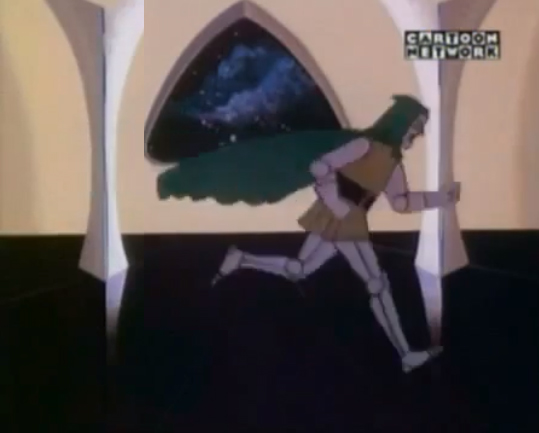 The FF use the shrinking ray to stop the Lizard Men - it's "quicker than fighting" - then rush outside to find King Tok trying to escape in his spaceship, which allows the Thing to re-enact his baseball practice from the original comic, whacking the ship out of the sky.
With that done they're about to head off to capture Doom, only for the King to inform them that he's already turned the shrinking ray back on himself to reverse the process and returned to his own world. "If that is so then our world is in imminent danger," says Reed, and they dash off to re-size themselves home.
When they get there, Ben points out that the shrinking ray tickles and has a good old laugh about it... and there the episode ends. In the comics the Fantastic Four did go off in the next issue to track Doom down, in a story that has already been adapted for
a previous cartoon episode
, but I guess the fact that these cartoons were in syndication, with no guaranteed order of broadcast, made that impossible. Instead they show a world much like the one described by Umberto Eco in That Essay Everyone Always Goes On About, where everything is returned to its original state. In the case of Doom, in this storyworld, that state is of always having just escaped from the Fantastic Four, and being liable to return at any moment.
Unfortunately there would be no return of Doom to the Hanna Barbera cartoons, as only one series was ever made. It's a shame - these may be simplified retellings of the originals, but they're well-made (for the most part) with at least some of the spirit of the comics still intact. The next appearance of the team, and Doctor Doom, in cartoon form would not be for another eleven years, in the (much less faithful) "New Fantastic Four" series, and it really would not be worth the wait.
Next here, however, Doom appears in a completely different series, returning to menace Daredevil in 1968!
posted 30/5/2018 by MJ Hibbett
(click here for permanent link)
(0) comments
A Research Question
A quick interlude to ask for a bit of help - can anyone tell me anything about the image below?
I found it on Pinterest (at
The Marvel Age Of Comics
, fittingly enough), which says it's an in-house ad from Fantastic Four #15. I'm not sure if it's drawn by Jack Kirby or not - the costume looks so wrong I suspect it might be by somebody else. Can anyone help me out with some info on it?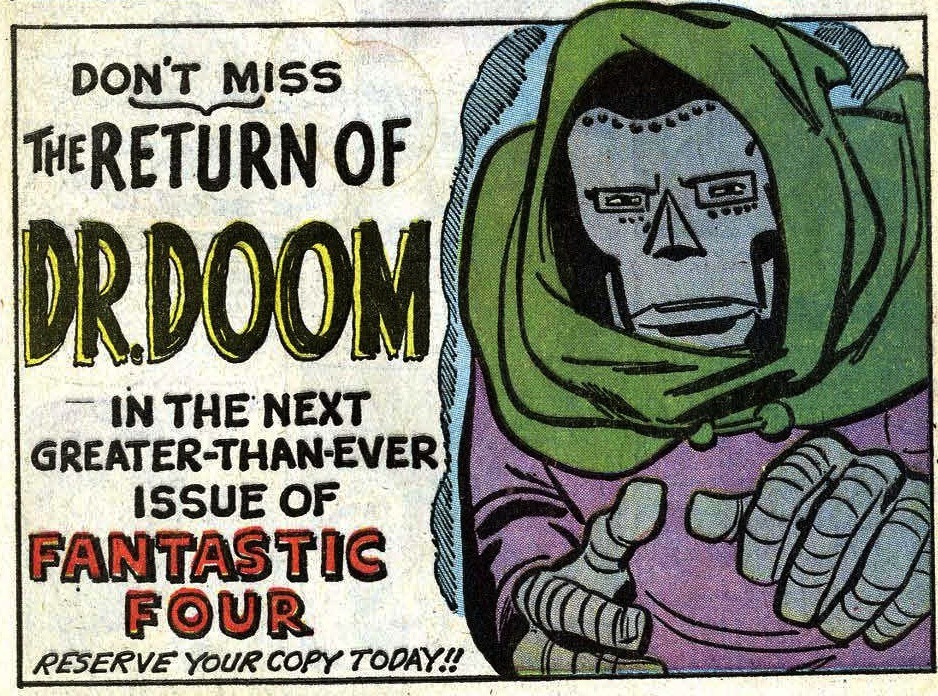 It's interesting not just because it appears to be the first version of Doom not drawn by Kirby (very very early on) but also because it means Doom appeared in two consecutive issues before his (second) Return in
Fantastic Four #16
, almost like a trailer, demonstrating that Marvel knew what a fan favourite he was already, building up the excitement for his comeback!
UPDATE:
I am indebted to Mr Nathaniel Metcalfe for investigating this further and uncovering
this blog by Mr Nick Caputo
which thinks that it's by Sol Brodsky, which makes perfect sense as it looks similar to Kirby, but clearly isn't him. The blog also shows that Doom's reappearance was mentioned on another page promoting the next issue, alongside a picture of Ant Man!
Thanks all - isn't the internet brilliant?
posted 23/5/2018 by MJ Hibbett
(click here for permanent link)
(0) comments
Rama-Tut
We're back in the world of Hanna Barbera again today, with a story that owes a huge debt to
At The Mercy Of Rama-Tut
in
Fantastic Four #19
.
As with all these cartoons the story is significantly streamlined compared to the original. For instance, in the comics the team go back in time to find a cure for Alicia's blindness but here they do it to find a cure for Ben's condition as The Thing. Alicia doesn't seem to exist in these stories, so this is a much clearer, more direct, way to get them heading back into history.
Still, it's a bit odd that the makers of the cartoon chose to adapt this story at all, as it relies heavily on the use of Doctor Doom's time machine, introduced in the comics in Doom's first appearance in
Fantastic Four #5
, but never adapted by Hanna Barbera. Thus when Reed Richards refers to the existence of the time machine, in a scene taken directly from
Fantastic Four #19
, he's talking about something that happened only in the comics.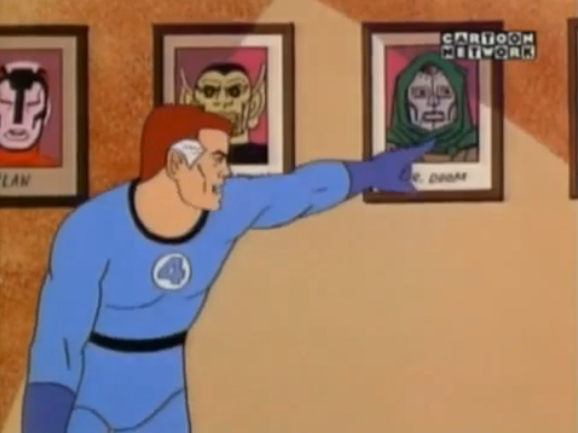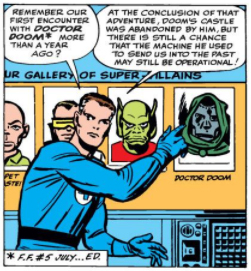 It could therefore be argued that this is the first example of Doom being involved in actual transmedia storytelling! The picture of him hanging in the gallery certainly looks a lot more like his appearance in the comics than in these cartoons, so one could argue that this story is following on from that one. However, one could also be a little less excitable and say that its simply a reference to an adventure that did happen in the Hanna Barbera storyworld but was never actually seen on screen.
Reed goes on to relate what happened in that unseen adventure. "He abandoned his castle, but there's a chance the time machine he left behind is still in working order," he says, and so they jet over to Latveria to search Doom's castle which, again, looks very similar to the comics version.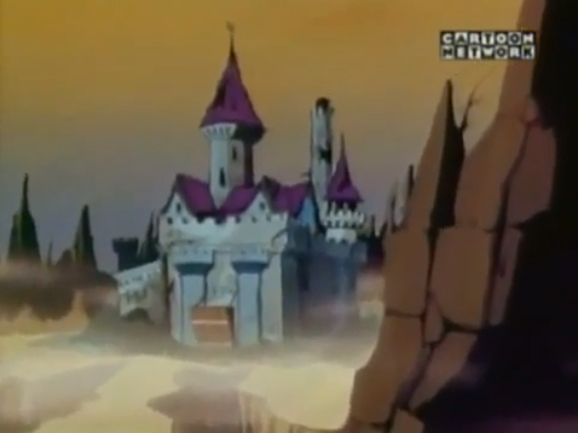 They use the machine and things progress in a very similar manner to the original story, except that when they eventually meet Rama Tut he turns out not to be an ancestor of Doctor Doom. He's still a frustrated adventurer from the future though, who was similarly enthralled by watching the Fantastic Four's old adventures on television.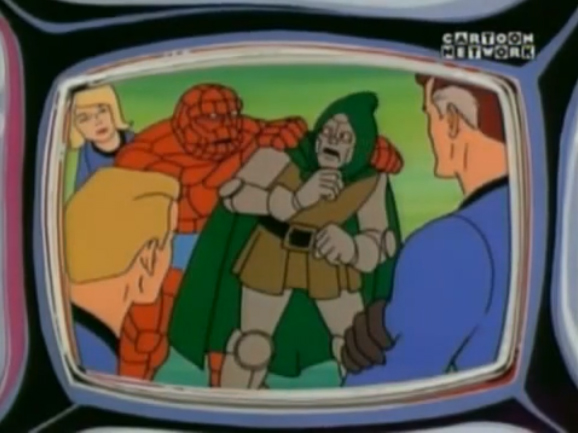 Doctor Doom's importance is reinforced by the fact that it's his capture we see in the archive footage, and perhaps it was this that led Rama Tut to go and visit the castle, which is apparently a tourist attraction in the year 3000. It's here (while presumably dodging the tour guides) that he found the blueprints for the time machine, which he then used to build one of his own.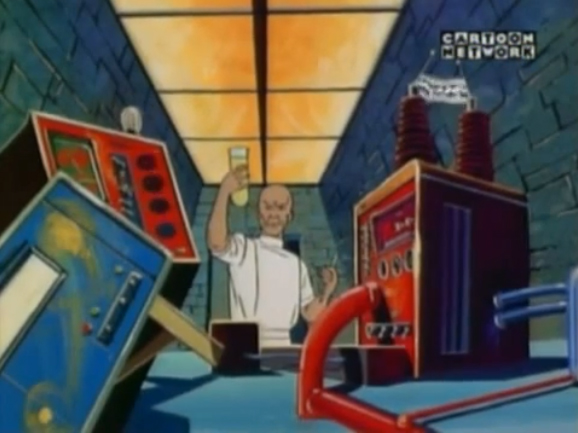 It's noticeable that Rama Tut looks very different from in the comics, here being given a much more 'Oriental Baddy' design, similar to The Yellow Claw or Ming The Merciless. I wondered if maybe this was to make the story simpler, so that he appeared Egyptian rather than the original Rama Tut's more 'American' look, but then he doesn't resemble any of the other Egyptian characters either, so maybe it's just a bit of old fashioned racism.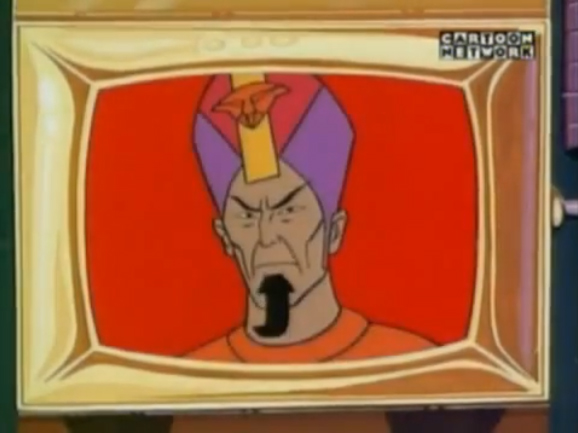 Other than that the rest of the story follows the comics pretty closely, with the FF falling under Rama Tut's control, eventually escaping, fighting back and returning to their own time. There's lots more of the repetition of animation sequences that would make Hanna Barbera cartoons notorious amongst their young audiences, and also more of their insistence on ending an episode with an entirely uncomical joke. Here Ben laughs off the fact that their search for a cure didn't work out, by saying "Maybe it isn't so bad being the ever lovin' Thing. After all, I'm the only one who's an antique in his own time. For posterity!"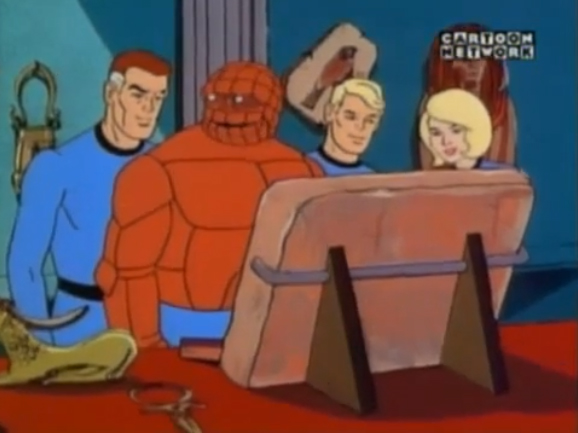 The incidental music crescendoes to a big laugh... and the other three stare pointedly ahead, not reacting. I like to think that they're being polite, inwardly thinking "What on earth is that supposed to mean?" I know I was.
And there the episode ends. Next time we're off to the Micro World where, who knows? We might even get to see The Lizard Men Of Tok!
posted 23/5/2018 by MJ Hibbett
(click here for permanent link)
(0) comments
Another Blockbusting Bullpen Bonus Bombshell
When the first X-Men film came out there was much self-flagellation and recrimination at Marvel because, some executives felt, they had passed up an opportunity to turn interested filmgoers into new comics readers. The team shown in the movie were not being published as an ongoing comic at that time, and if a new fan went looking for the X-men in a comic shop they'd find nothing that bore any relation to what they'd seen on screen, and what they did see was mired in decades of very complicated continuity.
There were attempts after that to make sure that the comics reflected the movies, such as the Ultimate Comics line, although nowadays it seems that Marvel prefer to carry on with the comics pretty much as normal while ensuring that collected editions related to the films are very much available. There are also direct tie-ins set in the Cinematic Universe, rather than the comics one. I don't know if this has had any particular effect on sales, but I do know that book shops have been full of Thanos collections just recently!
None of these issues seem to have worried Stan Lee and Jack Kirby back in 1967, when this Annual was first published. TV stations across the country were broadcasting the Hanna Barbera 'Fantastic Four' cartoon, featuring a simplified, more streamlined, version of the team, but Stan and Jack were happily ploughing on with some very complicated, often rather adult, storylines. This issue, for instance, not only features The Psycho Man - a new villain who cynically manipulates people's emotions for his own ends - but also a huge dollop of continuity. Psycho Man comes from The Micro World, first visited way back in
Fantastic Four #16
, and spends a lot of his time fighting supporting characters The Inhumans and The Black Panther in plotlines that have been building up for months, coming to a climax here as they all team up with the FF to fight him.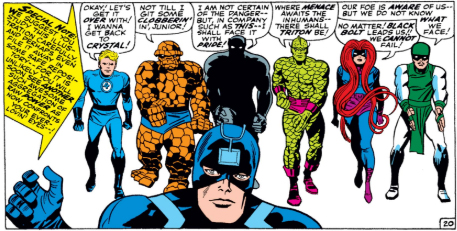 Also in this issue is the announcement of Sue's pregnancy as part of the main plot, plus an extremely jolly short story written and drawn by Jack Kirby purporting to show how he and Stan Lee come up with plots, and a surprisingly dark tale featuring The Silver Surfer and Quasimodo The Living Computer.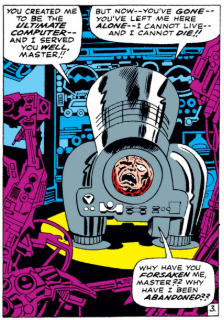 It's a weird, exciting, funny, action-packed mixture that bares very very little relation to the cartoons being broadcast simultaneously, preferring instead to be part of the height of Lee & Kirby's classic run on the series. Doom only appears in a pin-up featuring some of the various supporting characters who make the Marvel universe such a storyworld.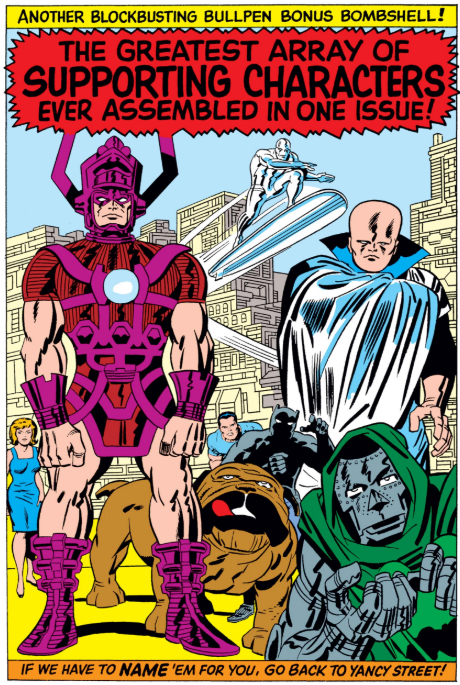 I said at the start that Lee and Kirby don't seem to be thinking about the TV show, but maybe this is actually a reaction to it, an attempt to re-stake their claim on the characters. A television show might be seen by many as more "important" or "respectable" than a lowly comic strip, and would definitely have a bigger team and budget behind it, but what Lee, Kirby and their small group of associates are creating here has a much wider scope for invention. Indeed, their run on the comic would be referred to many times over the forthcoming decades, including in the Hanna Barbera series - as we shall see next time!
posted 18/5/2018 by MJ Hibbett
(click here for permanent link)
(0) comments
The Three Predictions Of Doctor Doom
This episode starts with Dr Doom carrying out one of his most distinctive moves from this period, by appearing unexpectedly on a TV screen!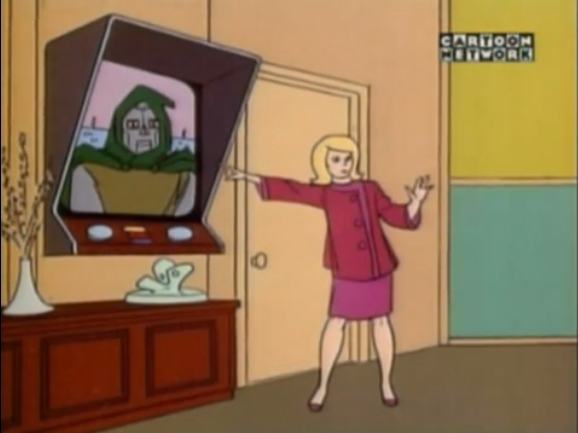 This surprises The Fantastic Four because they thought he was dead. This surprised in turn surprised me, because I didn't realise that these cartoons followed any kind of serial narrative, but it seems they do. At the beginning of
the previous episode
he was known to be alive, but then believed dead by the end, so clearly there is some seriality in play here.
Doom challenges them to a competition, for which he makes three predictions - that he'll remove the heart of The Fantastic Four, that he'll remove their greatest strength, and that the strongest power will conquer all. What can it all mean?
With their greatest nemesis back on the scene Sue wonders if she should cancel her appointment with a photographer, but Reed tells her not to worry, but to meet them later at the award ceremony they've been invited too. Sue thus pops over to the studio of the photographer, who is hidden behind his camera and seems to be wearing a cloak.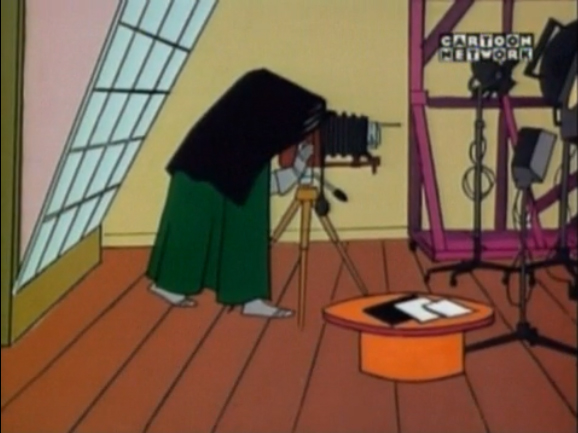 It was Doctor Doom al along! He captures the Invisible Girl with a "green sporoid" plant tentacle that shoots out of his camera, and then takes her to his rocket ship, which is disguised as a water tower - an idea nabbed from the Skrulls way back in Fantastic Four #2!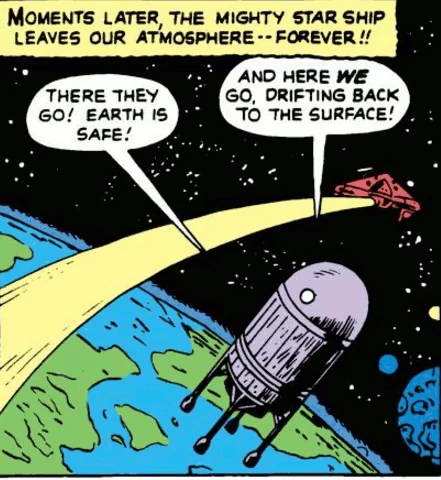 Meanwhile at the United Nations the rest of the team are wondering where Sue has got to. "She's never late!" says Mr Fantastic. At that moment Doctor Doom appears on yet another massive television screen, threatening to destroy every major city on earth with tidal waves unless he is made world ruler. This, and much of the rest of the story, is quite similar to
Defeated By Doctor Doom
in Fantastic Four #17, except that there he had the slightly less megalomaniacal demand to be a member of Kennedy's cabinet. Hanna Barbera Doom is clearly a bit more ambitious!
Doom uses his mighty powers to show "a television image of the Hudson River", where one of his tidal waves is destroying a naval yard. The Fantastic Four leap up to stop him, at which point Doom brings forth his hostage Sue and points out that this also fulfils the first of his three predictions - removing the heart of the Fantastic Four!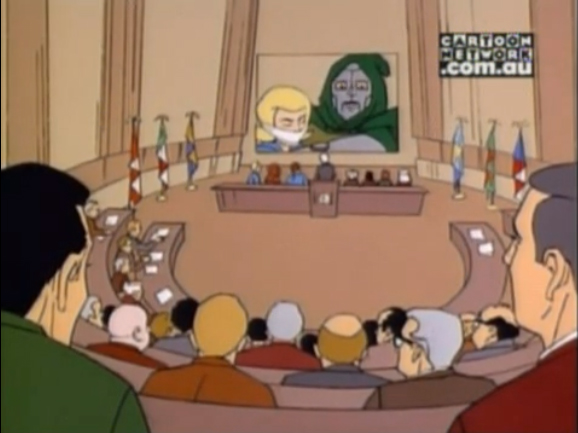 Televisions, gloating, taking hostages - this is all VERY much in character!
Back at base Reed Richards finds Doom's massive airship, hidden in clouds just as it was in the comics version. It is, apparently, made of "anti-radar alloy" but luckily the FF have a ship with an "atomic magnet". It looks like this: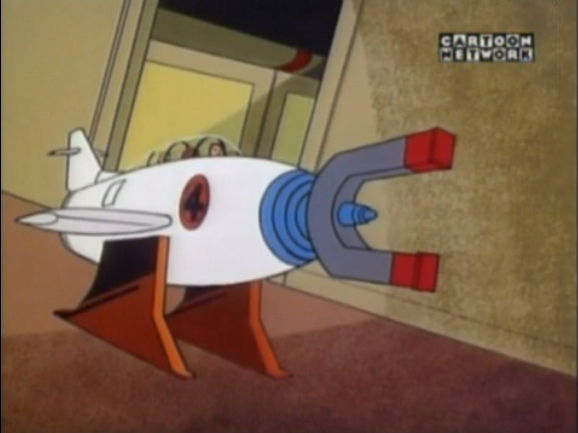 Of course it does! They find and board the ship, where Doom sets his "Sporoid Men" on them.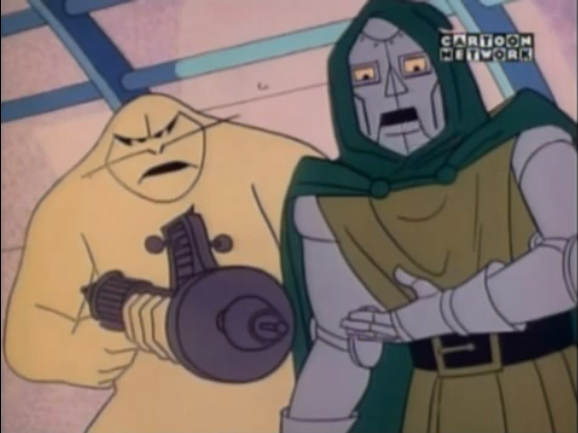 They're armed with Cosmic Ray Simulators which can remove the FF's powers. Ben throws himself in front of the others to take the full force of the ray, while Johnny flames on and burns the Sporoid Men to ash - helpfully reminding us that they're actually vegetables as he does so, so this is definitely not murder. Phew!
The Thing changes back into his human form which happened in the original comic, but the other way around, so that he was able to get into the ship as Ben Grimm, but was forced to return to being the Thing once he was inside. Doom, once more on television screen, points out this he has now thus fulfilled his second prediction, to destroy their greatest strength.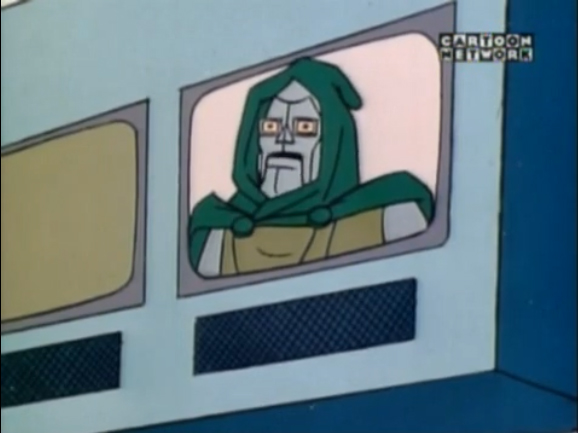 I don't know about you, but I was hoping for something a bit more metaphorical than this. Ben has got his dearest wish, to be human again, but Reed and Johnny don't even acknowledge it, they just zoom off without even looking at him. Despite this callous attitude Ben refuses Doom's offer to send him back to earth, preferring to stay and help his friends if he can. However, Doom shows him that they have already been captured and trapped in their own specially designed rooms. How he managed to do this in the space of 5 seconds without moving is not explained!
Doom leaves Ben to watch his friends die, heading back to the UN - or rather, the Conference Of Peaceful Nations - to demand that they proclaim him ruler of the world. Unlike the regular Marvel Universe version of Doom, who we've recently seen spend four months procrastinating before finally trying to take over the planet, Hanna Barbera Doom is a man of action, although in this case that's more of a flaw than a feature. In his haste he's left the Cosmic Ray gun lying at Ben's feet, so that he can pick it up and re-zap himself back into the Thing. In the comics this would be cause for at least an anguished monologue, but here he joyfully shouts "It's Clobberin' Time!" and races off to find his friends.
Meanwhile, over at The Conference, the Peaceful Nations have refused Doom's offer, so he prepares to take his revenge them by unleashing tidal waves over major cities. For some reason he starts a countdown before pulling the "Tidal Impeller" lever, despite him being the only person there, which leaves plenty of time for The Thing to arrive and smash the device before he can pull it. Hanna Barbera Doom is not so free of procrastination as he first seemed!
Doom then flees, as usual, this time through a steel door, then jumps into an escape ship that looks a LOT like the one he was using back in his second appearance in
Fantastic Four #6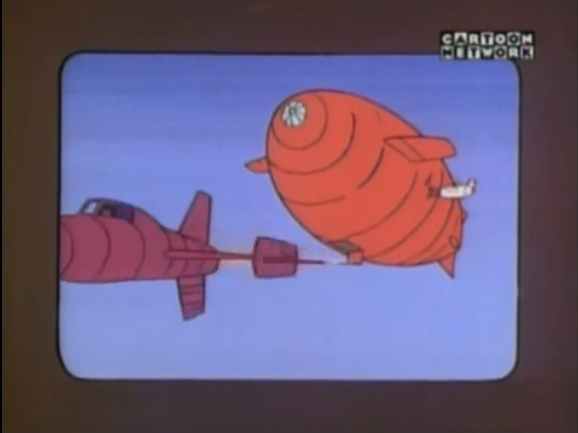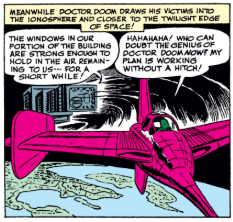 It's interesting that the cartoon series has taken over so many minor design aspects from the comic. It could be just a case of saving time using old designs rather than creating new ones, but it does create some continuity with the world of the comics, even if the stories are slightly different.
The FF give chase in their Magnet Plane and find Doom hiding in an artificial cloud. They try to extract him using the Atomic Magnet but Doom escapes and returns to his Flying Fortress, setting everything back to how it was five minutes ago, making me suspect that this whole section was padding to make the cartoon the right length!
With everybody back in the Flying Fortress Doom unleashes Power Spheres on the team (again, similar to how he did in
Fantastic Four #17
). He traps them and then... leaves them there. Mr Fantastic stretches out an arm and - possibly not in tribute to Doctor Who - reverses the polarity of the spheres to free themselves.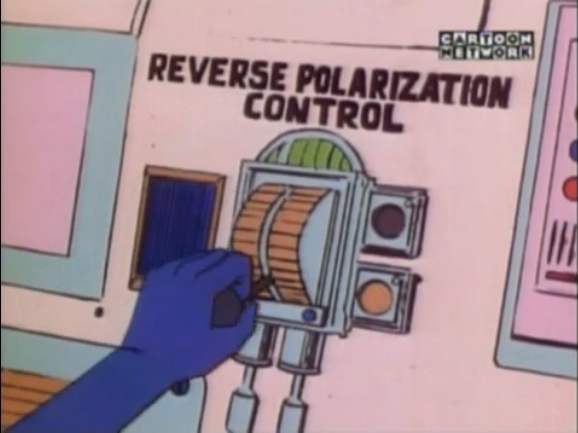 Doom is waiting for them, with a gun that shoots liquid titanium. They become trapped, again, so Doom goes off to continue with his plan. One must ask at this point - what plan is that? The whole "blackmail the world" plot is finished, so I'm not quite sure what he's on about.
The Fantastic Four escape (again) and discover Doom just about to unleash a tidal wave on London (despite the machine being smashed only a few minutes ago). Once again, his insistence on announcing his intentions aloud to himself is his downfall, as The Thing comes in and biffs him in the face.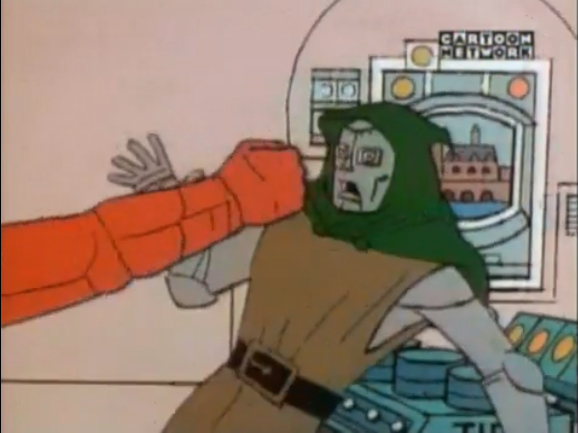 Reed points out that Doom's third prediction, that the strongest will conquer all, has now come true. Surely that's not what Doom originally meant though, is it? He can't have been predicting that he'd be defeated, so what was he talking about?
It's all rather unsatisfactory, sense-wise, but at least it leads to a fantastic example of Doctor Doom adhering to one of his primary character tropes, displayed in all media: he chucks himself out of a flying vehicle and plummets (apparently) to his death.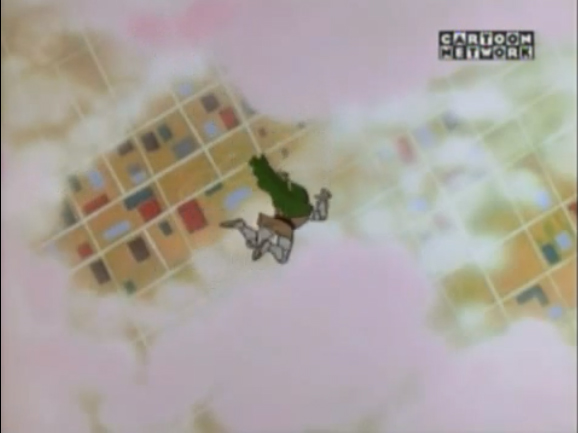 The Conference Of Peaceful Nations thanks The Fantastic Four for their efforts and there the story ends. Apart from some padding, the occasional bit of typical Hanna Barbera re-use of animation, and some unhinged plotting towards the end, this has been another surprisingly enjoyable, well-made version of Doctor Doom and The Fantastic Four which even occasionally (dare I say it) improves on the original. It's clearly not the same Doom, in appearance or all his actions, as in The Marvel Universe, but it's also clear that the character is sufficiently robust to easily survive the transition.
Next in the world of Hanna Barbera it's a re-write of
Fantastic Four #19
, but before that we're back in the comics for another Annual and another pin-up!
posted 16/5/2018 by MJ Hibbett
(click here for permanent link)
(0) comments
The Way It All Began
Growing up in Peterborough in the 1970s we didn't get any of the exciting television shows. The 'regional variations"'section of newspaper TV listings was agony for me, as I'd look longingly the scehdules for Yorkshire or LWT which had all kinds of thrilling-sounding kids' shows on during weekend early mornings, where all Anglia had was lots and lots of programmes about farming. It was even worse when I started reading American comics, with their full page advertisements for the kids's shows on NBC and CBS. There seemed to be hour after hour dedicated to cartoons like 'Space Ghost' or 'Super Friends', it must have been amazing!
What few shows we did get - like 'Battle Of The Planets' or 'The Space Sentinels' - were thrilling at the time, but when I saw them again decades later I was disappointed to find that they were either nonsenical, in the case of Battle Of The Planets (for
very good reasons
), or bland for the Sentinels. However, this disappointment was nothing compared to horror of finally seeing some of the cartoons I'd hankered after, like the dreadful 'New Fantastic Four' featuring HERBIE instead of The Human Torch, or the utterly awful
The Marvel Superheroes
, so when I reached the point where this blog would be looking at Hanna-Barbera's original 'Fantastic Four' cartoons, I wasn't exactly looking forward to it!
I was thus rather pleasantly surprised to find that, actually, they're all right! They're not exactly 'The Incredibles', but they're not bad, and unlike The Marvel Superheroes they give the impression that someone had at least tried to make a good job of them so that, despite occasional lapses into blandness, they were perfectly pleasant to watch.
Put that on a DVD cover, you'll sell a million!
The first episode of the series to feature Doctor Doom is 'The Way It All Began' which tells, quite appropriately, the way it all began. It kicks off with Doom flying towards New York in a massive aircraft and setting off "the rallying signal of The Fantastic Four". We get our first glimpse of the Hanna-Barbera Doom here, and he looks fairly similar to the comics version. A bit more robotic maybe, with a different coloured tunic, but all in all fairly close.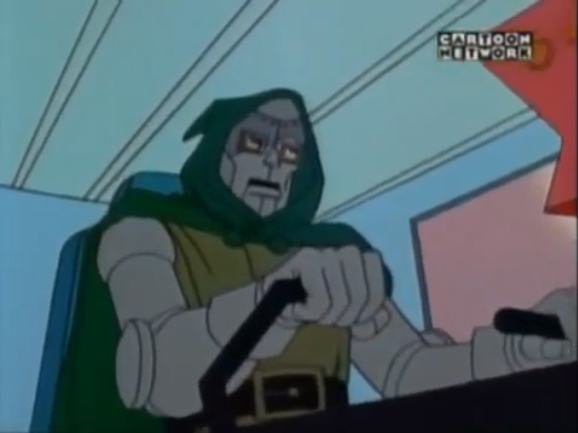 Next we get a sequence not dissimilar to the start of Fantastic Four #1, with all the team members seeing the flare and rushing to the Baxter Building. Weirdly, the Thing seems to be standing around just watching a building being knocked down. When he sees the flare he's disappointed, but helps out by knocking the building down himself.
They arrive to find that Sue is chatting to the police commissioner who has come to warn them that "the dreaded international criminal" Doctor Doom has touched down at International Airport, but has claimed diplomatic immunity as "the reigning monarch of the principality of Latveria." This again sticks pretty closely to the comics, though it's unclear, once the episode is finished, why this was mentioned as it has nothing to do with anything that happens later.
At this point no-one knows what Doom is up to or where he's heading ... until he rings up to tell them.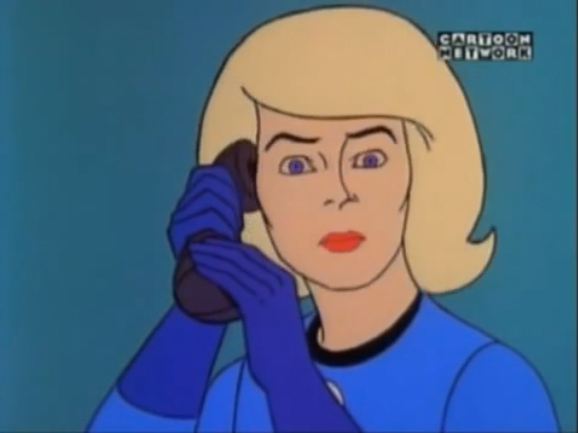 He calls to say that he's come to take his revenge on Reed Richards. This is obviously confusing for the police commissioner, which leads rather neatly into Reed explaining by telling him the first part of Doom's origin. This runs pretty closely to the version told in
Fantastic Four #5
, except for some reason Doom has blonde hair.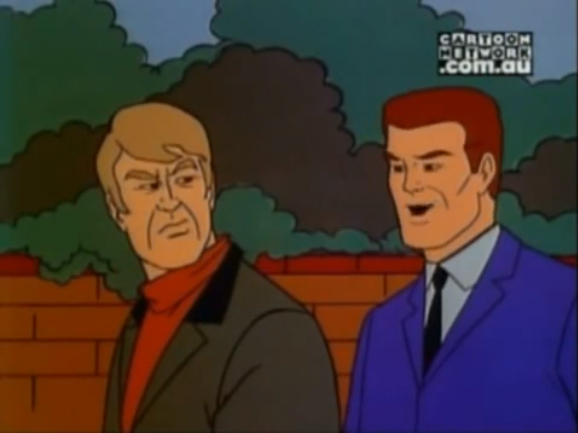 "He gives me the creeps" says young Reed. We then see his and Ben's first meeting, at which point the "now" version of Reed says "Anyway, as for Victor Von Doom, he *got* his private room", despite the fact that this is the first time it's ever been mentioned. As with
The Marvel Superheroes
it seems that the script writers are taking dialogue directly from the comics without checking it still makes sense in their new version.
This version of Doom is still undertaking dangerous experiments. Reed points out that his calculations are incorrect, but Doom carries on anyway and, as expected, it all goes horribly wrong. What happens next is very similar to the comics, except that his assistant not only gets a name - Carstairs - but also some attention from the Dean, who expels Doom for almost killing him. It's an addition to the original storyline that makes his expulsion seem more understandable.
Next we see an example of terrible unprofessionalism, as Doom's nurse takes off his bandages and screams in horror.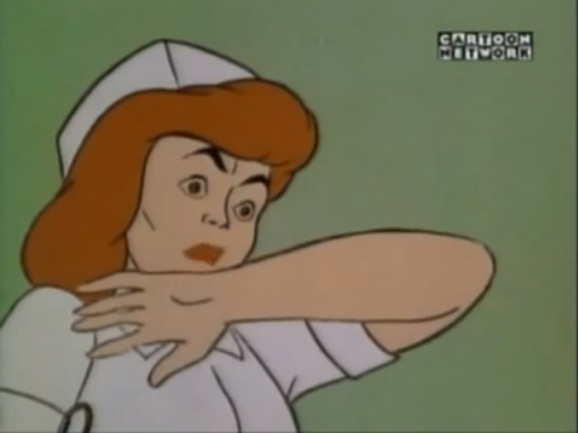 "How horrible," she shrieks. "That face!" I'm no expert, but I would have thought that "Not screaming in horror" should have been covered in training.
Doom agrees, and instantly knows who to blame. "This is all Reed Richards' fault! He made me hurry my experiment," he says, which is slightly more explanation than we get in the original comics, and is another change that adds to the sense of the story.
"After his face was ruined he just seemed to disappear," says Reed, who then goes on to show off about his and Ben's lives post-Pearl Harbour (which actually gets shown briefly) as an agent of the OSS and a fighter pilot called "The Grimm Reaper" respectively. I know that in the comics they both fought in the second world war, at least in the early years, but I've never seen Ben named as "The Grimm Reaper" in this context before.
This leads on to a re-telling of the Four's actual origin, which gives even more background on how they all came to be aboard the ship. Once again this re-telling changes the comics version so that it makes more sense, with them not having to actually steal the rocket, and clearer reasons given for each of them being there, such as Sue as Data Recorder and Johnny as General Crew Member. This is the first time that the origin story is re-told, smoothing out some of the oddities of the original version, but also losing some of the edginess too. Ben Grimm has no self-pity here, for instance, agreeing to use his powers to fight evil as readily as the others, "for the good of man!"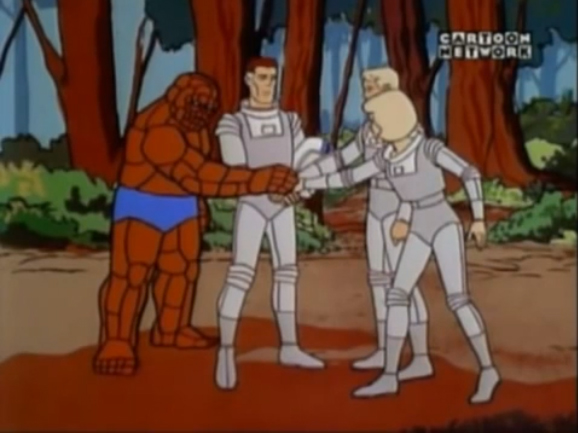 They all get quite distracted with their storytelling, and the police commissioner is too polite to point out that this is not what he came here to find out. Luckily for all Doctor Doom turns up at the front door at that very moment, to get us back on track.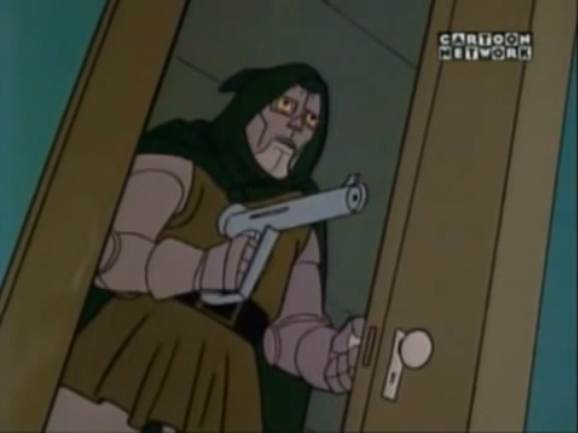 He's been stood outside listening to their story and, once he's got them all at gunpoint, offers to tell them the rest of his own origin. He sits down and tells a tale which follows the comics very closely, although the mask fits "in comfort" here, rather than scarring him further, which is probably to be expected for a Saturday morning cartoon.
"Soon I was ruler of a kingdom" he says, rather swiftly skipping over how he came to control Latveria. With the story told the Fantastic Four overpower him incredibly easily, with Mr Fantastic just snatching his gun away and Sue wriggling free and bonking him with a force field. It's all very very easy, weirdly so, leaving Doom to revert to his signature move of running away.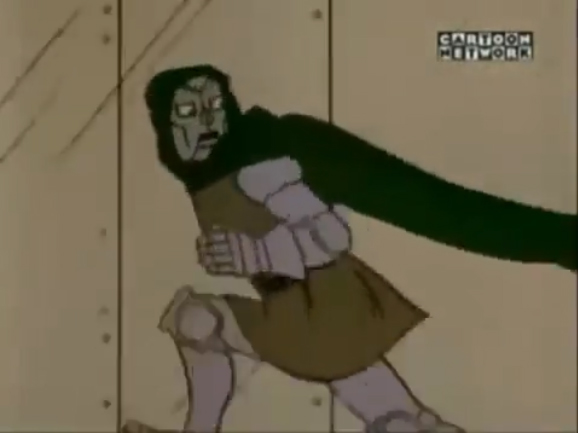 He runs for The Missile Room and steals a missile. "What a triumph!" he cackles. "Going home to my own country with the Fantastic Four's own missile!"
"What will Reed say?" asks Sue, but it turns out he's not too bothered. The ship has no gyro, and so Doom can't steer it, meaning that he only gets a short distance before exploding and, apparently, crashing into the city.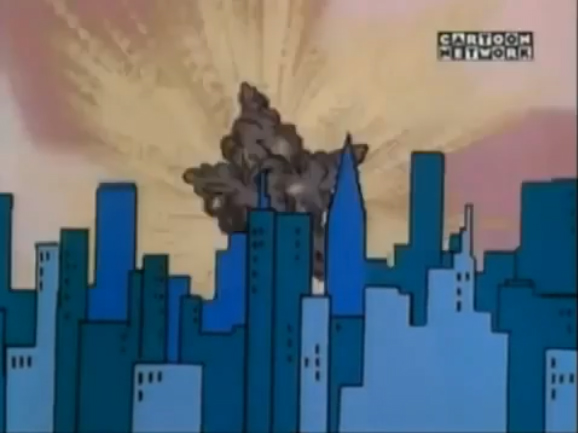 "I bet we won't see him again until... Doomsday!" says Ben, and everyone has a right old chuckle about it. This is a tiny bit strange, as they have just seen an old college acquaintance crash a missile into New York city, killing himself and who knows how many others. It sticks out as a misstep in what otherwise has been a surprisingly cogent version The Fantastic Four and especially Doctor Doom. Here he has definite motivation for his actions, and specific character traits such as an keenness to spy on others, no self-awareness, and a willingness to leg it at the first sign of danger. He's definitely a different version of the character from the one we've seen in the comics, but he's surprisingly faithful to the original!
The question is, will this version of Doom prove to be as impervious to death and destruction as his comics counterpart? We'll find out next time!
posted 9/5/2018 by MJ Hibbett
(click here for permanent link)
(0) comments
The Peril And The Power!
The cover for this issue promises a gigantic punch-up between Doctor Doom and The Fantastic Four but, after several issues of delay and prevarication, is that really what we're going to get? Or will it be more of the same hanging around, waiting for something to happen?
The splash page doesn't bode well for Action Fans, with Sue, Reed and Ben powerless to stop Doom from continuing to mess around with his powers, despite having said he was going to get ON with taking over the world at the end of the last issue. Instead of doing that he's decided to stick a cruise liner on top of a cliff for no apparent reason.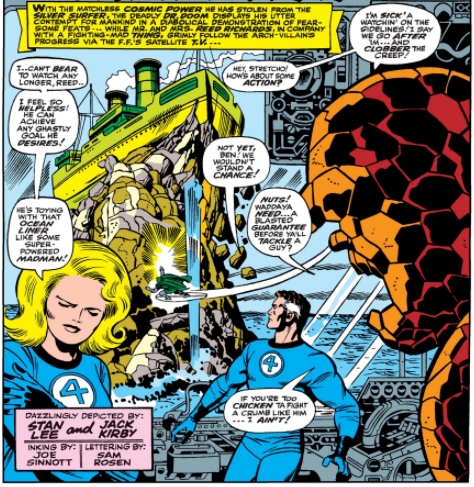 I can't help sympathising with The Thing here. I too am "sick 'a watching on the sidelines! I say we go after 'im... and clobber the creep!"
Mr Fantastic wants to wait some more, but luckily for the readers the Human Torch has decided enough's enough and has zoomed off to fight Doom himself.
It does not go well. Doom turns himself into diamond to avoid Johnny's flames, flies out of his way at high speed, and then creates a typhoon to throw him into a "wondrous whirlpool" before taking a moment to pose groovily with his board to consider his work.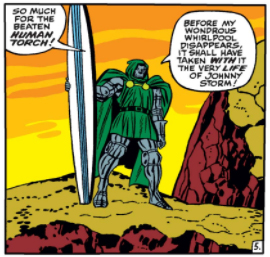 The long awaited action continues with the rest of the FF trying to attack Doom. On the way they have to battle though several natural defences that he throws up, including gigantic moving trees, burning earth, and flying rocks before - eventually - The Thing reachs Doom himself where the long promised punch-up finally happens.
It's been a long time coming, but a panel like this, all Kirby action, flying catchprases, and footnoted continuity, make it worth the wait. Doom is, brilliantly, still annoyed about the fact that it was The Thing who defeated him when last they met. When he's beaten by Reed Richards he doesn't seem to mind as much, as that's two equals in a battle of wits. Being beaten by a "regular joe" like Ben Grimm, through phsyical violence, clearly wrankles, and it's great to see that this is carried through in his characterisation. For all my (gentle!) mockery of some of the storytelling, the understanding of Doom as a flawed, three dimensional character in these comics is great.
The rest of the Fantastic Four regroup and go to help Ben, who is being thoroughly walloped. Doom takes delight in the fact that even though the four of them are back together at full strength he is still able to beat them all.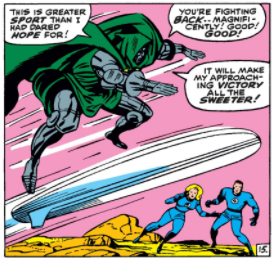 The battle continues, with the most effective attack coming from The Invisible Woman, who manages to make an entire cliff invisible so that Doom crashes headfirst into it, but eventually they are defeated. "Your feeble efforts at self-preservation have ceased to amuse me" says Doom. They've been amusing him for almost four months now, so it's no surprise that it's not as much fun as it used to be, and he decides it's time to finally, finally, at long last, disintegrate his enemies.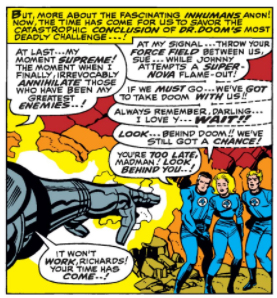 But wouldn't you know it? At just that moment the gadget that Reed was trying out on The Thing last time - the "anti-cosmic flying wing" - zooms out of nowhere and knocks Doom off his feet.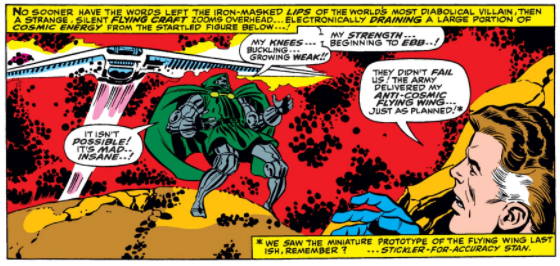 Doom simply gets up and back on his board but, as predicted, is absolutely ruddy livid about the whole thing and decides, yet again, to demonstrate his contempt for Richards by not killing him but instead going after the wing thing to destroy it. To be fair to Mr Fantastic he did say that making Doom angry was the whole plan, and it succeeds as he follows the flying wing up innto the sky until -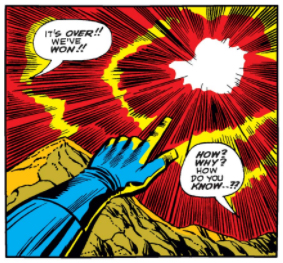 Doom flies so high that he bashes into the cosmic barrier that Galactus had set up to stop the Silver Surfer escaping the earth!
On the one hand this is a sudden, slightly disappointing, end to a four issue storyline where the reader (or this reader anyway) has been desperate for Doom to stop messing about, start taking over the world, and for the FF to start fighting him. On the other hand, however, it's a pretty amazing use of an ongoing continuity, relying on readers' knowledge of what has gone before, tied to an understanding of the characters' well-established personalities, to pull out an ending that makes complete sense. We all know about the cosmic barrier because it was such an important part of the previous storyline, and we can accept that Reed Richards was banking on Doom's anger and arrogance because... well, that's exactly the sort of thing that Doom would do!
And that's it for this four part storyline, with everything coming to a sudden halt without any explanation of what happens to Doctor Doom. We see his board flying off towards Latveria (and the next issue of The Fantastic Four shows the surfer getting it back) but readers at the time would have to wait almost a whole year to find out what happened to Doctor Doom!
Readers of this blog, at this time, will only have to wait a couple of weeks, as next time we'll be taking a small detour into the world of the (surprisingly enjoyable) Hanna Barbera adaptation of The Fantastic Four!
posted 2/5/2018 by MJ Hibbett
(click here for permanent link)
(0) comments