Blog
Have A Drink With Us
The grand plan was to release our Christmas song today, on a Monday as is traditional, but then when we got up yesterday morning it was SNOWING! We've lived in The Olympic Village (I don't like to mention it, but yes, we do live there) for four years now and this was the first time we had had ACTUAL SNOW that settled, so it all felt VERY CHRISTMASSY INDEED.

"You should put the single out today!" said The Snowflakes In My Flurry.

"I'll ask The Validators" I replied, pretty sure that none of them would be awake at 9am on a Sunday. I mean, we're in a band, surely everyone had been up until 2am clubbing? I can only assume that they had all stayed up all night long partying hard and were still up, as by approx 9:15am everyone had replied to say that they ALSO felt VERY CHRISTMASSY and agreed that it was the right day to do.

And so it was that Have A Drink With Us (Drink Doch Eine Met) was UNLEASHED upon a waiting world, with a video which you can see right HERE:





Originally we'd done an entirely different video, made up of all the footage we'd shot of each other when we were recording it, but after the aforementioned Frames Of My Reel remarked that it was "too dull", and The Validators CONCURRED, I set my BRANE to thinking of a replacement. Next morning I woke with a) a stinking cold and b) an idea to do something with Finger Puppets. Mr F A Machine suggested using cut-out figures instead "like Captain Pugwash" (and also suggested the ending to the story, which is THE BEST BIT), so I spent a delightful afternoon sat in bed doing CRAFT, creating the rather lovely Christmas Tale you see above.

It's now been just over 24 hours since we released it and I am DELIGHTED to find that people so far seem to be really enjoying it. We've even sold a few copies of the Christmas Selection Box album, which never usually happens! Wonderfully, most of these sales have come from Germany where, I assume, people are aware of the FANTASTIC original version by Bläck Fööss.

We're all very proud of this song, I think it's our FAVOURITE Christmas one for AGES, and as ever any mentions, tweets and so forth would be LOVELY! Let's spread some FESTIVE DELIGHT!

posted 11/12/2017 by MJ Hibbett
(click here for permanent link)
(1) comments


Christmas In Stratford Actual
On Monday night The Shops In My Centre and I walked through Westfield Stratford, over the Bridge into Stratford Actual, through the old shopping centre and over the road to attend a CAROL SERVICE at St John's Church. I have lived in old East London for nearly 15 years now and have been past this church about a MILLION times but have never been inside, so was quite excited to find it a) lovely b) HUGE and c) RAMMED with people.

The service was put on by Newham Music and it featured a wide variety of groups which they work with, including the E20 Community Choir which the aforementioned Notes On My Scale is a member of. Once inside she went off to find the rest of her lot and I sat down at the back, surrounded by the extremely Christmassy RACKET of excited kids, grumpy teenagers, tired parents, and school violins being dropped.

We'd missed the first half of the show, which I guessed had run LATE in the traditional manner, as the "ten minute break" we arrived in the middle of carried on for another half an hour! When the concert did get going again it was BRILLIANT and also rather MOVING. The second group on in our half was a school ROCK BAND, who were FLIPPING ACE, ESPECIALLY when they did an EXTENDED version of "The Ocean" by The Led Zeppelins. You could feel the HEAT of their music teacher being DELIGHTED that he/she had got them to perform this, especially when it went into EXTENDED IMPROV. Hilariously, a couple of Newham Officials decided that this would be a good time to try to get everybody to clap along, at PRECISELY the moment when time signatures got swapped about all over the place. ALSO at the end they did a sudden STOP, the singer said "We are Newham Music Collective!" and then they did a STADIUM ROCK FINISH. It could only have been improved if she had said "We Are! Newham! FLIPPING! Music Collective!" but I guess they might have got DONE if she had.

Next up was the E20 choir and I must admit I was a bit professionally worried about how they were going to follow THAT, but I need not have been as they were RUDDY WONDERFUL. I have, I think, only previously seen them either outside or in non-acoustically-advantageous rooms, so was not quite prepared for the SONIC AWESOMENESS of them singing Actual Christmas Carols in an Actual Christmas Church. COR! It was LOVELY!

It then got EVEN BETTER at the end when the BAND came back on and also ANOTHER choir, this time of children, so that they could all do "Merry Christmas (War Is Over)" together. It began with the kids singing verses and the band doing a gentle backing, but when the adult choir came in around the fourth verse it was WOW! I got one of them tingles up and down my spine that you read about, and the hairs on my arms LITERALLY stood on end. THEN when the music built up and the kids came back in singing the "War Is Over If You Want It" bit, I do not mind admitting that I had a genuine TEAR in my eye. When you hear it sung like this you realise what a POWERFUL song it is, and how clever John and Yoko were to stick in such an Actually Pretty Radical Anti-Establishment Message into a genuine CHRISTMAS HIT.

Needless to say, I felt SUPER CHRISTMASSY by the end of it! HOORAH!

posted 8/12/2017 by MJ Hibbett
(click here for permanent link)
(0) comments


A Family History Adventure
I spent most of Saturday in SHEFFIELD, not for ROCK nor even for BOOKS this time, but rather for FAMILY HISTORY.

For LO! it was my mum's 70th birthday and so a select group of family had gathered to go and look at the place where my Grandad was born. The idea to do this had come about because for years my mother has "occasionally" mentioned that she'd like to know where he was actually born - we know he came from Sheffield, and that the family moved to Donington a few years later, but that was about it.

THUS I got my Detective's Raincoat on and set about some SECRET interweb research. Luckily for me my Grandad was born on Christmas Day, so it was PEASY to track him down in the records office and I was able to get a copy of his birth certificate, which showed where he was born and also where his father lived a couple of months later. These were two different addresses, so we assume either they moved, or my Great Grandmother went to stay somewhere else for the birth. I looked up BOTH places on Google Streetview and found that there was NOTHING there anymore! Both addresses were in the SLUMS which were knocked down long long ago, but it looks as if Sheffield has still not got around to putting anything else there yet. There's a couple of new flats going up nearby, but otherwise it is abandoned factories and car parks. My ROOTS are basically an indie band video from the 1980s!

The original plan was just for me and my little brother to take The Parents to have a look, but this developed to included several COUSINS. Mr CM Smith (PARENT) had said a few weeks ago "They can all enjoy your tour!" which was a little bit ALARMING to me because, as mentioned above, the "tour" was basically looking at two car parks. HOWEVER, The Markings Of My Bays came to my rescue by doing some of her own research, and discovering a chap called BIG RON who did historical walks, so she got him BOOKED for the afternoon and all was set.

Things started well with me and the aforesaid baby brother, The Artist Thomas Smith, travelling up on the train, but then quickly went wonky when we received urgent messages to call my Mum's phone - Chris does not have a mobile phone or email address since he retired because, he claims, he "doesn't need one". This has made it SOMEWHAT DIFFICULT to conduct SECRET DISCUSSIONS about our arrangements, and SUFFICE TO SAY there have been decisions made since the weekend about what he's getting for Christmas!

It turned out that there had been a mix-up with the hotel Chris had booked us all into, and that we were all staying in the OTHER Premier Inn at the other side of the city from the one we'd thought. There then followed half an hour of HECTIC calls and arrangements, notably involving my AUNTIE who hadn't been able to come but was in PRIME POSITION to be communications hub, contacting various travelling cousins. It was a BIT OF A PANIC!

After that though all was BLOODY GRATE. We strode out to meet Big Ron who took us on a short walk with a LOT of talk. Crikey o'Reilly but he could talk! We learnt MUCH about the history of Sheffield and also EVERYTHING else, and he provided a FAB pack of pictures, maps and newspaper cuttings for Mum to read later. I tell you what, if you ever need somebody to explain some Sheffield history to you I would DEFINITELY recommend Ron!

It was VERY chilly so after about an hour we retired to a nearby pub, which rather wonderfully happened to be The Grapes. where The Validators played SEVERAL shows some years ago. It is a LOVELY pub, and the evening gently moved into Generalised CHit Chat which would continue back at The Premier Inn (which did us a LOVELY tea) and afterwards. It was BRILL!

ALAS I fear there must have been something a bit dodgy in the Yorkshire air that night, as the next morning on the train back both myself AND my sibling felt DECIDEDLY unwell. I'm sure I felt AMAZING at approx 11:30pm when I refused another whisky and loudly announced I had to go to bed, so that must be the only explanation!

posted 5/12/2017 by MJ Hibbett
(click here for permanent link)
(0) comments


Christmas Time Is Here Again
Finally it is the first of December which means it is ENTIRELY ALLOWABLE to get EXTREMELY CHRISTMASSY - and flipping heck, after a year of NEWS like the one what we have just gone through, I think we all deserve to get VERY CHRISTMASSY INDEED.

Christmassiness began chez nous this morning with this year's first play of Christmas In The Heart AKA The Bob Dylan Christmas Album AKA The Most Christmassiest Album OF ALL. I bloody love this record, it is both the best Bob Dylan album EVER (and I say this as someone who likes a LOT of Bob) and also the best Christmas album EVER. Yes yes, I know about The Phil Spector one, but this is LOADS better - "Christmas In The Heart" sounds like everyone's having FUN recording it, "A Christmas Gift For You" has an air of OFFICE PARTY to it, one that is taking place during your lunch hour without any BOOZE allowed and then you have to go back to work.

Anyway, we have started listening to it which means Christmas is GO! To be honest I have been ready for Christmas ever since Sunday's recording session in Derby, and this feeling has only been increased over the days since due to the MIXES I have received from Mr F A Machine. I am happy to report that the recording of "Have A Drink With Us" sounds EVEN BETTER than I thought it would, with at least THREE portions of SUBLIME FESTIVE MELANCHOLY along the way. We all listened to the "final" mix last night (which usually is by no means final) and were astonished to discover that it was pretty much perfect and thus WAS final! HOORAH!

With this all done I now need to get to work putting the VIDEO together, and then next weekend I'll get it all sorted out for adding to Christmas Selection Box (which is getting pretty full now) and you'll be able to hear it for yourself on Monday 11 December. I can't WAIT for everyone to hear it - this one is PRETTY SPECIAL!

posted 1/12/2017 by MJ Hibbett
(click here for permanent link)
(0) comments


The Flipping Football
Last night I was in London's fashionable Borough area of London, there to meet Mr P Myland and assorted related chums for a second attempt at seeing the "mighty" Peterborough United play Charlton.

Our first attempt had been back in October, but the game was postponed so Mileage and I ended up spending most of the day at the Indie Daze all-dayer instead. There were to be no such distractions this time, and after a couple of pints and Generalised Chit Chat we got the train to Charlton and rolled up at The Valley with mere minutes to spare. Perfect!

If only the actual game of football had been so meticulously planned and organised. A lot of it was, I must admit, SURPRSINGLY good fun - I had gone expecting RUBBISH and so was DELIGHTED to witness several moments of PROPER FOOTBALL being played, like the sort of thing you see on telly. I was not alone in my surprise and delight, as all around me people leapt up and down with GLEE to see PASSES being made correctly and indeed GOALS being scored. it was all rather exciting, with us WINNING (winning!) 2-0 at half-time. The second half carried on in much the same vein, to the extent that everybody got a bit COLD because every time we stood up for an exciting bit our seats got cold (it was RIGHT CHILLY). With just 13 minutes of play left Mr Myland turned and was ABOUT TO SAY (I learned later) "I bet you weren't expecting to see us win two nil!" but then STOPPED himself, not wishing to tempt fate.

ALAS his self-control was all for NAUGHT as in the 91st minute Charlton scored from A Hotly Disputed Penalty. Now, I am by no means a TECHNICAL EXPERT when it comes to The Football, and am in fact one of those people who gasps in AWE at the DIAGRAMS what they do during Match Of The Day, AMAZED that it goes beyond just Hoofing The Ball About, but even I know that what you do at this point is bring on substitutes one by one to ERODE the remaining time. Our manager DID do this, but for some reason decided to bring on TWO players at the same time when the clock had been stopped anyway. When I related this tale to The Players In My Team this morning she said "So he brought on two defensive players?" She is better at The Tactics than me, but again, even I knew that that's what you're meant to do. HOWEVER what he did was bring on Ricky Miller, a player who a) is a striker who we got from non-league Dover b) hasn't scored yet all season and c) is not exactly even-tempered e.g. he has recently been in court for HITTING A POLICEMAN.

Needless to say he proceeded to run down the pitch and instead of going to the corner (like everyone was shouting at him to do, it is almost as if players don't LISTEN to the sensible advice provided by the supporters) had a SHOT at goal, made a complete MESS of it, and thus allowed Charlton to run down the other end and score an equaliser IN THE LAST MINUTE OF EXTRA TIME!!!

The final whistle blew seconds later and it was a DISGRUNTLED bunch of travelling Fenlanders who made their way home. In the LOO on the way out it was like the After Show at The Grand National, as approx 30 middle-aged men made the same WHINNYING noises to each other to express their discontent. Flipping heck! Flipping ruddy HECK!

When we reached the station the Charlton fans gathered on the opposing platform attempted to TAUNT us by singing "You messed* it up at 2-0" (*they didn't sing "messed") but to be honest this was an ENTIRELY FAIR ASSESSMENT. Flipping heck, I say - FLIPPING HECK*!!

(*I didn't say "Flipping" or "Heck"!)

posted 29/11/2017 by MJ Hibbett
(click here for permanent link)
(0) comments


Christmas In November
I headed off to DERBY on a Sunday, on a journey that would lead to FESTIVITY via EXTREME PANIC!

The PANIC began in Marks and Spencers, as it does in all the best action movies. I was on the way to Derby to record this year's Christmas Song, so needed to get some STOLLEN (the Crust On My Pastry had already SOURCED me some mince pies the day before). However, I couldn't find any Stollen in the M&S in St Pancras so asked a member of staff, who looked at me like I was a LUNATIC. She had NO IDEA what I was on about, so went to find somebody more senior, who seemed to think I was speaking LATIN or something. A passing manager claimed to have NEVER HEARD of it and that M&S had NEVER stocked any such thing. It was very strange, especially as the latter two staff members were from abroad, so surely would know MORE about Continental Christmas Goods? Mr F A Machine later suggested that I may have been pronouncing it wrongly, which is the only logical explanation!

I emailed The Band, and a) Frankie said he's already got a stollen also b) Mr T McClure was heading to Aldi to get one too, so all was well. PHEW! At Christmas, The BAND are eating Stollen - it is THE LAW!

I thought the panic was over, but I was SO VERY WRONG. An hour later my train ground to a halt just outside Wellingborough, and a message came over the intercom to tell us that the fire alarms were going off, possibly because some oil was dripping on the engine. I looked up and saw PLUMES OF BLACK SMOKE coming from further up the train, it was ALARMING! The driver and various CREW went back and forth several times checking things, and it must be said that we were kept FULLY INFORMED at all points, I was IMPRESSED. We ended up setting off again and, thanks to the way they build in delays on a Sunday anyway, we arrived in Derby only 20 minutes late.

Frankie came to pick me up and we returned to Machine Mansions where the session was occurring. He has an OFFICE in his basement which is AMAZING, and he'd got it all set up for recording. Tom arrived a little after us, bringing MORE recording equipment, so by the time The Pattisons arrived we had a proper STUDIO set up. We also had a MASSIVE pile of CHRISTMAS FOODS, as everybody had brought something with them, it was GRATE!

In pre-studio email discussions last week Frankie had told us that he'd got something for the session that would increase the Christmassiness by 1100% GUARANTEED. I must confess I doubted him, expecting some kind of sleighbell or something, but when he demonstrated what he'd got I have to say that if anything he had UNDERESTIMATED the increase. I can't say what it WAS just yet, but GOLLY, each one of us was LITERALLY SPEECHLESS when we saw it! It makes The Bob Dylan Christmas Album look like it belongs at EASTER!!

The original plan was for us all to get set up and then record playing live, all in one go, but when we tried that it didn't sound particularly good, so we reverted to the more standard process of layering it up bit by bit, starting with me on guitar and Tim on drums. This was made tricky because a) we were in the same room, so I had to NOT SING and b) Tim had no HI-HATS, which he usually uses for DRUM SIGNALS, so we had to work our way through with NODS and FACIAL EXPRESSIONS, but it seemed to work. What ALSO seemed to work was us all sitting in the room together. Mr Pete Weiss of The Weisstronauts is, as I understand it, a proponent of this method of recording, where the engineer and the band are all together in the same room, and I must say it made it all feel VERY FRIENDLY. We were all filming each other for use in the VIDEO, so we were kept busy, and it was much less LONELY than usual having everybody with you while you did your bits.

THUS I did my vocals, then Tom did Violin, then Emma did HER vocals - Emma's vocals always seem to end up in a group discussion as to what extra bits she could put in, whereas mine seem to be got over with as quickly as possible. I guess this is because there is no way you could possibly improve my singing? Anyway, Emma did a whole bunch of ACE stuff, and then we had TAMBOURINE overdubs, a bit more violin, and then some BASS just for video purposes - Frankie's mixing it all at his house, so as he said, he could do that at any time (along with overdubbing all of our bits etc etc).

We had a VERY quick listen to what we'd done, and it sounded PRETTY FLIPPING GOOD, so we retired to Frankie's local, along with Mrs Machine, for some DELIGHTFUL beer before it was time for me to go and get my (entirely uneventful) train home. It had been, as ever with The Validators, a RUDDY LOVELY day which will hopefully generate something RATHER good. Frankie's hoping to get it mixed so it's ready for release on 11 December, but fear not, I shall let you know ALL about it when it's ready!

posted 27/11/2017 by MJ Hibbett
(click here for permanent link)
(2) comments


Cologne Popfest
There was much excitement in Validators Ranks yesterday as we were finally Officially Announced for Cologne Popfest!

We were invited to play MONTHS ago by Mr M Plaum, and arrangements were discussed in person at Indietracks way back in July, so we have had to keep this under our hats for a LONG old time. Our gigs in Germany have been some of our favourite EVER, so we're DELIGHTED to be heading back there. Such has been our excitement levels that we've spent the past couple of weeks PANICKING about getting our travel and accomodation booked but all Validators now have TRANES and PLANES booked, and we've got ourselves Ibissed Up for the weekend too. PHEW - it's only five months away!!

THRILLINGLY we now also know two of the bands we're playing with. Marcel outright REFUSED to tell us who else he was booking when we spoke to him, and we still don't know who else is planned, but we DO know that we're sharing the weekend with Chorusgirl and The Frank And Walters. I've been listening to Chorusgirl since the announcement and have found them to be GRATE (I don't think I've ever seen them, so doing so on the Friday night will be FAB), and getting to support The Frank And Walters is another step on our QUEST to FINALLY play with all the bands we variously wanted to support at The Princess Charlotte in the 1990s! Tim says that Prolapse already supported the Sultans Of Ping there, so this will signal CORK COMPLETION!

If you fancy coming, tickets are now available, but HURRY! As I say, it's only five months away, and people (us) are ALREADY getting the hotels booked!

posted 23/11/2017 by MJ Hibbett
(click here for permanent link)
(0) comments


Doom Studies
I was back at SKOOL last night for the latest Supervisory Meeting for my PhD. The main topic of conversation was the PAPER wot I am writing about the influence of The Cold War on the development of Doctor Doom's personality, based on the TALK I did in Dundee back in the summer. I tell you what, I now know a LOT more about The Cold War than I did before, even as someone who LIVED through huge great chunks of it. I find myself having new sympathy for RONALD REAGAN of all people, a great affection for KHRUSHCHEV and his shoe banging, but thankfully have read nothing to free me of my lifelong hatred of THATCHER. PHEW!

We had a lengthy and GRATE discussion about final amendments to make to the paper before I submit it in the hope of publication, and once again I find myself being sent off on RESEARCH AVENUES that I never thought I'd be strolling along. I thought it was going to be all about reading comics, but I seem to have spent a HUGE amount of time discussing the representations of Eastern Europe in American media in the 1960s instead. It's interesting, although maybe not QUITE as much fun!

Having said that, there HAS been some comics reading, all of which will lead to a SUPER EXCITING NEW THING coming your way in 2018. I'm doing a CLOSE READING of EVERY appearance of Doctor Doom in Marvel comics between 1961 and 1987, and in order to keep track of it all (there is a LOT) I'm going to be starting a BLOG called "Marvel Age Doom". I've started work on it already and there's been a TONNE of things to discuss, so I'm planning to get myself a good old backlog built up in order to maintain a goodly stream of FACTS when it officially launches. The current plan is to pubish one blog every week about each of Doom's in-person appearances in the Marvel Universe, with extra blogs on other days about other appearances (where he's just mentioned, for instance, or appears in a recap) OR my Fascinating Research Methods OR other relevant items. It will be an Informative Scholarly Work but will also feature LOADS of GRATE pictures, also some GAGS.

Everyone seemed jolly KEEN on this during the meeting, which also covered the NEXT thing I'm going to do - a look at "The Marvel Age Of Comics" as an Actual Thing. Comics fans will be familiar with the phrase (and possibly the Marvel magazine of the same name from the 1980s) but I'm hoping to NAIL IT DOWN as a PERiOD and also a DESCRIPTION of a type of superhero storytelling. I'm ALSO also hoping to use it as a way to JUSTIFY terms like "The Golden Age" and "The Bronze Age" which comics fans all use but which seem to WIND UP academics something chronic. LARKS AHOY!

I must say, some 15 months in, I am RIGHT enjoying this post-graduate RESEARCH business. All the PhD people I have worked with over the years have seemed dead STRESSED about it, but I'm finding it DELIGHTFUL. Maybe, just maybe, this is because they were all looking at topics such as Psychology or Statistics rather than SUPER COOL things like COMICS, in which case WELL DONE ME!!

posted 22/11/2017 by MJ Hibbett
(click here for permanent link)
(0) comments


Plinths Action
It was a weekend full of DREDGELAND for me, commencing slightly early on Thursday when I went to see the Live Dredgeland Podcast Spectacular at the Star Of Kings on Kings Cross. It was dead good - I especially liked the fact that BOTH of the jokes I'd written (I thought there was only one so was SURPRISED when the other appeared) got LARFS. It still counts if the person who's laughing is me - MORE so, in fact, because I'd already heard them and STILL thought they were funny! The rest of the show was GRATE too, and also VERY silly. The podcast should, I believe, be out presently!

I then had a SECOND dose of Mr John Dredge and Mr Andy Harland on Saturday, when the three of us headed to deepest SURREY to record some songs at The Brook Studio. John and I have been engaged in some SONGWRITING over the past few months, utilising a new methodology for me whereby I wrote some music on my GTR, recorded it onto an mp3, and then John made up words and tunes on top. I'd had a go at this a few years ago with Mr F A Machine (with me doing the words and he the music) and found it all a bit WEIRD, and this was none less so. I don't really see how you can predict in advance how long the verses are going to be, or where the choruses go, as I always think it should be lead by the LYRICS, but I know other people are FINE with it and John managed it very well INDEED. We ended up with four songs done, so decided to enlist Andy on drums, call ourselves The Plinths, and do some recording.

I suggested we go to the Brook because Mr A Brook, who runs it, is DELIGHTFUL. Many many years ago he had a studio on Denmark Street, and I'd pop in during my lunch hour to record demoes there. It was a GRATE way of working, and I always found him to be EXTREMELY patient, very very HELPFUL, and full of IDEAS. I'd been to The Brook a couple of years ago to do a GIG too, and have been KEEN for ages to go back and actually record there, so this seemed like a good idea all round.

As it turned out, I was COMPLETELY RIGHT, it was a GRATE idea! I arrived to find that Andy B had pretty much got everything set up, so it was only about half an hour later that we'd all begun RECORDING. We'd booked in for four hours, which I thought would be ample time to do the drums and vocals, leaving me to do MY bits at home later, but as it turned out we got the guitar done too. To be honest, I never understand why other people take so long to do stuff in the studio - what are they DOING all the time? You usually only need a couple of goes to get a track sorted out, so do other bands just play POOL or something? Or is everyone else whacked out on scooby snacks that they're not sharing?

ANYWAY it all went really well, and it was lovely to be back in the studio again, although AS EVER in these situations I did have to keep reminding myself that I was NOT with The Validators and thus certain Behaviours were not acceptable e.g. when other people are soundchecking the DRUMS it is NOT all right to YAWN in an exaggerated fashion, complain loudly and FLICK Vs at the drummer. I did NOT do any of the above on this occasion, but I was SORELY tempted!

I've now got THE LOT on a memory stick, so the next step is to add other instruments and get MIXING. Goodness knows how long that's going to take - at approx 7:20am today I was reading about KICK DRUM COMPRESSION so this may all get a bit STEVE LILYWHITE, but I am hopeful that the process is mostly going to involve BASS playing. BASS playing is my favourite!

The current plan is to get these all done and UNLEASHED on the world next year, either as an EP or as a series of individual tracks, possibly with videos. It has been MOST enjoyable so far, and I'm dead pleased with how they're coming out, so be in no doubt that I shall be ALERTING everyone when they're ready!

posted 20/11/2017 by MJ Hibbett
(click here for permanent link)
(0) comments


Academic Action
I took the day off from Actual Work yesterday for some full-on ACADEMIC ACTION.

During daylight hours I was on a course run by UAL called "Thinking Teaching". It was the second of two sessions that I'd done, learning about PEDAGOGY theories and general IDEAS about how you do The Teaching in Higher Education. Whenever I do ANY training I always DREAD it and end up sloping in like a teenagers with double Geography, even when I have purposefully BOOKED it myself, but I found this one to be VERY interesting. Partly because of the Interesting Theories, partly because it was very well taught (which you'd sort of hope a course ABOUT good teaching would be), but also because of my own reactions to it.

It was all about inclusiveness, diversity, engaging with students, and INTERSECTIONALITY, and I must confess that I tend to get A Bit Daily Mail when presented with these ISSUES in a WORK setting. I don't know why - I have a fully booked season ticket on the Political Correctness Train and read the Guardian online DAILY, but for some reason my BRANE tends to BRIDLE when I come across these THEMES in a Professional Environment. What then tends to happen is that the calmer, more reasonable parts of my BRANE actually LISTEN to what's being said, and see the SENSE of it all. It's a right rum old do though, I wish my MIND would sort itself out and just go straight to nodding thoughtfully!

It was, in the end, dead good, and I was disappointed to have to leave slightly early so I could head up to the Granary Square campus for even MORE of the aforementioned ACADEMIC ACTION. I was up that way to attend a new READING GROUP set up by the Comics Types at Central Saint Martins. There were about ten of us, comprising most of the BIGWIGS of London Comics Studies, sitting in a room for about 90 minutes discussing Ms Marvel Volume 1: No Normal. I was DEAD chuffed when I found out this was going to be our first book as I had a) already read it and b) flipping LOVED it. I was thus a bit worried beforehand about how I would behave myself, as I was pretty sure me saying "How DARE you not LOVE this book, it is THE BEST" would not be considered lofty enough criticism.

I managed to comport myself with sufficient dignity and even managed to restrain myself from going "OMG you should TOTES read Unbeatable Squirrel Girl also IT IS AMAZING!" , which was a first for me in ANY Comics Gathering!

After THAT I went to a short meeting about a PAPER wot I am co-writing (hem hem), and finally headed down to the BAR where I ended up having several beers with one of my supervisors while we discussed Jack Kirby and Long Gone Comic Shops We Have Known. Both of us admitted that it had felt WEIRD talking OUT LOUD about actual comics (rather than having learned discussions about BOOKS about actual comics), but also rather good fun.

It was a LONG old day on the BRANE, but it turns out that Academic Action can actually be quite interesting when it's ABOUT something interesting! Who knew?

posted 16/11/2017 by MJ Hibbett
(click here for permanent link)
(0) comments


Sounds Like Friday Night
A constant refrain round our way for many years has been "Why can't they properly bring back Top Of The Pops eh?" This has ESPECIALLY been the case around Christmas when we watch the Christmas and New Year specials and get ourselves caught up on what The Young People are listening to nowadays. It always feels GOOD to find out what's been happening, and it doesn't really matter whether we like it or not, we just want to KNOW without having to go through the hideous agony of having to listen to Radio One.

Imagine the DELIGHT in our house then when we discovered that "Sounds Like Friday Night" is a) on the telly and b) EXACTLY what we were after. For LO! it is PRETTY MUCH "Top Of The Pops" except without the charts, also WITHOUT the hapless attempts to be "cool" and very much WITHOUT Fearne Cotton and Reggie Yates.

I have never understood why the BBC retained the services of these two for the TOTP specials. They presided over its FINAL DEATH, so why on EARTH would you want to keep having them back? It's like doing a new Star Wars film every year and having JAR JAR BINKS as the leader character in every single one. I MUCH prefer the two people they've got for SLFN (that's what the hip young things are calling it, right?) who seem like two CHARMING young people who are KEEN on what they're doing and not a pair of snide wazzocks who give every impression of being far too good for it.

In case it's unclear, I'm not keen on Ferne and Reggie. Dotty and Greg though, they are ALL RIGHT with me. I like the fact that they and the whole programme are JUST the right side of NAFF, not pretending that it is COOL, or indeed IMPORTANT (like the loathsomely pompous J Holland programme), but more like what it actually IS i.e. a Light Entertainment Show for The Kids to sneer at and for middle-aged people like me to get mildly yet happily perplexed by.

However, I have been AMAZED these past few Friday nights by the amount of people I know of my own age merrily slagging it off AS IF they are supposed to feel some OTHER way about it. OF COURSE you think it is a load of old rubbish, fellow middle-aged people! Isn't that EXACTLY how middle-aged people like THINE OWN PARENTS felt while you were going KRAZY about The Depeched Modes or whoever? Saying "Ooh it's so bland and commercial, not like in my day" on Facebook is but Twenty First Century version of peerng over the top of the newspaper and saying "Is it a boy or a girl? I can't hear the words!"

We have watched all three episodes so far and I must say that I have liked NONE of the music and could sing NONE of it back to you now, or indeed even when I was listening to it, which is right and proper. Most of the Young People dancing around and singing seem to enjoy it and most of the performers seem to be INTO what they're doing - the only people who were OBVIOUSLY FAKING IT were the dull and dreary old Stereophonics, who appeared OPENLY SCORNFUL of the whole process, and yet did not have the good grace to do so in an INTERESTING way. For shame!

I do agree with everyone who says there should be some more music on it, even though I quite like the cheesy Strictly-esque VT segments (mostly because they ARE so Strictly-esque), and I hope that at SOME point something ACTUALLY AMAZING manifests itself, but then I do remember watching the original TOTP back in the day and it being AWFUL for weeks on end, so am prepared to wait.

Most of all I hope it sticks around long enough for it NOT to be talked about at all, and just BE there so that we can ALL keep up to date with The Pop Music. If nothing else, I hope it lasts long enough to get its OWN Christmas Special and finally kick the SHOW MURDERING Ferne and Reggie off of our tellies!

posted 13/11/2017 by MJ Hibbett
(click here for permanent link)
(0) comments


Free Again
My NOVEL Storm House is FREE to download again this weekend, over on Amazon, so if you've not got a copy yet, now might be a good time!

I've read a metric TONNE of blogs about Self-Publishing, and they all say that giving your books away for FREE like this is the best way to get people to PAY for them in the future. The general idea is that readers get HOOKED by one book, so that when you release a new one then a) they're eager to PAY to read it abd also b) they tell OTHER people about it too. This all seems fairly sensible to me, and I AM hard at work on 'Storm House 2', but to be honest I mostly like doing it because it's FUN. My favourite activity at the moment is going and looking at the Kindle Sales Reports page every 30 seconds and clicking refresh to see if anyone else has 'bought' it! There is a GRAPH and everything!

Last time I did a free promotion I was mostly relying on the beautiful readers of the newsletter to get it all going, which they did wonderfully. As far as I can tell, the KEY is to get enough people to download your book so that it gets into the various categories of Top 100 free books on Amazon, and then OTHER people see it and decide to take a punt, which pumps it up even further and so on. Last time it was all VERY exciting as Storm House got to the TOP of various charts and even into the OVERALL Top 100 - of course that tailed off MIGHTILY once the free window was over, but it was fun while it lasted!

This time around I was very aware that many many nice people had helped me out, and didn't want to pester them again (not just yet anyway - there'll be a new book to hassle everyone about next year!) so I had a look at the MANY different service who'll include your book on their DAILY lists of free books via email or App. I got myself logged onto a load of them and even PAID for a couple, reasoning that this was the PROMOTIONAL BUDGET that I would usually spend on POSTAGE if I were releasing an ALBUM or something.

I wasn't sure if this would work or not - the world of ARTS is FULL of organisations out to take the money of VAIN people wanting to be LAUDED (and also people like me, OBVS) - but so far it seems to be going PRETTY well. Last night it got back to the NUMBER ONE spot on all the categories it's eligible for (which I think tells you more about how few copies you need to 'sell' than how popular Storm House is!) and this morning it's back in the Top 100 Free Books! HOORAH!

Hopefully this'll all lead to some more REVIEWS in the short term and some INTEREST for the next book in the longer term, but right now I'm just enjoying watching the GRAPHS move! As ever, thanks LOADS to anyone who's downloaded it and ESPECIALLY to those who've bought a paperback version (they are LOVELY), and if you've not done either yet... well, it's free until Sunday night, so get in quick!

posted 10/11/2017 by MJ Hibbett
(click here for permanent link)
(0) comments


Thor: Ragnorak
I went to the pictures on Sunday to (finally) see the latest THOR film. The short version of my review is this: "IT was GRATE!"

I usually like to go and see superhero films in the Odeon near my work as it is TINY and usually EMPTY so you don't have to hang around to get in, but as it was a Sunday I went instead to the GINORMOUS Vue cinema near my house. It's one of those cinemas where you buy popcorn and tickets at the same time, which seems daft to me as it means EVERYONE has to wait behind people getting TONNES of snacks, so I usually use the MACHINES. Annoyingly, however, the machine allocated a seat for me which it a) would not let me change because the touch screen wasn't working and b) would not let me book ANYWAY because it left a single empty seat next to mine. "BUT YOU ALLOCATED IT TO ME!" I said, to no sympathy from THE MACHINES. If THE MACHINES really want to take over the world then they are going to have to IMPROVE their customer service, otherwise they're going to find some of us forming an underground resistance.

THUS I had to go and join the huge queue, which took about a YEAR. By the time I got to the front I was so worked up that I decided to self-medicate i.e. get myself a BEER! Once in the SCREEN all was calm, the seats were comfy, and the wait for the film was surprisingly brief. The adverts just said "Turn your phones off" and "Look, this cinema has both sound and pictures!" (is that in case someone has come expecting RADIO or PAINTINGS by mistake?) and then we were OFF. There weren't even any trailers!

The film itself was FAB. The thing I liked most about it was how it LOOKED - for possibly the first time ever they had made it LOOK just like the comics, specifically the JACK KIRBY comics. Loads of the costumes (especially in the backgrounds) and technology looked like they were RIPPED straight out of the 1960s, and it looked BLOODY GRATE!

I liked all the GAGS and LARFS too, although I guess sometimes there was a tiny bit too much - having The Manager (I think) from Flight Of The Conchords in it was good, but I don't think you needed him to undercut every single dramatic bit EVERY SINGLE TIME, but that is a small complaint when there were so many BIG LAFFS to be had. I also liked the fact that it HAD a story that PROCEEDED at an orderly pace, unlike most of The Avengers films which LOOK good but are a bit confusing/confused. AND I liked the way that they used existing bits of The Marvel Cinematic Universe to tell bits of the story (e.g. Dr Strange turning up) like it was No Big Deal. Just like the comics!

It was basically a LOT of fun, with a LOT of BITS in it for superhero NERDS to enjoy... or so I am told hem hem I'm sure I wouldn't know. The only downside is that now it's MONTHS until "Black Panther" comes out - come on Marvel, three films a year is not enough!

posted 9/11/2017 by MJ Hibbett
(click here for permanent link)
(0) comments


Theatre Of Lights
After all the excitement of our trip to the RAF Museum on Saturday I was ready to put my BRANE in the bath to recover when we got home, but instead we were out again to an event called "Theatre Of Lights". This was put on for residents of The Olympic Village Where I Live (But I Don't Like To Go On About It). In previous years we've had FIREWORKS displays, but there is so much construction going on at the moment that I think they must have decided to do something a bit SAFER, also less FLAMMABLE.

SO it was that we walked round to Victory Park, a large green space in the middle of The Village, where there were HUNDREDS of people milling around happily, waving paper lanterns and/or GLOW STICKS. I got myself a bit ANXIOUS about it all for some reason - I think it was the crowds, all the lights and noises, the familiar setting looking so unfamiliar, but according to The People In My Crowd I was just "a bit grumpy" so she applied the tried and tested cure: A PINT. It worked!

We joined a PROCESSION around the center of The Village, which involved several hundred of us going for a bit of a wander about, led by illuminated stilt walkers and interspersed with ILLUMINATED JUGGLERS and DRUMMERS covered in lights.




Typing it out, it all sounds a bit rubbish, but it was actually LOVELY. There was a really nice atmosphere, and with the cold and the twinkly lights in the trees it all felt a bit CHRISTMASSY and cosy. Also, we had another PINT!

The procession strolled back to Victory Park, where there was a stage with some LIGHTS on it and some performers that we couldn't quite see because of the crowds. There were LAZERS and SMOKE and MUSIC going off, which was Quite Good, though my favourite bit was looking up at the residential blocks which mostly surrounded us and seeing the silhouettes of all the people stood at their windows, watching the show.




Usually these sort of things go on for AGES, leading certain GRUMPY people to require further medication, but this one finished almost TOO QUICKLY. It had only been going fifteen minutes and then the announcer said "Thanks for coming", it was BRILLIANT! All other public displays please take note: it's cold at this time of year and there is TELLY on that we want to get home for, where it is warm!

posted 7/11/2017 by MJ Hibbett
(click here for permanent link)
(0) comments


We Saw A Lancaster Bomber
On Saturday The Wings Of My Plane and I headed out on a DAY TRIP to the RAF Museum in Hendon. The sequel to Storm House (what I'm currently writing) has a whole chapter that takes place there, so we thought it was probably a good idea to go and RESEARCH it!

Getting there was PEASY, via the Northern Line to Colindale, though the subsequent 10 minute walk to the museum was a bit odd, as it seemed that nearly EVERYTHING around there was NEW. There were a couple of old terraced houses, but otherwise it was all fancy flats, showrooms and construction sites. It was quite a bit like being back in East Village! I wonder what was there before - an airfield maybe?

There were more signs of construction when we got to the museum itself, though the main building itself looked more like a local shopping center from approx. 1981. There was a LOT of refurbishment going on, with temporary fences all around, one of the hangars closed, and there was STUFF left lying around a lot of the displays - some of this stuff appeared to be BOMBS!

Once actually inside though it was FLIPPING AMAZING. We'd expected to see maybe TEN aeroplanes but there were FLIPPING HUNDREDS of them in a VAST hangar space that had somehow been hidden behind the aforementioned small-town shopping centre. There were so many that you couldn't take it all in, although I will never forget the sense of SHEER AWE I had when I turned a corner and saw a BLOODY LANCASTER BOMBER!

CRIKEY! It was GINORMOUS! I couldn't believe I was looking at an ACTUAL LANCASTER BOMBER. I mean, I know Spitfires are the famous World War II planes, but I've SEEN those (there were about 300 of them in the museum too) but THIS was the plane that I most remember making from a KIT, and seeing in FILMS, and also the plane that my Grandad nearly flew on - thankfully he didn't because (according to FAMILY LORE) my Nan told him NOT to, which is handy for the EXISTENCE of my Dad, me, and all my siblings, as ALL of his friends who DID were killed.

It's not that I'm a huge PLANE fan or anything, but I DID grow up in the 1970s when pretty much all there was to do on a Saturday afternoon was to build model aeroplanes, and I was VERY impressed with my BRANE for remembering so much about them. "That looks like a HURRICANE!" I thought to myself at one point, and LO! it totally was!

As I say, it was all so overwhelming that it was hard to take in so we didn't read the info boards very much, but the general presentation was fairly casual. The knowledge that most of these amazing machines were designed to be vehicles of MASSIVE DEATH was never far away (there were several pictures of ATOMIC EXPLOSIONS next to the ACTUAL VULCAN BOMBER for instance) but it was never a) emphasized or b) celebrated.

It wasn't ALL death though, there were reconnaissance planes and an alarmingly WEIRD bunch of SEA PLANES, including the Stranrear which was HUGE, made of a QUILT of STEAL, four storeys high and, basically, LUDICROUS. How did it FLOAT, let alone FLY?!?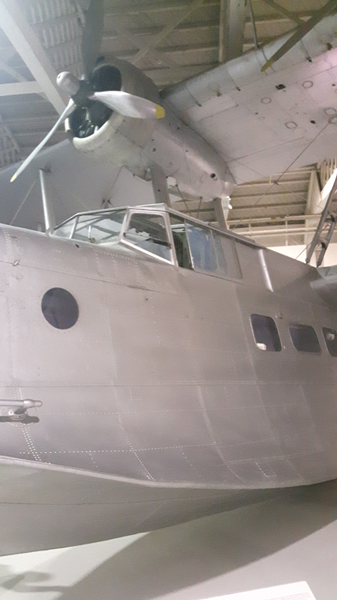 We staggered out of the main hangar, BRANES FULL, and had a wander round the RAF Photographer Of The Year Competition then to a smaller hanger to see a load of bi-planes in the First World War In The Air exhibition. It was all dead good but it felt like somebody had taken my MIND out of its box and given it a right good PUMMELING, as there was SO MUCH to take in.

What I'm saying is that it was AMAZING - and all free too! And did I mention they had a LANCASTER BOMBER?

posted 6/11/2017 by MJ Hibbett
(click here for permanent link)
(0) comments


Gigless
You find me in a very unusual position at the moment - I am GIGLESS!

Well, very nearly anyway - if you browse my forthcoming gigs page you will see that The Validators DO have a booking, but it's not until APRIL. That's nearly SIX MONTHS away!! Between then I not only have no gigs BOOKED, I have no gigs even VAGUELY happening. Nowt! ZILCH! Nothing!

This is a BIG change from the past decade, when I was averaging 50-70 gigs a YEAR. This year so far - and if it stays like this, in TOTAL - I have only done twenty five, which is the smallest number since I first moved to That London!

Part of the reason for this giglessness is my own CHOICE - doing the PhD means I don't have as much time for ROCK as I used to, so I haven't been asking around for gigs and I've put Totally Acoustic on a temporary hiatus. ALSO Steve and I don't have a SHOW on the go, so that's not happening either. Still, I'm sure that there USED to be other gigs around that I'd do!

It all feels a bit STRANGE - I know that lots of the people who used to book me years ago have now jacked it in, and I know that if you STOP going to gigs all the time to see OTHER people then you tend not to get asked so much yourself, but coming to a DEAD STOP like this feels WEIRD. Is this the end for me and ROCK? Will it be something I just do a couple of times a year now? Or what?

I hope not - I really LIKE doing gigs! Part of me thinks I should maybe have a go at Open Mic nights, but another, much larger, part of me hopes it doesn't come to that!

posted 1/11/2017 by MJ Hibbett
(click here for permanent link)
(0) comments


New Innovations In Clock Changing
As I'm sure you are aware, the clocks went back at the weekend (NB if you weren't aware - this is why you keep turning up early for things). Officially they changed at 2am on Sunday, but in OUR house we tried an ADVENTUROUS and INNOVATIVE new method, proposed and executed by The Hands On My Dial, which involved changing them at approx 7pm on SATURDAY instead.

"Why on earth would you do that?" you may ask. "Surely that puts you out of SYNC with everybody else? What is the benefit?" I initially thought such questions myself, but realised that it WOULD have put us out of sync with the rest of the nation, but only if we had had any intent of INTERACTING with the rest of the nation that evening, which we did not. It was one of those TOTALLY RARE Saturday nights where we stayed in and drank WHISKY and watched telly rather than... er... doing whatever it is other people usually do on Saturday nights, and the TELLY we were watching was all non-live, so THE TIME didn't really come into it.

What DID come into it, however, was the FACT we got an extra hour of SATURDAY. As The Days In My Week pointed out, "Who wants an extra hour of SUNDAY? I'd much rather have more Saturday!" Any doubts I may or may not have had about this course of action were instantly DISSOLVED. An extra hour of Saturday is a load more whisky and a whole extra episode of "Designated Survivor"!

Mark well where you first heard of this CUNNING SCHEME - I predict EVERYONE will be doing it within a couple of years!

posted 31/10/2017 by MJ Hibbett
(click here for permanent link)
(0) comments


Spectrum 35
I had an early start on Saturday morning, as I was due in Cambridge at 10:30am to open a CONFERENCE!

This was Spectrum 35, a celebration of the 35th anniversary of the ZX Spectrum. Five years ago I played at the 30th anniversary event at Anglia Ruskin University, but this time it was at The Centre For Computing History, which I have been to SEVERAL times before.

I managed to drag myself out of bed on time and got to Cambridge OK on a VERY busy train. In the taxi rank a nice Academic Lady told me there was some sort of conference going on, so there were more people about than usual, and also that the area around the station taxi rank, where they've built several new hotels, is "a bit of a knocking shop." Good to know!

I arrived at the museum to find a QUEUE to get in (I later discovered it had SOLD OUT) while inside I discovered the organiser, Mr T Eberle, looking very happy with how it was all going but wearing what I can only describe as BOOTLEG MERCHANDISE!




It was lovely to be back at the museum, and I had a THOROUGHLY enjoyable wander around playing on their FREE Arcade Games (including Space Invaders, Tempest and Alien Syndrome), visiting the Amstrad PCW (my first "proper" computer) and having the traditional GAZE of AWE at their WALL OF TAPES.




Thomas and I thought I'd be doing my set in the main hall, but then found out there was a CAMERA waiting for me in the classroom (where me and Steve performed Hey Hey 16K a couple of years ago) so I went in there instead, waited five minutes for people to troop in, and then played Hey Hey 16K.




I had a LOVELY time, and even managed to get the audience to SINGALONG at the end, as you can see in the video HERE:



I THOROUGHLY enjoyed myself - was really nice to be playing to an audience who had HEARD of me, and especially such a POLITE yet FORTHCOMING one. At various points during the morning people would spot me, do a double-take, and GRIN, it was ACE! After the show had finished I went and played on some more of the machines, and as I attained the THIRD SPACESHIP in "Jetpac" someone leaned over and pointed out that I was enjoying "the thrill of getting through Jetpac" for real!

It was a long walk back to the station afterwards, but it was a very HAPPY one. Roll on the 40th Anniversary - I'll be there!!

posted 30/10/2017 by MJ Hibbett
(click here for permanent link)
(0) comments


A Croydon Of Two Halves
I was back in Croydon on last night in order to ROCK it. If it seems like I do MOST of my gigs in Croydon these days, that's probably because Mr T Eveleigh of Freedom Of Expression is pretty much the ONLY person left who still books me!

I got there a bit early so that I could get some TEA. I remembered that there was a Vegetarian Indian Restaurant somewhere on the High Street, so decided to take the opportunity to try it out. The experience was "mixed".

The food was fine - quite hot, but pretty tasty - but GOODNESS ME the service was SURLY. The woman who took my order seemed to be on a MISSION not to SPEAK to me or make eye contact, and other people working there seemed ANGRY to see me too. I wondered what they thought I'd done, then noticed a sign in the toilets that said "Please Do Not Spit In The Handwash." Who spits in the handwash? And how? And WHY?! The handwash bottles had screw tops, so presumably whoever HAD done it had gone to some effort to do so.

It was only when I left that it dawned on me - it must have been someone who looked like ME! That explains EVERYTHING!

The gig itself was happening at The Royal Standard, a tiny little locals pub next to the flyover, which I'd not been to before. Ms J Lockyer was in charge of proceedings, and she explained that we'd be playing next to the TOILETS. We were in a small corner, away from much of the rest of the pub, so I thought I'd avail myself of the PA system in order to make myself HEARD.

Mr W Pilkington arrived, having made the long journey from his flat on the other side of the underpass, as did Mr T Worth, the other act, and a few Audience Members, and so at 8:30pm I kicked off with THIS:



It did not, in all honesty, go very well. It turns out that having a CURRY before a gig is NOT a good idea, as my throat was all dry and spicy. Also I remembered why I usually chicken out of doing new songs (THREE new ones here, including a DEBUT!) as it is SCARY and I tend to forget bits. ALSO the nature of the gig made it extra difficult, as round the corner in the other side of the pub some of the regulars were SHOUTING at each other. This was particularly difficult - clearly they were doing it on purpose and what they were shouting was the kind of nonsense that I thought people stopped doing in the 1980s (e.g. "Another PINT for MY COMPRADRE Good Landloard!") but then again it WAS their pub and it was ME who was coming into to it to make a right old racket when all they wanted was to have a chat, so couldn't really remonstrate with them.

I was quite happy when my first set was all over, and I was able to make way for Thom Worth to come on and make a MUCH better job of it all. I did notice that he was sitting down, so I thought I'd have a go at that for my second set which, after a short break, went like THIS:



This went MUCH better - partly because The Chief Regular, who had been SHOUTING the most, had left (and so everyone else stopped doing it too), partly because I was sitting down so it didn't feel so much like I was demanding attention, and partly because I was doing a load of songs I actually KNOW! I really enjoyed this section, and wished I could have gone back and done the first half all over again!

I went to the bar for a celebratory BEER, where I discovered that the woman behind the bar was ALSO from Peterborough, so we did the traditional thing of naming PLACES to each other - you hardly ever meet anyone other ESCAPEES, so it's Mildly Exciting to hear someone else say "Wisbech"! When I got back to the table Thom, who had just started his set, pointed out that I'd left most of ANOTHER beer at the side of the stage, which meant I now had TWO. The evening was looking up!

I fear I may have got OVER JOLLY at this point, as I forced him into a discussion about how old our Soundman was - he was born in 2000 (!!!) so I pointed out that he was therefore underage, and there followed one of those conversations you can only really have after a few pints, trying to work out if it's possible for someone born 17 years ago to actually be 18. Spoilers: It Isn't!

And so the evening came to a rather pleasant close - it feels like a WHILE since I did a gig like this, and though I didn't enjoy the first half I certainly did the second. On the way home I popped in to The Spreadeagle, where Tim was running ANOTHER gig, and said thanks to him. After all, if not for his efforts I'd hardly be doing any gigs at ALL!

posted 27/10/2017 by MJ Hibbett
(click here for permanent link)
(1) comments


Quest For Stationery
The EXCITING IDEA for the next Validators album that I mentioned yesterday has moved on APACE, and we are now looking at DATES for a meeting with the other PARTY who would be involved. I would love to tell you about the heady whirlwind of SUPER EFFICIENT ADMIN on BOTH sides that has brought this about so quickly, but alas I must hold my tongue until it is properly sorted out so instead I will speak to you of STATIONERY.

Thus every year around about this time I go and get myself a new diary, and for the past decade or so I have been making my purchase in Paperchase. I use an A6 week-to-view diary, and Paperchase have always done really nice ones with bright flowery covers. I do like a bright flowery cover on my diaries, also on my NOTEBOOKS, because a bright flowery cover is much harder to lose. Years and years ago I used to buy plain ones with dark green or BLACK covers and I was forever losing them in the bottom of my bag/dark venues, or getting them confused with ones belonging to other people, but if your diary is BRIGHT PINK with PRETTY FLOWERS on it like what my current one is then it is hard to mislay.

Imagine my DISTRESS then when I went to Paperchase to find that they only had ONE (1) A6 week-to-view diary, and that it was a DULL BROWN colour. All right it did still have some flowers on it, but otherwise it was very plain. I wondered if it might just be the FIRST diary they were issuing, with more to come as we got closer to the end of year, but I checked online and that seemed to be IT!

I did actually find this quite upsetting, as I like being able to get the same diary (with a different cover design OBVS) every year, but it looked like I would have to venture further afield this time. So it was that I set off on my QUEST, first visiting WH Smiths and, as with every time I go into WH Smiths, finding myself wondering how on EARTH it is still running as a going concern. I used to LOVE going to WH Smiths as a child (you could look at all the BOOKS and COMICS!), but now it is HORRIBLE. I couldn't even FIND the diaries because they were hidden under massive signs saying "30% OFF OTHER THINGS", piles of vouchers, unwanted toblerones, and the general LITTER which seems to cover the floors of all WH Smiths. I can only guess it is overpriced crisps at train stations that keep them afloat, for the actual diaries they had were RUBBISH.

As I was in The Big Westfield near my house I had other stationery options, but as I went from shop to shop all I found were cardboard items covered in GLITTER and non-humorous "humorous" cards. I ended up, as I so often do, in JOHN LEWIS where I finally reached my goal, stumbling upon Paperblanks Diaries which made me want to SQUEAL and say "OMG!" because they are SO BRILLO. Small! Week to a day! On sustainably sourced paper! SHINY! I eventually chose a Flutterbies diary because it is FLOURESCENT and has BUTTERFLIES and FLOWERS on it - there is no way THIS diary is going to get mislaid by accident!

It also has all that stuff about currency rates, time zones, international holidays etc that diaries USED to have. I RUDDY LOVE it, basically, and cannot WAIT for New Year's Day so I can start using it EVERY DAY.

As I say, I also did a load of ROCK ARRANGING, but I'll tell you about that another time!

posted 25/10/2017 by MJ Hibbett
(click here for permanent link)
(0) comments


Why Don't We Do It In The Pub?
On Sunday I headed to Derby to take part in an EXPERIMENT that could potentially alter the very FOUNDATIONS of ROCK!

For LO! I was off to that fair city to meet The Validators for a practice. "What's so experimental about that?" you may ask. "You guys are consumate professionals who practice almost ANNUALLY, often in The Midlands." This is true, but we have previously always practiced in Rehearsal Studios, whereas this time we were going to be practicing IN THE PUB!!

IN THE PUB!!

This idea had come about via the success of Tim's Giant Testicle AKA the CAJON he bought a while back and which we have occasionally been using for gigs. Anyone who has ever seen Tim in action will know that he is NOT A QUIET DRUMMER, but having him on the cajon (it's one of those wooden boxes you sit on and tap) means that the rest of us can pretty much play and sing without amplification and still be heard. This has had the amazing effect of allowing us to actually HEAR each other, and know what everybody else is playing, which after approx. 18 years together is something of a novelty!

I've been writing some NEW SONGS just lately, so we agreed that we'd gather to have a go at some of them, and as we would probably be PLAYING them in our new acoustical manner we might as well practice them like that too. It was here that my AMAZING idea struck: if we were going to be PLAYING the songs acoustically in pubs, shouldn't we REHEARSE them that way too? It is often said that the best place to revise for an exam is in a LIBRARY because it is a large, quiet, official building where you are surrounded by other people. Your BRANE thus associates the information you have put into it with being in a large, quiet, official building where you are surrounded by other people, so when you are in an EXAM HALL (which is ALSO a large, quiet, official building where you are surrounded by other people) it's much easier to retrieve that DATA. THEREFORE surely if we practice in a pub it'll make it MUCH easier to remember when we come to play the songs ALSO in a pub. Of course, this theory means it is ESSENTIAL that we have some BEER while we're at it. It's basic SCIENCE.

I'd thus booked us a room at The Brunswick Inn, a lovely pub which we have often been to after conventional practices and which is very handy for the train station. When I rang I'd asked to use The Snug, but when I got there the chap behind the bar suggested using The Parlour instead ... which turned out to be the room I thought I'd booked anyway. There were a couple of people in there already, so the barman went and asked them to leave. I did feel a LITTLE bit bad about this, as one of them had a walking stick!

The Validators arrived in fairly quick succession, and the ensuing discussions covered The Legacy Of General Tito, Fabric Samples, whether Tim and Frankie could maintain a domestic relationship (and what they'd talk about instead of The Fall if Mark E Smith died), DOGS, and most excitingly of all the FACT that Tim's eyesight has got to the point that now THE BAND are all wearing glasses!!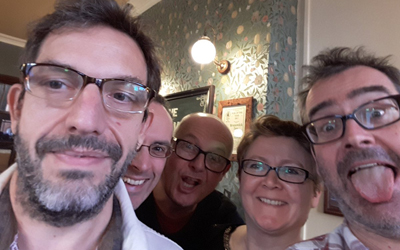 We ARE The Black Hair And Glasses Brigade! Sort of!

Once that was all sorted out we fell upon the songs themselves. We decided to go through the new songs in the order that they'd appeared on the set of DEMOES I'd sent everyone, which meant that the very first one was "Two Drips, One Pane". This was REJECTED by the band for "being a bit snidey". SUCH IS DEMOCRACY!

The next one, "Kenny's Brother Alan's Stag Do", had been the subject of some debate on the band email as to what it was ABOUT (NB it is a DEVASTATING SATIRE of BREXIT but apparently it only works as such if you tell people beforehand. Consider yourself told!) but once we gave it a go it seemed to work out pretty well. We changed some stuff around, as we usually do, and even changed one of the WORDS, altering "Nigel paid" to "Nigel said". This has happened very occasionally before, but I made sure that everybody understood that it was a one-off, and should not be seen as setting any kind of precedent for our current sessions!

Next up was "In The Pub (Talking Crap)" which sounded BLOODY BRILLIANT right from the start. I must admit I got quite excited - apart from sounding LOVELY with us all playing, it also has noticeable TUNES, also JOKES, also a POINT and a SINGALONG bit. It is, I feel, A HIT!

We were proceeding at a fairly leisurely pace and were going to require some time at the end for a Formal Band Meeting, so we skipped to the END of the list of songs in order to have a crack at our CHRISTMAS SONG, which we're hoping to record next month. It's a COVER of a German drinking song what I have translated into PETERBOROUGH, and though it isn't specifically about CHristmas, it does FEEL dead Christmassy. Also, it is UTTERLY FANTASTIC - rarely have all five of us been quite so keen on a song, and when we played it through it was WONDERFUL. I can't wait to get this one out there, it is ACE!

With that done we turned to BUSINESS, discussing our next gig, in April, and then what we were going to actually DO with these new songs. I'd had an IDEA which I can't really go into any DETAILS about as yet, but it was well received by The Validators and I was given clearance to go and talk about it with some other PARTIES who would be involved, if it comes off. I don't like to be MYSTERIOUS like this, honest, but as soon as I CAN say what it is, I will. All I CAN say is that it would be AMAAAAAAZING if it comes off!

And then it was time for us to conclude. The Pattisons headed home to monitor a Christmas Cake (ROCK) while me, Frankie and Tom had another drink before I had to go and get the train home. The whole experiment had, I feel, been a HUGE success - this will not be the last time we practice in a PUB!

posted 24/10/2017 by MJ Hibbett
(click here for permanent link)
(0) comments


Nosing The Future
Saturday found myself an The Plans In My Proposal once again going round East London being nosey... I mean, being ENGAGED with our LOCAL COMMUNITY. This time we were off to look at some NEW PLANS for The International Quarter, the confusingly named (it doesn't seem to be hugely international and it's in two different places) section of The Olympic Park where they're going to build new offices for the V&A, London College of Fashion and various other CULTURAL organisations.

The display was being shown in various places around the area over the course of a few days, but we'd chosen to go and look at this one because a) it was on Saturday b) it was in Stour Space, which we'd heard about but not yet had a nosey round. To get there we walked through Hackney Wick and Fish Island, where we MARVELLED at how quickly things are changing there. We saw the new Hackney Wick station building site then went and had a look around the showroom/offices for a new development of housing. In other words we played with their 3D computer display and pointed at bits we liked on the (rather good) plastic model. I noticed that the showroom looked out onto LOADS of Graffiti across the canal and thought "I bet they wish it didn't" but then realised that they probably LIKE it because it is EDGY.

Stour Space itself was LOVELY, an old building knocked through and re-purprosed, with a cafe, a central exhibition area, and some friendly looking offices and/or studios. I must admit I felt a pang of REGRET that my WRITING CAREER had not taken off as I'd hoped when I had my year off from work a while back, as I would have flipping LOVED to have been able to rent an office in a place like this and then FLIT about having POSH COFFEE while chatting to other CREATIVES.

The exhibition was interesting, as the original plans for LUDICROUS skyscrapers had changed and now featured significantly LESS ludicrous buildings instead. The display said that this was because of consultation with local people but I suspect it was more to do with local planning regulations, and I also wonder whether the revised plans REALLY had buildings MUCH more packed together in order to "encourage closer collaboration between organisations" or whether it's so that they can fit in as much FLOORSPACE without having to go up to 200 storeys.

Either way it all looked quite good, although we did worry that these new buildings would block our view of the Stadium and The Squiggle. We said this to one of the STAFF, who replied "It's always been in the plans!" which is a) true but b) not perhaps the most tactful way of putting it.

Still, they won't be putting in the planning permission until next YEAR so it'll be a while before it happens, and who knows? Maybe by then I'll have an offices in Stour Space and be able to see it all from there!

posted 23/10/2017 by MJ Hibbett
(click here for permanent link)
(0) comments


All The Telly
Last year we got Netflix at home and I was QUITE EXCITED about it - rightly so, because it is GRATE!

Since then we have also got Amazon Prime (CUNNINGLY subscribing to it just before Christmas Shopping began) and recently also a NOW box - this latter was done so that I didn't have to PANIC about a) RUSSIAN PIRATES taking over my machine or b) THE POLICE coming round whenever I tried (and usually failed) to download a show off the interweb. I got it just before the most recent series of "Game Of Thrones" and it was a JOY to be able to watch each episode at the same time as everyone else, rather than EITHER spending three hours trying to work out how to get AT it online OR waiting a year for the boxset.

Now I find myself in the unusual, FUTURISTIC, position of being able to watch ALL THE TELLY. Previously I would look on with ENVY as people on twitter talked about all the exciting new shows they were watching, but now I can watch them too. "Star Trek: Discover"? I'm watching that! "The Good Place"? Don't tell me what happens, we're just about to start it! "Stranger Things 2"? I am already piling up IRONING to do while I steam (steam!) through it!

We also have access to a TONNE of old stuff, so we POWERED through ALL of "Seinfeld" a little while ago and are now just over halfway through "Curb Your Enthusiasm". This is particularly ACE because I finally get to see what everyone's been ON ABOUT for all these years, and also to see what about 50% of all comedy shows since then have been ripping off!

Having said all that though, the TV shows I am MOST enjoying at the moment are on the old-fashioned Terrestrial Telly, and are pretty flipping old-fashioned themselves i.e. "Cold Feet" and "Doc Martin". I know I should claim to be watching something DOUR about true crime in 1970s Denmark or something, but instead in our house we have been LAPPING up these two long-running, pretty straightforward, British STANDARDS.

The funny thing is that both series, according to me, are currently the best they've ever been. It's not what we expect of British shows, which are supposed to only run for two series of six episodes each and disappear, but is definitely the NORM for American programmes, which take at least two seasons to warm up, become GRATE after about four years, and then tail off with a disappointing final series full of Celebrity Cameos. "Doc Martin" did most of its Celebrity Cameos in the last series (Sigourney Weaver!!!) and the best "Cold Feet" has managed this time has been two of The Dragons of of Dragons Den, leaving them free to go "Here are the CHARACTERS what you have come to know and love, and here are some SITUATIONS which you will enjoy watching them get out of."

I think we maybe don't notice the GOOD STUFF on British Telly because we have access to so many fancy-dan BIG SHOWS from America, but there's a LOT. I'm also really enjoying "Upstart Crow" at the minute, for instance (though I am not quite ready to forgive my childhood hero Ben Elton for "We Will Rock You" just YET) and really LOVED "Count Arthur Strong". ALSO I was very happy to find that, after i recommended it to him, my baby brother watched and THOROUGHLY liked "The Detectorists".

Cor, all this talk of TELLY is making me want to go and WATCH it! We've got a new episode of "Designated Survivor" to watch tonight - is it hometime yet?

posted 20/10/2017 by MJ Hibbett
(click here for permanent link)
(0) comments


Fun With Submissions
The promotional campaign for Storm House continues APACE with me gearing up for another push next month. I've got the Amazon page set up for another FREE WINDOW, and I'm looking at various ways of giving it a bit of a SHOVE around then as I attempt to get more people interested in reading it.

I have thus spent a large part of the past couple of days submitting it to FREE BOOKS NEWSLETTERS, and then emailing various review blogs to ask if they could have a read of it. It's basic ADMIN work but I must admit I'm rather enjoying it as it's very similarly to the promo stuff you have to do for an ALBUM, except that this time around I do not have a LONG HISTORY of DISAPPOINTMENT and/or BITTERNESS with most of the people I'm emailing! This means I am full of OPTIMISM and HOPE for the whole affair - so much so that I fully expect to get a call from Conservative Central Office asking if I fancy being Chancellor Of The Executor!

I've also updated the BLURB in the hope that, if people DO come to visit the Amazon page, they will be slightly more ENTICED to actually BUY a copy. As ever, this was significantly added to by my Internal Comms Team!

My personal Writing Guru Mr C Flowers has told me on many occasions that "It's a Marathon, not a sprint" and all the advice on self-publishing says that you need to have at least THREE books out before you can really get anywhere, so at the moment it's EARLY DAYS and thus delightfully pressure free. I've no idea if any of this will actually WORK but at the moment it's all good fun, and at least I'm having a GO. With an attitude like that, maybe I SHOULD be Chancellor!

posted 17/10/2017 by MJ Hibbett
(click here for permanent link)
(0) comments


Digging Digance
Myself and The Songs On My Setlist headed to THE FENS on Saturday, where we met with THE PARENTS and also Mr P Myland for a trip to deepest darkest Rippingale to see Mr Richard Digance.

I must admit I was Quite Excited about this. I'd seen him once before, at the Fringe and THOROUGHLY enjoyed it, but didn't remember much about it - almost as if I'd been drinking heavily for a week beforehand. This time he was playing in a CHURCH as part of a) his golden anniversary tour and b) events to raise money for the church roof, so I thought it would be a little bit different a boozy Fringe show.

As it turns out, it wasn't really. For one thing we went to the nearest PUB first, and for another the venue was very slightly cold and damp. Throw in some students flyering at the door and we could have been in Scotland! The show itself was GRATE, with Mr Digance doing a LOT of GAGS and getting BIG LARFS from the audience, of which we were very definitely the youngest members, He did some LOVELY instrumental numbers, ACE songs, and told some GRATE stories too. Throughout it all he had a DELIGHTFUL stage presence, dealing with the odder aspects of the venue (e.g. he lights taking ten minutes to come on and having DISCO LIGHTS, presumably from the pub, on throughout the first half) really well and generally acting like a PRO with fifty years of experience of This Sort Of Thing behind him. HOORAH!

The only slight downside was that he'd brought a support act with him who was VERY MUCH a Standard Folk Singer who would have been PERFECTLY acceptable if he'd done a bunch of cover songs but instead did Some Of His Own Material which was uniformaly a) cliche riddled b) tune free c) overlong. It's just possible that I MAY have been over-annoyed about it because I thought it should have been ME up there!

Apart from that though it was a FANTASTIC evening, which made me wonder about maybe dragging Mr Digance in for a Totally Acoustic when I finally get round to booking some dates again. We've had OTWAY play, so I guess I could always ask!

posted 16/10/2017 by MJ Hibbett
(click here for permanent link)
(0) comments