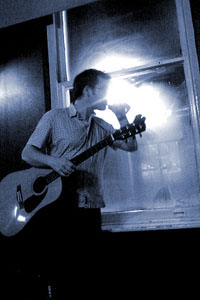 THE THEME TUNE
At our live gigs I get the audience to sing the theme tune, and I thought it would be nice to do something similar for the virtual shows. So, if you'd like to be part of the choir for future virtual shows, all you need to do is:
Find something that can record your voice onto a computer file.
Download this file: SingalongaTotallyAcoustic.mp3.
Put on some headphones.
Press "record" on your recording device.
Sing along with the SingalongaTotallyAcoustic.mp3 file on your headphones.
Once you've got a version of yourself singing the tune, send it to me at mjhibbett@gmail.com and I'll do the rest. Peasy!
Here are the words:
Totally Acoustic
A home for unamplified music
Not plugged in, miked up nor nowt
That's what it's totally about
And why it's called
Totally Acoustic

Happy singing!