Blog
Gigs
Facts
Music
Shop
Links
Blog: Back On The Road (in a bit)
Over the Christmas period, as well as watching films and going to CHURCH and so forth, I also engaged in some ROCK PREP. For LO! Starting in February Mr Matt Tiller and I are going on TOUR!
I believe I have spoken about this before, but now it is all sorted with seven (SEVEN!) dates around the country and, indeed, London. Here is the full list as it currently stands:
| | |
| --- | --- |
| Thursday 7 February: | Urban Xchange Bar, London |
| Sunday 17 February: | The Joiners Arms, London |
| Wednesday 20 February: | The Globe, Leicester |
| Thursday 28 February: | The Green Room, Sheffield |
| Thursday 7 March: | Gullivers, Manchester |
| Friday 15 March: | New Bristol Brewery, Bristol |
| Thursday 21 March: | The King & Queen, London |
That's nearly as many gigs as I have done in the WHOLE of 2019! I am right looking forward to it, though it's been a bit weird getting back in the hang of this sort of thing, especially as I'll be doing them all SOLO. For most of the past few years I've done gigs EITHER with The Validators OR with Steve, but this time it'll be just ME! I mean, OBVS I'll be playing with Matt at each of them, and doing a lot of the travelling together too, but the gigs will be ALL HIBBETT!
It's been a remarkably smooth process getting it booked, as Mr Tiller has been an EXCELLENT tour-booking colleague. We have had MEETINGS and everything! We've also got a proper POSTER to use, which looks like THIS: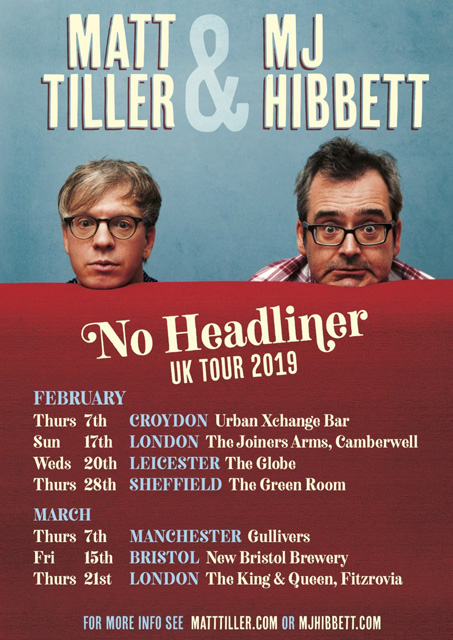 I currently have HIGH IDEALS of doing a vast range of different songs every night... though I have a sneaking suspicion that this will get boiled down to a core UBERSET as usual. There'll definitely be some NEW songs in the mix, though I can't necessarily guarantee any new GAGS. Do come along if there's one near to you though, we will both be VERY glad of the support!
posted 9/1/2019 by MJ Hibbett
Comments:
---